These soft, buttery, melt-in-your-mouth cannabis sugar cookies are an easy, drop-style cookie that can be ready in just 30 minutes. This recipe includes options for infusing these cookies with cannabutter or coconut oil, cannabis sugar, concentrates, and more.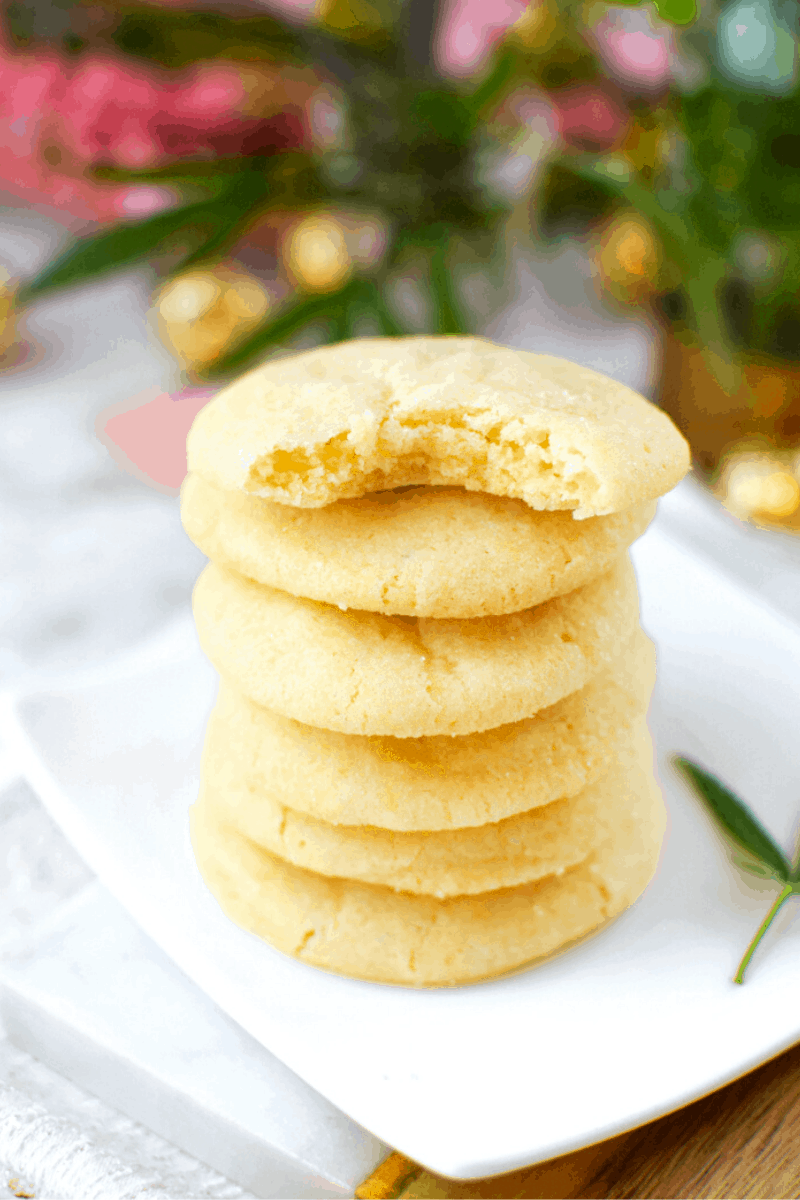 Cannabis Sugar Cookies
Do you remember those big, soft, chewy sugar cookies from the kiosk in the mall?
These are just like that and can easily be customized to include your favorite add-ins like M&Ms.
I've been begging my husband, Chef Phil, to make these cookies for a while now.
They are so light and soft and chewy and delicious - truly one of my favorites!
After conquering cannabis chocolate chip cookies and peanut butter cookies, I knew it was time to bring these buttery, melt-in-your-mouth cookies to the blog.
Unlike classic cut-out cookies, these sugar cookies are a drop version of the sugar cookie, meaning these are super easy to make and ready quickly.
This article will review the many different ways you can infuse these cookies, from classic cannabis butter to coconut oil, cannabis sugar, concentrates like FECO, and more.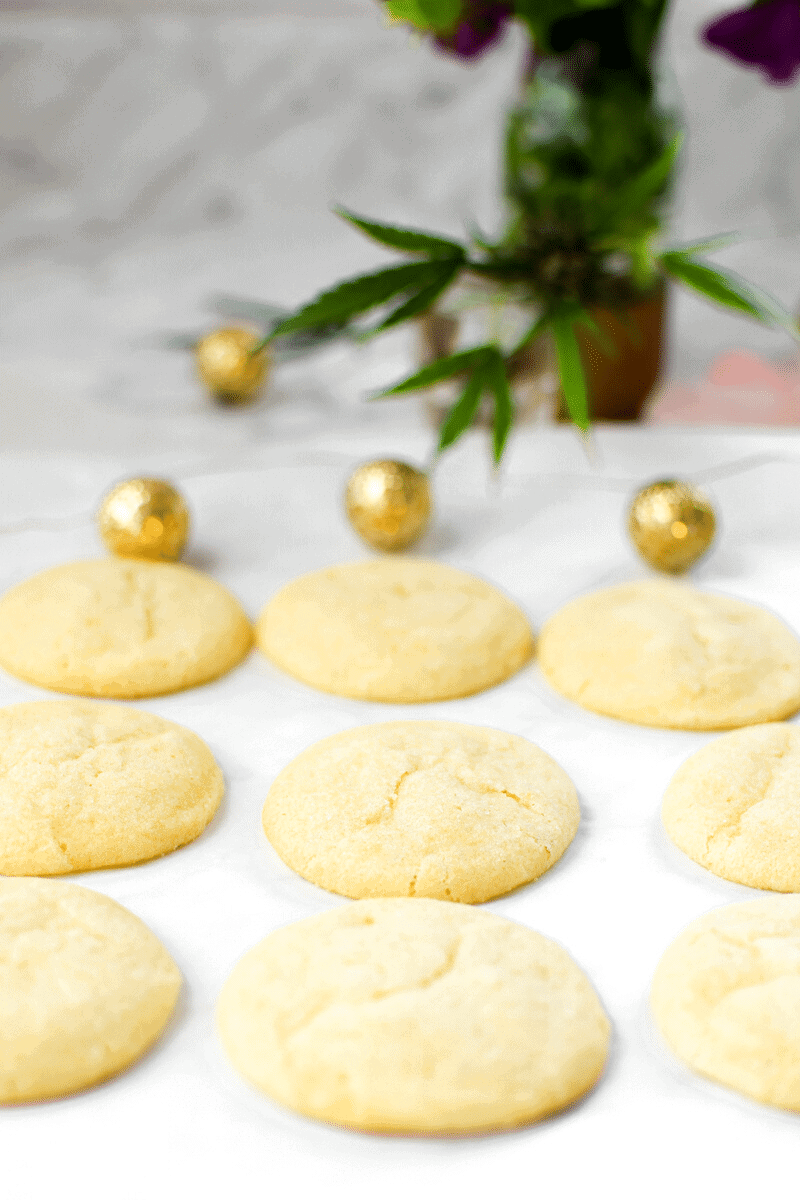 Before Consuming Cannabis Edibles
Now, if you have never consumed cannabis edibles before, there are some important things I want you to know first.
Friends don't let friends jump into edibles without a little first-hand knowledge of what to expect!
Because it's true, cannabis edibles CAN totally mess you up if you're not prepared.
Before jumping into eating an entire batch of these cookies, I want you to remember:
Edibles can be very potent
Edibles can affect you differently than inhalation or sublingual application methods
Edibles can take up to 3 hours to feel an effect
Edibles effects can last up to 12 hours
Your experience will be entirely dependent on your own unique endocannabinoid system
Infuse with Coconut Oil or Cannabutter
To make these delicious cannabis sugar cookies, you will need one of these staple cannabis recipes: cannabis-infused coconut oil or cannabutter.
Used interchangeably, using either infused coconut oil or infused butter will work in this recipe.
Oil infusions are an easy way to infuse a full-spectrum of compounds like CBD or THC from the cannabis plant into the food you are eating.
You will want to make sure you have your cannabis-infused coconut oil or cannabutter prepared BEFORE diving into making your own cannabis sugar cookies.
Making butter or oil first involves cannabis decarboxylation and then a water bath that cooks for approximately 4-hours.
Once you have your cannabis oil or butter ready, you can go ahead and use it in any other of our delicious cannabis-infused recipes like these classic cannabis brownies.
Make These CBD Cookies
Depending on where you live, it may not be easy to get your hands on THC dominant or CBD cannabis flower to make your own infused oil or butter.
That is why I wanted to offer a way to make this recipe with storebought CBD oil or CBD concentrate, which is legal to obtain in nearly all 50 states.
You could also use homemade CBD oil if you have some on hand.
For stronger cookies, I recommend using the CBD concentrate which packs in 500mg of CBD in just 1mL volume.
Because this is such a small amount, you can use the recipe and add this to the mixture when you add the eggs and vanilla.
For cookies that are not as strong, you can use a traditional CBD oil that will offer anywhere between 16-33mg per mL.
Simply subtract the amount you want to add from the total cup of butter used in the recipe.
For example, if you add 1 tablespoon of CBD oil, subtract 1 tablespoon of oil or butter from the 1 cup of butter or oil used.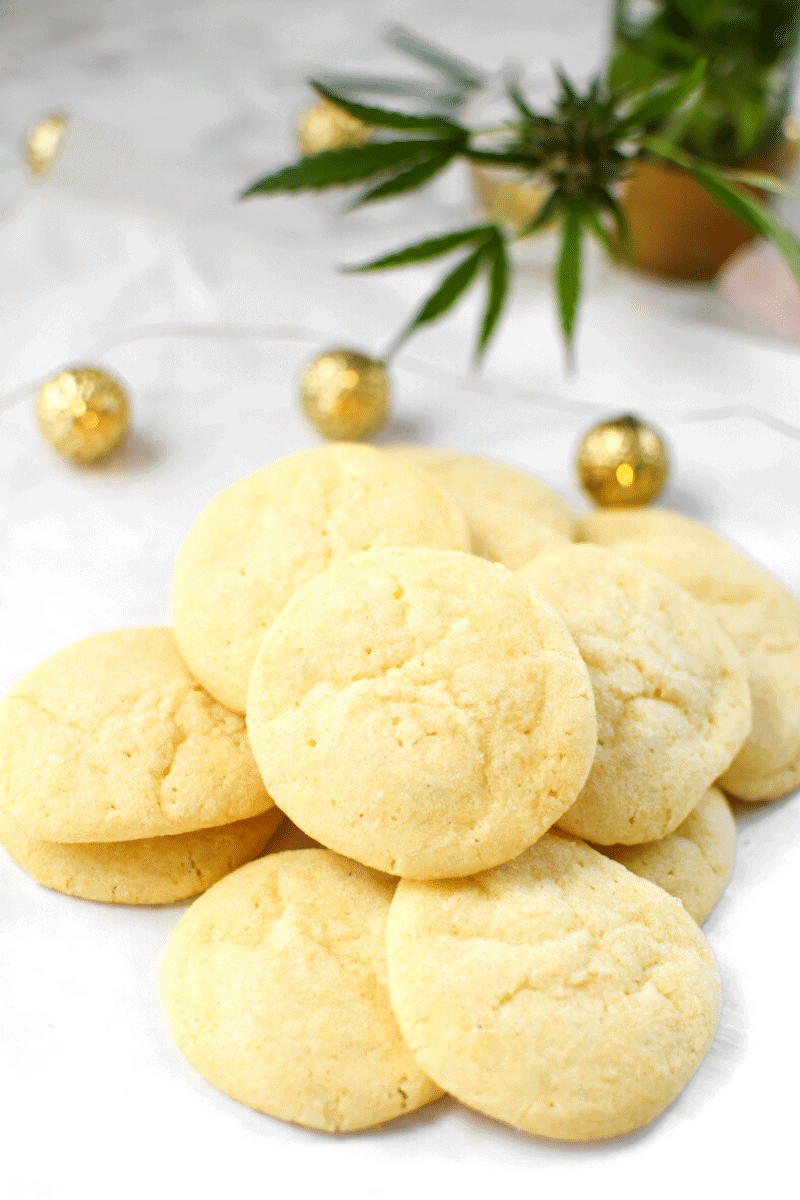 Infuse with Cannabis Sugar
You can also make these cannabis sugar cookies with cannabis-infused sugar.
It is entirely up to you whether or not you want to use infused oil, cannabutter, or infused sugar in this recipe.
Alternatively, you could also use BOTH infused oil or butter AND infused sugar together for an extra potent batch of medicated cookies.
Infuse With Concentrates and Extracts
You can also make cannabis edibles with cannabis concentrates like FECO.
First, check to see if your concentrate needs to be decarbed before consuming.
Some concentrates and extracts like distillate and FECO do not need to be decarbed first, while other concentrates like wax and shatter do need to be decarbed before using in edibles.
If you are unsure, you can checkout our guide to decarbing cannabis concentrates here.
Once the concentrate is ready to go, you will simply mix it in with the 1 cup of butter as called for in this recipe.
Then prepare the recipe as described in the instructions below.
How to Determine The Dosing
Want to calculate the dosage of your cannabis edibles and homemade cannabis recipes?
While a calculator is no replacement for lab testing, this tool has been designed to help you get a more accurate guesstimate of the potency of your cannabis infusions and extractions.
Unlike other calculators available online, this calculator aims to provide more accuracy by accounting for the losses associated with decarboxylation, infusion oils, or extraction solvents used.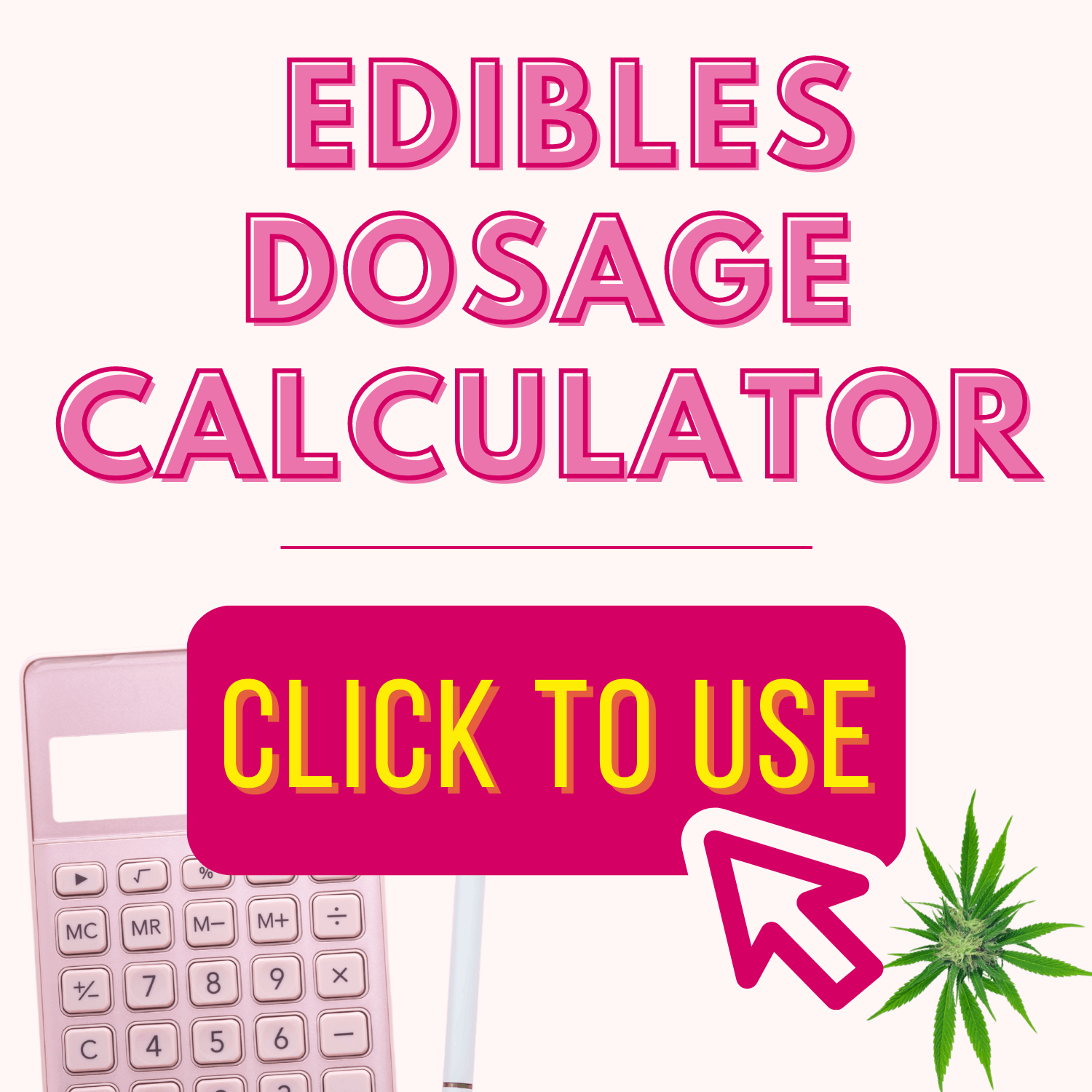 More Cannabis Cookie Recipes
Looking for more delicious cannabis cookie recipes? Check out all of our tried and true recipes for a fun, delicious, medicated baking experience!
Use An Infusion Machine For Your Edibles
If the process of decarboxylating and infusing your cannabis edibles seems like too much work, a cannabis infusion machine is a perfect solution for you!
Cannabis-infusion machines are countertop devices that do all the work for you by decarboxylating and infusing your butters, oils, and more.
The most popular machines on the market today include LEVO Infusion Machines and Ardent Cannabis Infusion Machines.
Want A Discount Code?
Enhance Your Cannabis Education
My beginner-friendly Cannabis Compass Online Course will show you how to dose, use, and apply cannabis safely and effectively so that you can begin to manage your most unwanted symptoms the natural way from the comfort of your own home.

Learn more and enroll today →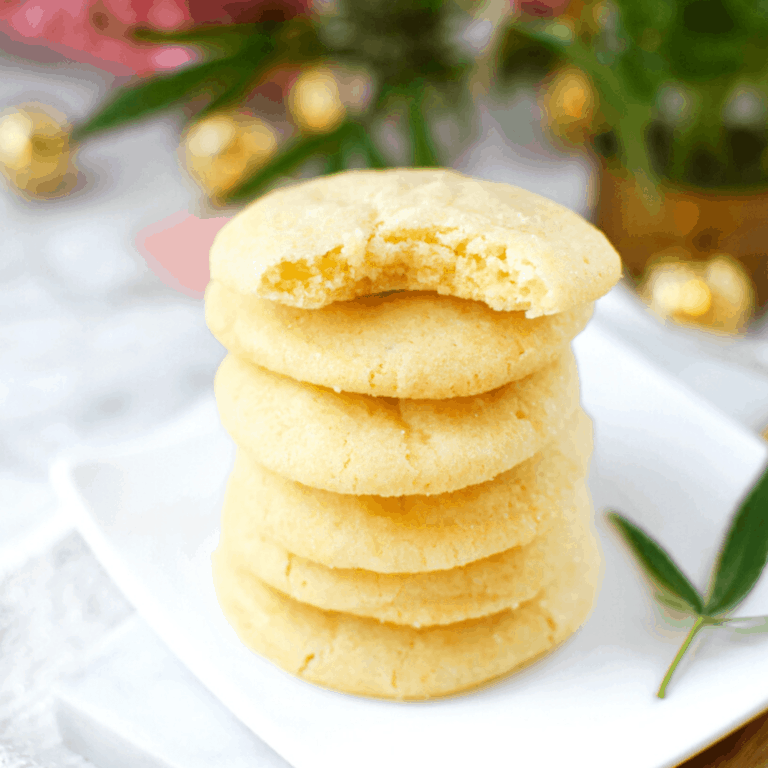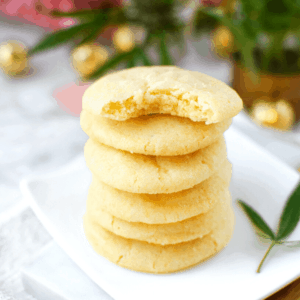 Soft, Chewy Cannabis Sugar Cookies
These soft, buttery, melt-in-your-mouth cannabis sugar cookies are an easy, drop-style cookie that can be ready in just 30 minutes. This recipe includes options for infusing these cookies with cannabutter or coconut oil, cannabis sugar, concentrates, and more.
Instructions
Preheat the oven to 350° F.

Line a baking sheet with parchment paper and set aside.

In a large mixing bowl, whisk together the first three dry ingredients: flour, baking powder, and salt. Set aside.

In a medium mixing bowl, using a hand beater on high speed, cream together 1 cup of sugar and butter until it is light and fluffy, approximately 3-5 minutes.

Add the egg and vanilla and beat well on low speed.

Gradually add the dry ingredients to the wet ingredients while continuing to mix.

Create 1 tablespoon-sized dough balls and roll them in the ¼ cup of reserved cannabis sugar.

Place the dough balls 2" apart on the reserved parchment-lined sheet pan.

Bake in the oven for 10-12 minutes or until the bottoms and edges are lightly browned.

Remove from the oven and cool 1-2 minutes before removing from the tray and transferring to a cooling rack.
Notes
*If you do not have cannabis sugar, simply substitute white sugar.
*If using cannabis concentrates, mix them into the oil or butter before preparing this recipe.
Nutrition
Serving:
1
g
Calories:
55
kcal
Carbohydrates:
10
g
Protein:
2
g
Cholesterol:
9
mg
Sodium:
81
mg
Sugar:
1
g