A dry herb vaporizer is a small hand-held device used to safely enjoy the medicinal benefits of cannabis and other dry herbs. In this post, we will explore the benefits of vaporizing cannabis, the different types of products on the market, and offer a step-by-step guide of how to use a dry herb vaporizer at home.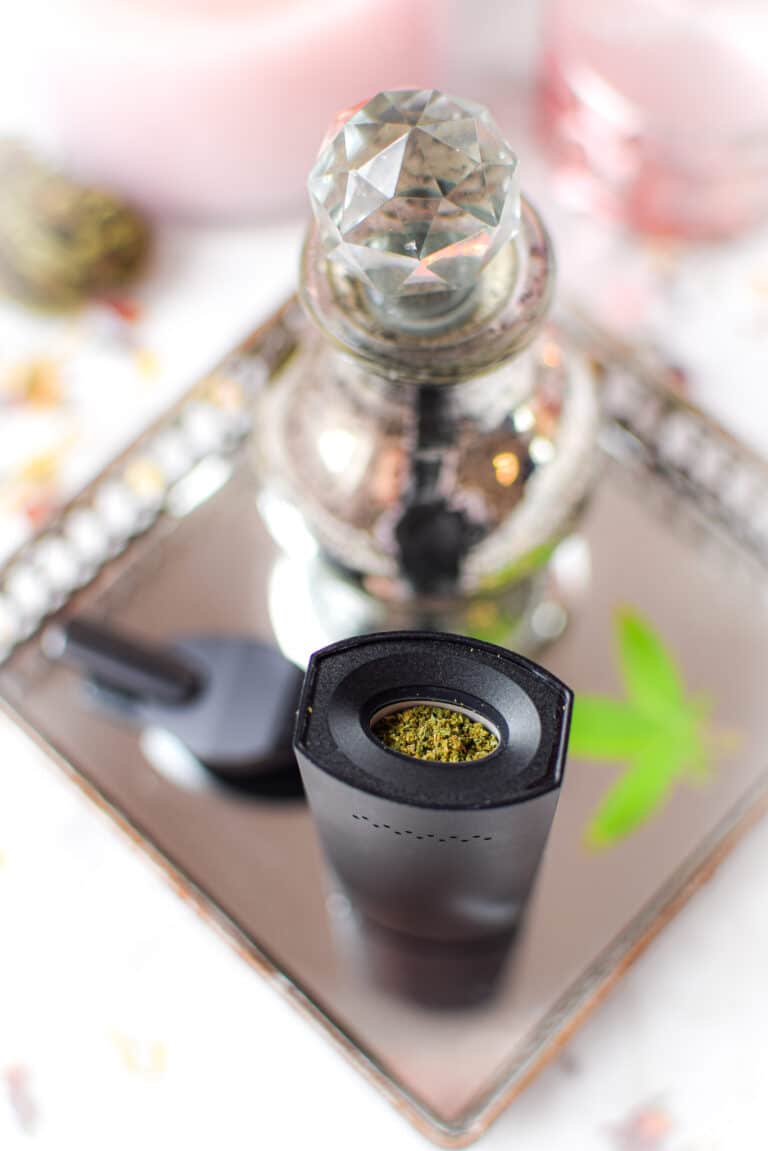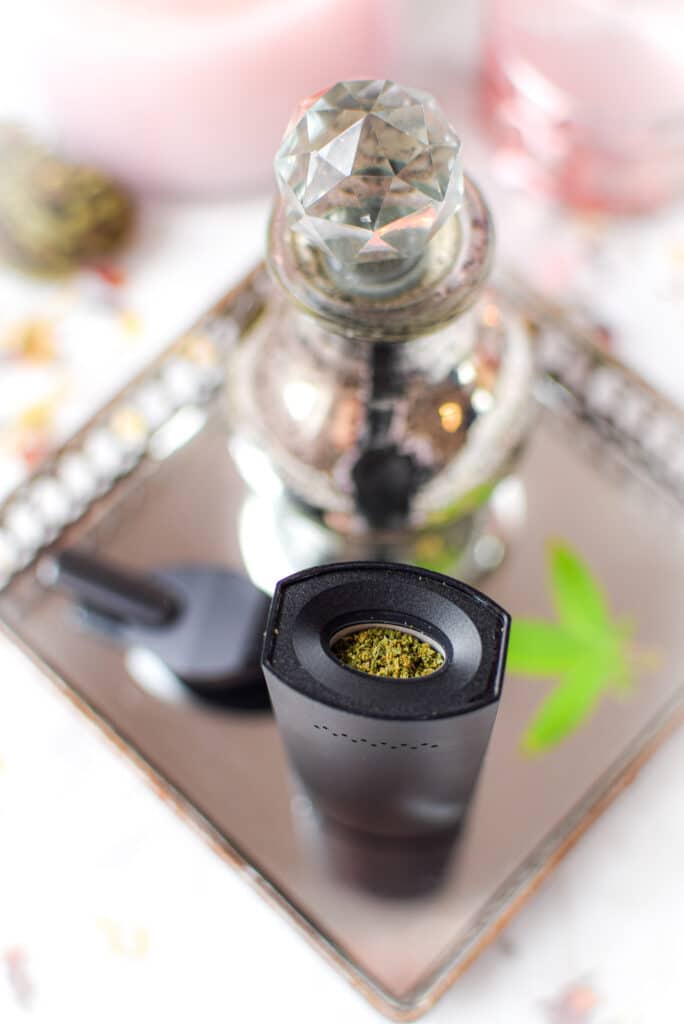 What is a Dry Herb Vaporizer?
A dry herb vaporizer is a small, battery-operated device that is used to vaporize and decarboxylate dried cannabis flowers. This method of cannabis inhalation has been described as "smoking cannabis, without the smoke".
The vaporization of cannabis continues to gain popularity for its ability to deliver important cannabinoid medicine without many of the unwanted negative side-effects associated with smoking cannabis flowers.
Dry herb vaporizers use dried plants such as cannabis flowers; the device then heats up the dried cannabis plant until terpenes and cannabinoids are released in gas form for inhalation by the user.
It is important to note that a dry herb vaporizer is much different than vaping CBD, THC, or other forms of cannabis oil or concentrates.
Although similar in appearance to popular vaping devices, dry herb vaporizers do not use oil or liquid cartridges, which can often contain additives and harmful toxins.
You can learn more about safely vaping CBD oil or THC oil here.
Benefits of Using a Dry Herb Vaporizer
Many of my clients who use cannabis to manage their autoimmune & inflammatory conditions prefer to use a dry herb vaporizer for many reasons, both health and preference-based.
Preference wise, many of my clients say they enjoy the benefits of using a dry herb vaporizer because they believe it gives cannabis a more appealing taste.
Additionally, using a dry herb vaporizer is more discrete than smoking a traditional joint or pipe, due to its lack of smoke and reduced smell. This makes dey herb vaporizing a more convenient option for many people, especially in public or on-the-go.
The general advantages of vaping include portability, concealability, and efficiency.
In a qualitative analysis of cannabis vaporization among medical users published in Experimental and Clinical Psychopharmacology, it was found that they preferred vaporization as a consumption method because (1):
It offers more effective medication dosing and administration along with flexible timing of medication delivery and ease of use when traveling.
Of the physical health advantages of vaping including the general health benefits of consuming cannabis, vaporization being better for a particular medical condition, and also for promoting tobacco cessation.
There are a few disadvantages of using a dry herb vaporizer to consume cannabis to note as well, including a claimed weaker medication delivery, high device cost, and technology-use barriers for some individuals.
Dry Herb Vaporization Is Less Toxic
Smoke, regardless of its source, can be filled with carcinogens that are detrimental to your health. While smoking a joint, pipe, or bong is desirable for many cannabis consumers, medical and recreational alike, inhalation of a combustion product is simply an undesirable delivery method from a health standpoint.
That is why many people are turning to dry herb vaporizers, which allow you to use the same cannabis material that you traditionally would, but instead of using a lighter to heat the plant material, the vaporizer device heats the cannabis material for you and creates a vapor that you inhale, rather than smoke.
In a pilot study published in Clinical Pharmacology & Therapeutics found that "vaporization of cannabis is a safe and effective mode of delivery of THC" and that "further trials of the clinical effectiveness of cannabis could utilize vaporization as a smokeless delivery system" (2).
In addition to reducing your exposure to toxic chemicals, vaporizers reduce the likelihood of throat, lung, and mouth irritation from excessively high heat.
More Control For Your Comfort & Needs
The use of a vaporizer allows the user to not only control the amount they are inhaling with the ability to micro-dose but also control the amount of vapor you will inhale with the ability to control the heat used.
This is essential for individuals who may be new to cannabis use and unsure of the number of effects they may feel initially. A dry herb vaporizer allows individuals to ease into the vaping of dried cannabis.
Additionally, the user can control whether they want to enjoy a THC dominant cannabis flower or CBD hemp flower to enjoy, based on their personal preferences.
What To Look For When Buying a Dry Herb Vaporizer
As mentioned before, one of the major drawbacks of using a dry herb vaporizer is the expense. Top of the line vaporizers can cost several hundreds of dollars or more.
However, if you are a frequent cannabis consumer invested in your health and wellness, a high-quality vaporizer may be a worthwhile investment. Purchasing a dry herb vaporizer is a personal experience that will take into account your preferences in style and use along with the budget.
Factors to Consider When Purchasing A Dry Herb Vaporizer
Ensure you are specifically purchasing a dry herb vaporizer as opposed to other vaporizers that use liquid and concentrated oils and extracts to vaporize.
Convenience
Consider your needs and habits when deciding which option will be best fitted for your needs. There are portable options for vaporizers which are rechargeable and small and desktop options which are larger in size and will require the vaporizer to be plugged in for use.
Heating Method
Conduction vaporizers heat your dried plant material directly through a heating chamber. While conduction vaporizers may be a lower cost they also use up plant materials much quicker and may affect the taste of the plant.
Convection vaporizers heat your dried plant material through steam and can prolong the life of your plant materials and are considered the premier vaporizers with regards to taste. Keep in mind convection vaporizers are often more expensive initially.
Vaporizer Design
An important part of the vaporizer is the mouthpiece used for inhaling the plant. These mouthpieces come in a variety of sizes and different materials for your comfort and preferences. The devices are compacts and come in a variety of styles.
The vaporizers are quick and simple to use oftentimes only requiring the touch of one button. Most options are rechargeable for your convenience rather than requiring it to remain plugged in for use.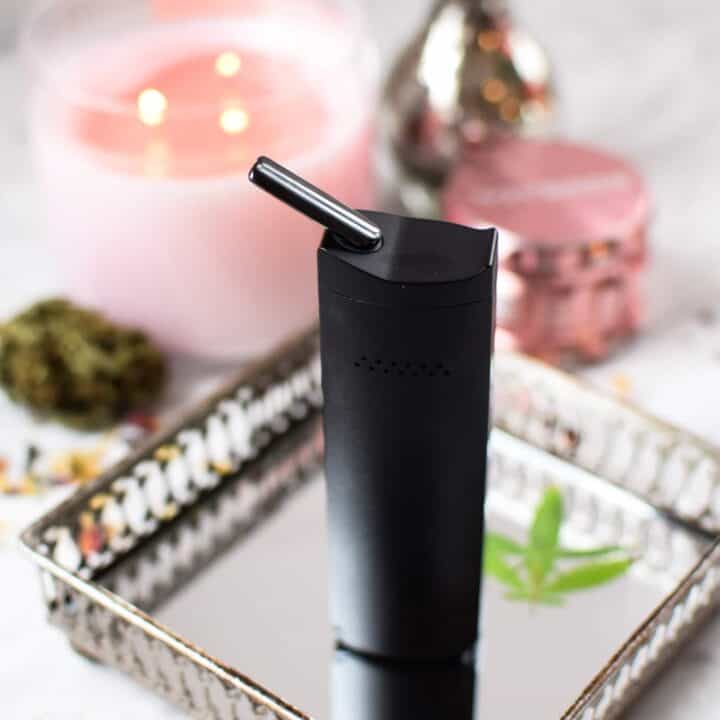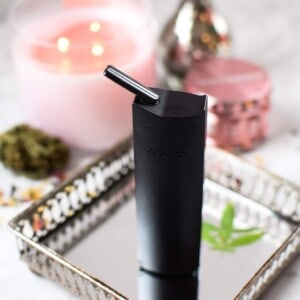 How to Use a Dry Herb Vaporizer
Discover how to use a dry herb vaporizer device used to consume and inhale dry herbs and cannabis flowers.
Ingredients
¼

ounce

dried

ground cannabis flowers*
Instructions
First and foremost, all vaporizers are different. You should familiarize yourself with your specific dry herb vaporizer by taking a look at its manual. Get to know each part of the vaporizer before proceeding.

Next, you will need to ensure your dry herb vaporizer is charged and ready for use. [mv_img id="31435"]

Then, you will load the herb chamber making sure to follow the guidelines within the manual and not overpacking the chamber. [mv_img id="31432"]

Next, you will set the temperature for the vaporizer. It is recommended that beginners begin at a lower temperature before increasing incrementally if needed. [mv_img id="31433"]

Begin inhaling the vapors. Do so slowly especially if this is your first vaporizer experience. [mv_img id="31434"]
Notes
*In order to reap the most benefit from your dried cannabis flowers, it is important to grind your herb before its use to ensure an even heating of the herb and the best flavor.