Discover the incredible health benefits of cannabis applied directly to the skin. Cannabis topicals like balms, salves, and lotions may help relieve pain and anxiety, have a quick onset time, and produce no intoxicating high effects.
The Benefits of Cannabis Topicals
Cannabis topicals are any type of cannabis products that are applied directly to the skin.
Popular topical products on the marketplace today include cannabis oils, balms, ointments, bath salts, salves, lotions, perfumes, face cream, and personal arousal products.
Topicals continue to grow in popularity as cannabis use grows across the country, and as consumers quickly see their benefits ranging from pain-relief to inflammation-relief.
Historically, ancient Chinese medicine has used cannabis topical applications to treat skin ulcers, fungal infections, and wounds, and more.
Today, many of my cannabis compass online course students have already discovered the pain-relieving benefits of cannabis topicals and love their fast-acting response time.
Applying cannabinoids to the skin provides localized pain relief along with important anti-inflammatory benefits.
Delta-8, 9 THC, and THCV exert anti-inflammatory effects when applied topically.
Anti-bacterial activity is found in CBD, CBG, and their acid forms CBDA and CBGA.
Cannabis topicals have been scientifically proven to treat a variety of skin conditions from acne, contact dermatitis, atopic dermatitis, pruritus, psoriasis, skin cancer, and more (1).
Anecdotally they have been claimed to provide relief from arthritis, skin conditions like eczema and psoriasis, fungal infections, and other skin ailments like cuts, scrapes, and bug bites.
Topically Applied Cannabis Will Not Get You High
One of the major benefits of applying cannabis to the skin is that it will not produce intoxicating effects as often seen with cannabis inhalation or cannabis edibles.
This means that cannabis applied to the skin, even THC, will not get you high.
Depending on your desired experience, this no-high application method may be a major benefit and a great alternative for using cannabis, especially for new cannabis consumers.
When cannabinoids are applied directly to the skin, they interact with our CB2 cannabinoid receptors, a part of our endocannabinoid system. This is the reason topicals provide a localized, anti-inflammatory response.
Cannabinoids, like CBD or THC, applied directly to the skin penetrate into the epidermis only and are not absorbed directly into the bloodstream.
Because THC applied topically does not enter the bloodstream, it, therefore, does not produce an intoxicating effect.
Additionally, it is not believed that topically applied cannabinoids like THC will show up in the bloodstream or urine when tested (2).
Full-Spectrum Cannabis Topicals Are Best
The cannabis plant itself contains over 500 biologically active compounds.
It is believed that the combination of all of the different compounds - cannabinoids, terpenes, and more - make cannabis so effective.
This term for synergy is known as The Entourage Effect.
Full-spectrum means that a wide range of cannabinoids are included, including THC.
You will get the most benefits from a full-spectrum topical product because all of the cannabinoids work together synergistically to provide the body with what it needs.

For example, it is believed that:
Cannabis topicals have antibacterial activity due to the concentration of cannabinoids of CBD, CBG, and their acid forms, CBDA, and CBGA, respectively
Cannabis topicals have the benefits of multiple forms of THC. THCA, Delta-9 THC, and THCV exert anti-inflammatory effect when applied topically
Topicals May Be An Option for Children
Because the cannabinoids like CBD and THC are not directly absorbed into the bloodstream, cannabis topical applications may be a viable application option for using cannabis with children.
The lack of intoxicating effects ensures no unwanted outcomes, while still delivering important cannabinoid medicine as needed.
Of course, this should be discussed with your healthcare provider. 
Topical Onset and Duration Times
Cannabis applied to the skin will have a typical onset time of effects anywhere from 15-30 minutes and have an average duration of effects anywhere from 2-4 hours.
Remember, because topical cannabis is not absorbed into the bloodstream, it can be reapplied as often as needed throughout the day.
8 Ways Cannabis Can Benefit The Skin
Many people are now beginning to appreciate the benefits of adding cannabis-infused products to their skincare routine.
Cannabis-infused skincare products tout both the nutritional benefits of hemp seed oil and the medicinal benefits of cannabinoids in CBD oil.
However, it is important to remember that hemp seed oil is not the same as CBD oil. If you're unsure of where to start, be sure to follow my 4-Step Method for Choosing a Safe CBD Product.
Using cannabis directly on the skin may result in the following positive results:
1. Topicals Provide Pain Relief
Anecdotal reports have identified cannabidiol, CBD, as providing immense pain-relieving effects, and now scientific studies are beginning to support the theory.
As stated by Harvard Health, "CBD may offer an option for treating different types of chronic pain" (3).
They also mention several studies that show the beneficial use of CBD oil for arthritis pain. Additional studies show that CBD may help reduce chronic pain and inflammation.
2. Potentially Reduce Anxiety and Depression
Cannabis oils applied topically or otherwise, are often used to manage the symptoms of anxiety and depression, under the care of a medical doctor or not.
The cannabinoid CBD, cannabidiol, has the most evidence to support its antidepressant and anti-anxiolytic properties (4).
There is not yet enough significant clinical evidence to support the use of topical cannabis to treat anxiety or depression, but that doesn't mean many people don't use cannabis for this exact reason.
A lack of better medical options or unwanted side effects associated with prescription medications is just a few major factors that have led many living with these disorders to embrace a more natural approach to healthcare.
3. Alleviate Cancer-Related Symptoms
Cancer-related side-effects that stem from cancer treatment such as nausea, pains, and vomiting can be treated with cannabis and is one of the main qualifying conditions of receiving a Medical Marijuana Card.
Cannabis oil may help alleviate cancer-related pain. One study found that cannabis oral sprays containing both CBD and THC "generally well tolerated, with no evidence of a loss of effect for the relief of cancer-related pain with long-term use" (5).
4. Alleviate of Symptoms Associated with Neurological Disorders
Oral sprays containing CBD, like prescription medication Sativex, have been used in order to reduce muscle spasticity and reduce epilepsy seizures in children.
They may also prevent neurological degeneration of people with Alzheimer's disease, as CBD has been found to be a powerful neuroprotectant (6).
Many caretakers who care for loved ones with advancing neurological disorders like Alzheimer's or dementia use cannabis topicals to bring pain relief and a sense of calm to their loved ones, without introducing any potential intoxicating effects.
5. Reduce Signs of Aging Skin
It is believed that hemp seed oil may play a key role in ensuring your skin stays healthy, hydrated, and good looking.
While hemp seed oil does not contain cannabinoids, producers claim that using hemp seed oil-infused products may still reduce the visible signs of aging on your skin due to its anti-inflammatory and antioxidant properties.
6. Alleviate Psoriasis
Psoriasis is a chronic illness that causes the appearance of patches of abnormal skin, forming of scales, and red spots.
While more scientific research is needed, there is preliminary evidence to suggest that cannabis may be a novel treatment for psoriasis (7).
Both hemp seed oil and CBD oil contain anti-inflammatory features which may be attributed to the soothing effect often seen by individuals managing psoriasis.
7. Serve As a Potential Solution for Acne
Could hemp seed oil or CBD oil be the next big trend in acne solutions?

It is believed that cannabis oil has the ability to inhibit oil production, a major underlying factor in the cause of acne (2).
Additionally, it is known that hemp seed and CBD oil has anti-inflammatory properties. These properties may help to reduce the unwanted effects often seen on acne-prone skin.
8. Cannabis Can Moisturize The Skin
When applied topically, CBD oil helps to hydrate and moisturize the skin.
Cannabis-infused oil has the perfect balance of nutrients to help prevent or stop the peeling of the skin, rough patches, and cracks.
Cannabis Topicals Wrap Up
Cannabis topicals have tremendous potential health benefits. They are currently being used to help people manage pain, inflammation, anxiety, skin conditions and more.
One of the major draws to cannabis topicals is that they do not produce any intoxicating effects when applied, even THC.
This no-high is perfect for new cannabis users or people who do not want to get high.
If you are looking for more in-depth information on cannabis topicals and how to use them to improve your specific conditions, I invite you to learn more in my Cannabis Compass Online Course.
I have an entire lesson dedicated to cannabis application methods, including topical applications.
Make Your Own Cannabis Topicals At Home
There are many benefits of making your own cannabis topicals at home including cost savings and control over your ingredients and final products.
Below are our favorite cannabis topical recipes that you can try at home including our favorite cannabis lip balm, cannabis massage oil, and cannabis salve.
Easy Crockpot Cannabis Coconut Oil
This easy, step-by-step beginner's guide will teach you how to make cannabis coconut oil at home in a crockpot. It is perfect for anyone who wants to learn how to make a cannabis-infused oil that is vegan, dairy-free, and versatile enough to be used as a base for recipes and self-care products.
Get The Recipe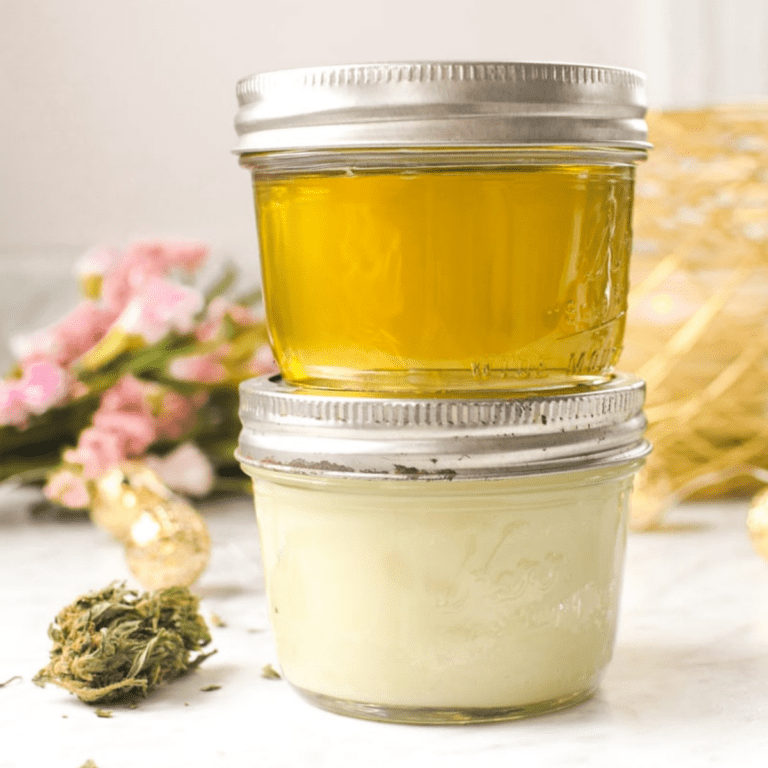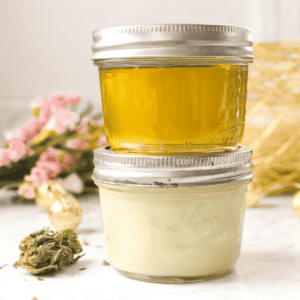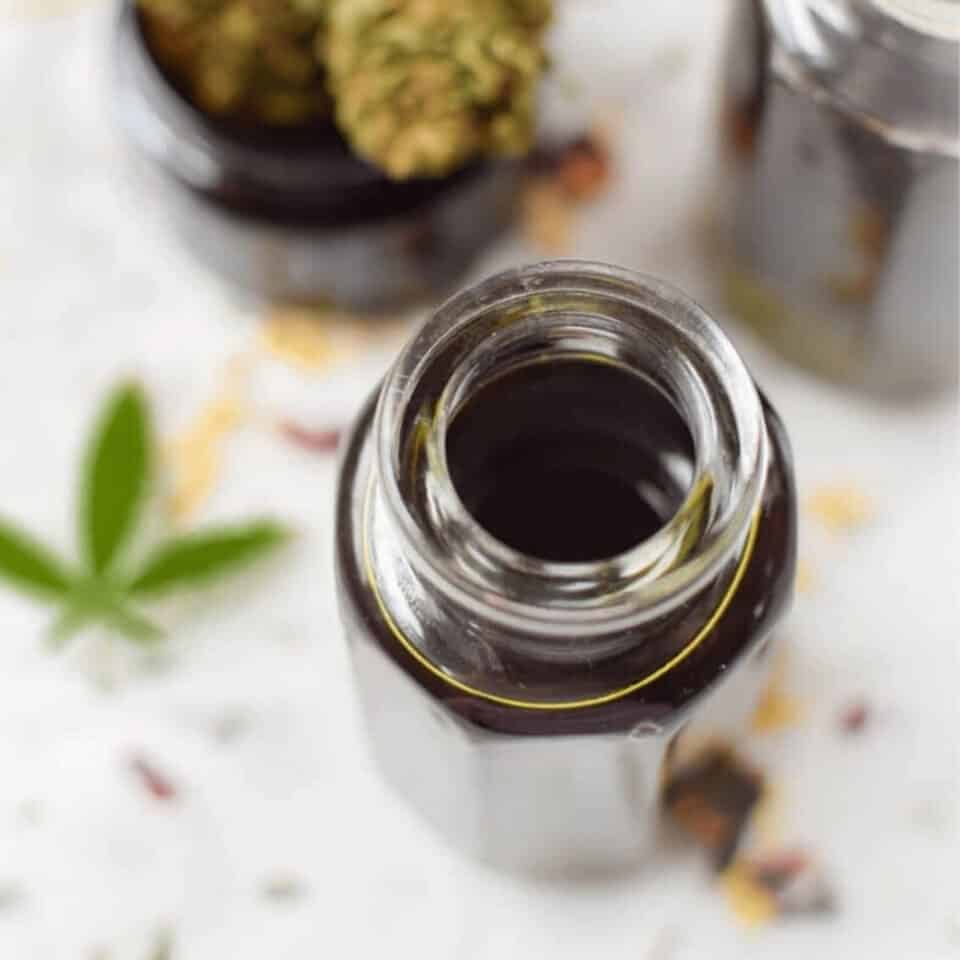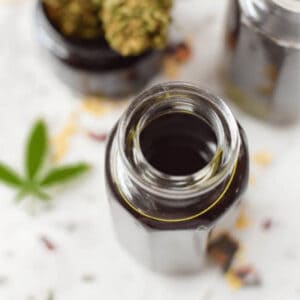 Homemade Cannabis Salve Recipe (THC or CBD)
Learn more about the soothing properties of cannabis salves, how they may help to relieve some of your most unwanted symptoms like pain, inflammation, dry skin, and itchiness, and get the recipe to make your very own cannabis salve at home.
Get The Recipe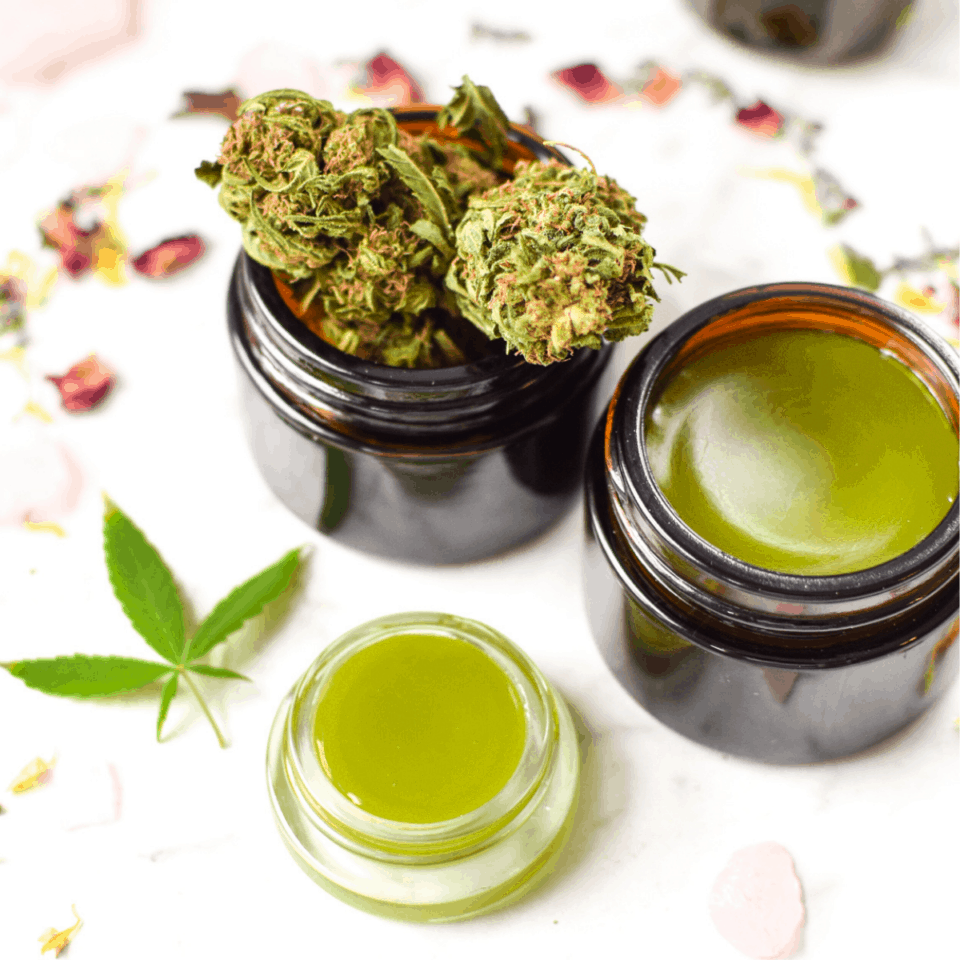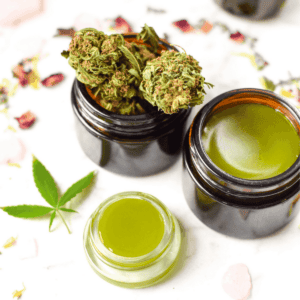 Homemade Cannabis Lip Balm Recipe
Learn how to make your own moisturizing cannabis lip balm at home with CBD or THC and a few simple ingredients like cannabis-infused oil, beeswax, and shea butter for a soothing, relaxing lip balm your lips will love.
Get The Recipe