Learn how to make your own moisturizing cannabis lip balm at home with CBD or THC and a few simple ingredients like cannabis-infused oil, beeswax, and shea butter for a soothing, relaxing lip balm your lips will love.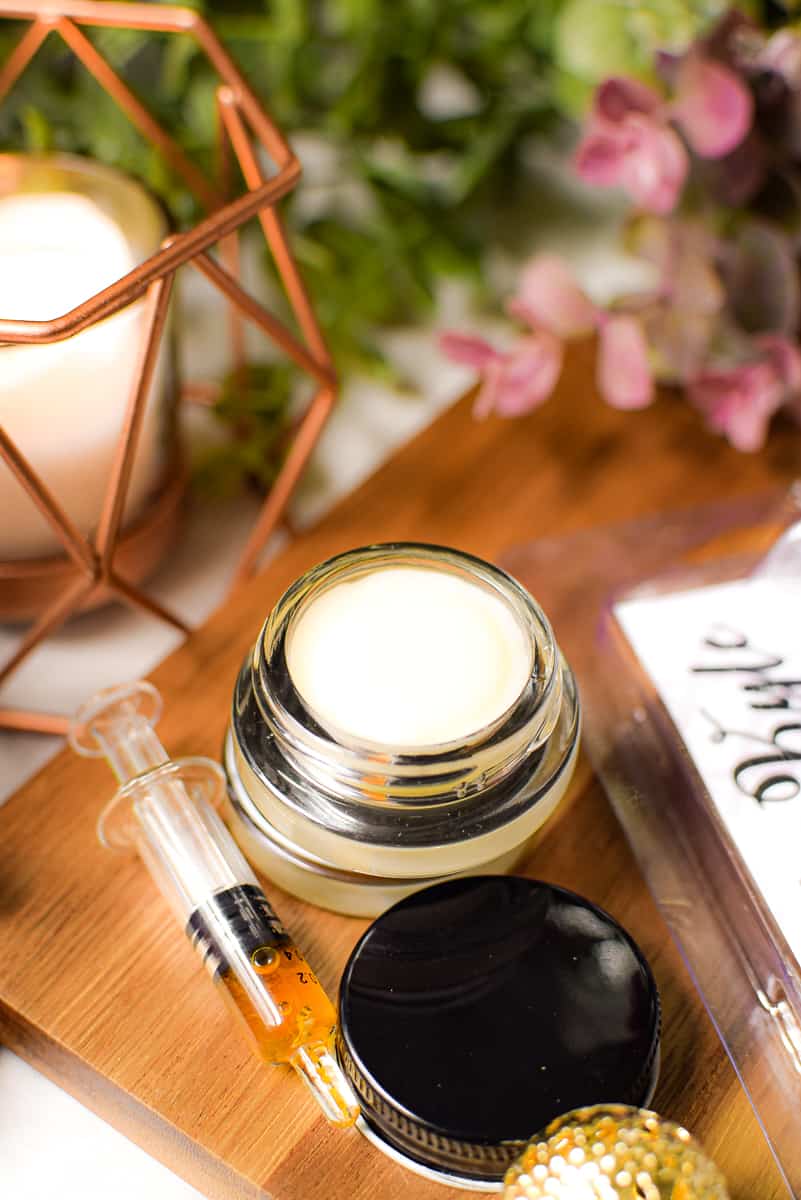 How to Make Homemade Cannabis Lip Balm
By definition, lip balm is a topical preparation applied to soothe sore or cracked lips.
For first-time cannabis users who want to dip their toe into the vast world of using cannabis, a homemade lip balm is a great place to start.
Cannabis lip balm offers a micro-dose of cannabis directly to the skin through topical application.
With my beginner-friendly cannabis lip balm recipe below, you will be able to choose whether or not you want to include CBD, THC, or both into your final product.
For members of my Well With Cannabis Community, it is a personal choice as to whether or not they decide to use CBD or THC or both.
If you're brand new to cannabis, I recommend starting with CBD first and assessing your experience before moving on to THC options.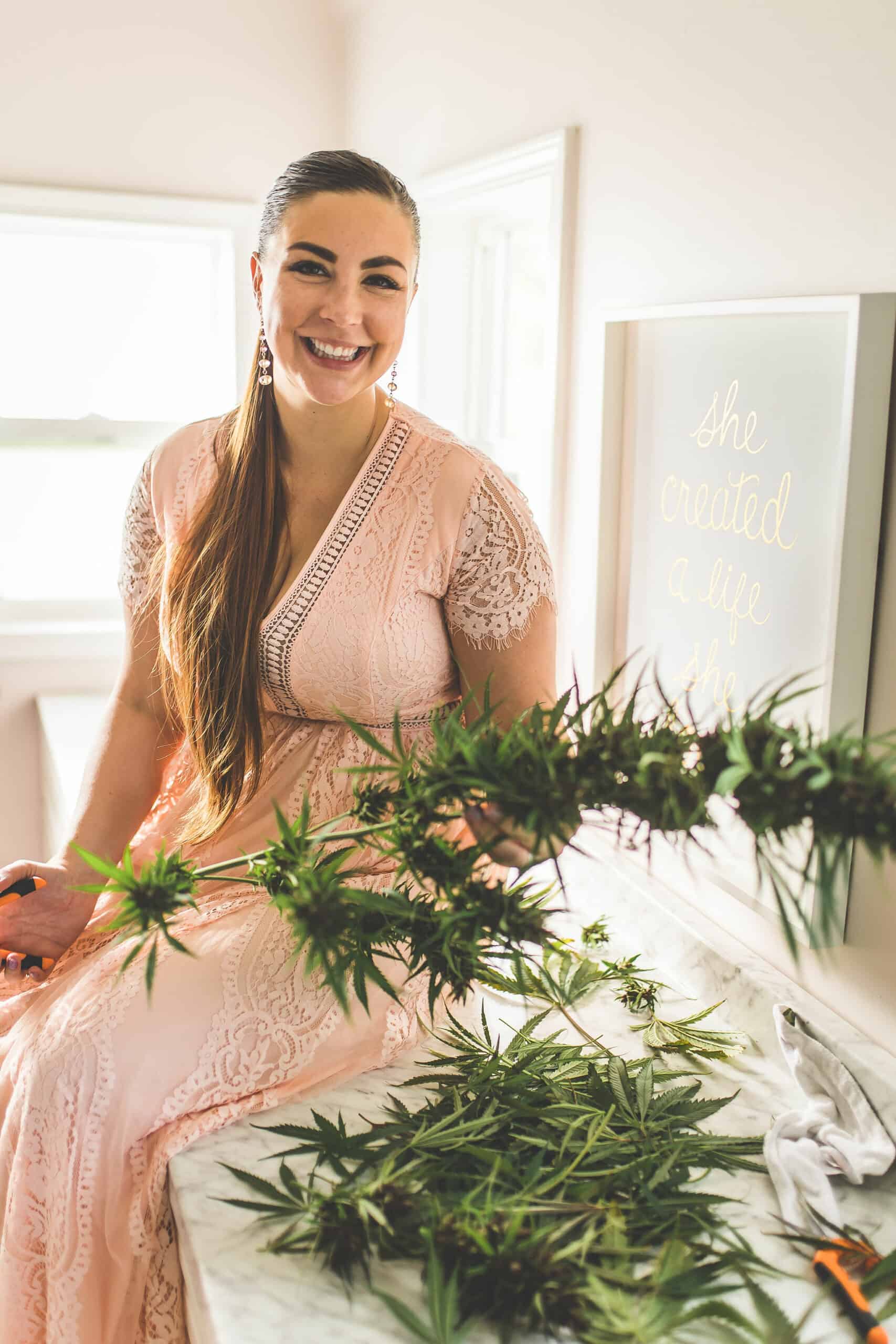 Looking For More Support?
Join thousands of members inside my private Well With Cannabis Community to ask questions, find support, and share your edible creations!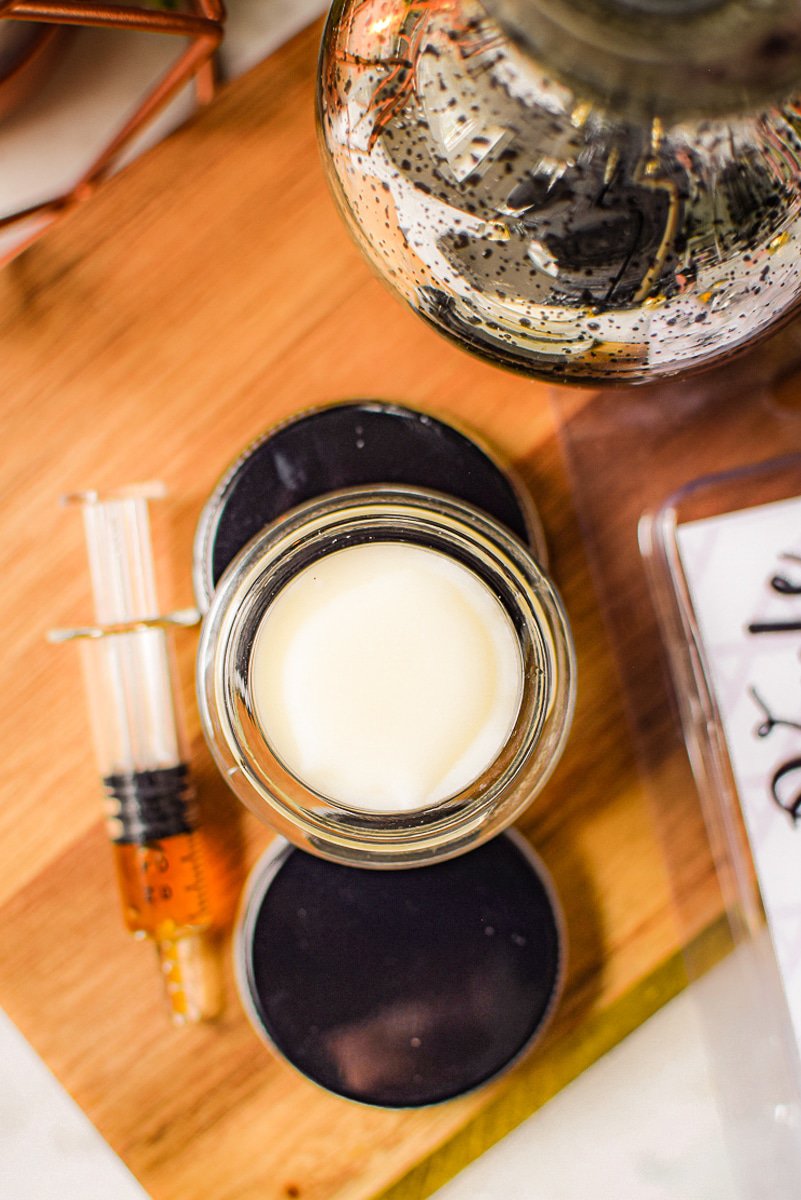 Topical Application of Cannabis
Topical cannabis products come in many different forms, including cannabis massage oils, cannabis salves, cannabis bath balms, and even cannabis-infused personal arousal products.
Cannabinoids, like CBD or THC, applied directly to the skin penetrate into the epidermis only and are not absorbed directly into the bloodstream.
Topicals have a more pronounced effect at the application site itself, rather than systemically throughout the body.
Cannabis applied to the skin will have a typical onset time of effects anywhere from 15-30 minutes and have an average duration of effects anywhere from 2-4 hours.
Ingredients For Making Your Own Lip Balm At Home
My Well With Cannabis Community members prefer to make their own topicals at home because they can control the ingredients and adjust the dosages to their own personal needs.
A good homemade cannabis lip balm should start with the highest quality ingredients for the best end result.
For this recipe, I choose to use the natural combination of infused coconut oil, shea butter, beeswax, and CBD concentrate.
This combination results in the perfect consistency balm that is smooth and silky, without any harsh chemicals often found in other products.
The final product can be customized with your favorite essential oils and will leave your lips feeling soft and moisturized.
This homemade lip balm may even become your new favorite addition to your self-care routine.
Infused Coconut Oil
There are many benefits of applying coconut oil directly to the skin.
Coconut oil contains one of the highest concentrations of saturated fats in the form of medium-chain triglycerides (MCT) – mostly in the form of lauric acid.
This is what makes infused coconut oil some peoples favorite natural remedy for common skin conditions.
For this recipe, you can choose to use traditional coconut oil or cannabis-infused coconut oil, depending on your desired final product's strength and potency.
If you choose to use cannabis-infused coconut oil, you can decide whether or not you want to make a CBD dominant or THC dominant product.
Shea Butter
Shea butter is a fat extracted from the nut of the African shea tree.
It is a popular ingredient that has been used in topical and cosmetic products for centuries.
It is believed that shea butter has the ability to help soothe and moisturize dry, cracked skin.
This is the organic shea butter ingredient I used for this recipe.
Beeswax
Beeswax is a natural wax produced by bees.
It has been used for centuries in a variety of applications, including cosmetics and skincare.
Beeswax is popular for many reasons and may contain properties that are ideal for helping to soothe sore lips.
This is the organic beeswax ingredient I used for this recipe.
Note: Because this recipe contains beeswax, it is not vegan-friendly.
I have not personally tried these alternatives, but you can try to substitute soy wax for the beeswax to make this a vegan lip balm recipe.
Essential Oils of Choice
Essential oils will allow you to customize this recipe to your desired taste and flavor.
The most important thing to do is to ensure that you are using a food-grade safe essential oil that is safe to consume orally and apply topically.
For this recipe, I chose to use Bergamot essential oil for a mild flavor.
You can also use floral oils like a lavender essential oil.
Peppermint essential oil is also a popular choice for a minty, cooling alternative.
CBD Concentrate
Adding a cannabis concentrate to this recipe is preferred by those who are looking for a very potent option.
Concentrates can have anywhere from 100-900mg of concentrated cannabinoids formulated into a 1 milliliter syringe.
This means you can get a very strong dose in a very small volume.
While you need to purchase THC concentrates from a licensed medical or recreational dispensary, I have CBD concentrates available for purchase in my shop.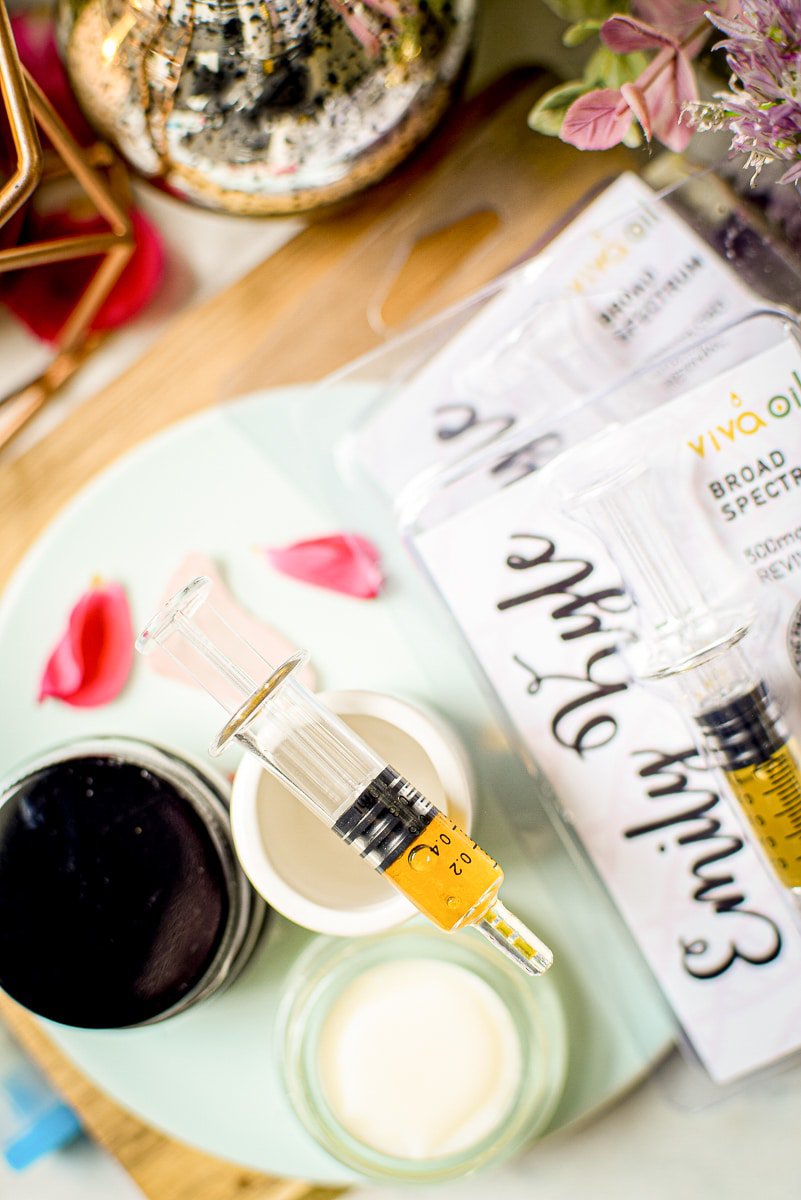 Frequently Asked Questions
Below you will find some of the most common questions from my readers, who all agree that the best cannabis lip balm is the one you make yourself.
Can Applying Cannabis Topically Get You High?
One question I often get from my Well With Cannabis Community is, 'does cannabis lip balm get you high'?
In short, the answer is no, but maybe.
The cannabinoid THC does not reach the bloodstream through topical application, meaning users will not experience a 'high' associated with product use.
Cannabinoids, like CBD or THC, applied directly to the skin penetrate into the epidermis only and are not absorbed directly into the bloodstream.
Because THC applied topically does not enter the bloodstream, it, therefore, does not produce an intoxicating effect.
However, the lips are extremely close to the mucous membranes in the mouth and have a much thinner layer of skin than other parts of the body.
This opens up the possibility of this balm being absorbed in the mouth through sublingual absorption.
This means that if the lip balm gets into your mouth, there is a small chance that you could react to any THC present and feel an intoxicating, or 'high' experience.
How To Make Cannabis Chapstick
By definition, chapstick is a small stick of a cosmetic substance used to prevent the chapping of the lips.
Chapstick is also a brand name of specific lip balm.
For this recipe's purpose, the only difference between chapstick and lip balm is how they are packaged and presented.
Lip balm comes in a round, glass container while the cannabis chapstick will come in a small, cylindrical tube.
If you want to make chapstick, you can get these really easy-to-use chapstick making kits online.
This chapstick crafting kit includes an easy filling tray and spatula to help you fill empty lip balm tubes in bulk, quickly and easily.
The kit comes with 50 BPA free tubes with caps, and 50 stickers so you can make your own label.
Simply pair the recipe below with your chapstick making craft kit, adjust to your desired preferences, and enjoy!
How to Store Cannabis Lip Balm
When making lip balm at home, we recommend storing the final product in these glass containers.
Remember that the size of the lip balm container you chose to use will end up playing a role in the final concentration of each product.
Can You Use This Homemade CBD Lip Balm on Kids?
Because the cannabinoids like CBD and THC are not directly absorbed into the bloodstream, cannabis topical applications may be a viable application option for using cannabis with children.
The lack of intoxicating effects ensures no unwanted outcomes while still delivering important cannabinoids as needed.
Of course, this should be discussed with your healthcare provider.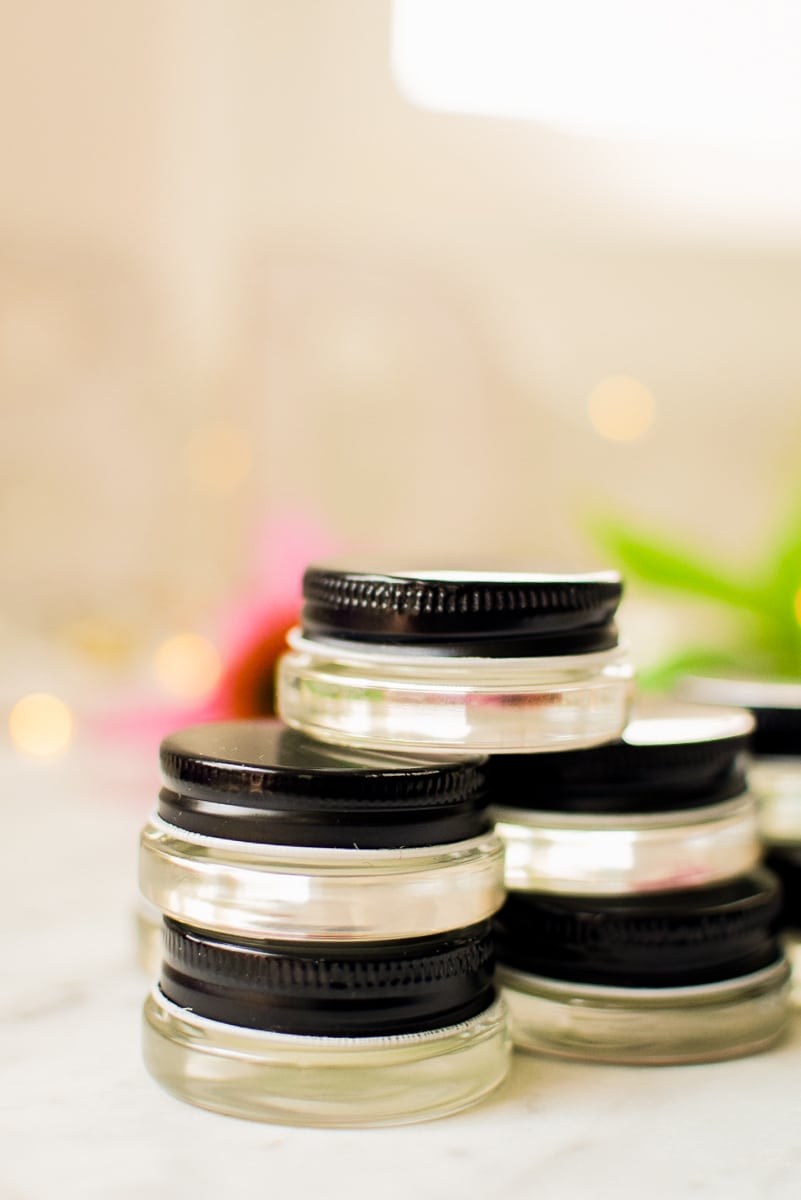 How to Determine The Dosing
Want to get a more accurate guesstimate of the potency of your cannabis infusions and extractions? Try our popular edibles calculator!
Not sure what your perfect dose is? Learn more here.

Want To Make This Easier? Use A Machine!
If the process of decarbing and infusing feels like too much work, an all-in-one countertop device may be a perfect all-in-one solution!
My personal favorite? The Ardent FX! Review the six most popular infusion machines here.
Want A Discount Code?
My Edibles Made Easy Online Cooking Course will teach you how to make cannabis edibles and topical recipes at home with ease. This step-by-step video course will teach you how to infuse, extract, and create edibles with many different product types - all from the comfort of your own home.

Learn more and enroll today →
Homemade Cannabis Lip Balm Recipe
Learn how to make your own moisturizing cannabis lip balm at home with CBD or THC and a few simple ingredients like cannabis-infused oil, beeswax, and shea butter for a soothing, relaxing lip balm your lips will love.
Instructions
Add water to the bottom portion of the double boiler and place over medium-high heat. Add the shea butter, beeswax, and coconut oil to the top portion of the double boiler.

Allow the ingredients to melt and then bring the mixture to a boil, stirring occasionally.

When the mixture begins to boil, turn off the heat and stir in your essential oil of choice and your desired amount of concentrate.

Prepare your chapstick containers or lip balm containers by removing the tops and placing them on a solid surface to be filled.

Using a pipette or similar tool, gently transfer the hot liquid into the lip balm or chapstick containers.

Allow the containers to rest and cool for 15 minutes before sealing with the top. Store in a cool, dry place for up to 6 months.
Notes
*You can use lip balm containers OR chapstick tubes, but you don't need both.
Nutrition
Did you make this recipe or have a question?
Join hundreds of members inside private Well With Cannabis Community for help, support, and to share your edible creations!