Discover the benefits of making your own cannabis-infused oil at home and grab the recipe for a homemade Cannabis-Infused Massage Oil with options for infusing both cannabis flowers and cannabis concentrates.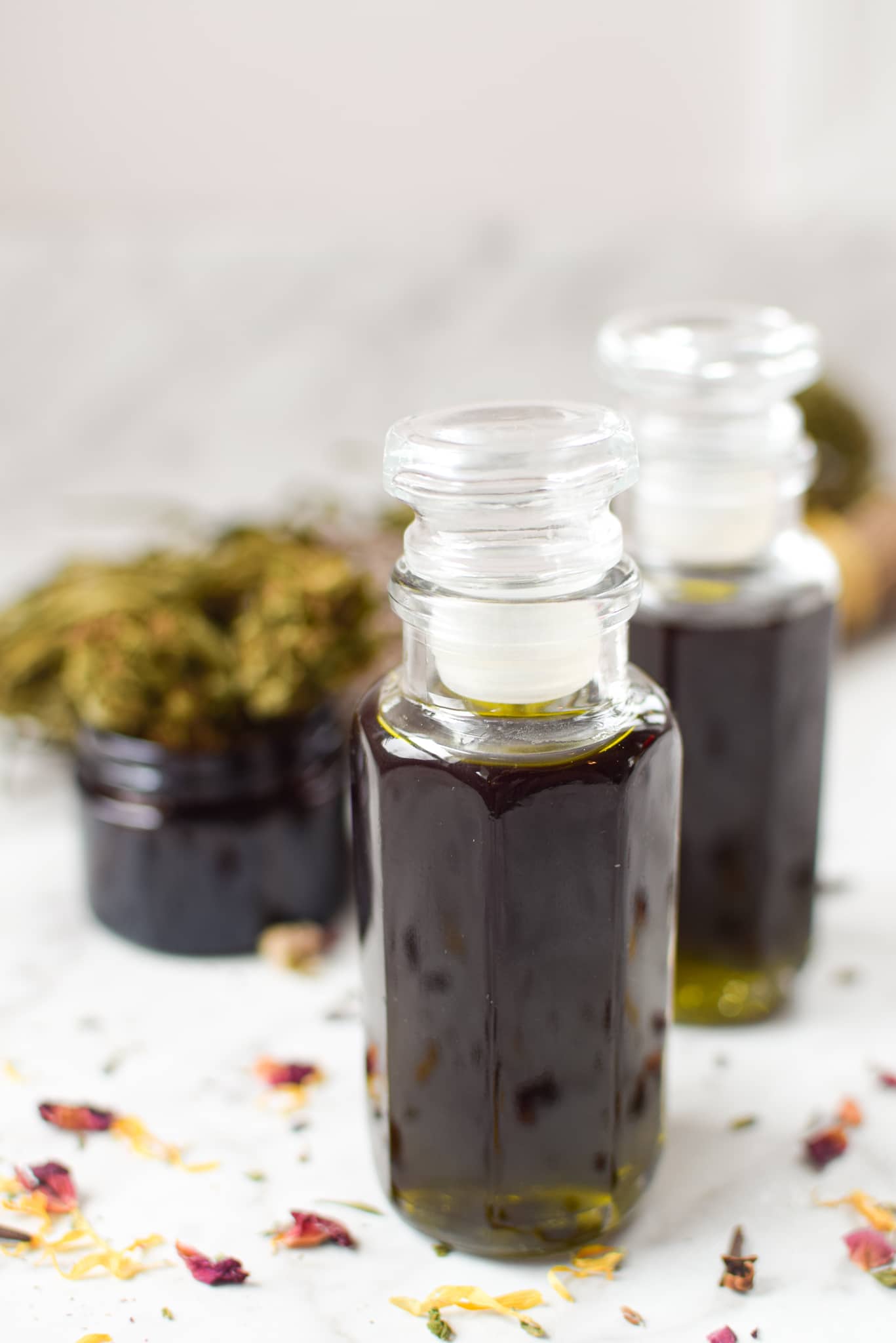 What is Cannabis Massage Oil?
The expanding legality of cannabis across the globe has led to an increase in the popularity of many different types of cannabis oil including hemp seed oil for cooking, CBD oil for anxiety and inflammation, cannabis-infused coconut oil for homemade edibles, and now, cannabis massage oils for topical applications.
Cannabis oils are made by extracting various cannabinoids, like CBD or THC, from the cannabis plant. Cannabinoids can be extracted from the plant material after undergoing the process of decarboxylation with either heat or solvents.
The cannabinoids are then mixed with a carrier oil, as cannabinoids are lipophilic and better absorbed with fat. Many popular carrier oils include coconut oil, MCT coconut oil, or hemp seed oil. Together the cannabinoids and the carrier oil come together to make an infused oil that can be used on the skin, topically, like massage oil.
Will Cannabis Massage Oil Get Me or My Clients High?
The topical application of cannabis onto the skin is a great application method for first-time cannabis users because it does not induce an intoxicating experience like inhaling cannabis or consuming edibles would.
Using a cannabis massage oil infused with either CBD or THC will not get you or your clients high or cause any intoxicating effects. This is because it is believed that the cannabinoids cannot penetrate the skin deep enough to pass through the tough outer layer of the skin to reach the bloodstream.
Additionally, it is not believed that topically applied cannabinoids like THC will show up in the bloodstream or urine when tested (1). Learn more about how cannabis topicals work here.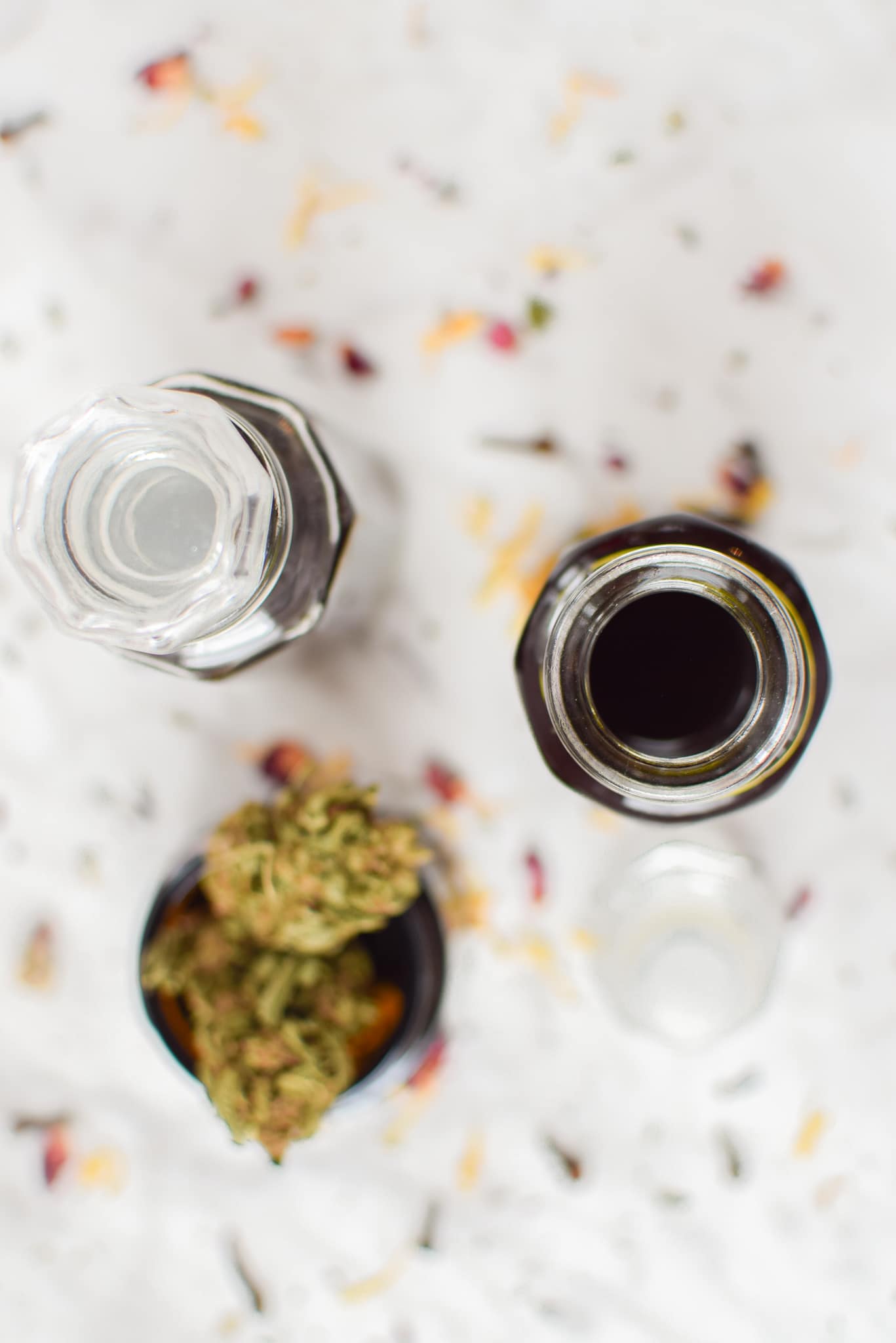 How To Make CBD Massage Oil At Home
For the cannabis-infused massage oil recipe below we infused the oil with dried cannabis flower buds along with other medicinal herbs. Of course, we understand that getting your hands on dried cannabis flowers is easier said than done in many parts of the country.
Luckily, you can still make your own cannabis-infused massage oil with CBD oil or CBD concentrates if you do not have access to cannabis flowers. You would choose either one depending on how strong you want your CBD massage oil.
For a strong CBD massage oil, we recommend using a CBD concentrate which contains 500mg of CBD in just 1mL. This means you do not have to add a lot of volume to your massage oil to get a strong final product.
To make your own CBD massage oil with CBD oil or CBD concentrate you already have, simply follow the recipe as is, minus the cannabis flower, and add the CBD product at the end.
Just be sure to ensure that your infused massage oil is under 240° when you add the CBD oil or concentrate.
Cannabis-Infused Massage Oil with Flower
If you have access to stems, leaves, trim, or other forms of cannabis flower, they are perfect to use in this recipe. Together with our cannabis herb, we combined other healing herbs including lavender, calendula, mint, and clove.
You can make your own CBD massage oil using CBD hemp flower, or a THC massage oil using traditional cannabis flower.
Of course, you can easily customize the fresh or dried herbs you want to infuse into your cannabis massage oil depending on the experience you're looking for. You can also add a few drops of your favorite essential oil.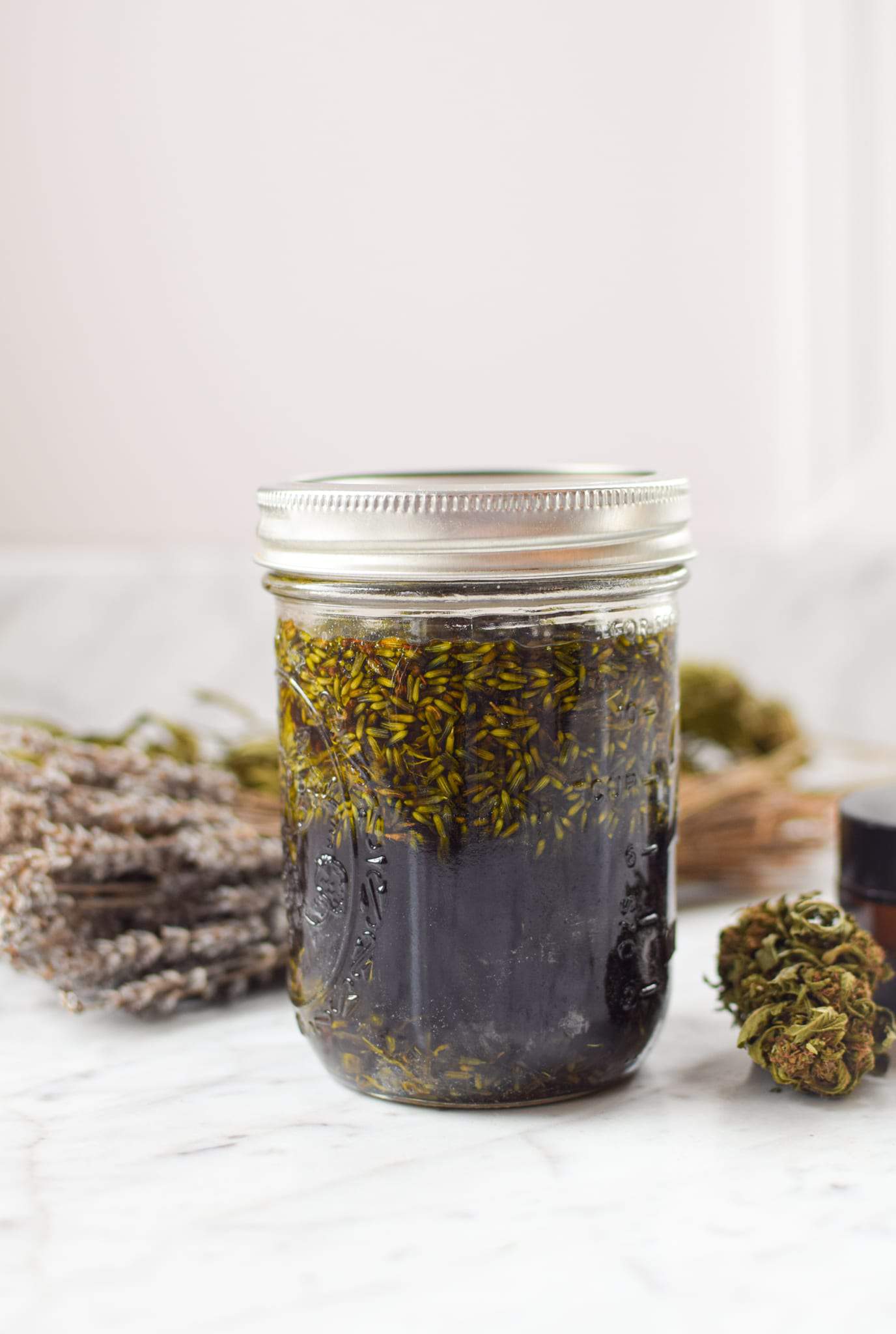 Why Homemade Cannabis Massage Oils Are Better
As cannabis oils are increasingly gaining acceptance in the health and wellness world, so is the desire to make these products at home.
This trend can be attributed to the strong anecdotal evidence and emerging studies confirming that cannabis can be used as a remedy for common ailments.
1. Affordability
A lot of what a customer pays for when buying CBD oil or CBD massage products is the branding factor of production. You can easily cut costs by following the recipe below, you simply need to gather all the materials needed. A quick spot check across beauty shops and retailers shows that you could actually save up to 50% by doing so overtime.
2. Quality
The CBD industry remains highly unregulated; therefore, it is quite hard to test for consistency and quality of your average CBD brand.
There is a tendency of not disclosing the entire contents of these oils by manufacturers. While I have created this Guide to Help You Choose a Safe CBD Product, the best option for knowing what is in your cannabis oil to make it yourself.
3. Potency
The cost of high-potency oil is high, and oftentimes it is difficult to get, depending on where you live. One way to have complete control over the accessibility and potency of your product is by formulating it yourself. As I always say, cannabis is a self-experiment, and testing many different recipes will help you to achieve your preferred potency.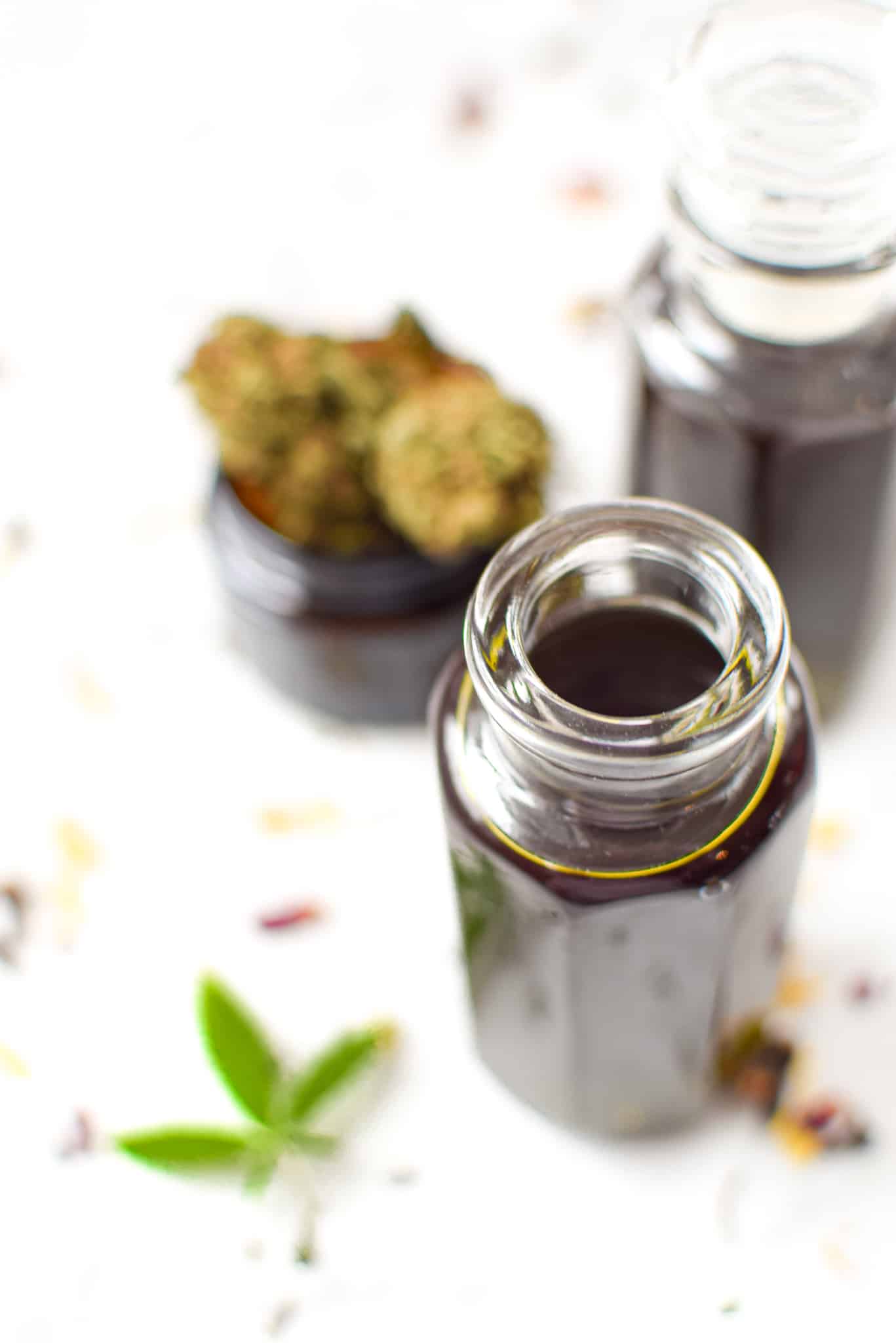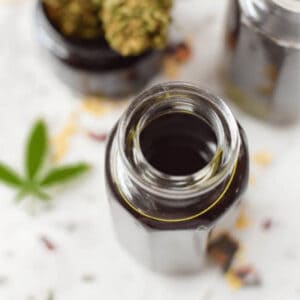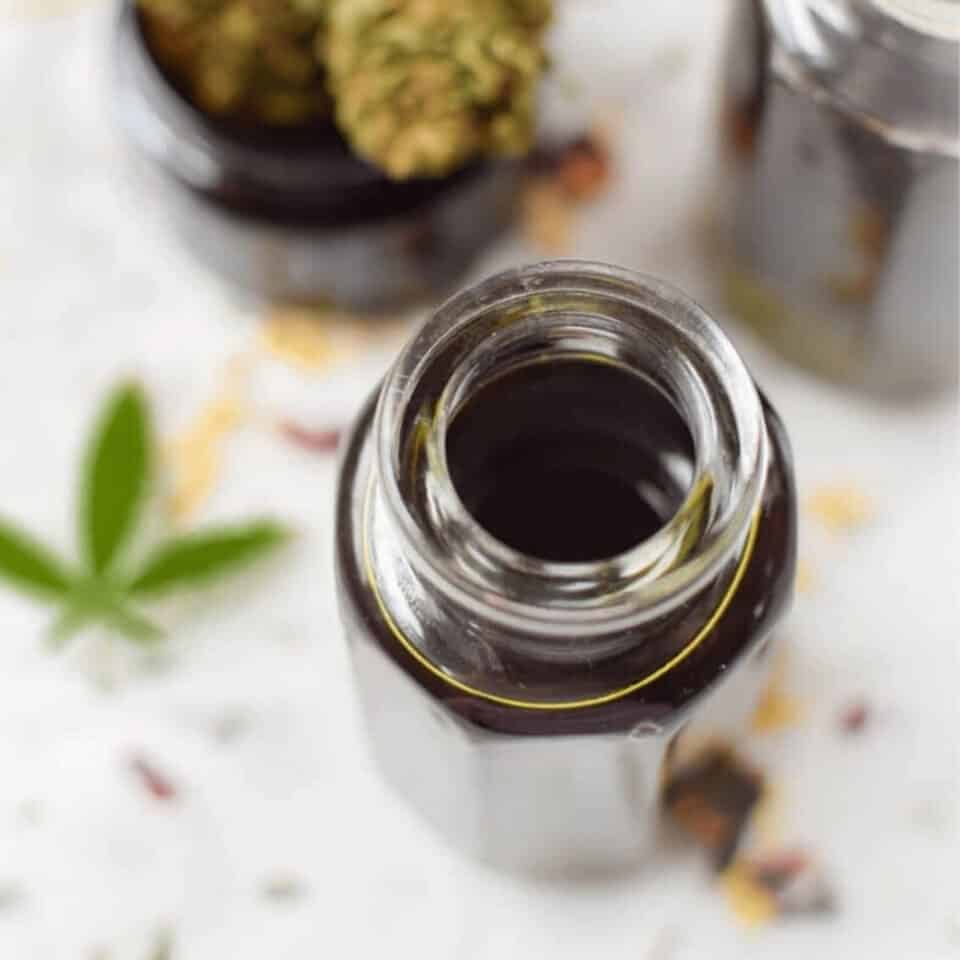 Cannabis-Infused Massage Oil
Discover the benefits of making your own cannabis-infused oil at home and grab the recipe for a homemade Cannabis-Infused Massage Oil with options for infusing both cannabis flowers and cannabis concentrates.
Instructions
Preheat a water bath to 185° F. Various water bath techniques are explained in the notes section below.

Combine all ingredients together in a 16-ounce mason jar, wipe rim and finger tighten the lid.

Place the mason jar into the water bath and cook for 4 hours.

After 4 hours, remove the jar and allow to cool enough to handle. Strain the oil into a clean mason jar through a filter or cheesecloth.

Let the oil cool to room temperature, seal the mason jar, and store in a cool dark place until ready for use.
Notes
Make sure the cannabis flower is decarbed prior to adding it to this recipe or you may not experience the activated effects of CBD or THC.
If you are using an Immersion Cooker or Sous Vide Cooker, fill a vessel deep enough to hold a 1-quart mason jar with an inch of water above lid with hot water. Preheat the water to 185° F.
If you are using a Crock-Pot or Instant Pot for your water bath, fill the cooking vessel with enough hot water to cover the mason jar with an inch of water above the lid.
If using an Instant Pot; set the slow cooker mode to 185°F and preheat.
If using a Crock-Pot; preheat on high until 185° F is reached, then turn to low, a digital probe thermometer is recommended for Crock-Pot to ensure accurate temperature control.
We recommend sanitizing my jars in the 185° F water for at least 5-minutes before filling with any ingredients. This step isn't necessary, but good safety practice.