This easy, step-by-step beginner's guide will teach you how to make cannabis coconut oil at home. It is perfect for anyone who wants to learn how to make a dairy-free, plant-based, cannabis-infused coconut oil that can be used as a base for many cannabis-infused recipes and self-care products.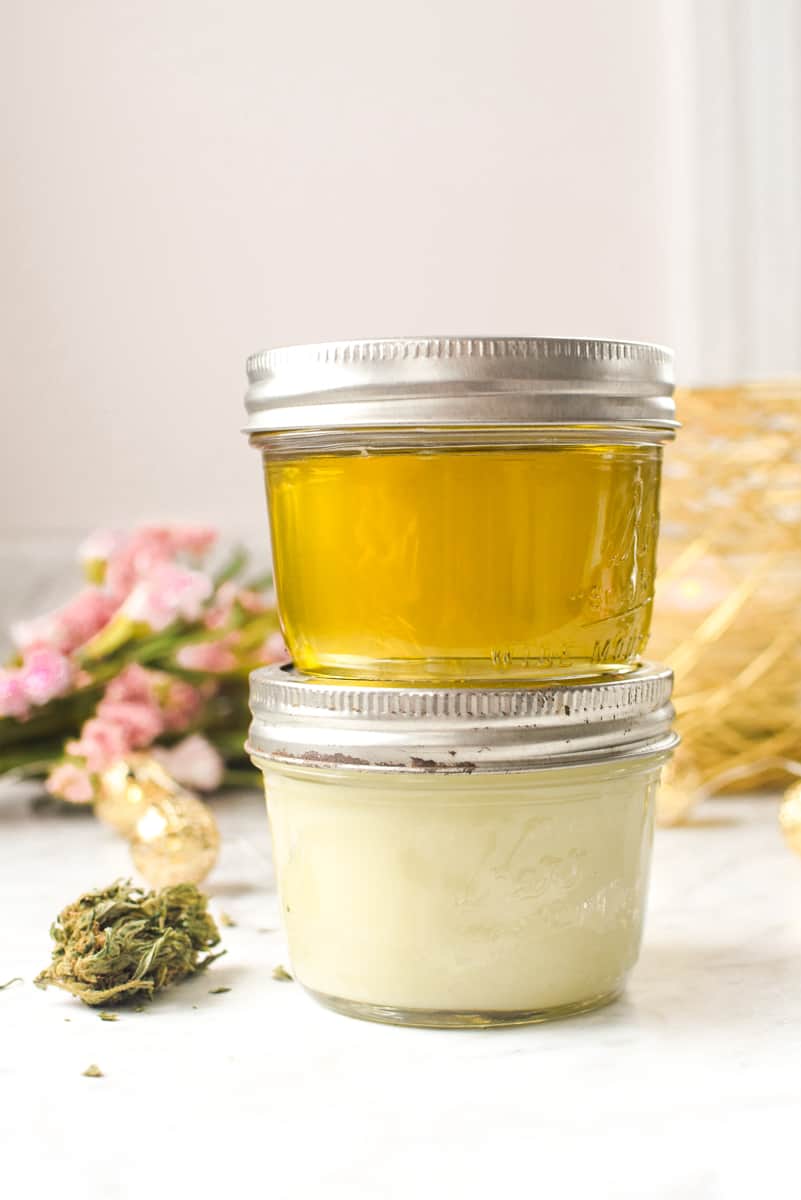 Are you brand new to consuming cannabis edibles? Be sure to read my Beginners Guide to Consuming Cannabis Edibles before getting started to ensure you have a safe and enjoyable experience!
Dairy-Free Cannabis Coconut Oil
Cannabis butter, also called cannabutter, is likely the most tried and true cannabis-infused recipe known to the culinary cannabis world.
Cannabutter, or this cannabis coconut oil alternative, is an important staple recipe for any cannabis consumer to master.
Making infused cannabis coconut oil is a fairly straightforward process that uses both heat and fat to decarboxylate the cannabis flower and extract the cannabinoids from the plant.
The final product is a cannabis-infused oil that can then be used to make more specific recipes. Many of the most common cannabis edible recipes made with cannabis oil are cannabis brownies, cannabis cookies, and other indulgent desserts.
Consuming raw or dried cannabis flower buds will provide little to no intoxicating effect at all. This can be good or bad depending on your desired experience. However, most cannabis consumers want to feel the full effects of CBD or THC when making edibles.
In order to reap the benefits of activated CBD or THC, cannabis decarboxylation must occur before cooking, baking, or extracting oil from the dried flower buds of the cannabis plant.
For this recipe, we decarboxylated cannabis before combining it with the coconut oil and cooking further, but you can skip the decarboxylation step altogether and adjust your cooking times and temperatures if desired.
Click Here for a Full Beginners Guide to Cannabis Decarboxylation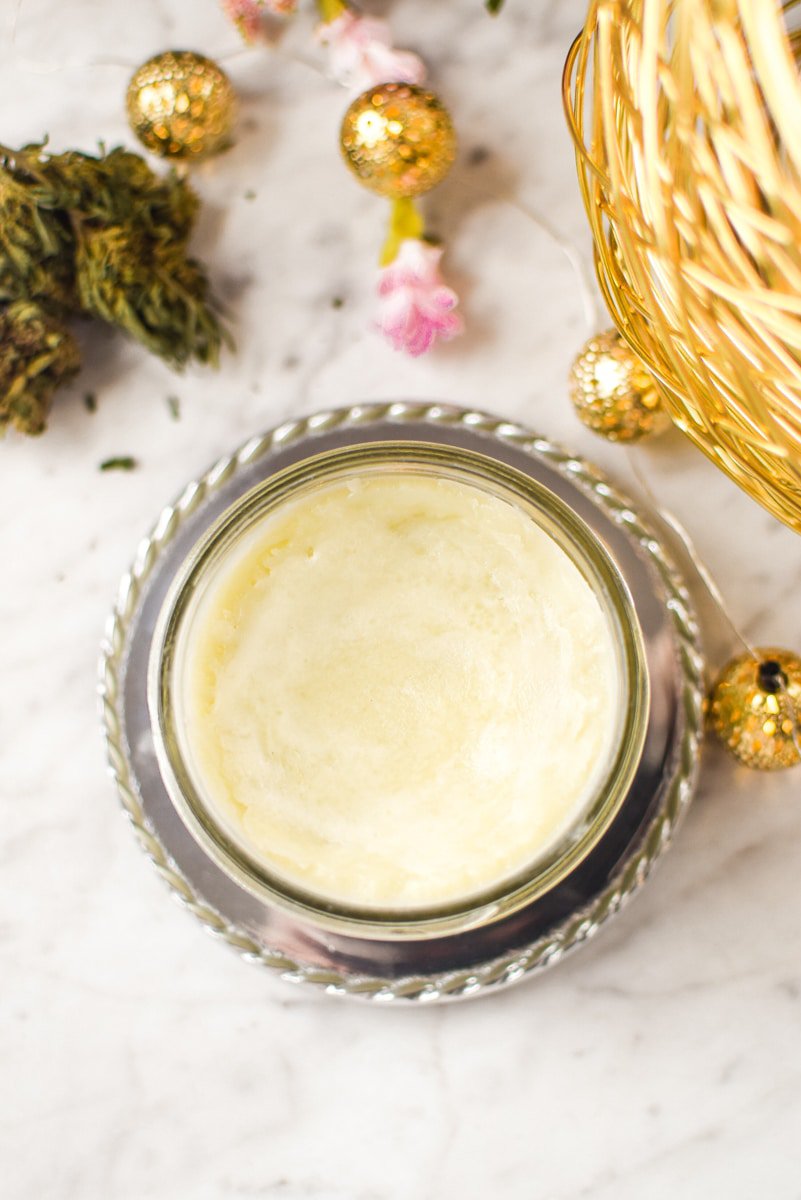 Cannabis Coconut Oil For Health
As a Holistic Cannabis Practitioner, I help my clients overcome autoimmune and inflammatory conditions using my cannabis and nutrition protocols. All of my clients start gluten and dairy-free, which is why I needed a cannabis-infused butter recipe that was dairy-free.
Coconut oil is the perfect substitute for butter when making dairy-free and vegan cannabutter. The coconut oil performs similarly to the butter in regards to extracting the cannabinoids from the plant matter, and it remains solid at room temperature like butter.
Coconut oil is naturally dairy-free, vegan, vegetarian, plant-based, and allergen-friendly. This cannabis-infused coconut oil is a great option for anyone who is following a specialty diet or just looking for an alternative to traditional butter.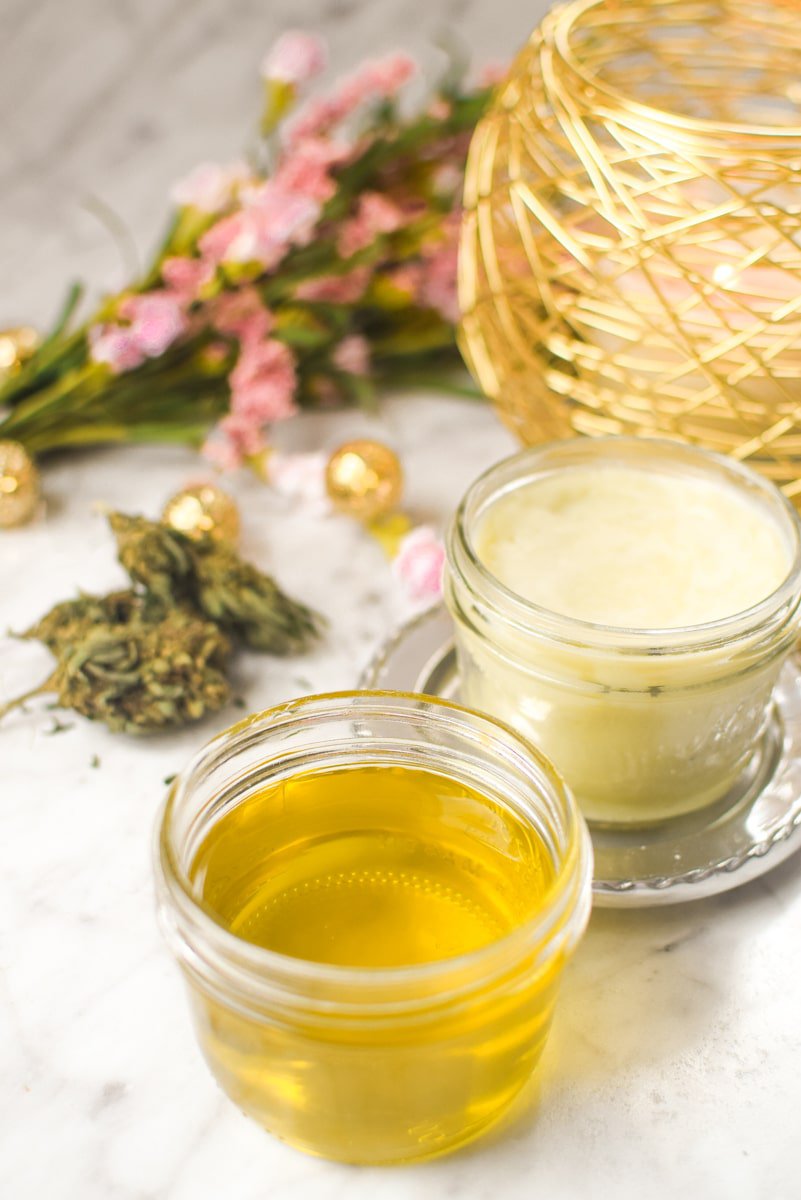 Important Factors to Consider
If you asked 100 different Chefs, you would likely get 100 different variations on how to make your own cannabis-infused coconut oil or butter at home. There are a lot of factors that can affect your end results when cooking with cannabis.
Here are a few additional considerations to keep in mind:
Temperature Controls
It is important to keep tight temperature control applying cannabis to various culinary applications. While heat is needed to decarboxylate the acids into the active form of cannabinoids our bodies can use, extreme temperatures can destroy many of the important plant materials that contribute to positive health outcomes, like terpenes.
Each individual terpene may have it's own therapeutic health benefits, but also carries its own sensitivity to heat. If cannabis is heated above 300 degrees F, you run the risk of denaturing many important plant compounds.
The Strain of Cannabis Used
The strain of cannabis flower you are using will impact decarboxylation time and temperature recommendations. Each cannabis strain contains varying amounts and ratios of different cannabinoids and terpenes.
Because each cannabinoid and terpene decarboxylates at a different temperature, you will want to consider the best temperature and cooking time for your particular strain. Additionally, the final potency and intoxicating effects will vary depending on if it is a THC or CBD dominant strain.
The Freshness of Product
You will have noticeable differences in the final product depending on the freshness of the material you start with. Cannabis oil coconut oil can be made with raw cannabis leaf trimmings, and it can also be made with traditionally dried and cured flower buds. The concentration of cannabinoids will vary with the freshness of the starting material, impacting your final product.
Equipment Variability
You can make cannabis coconut oil with various pieces of equipment like a crockpot, slow cooker, or instant pot, but there will be small variables in the cooking equipment which may impact your final product. Different crockpots will have different temperatures when setting to the same setting, which is why we recommend a digital thermometer be used throughout the cooking process.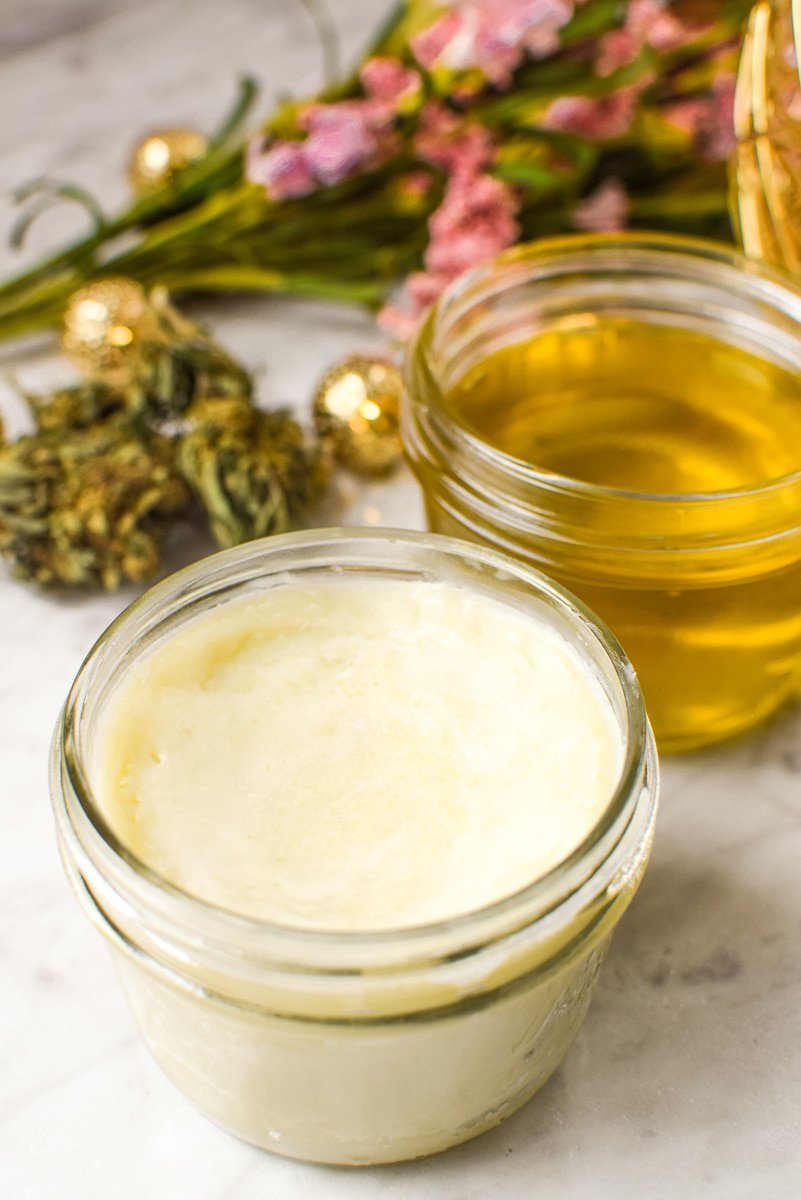 Crockpot Cannabis Coconut Oil Recipe
Yield:
16 ounces (1 pound)
Total Time:
4 hours
30 minutes
This easy, step-by-step beginner's guide will teach you how to make cannabis coconut oil at home. It is perfect for anyone who wants to learn how to make a dairy-free, plant-based, cannabis-infused coconut oil that can be used as a base for many cannabis-infused recipes and self-care products.
Ingredients
16 ounces (1 pound) organic, virgin coconut oil
1 ounce cannabis flower, pre-decarb
Instructions
Fill your crockpot with enough hot water to cover the top of the mason jars you plan on using by an inch to create a water bath.
Start the heat on high then turn to low when a temperature of 185° F is reached.
While the water bath is heating in the crockpot, measure and decarb the cannabis flower. If needed, click here for a full cannabis decarboxylation tutorial.
Evenly divide the coconut oil between the mason jars, leaving a 1/2 inch space from the top.
Divide the decarbed flower between the coconut oil filled jars. If you are making multiple flavors of oil, be sure to measure the flower exactly. Wipe the rim of the jars with a clean paper towel and place the lid on, tighten the metal ring to finger-tip tight. It does not have to be tightened all the way.
Carefully place the jars into the water bath, place the lid on the crockpot, and cook for 4 hours.
After 4 hours, carefully remove the jars from the water and allow them to cool enough to handle. Strain the cannabis oil through a paper filter or cheesecloth to separate the plant-matter from the coconut oil.
Return the prepared cannabis oil to whatever jar you would like to store it in. Be sure to store this oil in a cool, dry place. It will last longer in the refrigerator and even longer in the freezer. If you are storing the oil in the fridge, never use the microwave to soften it as it could destroy the cannabinoids.
Notes
We recommend you sanitize your jars by keeping them submerged in the 185° F crockpot for 10 at least minutes. This step is not necessary, but a good practice.
Nutrition Information:
Yield:

16
Serving Size:

1
Amount Per Serving:
Calories:

120
Total Fat:

13g
Saturated Fat:

11g
Trans Fat:

0g
Unsaturated Fat:

1g
Cholesterol:

0mg
Sodium:

0mg
Carbohydrates:

0g
Fiber:

0g
Sugar:

0g
Protein:

0g