Learn the difference between full-spectrum and broad-spectrum cannabis and why this is important terminology to understand when purchasing products, especially for those who need to pass a drug test.
The Cannabis Spectrum
You may have seen different cannabis products in the marketplace labeled as either a full-spectrum product or a broad-spectrum product - but what is the difference between the two?
What does it actually mean?
In this article, you will discover what the difference between full-spectrum and broad-spectrum is when selecting a product.
We will also discuss why this is important terminology to understand when purchasing cannabis products, especially for those who need to pass a drug test.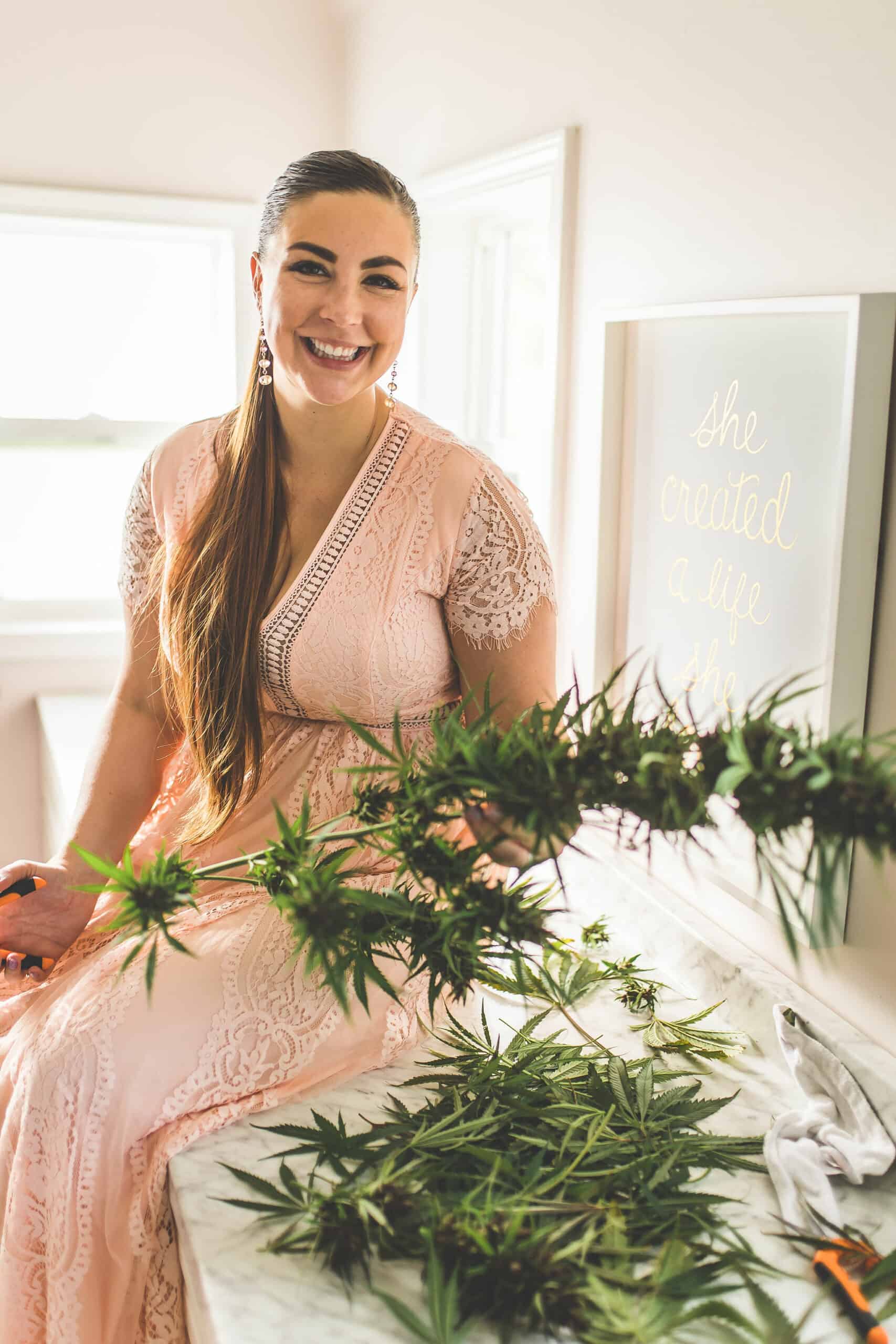 Looking For More Support?
Join thousands of members inside my private Well With Cannabis Community to ask questions, find support, and share your edible creations!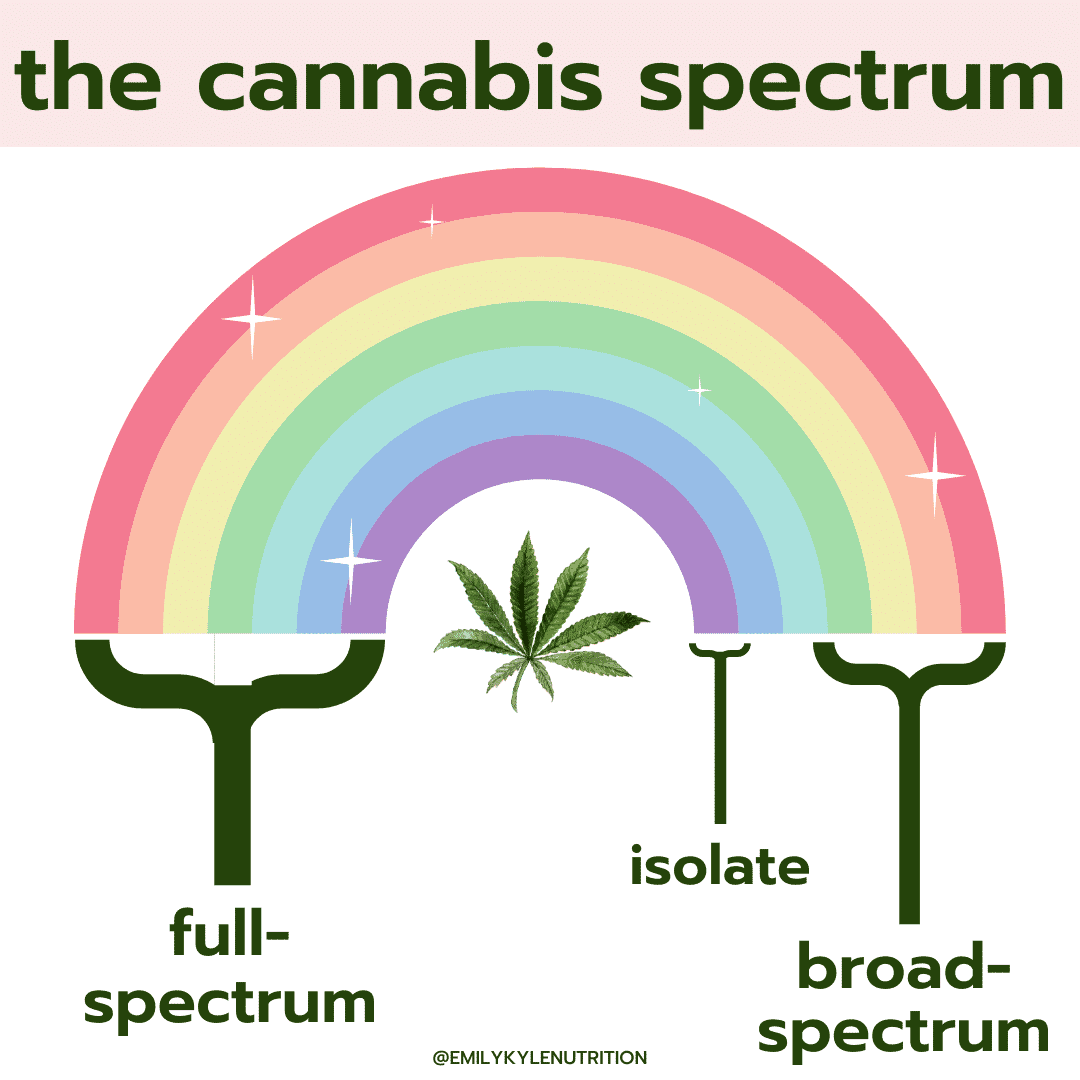 A Spectrum of Cannabinoids
Cannabis is a beautiful plant containing over 500 biologically active compounds, including over 110 identified phytocannabinoids, cannabinoid acids, and over 100 different terpenes (1).
Phytocannabinoids are cannabinoids that have been derived from plants.
Our bodies also make their own endocannabinoids, anandamide, and 2-AG as a part of our larger working endocannabinoid system (ECS).
Phytocannabinoids are beneficial compounds found in the cannabis plant that give cannabis its therapeutic benefits, most notably for pain and inflammation.
The most commonly known cannabinoids include THC, CBD, CBN, CBG, and CBC.
What Does Full-Spectrum Mean?
Full-spectrum cannabis means that all of the naturally occurring cannabinoids found in the mature growing plant are still present in the final processed product.
Additionally, full-spectrum products contain the other important compounds that the cannabis plant contains, including terpenes, flavonoids, and more.
It is important to note that the cannabis plant itself has hundreds of different strains, varieties, and chemovars, and the cannabinoid and terpene profile can vary greatly from strain to strain (1).
Some strains are bred to be high CBD, low THC producers, while others are bred to be high THC, low CBD producers.
This provides options for all types of consumers on the market today.
Full-spectrum cannabis is thought to be superior to broad-spectrum or isolated cannabis products because all constituents help create what's known as The Entourage Effect.
While each compound has a benefit of its own, it is believed that all of the compounds in cannabis work synergistically together to provide maximum benefits (2).
What Does Broad-Spectrum Mean?
Broad-spectrum in general means 'a range of many different kinds'.
In cannabis, broad-spectrum products contain many different kinds of cannabinoids and terpenes found within the plant, but not all of the compounds naturally found within the plant.
In most cases, broad-spectrum products aim to provide the same synergistic health benefits of cannabis to the consumer, but with the complete removal of the intoxicating cannabinoid THC.
In the case of CBD oil, broad-spectrum CBD oil contains the same compounds as mentioned above for the full-spectrum oil, however, the THC has been physically separated out, leaving no trace amounts of that specific cannabinoid.
Broad-Spectrum products are ideal for users who cannot have any trace of THC in their system, whether it be for a job, passing a drug test, or personal reasons.
Of course, you want to ensure that any product labeled broad-spectrum is also labeled THC-free with 3rd party lab test results to prove it if that is what you are specifically looking for.
What About Isolate Products?
Isolate products are just that, specific isolated cannabinoids that have been physically separated from the cannabis plant.
For example, CBD isolate is an extraction that is 99.9% pure cannabidiol.
During the CBD isolate extraction process, every compound in the plant matter is removed, including any traces of THC, terpenes, waxes, oils, chlorophyll, and more.
While isolated cannabinoids play a beneficial role in certain situations, they are generally not favored by cannabis enthusiasts because they do not contribute to the overall Entourage Effect (3).
What About CBD Products?
As CBD products gain popularity, we see more and more options availabe on the marketplace today.
However, the sheer volume of products can get overwhelming, especially when every label seems to read differently due to the general lack of regulations in the CBD marketplace.
If you are not sure about how to choose a safe CBD product, be sure to check out my guide here.
It is important to remember that all CBD products may contain up to, but no more than, 0.3% THC by Federal law.
Full-spectrum CBD oil includes the full spectrum of cannabis constituents, including, but no more than, 0.3% THC.
This minimal presence of THC is not enough to create an intoxicating effect, but it is enough to contribute to the synergy of the Entourage Effect.
Broad-spectrum CBD oil includes a broad spectrum of cannabis compounds, with typically 0.0% THC.
Be sure to check that the product is also clearly labeled THC-free and that the 3rd party lab testing confirms this.
Can I Make Full-Spectrum Cannabis Oil At Home?
Full extract cannabis oil, also known as FECO, is a concentrated, whole-plant, full-spectrum cannabis extract.
This means that all of the important plant compounds, from cannabinoids to terpenes and other plant materials, are present in the extract.
If you are a cannabis consumer who likes to prepare their own medicine at home, you can make a full extract cannabis oil at home in your own kitchen.
Click here for a tutorial and guide to making FECO at home.
What Should I Use If I Need to Pass a Drug Test?
While full-spectrum CBD oil must contain less than 0.3% THC by Federal law, the fact is that it still contains THC and that THC has the ability to be absorbed into the bloodstream and cause a failed drug test.
If the CBD oil is used as a sublingual tincture (held under the tongue) or ingested (swallowed), it has the potential ability to show THC in the system (4).
The one exception is when CBD oil is applied topically, as cannabinoids do not penetrate the skin deep enough to reach the bloodstream.
That means you could put full-spectrum CBD oil on your skin and be OK to pass a drug test, but you might not be OK if you swallow it or use it under your tongue.
Whether this will happen to you will be entirely dependent on how your own body physiology processes THC in your system, as our endocannabinoid tone varies from person to person.
If you need to be 100% sure you can pass a drug test, I only recommend using broad-spectrum THC-Free products with lab testing to verify.
My Edibles Made Easy Online Cooking Course will teach you how to make cannabis edibles and topical recipes at home with ease. This step-by-step video course will teach you how to infuse, extract, and create edibles with many different product types - all from the comfort of your own home.

Learn more and enroll today →