Discover the difference between full-spectrum vs. broad-spectrum CBD and why this is so important to understand when purchasing products, especially for those who need to pass a drug test!
Featured
A quick answer for the type of CBD you want to buy
A guide to help you decide which one is right for you
Product recommendations to help you get started
Why You Will Love This Guide
You may have seen different types of CBD products labeled as either a full-spectrum or broad-spectrum – but what is the difference?
What do these terms mean? And most importantly, does it even matter? Don't worry; you've come to the right place for answers!
In this article, you will learn the difference between full-spectrum CBD products and broad-spectrum CBD products.
We will also discuss why it is an important thing to understand when buying different CBD products, especially for those who need to pass a drug test!
The Quick Answer
The main difference between full-spectrum oil and broad-spectrum oil is the THC content. Full-spectrum CBD oil includes a spectrum of cannabis compounds, including THC (even in trace amounts of less than 0.3% THC). Broad-spectrum CBD oil includes a spectrum of cannabis compounds but NO THC.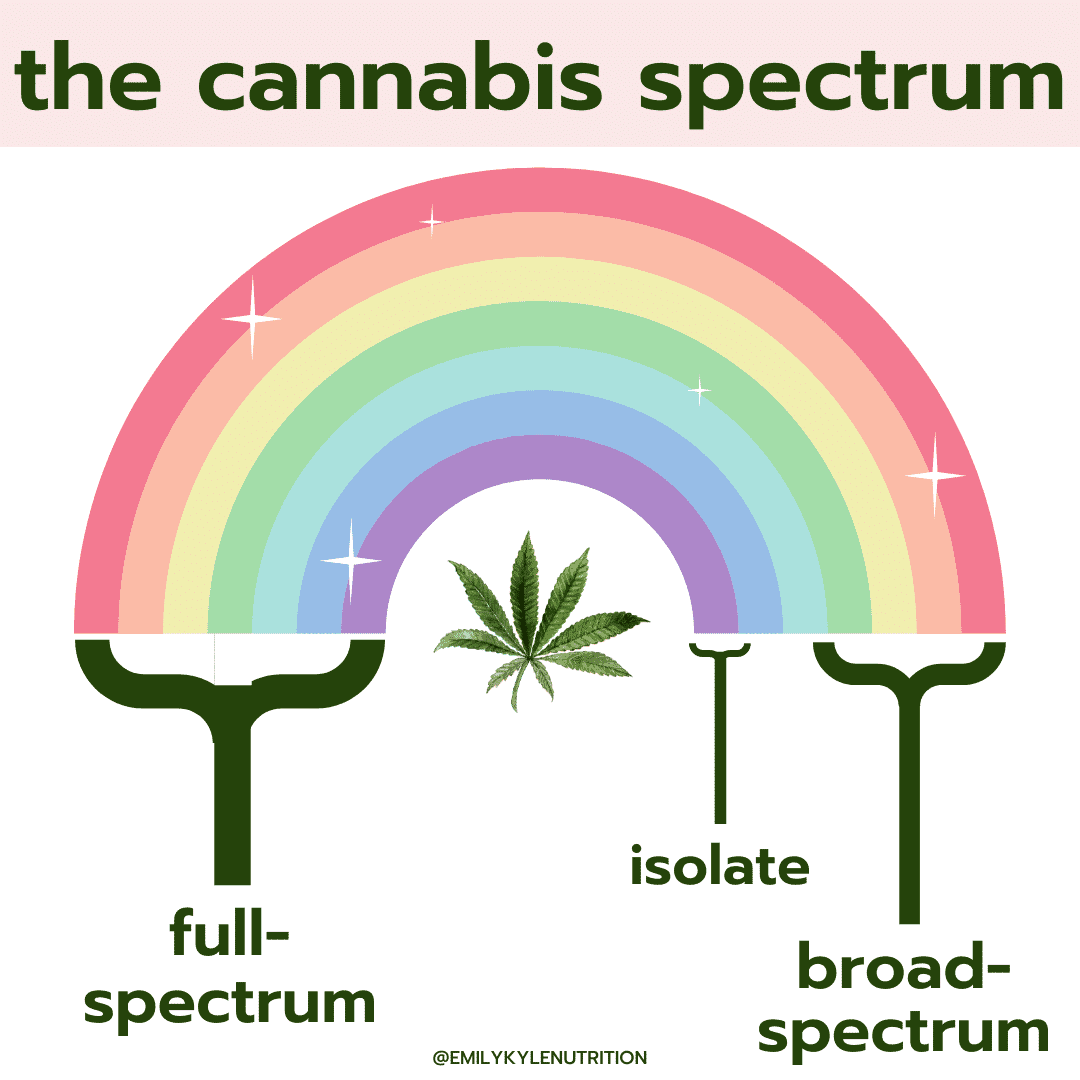 ---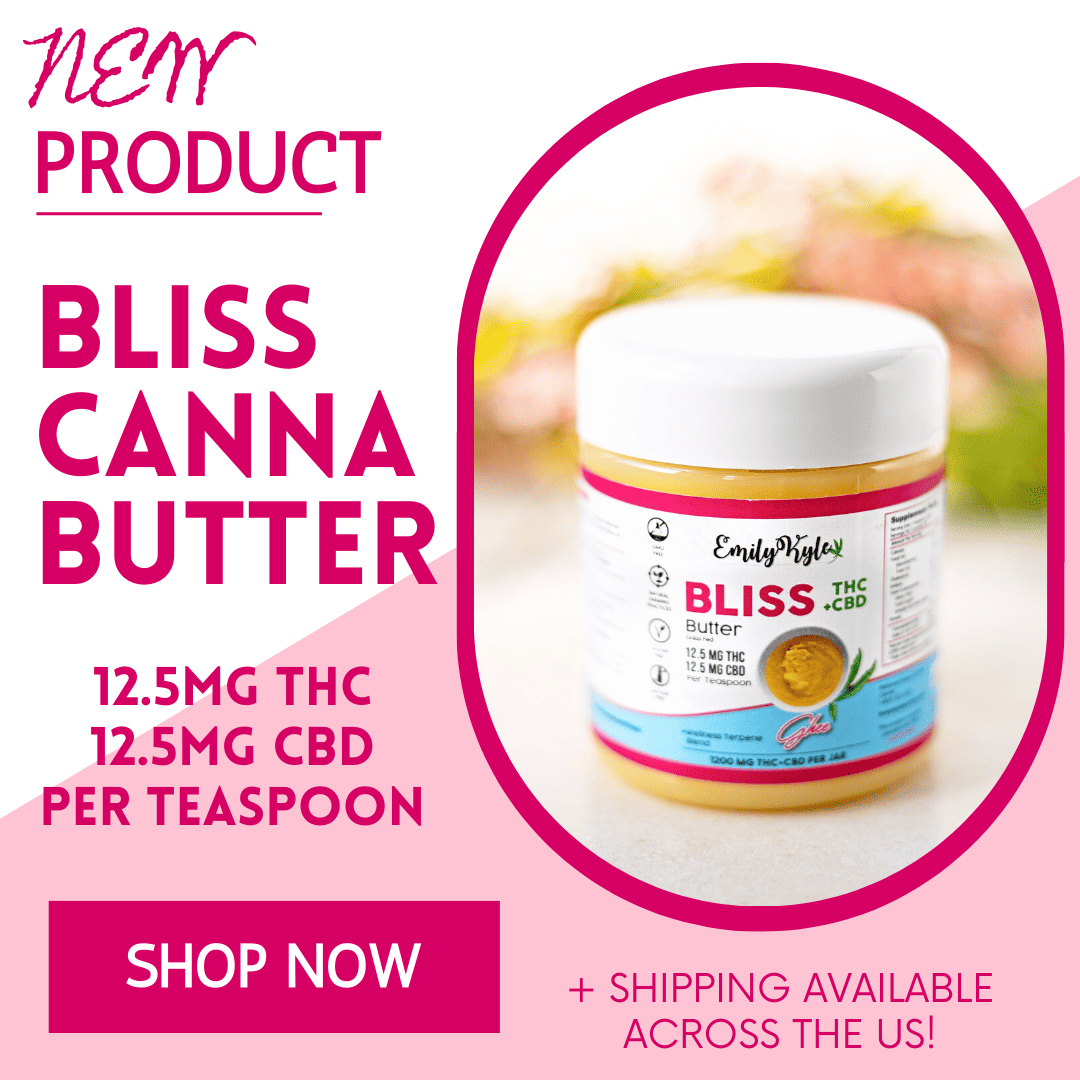 Skip the hard work and have perfectly dosed, delicious, pure Bliss Cannabutter delivered directly to your door! Shop Now →
---
The Cannabinoid Spectrum
Cannabis is a beautiful plant containing over 500 compounds, including over 110 cannabinoids, cannabinoid acids, and over 100 different terpenes1.
Both hemp and marijuana are derived from the Cannabis Sativa plant.
A cannabis plant is considered a hemp plant if it contains less than 0.3%, and a marijuana plant contains more than 0.3% THC.
THC is just one cannabinoid that has been derived from the plant.
Common cannabinoids include THCA, CBDA, CBD, CBN, CBG, and CBC.
These cannabinoids interact with our endocannabinoid system, providing therapeutic benefits ranging from reducing pain and inflammation to anxiety and depression management.
Together, the range of cannabinoids and terpenes in the cannabis plant form a spectrum.
What Is Full-Spectrum?
Full-spectrum cannabis means that all of the naturally occurring cannabinoids in the whole plant are present in the final product.
Full-spectrum products also contain the other beneficial compounds from the plant, including terpenes, flavonoids, fatty acids, and more.
It is important to note that the cannabis plant has hundreds of different strains, varieties, and chemovars, and the cannabinoid and terpene profile will vary greatly from strain to strain (1).
Some strains are bred to be high CBD, low THC producers, while others are bred to be high THC, low CBD producers. This provides options for all types of consumers.
Even trace amounts of THC, not enough to produce psychoactive effects, are beneficial in a full spectrum extract because THC and CBD work synergistically together.
A full-spectrum extract is considered superior to a broad spectrum extract or isolates because all of the compounds come together to create what's known as The Entourage Effect.
While each compound has a benefit of its own, it is believed that all of the compounds work synergistically together to provide maximum benefits2.
If you do not need to worry about passing a drug test or legal issues in your state, choosing full spectrum CBD products would be a great option for you.
What is Broad-Spectrum?
Broad-spectrum, in general, means 'a range of many different kinds'.
In cannabis, broad-spectrum products contain many different kinds of cannabinoids and terpenes found within the plant, but not THC.
In the case of CBD oil, broad-spectrum CBD oil contains the same compounds as mentioned above; however, the THC has been physically separated out, leaving no trace amounts of THC.
Broad-Spectrum products are ideal for users who cannot have any trace of THC in their system, whether it be for a job, passing a drug test, or for personal reasons.
Of course, you want to ensure that any product labeled broad-spectrum is also labeled THC-free with 3rd party lab test results to prove it is what you are looking for.
What Are Isolate Products?
Isolate products are specific isolated chemical compounds that have been physically separated from the cannabis plant.
For example, CBD isolate is an extraction that is 99.9% pure CBD.
During the CBD isolate extraction process, every compound in the plant matter is removed, including any traces of THC, terpenes, waxes, oils, chlorophyll, and more.
The difference between isolate CBD and broad spectrum CBD products is that isolates do not contain any additional cannabinoids or plant material.
While isolates can provide a higher concentration of the CBD molecule, they are generally not favored by CBD users because they do not contribute to the entourage effect3.
Product Recommendations
As CBD gains popularity, you will see more and more options available on the marketplace today.
While I've created a guide to help you get started with how to choose a safe CBD product, I know it can still be overwhelming to make the right choice.
That is why I have created my line of full-spectrum CBD products, including:
My products include the benefits of CBD, traces of other cannabinoids, and the health benefits of a small amount of THC while remaining under the legal limit of 0.3% THC.
Produced with CO2 extraction, a method considered to be superior to solvent extraction in the CBD industry, my products are the best choice for those who want the best product possible.
My topicals contain the benefits of essential oils, and my gummies allow you to enjoy the effects of CBD easily.
You can shop all of my CBD products here.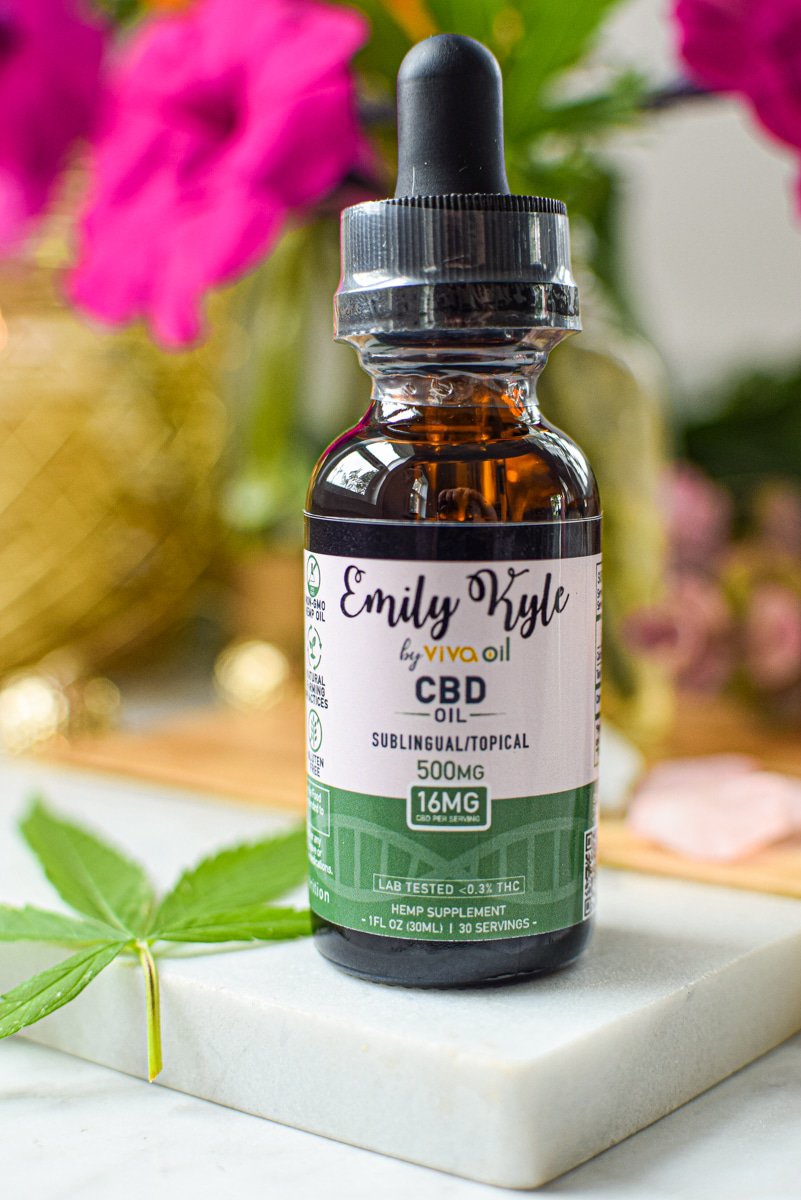 Frequently Asked Questions
Here are the most frequently asked questions I get about full-spectrum or broad spectrum CBD from my Well With Cannabis Community.
How much CBD should I start with?
If you're brand new to CBD, a good place to start is between 10-20mg per serving. Keep in mind that there are many types of CBD oil with different strengths, so you will want to do your research and pick the option that is right for you. Remember, CBD will not make you feel high, but THC can. Be mindful of how much THC you are consuming through various CBD extracts or even hemp extracts.
What is legal?
It is important to remember that all CBD products may contain up to but no more than 0.3% THC by Federal law under the 2018 Farm Bill, unless the state has specific rules stating otherwise. In legal and recreational states, full-spectrum oil may be legally allowed to contain more than 0.3% THC. However, each state has its own rules and regulations, so you should take a closer look at your state's specific legal requirements.
What should I use if I need to pass a drug test?
Full-spectrum CBD oil contains THC, and THC has the ability to be absorbed into the bloodstream and cause a positive drug test. If the CBD oil is used as a sublingual tincture (held under the tongue) or ingested (swallowed), it has the potential ability to show THC in the system4. The one exception is when CBD oil is applied topically, as cannabinoids do not penetrate the skin deep enough to reach the bloodstream. That means you could put full-spectrum CBD oil on your skin and be OK to pass a drug test, but you might not be OK if you swallow it or use it under your tongue. If you need to be 100% sure you can pass a drug test, I only recommend using a broad-spectrum product labeled THC-Free with associated lab testing to verify. Be sure to check that the product is also clearly labeled THC-free and that the 3rd party lab testing confirms this.
What is best for pain relief?
Some people experience pain relief from just CBD, while others really need some THC to touch any type of chronic pain. A full spectrum CBD oil may be enough for some people to achieve pain management, while others will need a higher percent THC to reap the beneficial effects. It will also depend on how you use cannabis, whether it be smoking, vaping, tinctures, or topicals.
What about hemp oil?
Hemp seed oil is a nutritious, supplemental dietary product used for cooking in the kitchen. While it is an excellent choice for making delicious recipes, it does not contain any CBD or THC, meaning it does not fall under the spectrum.
Talk to your doctor!
If you are unsure which cannabis products are right for you, I recommend you seek your doctor's advice to get a medical marijuana card. While the side effects of CBD are minimal, it is important to talk to a professional if you are working to treat a serious medical condition or wean off prescription medications. The information presented here is not medical advice.
Can I make CBD cannabutter?
Yes, but you will need to start with CBD flower first. Once you have that, you can make your own CBD butter at home.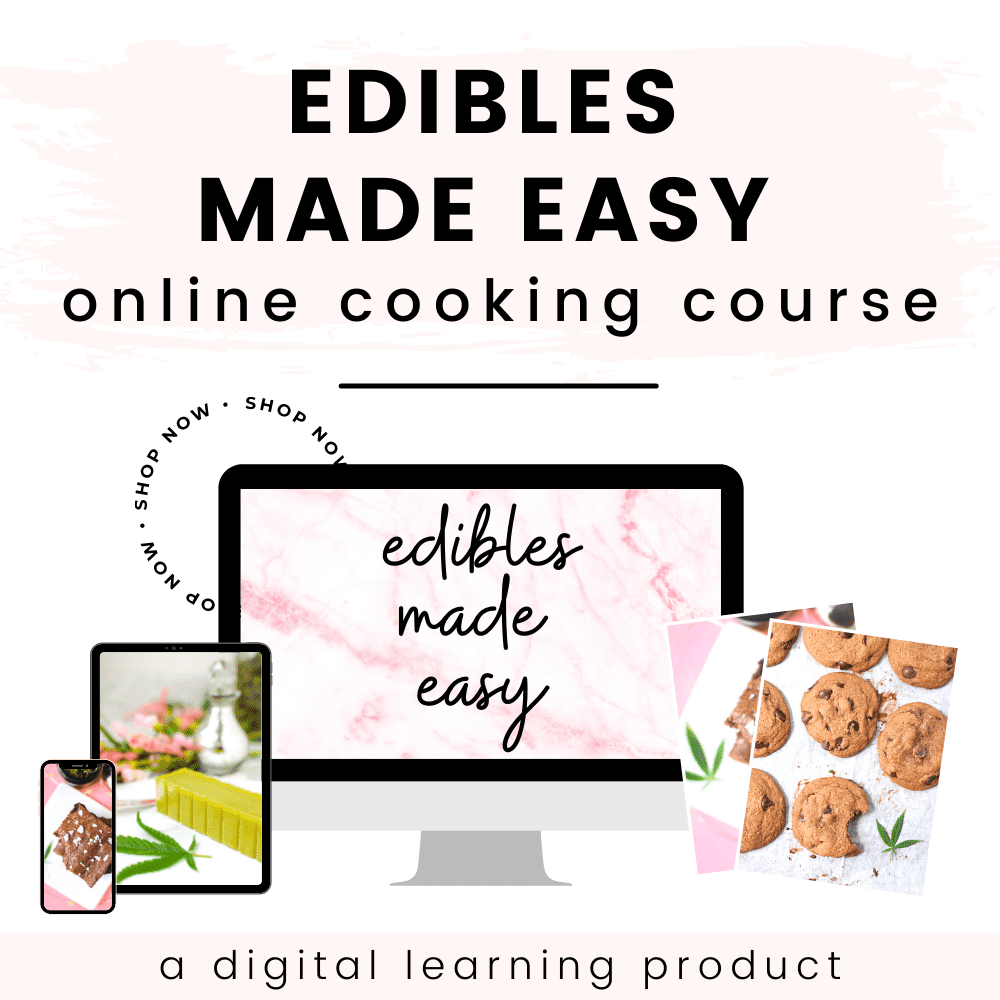 Take your edibles to the next level…
My Edibles Made Easy Online Cooking Course will teach you how to easily make cannabis edibles and topical recipes at home. This step-by-step video course will teach you how to infuse, extract, and create edibles with many different product types – all from the comfort of your own home.