This post may contain affiliate links, to find out more information, please read my disclosure statement.
This article has been written and fact-checked by Emily Kyle MS, RDN, CLT, HCP, a Certified Holistic Cannabis Practitioner and Registered Dietitian Nutritionist. Click here to learn more.
---
Everything you need to know before you Buy Cannabis Oil including the various types of cannabis oil like CBD Oil, Hemp Seed Oil, THC oil, their potential health benefits, and where to buy cannabis oil online.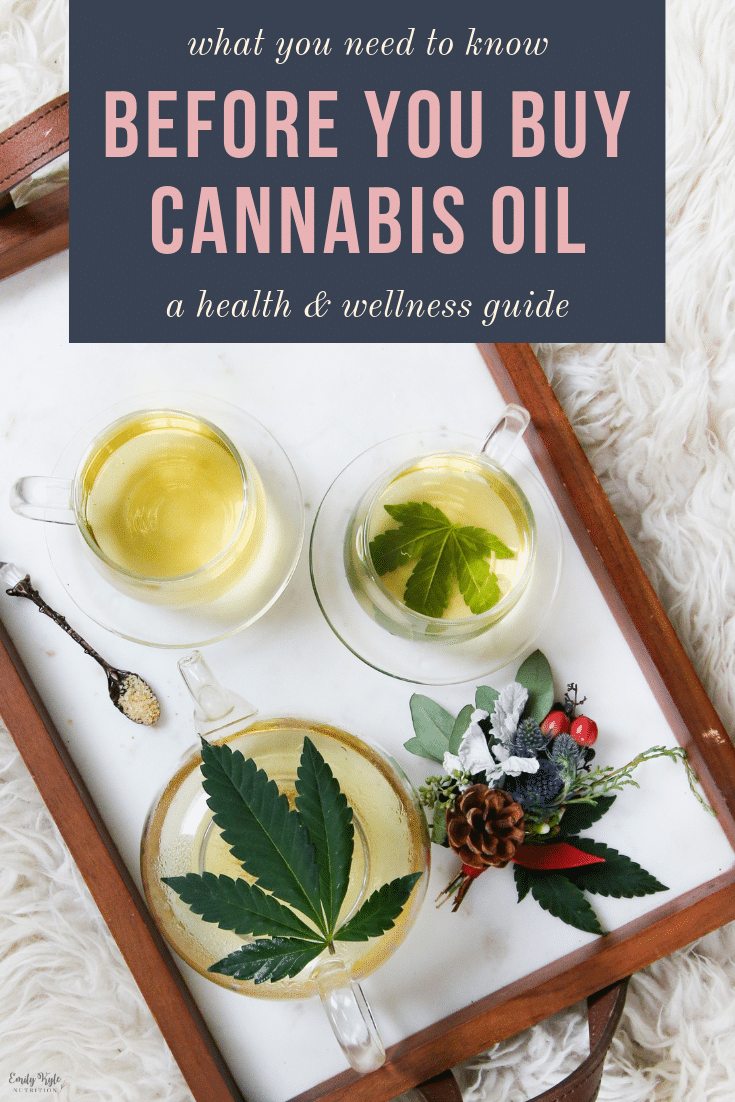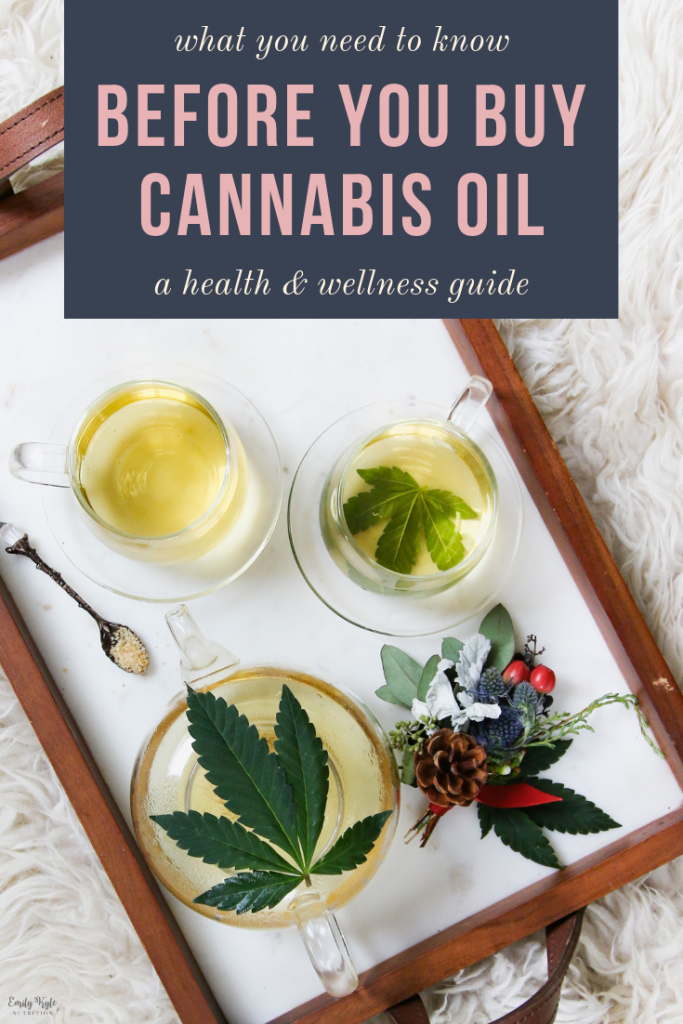 What is Cannabis Oil?
As a Holistic Cannabis Practitioner, I get a lot of questions about buying cannabis oil. Many of these questions stem from a genuine misunderstanding of the cannabis plant and what it can, and cannot, do.
If you are looking to buy cannabis oil, you must first know which type of cannabis oil you are looking for, and what to look for in terms of quality and safety.
The term 'Cannabis Oil' is an umbrella term used to categorize different oil types extracted from the cannabis plant.
Cannabis oil types can be broken down into subcategories:
CBD Oil
CBD Hemp Oil
Cannabidiol Oil
Cannabinoid Oil
Marijuana Oil
THC Oil
Hash Oil
Hemp Seed Oil
And more
To understand the classification and subsequent legalities of different forms of cannabis oil, lets first review basic plant taxonomy.
Let's take it back to high-school biology class for a minute to revisit plant taxonomy. Plant taxonomy is known as the identification, classification, and description of plants).
Plant Taxonomy of the Cannabis Plant
Plant taxonomy places plants into groups or categories to show a relationship. You may recall the hierarchy: Kingdom, Phylum, Class, Subclass, Series or Order, Family, Genus, Species, and Variety. While I am no expert in binomial nomenclature, I will give you my best lay-mans explanation.
For reference, this is the taxonomy of a cat:
Kingdom: Anamilia, Phylum: Chordata, Class: Mammalia, Order: Carnivora, Family: Felidae, Genus: Feliz, Species: Catus.
It is helpful to start with the understanding that cannabis is a Genus of flowering plants in the Family called Cannabaceae. Scientists currently disagree on whether or not there are one single Species of cannabis or three. The three recognized 'species' of cannabis are:
Cannabis sativa
Cannabis indica
Cannabis ruderalis
The Difference Between Marijuana and Hemp
Marijuana and hemp are derived from the cannabis plant.
Hemp and marijuana both come from the same species, but they are different strains of the cannabis plant. Different strains have been bred with different purposes in mind.
Both marijuana and hemp are species of the cannabis plant, making both marijuana oil and hemp oil technically a cannabis oil. However, it is important not to confuse the two because they both have different proprieties, intended uses, and legal restrictions.
There are many differences between hemp and marijuana when it comes to the plants cultivation, function and application. The most important difference is the chemical makeup of the plant, specifically how much THC it contains.
Cannabidol CBD Concentration
Industrial hemp plants naturally produce higher levels of cannabidiol (CBD) and lower levels of tetrahydrocannabinol (THC). In order to be classified as hemp, the hemp plant must contain less than a 0.3% concentration of THC.
Industrial hemp was legalized by the Federal Government with the passage of The Farm Bill in December of 2018. Learn more about the passage of The Farm Bill here.
Tetrahydrocannabinol THC Concentration
A cannabis plant is classified as a marijuana plant if it contains more than 0.3% THC. A marijuana plant typically contains anywhere from a 5-35% concentration of THC. Marijuana plants produce higher levels of tetrahydrocannabinol (THC) and lower levels of cannabidiol (CBD).
Despite medical cannabis laws now present in 46 states, marijuana is still illegal under Federal Law.
Under state law, recreational marijuana use is currently legal in:
Alaska, California, Colorado, Maine, Massachusetts, Michigan, Nevada, Oregon, Vermont, Washington, and Washington DC.
The Health Benefits of Cannabis Oil
The active components, and associated health benefits, of cannabis oil will vary depending on the type of cannabis oil you are using.
Below we will explore the active components of different types of cannabis oil, why you would want to use each one, what the health benefits are, and whether or not it is legal to use.
What is CBD or Cannabidiol Oil?
CBD is short for cannabidiol which is the second most abundant of all the cannabinoids. This cannabinoid is non-psychoactive meaning it does not give the feeling of intoxication or 'being high'. CBD Oil is most commonly derived from the hemp plant and considered to be CBD Hemp Oil.
Cannabinoids are organic compounds found in the cannabis plant. They interact with endocannabinoid receptors in the body and trigger a variety of effects. To date, over 100 cannabinoids have been identified.
The endocannabinoid system acts as a balancing mechanism for other body systems such as the circulatory, nervous and digestive systems.
Scientific research and anecdotal reports indicate that CBD can help with the following:
Epilepsy and seizure disorders
Pain and inflammation
PTSD and anxiety
IBD – Crohn's disease & Ulcerative Colitis
IBS – Irritable Bowel Syndrome
Multiple sclerosis
Opioid withdrawal
Preventive health
Click here to read CBD Oil 101: Everything You Need to Know
---
Full Spectrum vs Broad Spectrum CBD Oil
You may have seen different CBD products on the market place labeled as either Full Spectrum CBD Oil or Broad Spectrum CBD Oil, but what is the difference?
What is Full Spectrum CBD Oil?
Full Spectrum CBD Oil contains everything that the hemp plant contains, including the terpenes, cannabinoids, flavonoids, and fatty acids found in hemp. All of the constituents have therapeutic value of their own and help create what's known as the entourage effect.
Click Here to Purchase Full Spectrum CBD Oil
---
What is Broad Spectrum CBD Oil?
Broad Spectrum CBD Oil contains the same compounds as mentioned above for the Full Spectrum CBD Oil, however the Broad Spectrum CBD Oil contains NO trace amounts of THC.
Broad Spectrum CBD Oil is ideal for users who cannot have any trace of THC in their system, whether it be for a job, passing a drug test, or personal reasons.
Click Here to Purchase Broad Spectrum (THC FREE) CBD Oil
---
What is CBD Isolate or Concentrate?
CBD Isolate or Concentrate is oil that is 99.9% pure CBD. During the CBD isolate extraction process, every compound contained in the plant matter is removed, including any traces of THC, terpenes, waxes, oils, chlorophyll and more.
CBD Concentrate is great for both topical use and for consumption and culinary purposes. You can add CBD Concentrate to your favorite massage oil or lotion and create a wide variety of homemade bath and body items.
CBD Concentrate is also great for consumption. With Concentrate, you can bake edibles like brownies or cookies, or make a savory snack like Guacamole.
Click Here to Purchase CBD Concentrate
---
Various CBD Oils In Summary
In summary, Full Spectrum CBD Oil contains everything the hemp plant contains, including THC. Broad Spectrum CBD Oil and CBD Isolate do not contain any THC.
Is CBD Oil Legal?
Thanks to the passage of The Farm Bill in December of 2018, CBD Oil is now Federally legal, making it legal to ingest, consume and possess across all 50 states.
Click Here to Purchase High Quality CBD Oil Products
---
What is Hemp Seed Oil?
CBD Oil is called CBD Hemp Oil because it is derived from the hemp plant. You may also hear about Hemp Seed Oil, which is different. Hemp Seed Oil is a mainstream product found at the grocery store and is used for culinary purposes.
Hemp Seed Oil is different from CBD Hemp Oil.
Hemp Seed Oil is made by pressing hemp seeds, rather than the leaves or the buds. This is similar to how olive oil is made by pressing whole olives.
Hemp seed oil does not contain the cannabinoids CBD or THC. Studies have shown that there are no cannabinoids present in hemp seeds.
The Health Benefits of Hemp Seed Oil
Hemp seeds, and hemp seed oil, are referred to as a 'superfood' due to their high omega-3 fatty acid and nutrient content. Hemp seeds and hemp seed oil are derived from the Cannabis sativa plant, but again contain no cannabinoids.
These seeds are nutty tasting, small, soft seeds that are used for culinary purposes. They are high in plant-protein, dietary fiber, omega-3, and omega-6 fatty acids, and are rich in antioxidants. They make an excellent addition to many recipes, like this Homemade Hemp Seed Milk.
Recipes to try featuring Hemp Seeds:
Cannabis, Hemp & CBD Oil Recipes
Delicious and nutritious recipes featuring Hemp Seeds, Hemp Seed Oil, and CBD Hemp Oil from Holistic Cannabis Practitioner and Registered Dietitian Nutritionist Emily Kyle.
Is Hemp Seed Oil Legal?
Yes, hemp seed oil contains NO THC or CBD and is federally legal. You can purchase hempseed oil at your local grocery store.
Click Here to Purchase Hemp Seed Oil
---
What is THC Tetrahydrocannabinol or Marijuana Oil?
THC is the psychoactive component of the cannabis plant and is the primary agent responsible for creating the 'high' associated with cannabis use.
Marijuana oil, also known as THC oil, is created by extracting and isolating the THC compound from the marijuana plant. This oil typically contains high amounts of concentrated THC.
Is THC Marijuana Oil Legal?
THC and marijuana oil is not legal by federal law, but it is legal in states that allow for recreational or medicinal use of cannabis with a doctor's prescription.
Safety Considerations When You Buy Cannabis Oil Online
Everywhere you go you see CBD and other Cannabis oil products for sale, anywhere from the sketchy 'smoke' shop down the road to the next MLM pusher on Instagram. The internet is a whole different story.
With CBD being so new to the marketplace, it is understandable how it can be difficult to find the right product for you, and difficult to find the right brand you can trust.
The scary fact is that the recreational cannabis industry is not regulated. The FDA has not approved marijuana as a safe and effective drug for any indication.
Unfortunately, we cannot simply trust that companies producing cannabis products are acting in 'good faith' and producing safe products for human use and consumption.
Many cannabis products, including marijuana, have issues with environmental contamination by way of pesticide, herbicide, or fertilizer uptake and heavy metal or solvent contamination, left over from the process of extracting oils from the cannabis plant.
Where to Buy Cannabis Oil Online
After conducting my own research, I personally decided to partner with VivaOil, a Colorado based CBD producer, due to their commitment to purity, quality, and safety and convienent ability to buy cannabis oil online.
VivaOil is a small, family owned company, who understands that CBD oil is not just another trend or fad, but a product with the ability to help out mothers, brothers, sisters, friends and dearest loved ones find relief from the symptoms that plague their life.
For VivaOil to produce their CBD products, they have partnered with local Colorado farmers who have bred specific strains of help that maximize the output of cannabinoids like CBD and terpenes such as limonene and myrcene.
Using precise supercritical CO2, technicians use pressure, temperature, and time to extract only the desired cannabinoids, flavonoids, and terpenes, while leaving behind the unwanted plant materials. This eliminates the need for any additional post-processing and leads to a clean, flavor-rich oil.
The CO2 extraction method is known to be the safest, most superior, method of CBD extraction. The extracted CBD is then mixed with high-quality MCT coconut oil for optimal delivery.
Most importantly, independent third-party lab testing is conducted to ensure that only the highest quality product carries the VivaOil name.
Click Here to Purchase High Quality CBD Oil Products
---
The Importance of Third-Party Testing for Cannabis Oil
Ensuring independent, third party lab testing has been conducted on the products you choose to use is imperative to ensure that what advertised is in the product is really in the product.
A recent article published by Leafly found that many of the products produced by a popular company, Diamond CBD, contained many dangerous and unnamed chemicals and ingredients:
"A study released last month found that samples of CBD oils from one popular manufacturer contained potentially dangerous chemicals not listed in company materials, including a synthetic cannabinoid and a chemical generally found in cough syrup."

Read the Full Article from Leafly
What You Need to Know Before You Buy Cannabis Oil Conclusion
It is clear that Cannabis oil is not going anywhere. In fact, cannabis use is set to continue to rise in popularity as marijuana reform sweeps the country and legalization becomes widespread.
I fully believe in the medicinal properties of the cannabis plant, both hemp and marijuana, but I worry that a lack of education surrounding cannabis continues to fuel misinformation, mistrust, or a blind trust in the industry.
If you are wondering if cannabis is right for you, and how to incorporate it into your currently lifestyle, I highly recommend reaching out to a trained Holistic Cannabis Practitioner to help you on your journey.
Any Questions about Buying Cannabis Oil?
Feel free to leave your questions in the comments below or to email me directly at (emily@emilykylenutrition.com) and I will try to answer your question as best as possible.

Welcome! I'm Emily Kyle, a nationally recognized media registered dietitian nutritionist & holistic cannabis practitioner providing holistic health care for those living with autoimmune and inflammatory conditions. To help you, I offer food sensitivity testing, cannabis education, and this blog which provides free resources including anti-inflammatory recipes, holistic health, wellness and nutrition related articles, and evidence-based cannabis education.