In this guide to vaping cannabis oil, we will explore the pros and cons of this inhalation method, discuss important safety considerations, and share a tutorial to show you how to use oil cartridges and pens. You will also find links and resources of where to buy CBD vape cartridges and vape pens.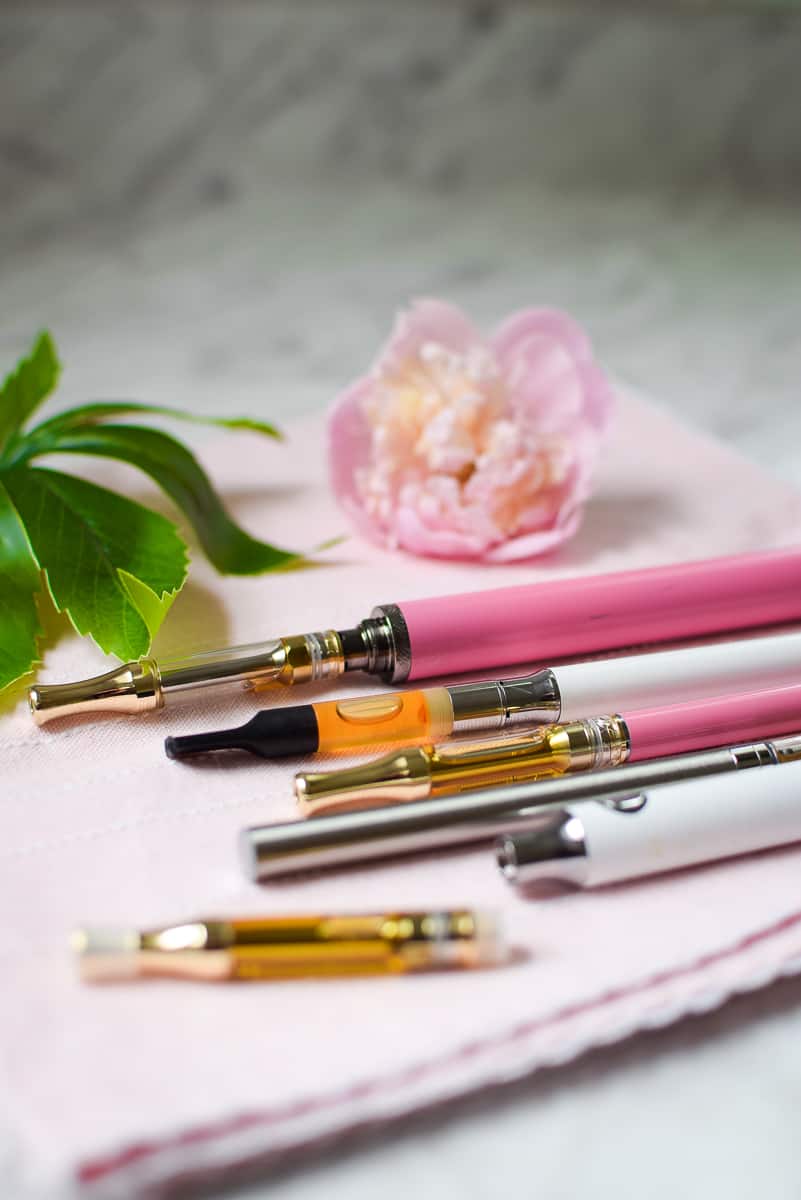 What Does It Mean to Vape?
There are many different application methods for using and consuming cannabis ranging from sublingual absorption, topical absorption, digestion of edibles, and various inhalation methods.
The inhalation method we are focusing on today is known as vaping.
Vaping cannabis oil is a smokeless, low-temperature method of inhaling cannabis vapor.
When done safely, vaping cannabis can be a convenient, discrete way to enjoy the benefits of cannabis.
Benefits of Vaping Cannabis Oil
There are potential benefits to vaping cannabis as a cannabis consumption method depending on the individual, their certain circumstances, and individual health goals.
Fast Acting
Inhalation of cannabinoids has a typical onset of 1-3 minutes with a lasting duration of 1-3 hours. This is particularly important for those who are using cannabis for fast-acting purposes, such as in the case of a panic or anxiety attack.
Better Dosing Accuracy
Vape oil can be dosed fairly accurately in comparison to alternative oral consumption methods. This is especially important when using cannabis for medical health purposes.
Higher Cannabinoid Retention
Compared to smoking, vaping leaves a much higher, ranging from a 60-90% cannabinoid retention rate. This means there is less waste of valuable cannabinoids from vaping rather than smoking.
On the other hand, this runs the risk of greatly increasing a person's tolerance level when vaping high concentrations of CBD or THC.
Vaping May Be Less Toxic
Compared to smoking raw flower or nicotine-containing products, vaping cannabis may contain less carcinogenic or toxic byproducts, depending on the product you are using.
On the other hand, many people prefer a dry herb vaporizer over a vape cartridge for a more natural experience.
What Can Vaping Help With?
Vaping cannabis oil tends to help many of the same conditions reported to be alleviated with the use of other cannabis products, including, but not limited to:
Pain relief
Anxiety relief
Depression relief
Relaxation benefits
Enhanced sleep quality
Improved mood benefits
Anti-inflammatory
Anti-convulsant
It is important to remember that cannabis affects each person differently, which is why it is important to take your time and be patient when beginning to use cannabis for therapeutic health and wellness purposes to identify your ideal application method.
Will Vaping Get Me High?
That depends on the type of vape cartridge you purchase. You can purchase CBD dominant vape cartridges or THC dominant vape cartridges, and both will induce very different effects.
If you are using pure hemp-derived CBD oil with no added THC, CBD vape oil will not get you high. This is because CBD is a non-intoxicating cannabinoid and does not produce an intoxicating feeling.
However, some anecdotal reports indicate that vaping CBD oil can intensify the euphoric effects often seen with the use of CBD.
If you are using a THC oil cartridge sourced from a reputable retailer, the THC oil will likely induce intoxicating effects, as these cartridges contain very high concentrations of THC.
Health Dangers of Vaping Cannabis Oil
A Health Danger. Vaping cannabis or any substance for that matter is contraindicated for anyone, especially those with asthma or respiratory conditions.
May Cause Long Term Damage: To learn more about the health risks of e-cigarettes and vaping and their impact on the lungs from the American Lung Association, click here.
Potentially More Toxic. Additional ingredients added to vape oil cartridges, like the popular thinning agent propylene glycol, become carcinogenic when heated. Avoid any product that contains propylene glycol (PG), vegetable glycerine (VG), MCT coconut oil (MCT), and/or vitamin E acetate.
Enticing to Minors. Vaping nicotine has become a trend with underage youth, and vaping CBD may follow suit due to its easy accessibility.
INGREDIENTS TO AVOID IN A CBD VAPE
To ensure you are setting yourself up for the safest vaping experience possible, you want to ensure the ingredients of your vape cartridge does not contain:
Propylene Glycol (PG)
Vegetable Glycerine (VG)
MCT Coconut Oil (MCT)
Vitamin E Acetate
WHAT IS A SAFE THINNING AGENT FOR VAPES THEN?
As mentioned above, cannabis oil needs to be formulated with another ingredient in order to be liquid enough to be used in a vaporizer or vape pen.
We know that no PG, VG, MCT or vitamin E is safe to be added – so what makes a safe thinning agent for vape cartridges then?
Naturally-derived hemp terpenes.
Terpenes are volatile organic compounds found in cannabis, and all plants, that give cannabis it's the distinct smell and other plants their floral aromas.
Natural evolution has been kind to hemp as over 200 terpenes have been identified belonging to the plant. More important to note, research shows that hemp terpenes provide a myriad of beneficial properties.
Through safe extraction processes, terpenes can be derived from the hemp plant, separated, and then added back into the CBD to create a safe, 100% natural vaping product with no added ingredients.
What is a Vape Cartridge?
Cannabis vape oil is a concentrated cannabis oil that has been formulated to be used in a vaporizer or with a vape pen.
Cannabis vape oil is made from traditional cannabis oil but includes additional ingredients in order to be physically functional to vaporize with a vaporizer battery. This mixture is packaged in what is known as a cartridge.
The specific additional ingredients used in each cartridge will range from product to product, but all vape oils need to contain a mixture of cannabis oil and a thinning agent.
The most common, but dangerous, thinning agents used in vape oil cartridges are propylene glycol, vegetable glycerin, MCT coconut oil, and/or vitamin E acetate.
For this reason, the potential health benefits of vaping cannabis oil are in jeopardy.
It is recommended to avoid the inhalation of any of the above thinning agents because they become carcinogenic or harmful when heated.
The only safe liquid facilitator at this time is natural hemp-derived terpenes.
It is important to note that all vape cartridges should be purchased from a licensed dispensary or reputable online retailer.
Last year a health crisis surface surrounding vaping, specifically products that were purchased on the illicit market.
The fact is that any cartridge that did not come from a reputable supplier should not be consumed.
WHERE TO BUY SAFE CBD VAPE PRODUCTS
It is likely that you have seen many CBD vape oil products on the market as they are legal now, but there are important factors to take into consideration before purchasing one.
While I always encourage my clients to make educated, safe CBD product decisions, I believe it is EVEN MORE important when choosing the best vape oil on the market.
For a product that is going to be inhaled into the lungs – it is critical that you are 100% sure the product you are using is safely manufactured and free from potentially harmful added ingredients.
These days there is a CBD vape shop on every corner – but that does not mean the products they are selling are automatically safe.
There is still no regulation or safety standard for CBD products on the market today, and oftentimes the person working the counter has limited knowledge about important safety considerations.
Many CBD vape oils come in a variety of flavors, but I encourage my clients to avoid these products. When using CBD oil for therapeutic health purposes, there is no room for artificial flavorings or ingredients.
I exclusively partner with and recommend CBD vape products from VivaOil, a company who formulates all of their products with quality, safety, and purity in mind.
Made with only pure high-quality CBD and hemp-derived terpenes, these terpenes are naturally occurring compounds extracted from the hemp plant and added to help keep the CBD to make it liquid enough to facilitate vaping.
100% NATURAL BROAD-SPECTRUM (THC-FREE) CBD VAPE CARTRIDGE
This Broad Spectrum CBD Vape contains an array of cannabinoids and terpenes found within hemp – with THC removed, resulting in a 100% THC-free vape.
This hemp extract is paired with only one other ingredient – naturally occurring hemp terpenes.
Myrcene and limonene are two of the terpenes naturally produced by the hemp plant and are found in these vape products – research indicates that they hold a myriad of beneficial properties.
Ingredients: Broad-spectrum CBD hemp extract, hemp terpenes
*3rd Party Lab Testing including CBD Potency, Terpene Profiles, and Organic Testing are available to access here.
Click to Shop Safe Broad-Spectrum (THC-Free) CBD Vape Cartridges
100% NATURAL FULL-SPECTRUM CBD VAPE CARTRIDGE WITH CBG
*Please note, this product is intended for use only by those who are 21 years and older.
VivaOils new filtration technology has allowed them to create a Full Spectrum Vape holding the maximum concentration of cannabinoids and terpenes, while retaining trace THC below 0.3%, in compliance with federal regulations.
Viva Full Spectrum CBD Vape contains the full mix of cannabinoids found within our hemp – this includes high concentrations of CBD and of CBG, with trace amounts of THC (< 0.3%, as per federal regulation).
The hemp extract is paired with only one other ingredient – naturally occurring hemp terpenes.
This season's strain is LIFTER.
Lifter is a trusted staple in the hemp flower world. Users can expect a gentle cerebral focus and energy paired with a calm sense of control.
Lifter brings with it flavors of sweet funk and lemon. It is a great strain for day or night.
Lifter holds a rich terpene profile that includes:
Limonene (24%)
Myrcene (11%)
Caryophyllene(10%)
Pinene (4%)
Ingredients: Full-spectrum CBD hemp extract, hemp terpenes
Contains THC (< 0.3%)
Contains 100mg CBG (cannabigerol)
Free From PG / VG / MCT / Vitamin E Acetate
*3rd Party Lab Testing including CBD Potency, Terpene Profiles, and Organic Testing are available to access here.
Click to Shop Safe Full-Spectrum CBD Vape Cartridges
MORE INFO ABOUT THE VAPE CARTRIDGE
Non-Toxic, BPA-Free & Lead-Free Composition
Glass Tank
VivaOil wanted a cartridge designed to avoid burning or overheating the oil.
The cartridge design has a fully encased heating element that guarantees the oil never comes into contact with direct heat – this ensures that the original flavors of the hemp extract & terpenes in your VivaVape are preserved.
What is a Vape Pen or Battery?
Vape oil will come in a small cartridge, but you cannot do anything with the cartridge without a battery, also known as a vape pen, to turn the oil into inhale-able vapor.
A vape pen is a small battery-powered device that heats the cannabis oil liquid into an inhalable vapor.
There are hundreds of thousands of pens, atomizers, portable devices, e-cigarettes, and even tabletop models that plug into the wall. All of these devices work by heating an electric coil.
When the plant oils reach a certain temperature, they turn into vapor which is in turn, drawn into the lungs and then exhaled. The heating process will decarboxylate CBD-A → CBD or THC-A → THC.
Many vape pens are designed specifically for cannabis consumption as compared to nicotine consumption.
Cheap vape pens tend to have fixed temperatures that are high enough to hit over 350+degrees without combusting, while higher-end and more expensive vape pens allow for temperature or voltage control.
A higher-end vape pen with temperature and voltage control is ideal because all cannabinoids activate at different temperatures.
THC and CBD can be activated at lower temperatures, while CBG & CBN requires higher temperatures. There is also a noticeable quality difference.
WILL VAPING CBD SHOW UP ON A DRUG TEST?
CBD oil can be sold as either a Full-Spectrum product or Broad-Spectrum THC-Free product, or a CBD isolate product.
While the legal considerations for CBD are that the plant must contain 0.3% THC, full-spectrum CBD vape products do indeed contain trace amounts of THC.
If you need to be 100% positive you will have no THC in your system, you must opt for a THC-free product labeled either broad-spectrum, isolate, or 100% THC-free.
If you are using a pure broad-spectrum CBD product with 0% THC, then no THC will show up on a drug test.
This is the safest, cleanest, 0% THC Vape Product we recommend.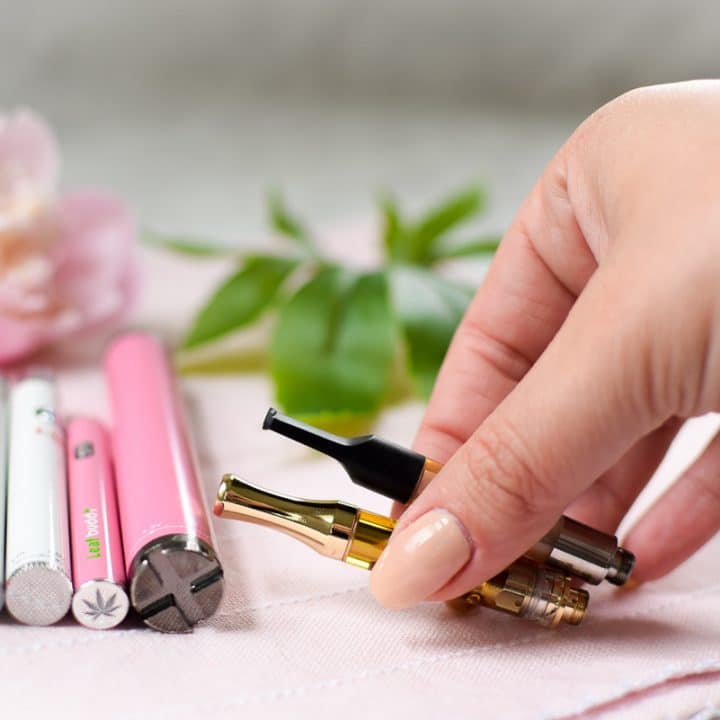 How to Vape Cannabis
Additional Time:
5 minutes
In this guide to vaping cannabis oil, we will explore the pros and cons of this inhalation method, discuss important safety considerations, and share a tutorial to show you how to use oil cartridges and pens, and find links and resources of where to buy CBD vape cartridges and vape pens.
Instructions
Choose a high-quality CBD Vape Cartridge from a trusted and reputable brand. Check the ingredients label to ensure no vegetable glycerin, propylene glycol, or other additional ingredients added.

Choose a high-quality CBD Vape Pen/Battery. Refer to the 'Where to Get a CBD Pen' section of this article for product recommendations. Ensure this battery is charged before starting.

Carefully connect the CBD vape cartridge to the battery pen.

Your CBD vaporizer is now ready to use. There will be directions on the back of your specific battery to tell you how to use the pen. Many involve the pushing of the button 5 times to pre-heat, followed by a steady holding of the button while a drag from the device is inhaled.

When you are done using your vaporizer, be sure to charge it before using again. The pen/battery your purchased should have come with a compatible USB charger.

Connect the USB charger to a wall connector and charge overnight.

Notes
Always consult with a Holistic Cannabis Practitioner to curate an individual therapeutic holistic health regiment.
Recommended Products
As an Amazon Associate and member of other affiliate programs, I earn from qualifying purchases.