Save money, time, and frustration with this step-by-step guide to teach you how to roll a blunt the easy way using an easy-to-use pre-rolled blunt wrap. This cannabis blunt guide also includes alternative options for nicotine-free blunt wraps and CBD blunts for the health-conscious cannabis consumer.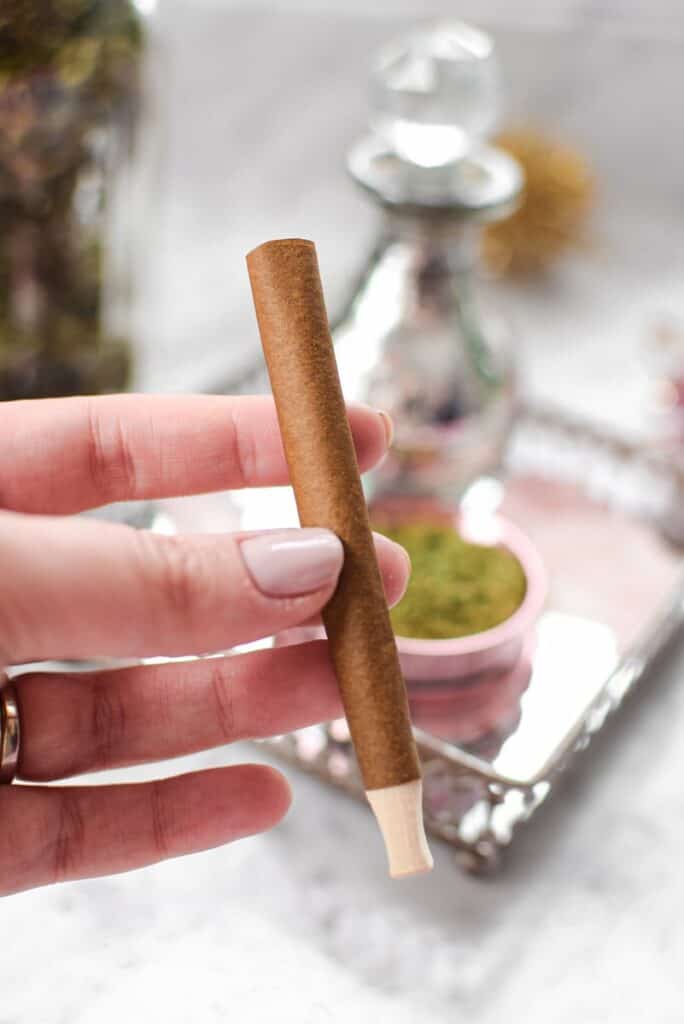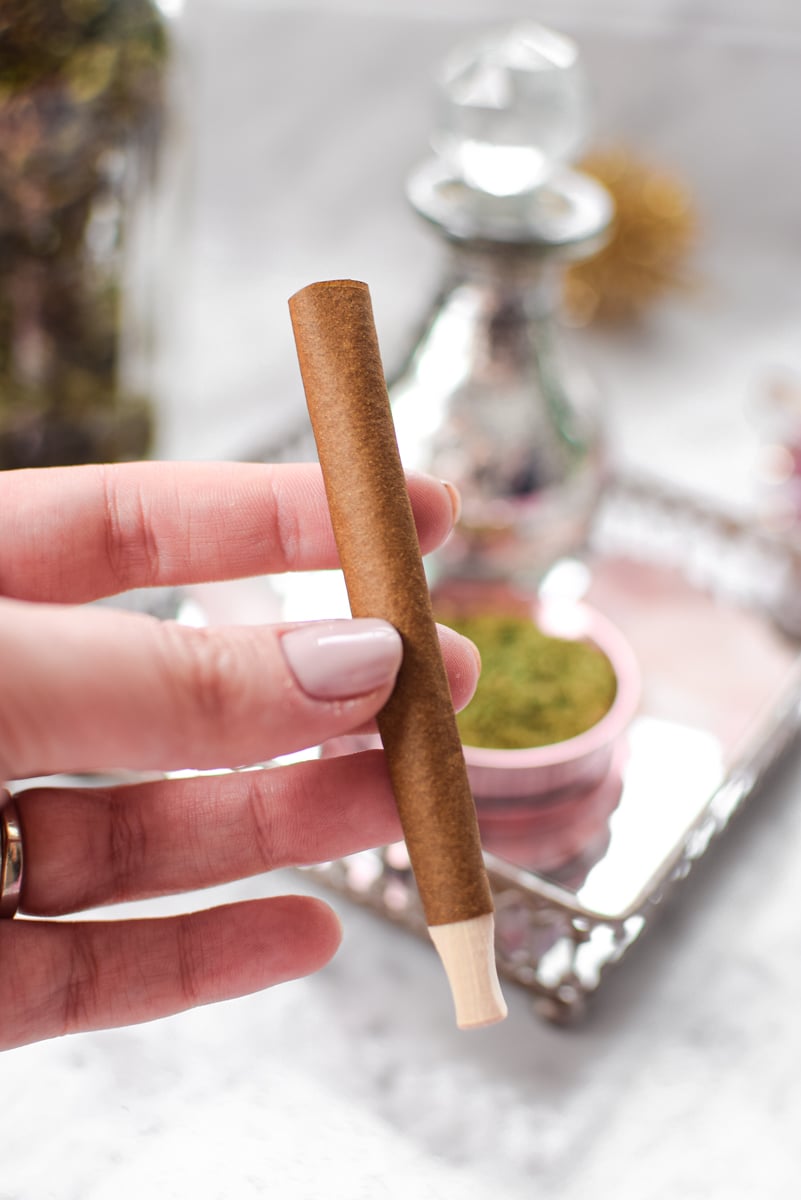 What is a Blunt?
As defined by the dictionary, a blunt is informally known as:
a hollowed-out cigar filled with marijuana (cannabis)

noun
While the future of cannabis is certainly here with different varieties of cannabis oil and even inhaled vaporized cannabis, smoking a blunt is a traditional, old-school way of consuming cannabis.
A blunt is defined by the traditional tobacco wrap that is it rolled in.
Traditionally rolled in the tobacco pulp or tobacco leaves that encircle a cigar, the tobacco itself is traditionally removed from the blunt wrap and discarded.
In Europe, it is common to keep the tobacco and mix it together with the cannabis before returning to the wrap and rolling what is known as a spliff.
Cigar blunt wrappers were popular back in the day for many reasons, including the fact that they were easily accessible.
Unfortunately, authorities caught onto the fact that consumers were not actually using tobacco blunt wraps to smoke tobacco, making them difficult to obtain.
Thankfully, with the rise of cannabis culture and the nearing of Federal legalization, more and more products are not easily available in the marketplace, making it easier than ever to easily roll a blunt.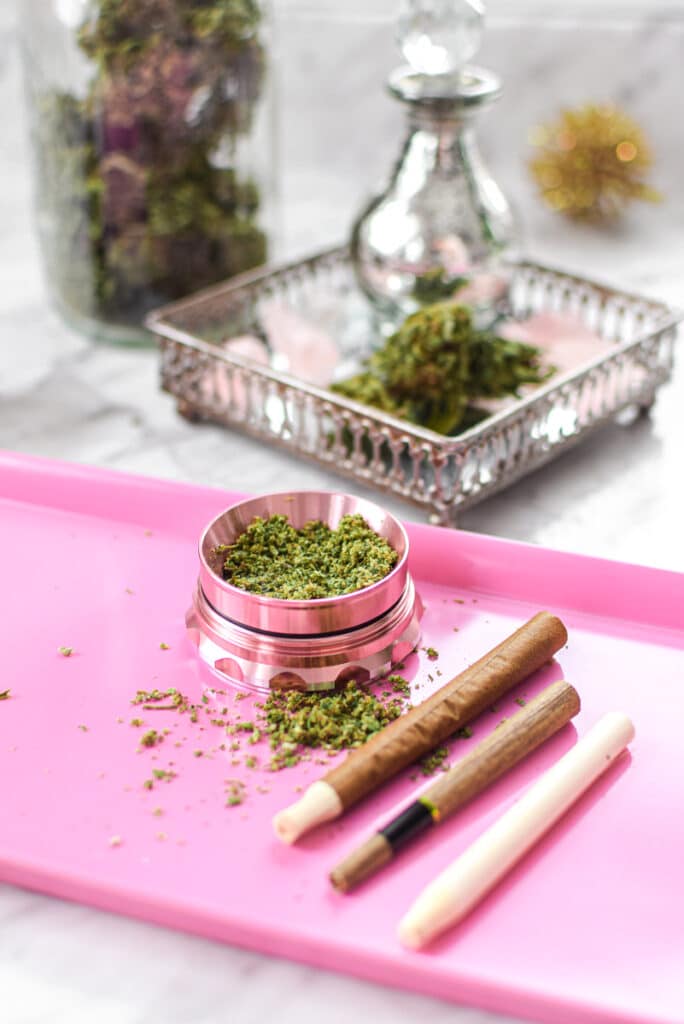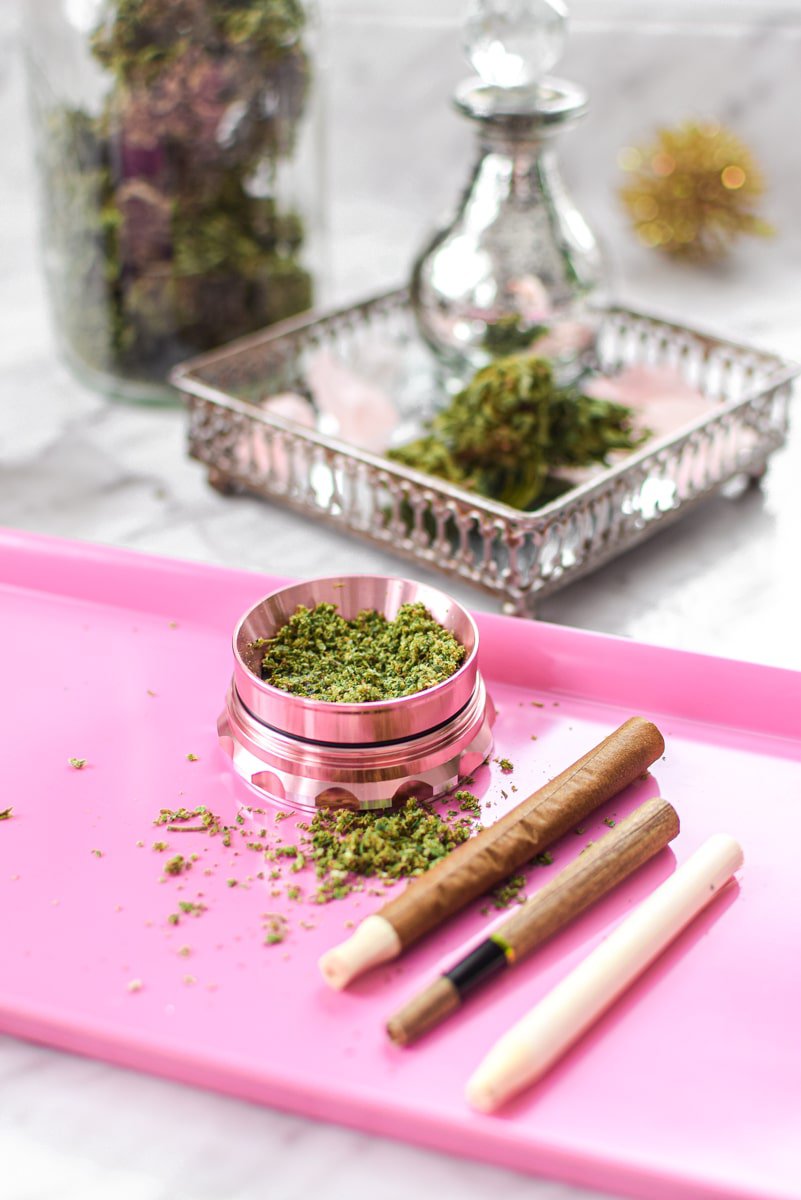 Why Would You Choose a Blunt?
People love blunts for many different reasons, but for most people, it boils down to two things: taste & nicotine
Added Taste – Blunt wrappers from traditional cigars will absorb the flavors of the tobacco and any other ingredients added to a cigar. The taste can range from smokey and chocolatey, to dark and fruity. Many people like the flavor that blunt wraps provide when smoked and many people like to buy flavored blunt wraps for that exact reason.

Enhanced High – If you're rolling a blunt with a traditional tobacco cigar wrapper, it is true that you will also be consuming nicotine (1). While this is desired by some due to the added 'high' feeling, many people do not want to be exposed to addictive nicotine and will avoid blunts rolled with cigar wrappers for this very reason.

Generally Bigger – Many of us are social cannabis consumers and prefer to share cannabis in community circles. Because blunt wraps tend to be bigger than traditional joints, they are perfect for sharing with friends and family.
What is a CBD Blunt?
A blunt wrapper can be filled with either a marijuana flower, CBD flower, or a combination of both. The only difference between the two is the THC content.
In states with legalized recreational marijuana, it is easy to purchase your desired marijuana flower strain which will have varying ratios of CBD, THC, and other cannabinoids.
Marijuana flower can contain more than 0.3% THC, while CBD flowers must contain less than 0.3% THC. CBD flower derived from hemp is getting easier to obtain due to the legalization of hemp and is in more of a grey area of legality.
Many people prefer to smoke CBD flowers over traditional cannabis flowers due to the lower psychoactive effects.
What Are Blunt Wraps?
Traditionally, a blunt is made from a cigar which is a tobacco leaf with the tobacco filling removed and instead wrapped around a cannabis filling.
However, as the popularity of consuming cannabis has increased, so have the blunt wrap options on the market today.
Blunt wraps today can be made from traditional tobacco cigars, premade blunt wraps, and/or blunt pre-rolls.
Picking the perfect blunt wrap is all based on personal taste and preference.
Some people enjoy the traditional cigar and tobacco taste, while other people prefer a flavored taste from a flavored blunt wrap. Others prefer the all-natural blunt wrap options on the market today that are often times made from palm-leaves or hemp-leaves.
Nicotine-Free Blunt Wraps
For the health-conscious consumer, nicotine-free blunt wraps are ideal because they are free from the addictive substance nicotine.
A traditional blunt wrap made with a traditional tobacco cigar wrapper does, in fact, result in the consumer ultimately consuming nicotine, even though the tobacco filling has been removed (1).
Pre-Rolled Blunt Wraps
Pre-rolled blunt wraps are much easier to come by these days and make the rolling process easier, and much less messy.
They come pre-rolled, meaning there is no filling or licking or rolling. You simply add your ground cannabis flower to the pre-rolled blunt wrap, pack it in with a small tool, and enjoy.
Shop Pre-Rolled Blunt Wraps
Photo Credit: www.amazon.com
Enjoy hand-rolled natural leaves for those looking for the best slow burning natural leaf on the planet. Put the synthetic and factory produced wraps to rest, King Palm leaves are chemical and preservative-free, they do not contain any artificial flavors, and they contain ZERO glue! The natural corn-husk filter will be one of the best filter tips you have ever used, it will help to make sure no loose herbs will fall through and will also eliminate oils from getting into your mouth. We are confident that you will find these natural leaves to be much better quality and much CLEANER than the common rolling papers on the market.
Photo Credit: www.amazon.com
Cyclones Sugar Cane XtraSlo Pre-Rolled Hemp Cones with Dank7 Tips are the new deliciously flavored Hemp wraps from Cyclones. Each pack comes with one Hemp Cone and one Dank7 flavored wooden tip. The wooden tips are soaked for 7 days using Cyclones' Triple-dip flavor system, allowing for super long-lasting flavor that you will love. The combination of these long-lasting flavored wooden tips and the slow burn of the hemp cones, makes the Cyclones Dank7 Tip XtraSlo Hemp Cones a smokers dream come true.
Photo Credit: www.amazon.com
Cyclones Hemp Wraps are pre-rolled for your convenience, simply pack and smoke. Made from natural Earth friendly organic hemp. There's almost nothing else that is simpler to use on the market. When opening the conetainers you will notice a pleasant aroma as well as a smooth pre-rolled cone, that is because cyclones hemp wraps come coated with various delicious flavors. This cone is meant to have a geat feel when you grasp it, not too dry or too moist.
Other Helpful Blunt Wrap Tools
Photo Credit: www.amazon.com
While not necessary, this Raw Cone Loader with card and poking tool can help you easily fill and pack your blunt.
Photo Credit: www.amazon.com
Unlike other over-priced, sub-standard grinders on the market, our VIVOSUN herb grinder manufacturing process ensures that our grinders are made from stronger and more durable materials than the competition. This herb grinder is economical and long-lasting.
Photo Credit: www.amazon.com
Our rolling tray, made of durable metal material by moonlit. The thick metal is resistant to bending and warping, curved edges stop any stray from escaping the tray. High Edge is raised and smoothly curved to prevent spills and build-up of smoking refuse. It is a soft lightweight pouch with a fireproof lining to extinguish cigarettes and lock in smoke odours. Easily fits into a pocket. Designed for the new generation of incredibly high-quality smoking.
Photo Credit: www.amazon.com
A true object of desire, the Minijet toys seductively with a range of highly fashionable colors. A modern, powerful torch flame allows efficient lighting in all conditions.
How To Roll a Blunt the Easy Way
Save money, time, and frustration with this step-by-step guide to teach you how to roll a blunt the easy way using an easy-to-use pre-rolled blunt wrap. This cannabis blunt guide also includes alternative options for nicotine-free blunt wraps and CBD blunts for the health-conscious cannabis consumer.
Instructions
Weigh the cannabis flower if you have not done so already.
Grind the cannabis flower to a semi-chunky grind. This will prevent the flower from tearing holes in the rolling paper.
Carefully add the ground cannabis flower to the blunt wrap.
Use a packing rod to ensure the cannabis flower is tightly packed into the blunt wrap.
Once full and packed, carefully fold the remaining wrapper over itself to enclose the end.
Light the blunt and enjoy.
Notes
*If you are using the traditional cigar method, use a razor knife to cut the cigar lengthwise and gently remove the tobacco filling, leaving the leaf wrapper intact. Then full the empty wrapper with cannabis flower and roll shut.