Learn what chlorophyll is, why it is an important part of the cannabis plant, the health benefits, and discover whether or not you really want chlorophyll in your cannabis edibles – and how to remove it, if you don't.
Features
An explanation of what chlorophyll is and why it's important
Why you may or may not want chlorophyll
How to reduce the amount that ends up in your edibles
Why You Will Love This Guide
As you already know, the cannabis plant is a lovely shade of bright green. This is due to a pigment called chlorophyll.
All plants and vegetables that are green contain chlorophyll. According to National Geographic, consuming this pigment can have many potential health benefits1.
Some people choose to consume cannabis that contains this pigment while others choose to attempt and remove it before consumption since it gives the product a distinct flavor and smell.
In this guide, you will find a quick overview of the health benefits of chlorophyll and how it affects cannabis consumption, so you can decide whether you'd like to consume your cannabis with a side of chlorophyll, or whether you'd rather eat it in your leafy greens instead.
---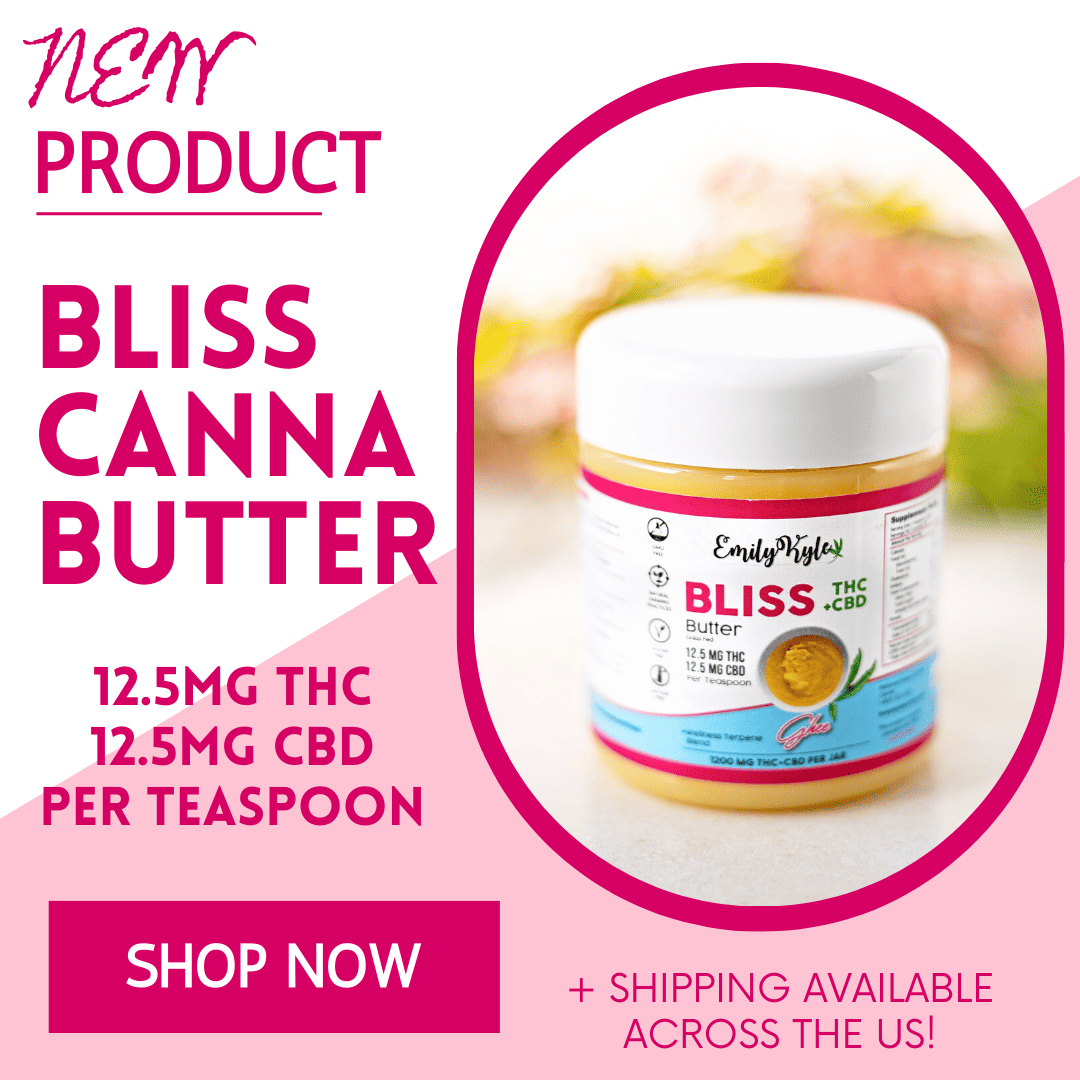 Skip the hard work and have perfectly dosed, delicious, pure Bliss Cannabutter delivered directly to your door! Shop Now →
---
What Is Chlorophyll?
The word chlorophyll comes from the Greek words khlōros ("green") and phullon ("leaf") and it's present in every green plant on earth2.
Chlorophyll, a pigment, gives a plant its green hue and it's located in the chloroplasts of a plant's cells.
Chlorophyll helps a plant to make its own food and produce oxygen for humans and animals to breathe, through an amazing process called photosynthesis.
With the help of chlorophyll, the cannabis plant can absorb sunlight and use the energy to convert water into glucose.
The plant uses glucose to grow new leaves and other healthy plant parts so it can continue to thrive.
Chlorophyll also aids in a plant's ability to convert carbon dioxide into oxygen for us to breathe3.
There are many proven health benefits to consuming chlorophyll, and studies are ongoing about additional benefits, but cannabis consumers are divided when it comes to keeping it in their product due to its bitter taste.
The Health Benefits of Chlorophyll
In the human body, cannabis acts like hemoglobin in your blood, helping to replenish blood cells, proving to increase energy levels, and providing the body with natural antioxidants3.
Chlorophyll consumption has also been proven to bind to carcinogenic chemicals in the intestines, helping to prevent cancer cells from spreading.
Ongoing studies are observing chlorophyll's ability to prevent cancers of the liver, skin, stomach, and colon4.
Additionally, chlorophyll is a great source of vitamins A, C, E, and K and it's been proven to help the liver to remove harmful toxins from your body.
Get Chlorophyll from Veggies, Not Cannabis
Since chlorophyll has been proven to provide so many health benefits to humans, it's a no-brainer to keep it in your cannabis, right?
Well, not all consumers agree. Chlorophyll gives cannabis a distinct grassy flavor and smell that most consumers don't particularly enjoy.
Since this overwhelming taste can ruin the experience for many people, and since chlorophyll is present in a variety of green vegetables, many argue that it's just better to obtain your chlorophyll from veggies, not cannabis.
If you'd like to reap the benefits of chlorophyll consumption while keeping your cannabis chlorophyll-free, try some of these green veggies instead:
Spinach, kale, parsley, broccoli, collard and mustard greens, cucumbers, algae, leeks, brussels sprouts, green beans, peas, asparagus
As a general rule, the greener the vegetable, the more chlorophyll it contains, and the greater the health benefits you'll receive.
With so many great options for chlorophyll consumption, you really don't need to compromise your cannabis experience with a bad flavor or smell. Try adding more leafy greens to your diet instead.
How To Remove The Chlorophyll From Edibles
If you're finding that the taste and smell of edibles make you gag – have no fear, there are some things we can try to make this better.
While it is not always possible to remove 100% of the chlorophyll in a home kitchen, there are some ways you can try and reduce the amount.
To start, most cannabis consumers choose to cure their cannabis after drying, thus removing some of the chlorophyll from the dried flower.
This makes the cannabis taste and smell much sweeter.
Do Not Grind Your Bud
For more mild tasting edibles, do not grind the flower before adding it to any infusion or extraction. This releases more chlorophyll with more surface area.
Instead of grinding, gently break up to buds with your hands into small, popcorn-sized pieces.
When Making Butters and Oils
When making butter or oil, one of the best ways to cut down on the amount of chlorophyll that seeps into the infusion is to use kief or flower, not trim or fan leaves.
This is because the more plant matter you include, the more chlorophyll will be released.
Additionally, infusing for shorter duration times can help cut down on the chlorophyll that is seeped into the final product.
I find that an infusion time of 4 hours provides much less plant taste and color than infusions that last 24 hours or more.
When Making Tinctures
When making tinctures, the best way to cut down on the chlorophyll that is transferred into the extract is to follow QWET – quick was extraction technique – rather than the Green Dragon method.
The Green Dragon tincture method involves very long wash times, 24-hours to up to six months, resulting in a very green, chlorophyll filled tincture.
In the QWET method, also known as the Golden Dragon, we freeze the cannabis first, which helps to prevent the chlorophyll from being leeched into the alcohol.
We also use very short wash times of just 3-5 minutes.
While the Green Dragon tends to be slightly more potent than the Golden Dragon, many people are happy to sacrifice a small amount of potency for a much better tasting end product.
Opt For Cannabis Concentrates
Many agree that cannabis concentrates can be the most convenient, easy-to-use, pre-prepared products for cannabis infusions.
For those who are turned off by the taste of the cannabis plant, concentrates can be a great alternative. They have had most of the plant matter removed, resulting in a clean, almost negligible cannabis taste.
And if your concentrate does have a slight flavor, because you only need to use a little bit, its unlikely you will taste it in your final recipe.
You can get cannabis concentrates from your local dispensary, or get CBD distillate from my online shop.
If You Like The Taste Of Cannabis
As I am always telling the members of my Well With Cannabis Community, there is no one right way to do cannabis.
If you LIKE the taste of cannabis, do not let me discourage you from enjoying it that way!
There is no harm in consuming your cannabis and chlorophyll together (although some people do report a bit of stomach irritation if they consume too much).
In fact, many people LOVE the taste of cannabis and enjoy it in their edibles. Others believe you can't really have a true FECO without it.
Additionally, many people love to use fresh fan leaves in edibles or to make cannabis juice.
Others love to use just plain, ground, decarbed cannabis in their edibles rather than infusing or making a tincture.
That is PERFECTLY OKAY and you should continue to enjoy cannabis any way you like it.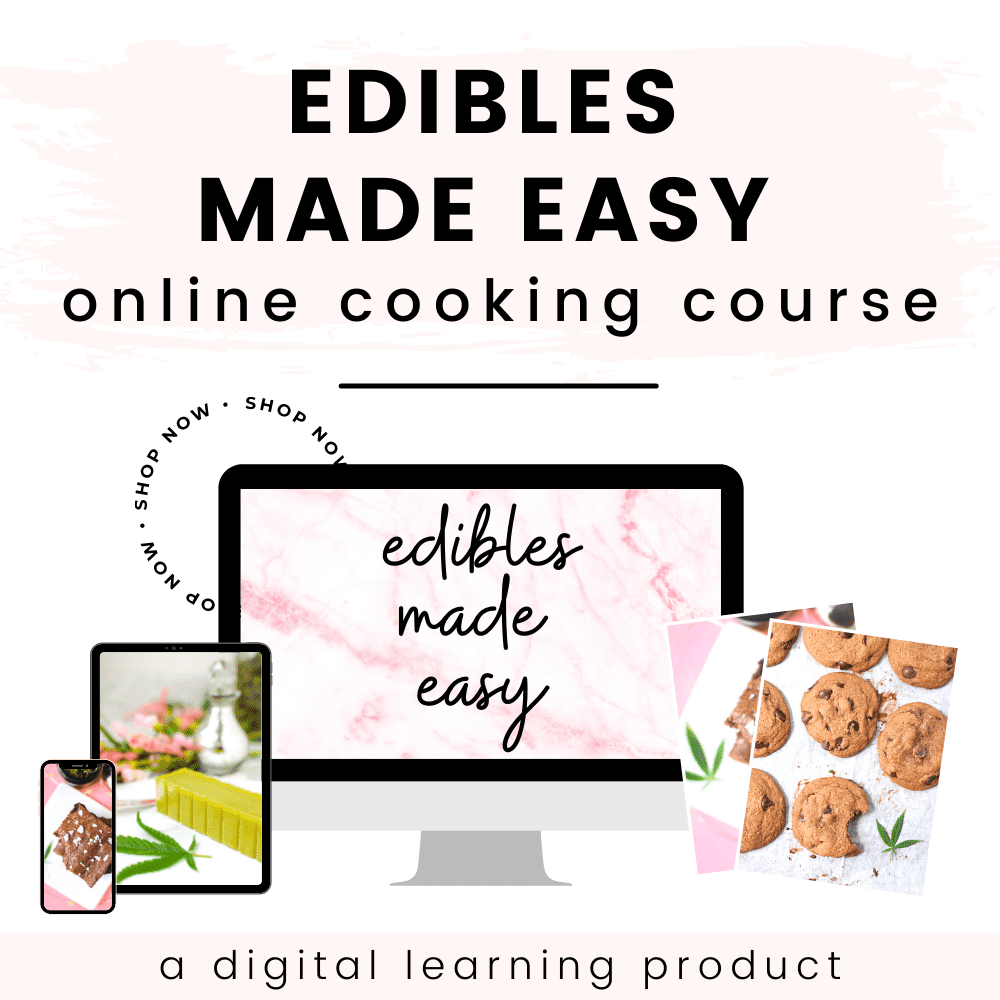 Take your edibles to the next level…
My Edibles Made Easy Online Cooking Course will teach you how to easily make cannabis edibles and topical recipes at home. This step-by-step video course will teach you how to infuse, extract, and create edibles with many different product types – all from the comfort of your own home.