Are you ready to make some cannabutter? This step-by-step beginner's guide will teach you how to make cannabis butter at home in a crockpot - no special equipment required. You can then use this versatile recipe to create all of your favorite sweet and savory edible recipes!
Join The Community!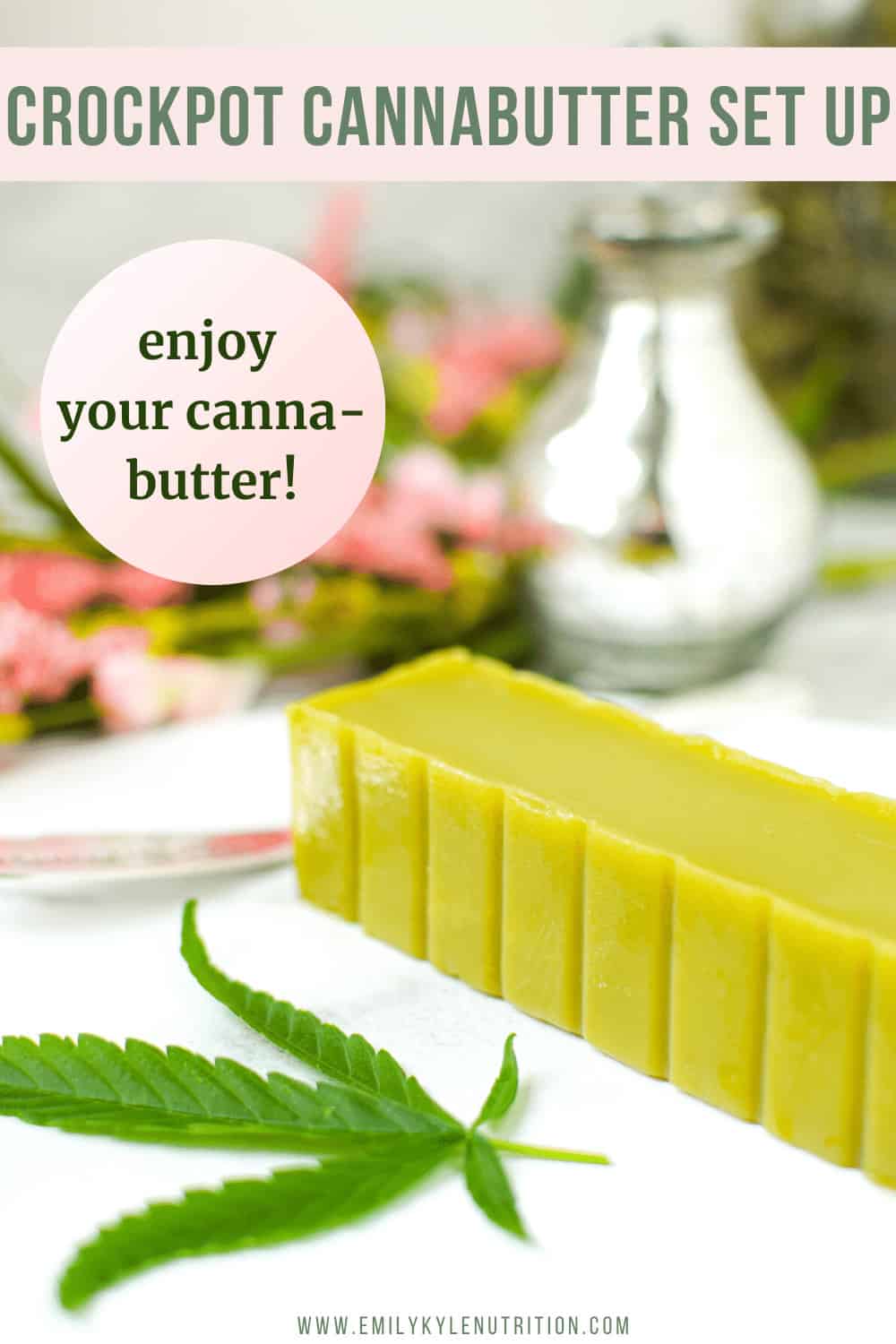 Can I Use Clarified Butter?
It is controversial among our Well With Cannabis Community on whether or not you should clarify your butter before starting the infusion process.
Some people say they never clarify first and make fabulous butter every time, while others say they would never make cannabutter without clarifying the butter first.
You can do it either way. You don't have to or need to clarify your butter. It's a preference most have, not a necessity.
We do not clarify the butter ahead of time for this recipe but simply separate the final infused butter from the leftover water and milk solids left behind from the cooking process at the end.
If you want to clarify your butter ahead of time, you would gently boil the butter in a saucepan over the stove and skim all the foam, or milk solids, from the top.
This process will also evaporate much of the water naturally present in butter.
Remember, if you clarify your butter, you will be losing approximately 15-20% of your total weight and volume.
If you already have clarified butter, you can follow the same process for making cannabis-infused coconut oil and swap the coconut oil for your clarified butter.
What Is The White Stuff?
If you do not clarify your butter first, you will notice white particles on your cooked butter.
The white stuff is nothing to be alarmed about; the white particles are simply the milk solids and salt if you used salted butter.
These solids will be removed when we strain and discard the excess water.
What About Ghee?
Ghee is butter that has already been clarified or has had the milk solids removed.
This pre-done step eliminates the need for you to clarify your butter.
In its clarified state, ghee is essentially an oil and can be treated like a traditional cannabis oil infusion.
Use this cannabis coconut oil recipe and swap the cannabis coconut oil for your ghee to make simple cannabis-infused ghee.
Why Did I End Up With Less Butter Than I Started With?
As mentioned above, you will lose weight and volume in the cooking process and end up with less butter than you started with.
The loss occurs because you will be removing the milk solids and evaporating off the excess water.
You should expect to experience a volume loss of 15-25%.
Volume loss is essential to keep in mind, especially if you try to make a small batch to use in a particular recipe.
For example, one stick of butter that has been infused is no longer still one stick of butter typically called for in a recipe.
Do I Need A Thermometer?
Yes, we recommend using a digital thermometer for monitoring your temperature accurately.
You risk denaturing or destroying the essential cannabinoids and terpenes at temperatures that are too high.
How Long to Cook Cannabutter In The Crockpot?
You will cook your cannabutter in the slow cooker or crockpot for 4-hours with pre-decarbed cannabis and 8-hours with non-decarbed cannabis.
Can I Cook Cannabutter On The Stove?
Yes, you can.
We are using a slow cooker or crockpot for this recipe because it is easier to maintain a constant temperature and set-it-and-forget-it, but the truth is you don't need any special equipment like a crockpot at all.
To cook your cannabutter without a crockpot, place the decarboxylated cannabis flowers, butter and 2 cups of water in a medium-sized saucepan.
Bring to a boil and allow to cook on the stovetop for 4 hours. Once the cooking process is over, allow the entire pan to cool.
The finished butter will harden and solidify, or float, on top, while the unwanted water will remain on the bottom.
Pour off the water and discard it, and you will be left with your final product.
Do I Need to Add Water?
You do not need to add water to the mason jar if you are cooking in a slow cooker or crockpot, but you will be using a water bath.
When cooking in a slow cooker or crockpot, the water bath helps to maintain a constant temperature.
You will need to add water to the pot if you are cooking your butter on the stovetop.
When cooking on a stovetop, the temperature can fluctuate quite a bit.
The water helps regulate the butter's temperature, preventing it from getting too hot and ultimately burning your butter and denaturing your cannabinoids.
*Note: if you add water to your cannabutter infusion, do NOT add lecithin as well.
This will bind the water and butter together, resulting in a soupy mess.
Do I Need to Use A Mason Jar?
We used a mason jar in the crockpot here for ease and convenience, but you don't need to.
If you are using the stovetop method above, you can combine everything in the saucepan without putting anything in a mason jar.
If you are cooking in a mason jar, note that there can be an occasional mishap that results in a broken or cracked jar - it happens to the best of us without rhyme or reason.
Some tips to help prevent this:
Use a mason jar specifically meant for canning or cooking. Do not use leftover glass jars from other products
Make sure you use new mason jar with a brand new lid so you know the seal is good and the contents inside will stay dry
We used two of these 16 ounce wide-mouth Ball mason jars in this recipe, and they fit perfectly inside this 7-quart crockpot we use.
What If My Mason Jar Floats?
Sometimes the mason jar will float when placed in the water bath. Floating jars are no need for concern.
Add something heat and water safe over the jar's top to weigh it down; a clean rock works well.
Can I Sous Vide Cannabis Butter?
Yes, you can make sous vide cannabutter.
If you have an immersion circulator, you will follow the same process.
Set your circulator to a temperature of 185° F place in a water bath.
Cook for the same amount of time, approximately 4 hours with a pre-decarbed flower or 8 hours with a non-decarbed flower.
Does The Final Green Color of the Butter Matter?
No, color doesn't have any correlation with potency.
A very green butter is simply cannabis butter with a lot of chlorophyll, the green pigment that has also been extracted from the plant.
You will likely have more chlorophyll and green color if you are making the butter with trim, and the fresher the bud, the greener it will also be.
What Type of Cannabis Should I Use?
Well, the truth is, anything you can get your hands on will work.
For some people, that means trim and shake, and for others, it means high-quality bud purchased at a legal dispensary.
All parts of the cannabis plant, aside from seeds, contain some cannabinoids that can be infused into butter.
Some parts of the plant, like the buds, contain more cannabinoids than other parts, like the trim leaves.
Here are the most popular options to work with. Keep in mind that how much you use will also impact your final potency:
High-Quality Cannabis Flower
Using high-quality dried cannabis flower buds will make a stronger, more potent butter because the flower bud contains a high concentration of cannabinoids.
Shake, Trim, or Leaves
Using up all parts of the cannabis plant is great for sustainability, and many people exclusively make their cannabutter with shake, trim, or leaves.
Trim, leaves, and shake all contain varying amounts of cannabinoids.
Because leaves do not contain nearly as many cannabinoids as flower buds, you may want to consider using more trim, leaves, and shake than you would flower, up to 50% more.
How to Make Kief Butter
Kief is the fine, powdery substance that accumulates at the bottom of a grinder contains the resinous glands that have the most cannabinoids from the trichomes.
Because kief is so much more potent, you may be able to use less of it in this recipe, depending on the effect you're looking for.
Just remember that you still need to decarb kief just as you would traditional flower.
If you've never worked with kief before, you can get my full guide on how to make edibles and decarb kief here.
How Can I Make My Cannabutter Stronger?
The potency of your final cannabis butter is directly related to the potency of the starting cannabis flower you started with, your decarb process, and your cooking process.
With the decarbing and cooking process spelled out here, the one variable you have the most control over is your starting material.
Remember, the better the bud, the better the butter.
You can also try an online cannabutter ratio calculator if you're feeling stuck.
To Make A More Potent Cannabis Butter:
Choose a higher-quality flower that contains more % THC
Add decarbed kief or cannabis concentrates like distillate or FECO
Use more flowers (an increase from 1 ounce to 2 ounces or more)
Use less butter (decrease from 1 pound to ½ pound)
How Do I Know How Potent My Final Batch Is?
Spoiler alert - it is impossible to know the potency of homemade edibles if you do not know the % concentrations of THCA, THC, or CBDA, CBD in your starting flower without lab testing.
If you know the % concentration of your starting flower (easier if you purchased from a dispensary or know the actual strain), you can use an online calculator to guestimate your final product potency.
Again, the potency will depend on the strength of the flower you start with.
If you have no clue the starting potency of your material, it's best to start with a low dose when consuming your first batch.
This way, you will better understand how strong the product is and how it makes you feel.
What Should I Use To Strain?
We always recommend using something that is food-grade safe to strain your cannabis butter.
We have used a paper filter with a funnel in this post and recommend a fine mesh strainer or clean, unbleached cheesecloth.
Members of our Well With Cannabis Community also recommend using a French press for easy straining.
We do not recommend using anything that is not food-safe, like pantyhose, for straining.
Enhance Your Cannabis Education
My beginner-friendly Cannabis Compass Online Course will show you how to dose, use, and apply cannabis safely and effectively so that you can begin to manage your most unwanted symptoms the natural way from the comfort of your own home.

Learn more and enroll today →
Recipes To Make With Cannabutter
Now that you have your cannabutter make, it's time to try some delicious recipes.
Our most popular cannabutter recipes include cannabis brownies and cannabis caramels and cookies like our cannabis peanut butter cookies and cannabis chocolate chip cookies.
Check out our full selection of cannabis recipes here.
---