Are you ready to make some cannabutter? This step-by-step beginner's guide will teach you how to make weed butter at home in a crockpot or slow cooker. You can then use your cannabutter to create all of your favorite edible recipes!
---
Stock Your Canna Kitchen
---
Cannabis: The first step is to select your preference of THC, CBD, or CBG dominant flower, trim, shake, etc. You can purchase flowers from my online shop here. Then select your desired amount to use. Small batches can be made with as little as 3.5 grams; large batches can be made with up to 1 ounce of cannabis or more. Use the Flower to Oil Ratio Guide if you need help deciding how much to use. You do not need to grind the cannabis; just break the buds into small pieces.
Butter: The next step is to choose unsalted butter, clarified butter, or ghee. You can also use this infusion process to make cannabis oil with olive oil, coconut oil, MCT oil, vegetable oil, etc. You will not have to remove milk solids from canna oil at the end of the process.
THCA to THC → bake at 240° F for 40 minutes

CBDA to CBD → bake at 240°F for 90 minutes

CBGA to CBG → bake at 220°F for 60 minutes

THC to CBN→ bake at 240°F for 180 minutes
Step 9: After the 4-hour cooking time, carefully remove the jars from the water bath and allow them to cool enough to handle. You are now done with the crockpot step and can discard the water bath.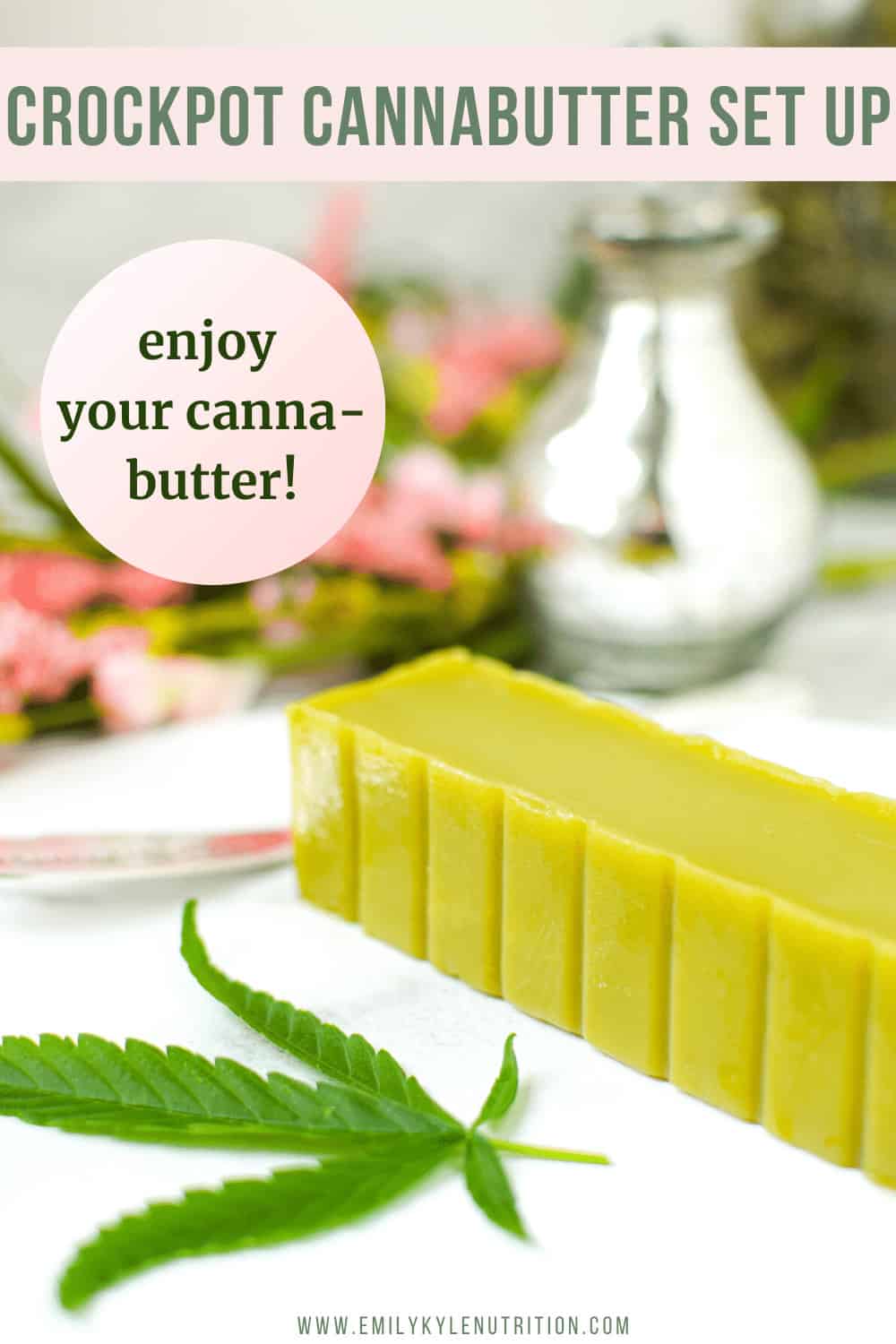 Your cannabis butter is now ready to enjoy 😀
Notes & Expert Tips
If you are new to edibles, check out my beginner's guide to edibles first. They can be difficult to dose and even more potent than other forms of consumption. Friends don't let friends eat edibles unprepared, so let me help you!
If you've never cooked with cannabis before, consider starting with CBD flower to make CBD butter. Experimenting with a more affordable option means less heartache if an accidental mistake is made along the way. 
Be mindful of how much cannabis you add. Adding even a small amount to a cup of butter can result in a high final mg of THC. Before getting started, use my edibles dosage calculator to determine how much you should use.
The most important thing is to decide how much or how little butter you want to use, as this will affect the final potency. Then warm the butter up in a small saucepan, stir in the concentrate, and mix well.
To Make A More Potent Cannabis Butter:
Choose a higher-quality flower that contains more % THC, CBD, etc
Add decarbed kief or cannabis concentrates like distillate or FECO
Make kief cannabutter
Use more flowers (increase from 1 ounce to 2 ounces or more)
Use less butter (decrease from 1 pound of butter to ½ pound)