Here you will find the best recipe for simple and delicious cannabis brownies made using cannabis-infused coconut oil, cannabutter, cannabis sugar or cannabis concentrates like FECO. No fancy ingredients, just your classic, delicious, brownies that are ready in just 25 minutes.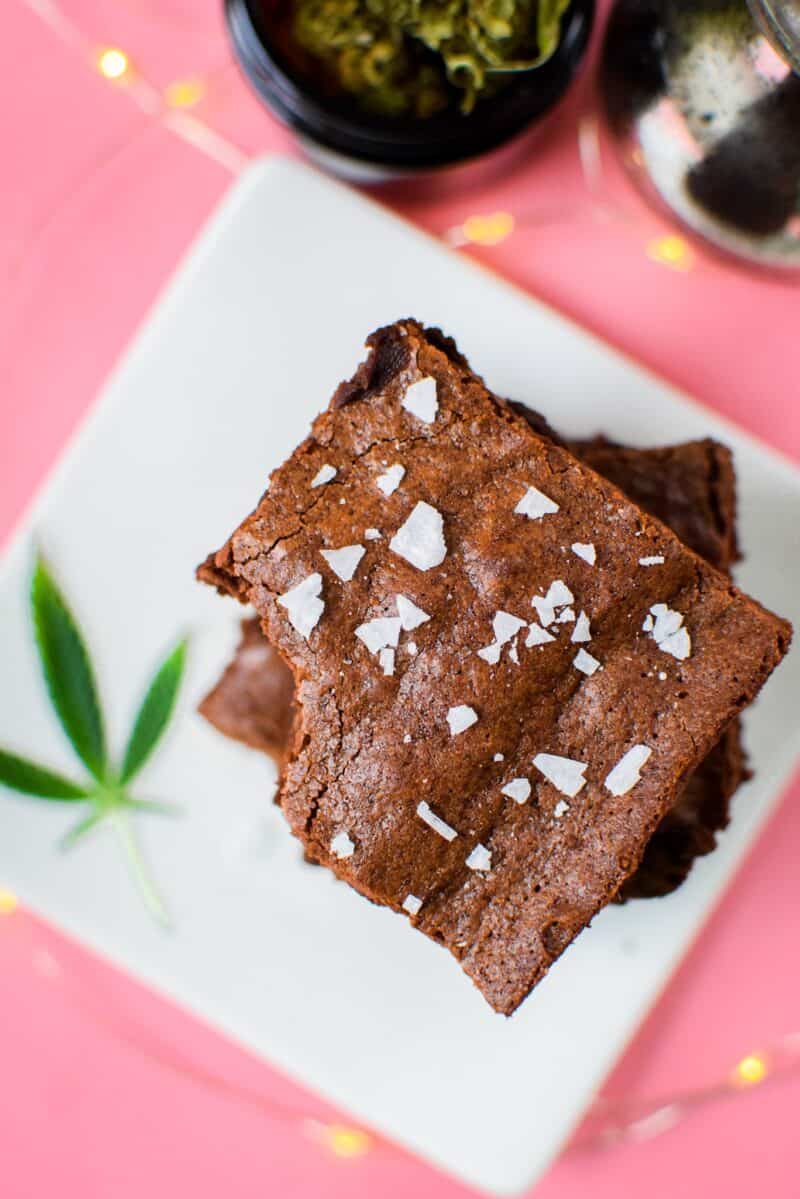 How to Make Cannabis Brownies
If you're finding this recipe through a random search, welcome; I'm so glad you're here!
After combing the internet for a perfect cannabis brownie recipe, I realized that it didn't exist, so I sought out to create it.
Many recipes are too complicated and inaccurate, and I wanted something simple to share with you and my Well With Cannabis Facebook Community.
Instead of making this complicated, I've set out to make this the easiest guide for making cannabis brownies with simple infusion instructions and four alternative infusion options.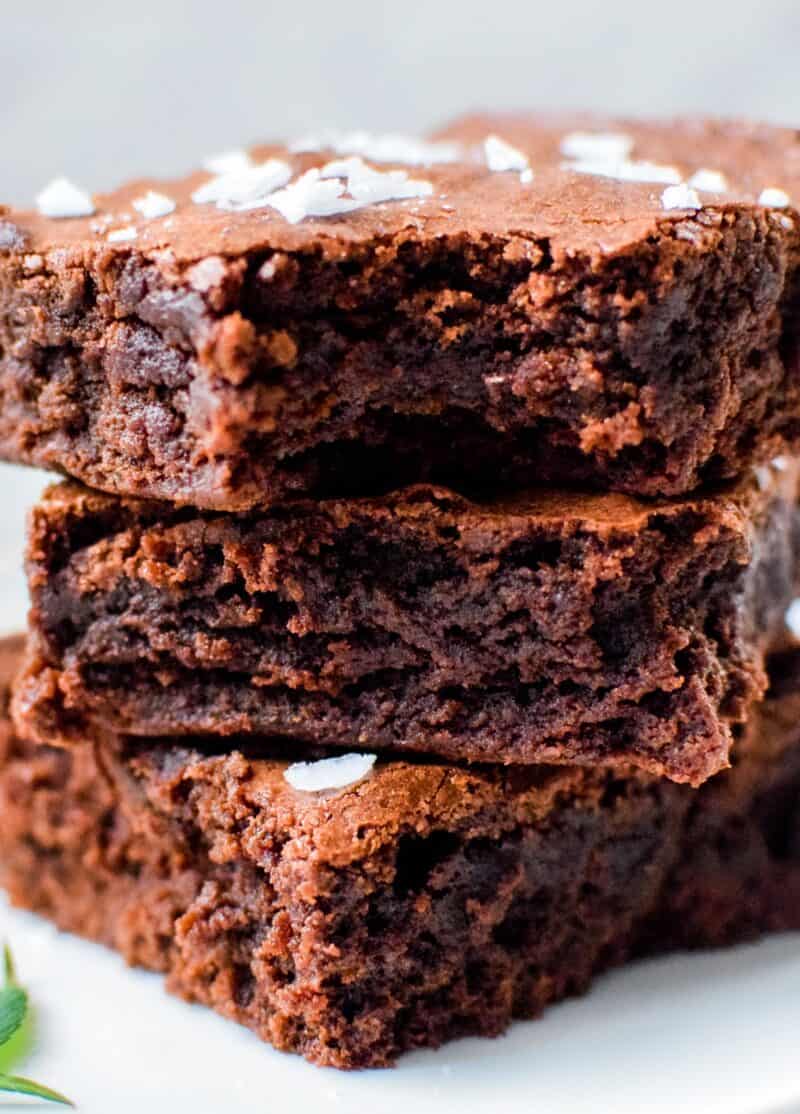 Option #1 - Cannabis Oil or Cannabutter
The easiest and most palatable option for making cannabis brownies is to make either cannabis coconut oil or cannabutter first.
Cannabis-infused coconut oil, or cannabutter, is an important staple for many cannabis recipes.
Mastering just one of these recipes will help you make more recipes beyond just brownies.
If you have never made either of these recipes before, be sure to:
Making your own oil or butter at home allows you to choose what type of cannabis flower you want to use.
THC dominant cannabis flower is the most preferred starting material, but you can also use CBD flower, or even leaves, trim, shake, or kief.
Once you have your cannabis-infused oil or butter prepared, you can use it anywhere fat is called for in a recipe.
That means you can then use this recipe or your Grandma's sacred brownie recipe as is and swap regular oil or butter for infused oil or butter.
Should You Use Butter or Oil For Your Brownies?
Choosing between using cannabis-infused coconut oil or cannabutter is a personal taste preference.
I prefer the coconut oil while my husband prefers cannabutter.
Learning how to discover your own personal cannabis preferences is something I teach inside my Cannabis Compass Online Course.
Either way, they perform nearly the same when baking and can be made the same way following the same methods and used interchangeably in many recipes.
Option #2 - Cannabis-Infused Sugar
While it's more likely that you can access cannabis butter or cannabis oil, you can optionally make a cannabis-infused sugar to use in this recipe.
You can use cannabutter and cannasugar in combination for an ultrastrong batch, or use either one, depending on what you have on hand and readily available.
Option #3 - Cannabis Concentrates
If you are a medical marijuana patient or live in a recreationally legal state, chances are you may have access to cannabis concentrates.
You can easily use cannabis concentrates in this recipe to make delicious infused brownies.
From distillate or CO2 oil, to shatter or wax, and FECO or RSO, all can work for this recipe.
Depending on what concentrate you are using, you will want to ensure that your cannabis concentrate is decarbed first, if needed.
If you are not sure if your cannabis concentrate needs to be decarbed, you can check this guide here.
Once you know whether or not you need to decarb your concentrate, you can gently warm it up and mix it into the ½ cup of butter or oil called for in this recipe.
How much you will add is up to you and your personal taste preferences, 1mL or 1 gram is a good place to start.
Option #4 - Decarbed Cannabis Flower
Alas, some impatient friends don't want to wait 4 hours to make an infused oil and insist on adding cannabis flower buds directly to the batter.
While it's not my favorite or the most palatable way to make brownies, it will still work.
However, it's important to note that you must decarboxylate the dried cannabis flower before adding it to the batter to reap the full benefits of activated CBD and THC.
If you skip this step, your brownies will not be as strong as you desire or may not produce any intoxicating effect at all.
Click here for a full Beginner's Guide to Cannabis Decarboxylation.
Option #5 - Leftover Cannabis Pulp
It's not my favorite way to make brownies, but yes, you can absolutely add the leftover cannabis pulp from making butter to your brownie mix.
I would recommend using the infused butter or oil as called for and then adding in a ¼ to ½ cup of the leftover pulp as an additional ingredient.
Frequently Asked Questions
There are many nuances when it comes to cannabis edibles, which is exactly why I put together this Beginners Guide to Cannabis Edibles.
This guide will answer all of your questions about cannabis edibles in general.
This Guide to Edibles covers:
The Importance of Decarboxylation
Understanding Edibles Delayed Onset
Exploring Why Edibles Can Be More Potent
Determining Final Product Potency
Safety Considerations for Consuming THC Edibles
Why Edibles Are Both An Experiment & Commitment
Dosing Recommendations for Beginners
Below you will find questions and answers specific to this cannabis brownie recipe.
Can I Use a Pre-Made Box Mix?
Yes, you sure can!
A typical Betty Crocker brownie mix calls for ½ cup or ⅔ cups of vegetable oil.
Just swap that vegetable oil for ½ cup or ⅔ cups of your cannabis-infused coconut oil or cannabutter and follow the directions as listed.
How Much Cannabis Should I Use?
When making cannabis coconut oil or butter, the most commonly used ratio is 1 ounce of cannabis flower to 16 ounces (1 pound) of oil or butter.
This recipe calls for a half-cup of cannabis-infused coconut oil or butter, which breaks down to approximately ¼ ounce of cannabis flower used in this recipe.
How Do I Make Potent Cannabis Brownies?
Your final milligram dosage of either CBD or THC will be entirely dependent on the strength of the material you start with.
If you make your product with trim or shake, it will be less potent than if you make your cannabis oil or butter with premium, high-quality flower.
When it comes to edibles, remember: the better the bud, the better the butter.
You can also adjust the amount of cannabis flower used to make your oil or butter.
While the traditional ratio is 1 ounce of flower to 1 pound of oil or butter, you could use a ratio of 1 ounce of flower to ½ pound of oil or butter for a more potent final product.
Or you could use the chart below as a guide for infusing different amounts of oil to get the potency you're looking for.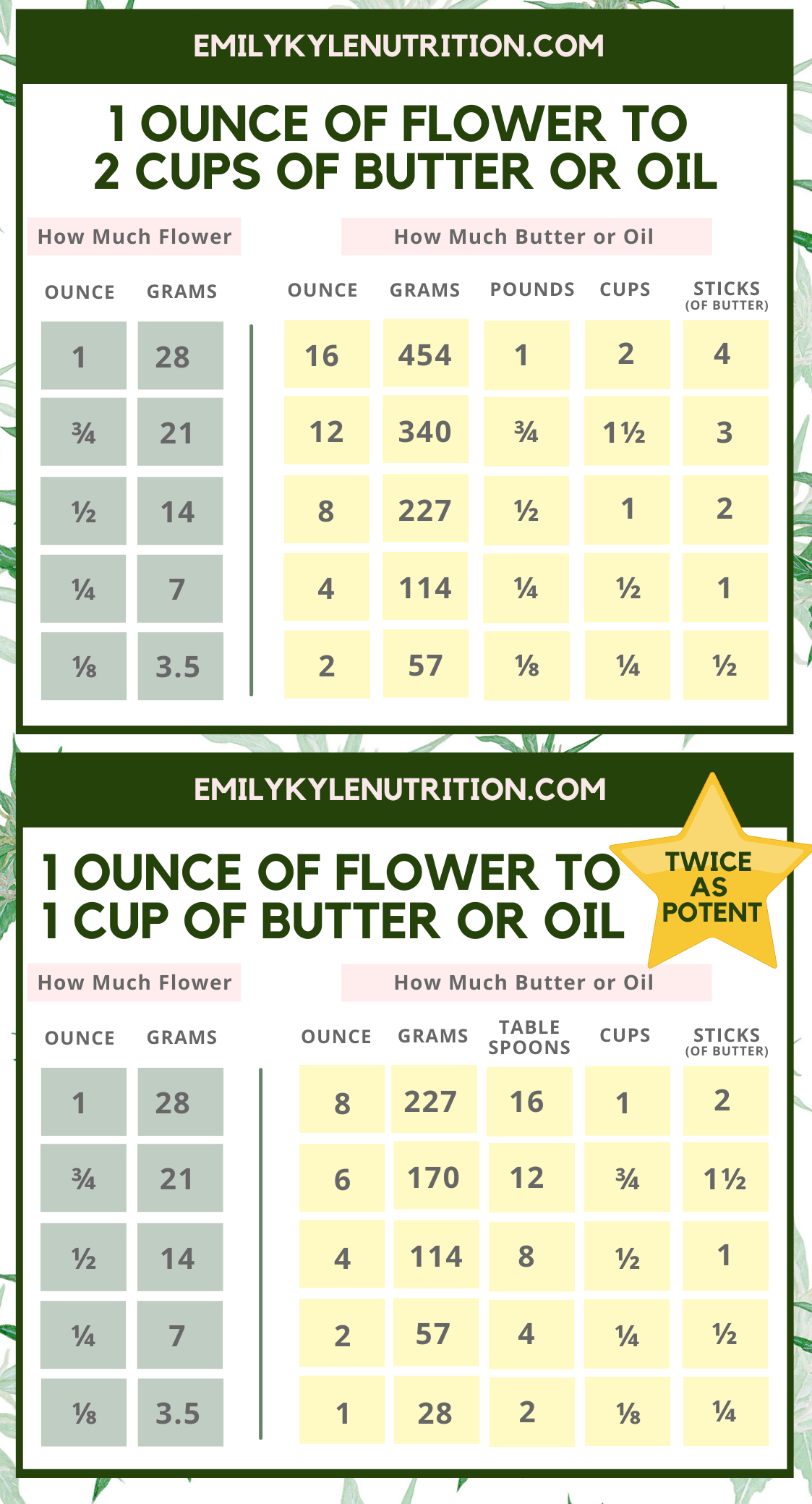 What is the Final Dosage of Each Brownie?
It's important to know that estimating the final potency of cannabis edibles is nearly impossible unless you know the percentage of CBD or THC in the material you start cooking with.
If you purchase your flower at a dispensary, it will state the % THC, making the process much easier.
From here, you can input your information into an online calculator that will help you guestimate your final concentration.
If you don't know your starting material's potency, the final potency can be anyone's guess.
What Are The Effects of Cannabis Brownies?
Cannabis edibles affect every person differently because of our own unique endocannabinoid systems (ECS).
This, paired with our own unique physiology, means we will all experience the effects differently.
Some of the most commonly reported effects include a feeling of intoxication or being high, sleepiness, drowsiness, happiness, pain relief, and more.
Additionally, some people will not feel the effects of edibles, as covered more in-depth here in my Beginners Guide to Cannabis Edibles.
How Long Do Cannabis Brownies Take to Kick In?
It can be difficult to determine your ideal dosage when orally consuming cannabis.
This is because the onset of the desired effect is significantly delayed compared to sublingual, topical, or inhalation consumption.
Orally ingested cannabis is slower to take effect, with the typical onset time ranging anywhere from 30 minutes to 2 hours, or even longer, depending on the individual.
While the effects of edibles are delayed, they tend to manifest stronger and last longer, with a peak onset of noticeable effects between 1 to 3 hours after consumption.
The effects of cannabis edibles can last anywhere from 6 to 8 hours or more and vary gratefully from person to person.
Will Making Cannabis Brownies Make My House Smell?
If you are decarboxylating your own cannabis flowers and infusing your own cannabis coconut oil or butter before making your brownies, then yes, your house will definitely smell.
If you already have the oil or butter prepared and are not actively decarbing or infusing and simply just making brownies, the smell will be significantly reduced.
How Long Do Cannabis Brownies Last?
In my house, 24 hours!
But in all reality, these cannabis brownies have the same shelf life as any other brownies and should be consumed or frozen within 7 days to prevent spoilage.
What If My Dog Ate My Cannabis Brownie?
As silly as that sounds, it's a legitimate question that gets asked more times than I'd like to admit.
Dogs do well with CBD, but they don't do great with high amounts of THC.
If your dog eats your cannabis brownie, I urge you to call your vet for further recommendations.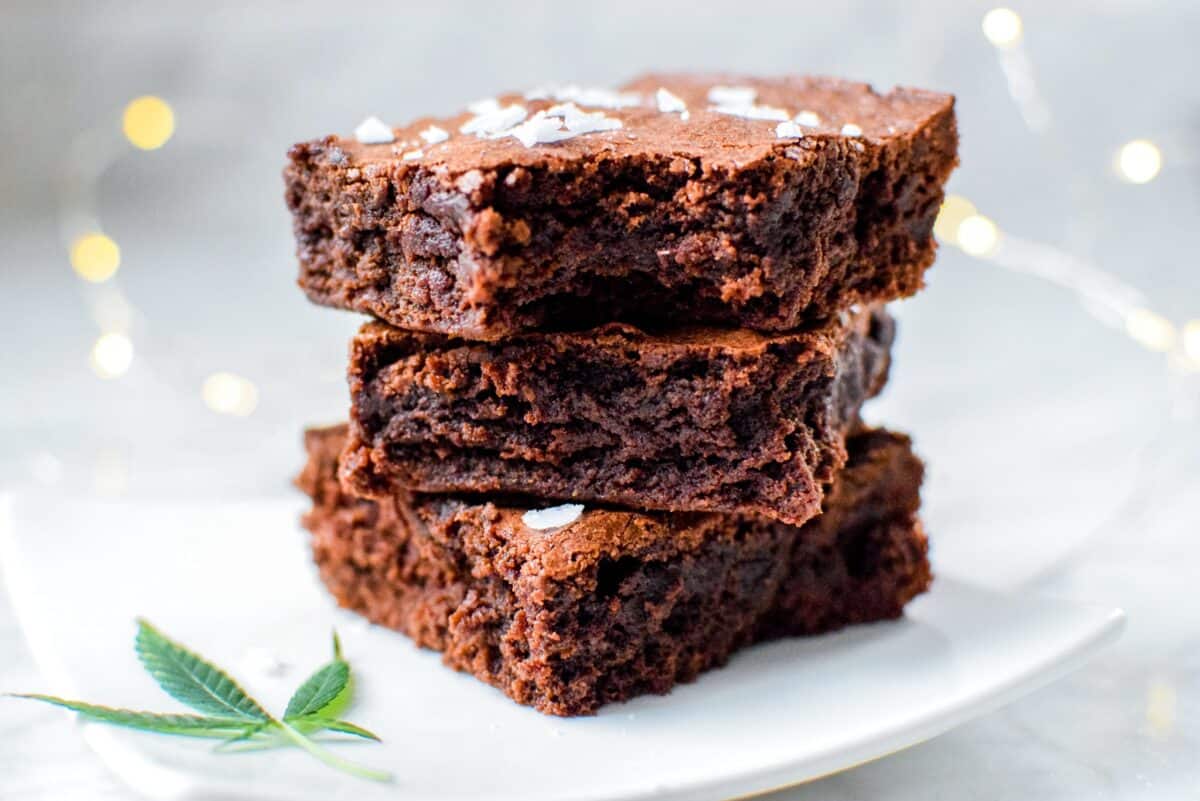 How to Determine The Dosing
Want to calculate the dosage of your cannabis edibles and homemade cannabis recipes?
While a calculator is no replacement for lab testing, this tool has been designed to help you get a more accurate guesstimate of the potency of your cannabis infusions and extractions.
Unlike other calculators available online, this calculator aims to provide more accuracy by accounting for the losses associated with decarboxylation, infusion oils, or extraction solvents used.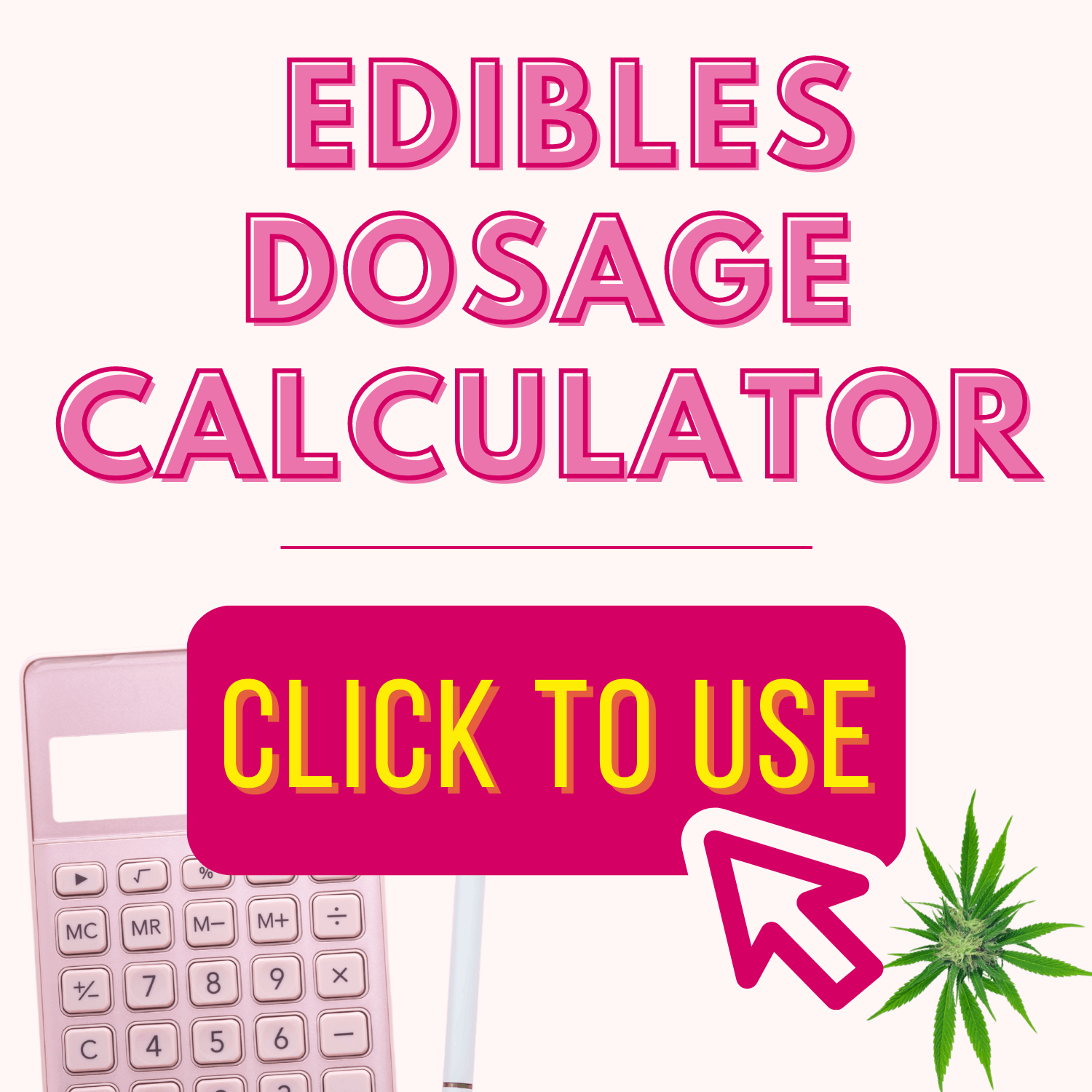 Use An Infusion Machine For Your Edibles
If the process of decarboxylating and infusing your cannabis edibles seems like too much work, a cannabis infusion machine is a perfect solution for you!
Cannabis-infusion machines are countertop devices that do all the work for you by decarboxylating and infusing your butters, oils, and more.
The most popular machines on the market today include LEVO Infusion Machines and Ardent Cannabis Infusion Machines.
Want A Discount Code?
Enhance Your Cannabis Education
My beginner-friendly Cannabis Compass Online Course will show you how to dose, use, and apply cannabis safely and effectively so that you can begin to manage your most unwanted symptoms the natural way from the comfort of your own home.

Learn more and enroll today →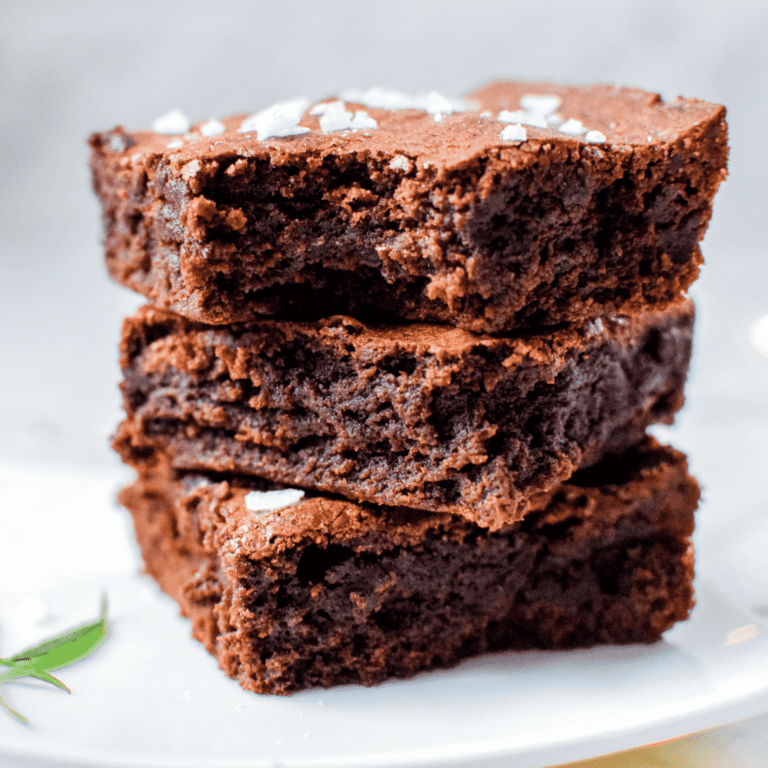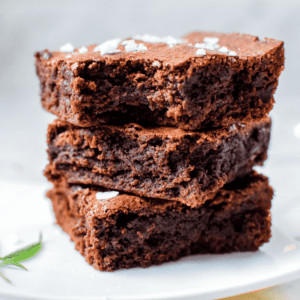 Easy Homemade Cannabis Brownies
The very best recipe for easy, simple, and delicious fudgy chocolate cannabis brownies made using cannabis coconut oil, cannabutter, or cannabis sugar. No fancy ingredients, just your classic, delicious, brownies that are ready in just 40 minutes.
Instructions
Preheat the oven to 350° F.

Add the eggs and vanilla to the creamed sugar and beat on medium speed for one minute (note: the mixture's color should lighten a bit).

Add the dry ingredients to the wet ingredients and beat on low until everything is well incorporated.

Transfer the batter to the reserved greased baking pan. Lightly tap the pan to even out the batter.

If you are adding and any optional toppings, like sea salt, add them now.

Place the pan in the oven to bake for 25-30 minutes. The time will depend on your oven and your brownie consistency preferences. Test the finished brownies with a toothpick. Unlike making a cake, the toothpick does NOT need to come out clean. Making fudgy brownies will leave deliciousness on the toothpick. Just verify that what is in the toothpick doesn't have a batter consistency, which would indicate that the batter needs to bake a bit longer.

If you can wait, allow the brownies to cool for 30 minutes. Enjoy and repeat!
Notes
*If you are using cannabis concentrates, check first to see if you need to decarb your concentrate. Then gently warm it up and mix it into the ½ cup of butter or oil called for in this recipe.
*When measuring flour or cocoa powder; we recommend you use a spoon to transfer the flour from the container to your measuring cup and then leveling out with a flat edge, like a butter knife. This helps prevent packing and makes for better brownies.
*For even FUDGIER brownies, use a ½ cup of all-purpose flour instead of ¾ cup.
Nutrition
Serving:
1
g
Calories:
240
kcal
Carbohydrates:
19
g
Protein:
4
g
Fat:
17
g
Saturated Fat:
11
g
Polyunsaturated Fat:
4
g
Cholesterol:
41
mg
Sodium:
222
mg
Fiber:
2
g
Sugar:
8
g