An easy, straightforward recipe for ooey-gooey pot brownies ready in as little as 30 minutes; no fancy ingredients or special equipment required. Learn how easy it is to make these delicious brownies with different options like cannaoil, cannabutter, cannabis sugar, concentrates, and more.
Step 1 - Preheat the oven to 350°F. Grease an 8"x8" metal baking pan and set it aside.
Step 2 - In a medium-sized bowl, mix the dry ingredients. Sift the flour and the cocoa powder to remove any lumps, then add the salt, followed by the baking powder. Set aside.
Step 3 - Cream the cannabutter, granulated white, and brown sugar in a large bowl with a hand mixer.
Step 4 - Add the eggs and vanilla to the creamed sugar.
Step 5 - Beat on medium speed for one minute (the mixture's color should lighten a bit).
Step 6 - Add the dry ingredients to the wet ingredients.
Step 7 - Beat on low speed until everything is well incorporated.
Step 8 - Transfer the batter to the reserved greased baking pan. Lightly tap the pan to even out the batter.
Note: complete step-by-step printable instructions are located in the recipe card below.
Notes and Expert Tips
Pro tip: A good brownie is fudgy, but for even FUDGIER brownies, use a ½ cup of all-purpose flour instead of a ¾ cup. Skip this if you prefer cakey brownies.
Baking note: All ovens bake at different temperatures; 25 minutes is an average baking time. Some ovens will bake quicker, so check your brownies for your desired doneness with a toothpick. The toothpick does NOT need to come out clean, unlike making a cake. Making fudgy brownies will leave deliciousness on the toothpick. Just verify that what is in the toothpick doesn't have a batter consistency, which would indicate that the batter needs to bake a bit longer. Adjust accordingly to find your perfect texture.
Know your dose: If you have never had homemade edibles before, it is essential to note that they are different than other consumption methods. Edibles will likely affect you differently than inhalation, topical, or sublingual application methods. Your experience may also be different if you use an Indica or Sativa strain. Additionally, edibles take 30-minutes to several hours to hit and can last 6-12 hours, so don't reach for that second helping so quickly! You want to make sure your high time is a good time 🙂 If you accidentally get too high, check out these solutions here.
Be safe: I know marijuana edibles are the hot new thing to try, but I want you to be safe. One of the most important things about cannabis edibles is to follow the golden rule, start low and go SLOW! Keeping your mg of THC low is the best way to stay safe. Do not eat an entire batch of marijuana brownies in one sitting, no matter how much you love the flavor of your homemade weed brownies.
Be prepared: Learn how to easily make the staple recipes needed to infuse this recipe, like cannabutter and cannabis sugar, with my Cannabis Cookbook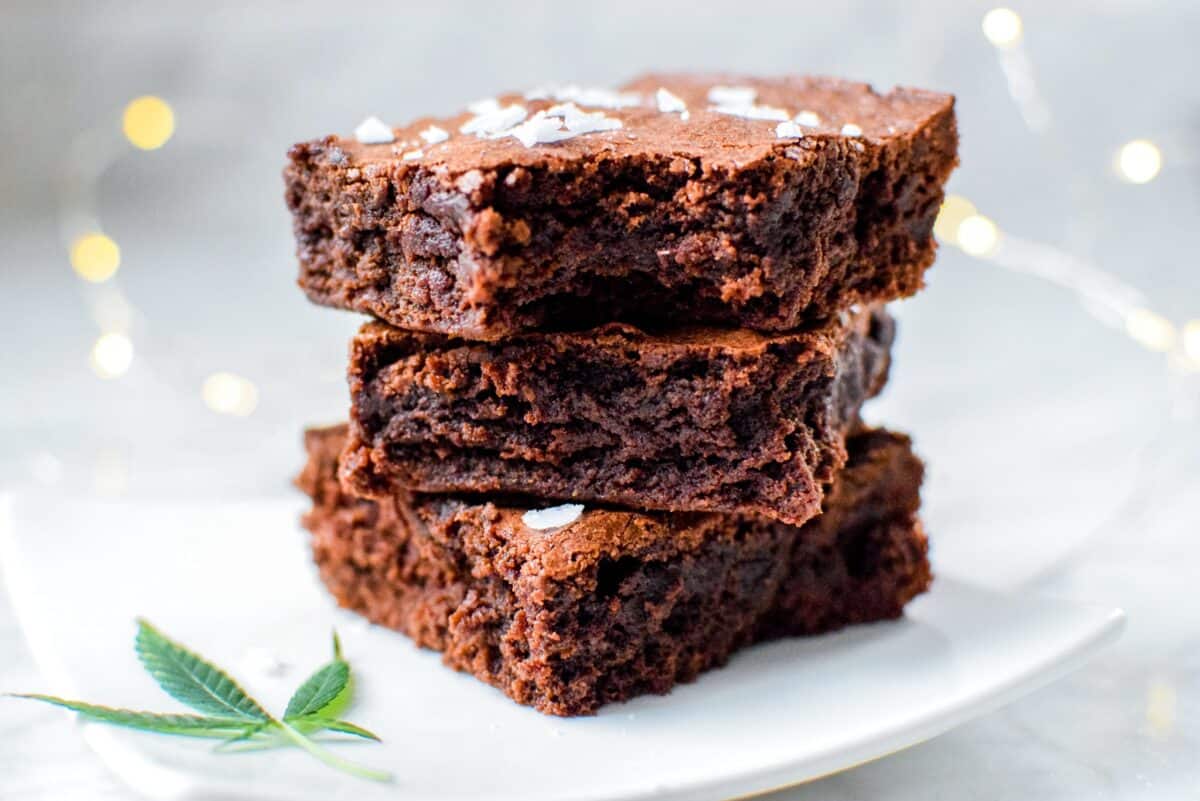 More Recipes You Will Love