Are you growing your first cannabis plant and wondering if you can use those beautiful fan leaves? They're not very potent, but you can use them! Learn more about using fan leaves in edibles and their impressive nutrition benefits, and discover some delicious recipe ideas to use them up so nothing goes to waste.
Features
An overview of what fan leaves are and how to identify them
An explanation of why they may not be very potent
Their nutrition benefits and how to use them in recipes
Don't Waste Those Fan Leaves!
When we use cannabis to make edibles, we typically use the dried flower buds of the plant.
But the buds aren't the only useable part of the cannabis plant – you can use cannabis fan leaves in edibles.
Members of my Well With Cannabis Community are always talking about the delicious ways they save these leaves and use them in recipes.
While the benefits are more nutritional than medicinal, these leaves are still beneficial, especially when making healthy cannabis recipes.
This guide will explore what cannabis fan leaves are, how to use fan leaves, and their nutrition benefits, and I will share some delicious recipe ideas of how to use them up.
What Are Cannabis Fan Leaves?
You may be familiar with using CBD or THC flower buds to smoke or make edibles, but have you ever worked with fan leaves?
As cannabis becomes legalized throughout the country, more and more people have access to raw cannabis.
Cannabis plants produce fan leaves, trim or sugar leaves, raw flower buds, seeds, stems, stalks, and more.
However, it's important to know that different parts do not contain cannabinoids, or the medicine, in the same concentrations.
The female flower buds contain the highest concentration of trichomes that contain cannabinoids like CBD and THC.
The fan leaves contain the lowest concentration of trichomes, meaning they do not contain as much medicine and may not make you feel high.
The cannabis plant has large fan leaves that protrude from the stalk and stems used to collect sunlight and support photosynthesis.
Cannabis plants can get quite large, and they often have more leaves than growers know what to do with.
Many growers will compost them, but we can also get some health benefits from the cannabis plant from these fan leaves.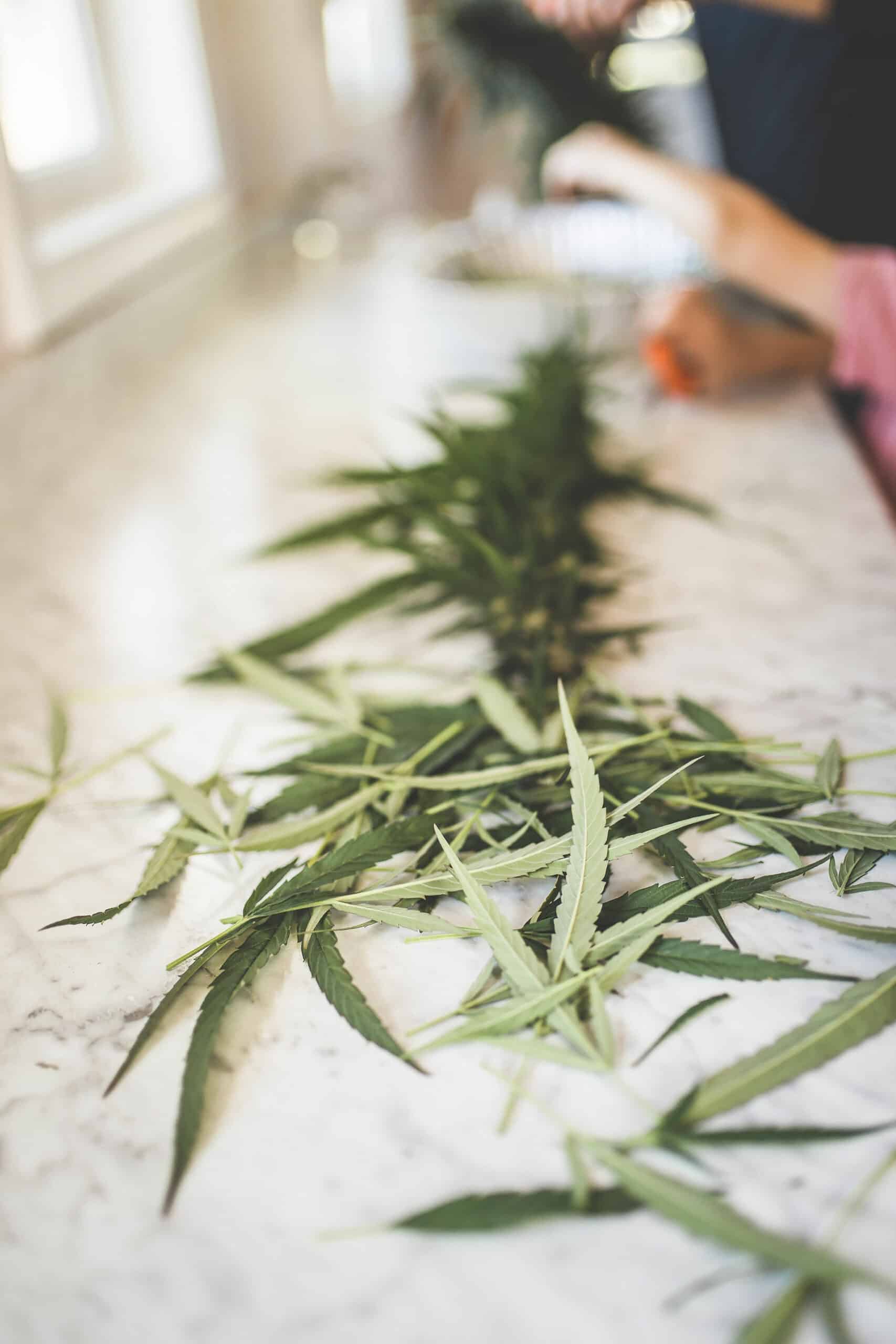 Sugar Leaves vs. Fan Leaves
As I teach in my beginner-friendly Cannabis Compass Online Course, there are two primary kinds of leaves on the cannabis plant: sugar leaves and fan leaves.
Sugar leaves, sometimes known as trim, are the tiny ones that protrude from the flower bud, while the larger fan leaves protrude from the plant's branches.
For their visual appearance, sugar leaves are called 'sugar,' as their trichomes look like sugar granules.
Fan leaves are the larger, fan-like leaves that appear during the vegetative stage.
Fam leaves don't typically contain as many trichomes as sugar leaves.
Below, we will explore the uses of fan leaves specifically.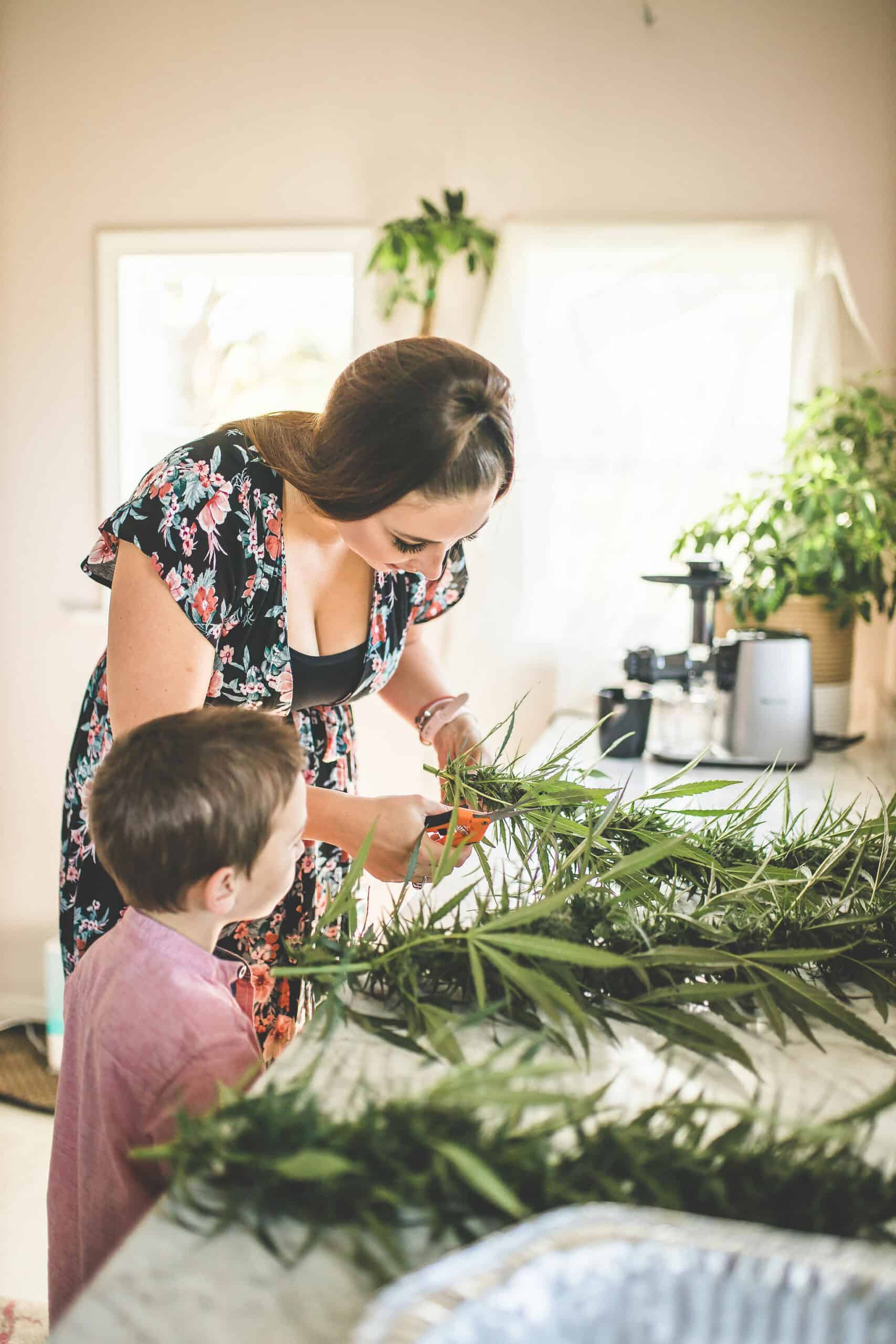 Do Fan Leaves Contain Cannabinoids?
Cannabis buds are loaded with most of the plant's cannabinoids, but trace amounts of cannabinoids can be present in nearly every part of the plant, including the leaves.
Research is still being done on the health benefits of these cannabinoid acids, but they may have powerful medicinal properties.
And like other leafy greens (think spinach, kale, etc.), cannabis leaves are full of essential nutrients, vitamins, and minerals, like fiber, vitamin C, vitamin K, and folate.
This means they are a great option for making nutritious edible edibles containing low levels of therapeutic cannabinoids.
It's important to note that the taste of raw cannabis can be quite strong, so use it sparingly by itself or mix it with other flavors.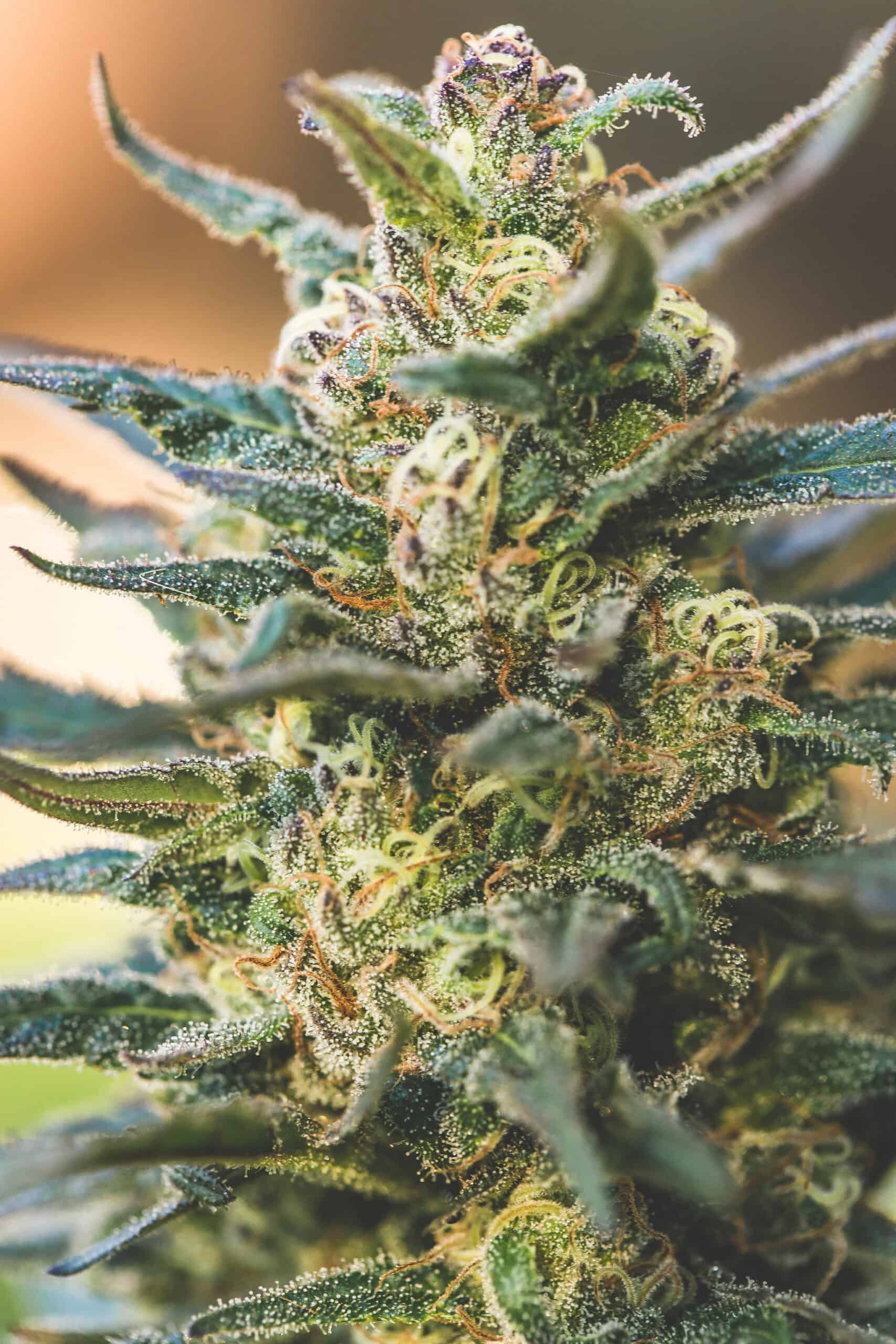 How to Prepare + Safety Considerations
There are a few precautions about safety and side effects that you should consider before eating raw cannabis leaves.
The first precaution would be to ensure that you are sourcing your raw cannabis from a reliable, reputable source; otherwise, you might risk ingesting unwanted pesticides, fungicides, and other harmful microbes. 
Another precaution to consuming raw cannabis is the importance of cleaning the plant before consumption.
Once the plant is in your kitchen, ready to be used, the leaves should be soaked in cold water and apple cider vinegar to help eliminate any potentially harmful bacteria.
You can find step-by-step directions for this process in the recipe card below.
Although this is a rare side effect, reports suggest that raw cannabis can mildly irritate the digestive tract.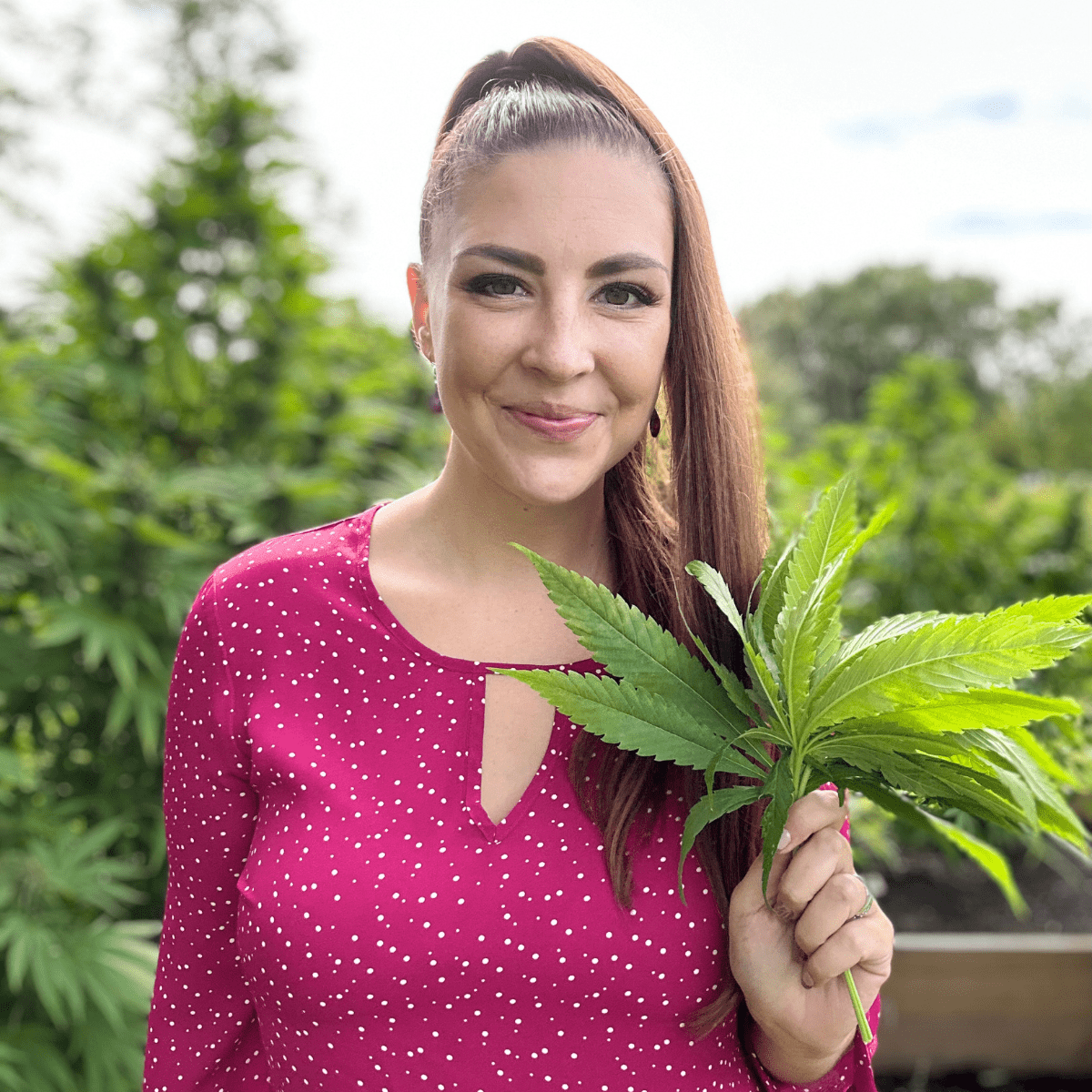 How to Prepare Cannabis Fan Leaves For Edibles
Learn more about how to prepare cannabis fan leaves for edibles, their impressive nutrition benefits, and get some delicious recipe ideas for how to use them up, so nothing goes to waste!
Instructions
Ensure that you are obtaining your raw cannabis from a reliable, reputable source, otherwise, you might risk ingesting unwanted pesticides, fungicides, and other harmful microbes. 

Harvest the fan leaves from the plant. You want to ensure you are selecting the highest quality leaves with no visible sign of damage.

After harvesting and trimming, soak the leaves in a mixture of cold water and apple cider vinegar for 10-minutes to help eliminate any potentially harmful bacteria. 

After soaking, drain and pat the leaves dry.

Enjoy the leaves by following the recipes above. 
Notes
The health of these leaves reflects the plant's overall health, so unhealthy leaves are one of the first signs of an unhealthy plant. Do not use unhealthy looking leaves.
Although this is a rare side effect, reports suggest that raw cannabis can be mildly irritating on the digestive tract. 
Nutrition
Serving:
1
g
,
Calories:
10
kcal
Did you make this recipe or have a question?
Join hundreds of members inside private Well With Cannabis Community for help, support, and to share your edible creations!
How to Make Edibles with Fan Leaves
So now that we're washed and prepped, how do we consume cannabis as a plant-based superfood, you ask? 
There are many ways to consume raw cannabis.
Like any other green leafy vegetable, this plant can be incorporated into your daily diet by simply consuming it in its whole form.
You can add leaves directly to recipes like any other fresh herb that might be used, such as in smoothies, fresh cannabis pesto, or as a garnish to a dish.
You can eat them raw, steep dried leaves in hot water to make tea, juice them, add them to smoothies, or use them in salads or pizzas, or anywhere else you may use other leafy greens.
You can infuse coconut oil with cannabis leaves for topical applications, so creating a balm or salve is a great idea.
I've even seen my community members infuse fresh leaves into cannabutter or make alcohol-based tinctures.
Just keep in mind that if you use an alcohol or oil extraction method to extract cannabinoids from fan leaves, it will take a lot of fan leaves to get an extract that will be as powerful as an extract made from the bud.
Even so, fan leaves still have some of the medicinal properties that make the cannabis plant so famous, so if you have access to a supply, put them to good use.
Here are even more ways my community members report using fan leaves:
Juice them
Add them when making cannabutter
Add the leaves to smoothies
Sautee them like spinach
Add them to a BLT
Deep fry them
Use as a garnish and decoration for cakes, etc
Make tinctures
Make FECO
Infuse into coconut oil for topical use
Use them in topical products like salve
Use them for crafts – resin, epoxy
Press them like traditional flowers
Create a cannabis floral arrangement
Feed to pets including pigs, rabbits, chickens
Add to the compost pile
As you can see, the possibilities are endless. The one thing you should never do with fan leaves, though, is throw them away, after all, you don't want to throw away valuable benefits!
Recipes to Make
Once you have your cannabis fan leaves harvested and ready for use in edibles, according to the guide below, it's time to use them up!
Here are my favorite recipes you can use fan leaves in: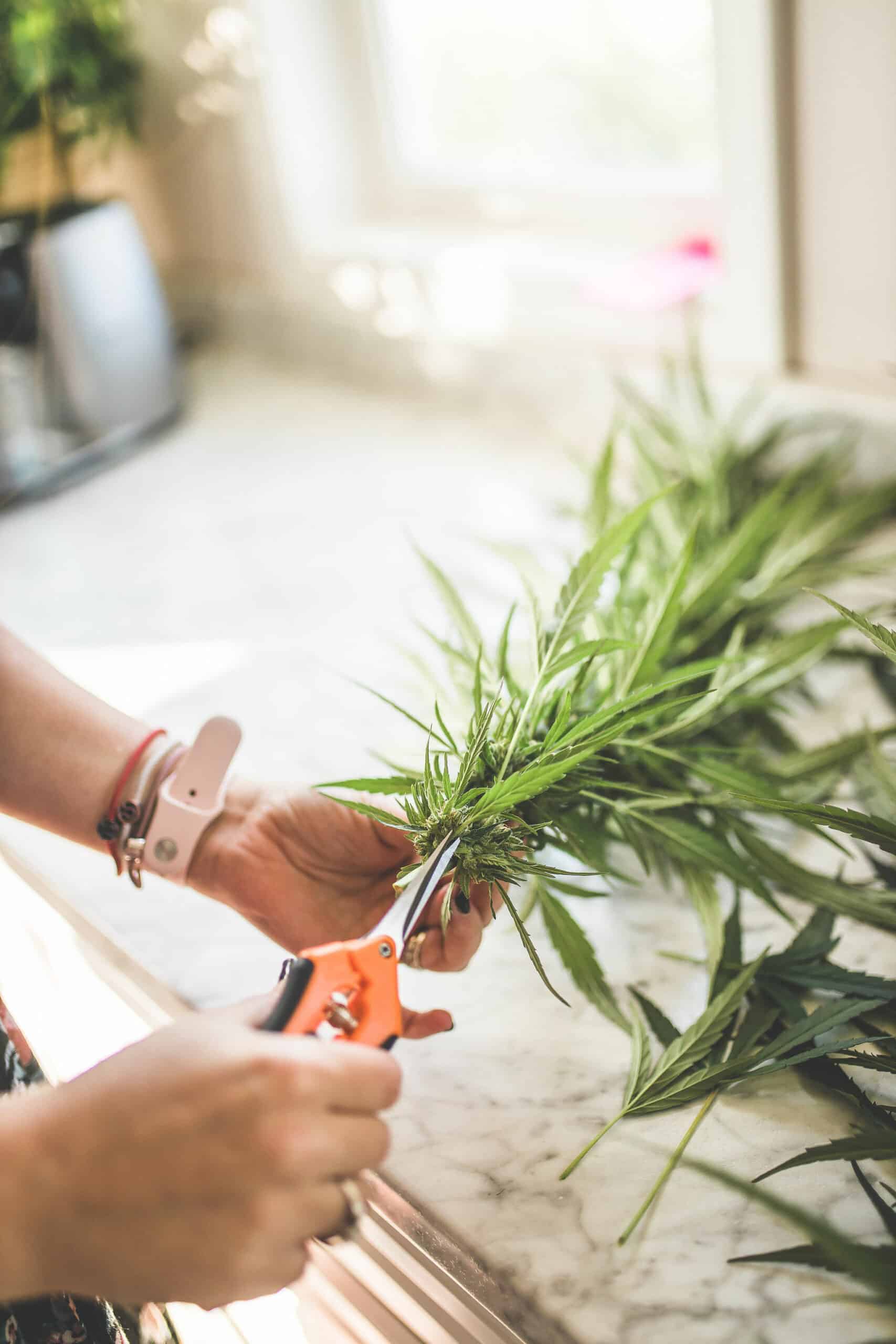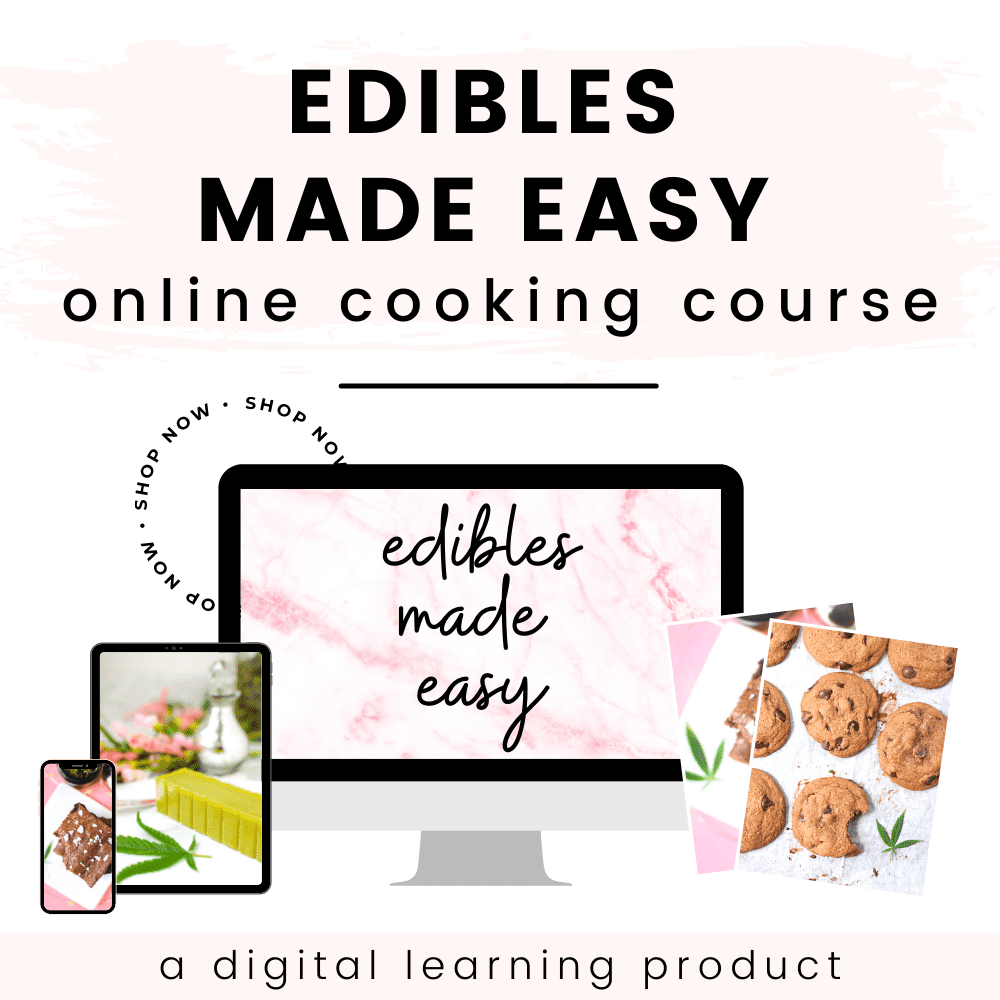 Take your edibles to the next level…
My Edibles Made Easy Online Cooking Course will teach you how to easily make cannabis edibles and topical recipes at home. This step-by-step video course will teach you how to infuse, extract, and create edibles with many different product types – all from the comfort of your own home.