Enjoy this delicious cannabis leaf salad as a hearty plant-based entree or easy-to-prep meal made with fresh cannabis greens, roasted beets, savory goat cheese, and walnuts finished with a zesty lemon cannabis vinaigrette.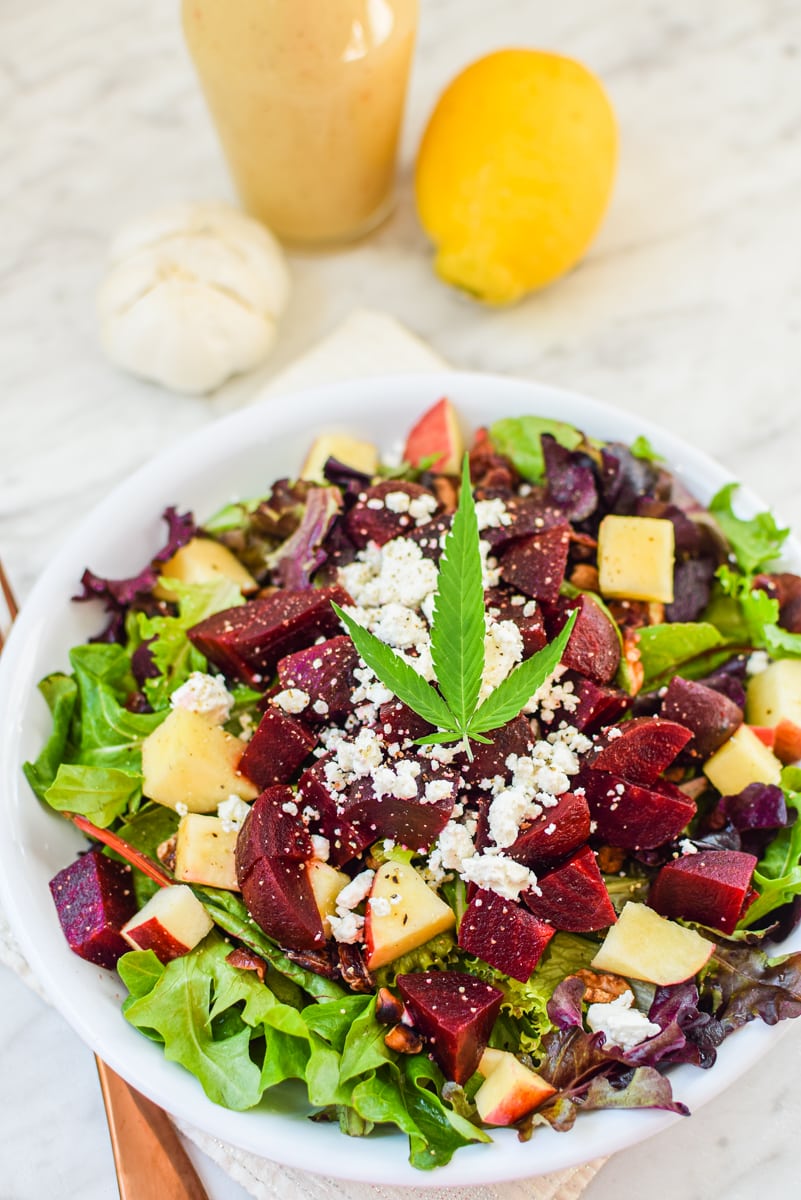 Features
How to use cannabis fan leaves in a salad
How to make a cannabis vinaigrette
Many alternate infusion options
Why You Will Love This Recipe
I am excited to share this recipe from my latest Clean Eating Meal Prep Cookbook, released in January 2021.
This is the fourth cookbook I've written, but the first one I feel is a true reflection of how I eat in real life.
This Clean Eating Meal Prep Cookbook details the exact way I've combined meal prepping and a clean eating lifestyle to get my munchies, my health, and my weight under control.
In this post, I will share this recipe featured in the cookbook and my favorite ways to use cannabis fan leaves in salads and beyond.
---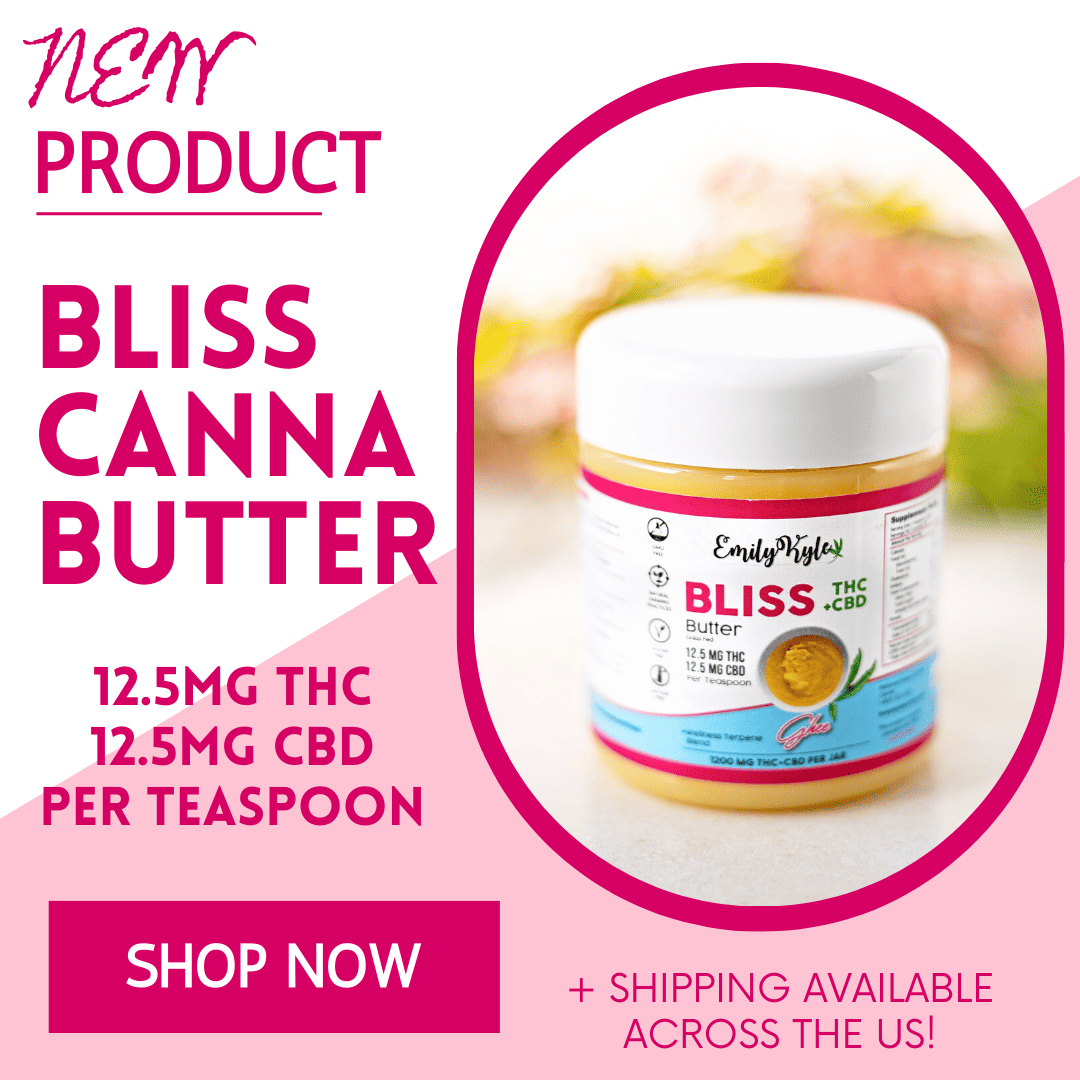 Skip the hard work and have perfectly dosed, delicious, pure Bliss Cannabutter delivered directly to your door! Shop Now →
---
Ingredient Notes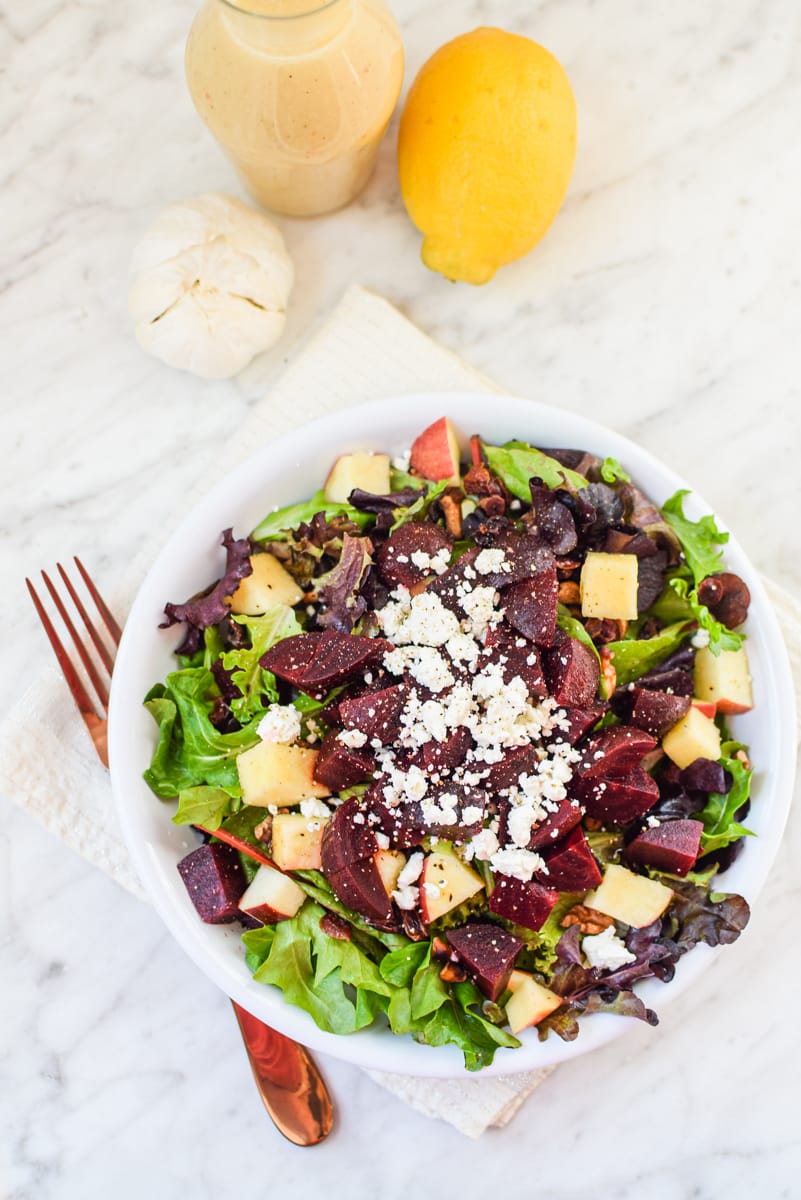 Walnuts: crushed walnuts are the perfect consistency
Lemon vinaigrette: get the step-by-step instructions for making your own cannabis lemon vinaigrette here
Fresh spring mix: or any baby green will do, including cannabis fan leaves
Cooked beets: the kind from the can are perfect!
Diced apple: your favorite kind
Dried cranberries: or cherries work well too
Goat cheese: or feta
Note: a complete list of ingredients with amounts and printable instructions is located in the recipe card below.
How to Make a Cannabis Leaf Salad
As cannabis becomes legalized throughout the country, more and more people have access to fresh cannabis leaves to make edibles with.
If you have access to raw cannabis leaves and don't want to waste them like me, this is a great recipe to try.
In addition to the many nutritional benefits typically associated with dark-green leafy vegetables, the cannabis plant also contains unique phytocannabinoids that nourish the endocannabinoid system.
Cannabis leaves do not produce cannabinoids quite as mature female flower buds do; they contain important nutrients, antioxidants, and cannabinoid acids like THCA and CBDA, meaning they are not useless.
Additionally, they also contain beneficial compounds known as terpenes.
How to Prepare The Leaves
Small, immature fan leaves and small sugar leaves make the best salad greens.
Large, older fan leaves are oftentimes too tough to be enjoyed in a salad and are better off used to be juiced to blended in a smoothie.
Harvest, wash, and dry the cannabis leaves just as you would kale or spinach leaves.
Give a rough chop of the leaves, removing all long stems as necessary, and enjoy.
Cannabis Lemon Vinaigrette
This salad is delicious with many different vinaigrette types, but this zesty cannabis-infused lemon vinaigrette is my favorite!
It is just the perfect combination of bright, zesty flavor with mild notes of cannabis that pair perfectly with this salad.
Alongside my cannabis lemon vinaigrette, classic balsamic vinaigrette also makes a delicious topping for this salad.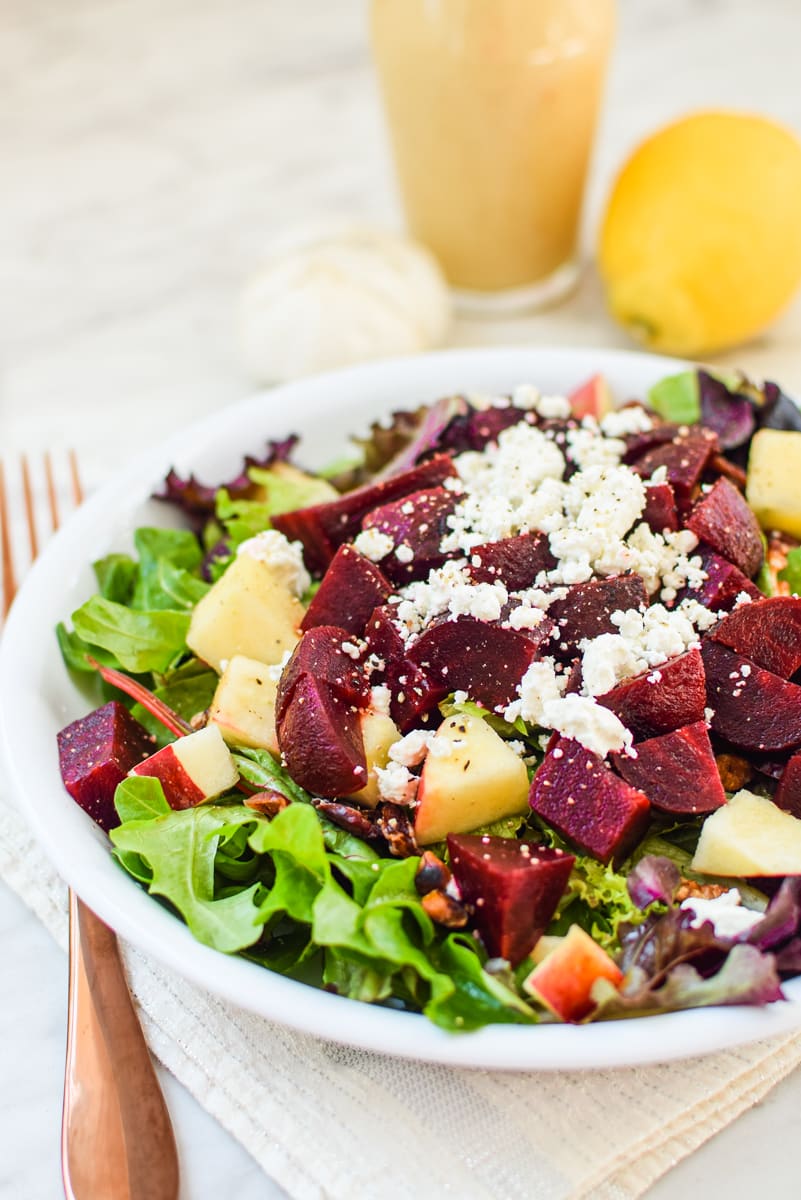 Meal Prepping to Manage Munchies
Meal prepping can help you stay committed to clean eating by ensuring you are always prepared with healthful meals on hand.
While it may seem like a time investment, remember that you will soon love the convenience of meal prepping and quickly learn how to pair the process with the slow-down-and-savor clean eating philosophy.
From one busy mom to another, trust me, I get it.
Life is crazy busy, and it can be tempting to make less than nourishing food choices when we're constantly on the go or faced with the munchies.
But ultimately, I know that you want more for your life than feeling tired and burnt out all of the time, and this method will help you get there.
Beyond just recipes, I hope that my Clean Eating Meal Prep Cookbook becomes a valuable tool for you to make eating clean simpler and easier to do amidst the everyday demands of life.
More Recipes You Will Love
Determine The Dose
Want to get a more accurate guesstimate of the potency of your cannabis infusions and extractions? Try my popular edibles dosage calculator. Not sure what your perfect dose is? Learn more here.

And if you're struggling with the munchies, be sure to get my 10 Helpful Tips for Managing the Munchies here!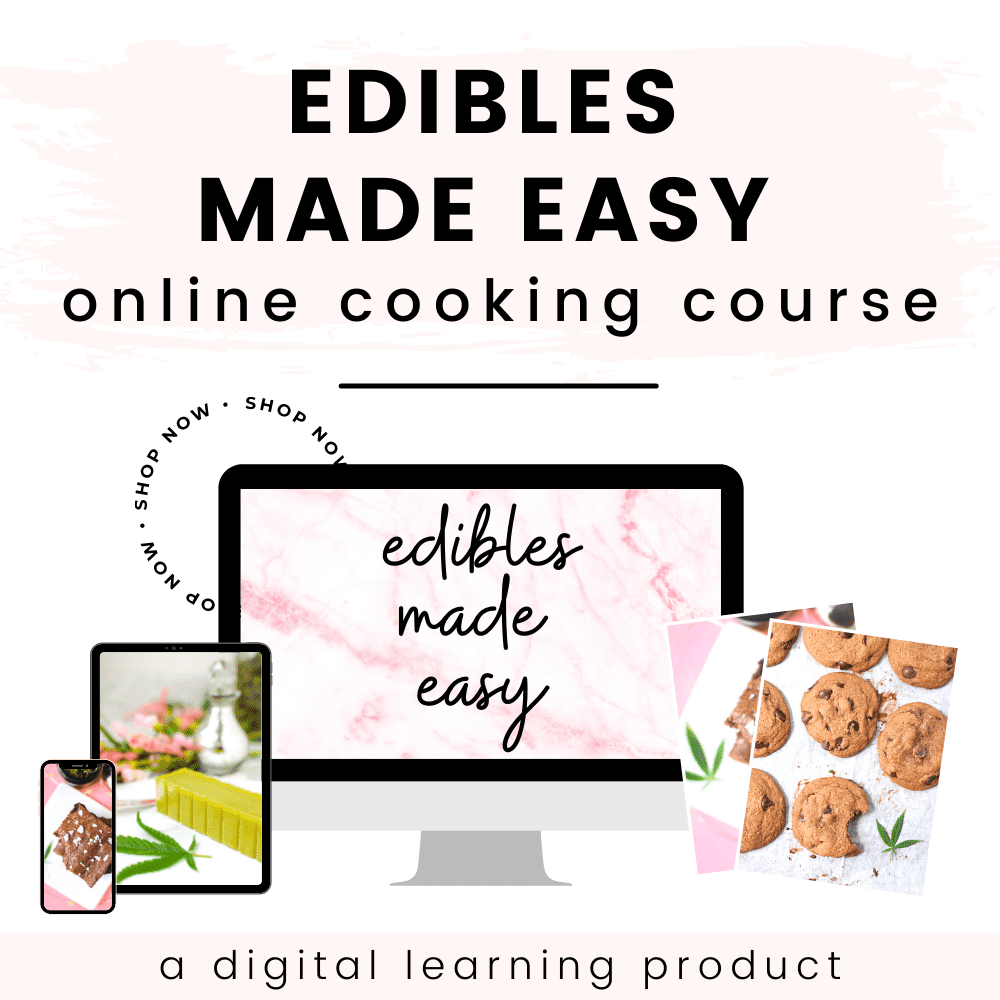 Take your edibles to the next level…
My Edibles Made Easy Online Cooking Course will teach you how to easily make cannabis edibles and topical recipes at home. This step-by-step video course will teach you how to infuse, extract, and create edibles with many different product types – all from the comfort of your own home.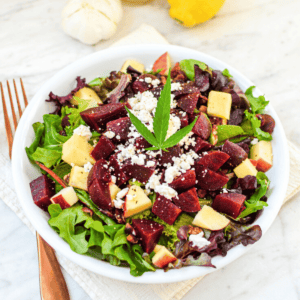 Beet & Walnut Cannabis Leaf Salad
Enjoy this fresh and delicious beet and walnut salad as a hearty plant-based, easy-to-prep meal. Made with fresh cannabis greens, roasted beets, savory goat cheese, and walnuts this salad while provides the body with important fiber, vitamins, and minerals.
Ingredients
¼

cup

crushed walnuts

4

tablespoons

cannabis lemon vinaigrette

3

ounces

fresh spring mix

1

ounce

cannabis fan leaves

8

ounces

cooked beets

diced

½

cup

diced apple

2

tablespoons

dried cranberries

2

tablespoons

goat cheese
Instructions
Preheat the oven to 400°F.

Add the chopped walnuts to a foil-lined baking sheet and toast for 5 minutes, or until golden brown. Set aside.

Portion 2 tablespoons of vinaigrette per serving and pack in two 1.5oz stainless steel salad dressing containers.

In two large, 1-compartment glass meal prep containers, evenly divide the fresh spring mix.

Evenly top each container of spring mix with the cooked beets, diced apple, chopped walnuts, dried cranberries, and goat cheese.

Store the undressed salad in the refrigerator for up to 5 days. Pair each salad with 2 tablespoons of the zesty lemon vinaigrette.

Pour the vinaigrette over the salad, secure the lid, and shake well just before eating.

Notes
Pre-cooked beets can typically be found in the produce department of your local grocery store. If your store doesn't carry pre-cooked beets, opt for no-salt-added canned whole beets.
Nutrition
Serving:
1
salad
,
Calories:
405
kcal
,
Carbohydrates:
48
g
,
Protein:
9
g
,
Fat:
23
g
,
Saturated Fat:
4
g
,
Cholesterol:
6
mg
,
Sodium:
629
mg
,
Potassium:
484
mg
,
Fiber:
7
g
,
Sugar:
36
g
,
Vitamin A:
2122
IU
,
Vitamin C:
31
mg
,
Calcium:
91
mg
,
Iron:
2
mg
Did you make this recipe or have a question?
Join hundreds of members inside private Well With Cannabis Community for help, support, and to share your edible creations!