This easy, foolproof cannabis smoothie formula is the best way to make a delicious, satisfying cannabis smoothie is packed with a full serving of fruits, vegetables, and your choice of various cannabis infusion options to help you feel better from the inside out.
Why Smoothies Are Awesome
Smoothies can be so much more than just blended fruit!
In this case, I will show you how smoothies can be the perfect vehicle for consuming your favorite ingredient - cannabis - in any form you wish.
While smoothies are commonly associated with being a light early-morning or afternoon treat, it is time to change the smoothie stereotype by showcasing their full potential!
Not to mention how fast they are to make, saving you a lot of time in the kitchen.
And no matter what diet you follow, you can still create a smoothie to fit your desired health benefits and nutritional needs, making them a welcomed staple in everyone's diet.
Join The Community
Step 1. Follow The Basic Formula
First, we will get started with a basic smoothie formula to help you get all of the most important ingredients.
After that, we will choose a cannabis infusion recipe that is just right for you.
Choose 1 Cup Fruit & 1 Cup Vegetables
The healthiest base of a smoothie is made from either fruit or vegetables or a combination of both.
By changing these fruits and vegetables, you can then create different smoothie flavor combinations.
Nearly all fruits work well in a smoothie, but some of my personal favorite fruits to add to smoothies include strawberries, blueberries, bananas, raspberries, pineapple, mango, and peaches.
I always recommend aiming for at least 1 cup of fruit and 1 cup of vegetables or dark greens EACH per smoothie to get the most fiber and plant-based benefits.
I know, many of you say - ewwww, I don't want to put a vegetable in my smoothie.
But let me tell you, it is a GREAT way to get in a serving of vegetables and you really can't taste it.
The mildest tasting vegetables that work best in a smoothie include carrots, butternut squash, yellow squash, zucchini, and cauliflower.
Of course, you can always include dark green vegetables like raw cannabis leaves, kale, and spinach, too.
Additionally, you can always do a combination of vegetables, for example, a ½ cup of cauliflower and ½ cup of spinach, to reach your 1 cup goal.
Fruit & Vegetable Smoothie Examples:
Feeling tropical? Try mixing a combination of pineapple, mango, and carrots.
Feeling fruity? Try mixing a combination of a mixed berry medley and cauliflower.
Feeling a little nutty? You can always add in your favorite nut butter to give it an extra kick. Try mixing a combination of frozen banana, zucchini, and almond butter.
I personally prefer to use frozen fruits and vegetables in my smoothies for both texture reasons and budget reasons.
Frozen fruits and vegetables are oftentimes more affordable, they don't go bad, and they can be a great way to reduce food waste.
Choose 1 Cup of Liquid of Your Choice
After choosing your desired flavor profile, it's now time to choose what liquid you will use to blend the fruits and vegetables with.
Normally about 1 cup to 1¼ cup of liquid is the perfect amount for a 1 serving smoothie, but you can adjust that based on your texture preferences.
If you are looking for a thicker drink, lowering your liquid, adding in extra bananas or nut butter, and using any milk instead of water will give you a much fuller smoothie (also higher in calories).
If you are looking for a lighter smoothie, using water or coconut water is a great option.
Common liquids chosen for smoothies include water, coconut water, cannabis-infused milk, dairy-based or plant-based, like almond milk, oat milk, hemp seed milk, and sometimes even fruit juices.
Choose ¼ Cup Your Favorite Add-Ins:
There are so many options when it comes to add-ins for a smoothie.
Several powerful nutrient-dense foods called superfoods go great in smoothies, and you wouldn't even know that they are in there!
Delicious Smoothie Add-Ins:
Chia seeds
Ground flax seeds
Maca powder
Cacao nibs
Nut Butter: hemp seed butter, peanut butter, cashew butter, almond butter (also great to be used as a thickener!)
Adding Protein Powder
I always recommend adding protein powder to your smoothies because protein is the most important nutrient to keeps you satiated and will prevent you from snacking or getting hungry later on.
Thankfully, there are so many different protein powders on the market today that you can choose one to suit your dietary and personal taste preferences and needs.
Step 2. Choose Your Infusion Option
There are many different ways to infuse your cannabis smoothie, and you can choose based on what product you have available and your personal taste preferences.
Below are just a few ideas to get you started.
Always remember to dose based on your own personal tolerance.
If you're not sure how to start, follow the golden rule: start low and go slow.
Use Raw Cannabis Leaves
As mentioned above, you can use raw cannabis leaves as your vegetable add-in!
As many home cannabis growers believe, when it comes to the cannabis plant, nothing should be wasted.
While some folks simply choose to discard their fan leaves, many growers prefer to use all parts of the plant to support their health.
Cannabis leaves do not produce cannabinoids quite as the mature female flower buds do, so many people feel they are useless or discard them.
While fan leaves contain little to no active cannabinoids, they contain important nutrients, antioxidants, and cannabinoid acids like THCA and CBDA, meaning they are not useless. 
One of the best ways to harness these important nutrients is to consume cannabis leaves in raw forms, like in a smoothie.
Large fan leaves or small sugar leaves are the most common parts of the cannabis plant used for a smoothie, although the raw cannabis flower buds can be added as well.
Use Leftover Cannabis Pulp
Leftover cannabis pulp, also called sludge, is the cannabis flower material that is leftover after making an infusion.
Instead of throwing out leftover cannabis flower pulp from making cannabis oil or tincture, many people choose to use it up in a delicious smoothie recipe.
For smoothie recipes featuring cannabis pulp, I still recommend starting low and going slow.
I recommend starting with just a tablespoon of leftover flower pulp to your smoothie and going from there.
This will give you time to experiment with not only the potency but the taste, too, as the spent cannabis flower can have an extreme taste to some individuals.
Use Cannabis Coconut Oil or MCT Oil
Many members of my Well With Cannabis Community report adding either cannabis coconut oil or infused MCT oil to their favorite smoothie recipes.
This is a popular option because it is super easy to add right to the smoothie if you already have your cannabis coconut oil or infused MCT oil (or heck, even cannabis butter) prepared.
How much to add will be up to you and the potency of your oil.
And just remember, infused MCT oil has been known to cause digestive distress in some people, so approach with caution!
Use Cannabis Alcohol Tincture
Additionally, members of my Well With Cannabis Community report adding a small bit of a cannabis alcohol tincture or QWET tincture to their favorite smoothie recipes.
While this option may have a strong taste to some, others enjoy the quick and easy way to medicate.
Use Cannabis Concentrates
One of the easiest ways to make infused foods is with cannabis concentrates.
These are the most convenient, easy-to-use, pre-prepared concentrated products for cannabis infusions.
Because they are concentrated, you only need to add a tiny bit to each recipe to get the experience you are looking for.
Because you only need to add a tiny bit, cannabis concentrates will not disrupt your smoothie's volume, texture, or flavor.
For this reason, cannabis concentrates are a trendy smoothie addition.
You can try adding a distillate CBD concentrate or even full-extract cannabis oil (FECO).
Use Traditional CBD Oil
If you've never used CBD oil in a smoothie before, I've got you covered!
Click here if you're brand new to CBD in general and need to learn how to use CBD oil
Click here if you're new to cooking with CBD and want to learn how to use it in recipes
Click here if you haven't yet purchased your CBD oil and need to learn how to choose a safe product to get started
In order to reap the benefits of CBD oil, you want to be sure that you're choosing a quality CBD oil product and not using a hemp seed oil product.
You will also want to choose between a broad-spectrum and full-spectrum product.
If you're ready to make your very own CBD smoothies at home but need a high-quality CBD oil to start with, I recommend my 500mg Full-Spectrum CBD Oil which is the perfect concentration for beginners.
With this bottle, each 1mL serving, 1 dropper full, contains 16.6mg of CBD.
You can also make your own CBD oil at home using this guide.
How to Determine The Dosing
Want to get a more accurate guesstimate of the potency of your cannabis infusions and extractions? Try our popular edibles calculator!

Want To Make This Easier? Use A Machine!
If the process of decarbing and infusing feels like too much work, these countertop devices may be a perfect all-in-one solution!
Two of the most popular brands include the LĒVO and the Ardent. Review the six most popular infusion machines here.
Want A Discount Code?
Enhance Your Cannabis Education
My beginner-friendly Cannabis Compass Online Course will show you how to dose, use, and apply cannabis safely and effectively so that you can begin to manage your most unwanted symptoms the natural way from the comfort of your own home.

Learn more and enroll today →
Tasty Cannabis Smoothie Recipes to Try
Mint Chocolate Cannabis Smoothie
Creamy and delicious, this chocolate mint smoothie makes a decadent breakfast, snack, or even dessert. The bananas and milk make for a light and creamy base, and the chocolate and mint come together to create the perfect, decadent flavor. The spinach is not noticeable in taste, but it does help to increase the nutritional benefits of this smoothie.
Get The Recipe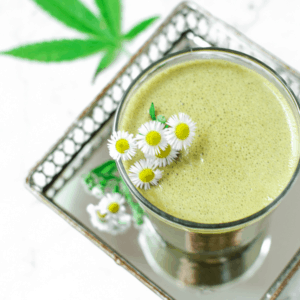 Tropical Fruit & Veggie Cannabis Smoothie
This delicious tropical fruit & veggie cannabis smoothie includes a full serving of fruit, a full serving of vegetables, and a variety of different ways to infuse this smoothie from cannabis oils, tinctures, leaves, and more.
Get The Recipe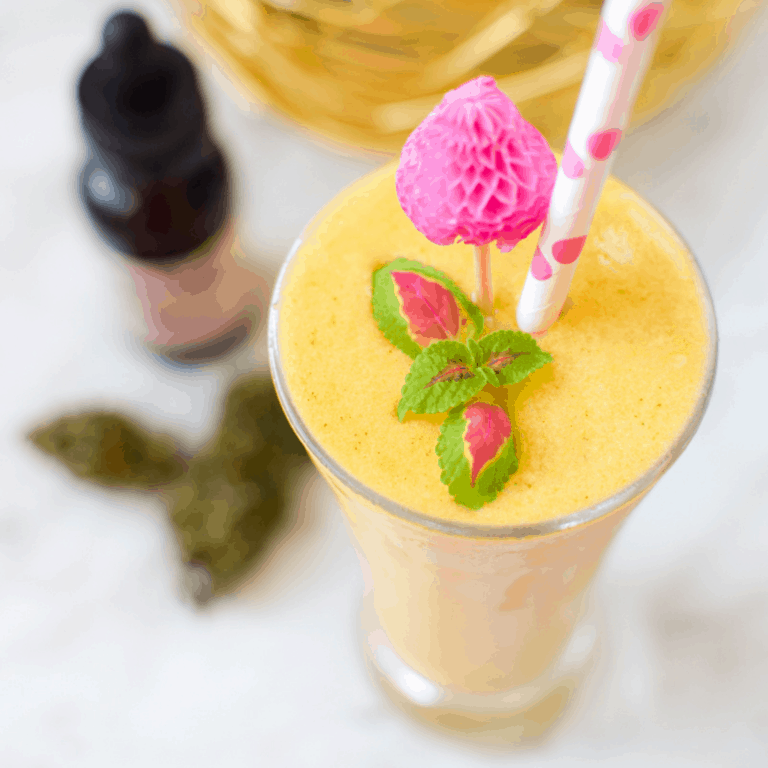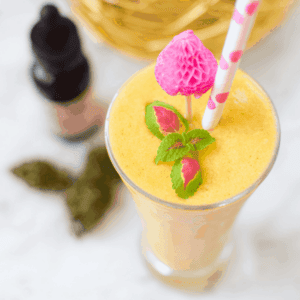 Raspberry Peach Cannabis Smoothie
This delicious, refreshing raspberry peach smoothie features summers most abundant product paired with whole food ingredients for the perfect combination of tart and sweet. Made with Greek yogurt for additional calories and protein, this smoothie is creamy, delicious, and refreshing.
Get The Recipe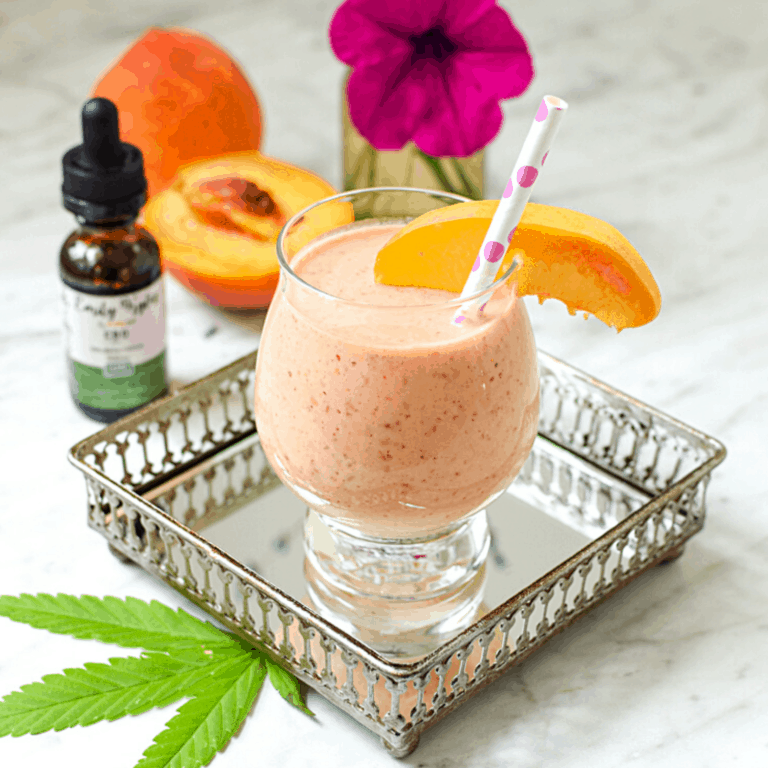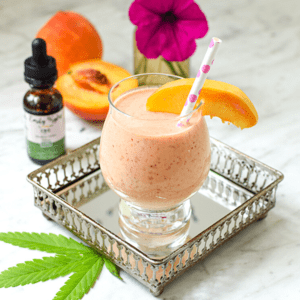 Green Cannabis Pineapple Smoothie
This whole-foods smoothie contains a serving of fruits and a serving of vegetables, providing many important nutrients and antioxidants. The full-fat Greek yogurt helps to provide calories from both protein and fat, along with the fat from cannabis oil, providing you with all of the ingredients needed to have a nutritionally balanced snack or meal.
Get The Recipe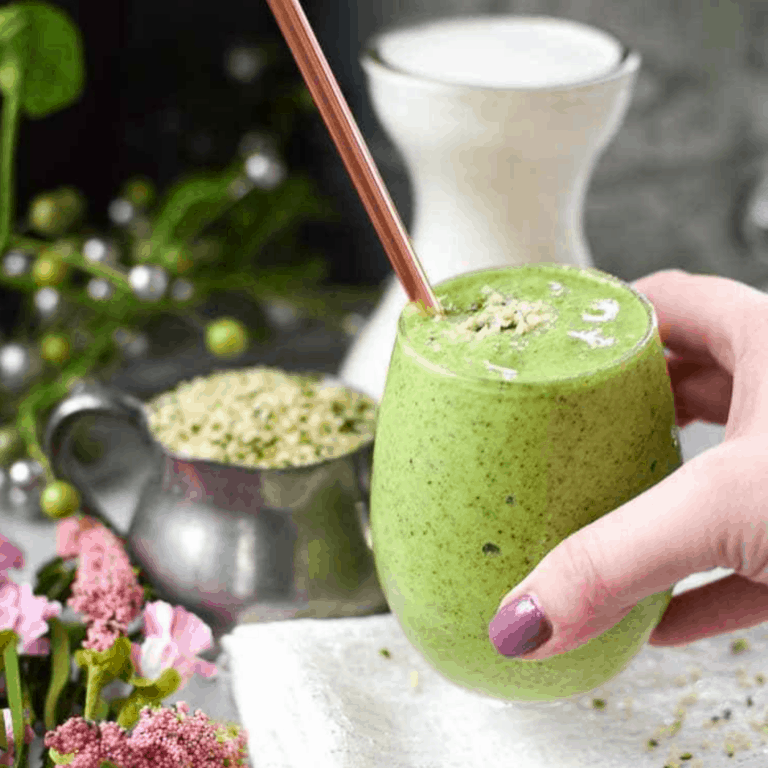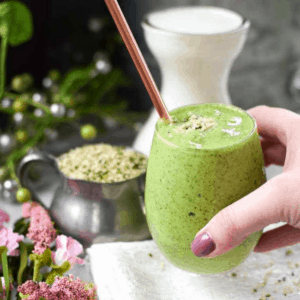 Blueberry Lavender Cannabis Smoothie
This creamy, easy-to-make blueberry lavender cannabis smoothie combines all-natural ingredients like blueberries, avocado, dried lavender flowers along with cannabis for a smoothie that brings about calm, happiness, and a sense of soothing relaxation – anytime of day.
Get The Recipe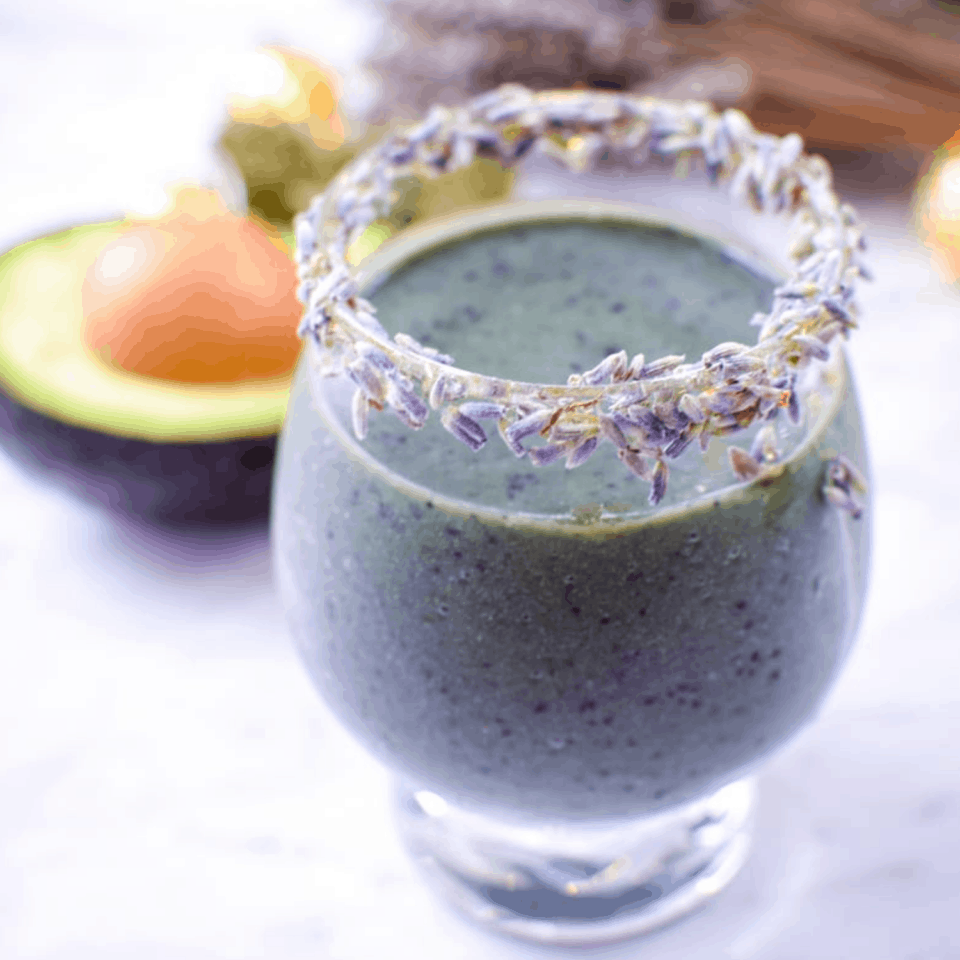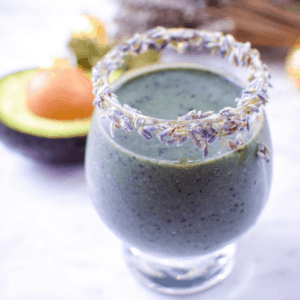 Cannabis Mango Smoothie Bowl
This ultra-creamy, tropical, delicious smoothie is bursting with flavor from the mangoes and coconut milk. While not scientifically proven, there are anecdotal reports that mango can help enhance the effects of cannabis, thought to be likely due to the terpene myrcene present in mangos. 
Get The Recipe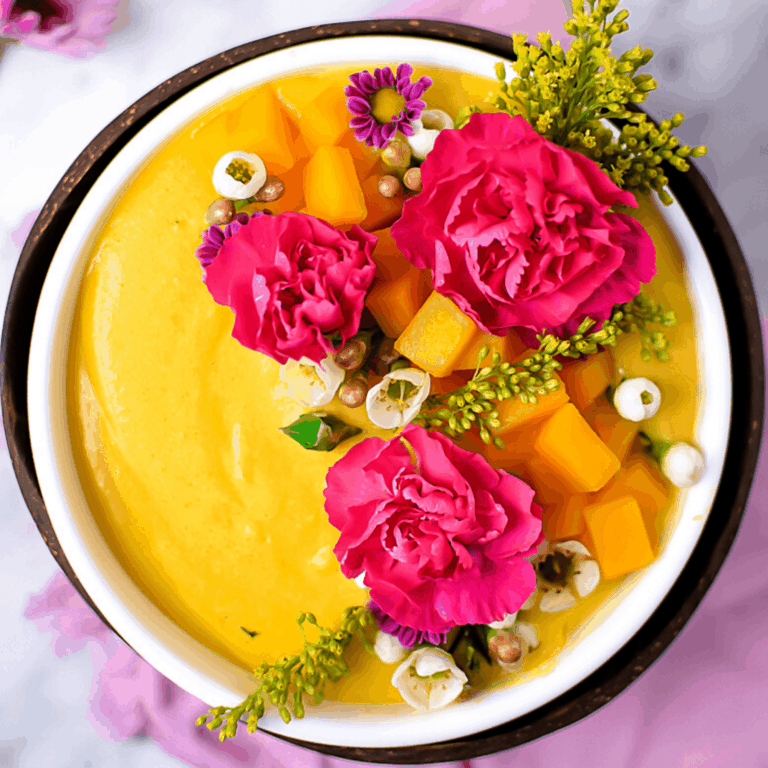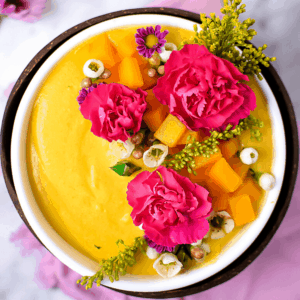 Cannabis Mint Shamrock Shake
Celebrate St. Patrick's Day anytime with this homemade, creamy, minty cannabis-infused Shamrock Shake made with wholesome ingredients like spinach, mint, and bananas that make a plant-based, gluten-free drink that is incredibly delicious. This recipe includes multiple cannabis-infusion options for you to choose from.
Get The Recipe