This delicious, refreshing raspberry peach cannabis smoothie is paired with whole-food ingredients like ground turmeric and cinnamon for the perfect combination of tart and sweet, complete with multiple different cannabis-infusion options to suit your preferences.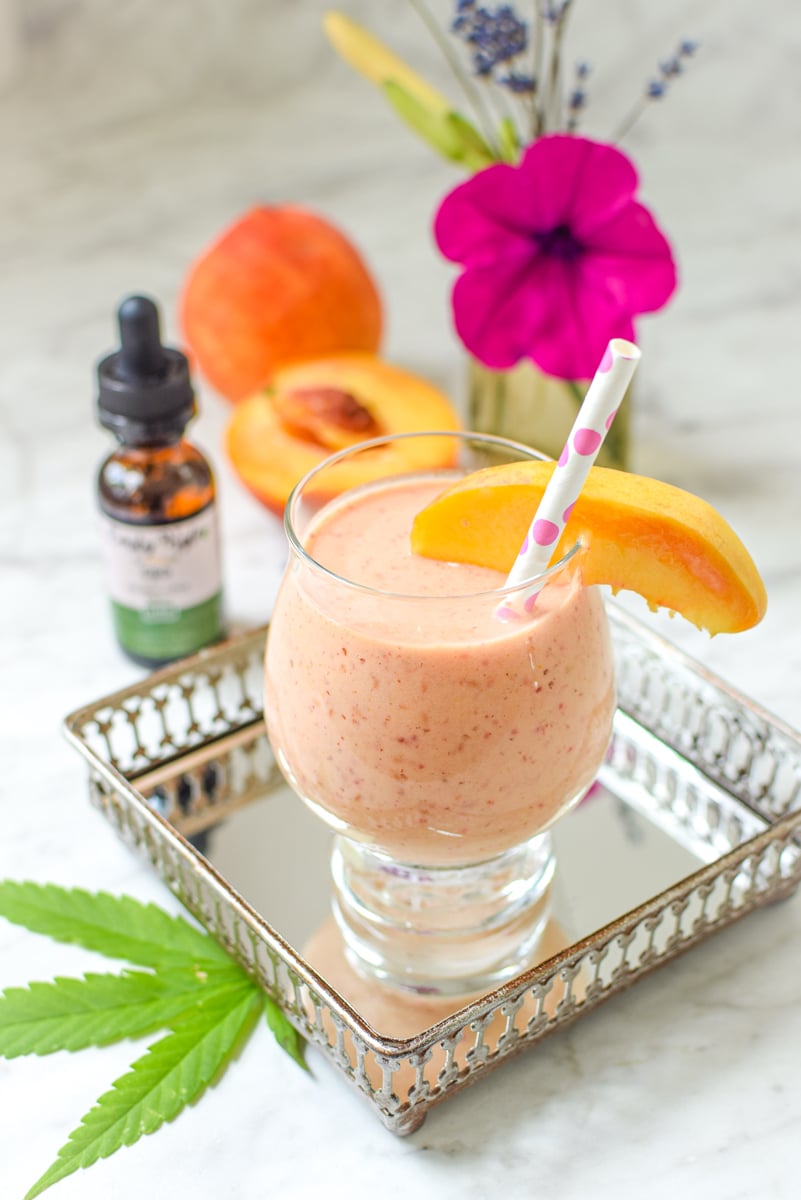 Raspberry Peach Cannabis Smoothie
This delicious raspberry peach cannabis smoothie is the perfect combination of tart and sweet and is the perfect way to use up some of summer's most abundant fruits.
This smoothie is also filled with delicious, nutritious additions like ground turmeric and cinnamon.
Naturally, I added in one of my favorite ingredients, cannabis, to make this the ultimate infused-smoothie.
I've also included many different infusion options, so you can make your smoothie with whatever you have available on hand.
If you've never made a cannabis smoothie before, be sure to check out my How to Make The Perfect Cannabis Smoothie guide here!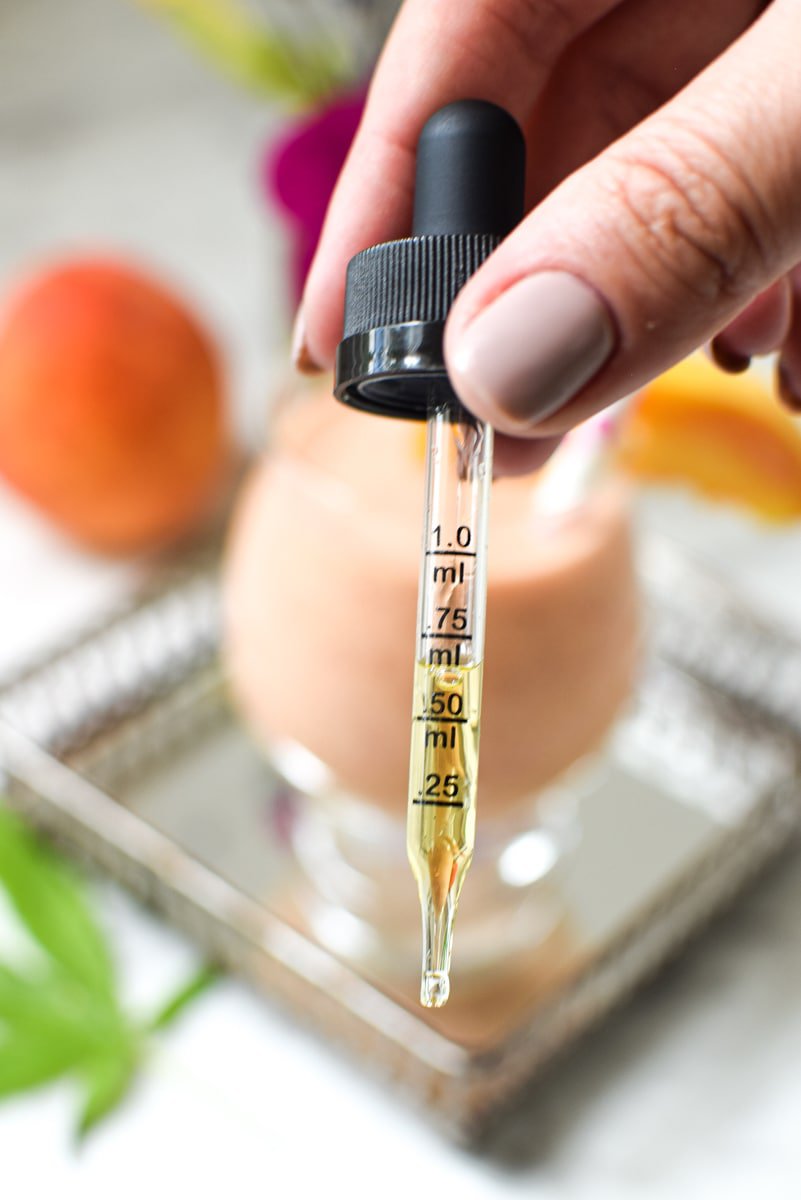 Delicious Whole-Foods Smoothie Ingredients
This smoothie contains so many delicious whole-food smoothie ingredients.
Below we will go over each one and the alternative options that you can use if you don't have something already at home in your refrigerator or pantry.
Cannabis Smoothie Infusion Options
There are many different ways to infuse your cannabis smoothie, and you can choose one based on what product you have available and your personal taste preferences.
Always remember to dose based on your own personal tolerance.
If you're not sure how to start, follow the golden rule: start low and go slow.
Here are a few smoothie infusion options to choose from:
If you're unsure about which cannabis oil to use, be sure to check out this guide to understanding the many different types of cannabis oil.
And if you're unsure about how to incorporate any of these other infusion options into your smoothie, don't forget to check out this ultimate guide showing you how to make a cannabis smoothie.
Milk & Plant-Based Alternatives
As we know, milk choices really are a personal preference for everyone.
Luckily, this smoothie is flexible and you can use any type of milk you desire.
Whether it be traditional dairy-based or a dairy-free alternative, switching milk for any plant milk will work just fine.
Plant milk substitutions include:
Almond milk
Pea milk
Oat milk
Soy milk
Cashew milk
Yogurt Options
Plain Greek yogurt is one of my favorite kitchen staples and is always in my refrigerator.
Whether it be for making homemade cannabis ranch dressing or a delicious smoothie like this, it works in my different sweet or savory applications.
However, I understand dairy products like full-fat Greek yogurt are not for everyone.
If you are looking for a dairy-free option, substituting full-fat greek yogurt for a plant-based yogurt is easy.
Many types of delicious dairy-free yogurts are made from almonds, cashews, oats, and even my easy 2-ingredient homemade coconut milk yogurt.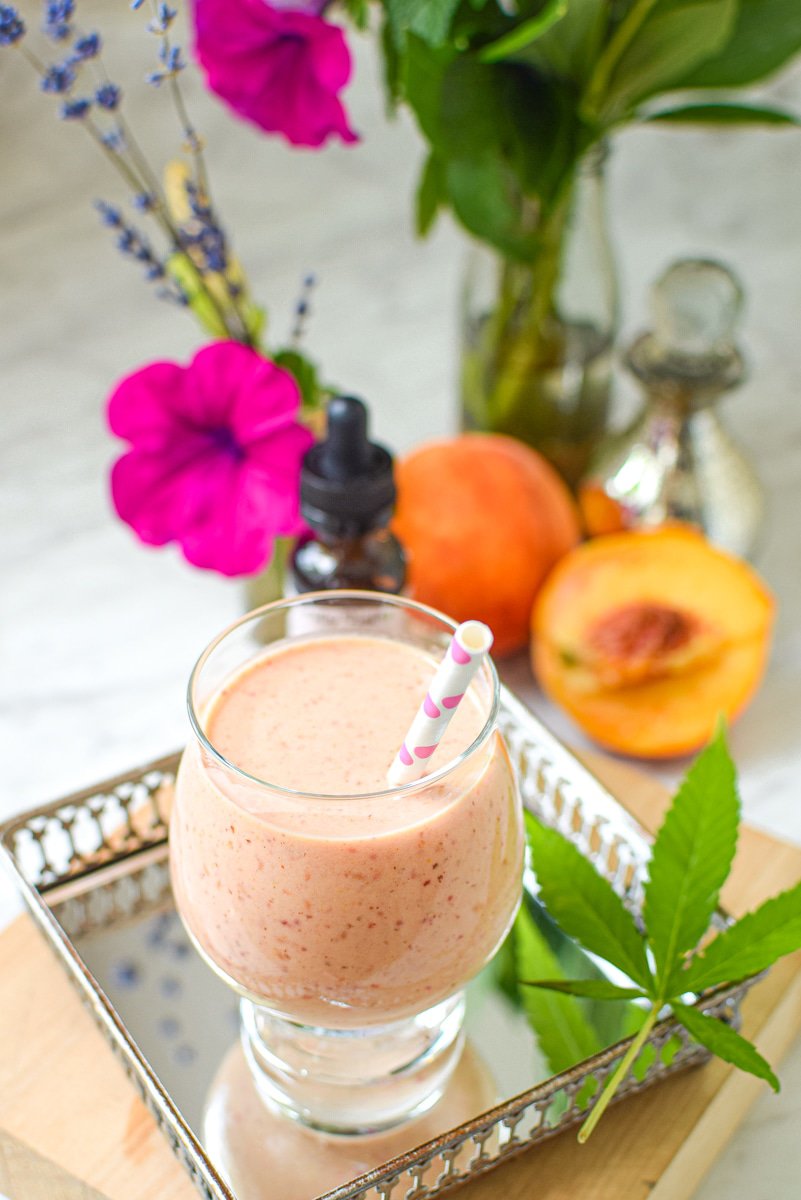 Peaches and Raspberries
Peaches and raspberries are two of my favorite summer produce options.
While this smoothie is best made in the mid-summer when peaches and raspberries are fresh and in season, you can absolutely use frozen peaches or raspberries if it's not peak season.
Local Honey
Adding local honey is one of my favorite ways to add a hint of sweetness to this smoothie, although you don't need much thanks to the natural sweetness of the raspberries and peaches.
If you are looking for a substitute for honey that is natural and sweet maple syrup or agave nectar work just as well here.
Ground Turmeric
Turmeric is a bight yellow spice that helps to add both color and flavor to this smoothie.
While the color is beautiful, we recommend you don't add to much, as it can have a very powerful taste to some.
Additionally, you may want to add a pinch of black pepper if you're adding the turmeric, as this helps you get the most nutritional benefit from this spice.
Ground Cinnamon
You most likely have this beloved spice already in your cupboard.
And the best thing about cinnamon is that it is extremely tasty and easily usable in many dishes, like this delicious smoothie.
Just a little goes a long way, but feel free to add more if you really want to taste it.
How to Determine The Dosing
Want to calculate the dosage of your cannabis edibles and homemade cannabis recipes?
While a calculator is no replacement for lab testing, this tool has been designed to help you get a more accurate guesstimate of the potency of your cannabis infusions and extractions.
Unlike other calculators available online, this calculator aims to provide more accuracy by accounting for the losses associated with decarboxylation, infusion oils, or extraction solvents used.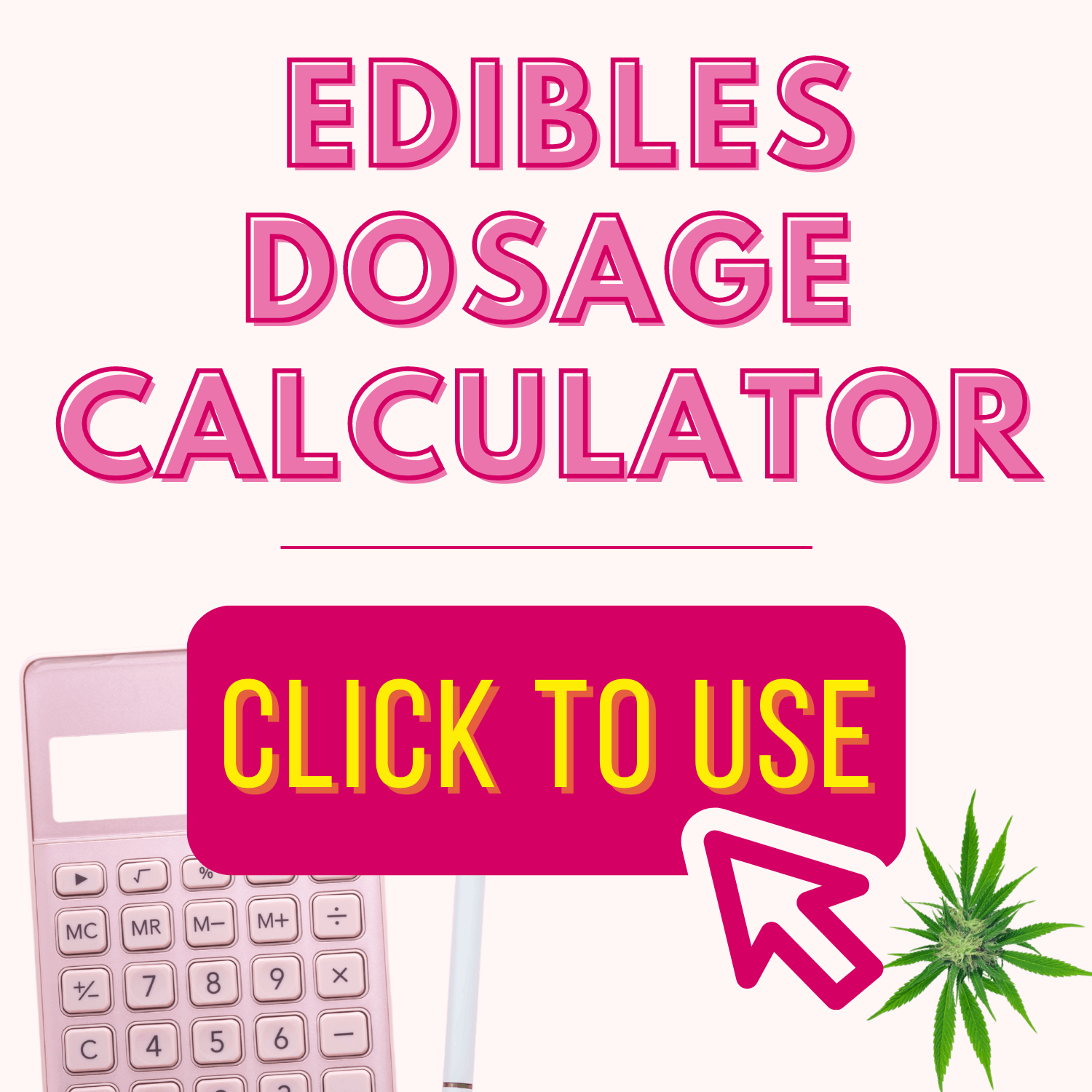 Looking For More Cannabis Smoothies?
Check out my other delicious cannabis smoothie recipes below:
Use An Infusion Machine For Your Edibles
If the process of decarboxylating and infusing your cannabis edibles seems like too much work, a cannabis infusion machine is a perfect solution for you!
Cannabis-infusion machines are countertop devices that do all the work for you by decarboxylating and infusing your butters, oils, and more.
The most popular machines on the market today include LEVO Infusion Machines and Ardent Cannabis Infusion Machines.
Want A Discount Code?
Enhance Your Cannabis Education
My beginner-friendly Cannabis Compass Online Course will show you how to dose, use, and apply cannabis safely and effectively so that you can begin to manage your most unwanted symptoms the natural way from the comfort of your own home.

Learn more and enroll today →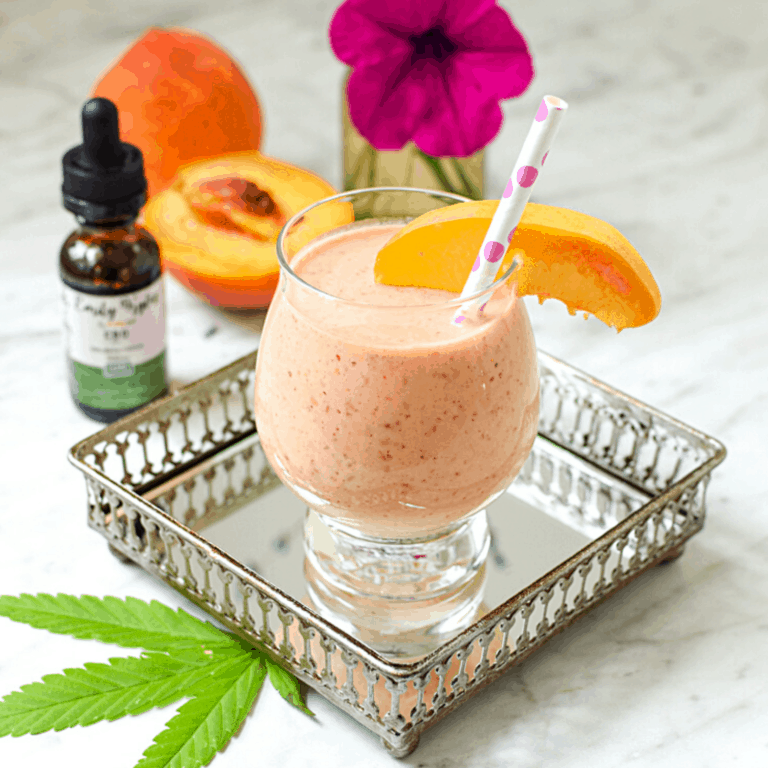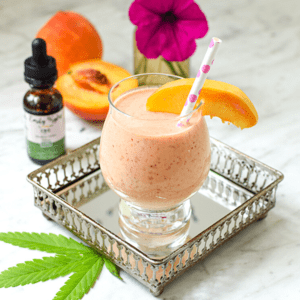 Raspberry Peach Cannabis Smoothie
This delicious, refreshing raspberry peach smoothie features summers most abundant product paired with whole food ingredients for the perfect combination of tart and sweet. Made with Greek yogurt for additional calories and protein, this smoothie is creamy, delicious, and refreshing.
Ingredients
1

cup

frozen peach slices

½

cup

fresh red raspberries

½

cup

vanilla Greek yogurt

full-fat, low-fat, or fat-free

2

scoops

unflavored collagen peptides

1

teaspoon

honey

1

teaspoon

cannabis oil

of choice

⅛

teaspoon

ground cinnamon
Instructions
Add the peaches, raspberries, yogurt, honey, oil, and cinnamon to a high-speed blender.

Blend on high for 1 minute, or until completely smooth.
Notes
Yield: This recipe makes approximately 12 ounces.
CBD Variation: To make CBD oil or CBD butter, swap CBD dominant cannabis flower for THC dominant cannabis flower.
Flavor Variation: To vary the flavors, feel free to swap the fresh raspberries for fresh strawberries, cantaloupe, or even cranberries.
Nutrition Tip: To boost the nutritional value of this recipe, it is recommended to add 2 scoops of unflavored collagen peptides. While optional, this protein powder is completely tasteless and can contribute an additional 70 calories and 18 grams of high-quality protein. You can easily find collagen peptides online or at your local health food store.
Alternative Infusion Options:
Nutrition
Serving:
1
smoothie
Calories:
165
kcal
Carbohydrates:
26
g
Protein:
7
g
Fat:
5
g
Saturated Fat:
2
g
Polyunsaturated Fat:
3
g
Cholesterol:
9
mg
Sodium:
71
mg
Fiber:
8
g
Sugar:
12
g