Learn how to make a delicious, tangy, creamy homemade cannabis ranch dressing with various dressing options and multiple cannabis infusion options to fit any taste and dietary preference.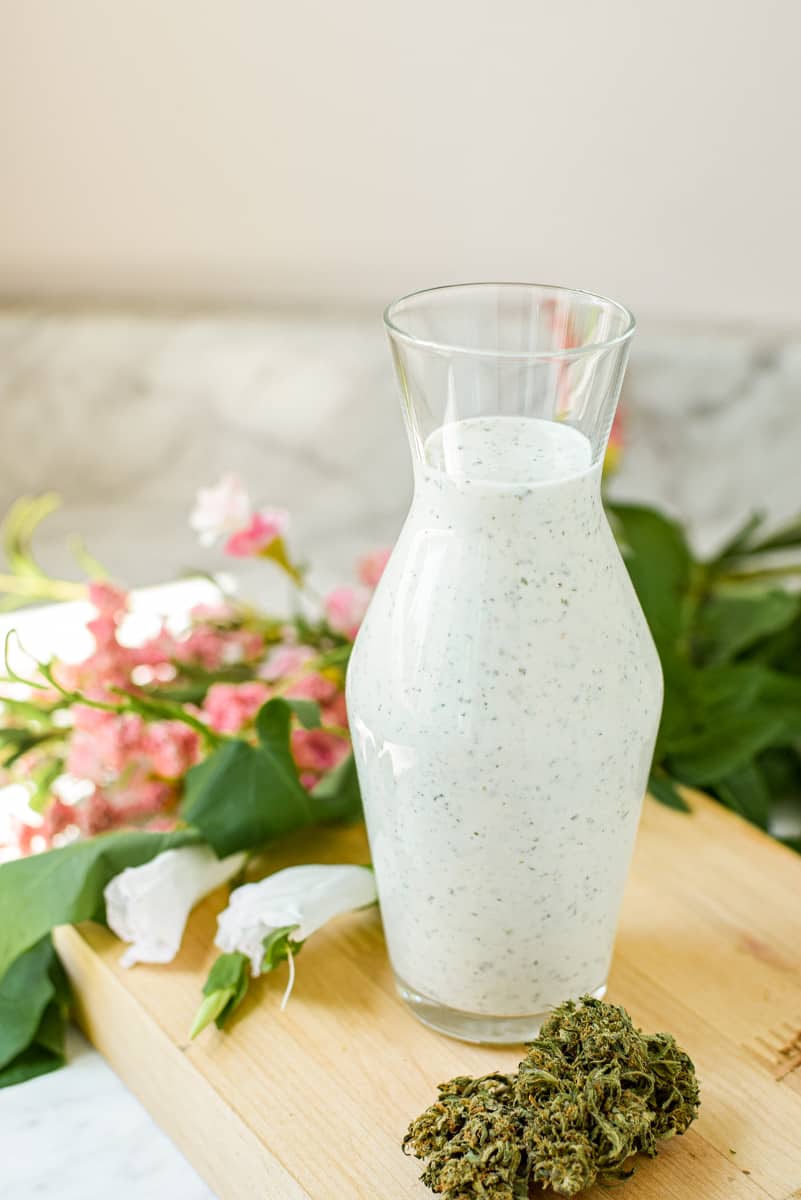 Creamy Cannabis-Infused Ranch Dressing
I don't know about you, but I LOVE ranch dressing.
There is nothing like drizzling a creamy, herby sauce on top of a light, refreshing salad or dipping that saucy pizza crust or crispy tofu bite into a cool ranch dip.
Ranch is one of my favorite condiments, but there is one way to make it EVEN better…
Cannabis-infused ranch dressing!
Below I will go over all of the ways that you can infuse your ranch dressing with cannabis concentrates, flower, and more, as well as different ways you can adjust this ranch dressing to fit your dietary needs.
If you're new to cannabis edibles, it's important to know they are a completely different experience from smoking or vaping.
If you haven't had an edible yet, be sure to get my beginner's guide to cannabis edibles before getting started with this recipe.
Looking For More Support?
Join thousands of members inside my private Well With Cannabis Community to ask questions, find support, and share your edible creations!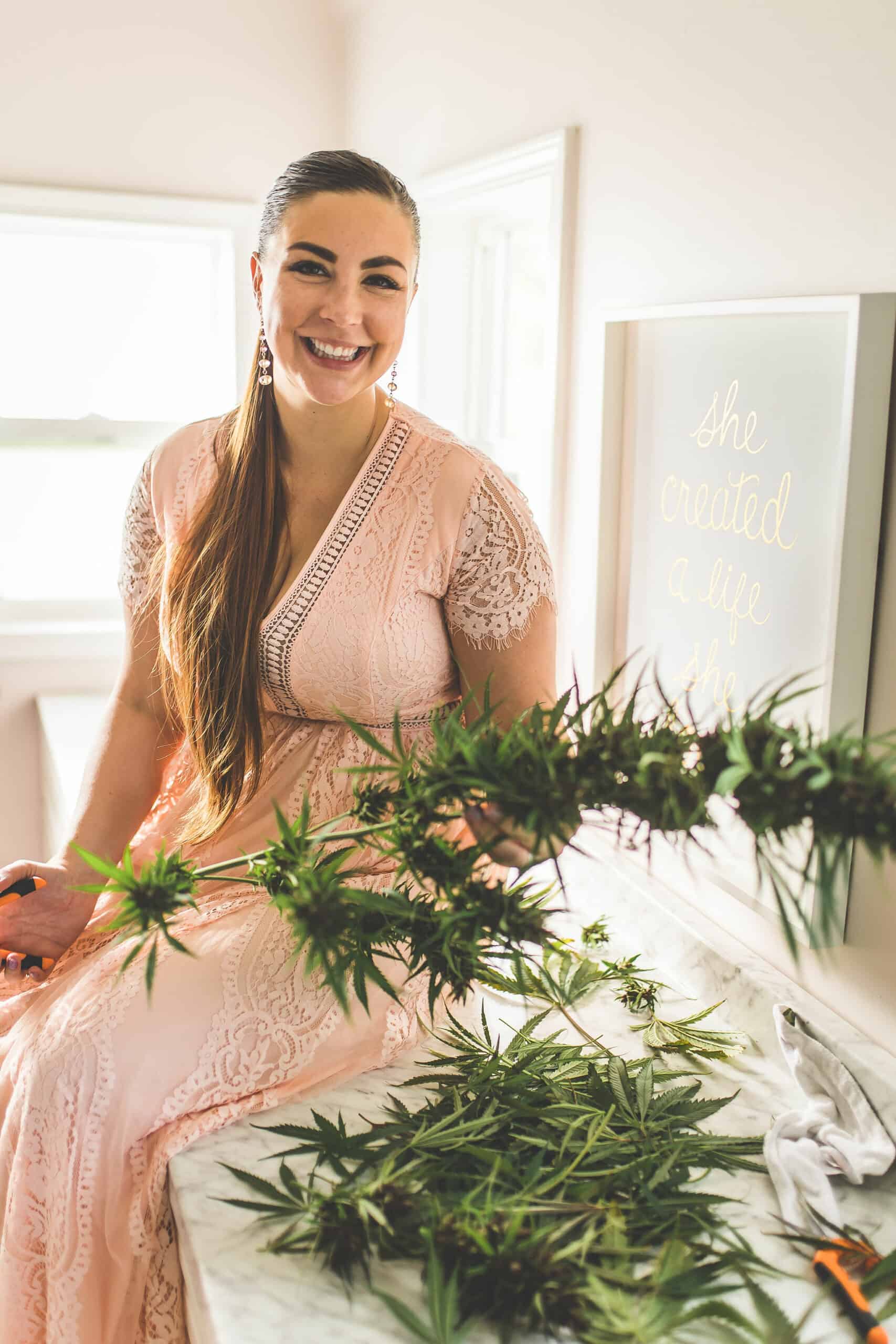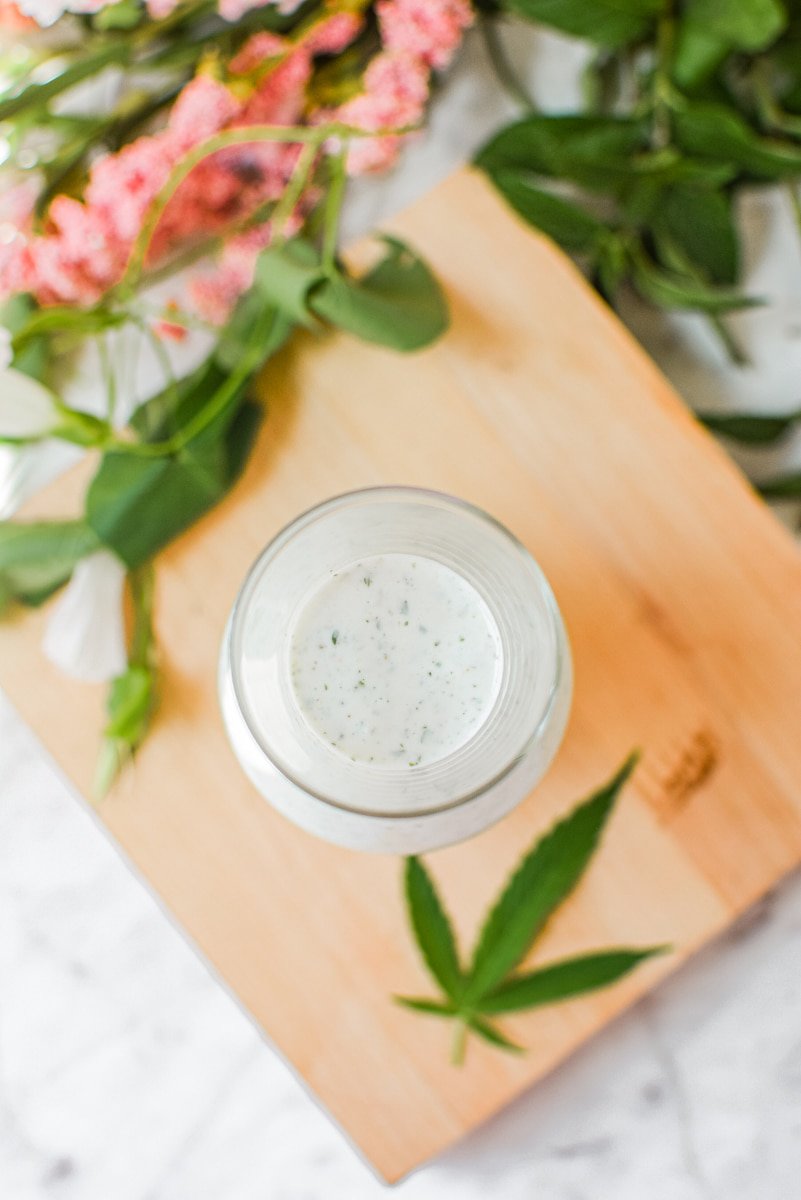 Storebought or Homemade Ranch Dressing
To start, you are going to need a ranch dressing to infuse.
While you can easily infuse a store-bought dressing, I would love for you to try out my super simple, delicious, homemade ranch dressing recipe.
This recipe much fresher tasting than store-bought ranch, and I'm excited to say it has been featured in my new Clean Eating Meal Prep Cookbook.
My homemade ranch is made with wholesome, delicious ingredients that taste amazing when combined with your choice of cannabis.
Dairy-Free Cannabis Ranch Dressing
Full-fat Greek yogurt is high in protein and contains probiotics that aid digestion, but if dairy isn't right for you, I also have plant-based options.
If you are looking for a dairy-free option, substituting full-fat greek yogurt for a plant-based yogurt is very easy to do in this recipe.
There are many types of delicious dairy-free yogurts made from almonds, cashews, and oats available at the grocery store, but my favorite is this easy 2-ingredient homemade coconut milk yogurt.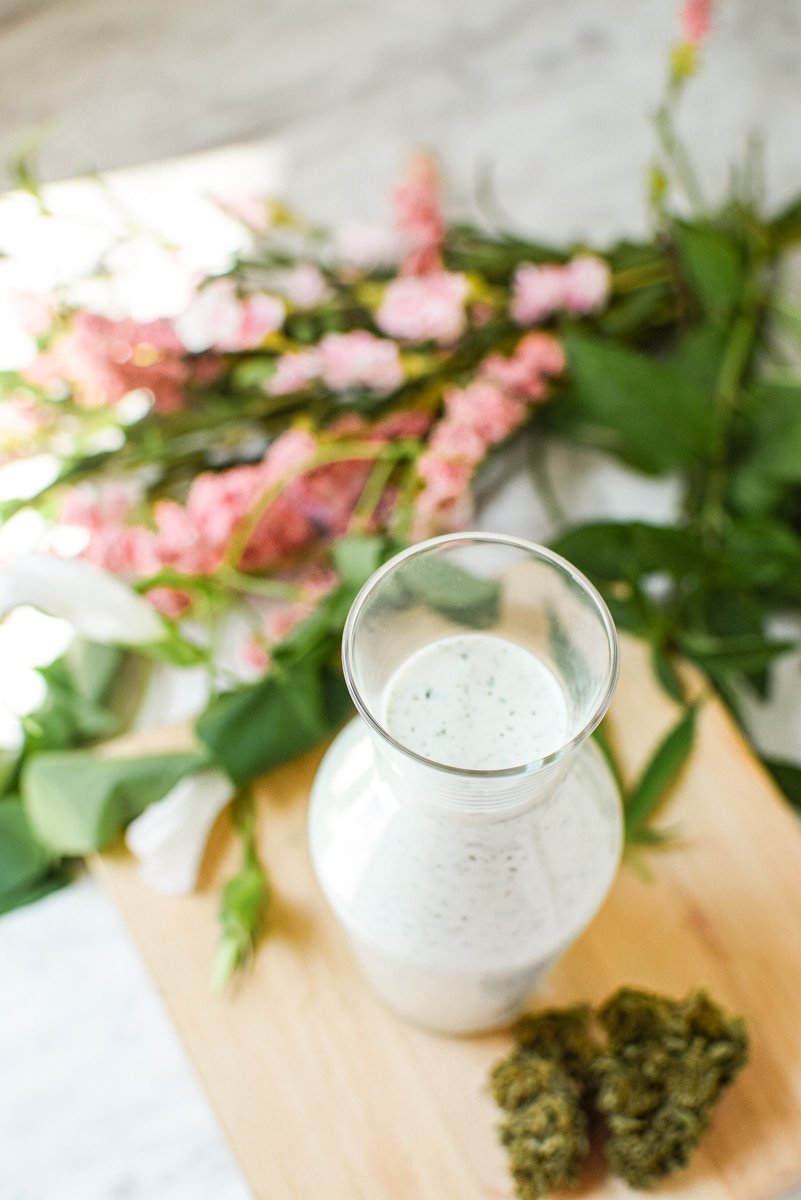 Choose Your Cannabis Infusion Option
Now that you have your ranch dressing, homemade or store-bought, there are many different ways to infuse it.
Here we will cover how to make cannabis-infused ranch with:
Decarbed Cannabis Flower
Leftover Cannabis Pulp
Cannabis Concentrates
Decarbed Cannabis Flower
Adding ground decarbed cannabis flower to this recipe is just like adding ground oregano or any other spice.
But before you incorporate cannabis as an ingredient, it first needs to undergo the process of decarboxylation.
This process must occur in order for you to experience the benefits of activated THC or CBD.
Raw cannabis flower buds contain nutrients and other amazing compounds in their fresh state, like CBDA, THCA, and terpenes.
However, raw cannabis plants do not naturally contain large amounts of active THC or CBD, the two most popular cannabinoids people typically expect to ingest when eating cannabis.
To experience the benefits of activated THC or CBD, the cannabis flower must undergo a process called decarboxylation first.
If you've never done it before, have no fear, decarbing is simple.
To do so, you will bake the dried cannabis flowers in the oven at 240° F for 40 minutes for a THC-dominant flower and 240° F for 90 minutes for a CBD-dominant flower.
If you have never decarbed before, you can get started with my beginners guide to cannabis decarboxylation here.
After this process occurs, you can add this decarbed flower to any recipe, such as this cannabis ranch or my other favorite, cannabis taco seasoning.
Because each person has a different endocannabinoid system and responds to cannabis differently, it is important to add an appropriate amount for your personal tolerance.
This recipe calls for 1 teaspoon of ground, decarbed cannabis flower, but you can adjust this as needed.
Leftover Cannabis Pulp
This type of infusion is actually my favorite way!
Leftover cannabis pulp is the spent cannabis flower material left over after the straining process when making either cannabutter or cannabis-infused coconut oil or cannabis-infused olive oil.
Many people tend to throw out these cooked leaves after extraction, but I recommend saving them and adding them to your ranch dressing.
The leftover leaves may not be the most potent after the extraction, but they are filled with beneficial nutrients and compounds, even a few cannabinoids.
Besides the nutritional benefits, adding cannabis pulp to your ranch will give it even more of a nice herbal taste.
Plus, the terpenes in cannabis the cannabis pair well with the terpenes found in the other herbs used in this recipe.
I am value all parts of the plant, especially for a full-spectrum experience.
As long as you like the taste and enjoy it, it's great to reuse and recycle cannabis plant byproducts wherever possible.
How Much Pulp To Use?
If you're brand new to cannabis edibles, it's important to note that it can oftentimes be difficult to estimate your final product potency.
It will be even more difficult to estimate the potency because many of the cannabinoids will have already been extracted during the cooking process.
Ultimately, the potency of your leftover weed material will depend on two things, the potency of your starting material (i.e., flower buds or trim, regular vs. CBD flower) and the cooking process you have already used.
We recommend adding just 2 teaspoons of leftover flower pulp in addition to the other ingredients of this recipe and going from there.
This will give you time to experiment with the potency and the taste, too, as the spent cannabis flower can have a powerful taste for some individuals.
Cannabis Concentrates
One of the easiest ways to make infused foods is with cannabis concentrates.
These are the most convenient, easy-to-use, pre-prepared concentrated products for cannabis infusions.
Because they are concentrated, you only need to add a tiny bit to each recipe to get the experience you are looking for.
Because you only need to add a tiny bit, cannabis concentrates will not disrupt your food's volume, texture, or flavor.
For this reason, cannabis concentrates are very popular among home cooks.
Distillate Concentrates
While THC-dominant cannabis concentrates must be purchased at a recreational or medical dispensary in a legal state, CBD-dominant cannabis concentrates can be purchased from my shop here.
Full Extract Cannabis Oil (FECO)
Full-extract cannabis oil, also known as FECO, is a concentrated, whole-plant, full-spectrum cannabis extract.
This means that all of the important plant compounds, from cannabinoids to terpenes and other plant materials, are present in the extract.
FECO is a powerful concentrated cannabis extract that interacts with our own endocannabinoid system.
Because of its potency, a few drops may be all you need for a perfectly infused ranch dressing.
Simply stir in your FECO after preparing this recipe and mix very well.
If you are interested in making your own FECO, check out my post detailing how to make full-extract cannabis oil here.
Inspired By My Clean Eating Meal Prep Cookbook
This recipe was inspired by my 4th cookbook, the Clean Eating Meal Prep Cookbook that was released in January 2021.
This is the fourth cookbook I've written, but the first one that I feel like is a true reflection of how I actually eat in real life.
This Clean Eating Meal Prep Cookbook details the exact way I've combined meal prepping and a clean eating lifestyle to get my munchies, my health, and my weight under control.
How to Determine The Dosing
Want to get a more accurate guesstimate of the potency of your cannabis infusions and extractions? Try our popular edibles calculator!
Not sure what your perfect dose is? Learn more here.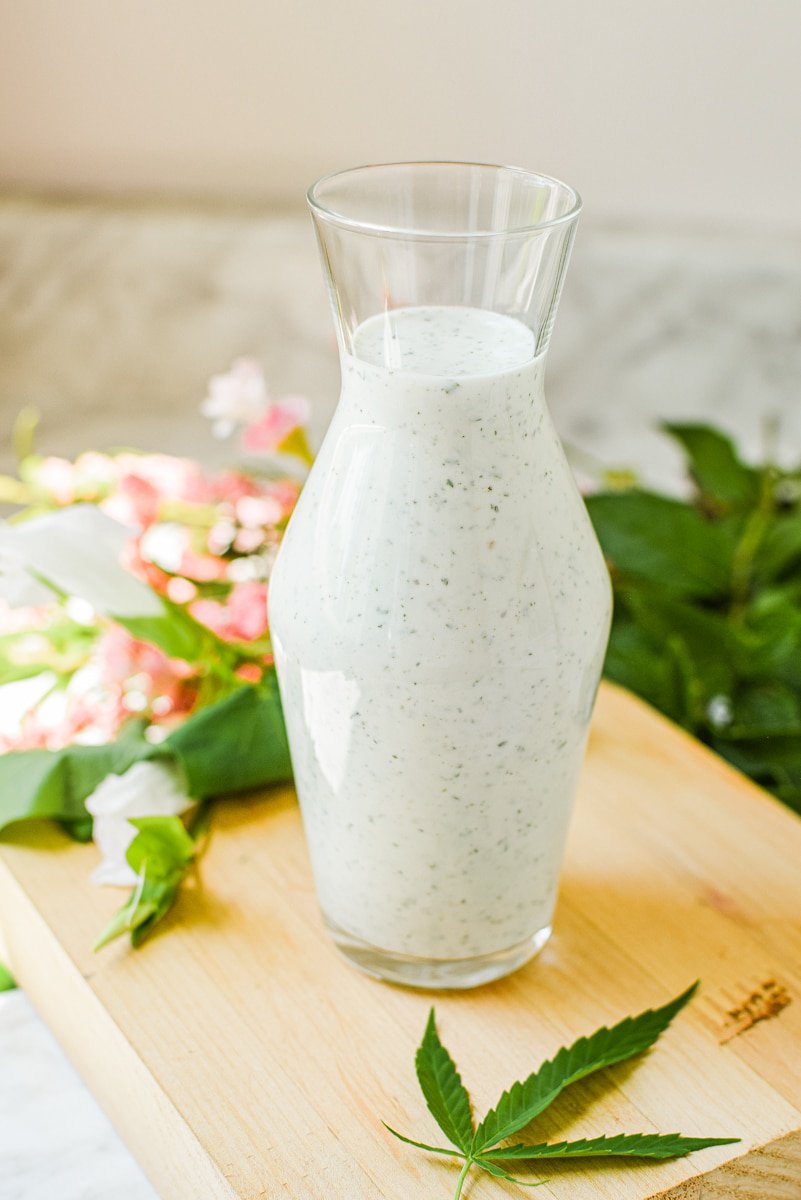 Get More Cannabis Salad Recipes
Are you looking for more healthy cannabis recipes, including salads and dressings?
I've got you covered with these delicious options below:
And if you're struggling with the munchies, be sure to get my 10 Helpful Tips for Managing the Munchies here!
Want To Make This Easier? Use A Machine!
If the process of decarbing and infusing feels like too much work, an all-in-one countertop device may be a perfect all-in-one solution!
My personal favorite? The Ardent FX! Review the six most popular infusion machines here.
Want A Discount Code?
My Edibles Made Easy Online Cooking Course will teach you how to make cannabis edibles and topical recipes at home with ease. This step-by-step video course will teach you how to infuse, extract, and create edibles with many different product types - all from the comfort of your own home.

Learn more and enroll today →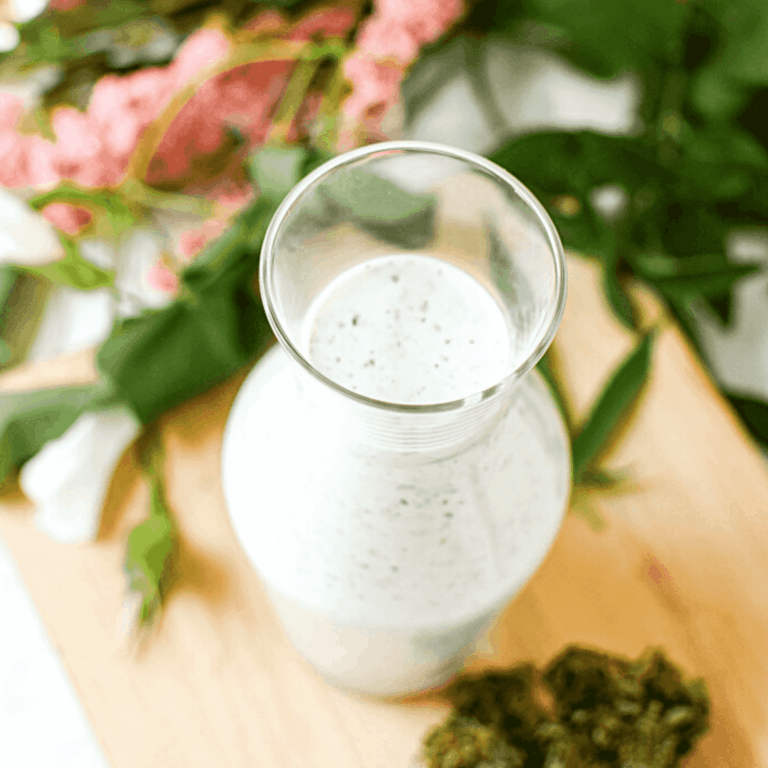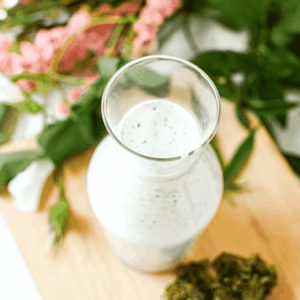 Homemade Cannabis Ranch Dressing
Learn how to make a delicious, tangy, creamy homemade cannabis ranch dressing with various ranch dressing options and multiple cannabis infusion options to fit any taste and dietary preference.
Ingredients
1

cup

full-fat plain Greek yogurt

1

tablespoon

milk

1

teaspoon

white vinegar

1

teaspoon

lemon juice

1

teaspoon

garlic powder

1

teaspoon

onion powder

1

teaspoon

decarbed cannabis flower

ground

1

teaspoons

dried chives

1

teaspoons

dried parsley

½

teaspoon

dried dill

½

teaspoon

salt

¼

teaspoon

ground black pepper
Instructions
In a large mixing bowl, combine the yogurt, milk, vinegar, lemon juice, garlic powder, onion powder, ground cannabis, dried chives, dried parsley, dried dill, salt, and pepper.

Whisk until all ingredients are incorporated, and the mixture is smooth and creamy.

Store in a pint-size mason jar with an airtight lid for up to 7 days.
Notes
Alternate Infusion Options

:
Leftover Cannabis Pulp: Add 2 teaspoons in place of the 1 teaspoon of decarboxylated cannabis flower
Cannabis Concentrates: Add a very small amount depending on your own personal tolerance levels
Nutrition
Serving:
1
g
Calories:
20
kcal
Carbohydrates:
2
g
Protein:
3
g
Cholesterol:
2
mg
Sodium:
144
mg
Sugar:
1
g
Did you make this recipe or have a question?
Join hundreds of members inside private Well With Cannabis Community for help, support, and to share your edible creations!