Spice up your taco night with this healthy cannabis-infused taco seasoning recipe that is made with anti-inflammatory spices and decarbed cannabis herb for a delicious natural seasoning.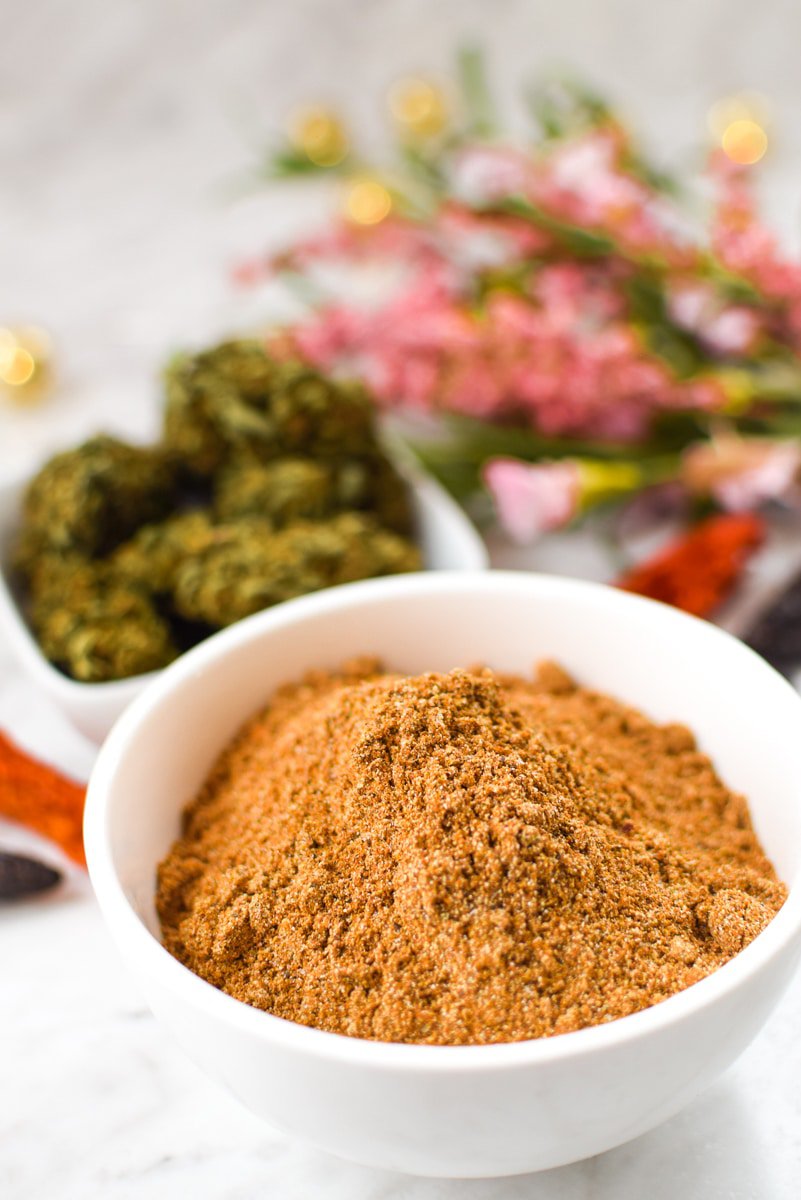 Cannabis-Infused Taco Seasoning
Tacos are one of my family's absolute favorite meals!
We enjoy tacos at least once a week, if not more. And as you probably already know, the foundation of any truly delicious taco recipe is the seasoning.
After working at it for months, I can say I've finally nailed down the perfect recipe for combining two of the things I most love.
Allow me to introduce the all-natural, gluten-free, homemade cannabis-infused taco seasoning.
It's the perfect match for anyone craving a delicious spicy flavor combined with blissful relaxation!
Join over 10K members inside my Well With Cannabis Facebook Community if you have any questions about cooking with cannabis or want to share your creations!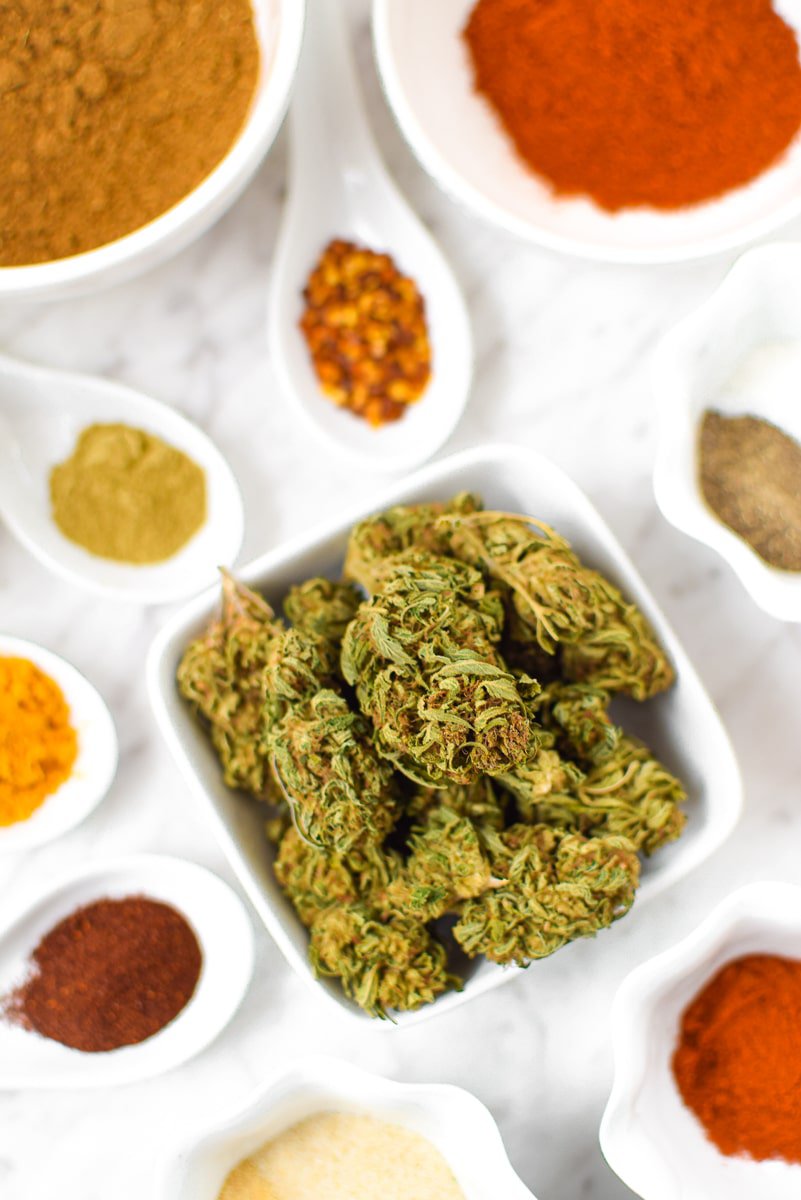 Making Cannabis Seasoning
Why incorporate cannabis into taco seasoning?
For most people, adding cannabis to taco seasoning is actually more medicinal than recreational than you might think.
Many of my Well With Cannabis Community Members incorporate cannabis into their everyday cooking to naturally manage anxiety, pain, and autoimmune conditions.
You probably already know this, but if you're not, cannabis has become a pretty popular way for people who live with stress, depression, and anxiety to even things out, especially using edibles.
Some studies suggest it actually helps lower the cortisol in your brain, which is the hormone known to induce stress.
If you can do that while enjoying your favorite healthy foods, why not take advantage?
Of course, this cannabis-infused taco seasoning is also great for those who want to use cannabis recreationally for general enjoyment and relaxation.
What this recipe does is combine two of the things I'm most passionate about with my homemade recipes: cannabis and healthful ingredients.
Combining cannabis and healthy ingredients allows us to create something healthier than what you'd find at the store and puts you in control of the ingredients.
That means you have full control of the amount of cannabis you personally need, and you have control of the quality ingredients you choose to use.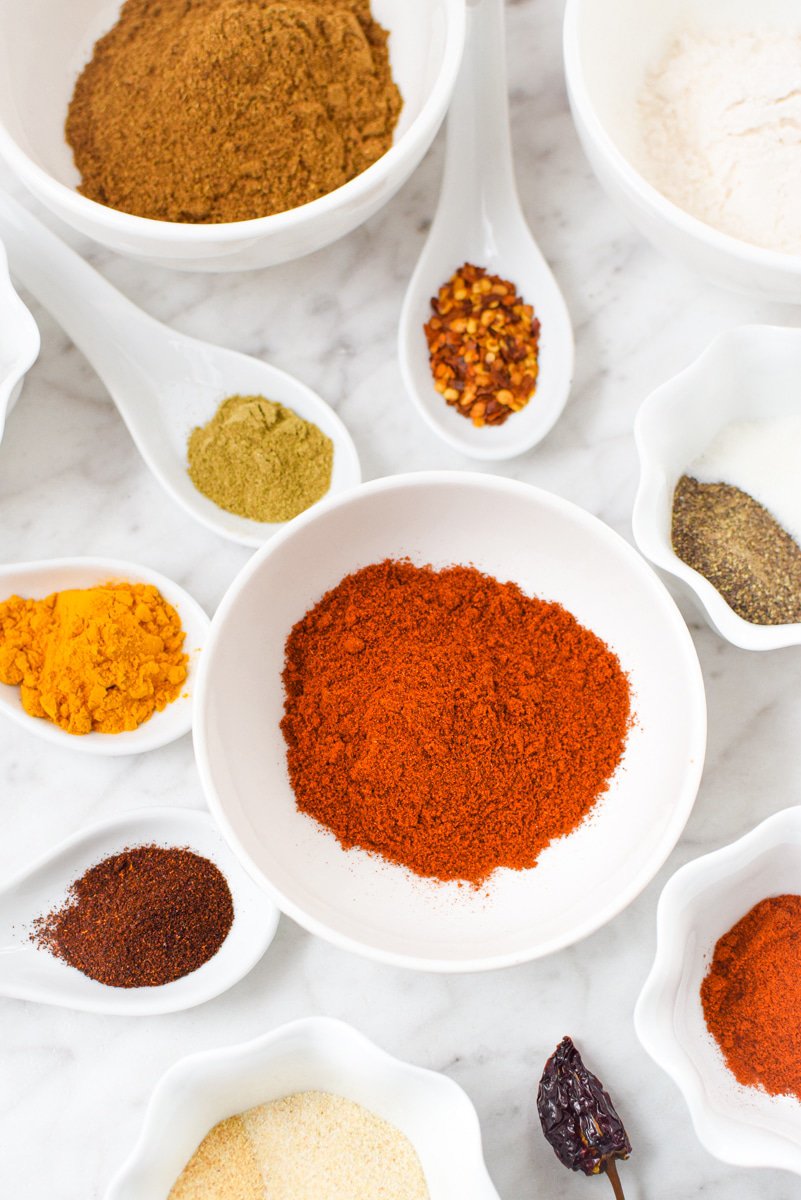 Better-For-You Ingredients
This recipe is 100% all-natural, gluten-free, and corn-free, making it vegan and Paleo-friendly, unlike many of the prepackaged options you find in the store.
You also have full control over the amount of sodium you add so that you can adjust it based on your personal needs.
That's one of the best things about homemade recipes.
Not only do they taste better, but you actually get to use fresh, healthy ingredients as opposed to what you'd find in most pre-made seasonings from the store.
Prepackaged seasonings are often just full of artificial ingredients and high amounts of sodium.
As with most things, you're usually better off making them from scratch.
Eat Healthy & Ease Anxiety
What I love most about this recipe is that it's a perfect example of how eating healthy and managing anxiety can be done simultaneously.
It's actually just one of the many anxiety-relieving recipes I have here on the blog.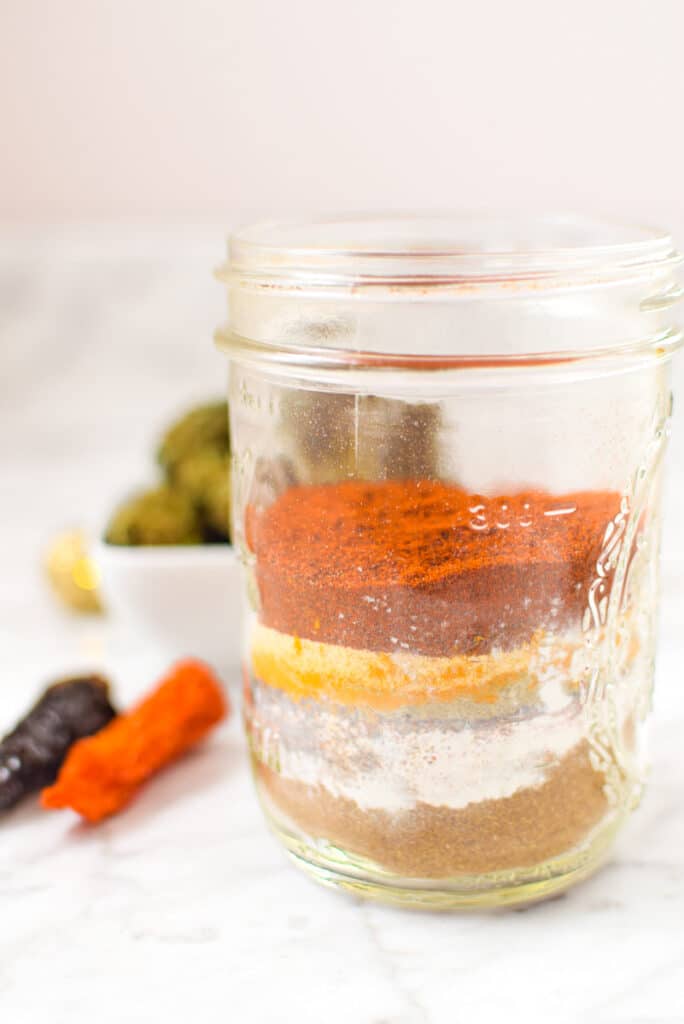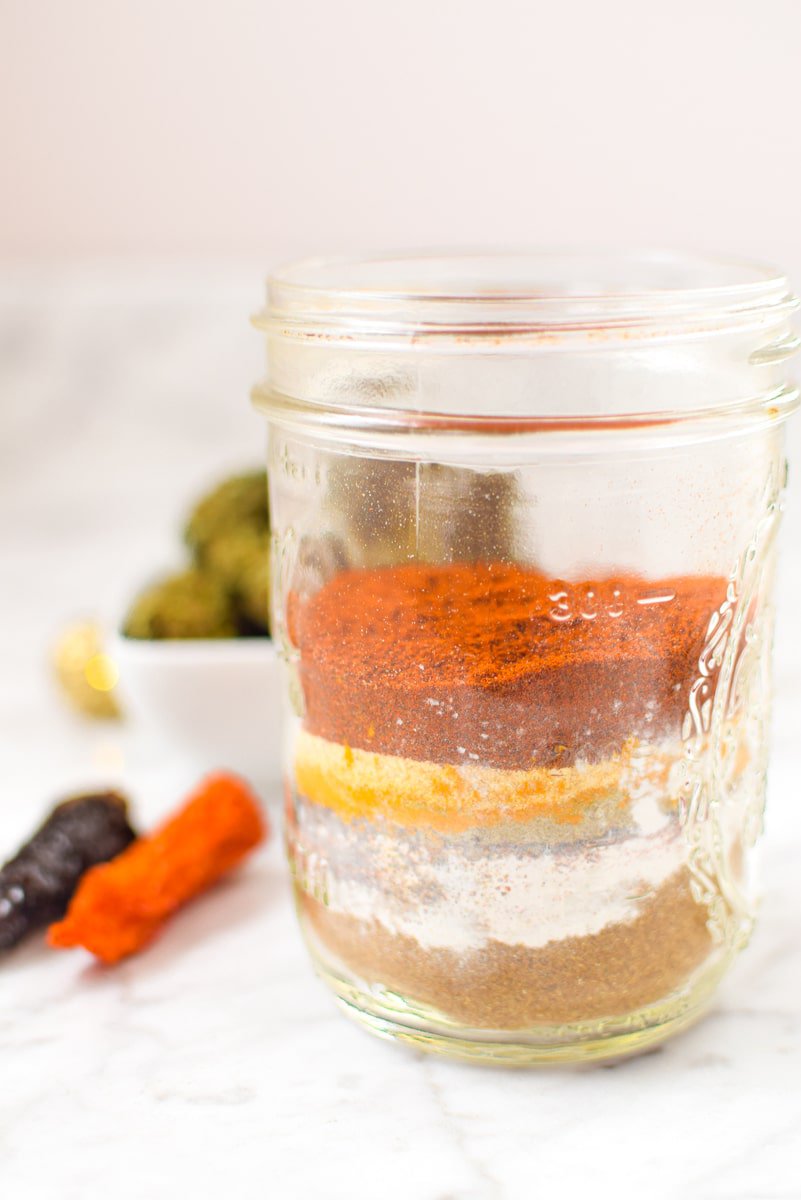 Elevate Your Cannabis Education
The Cannabis Compass Online Course will show you how to dose, use, and apply cannabis safely and effectively so that you can begin to manage your most unwanted symptoms the natural way, from the comfort of your own home.
Cannabis Taco Seasoning
Spice up your taco night with this healthy cannabis-infused taco seasoning recipe that is made with anti-inflammatory spices and decarbed cannabis herb for a delicious seasoning that is naturally vegan, paleo, gluten-free and corn-free.
Ingredients
6

tablespoons

ground cumin

3

tablespoons

ground chili pepper*

3

tablespoons

corn flour

1

tablespoon

granulated garlic

1

tablespoon

granulated onion

1

tablespoon

ground coriander

2

teaspoons

ground paprika

2

teaspoons

ground turmeric

2

teaspoons

kosher salt

2

teaspoons

ground black pepper

1

teaspoon

ground chipotle peppers

1

teaspoon

ground oregano

1/2

teaspoon

crushed red pepper

1

teaspoon

cannabis flower

decarboxylated, ground
Instructions
Mix all ingredients together in a bowl with a whisk until well incorporated.

Store in a mason jar for future use.
Notes
*When cooking meat for tacos, we recommend adding 1/4 cup of taco seasoning plus 1/2 cup water per every pound of meat.
*For the ground chili pepper – you can choose any type of chili pepper you want depending on how spicy you want your seasoning. If you want a spicier a version, try cayenne pepper. For a mild version, try a New Mexico or Ancho chili pepper. For everyday use, we use a New Mexico chili pepper.
Nutrition
Serving:
1
tablespoon
Calories:
20
kcal
Carbohydrates:
4
g
Protein:
1
g
Fat:
1
g
Sodium:
240
mg
Fiber:
1
g