Have you heard of cannabis trichomes before? If you're making your own edibles, topicals, or consuming cannabis in any way, you're going to want to know more about cannabis trichomes, why they are one of the most important parts of the plant, and how to get them into your favorite products.
The Most Important Part of The Plant?
Cannabis trichomes are the structures that contain some of the most important compounds: cannabinoids and terpenes.
They are the reason why different strains of cannabis can be more potent than others and why the smell can vary so greatly.
But what are trichomes and why may they be the most important part of the cannabis plant?
I thought this topic would really benefit my Well With Cannabis Community members and help them get the most out of their homemade products, so I put together this helpful guide.
Here we will explore what trichomes are, why they are so important, and how to get them into your edibles, topicals, and more.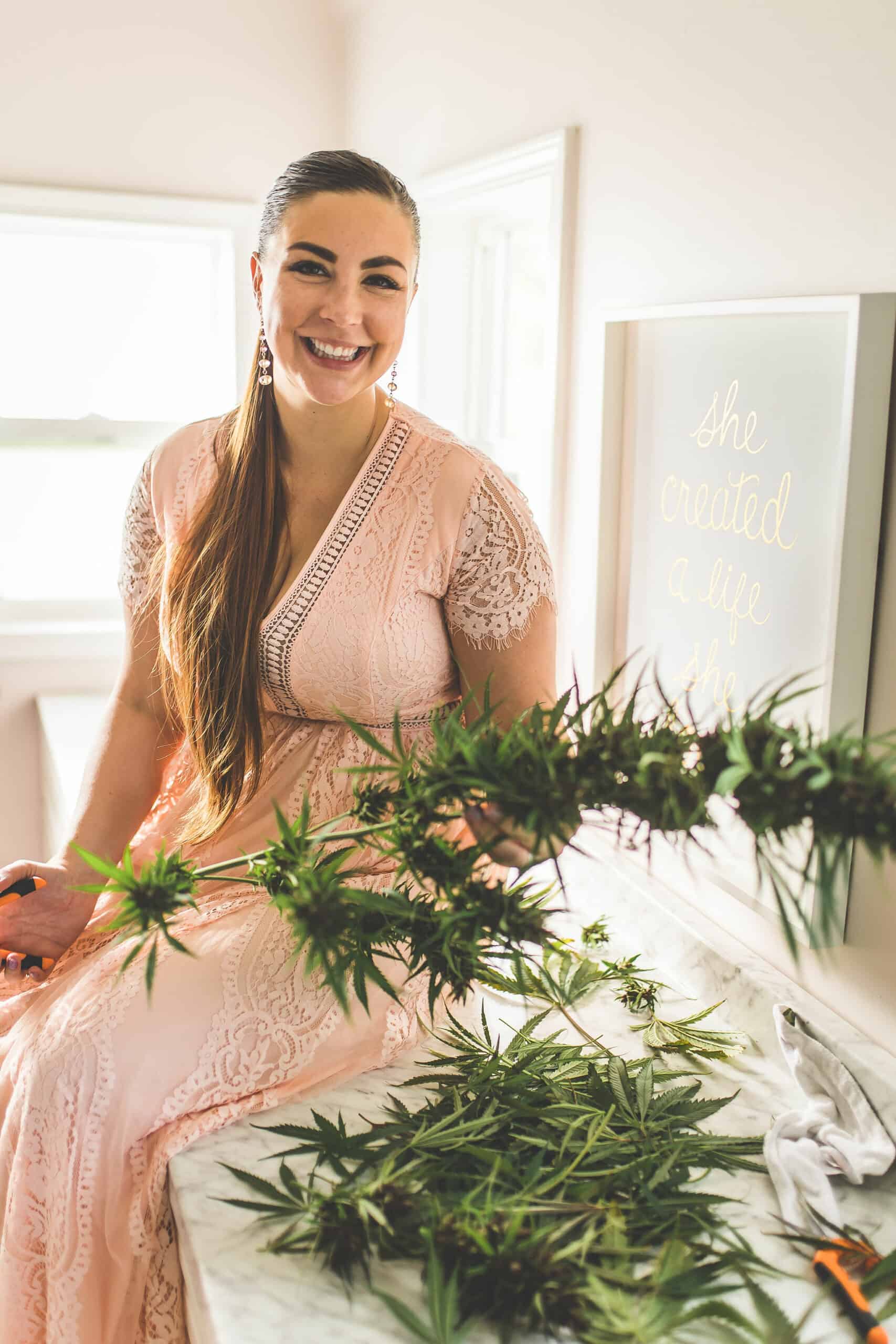 Looking For More Support?
Join thousands of members inside my private Well With Cannabis Community to ask questions, find support, and share your edible creations!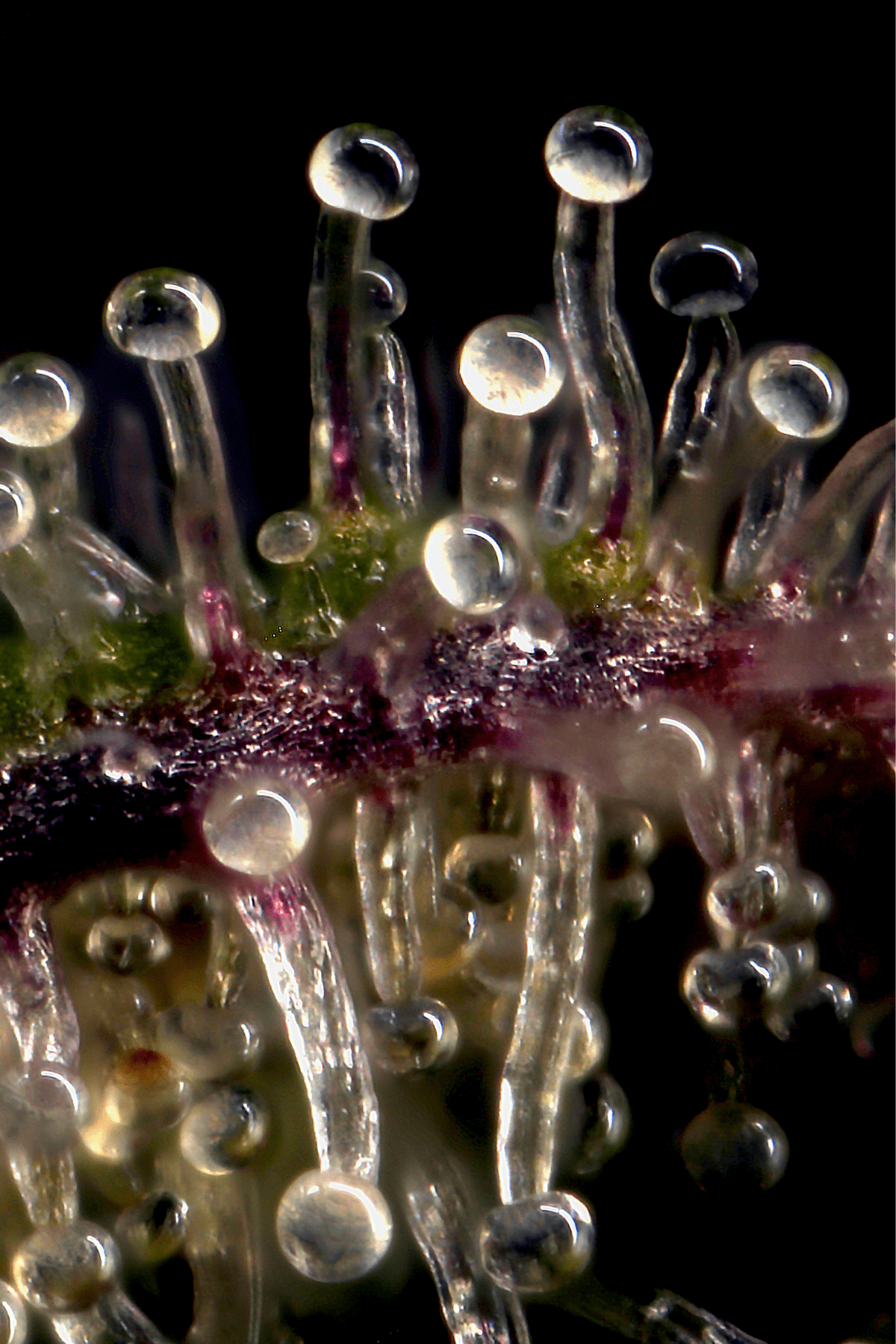 What Are Trichomes?
The word trichome comes from the Greek word meaning 'hairs.'
Cannabis trichomes are tiny, crystal-like, sticky glands that are found on the leaves and buds of a cannabis plant.
They produce both cannabinoids and terpenes that contribute to the taste, smell, and health benefits of the plant.
Although the trichomes can be found all over the plant, they exist predominantly in the flowers, bract and calyx, sugar leaves, and small stems.
They are not typically abundant in fan leaves, roots, or stalks.
Why They Are Important
To most consumers, trichomes are the most important part of the cannabis plant because they are responsible for producing the medicine: cannabinoids and terpenes.
The type and concentration of these two chemicals determine a strain, how strong the effect is, and what type of experience you will ultimately have.
As such, the rest of the cannabis plant technically becomes irrelevant after extracting the trichomes, although many people appreciate the plant's nutritional value.
Bulbous Trichomes
These are the smallest and most numerous of the three. Bulbous trichomes are found on the leaves as well as all over the plant. Bulbous trichomes are too small to be seen by the naked eye and require a jewelers loupe or microscope to be seen.
Capitate-Stalked Trichomes
These trichomes are large stalked ones and are the largest of the three types. They can easily be seen with the naked eye and may be the type you're used to seeing in pictures, like the ones below.
Capitate-stalked trichomes contain high amounts of cannabinoids and are found almost exclusively on flowers.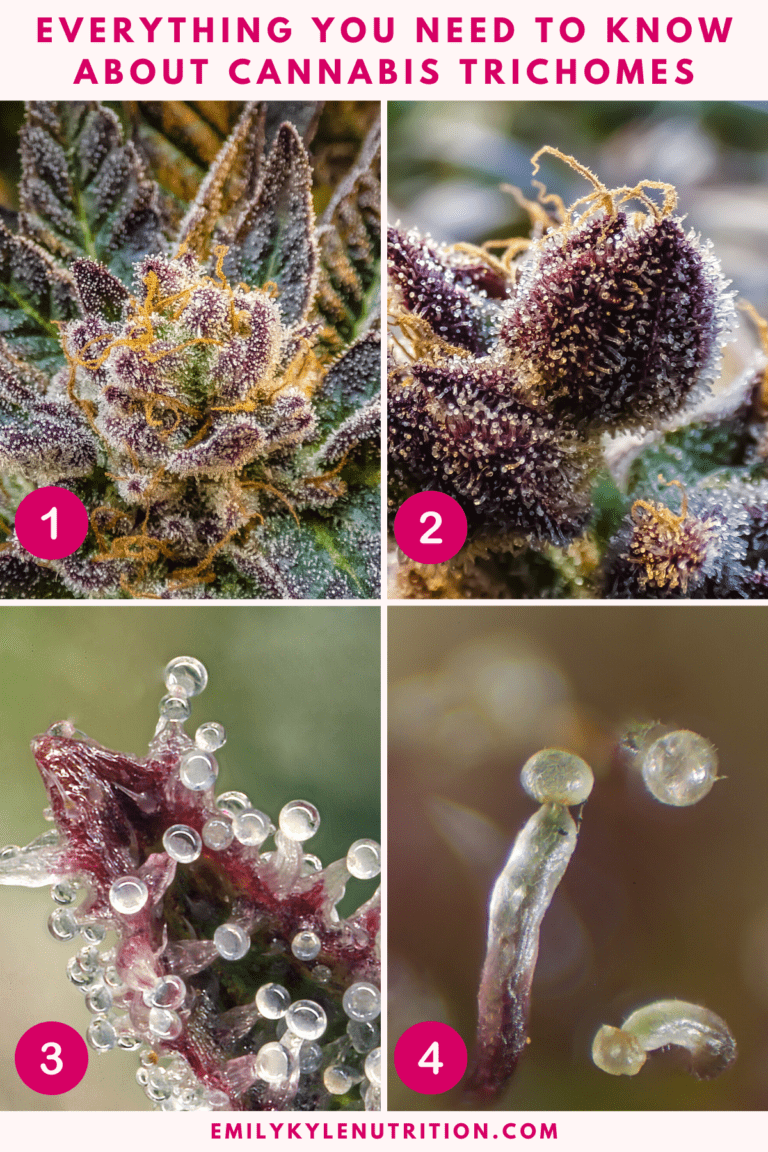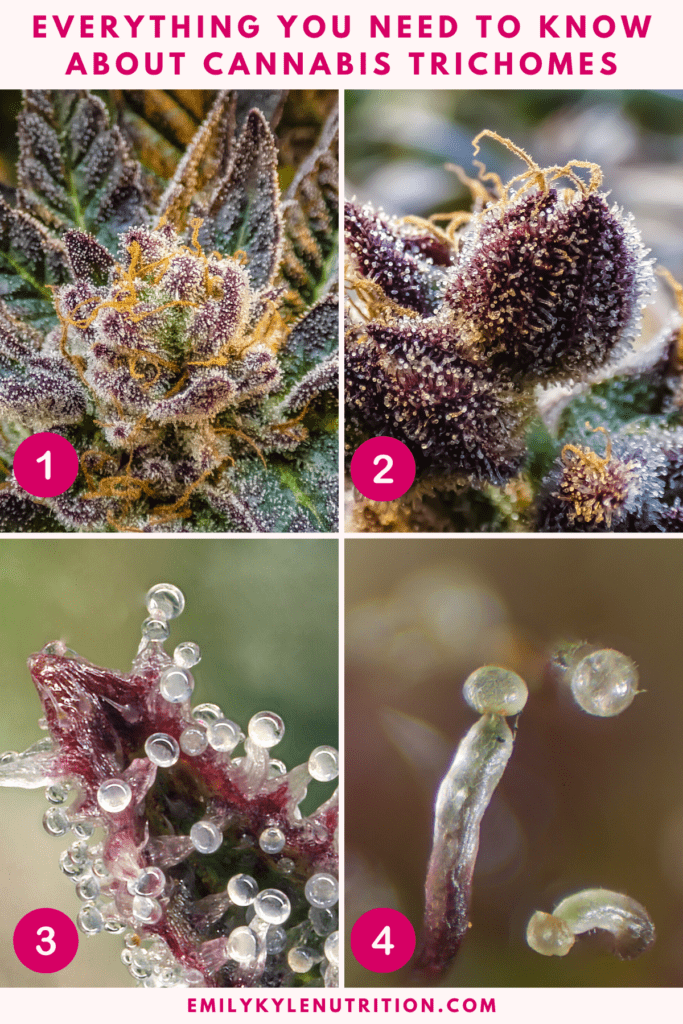 How To Get Trichomes Into Food
The ultimate goal for making homemade edibles is to get the trichomes from the plant into the food you're preparing.
Many want to do this without introducing any excess plant material, like chlorophyll, which can contribute to the unwanted taste and smell some people experience.
There are three prominent ways to get trichomes into food:
Add straight decarbed cannabis flower or kief to food
Infuse the cannabis into a fat, effectivley extracting the trichomes off of the plant matter and into the oil.
Exract the trichomes from the cannabis plant using a solvent, like high-proof alcohol.
We will review all options below so you can choose which one is right for you.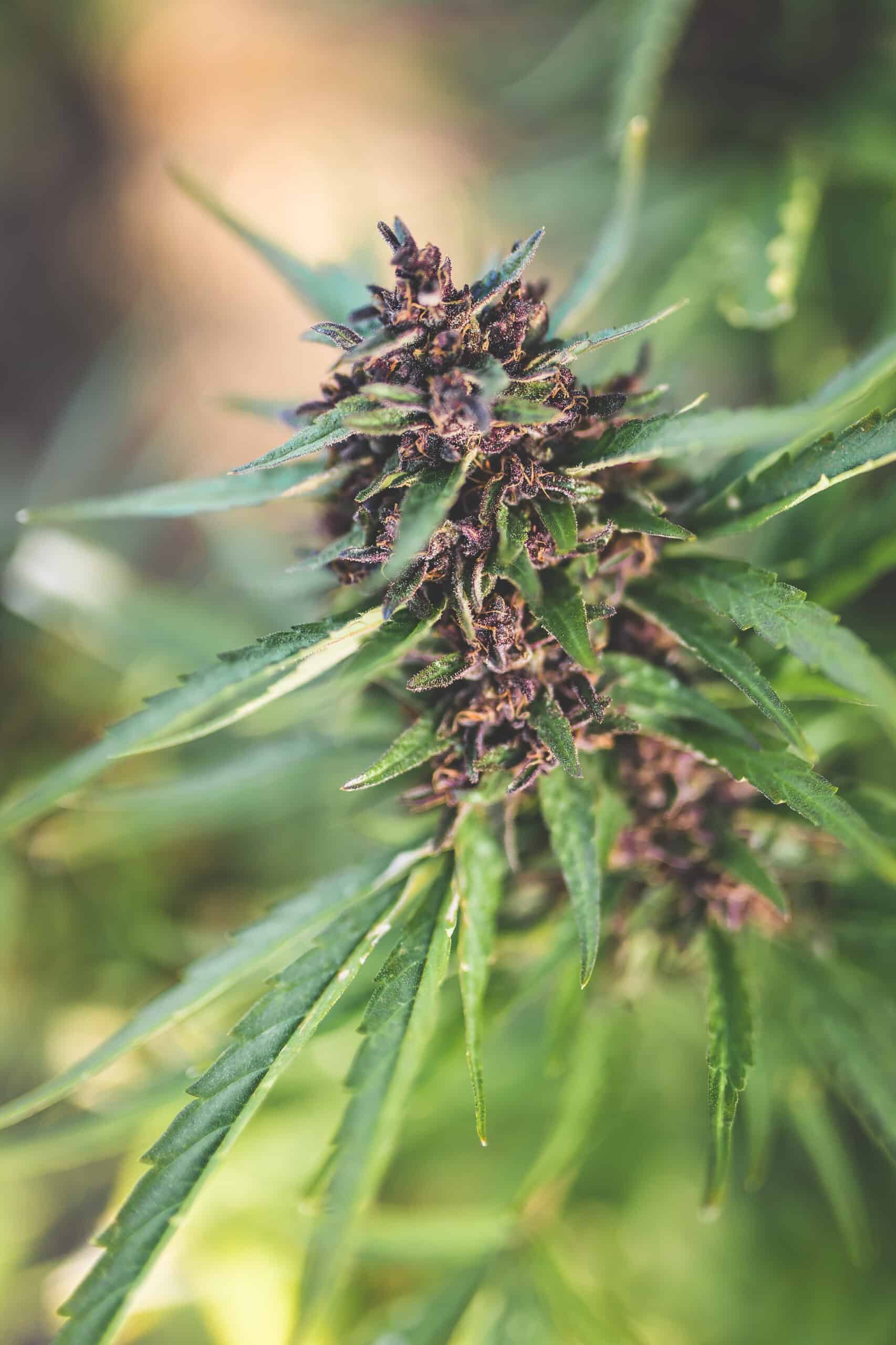 Add Decarbed Flower To Food
The most simple way to get trichomes into your food is to add just plain, ground, decarbed cannabis flower or decarbed kief directly to the food you're consuming.
With this method, there is no loss of trichomes or potency during the infusion or extraction process.
However, it's important to note that you will be dealing with the taste and texture of cannabis with this method. I know that seems like an obvious no-brainer, but many people do not like the taste of cannabis.
If that is you, you will be better off skipping this method and looking towards an infusion or extraction option.
But if you don't mind the taste of cannabis and are looking for a quicker and easier way to make edibles, adding decarbed flower to your recipe may be the perfect solution for you.
As for texture, I recommend you grind your flower as fine as possible for the best possible outcome; a coffee grinder works great for this.
This essentially creates a fine cannabis powder that can be added to just about any recipe, similar to how we use onion powder or ground oregano when cooking. Just remember not to confuse this cannabis powder with cannabis oil powder.
Fat Infusions
One of the most popular ways to get trichomes into food is through an infusion of fat.
An infusion is made by first decarbing the flower in an oven or Instant Pot, and then warming the decarbed flower with some type of fat, like oil or butter.
This process works well because cannabinoids are lipophilic, meaning they are attracted to fat molecules.
After a few hours of infusing, the plant material can be strained and separated from the oil, leaving you with an infused oil. With this method, there will still be some trichomes leftover in the remaining material.
The final infusion can then be used in food and recipes, as it has all of the beneficial parts of the cannabis inside.
Here are many different infusion options I have available for you to try:
Alcohol Extraction
Extraction uses a solvent, like high-proof grain alcohol, to strip the trichomes from the plant material. This process leaves the cannabinoids and terpenes suspended inside the alcohol.
Many people then evaporate off some, or all, of the alcohol to produce full-extract cannabis oil.
While extractions can produce a more potent end product, you must consider safety precautions before working with solvents. High-proof grain alcohol is extremely flammable and requires safe evaporation methods.
The final extraction can then be used in food and recipes, as it has all of the beneficial parts of the cannabis inside.
Here are several extraction options I have available for you to try:
Final Thoughts
As we have seen, trichomes are the most vital part of the cannabis plant. They contain cannabinoids and terpenes that give cannabis health and recreational benefits.
You can use infusions and extraction processes to get trichomes into edibles like tinctures and cannabutter.
My Edibles Made Easy Online Cooking Course will teach you how to make cannabis edibles and topical recipes at home with ease. This step-by-step video course will teach you how to infuse, extract, and create edibles with many different product types - all from the comfort of your own home.

Learn more and enroll today →