If you've been vaping cannabis with a dry herb vaporizer, the material left is called already vaped bud or AVB, and it may still contain cannabinoids, so don't throw it away! Instead, learn how to use that AVB to make your own cannabis edibles like butter, oils, baked goods, topical products, and more.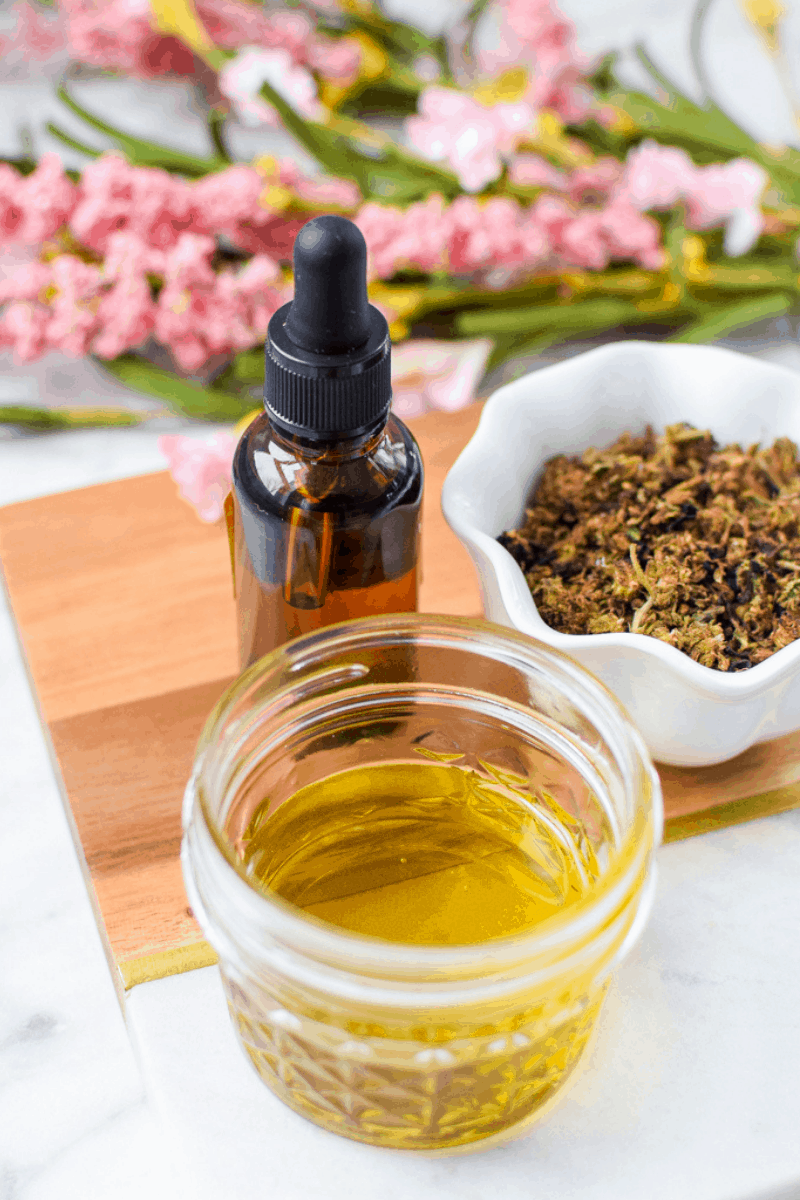 How to Make AVB Edibles with Already Vaped Bud
If you've been vaping cannabis with a dry herb vaporizer, what do you do with the bud after you're done vaping?
For most people, the answer is that they throw it away.
If this is the case for you, you could be missing out on potential cannabinoids remaining in the leftover material.
Some guesstimates claim the already vaped bud can contain upwards of 10-30% of any remaining cannabinoids.
That's why bud that has been vaped can be reused as an ingredient in your cannabis edibles, so you can reclaim those leftover cannabinoids and use them to your benefit.
While AVB won't make the most potent cannabis recipe, many of my Well With Cannabis Community members report that using AVB provides a mild, desirable, intoxicating, and often sleepy effect.
This post is perfect if you want to get the most bang for your buck and reuse your already vaped bud in edibles.
Read on to learn more about how to have the best tasting AVB edible experience, how to make AVB infused oil at home, and how others are using their AVB in recipes.
Join The Community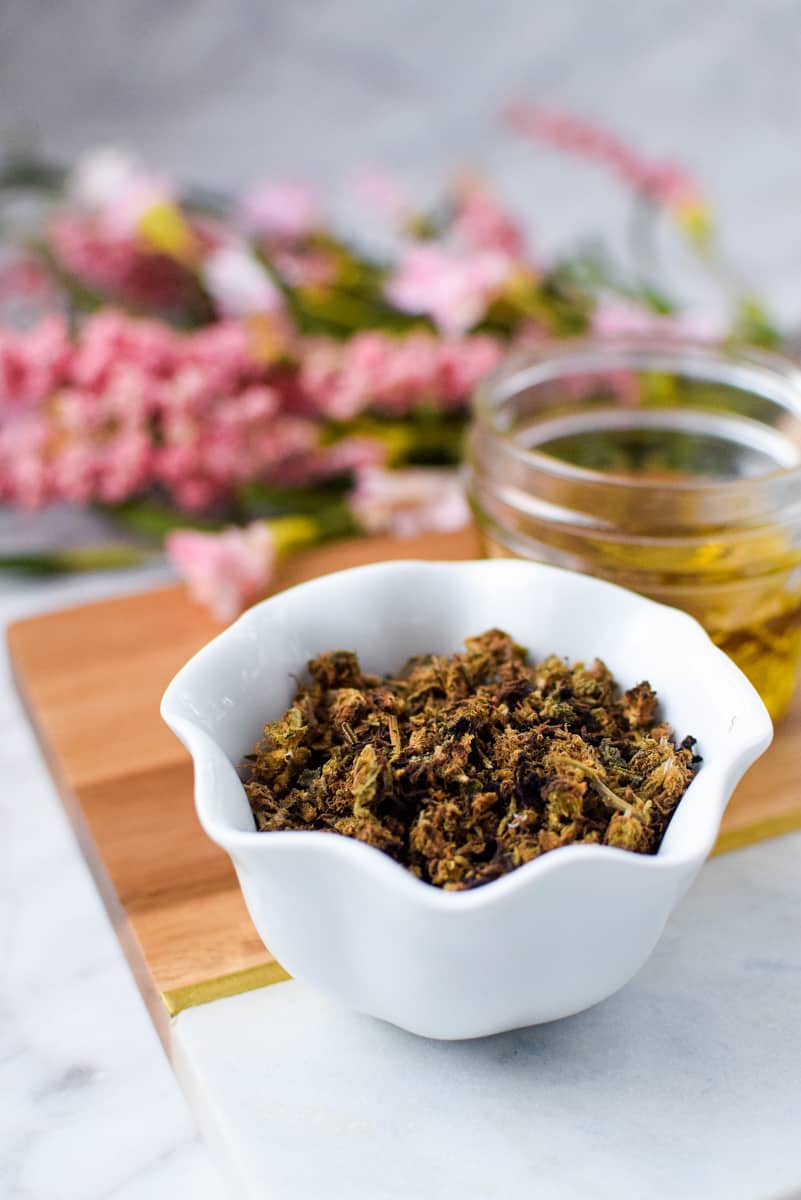 What Is AVB or ABV?
AVB stands for "already vaped bud," ABV for "already been vaped," and both refer to the cannabis flower that has been vaped, or used, in a dry herb vaporizer.
While smoked cannabis turns to white or black ash after combustion, vaped cannabis remains intact in its physical form, but looks slightly different than it did before vaping.
If you have experienced vaping before, you will notice that the color of the leftover material has darkened, appearing almost toasted, similar to decarboxylated cannabis flower.
That's because the leftover material now essentially IS decarboxylated cannabis flower.
Essentially the vaporizer has already heated and decarbed the cannabis for you, like a tiny little oven.
While this leftover vaped flower may appear dry and crispy, it certainly isn't worthless!
While you could try to smoke AVB, you'll notice a distinctly bitter flavor, and it's not the best option for health.
There are other ways to use it to maximize the benefits of AVB, namely transforming it into a staple cannabis recipe.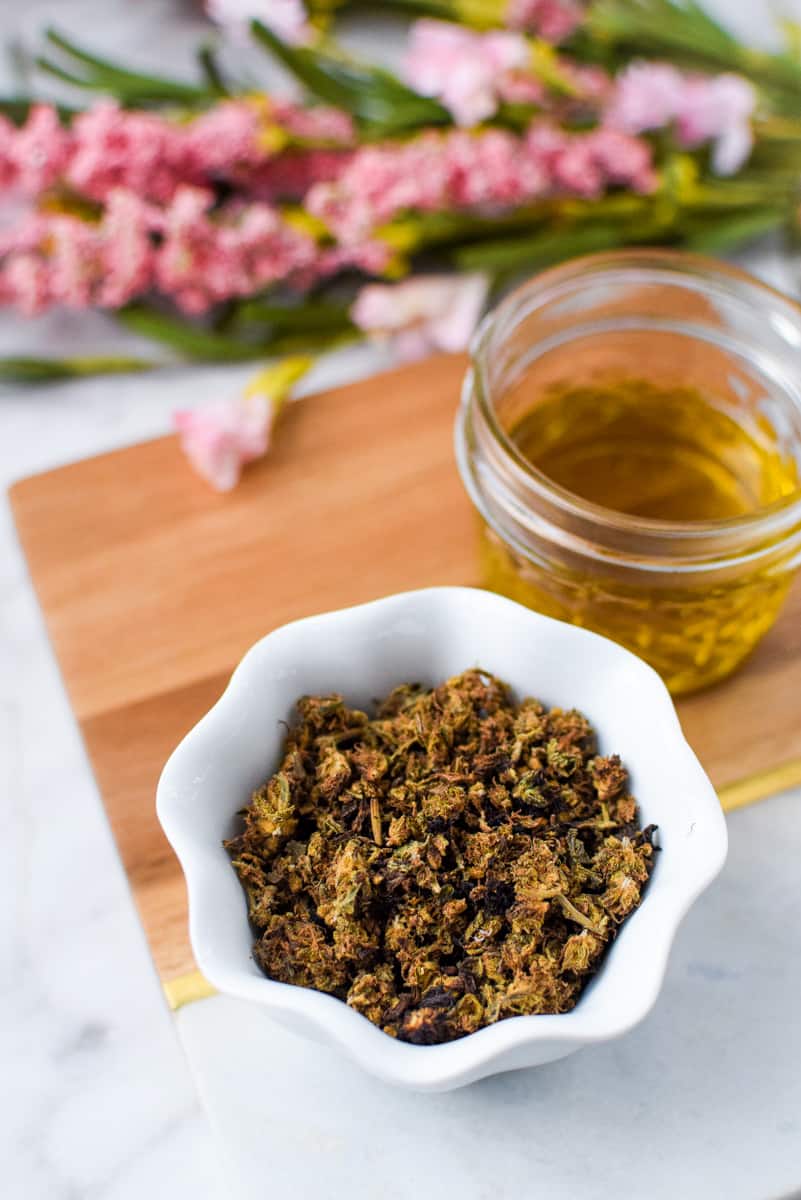 How Potent is AVB?
Unfortunately, it is impossible to know how much THC, CBD, and other cannabinoids are leftover in your AVB without testing it in a lab.
This means that anything else, including the use of calculators, will just be a guess at the remaining potency.
It's important to know that if you burn your vape at a high temperature, you'll end up with less potent AVB than if you vape at lower temperatures.
When you vape at a lower temperature, you won't be as likely to use up all THC or other cannabinoids in the flower.
It's also important to consider how much THC was in the flower that you started with, as this will be your baseline.
Strains with more THC to begin with will likely remain more potent after vaping.
From there, its a guesstimate to assume that anywhere between 10-30% of the remaining cannabinoids could be leftover.
For AVB edibles, it truly is a guess, and as always, I recommend starting low and going slow when taste-testing to assess for potency.
Additionally, when THC encounters high heat, it degrades into CBN, also known as the sleep cannabinoid.
This is likely why many people in my cannabis community report that AVB edibles have a more sleepy-time effect than other edibles.
Should You Water Cure AVB?
Cooking with AVB can leave your finished edibles with a distinct taste that some people just can't stomach.
If you find that you're one of those people, you may want to water cure your AVB.
Water curing is essentially placing the already vaped bud into clean, distilled water and letting it sit for an extended period of time.
This process will help to remove any undesirable materials, like chlorophyll and the burnt taste.
Because cannabinoids are lipophilic and hydrophobic, they will not seep into the water, and instead remain on the plant material.
This means you will not lose any further potency with this process.
While water curing will help to get rid of that strong flavor, it will also take a bit of extra time.
The process in itself is quite easy, it may take up to a week, but it may be worth it to improve the taste and quality of your AVB edibles.
To get started, you have to collect all of your AVB and let it soak in a sealed container of water, like a mason jar with a lid.
I recommend to discarding the water every few hours and replacing it with fresh water.
You should continue to do this for at least a day or two and up to a week - the longer, the better.
The process is nearly complete when the water is no longer turning discolored.
After this water curing process is over, be sure to strain and discard any remaining water.
You will be left with wet AVB which will need to be dried out in order to prevent mold formation.
To do this, place the wet flower on a parchment lined baking sheet in your oven at 200 degrees for around two hours, tossing it regularly to avoid burning.
You can remove from the oven when it is completely dried.
You could also use a dfood dehydrator to remove any remaining moisture.
After your AVB has been water cured, you will hopefully notice a positive difference in the taste of your finished edibles.
While this isn't a necessary step, it can help.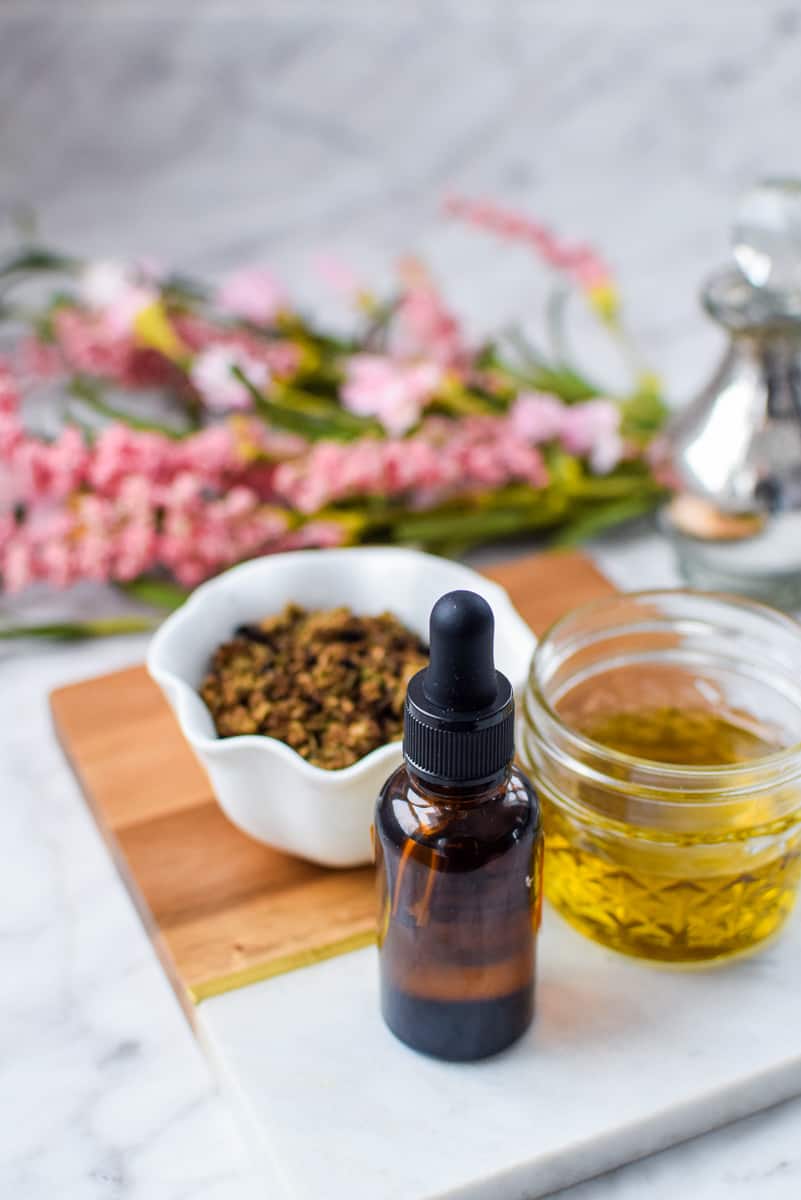 How to Make Edibles with AVB
If you've never made cannabis edibles before, I recommend checking out my beginner's guide to cannabis edibles before getting started to help you understand the basics.
If you're an edibles pro and ready to get started, AVB is ready to be made into edibles as soon as you're done vaping.
You do not need to utilize the decarboxylation process to make AVB edibles.
You can use the AVB as is to make oils, capsules, tinctures, and more as outlined below.
AVB Butter or Oil Oil
Because the compounds in cannabis are fat-soluble, infusing a fat like butter or various oils is a great place to start.
Below is a list of all of the different types of cannabis oil you can try making with AVB:
Once you have your butter or oil made, you can use it in your favorite cannabis brownie recipe, add a teaspoon to your morning cup of coffee, or even use it as the oil base of a salad dressing.
You can also use the oil sublingually, or under the tongue.
AVB Capsules
One very popular way my Well With Cannabis Community members use their AVB is to put it into capsules.
Cannabis capsules makes for a quick, easy, effective, and essentially tasteless way to dose and consume cannabis.
Because they are swallowed, they are essentially treated as an edible, without the need to prepare a recipe.
If you have never made cannabis capsules before, be sure to check out my complete guide to making and filling cannabis capsules.
AVB Tincture
While AVB won't make the most potent tincture, it may be the best way to capture any remaining cannabinoids.
I have two different tincture options to try, a traditional Green Dragon tincture and a more modern QWET freezer tincture.
You can then turn around and use that tincture to make a variety of different recipes such as:
Add AVB Directly To Recipes
Finally, you can add AVB directly to recipes just like you would any other dried spice like dried basil or oregano.
Some people choose to grind it down into a fine powder, while others leave it more whole. The choice is yours!
Some of my favorite recipes to add AVB directly to include:
Make Cannabis Topicals with AVB
A popular suggestion from the cannabis community has been to use that leftover AVB in topical products as well.
If you're going this route, you shouldn't need to go through the water curing process as outlined above.
I've seen recommendations for using AVB to make:
Cannabis Bath Salts or Bath Bombs
Cannabis Soap
Cannabis Salt Scrubs
Can I Make A Smaller Batch?
Yes! The recipe below calls for one ounce of AVB, but if you haven't collected that much, you can easily make a smaller batch using this guide below: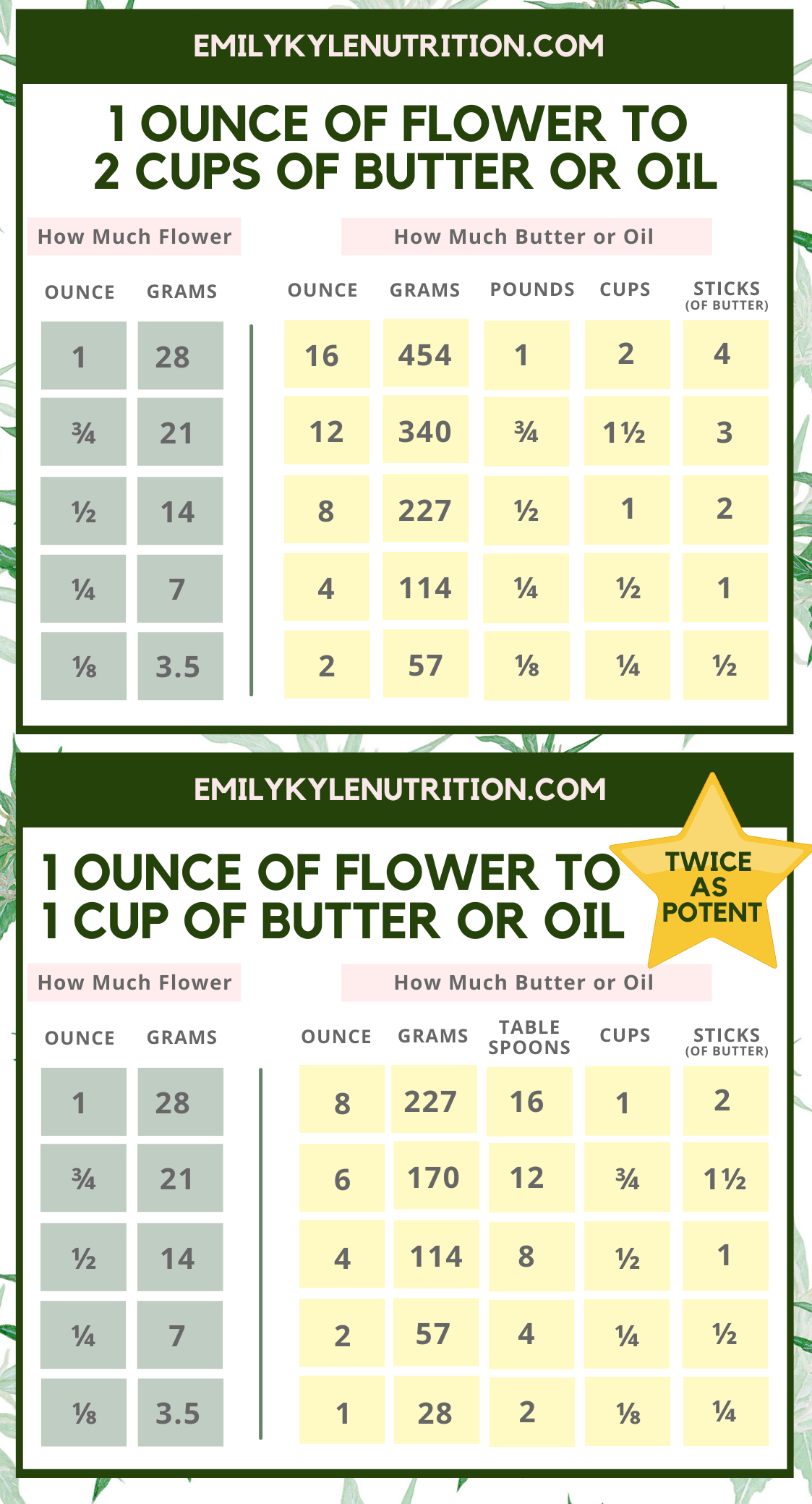 Do I Need To Use Lecithin?
In this recipe below you will notice an optional ingredient, lecithin.
If you're brand new to cannabis edibles, you may be unfamiliar with lecithin and why people use it in their at-home infusions and baked goods.
Adding lecithin to edibles is a theory that believes lecithin can increase the potency of an infusion by increasing the bioavailability of cannabinoids in the body.
You can read more about why you would want to add lecithin to an oil infusion here.
It is completely optional if you want to add lecithin to this recipe or not.
Want To Make This Easier? Use A Machine!
If the process of decarbing and infusing feels like too much work, these countertop devices may be a perfect all-in-one solution!
Two of the most popular brands include the LĒVO and the Ardent. Review the six most popular infusion machines here.
Want A Discount Code?
Enhance Your Cannabis Education
My beginner-friendly Cannabis Compass Online Course will show you how to dose, use, and apply cannabis safely and effectively so that you can begin to manage your most unwanted symptoms the natural way from the comfort of your own home.

Learn more and enroll today →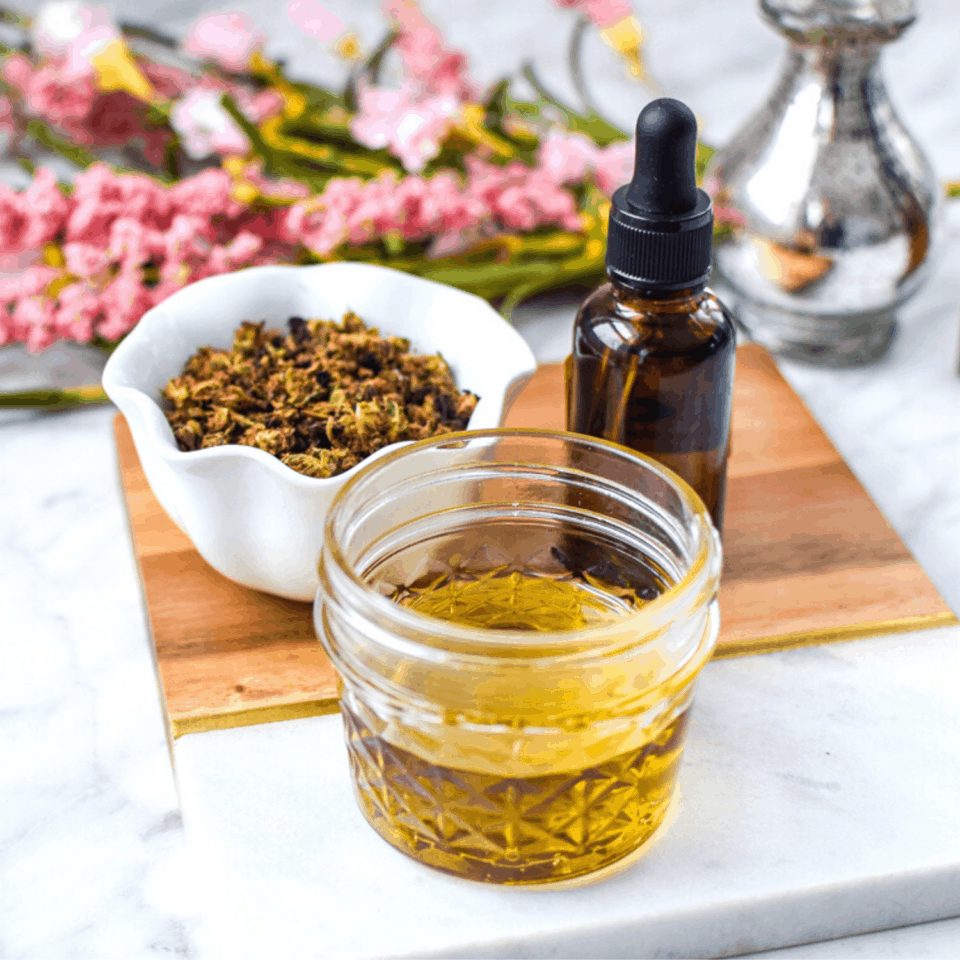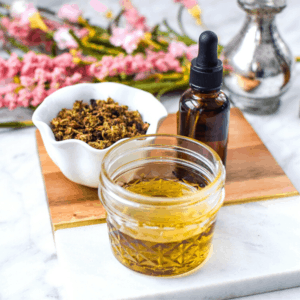 How to Make AVB Oil with Already Vaped Bud
If you've been vaping cannabis with a dry herb vaporizer, the material left is called already vaped bud or AVB, and it may still contain cannabinoids, so don't throw it away! Instead, learn how to use that AVB to make your own cannabis edibles like butter, oils, baked goods, topical products, and more.
Instructions
Lay a clean tea towel down on the bottom of the crockpot. This will create a buffer between your mason jars and the crockpot, potentially preventing any jar from moving or cracking during cooking.

Fill your crockpot with enough warm to hot water to cover the top of the mason jars you plan on using by an inch to create a water bath.

Evenly divide the MCT oil between the mason jars you plan on using. You can either use pint-sized or half-pint-sized jars; it's you're preference; just be sure they fit in your crockpot. No matter the size, be sure to leave a ½ inch headspace from the top.

Evenly divide the AVB flower between the MCT oil-filled jars. Wipe the rim of the jars with a clean towel and place the lid on. Tighten the metal ring to finger-tip tightness; it does not have to be tightened all the way. Do not tighten too tightly.

Once the water bath has reached a temperature of 185° F, carefully place the jars into the water bath.

Place the lid on the crockpot and leave it alone to infuse for 4 hours.

After 4 hours, carefully remove the lid, followed by the jars from the hot water. Set them aside to cool.

Store the prepared CBD oil in a cool, dry place. It will last longer if stored in the refrigerator and even longer if stored in the freezer.
Notes
Yield: ~16 ounces / ~2 cups
Temperature Control: The water bath does not need to stat perfectly at 185° F  the entire time. Any temperature between 170°-190°F is OK.
Safety First: I recommend you sanitize your jars by keeping them submerged in the 185° F crockpot for 10 at least minutes. This step is not necessary, but good practice for safety and hygiene.
Floating Jars: Sometimes the mason jar will float when placed in the water bath. This is no need for concern, simply put something heat and water safe over the top of the jar to weigh it down, a clean rock works well.
Alternative Carrier Oil Options Include:

Olive oil
Avocado oil
Hemp seed oil
Grapeseed oil
Coconut oil
Nutrition
Serving:
1
g
Calories:
120
kcal
Fat:
13
g
Saturated Fat:
11
g
Polyunsaturated Fat:
1
g