Join millions of Americans who know that the best part of waking up is cannabis in their cup and discover how to make your own cup of cannabis coffee with 9 different infusion options ranging from cannabis oils, extracts, concentrate, and more.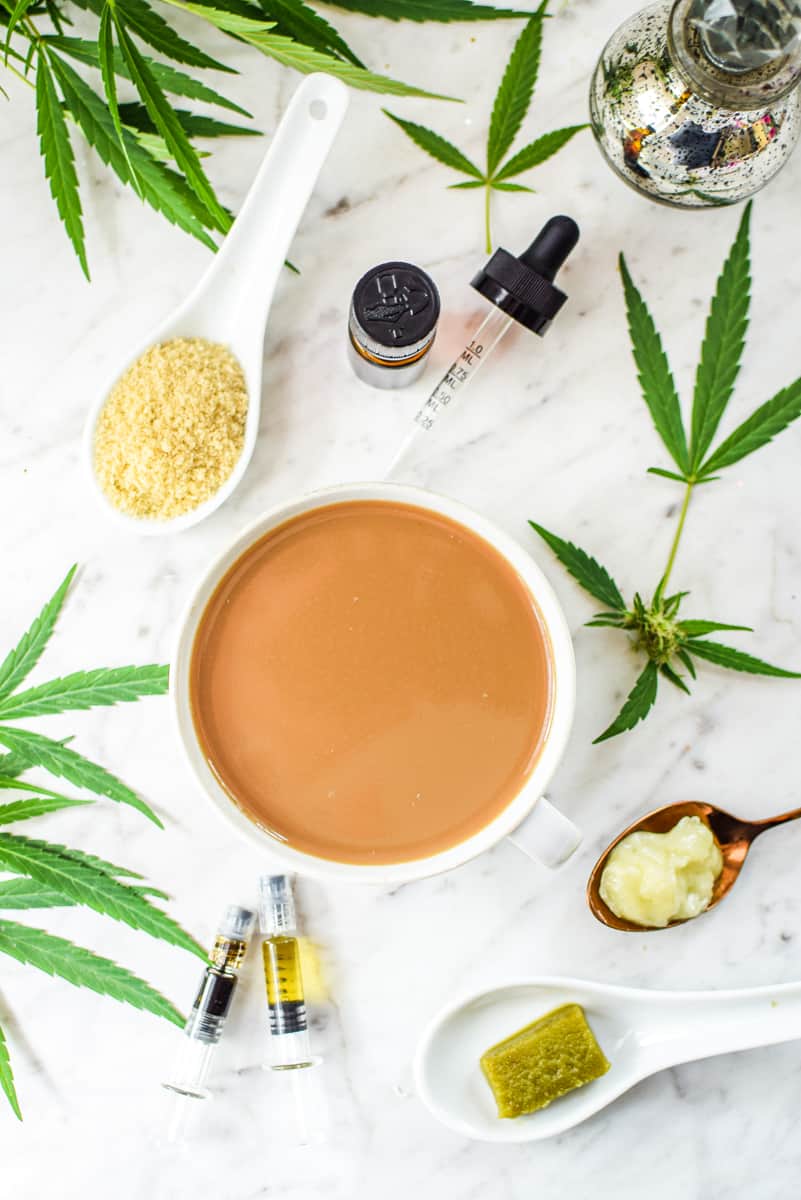 How To Make Cannabis Coffee
Over the years, I have learned that I love a good wake and bake to start my day, and my Well With Cannabis Community members let me know I'm not alone.
Many people prefer to medicate with cannabis edibles rather than smoking or vaping, which leads us to cannabis coffee.
Millions of people love to start their day with cannabis, and for so many, cannabis and coffee have become the perfect morning pairing.
Thankfully, there are SO many different ways to make an amazing cup of cannabis coffee, all of which compliment the coffee and creamer you already use.
There is no one right way to make a cup of cannabis coffee, so here I will share my seven favorite methods for making the best cup of cannabis coffee according to your preferences and what you have available.
In this guide we will be exploring the following ways to make the perfect cup of cannabis coffee with:
Cannabis Butter
Cannabis Coconut Oil or MCT Oil
Infused THC or CBD Oil
Cannabis Milk
Cannabis Alcohol Tincture
Cannabis Sugar
Cannabis-Oil Powder
Cannabis Concentrates: CBD Concentrate and Full-Extract Cannabis Oil (FECO)
Leftover Cannabis Pulp
Join The Community!
How Much Cannabis Should I Add to My Coffee?
As humans, we all have our own unique endocannabinoid systems, explaining why we react to cannabis differently.
I can not give specific dosage measurements here because there is so much variability in the options available.
There are so many variables that will impact your product's final dose, so important to work based on your own personal tolerance.
These variables include, but are not limited to, what infusion method you choose, whether you start with CBD hemp flower or THC flower, whether you went through the decarboxylation process, and how much material you started with.
My advice, as always, is to follow the golden rule of "start low and go slow".
Start with a ¼-½ teaspoon if your infusion of choice and work your way up from there.
If you're still unsure of how to find your perfect dose and learn what works best for your body, be sure to check out the education offered in my Cannabis Compass Online Course.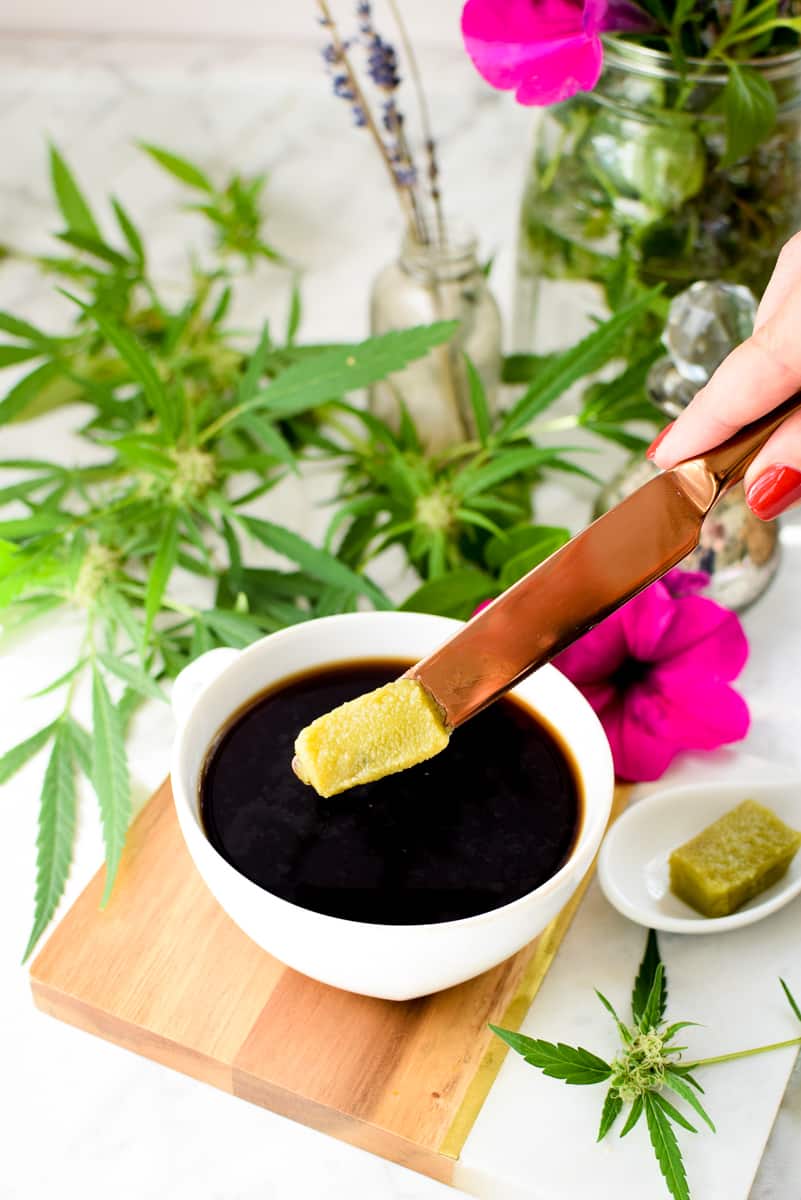 Cannabis Butter
Cannabutter has been one of the most tried-and-true cannabis staple recipes for decades, making it a popular coffee addition.
If you've never put cannabutter in your coffee before, you may be thinking that it doesn't sound too good, but don't knock it until you've tried it.
Adding cannabutter to your morning coffee cup adds richness to the flavor and texture.
It can be enjoyed alongside any other coffee addition you like to use, like sugar or cream.
Most folks who prefer cannabis edibles as their consumption route likely already have cannabutter in the fridge or freezer.
Freezing cannabutter in an ice cube tray can be perfect for dosing out a perfect size addition to your morning cup of coffee.
If you've never made cannabutter before, be sure to get my full step-by-step guide here.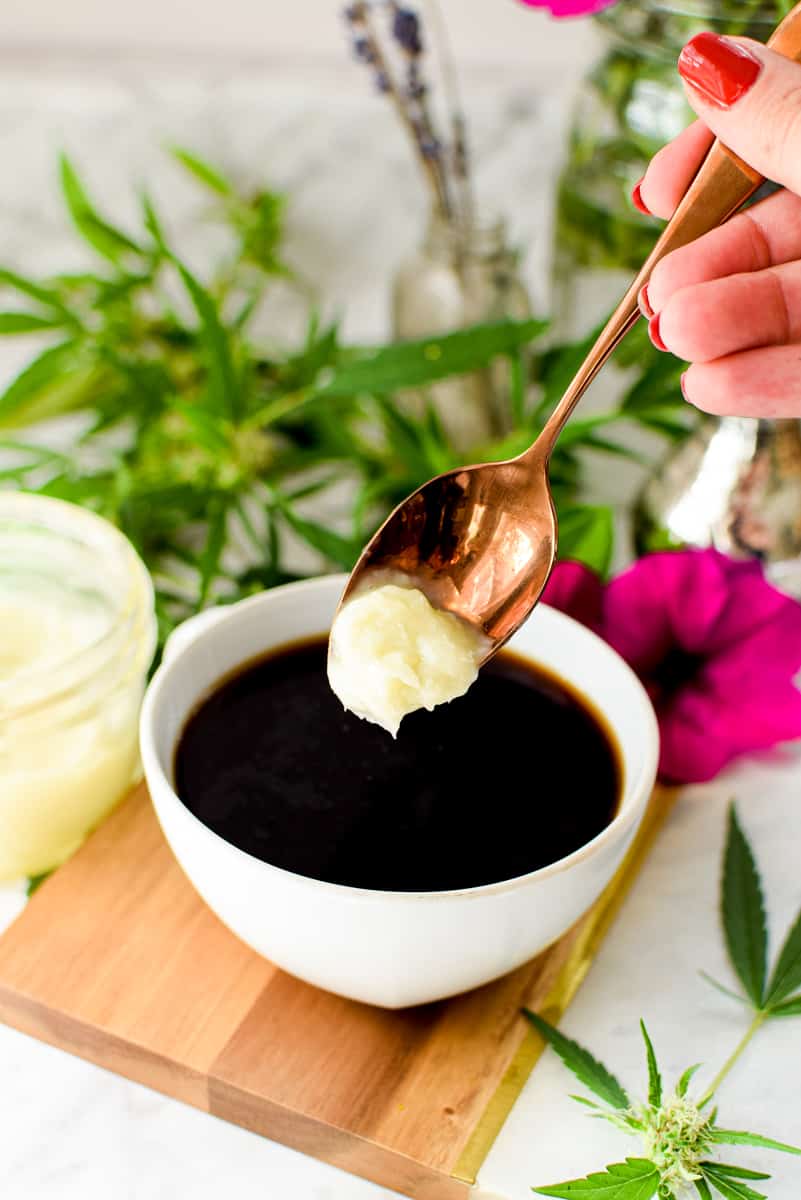 Coconut Oil or MCT Oil
Next to cannabutter, cannabis-infused coconut oil is the second most popular cannabis infusion method.
Many people prefer cannabis coconut oil because it is naturally plant-based and vegan and doesn't require the milk solids to be removed after the infusion process.
In addition to traditional unrefined coconut oil, infusing MCT oil is also a popular choice.
Adding cannabis-infused MCT oil to your morning cup of coffee leaves you with the traditional 'bulletproof coffee.'
This cannabis bulletproof coffee is delicious but has also been known to cause a bit of digestive distress in some individuals, so enjoy with caution!
If you've never made your own, get the guide to make your own cannabis coconut oil or MCT oil here.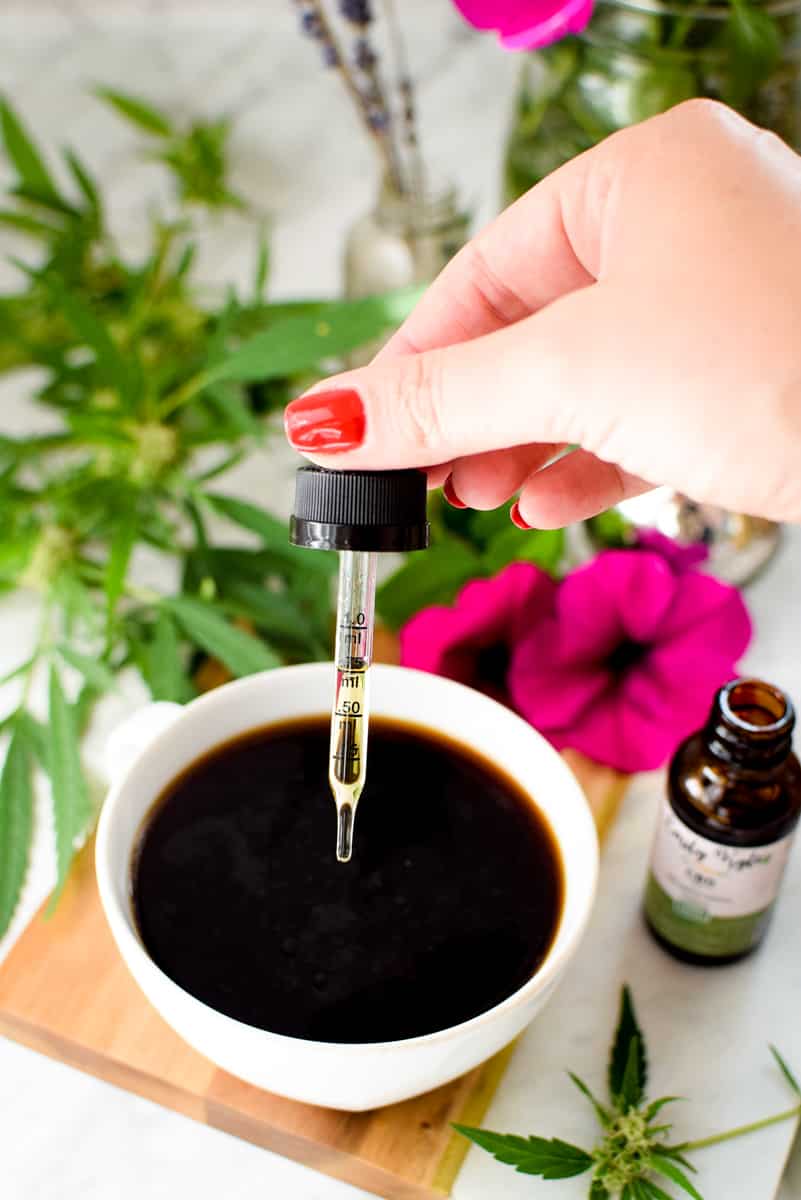 CBD Oil or THC Oil
A morning cup of cannabis coffee made with full-spectrum CBD oil is quickly gaining popularity amongst my cannabis community.
As cooking with CBD oil gains popularity, people realize that CBD oil is an excellent addition to their morning cup of coffee and overall wellness routine.
Adding my high-quality CBD oil or your own homemade CBD oil to your morning cup of coffee is also likely the most accessible option for most folks, as CBD is legal in nearly every state.
If you've never made your own CBD oil, be sure to check out my beginners guide here.
You can also shop my selection of high-quality CBD products here.
Note: Oil Separation Will Occur
It's important to keep in mind that mixing coffee and cannabis oil or butter is like mixing oil and vinegar; they don't naturally stay together well.
You will likely notice the oil floating on the top of your coffee after the cup is left to sit for a few minutes.
This is harmless and left to your personal taste and texture preferences.
If you do not like the oil separation, I recommend adding a bit of lecithin to your drink.
Adding a ¼ teaspoon of liquid sunflower lecithin with the oil and mixing the infusion with a handheld milk frother will help solve this issue.
The lecithin and mixing process will help emulsify all of the ingredients and prevent any oil from floating on top.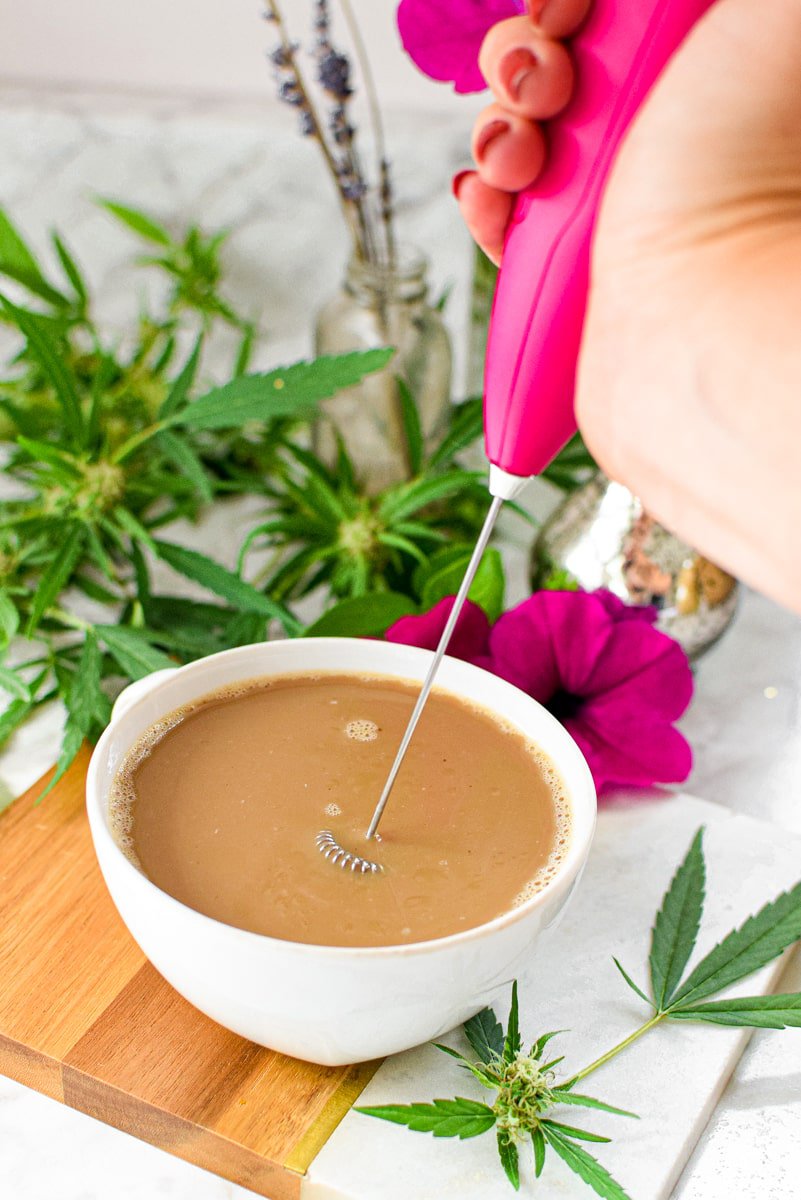 Cannabis Milk
If you are a milk or cream lover, you are going to love infusing your coffee with cannabis-infused milk or cream.
Not only can you use it as-is, but it can be used as the base to make many other infused creations like coffee creamer.
If you've never infused milk or cream before, you can get complete instructions here.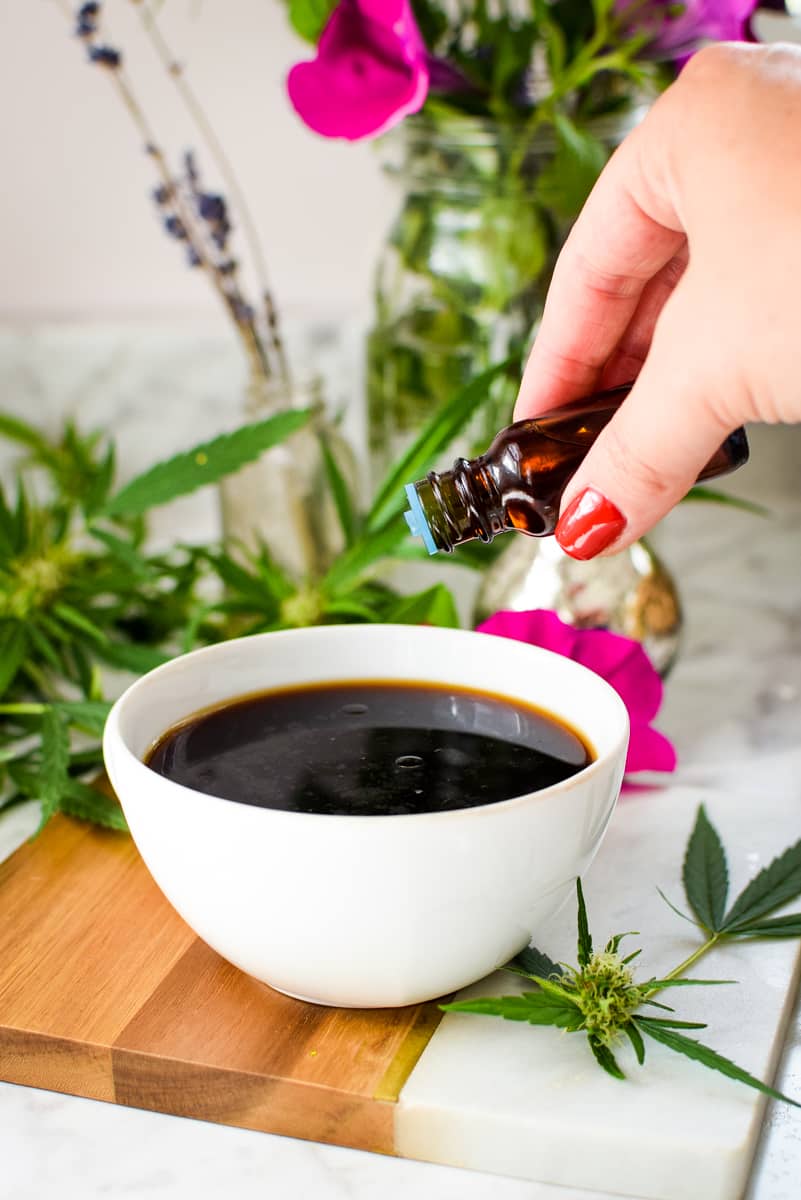 Cannabis Tinctures
A traditional cannabis tincture is an alcohol-based cannabis infusion and will blend into the coffee the best of any method described here.
Of course, this method will be strong because you're adding both cannabis and alcohol to your morning cup of coffee.
Depending on your desired effect, that could be a good or a bad thing.
Adding cannabis tincture to coffee is similar to adding whiskey to coffee for an Irish Coffee or adding Bailey's to coffee for an after-dinner drink.
If you want to make your own cannabis alcohol tincture at home to add to your morning cup of coffee, first decide what type of tincture you want to make.
I have both a traditional Green Dragon tincture recipe and a QWET freezer tincture recipe to choose from.
While the Green Dragon is more potent per lab tests, the QWET Golden Dragon has a more mild taste.
It is your choice which option you want to use.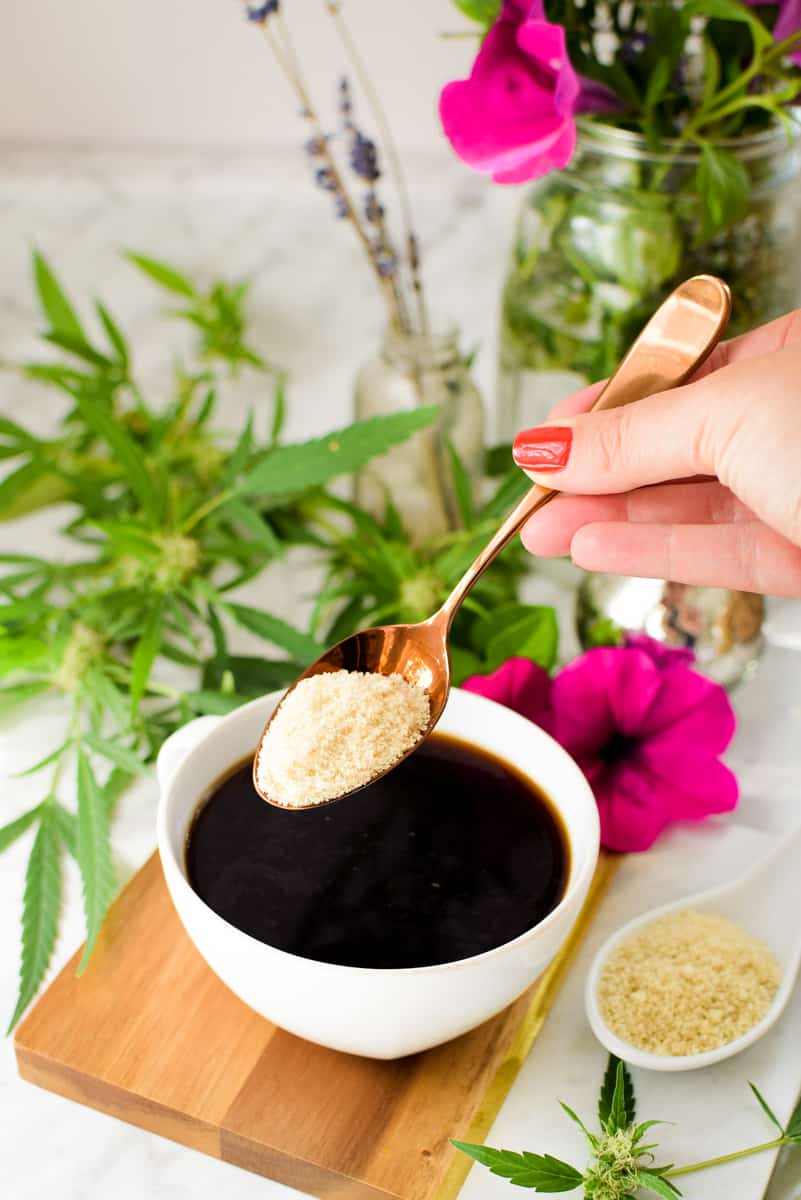 Cannabis Sugar
Adding a spoonful of cannabis sugar to your morning cup of coffee may be the easiest way to make a cup of cannabis coffee.
But, it takes a little bit of work to make cannabis sugar.
Before making your own cannabis sugar, you must first make a Green Dragon tincture recipe or a QWET freezer tincture.
Once the tincture is made, you pour that over sugar to make cannabis sugar.
For a full guide on how to make cannabis sugar at home, click here.
Cannabis Oil Powder
Are you looking for a new cannabis infusion method to make tasty edibles that can kick in quickly, in just 15-20 minutes?
Then look no further than learning how to make your own cannabis oil powder, sometimes called THC powder, easily at home.
Made with just two simple ingredients in just 10 minutes, this powder can be added to your morning cup of coffee without affecting the taste, smell, or flavor.
Learn how to make cannabis oil powder here.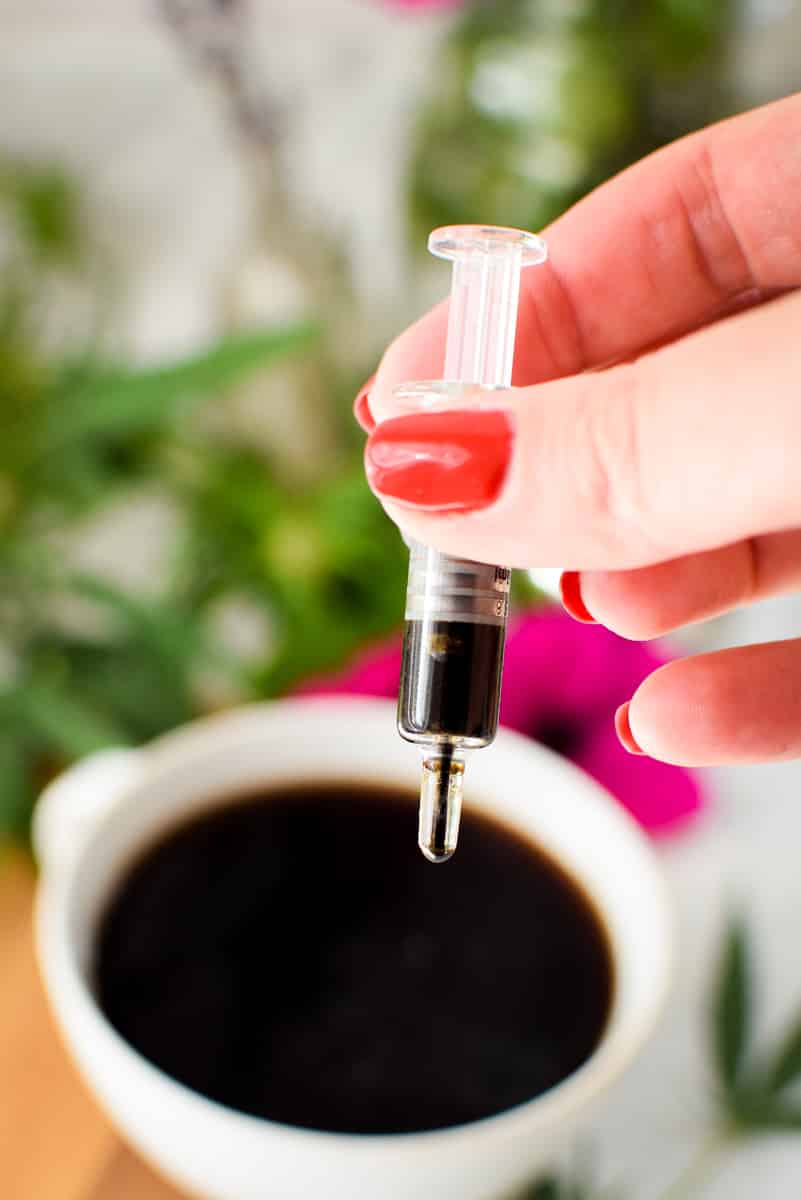 Cannabis Concentrates
Many different types of cannabis concentrates are on the market today that can be used to make cannabis-infused coffee.
One of the most popular cannabis concentrates made at home is full-extract cannabis oil, also known as FECO.
You can make your own FECO at home, or you can sometimes find it at a licensed dispensary. It may also be called RSO.
Depending on where you live, you may also have access to high-quality cannabis concentrates like distillate.
This is a highly concentrated cannabis product with minimal flavor, so cannabis consumers highly favor it.
You can find THC concentrate syringes at legal dispensaries or CBD concentrate syringes here in our shop.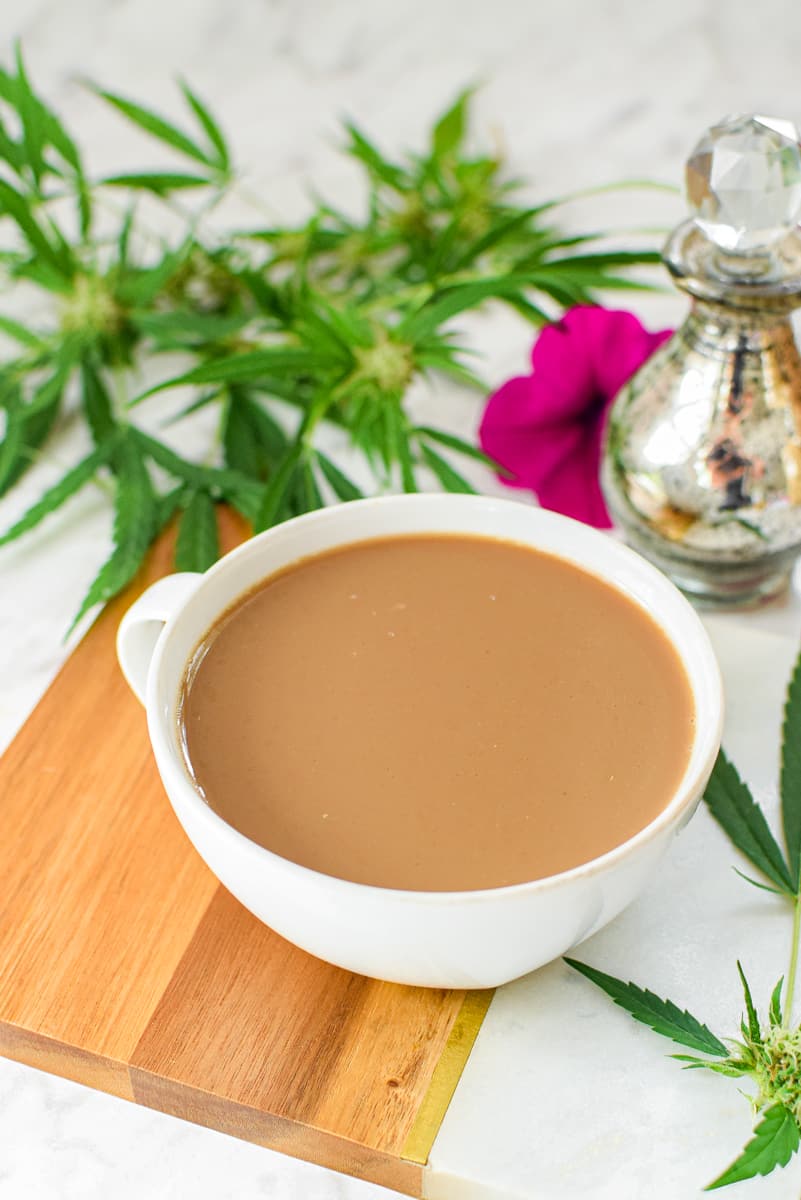 Leftover Cannabis Pulp
This is another one where they say don't knock it until you try it!
Leftover cannabis pulp is the plant material left over from making cannabis butter, cannabis coconut oil, or cannabis olive oil.
While many people typically throw the leftover pulp or 'sludge' out, many of our readers have reported that they save and use the leftovers in many different recipes.
The best way to add cannabis pulp leftovers to your coffee is to place the leftover plant material in a tea ball and steep it in your mug.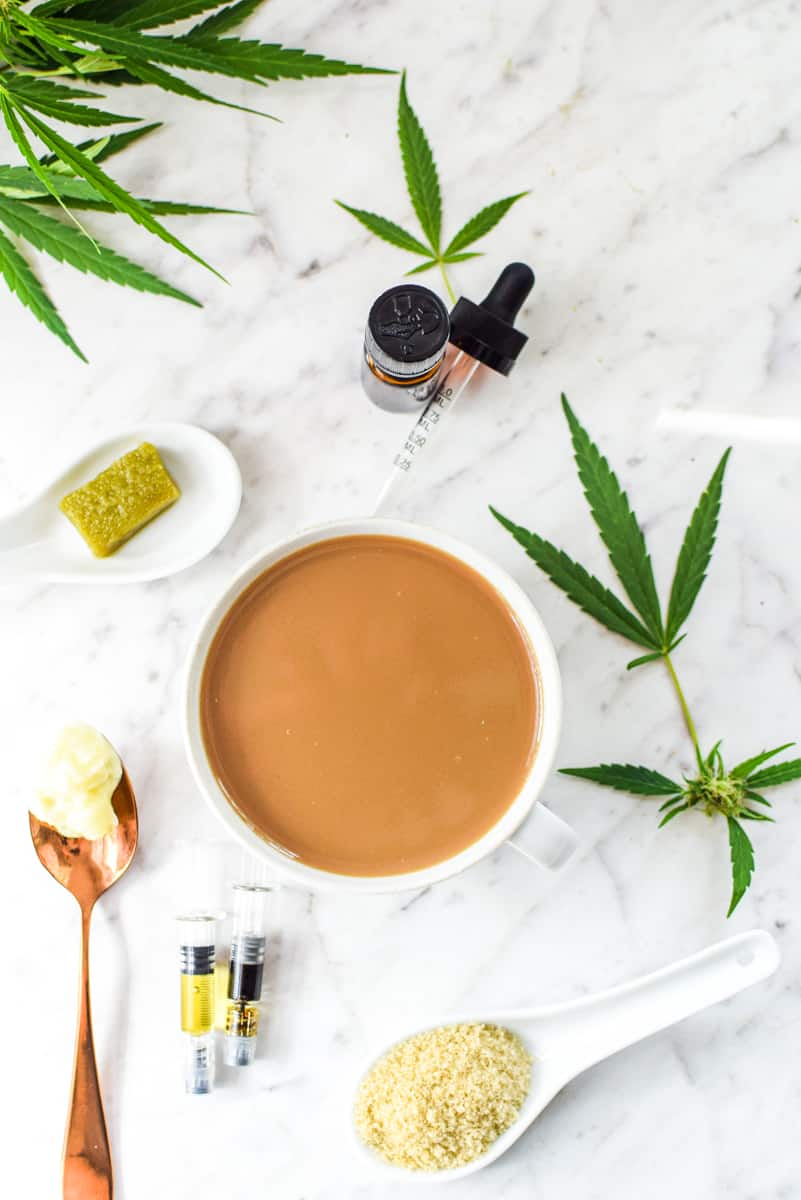 How to Determine The Dosing
Want to get a more accurate guesstimate of the potency of your cannabis infusions and extractions? Try our popular edibles calculator!

Want To Make This Easier? Use A Machine!
If the process of decarbing and infusing feels like too much work, these countertop devices may be a perfect all-in-one solution!
Two of the most popular brands include the LĒVO and the Ardent. Review the six most popular infusion machines here.
Want A Discount Code?
Enhance Your Cannabis Education
My beginner-friendly Cannabis Compass Online Course will show you how to dose, use, and apply cannabis safely and effectively so that you can begin to manage your most unwanted symptoms the natural way from the comfort of your own home.

Learn more and enroll today →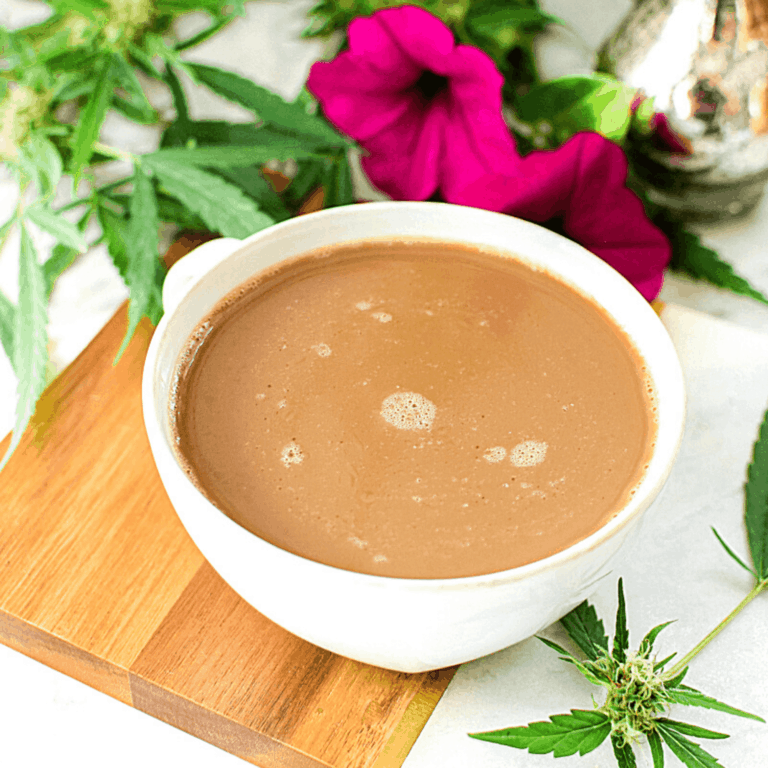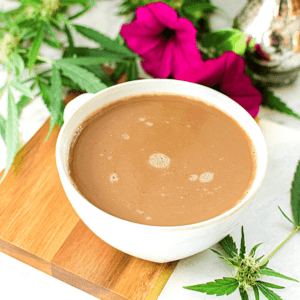 9 Ways To Make Cannabis Coffee
Learn how to make the smoothest, most delicious cup of cannabis-infused coffee for a delicious way to start your day - wake and bake style. You can easily customize this cup of cannabis coffee to your personal coffee preferences by controlling the sugar, creamer, and other additional ingredients.
Instructions
Brew the coffee according to your favorite method of choice.

In your favorite mug, add the cannabis oil and lecithin.

Pour the hot coffee into the mug.

Stir in your sugar, milk, coffee creamer, or any other coffee additive you want and enjoy.
Notes
*I recommend adding ¼ teaspoon of lecithin per 8 ounces of liquid. If you're making a larger cup of coffee, adjust as needed.
*While I prefer to use liquid sunflower lecithin as the emulsifier, granulated or powdered lecithin will work just fine.
Nutrition
Serving:
1
g
Calories:
20
kcal
Carbohydrates:
4
g
Sodium:
5
mg
Sugar:
4
g