One of the best part of cold weather is by far the warm and soothing drinks! That's why I went ahead and upgraded the classic winter hot cocoa to include the amazing benefits of cannabis. This creamy cannabis hot chocolate will leave you wanting seconds. And, it's ready in under 10 minutes! Keep reading to find out how to make this recipe with multiple different infusion options.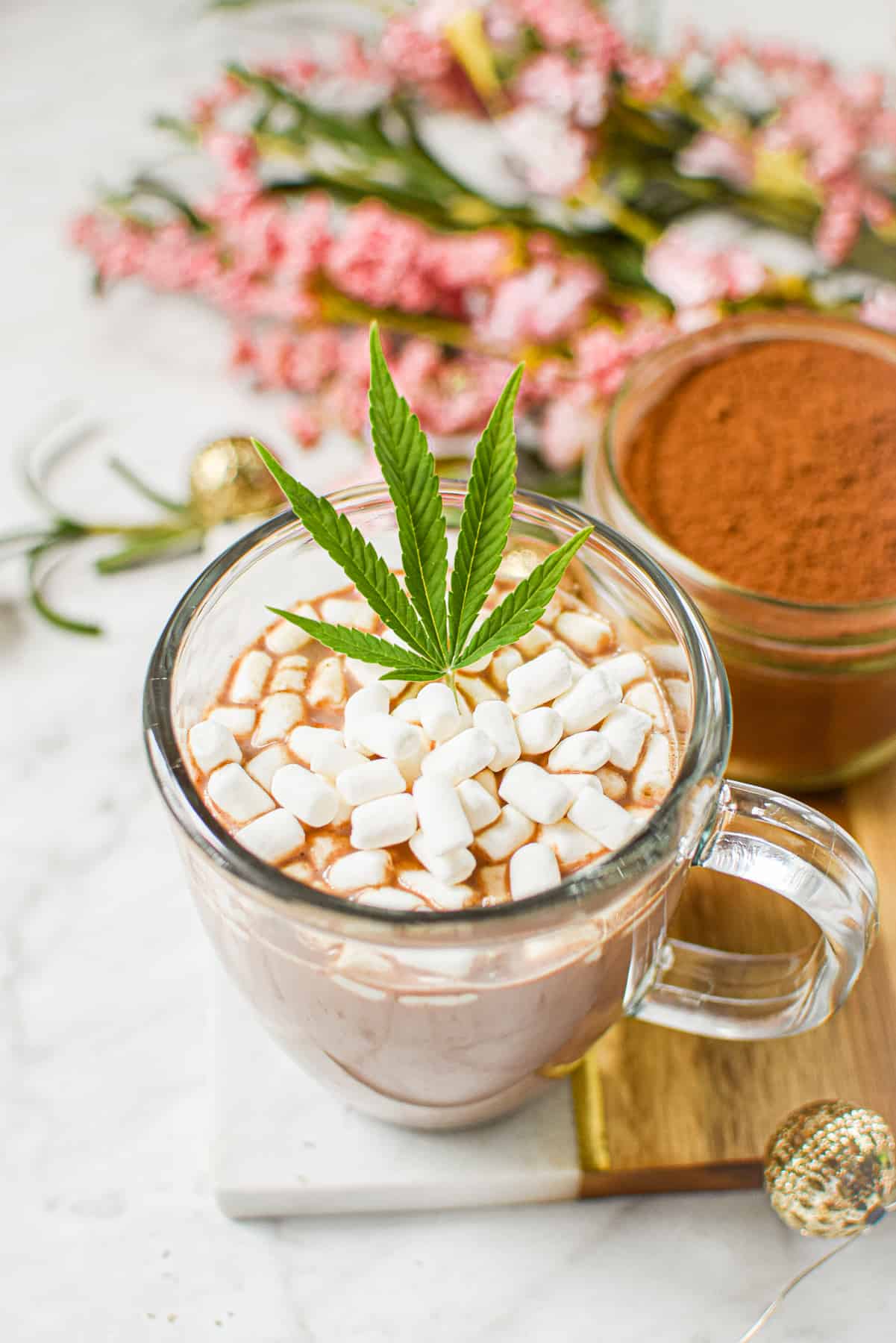 Features
The perfect soothing winter drink!
Just 5 simple ingredients needed.
Ready in under 10 minutes!
Sweet and subtle flavor with a smooth texture.
Includes instructions for making just cocoa mix, which is perfect for on the go or gift-giving!
Dietary Features: gluten-free, nut-free, egg-free. Can be made: dairy-free, vegan & vegetarian.
Why You Will Love This Recipe
Our favorite childhood drink has undergone a fantastic adult transformation! Have your hot cocoa and drink it too with this cannabis-infused hot chocolate recipe - it's the best of both worlds!
I can picture it now, the fire place is on, light Christmas music is playing in the background, and a sweet cannabis hot chocolate is readily in hand. Ahhh, now that's what I call paradise.
That's why my Well With Cannabis Community has been requesting all the sweet and savory winter-time treats. And, when they talk I listen!
In this post we'll explore how to make this cannabis hot chocolate, all the equipment and tools that you'll need, different infusion options, as well as fully answered FAQ's.
Join The Community
Ingredient Notes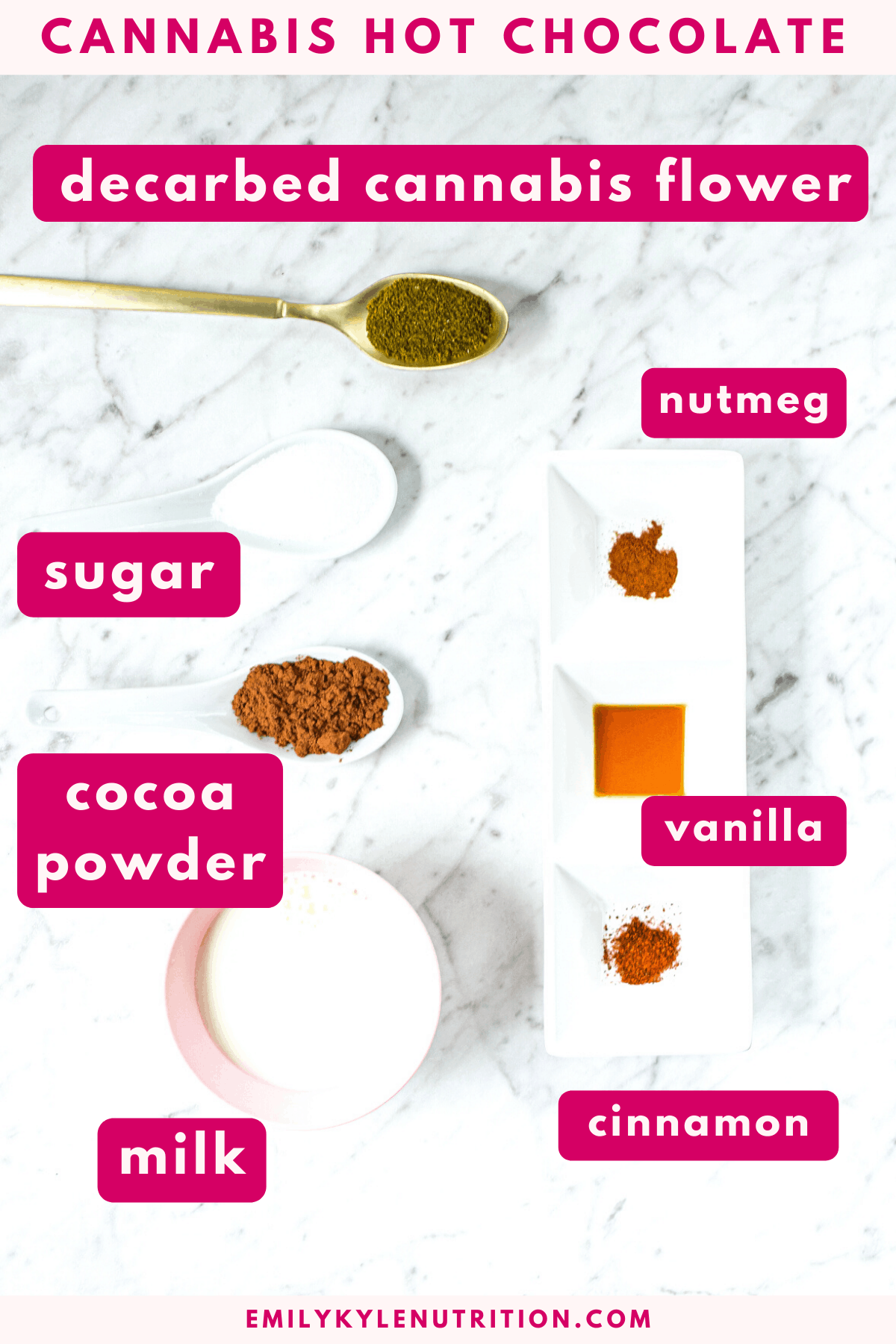 Decarbed Cannabis Flower: This is what will infuse this recipe with all the cannabis goodness. Just be sure to decarb first. I also include alternative infusion options below if this isn't your style.
Sugar: White, granulated sugar is used, but you can use any type of sugar or sugar substitutes as desired.
Cocoa Powder: To give this drink a chocolatey taste, just be sure to use unsweetened.
Milk: Feel free to substitute any milk of choice, dairy or dairy-free.
Note: a complete list of ingredients with amounts and printable instructions is located in the recipe card below.
The Step-by-Step Process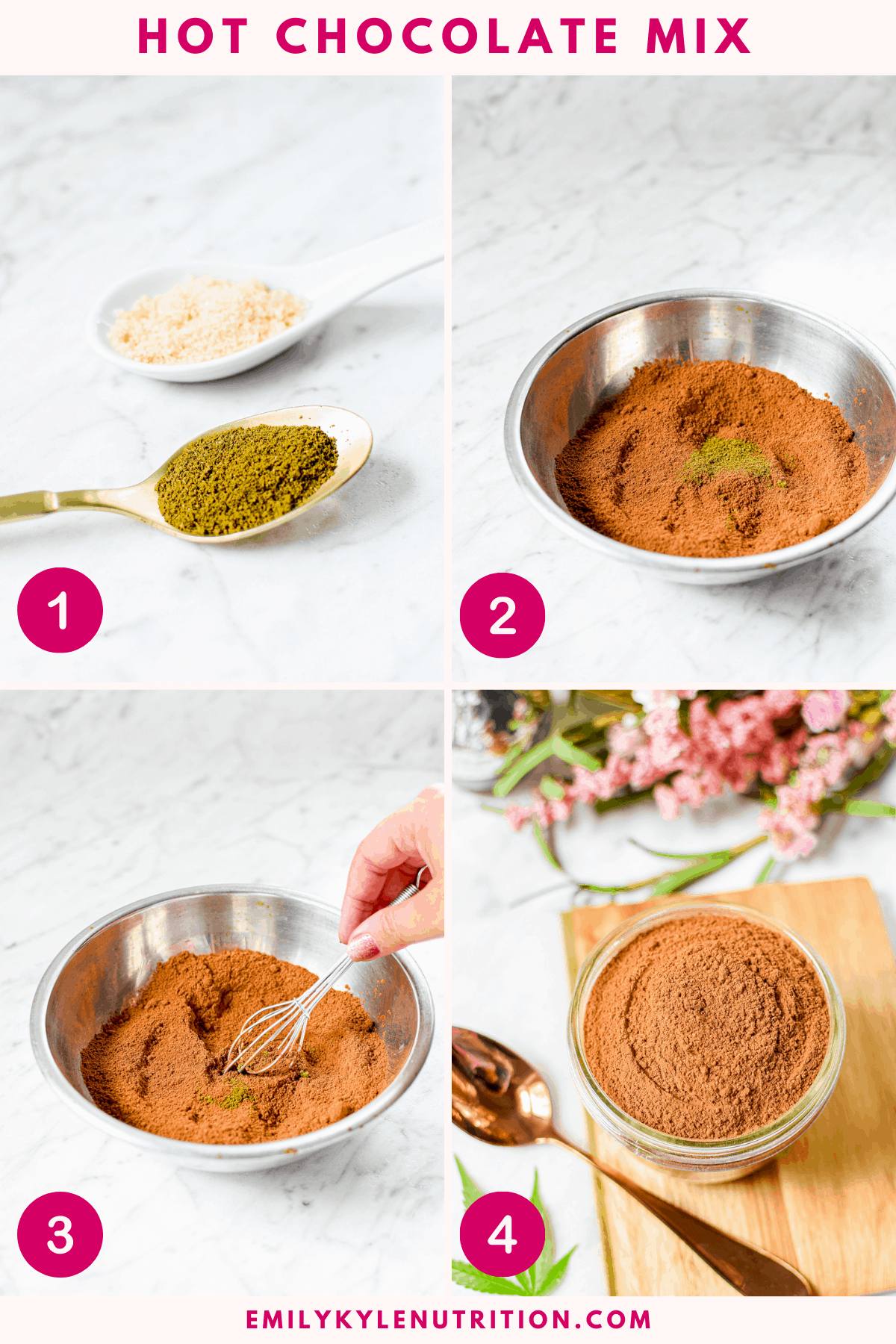 To Prepare Just Hot Cocoa Mix:
Step 1 -

Prepare either ground cannabis powder or cannabis sugar. Decide how many servings you want to make and scale the recipe accordingly.

Step 2 - In a small bowl, add the cannabis powder, cocoa powder, sugar, ground cinnamon, and ground chipotle, if using.
Step 3 - Whisk well until all ingredients are well incorporated.
Step 4 - Store in an airtight jar until ready for use.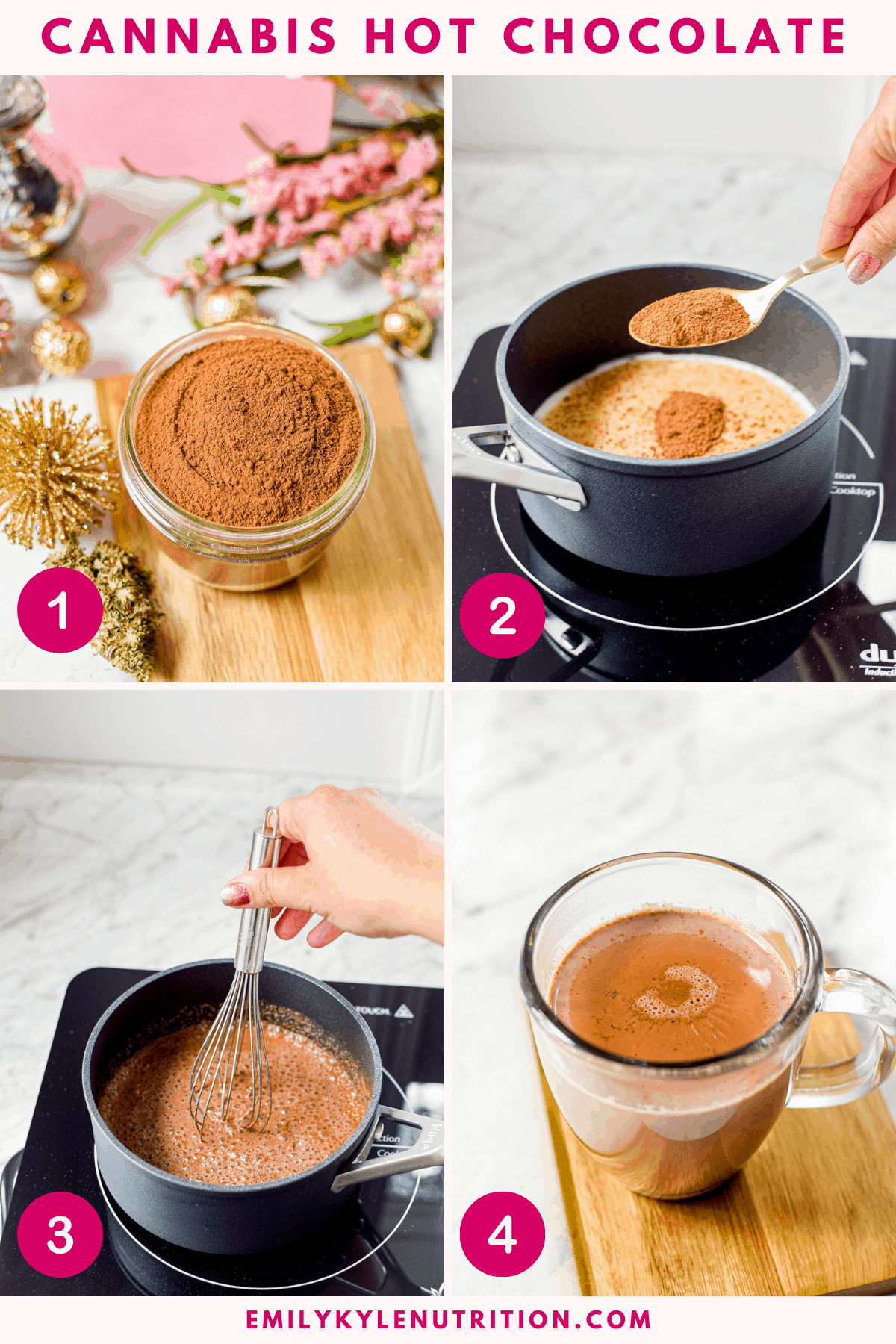 To Prepare the Hot Cocoa:
Step 1: Prepare the hot cocoa mix.
Step 2: In a small sauce-pan over low heat, add the milk and hot cocoa mix. Whisk well until all ingredients are well incorporated.
Step 3: Heat slowly, stirring occasionally, until the milk is heated through, about 170-180°F. Be careful not to boil.
Step 4: Pour into your favorite mug and enjoy.
Note: complete step-by-step printable instructions are located in the recipe card below.
Storage Instructions
For the cocoa mix, store in an air tight container in a cool and dry place for up to two months. For prepared cocoa, enjoy right away.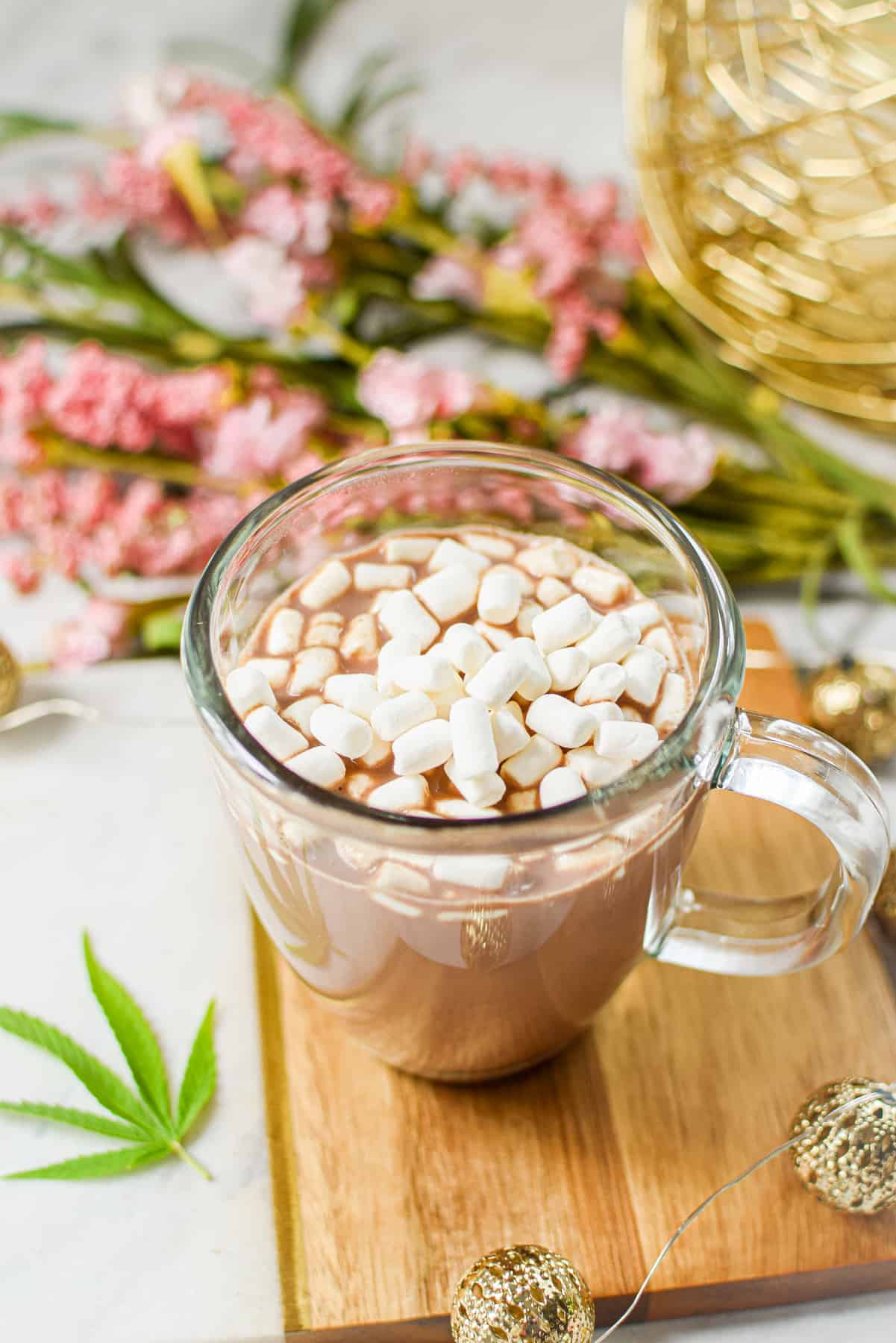 Alternate Cannabis Infusion Options
As with all things edibles, there is more than one way to infuse something. Below we will explore all of the different ways you could infuse this recipe.
Just Decarbed Cannabis
My preferred way to infuse this recipe is just adding straight ground, decarbed cannabis. You can decarb the flower ahead of time using either an oven or an Instant Pot.
Once ready, run the flower through a coffee grinder so it is a very fine, powdery consistency. You can also use kief here as well.
Due to the potency of decarbed flower and kief, you should only need to use a very small amount, just a gram or so, maybe less depending on the strain you have.
If you don't like the taste of cannabis, this may not be the best infusion option for you, check out the alternative options below.
Cannabis Milk
Making cannabis infused milk or cream is a great way to infuse this hot cocoa. Just be sure to get the dosing recommendations given in this post, to ensure you're not overdoing it!
Cannabis Sugar
If you have cannabis sugar already made, it can be one of the easiest ways to infuse this recipe.
Made from either the Green Dragon or Golden Dragon tincture, cannabis sugar is shelf-stable and would be perfect for infusing pre-made mix.
Cannabis Tincture
Infusing this hot cocoa with an alcohol-based cannabis tincture would work, too. The heat from the hot milk will help to evaporate the alcohol, leaving you with a perfectly infused drink.
Cannabis Oil
While it may leave a slight bit of oil floating on top of your drink, you can add a bit of cannabis oil to your hot cocoa. Coconut oil, MCT oil, and even CBD oil would all work well here.
Cannabis Powder
While I have not tried this method myself, using a cannabis maltodextrin powder should work in this recipe, too.
How to Determine The Dosing
Want to get a more accurate guesstimate of the potency of your cannabis infusions and extractions? Try our popular edibles calculator!

Notes and Expert Tips
To tone up or tone down the spice content of this recipe, feel free to adjust the amount of chipotle peppers added.
Feel free to use mini or classic marshmallows!
This recipe can be used to make a pre-made mix that is the perfect cannabis Christmas or holiday present.
Once mixed with milk, it is best to consume right away.
Frequently Asked Questions
Cannabis hot cocoa can be brand new to even the most seasoned cannabis consumer, so here are some of the most common FAQs I get asked about this drink from my Well With Cannabis Community.
Can I use another kind of milk?
Yes! Non-dairy and lactose-free milks are incredible in this recipe. Use what you prefer and can tolerate.
Can I use this mixture in chocolate bombs?
Absolutely! In fact, I did just that in my cannabis hot cocoa bomb recipe. Check it out!
What if I don't really like spicy drinks?
It's not unbearably spicy. However, totally feel free to leave the chipotle peppers out.
What do you recommend pairing this drink with food-wise?
You really can't go wrong with any pastry option. However, I really enjoy the classic chocolate chip cookie.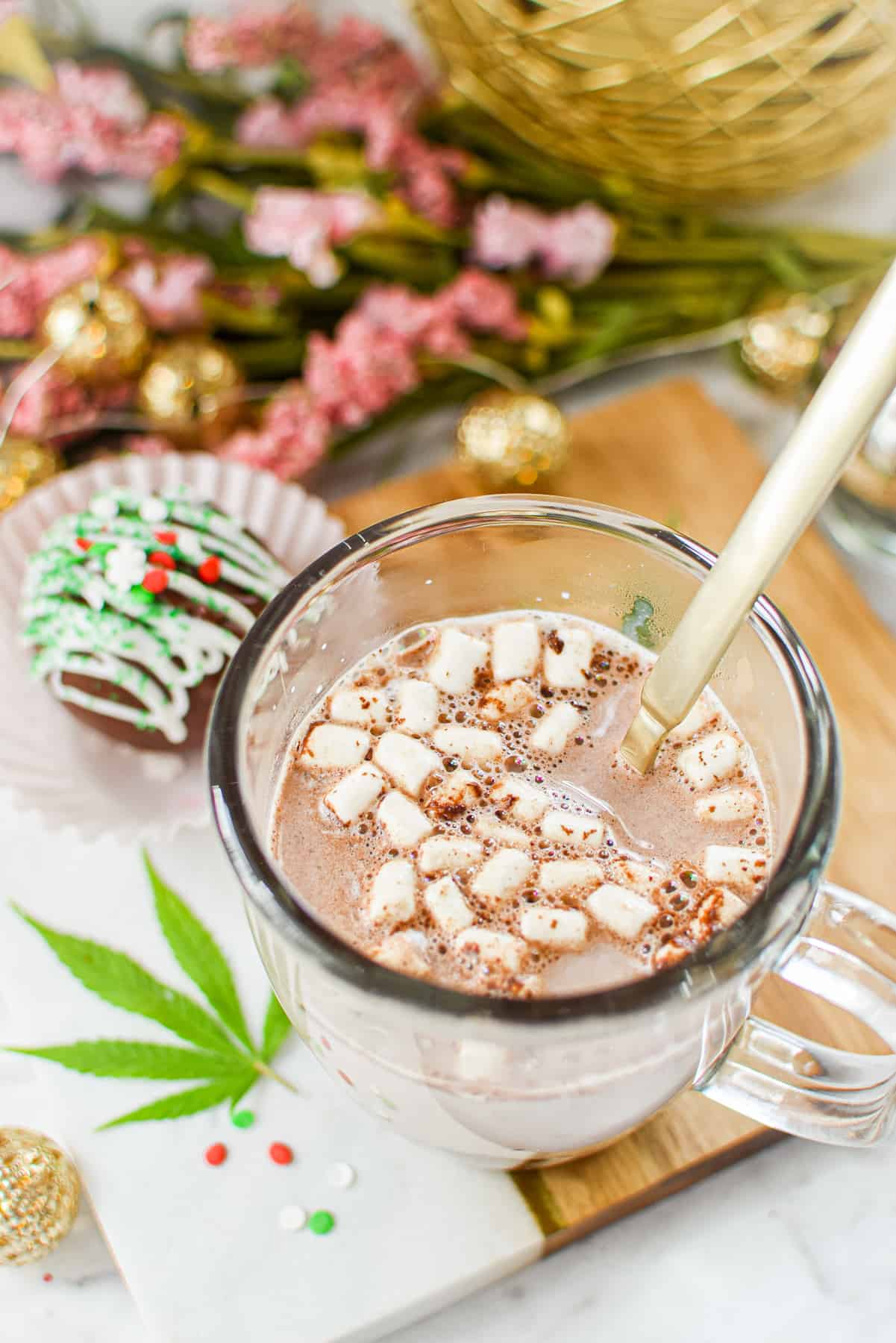 Want To Make This Easier? Use A Machine!
If the process of decarbing and infusing feels like too much work, these countertop devices may be a perfect all-in-one solution!
Two of the most popular brands include the LĒVO and the Ardent. Review the six most popular infusion machines here.
Want A Discount Code?
More Cannabis Chocolate Recipes You Will Love
Enhance Your Cannabis Education
My beginner-friendly Cannabis Compass Online Course will show you how to dose, use, and apply cannabis safely and effectively so that you can begin to manage your most unwanted symptoms the natural way from the comfort of your own home.

Learn more and enroll today →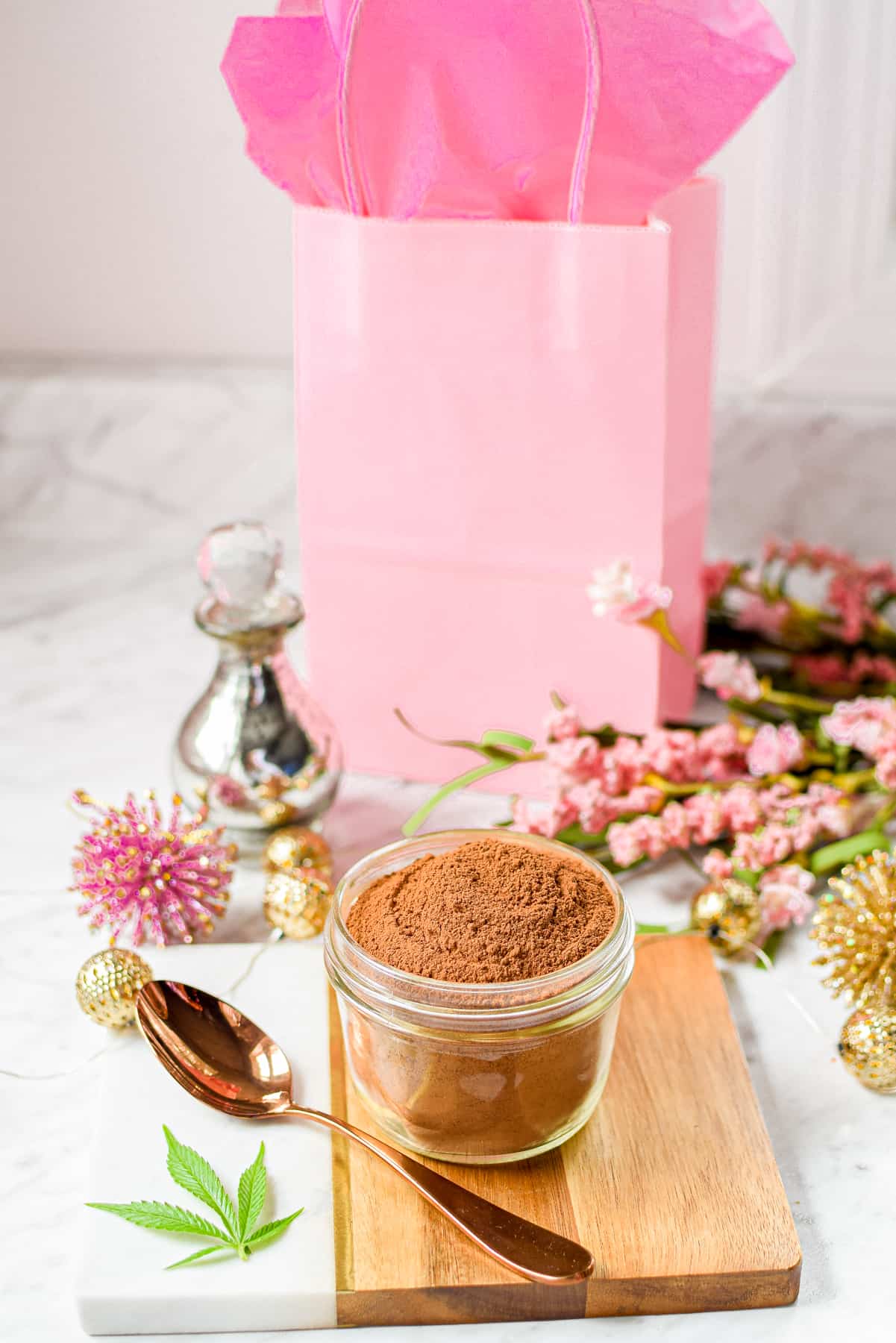 Creamy Cannabis Hot Chocolate
What could warm you up better from the inside out than a cup of creamy hot chocolate on a chilly winter day? This creamy, classic hot chocolate has an extra rich flavor with the addition of vanilla extract, ground cinnamon, and the optional ground chipotle peppers which really give this drink a subtle kick.
Instructions
In a small sauce-pan over low heat, add the milk, cocoa powder, sugar, ground, decarbed cannabis, vanilla extract, ground cinnamon, and ground chipotle, if using.

Whisk well until all ingredients are well incorporated.

Heat slowly, stirring occasionally, until the milk is heated through, about 170-180°F. Be careful not to boil.

Pour into your favorite mug and enjoy.
Notes
If you do not want to use ground, decarbed cannabis in this recipe, check out the multiple different infusion options listed under the heating Alternative Infusion Options outlined above.
Nutrition
Serving:
1
cup
Calories:
210
kcal
Carbohydrates:
27
g
Protein:
9
g
Fat:
9
g
Saturated Fat:
5
g
Polyunsaturated Fat:
1
g
Monounsaturated Fat:
2
g
Cholesterol:
24
mg
Sodium:
107
mg
Potassium:
400
mg
Fiber:
2
g
Sugar:
25
g
Vitamin A:
396
IU
Vitamin C:
1
mg
Calcium:
285
mg
Iron:
1
mg