Creamy and minty, this delicious chocolate CBD smoothie makes a decadent yet refreshing breakfast, snack, or even dessert. The bananas make a light and creamy base, and the cocoa powder and mint complement one another perfectly to create a clean-eating treat that will become your new favorite.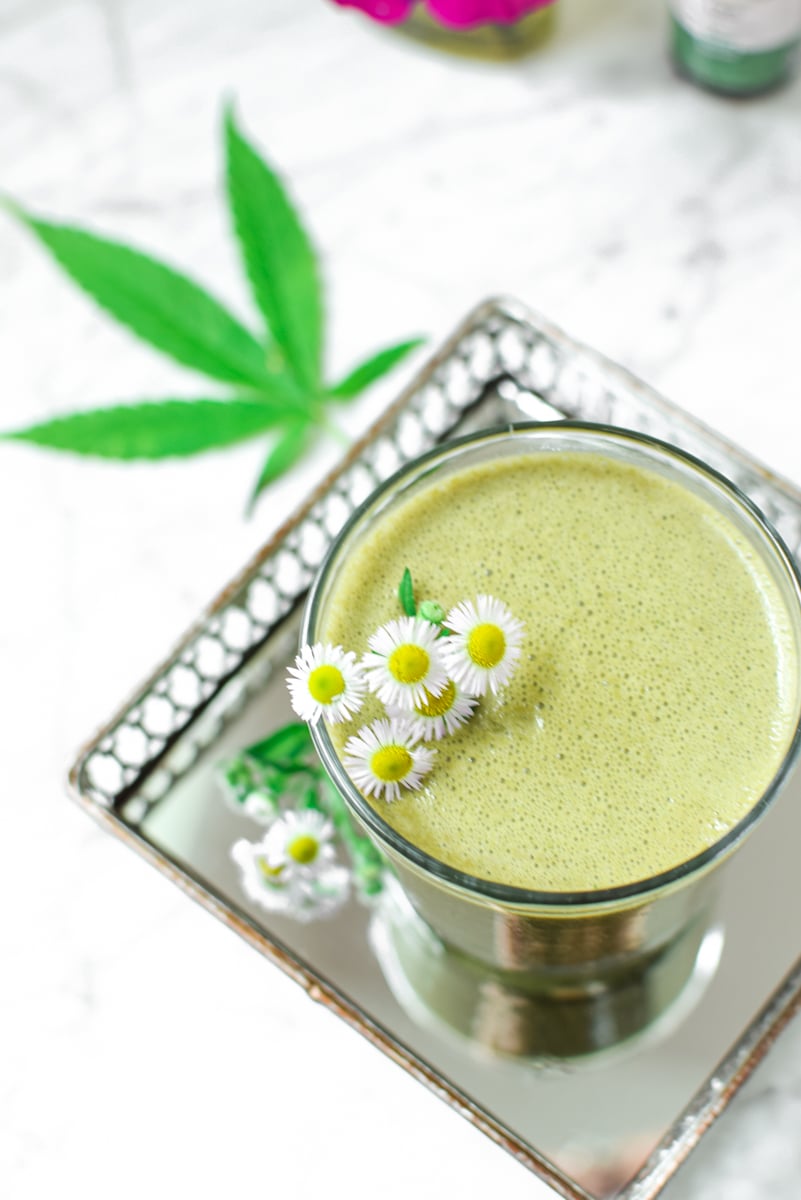 Mint Chocolate CBD Smoothie
I am so excited to sneak-peak this recipe Mint Chocolate CBD Smoothie that is coming out in my 4th cookbook, The Clean Eating Meal Prep Cookbook, that will be published in January 2021.
While the original recipe in the cookbook does not contain CBD, we've added it in here to give you an extra anti-inflammatory boost! Adding CBD to a smoothie is one of the many ways you can enjoy cooking with CBD at home.
If you've never added CBD to your smoothie before, be sure to get my How to Make a Healthy CBD Smoothie Guide here!
Clean Eating CBD Smoothie Ingredients
All of the ingredients used in this recipe, including the CBD, fit the clean eating lifestyle perfectly, and below we will explore the benefits of each.
Full-Spectrum CBD Oil
The best CBD smoothie starts with the best CBD oil, which is why we exclusively recommend our own full-spectrum CBD oil.
Emily Kyle partners with VivaOil and Colorado farmers who have bred specific strains of hemp that maximize the output of cannabinoids like cannabidiol (CBD) and terpenes such as limonene and myrcene.
Using precise supercritical CO2 extraction, our technicians use pressure, temperature, and time to extract only the desired cannabinoids, flavonoids, and terpenes, while leaving behind all unwanted plant materials.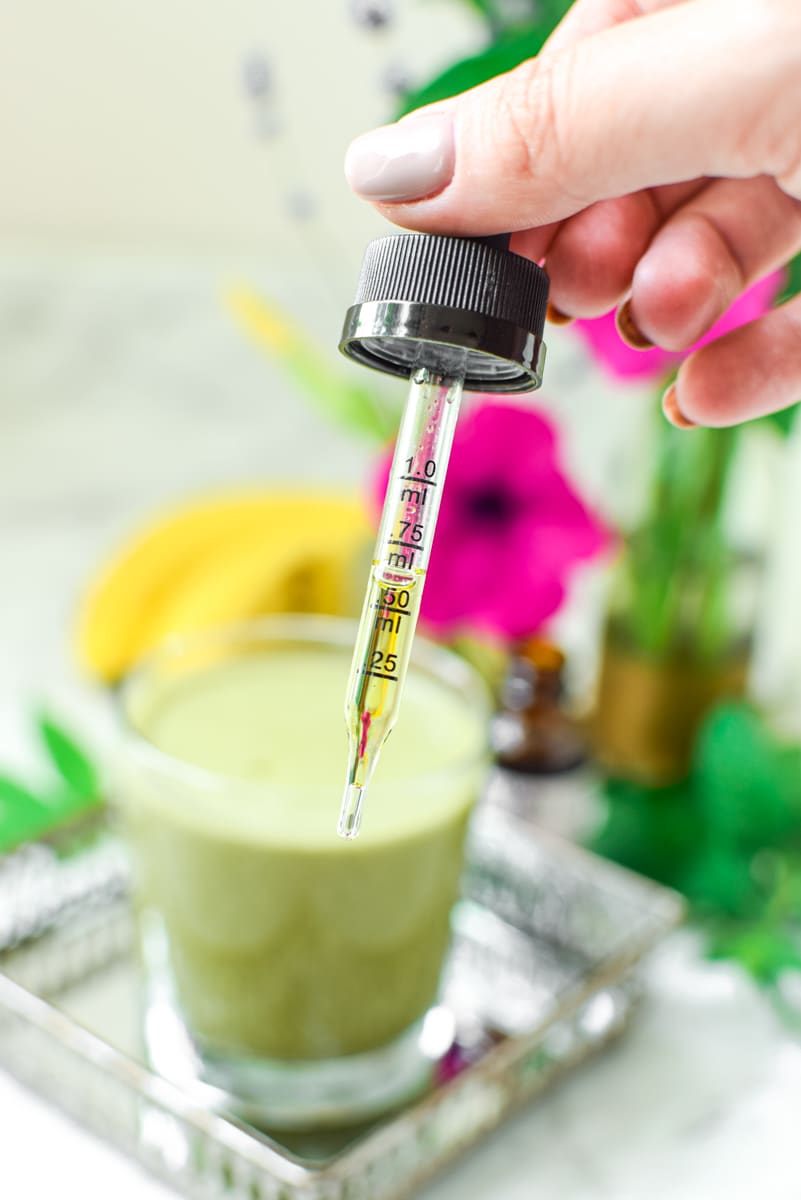 Bananas
Bananas are an amazing source of magnesium which can help build muscle, as well as recover faster.
Bananas can even help put you in a better mood because bananas contain high amounts of vitamin B9 (folate), which is known to fight depression by boosting a substrate that has antidepressant properties.
Bananas are also great for better sleep, lowering blood pressure, decrease bloating, and aid in healthy digestion.
Spinach
Spinach is one of my favorite leafy greens to add to a smoothie. I add it to almost every smoothie because it is packed with vitamins and minerals )and you can't even taste it!)
Spinach is rich in vitamins A, C, K, magnesium, and iron. Whether it be emotional or physical, our bodies suffer from stress every day. Spinach helps reduce oxidative stress in the body, keeping us very healthy.
Spinach is also known to help in reducing blood pressure and boost immunity, among other health functions.
Your Choice of Milk
As we know, milk contains proper amounts of calcium and protein. However, if you are looking for a dairy-free alternative, switching milk for any type of plant milk will do just fine!
Plant milk substitutions: Almond milk, hemp seed milk, pea milk, oat milk, soy milk, cashew milk, and even sunflower seed milk.
Greek Yogurt
Yogurt is also known to be high in protein as well as aid in preventing osteoporosis. However, dairy products like full-fat Greek yogurt are not for everyone. If you are looking for a dairy-free option, substituting full-fat greek yogurt for a plant-based yogurt is totally doable!
There are many types of delicious dairy-free yogurts made from almonds, cashews, oats, and even this easy 2-ingredient homemade coconut milk yogurt.
Unsweetened Cocoa Powder
Cocoa powder is so delicious, it's even hard to believe it is nutritious! Cocoa powder is rich in polyphenols which provide several health benefits including reduced inflammation, better blood flow, lowering blood pressure, and reducing cholesterol.
However, when shopping for cocoa powder it is very important to get a natural brand, rather than a processed powder. The natural version of cocoa powder is what contains all the nutrients. When it is processed it loses most of its medicinal properties.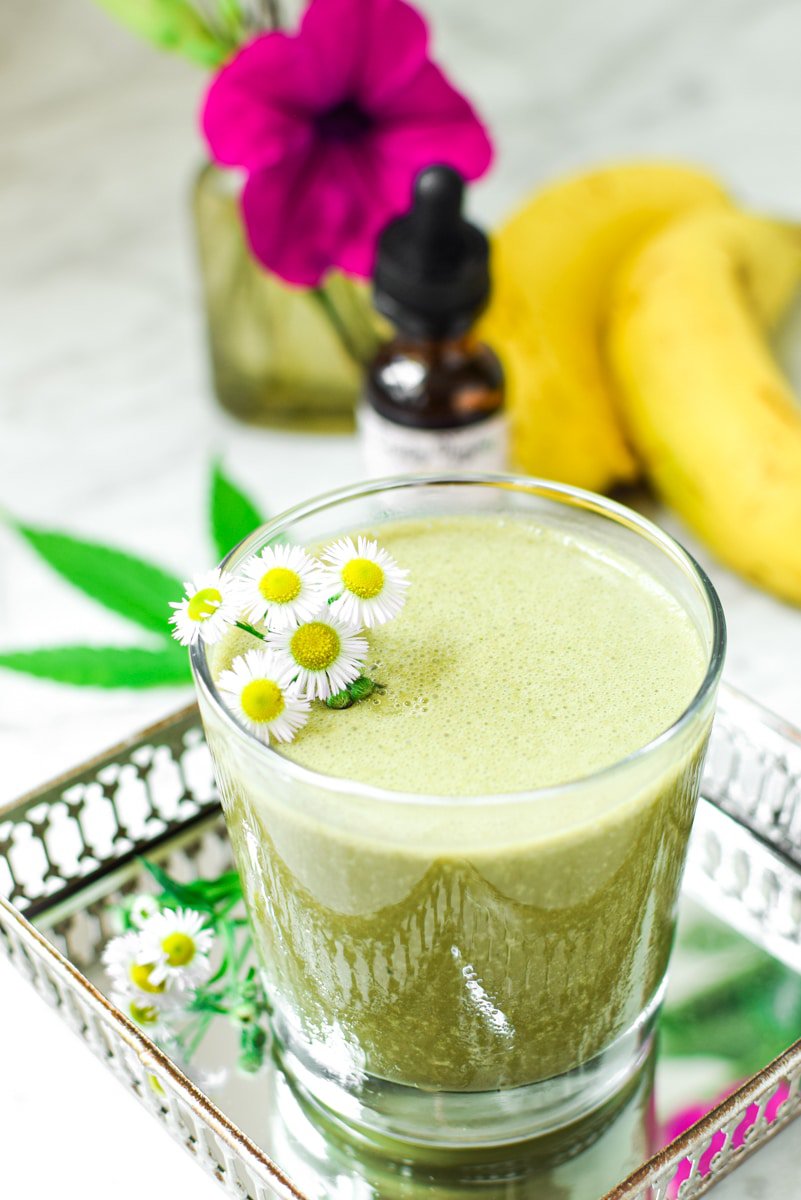 CBD Smoothies Made with Functional Foods
CBD oil and other cannabis products could be considered the ultimate functional food, as the definition of a functional food is a food that has a potentially positive effect on health beyond basic nutrition, as it activates the endocannabinoid system.
In addition to many nutritional benefits that are typically associated with dark-green leafy vegetables, the cannabis plant also contains unique phytocannabinoids and terpenes that provide enormous contributions to our health maintenance and restoration.
Terpenes Found in Chocolate CBD Smoothie
Linalool, myrcene, and ocimene are the three terpenes identified in chocolate. A scientific study showed how intricate the process of making chocolate and by producing it a certain way may almost double the terpene content.
To be specific, common kitchen equipment such as a kitchen mixer for the production of chocolate increased the chocolate terpenes content seven-fold. The data from the study shows that kitchen mixer used lower temperatures and reduced RPM compared to transitional methods (1).
Menthol Terpenes in CBD Smoothue
Mint, the menthol terpene is one of the most beneficial terpenes to exist. With its array of unique medicinal properties, menthol used orally or topically is a great natural alternative for many different purposes.
Menthol is commonly known as an antibacterial, meaning it destroys and inhibits the growth of fungi. Topical use on an open wound or injured areas can help speed up recovery time.
Menthol can be used for numbing. The cooling sensation that comes from using this terpene has a desensitize effect which is useful when dealing with bug bites, carpet burn, recovery from surgery and any irritated area on the skin.
Menthol can also be used for headache relief, reducing fever, protects for cancer treatment side effects, reduces acne, stimulates hair growth, and even for treating asthma (2).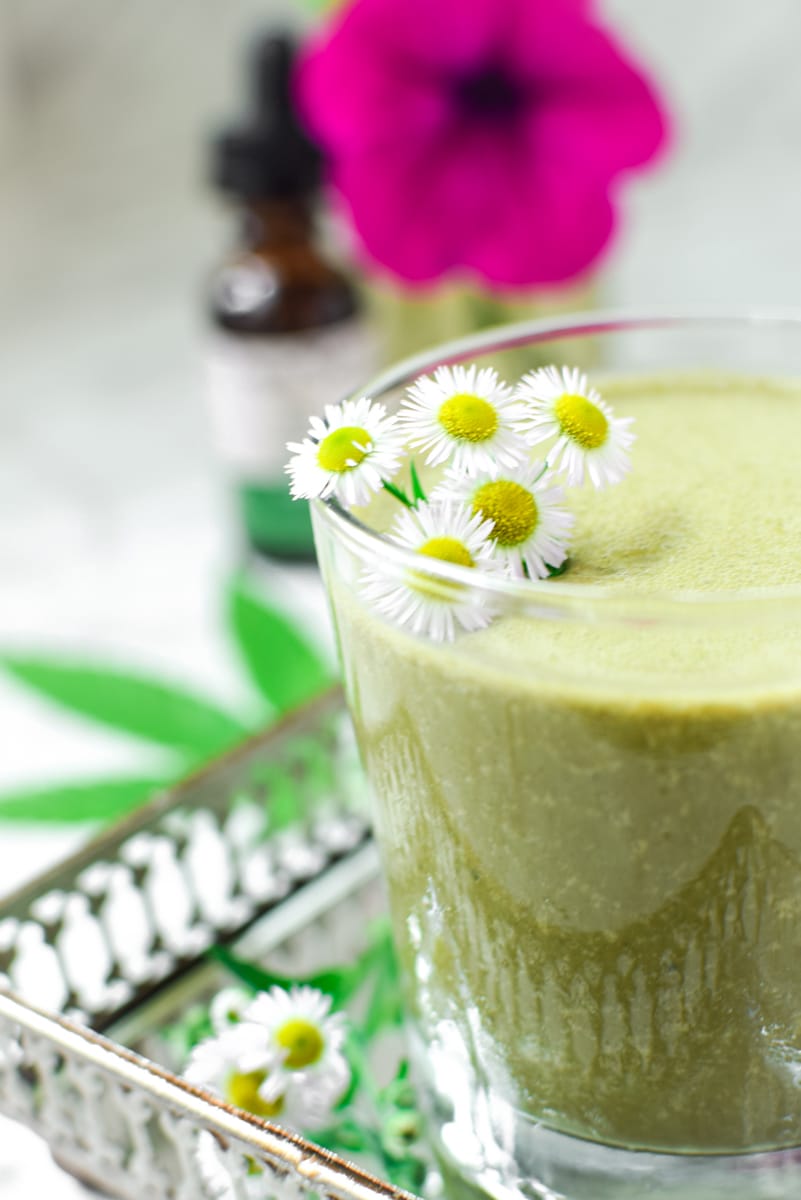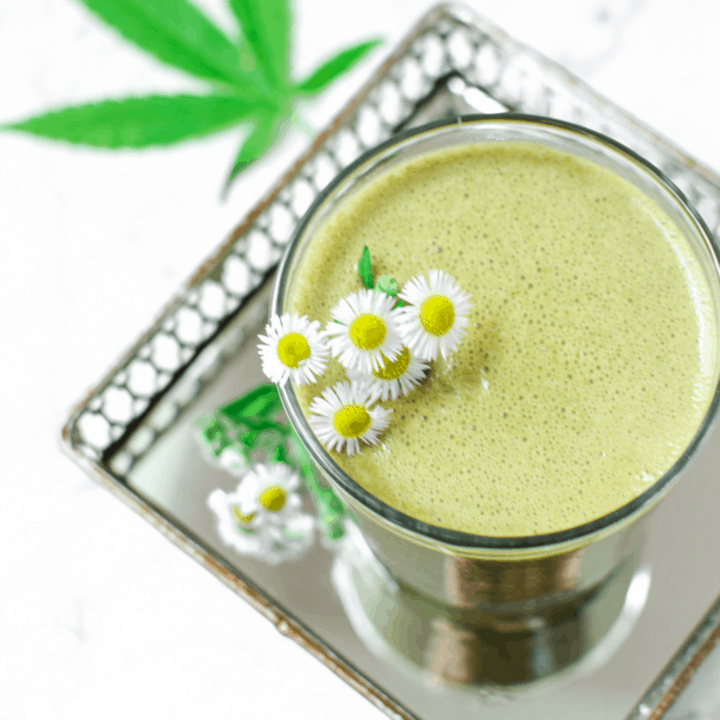 Mint Chocolate CBD Smoothie
Creamy, minty, and chocolatey, this smoothie makes a decadent yet refreshing breakfast, snack, or even dessert. The bananas provide a light and creamy base, and the cocoa powder and mint complement one another perfectly to create a clean-eating treat that will likely become a favorite.
Ingredients
2 bananas, peeled
1 cup lightly packed spinach
1 cup ice
¾ cup milk
¼ cup plain Greek yogurt
1 tablespoon cocoa powder
1 teaspoon chopped fresh mint
¼ teaspoon vanilla extract
Instructions
Add the bananas, spinach, ice, milk, yogurt, cocoa powder, mint, and vanilla extract to a high-speed blender.
Blend for 2 minutes or until completely smooth, scraping down the sides as necessary.
Enjoy!
Notes
Storage: Store in the refrigerator for up to 5 days. Shake well before enjoying it.

Substitution Tip: If you don't have any fresh mint, swap in ¼ teaspoon mint extract or food-grade peppermint essential oil.
Recommended Products
As an Amazon Associate and member of other affiliate programs, I earn from qualifying purchases.
Looking for more CBD Smoothies?
Check out our other delicious CBD Smoothie recipes:
Elevate Your Cannabis Education!
The Cannabis Compass Online Course teaches you how to use, apply, and dose all forms of cannabis safely and effectively so that you can begin to manage your anxiety, pain, and/or inflammation from the comfort of your own home.

Learn More & Enroll Today