Creamy and delicious, this mint chocolate cannabis smoothie makes a decadent breakfast, snack, or even dessert. The bananas make a light and creamy base, and the cocoa powder and mint complement one another perfectly to create a healthy cannabis treat complete with many different infusion options.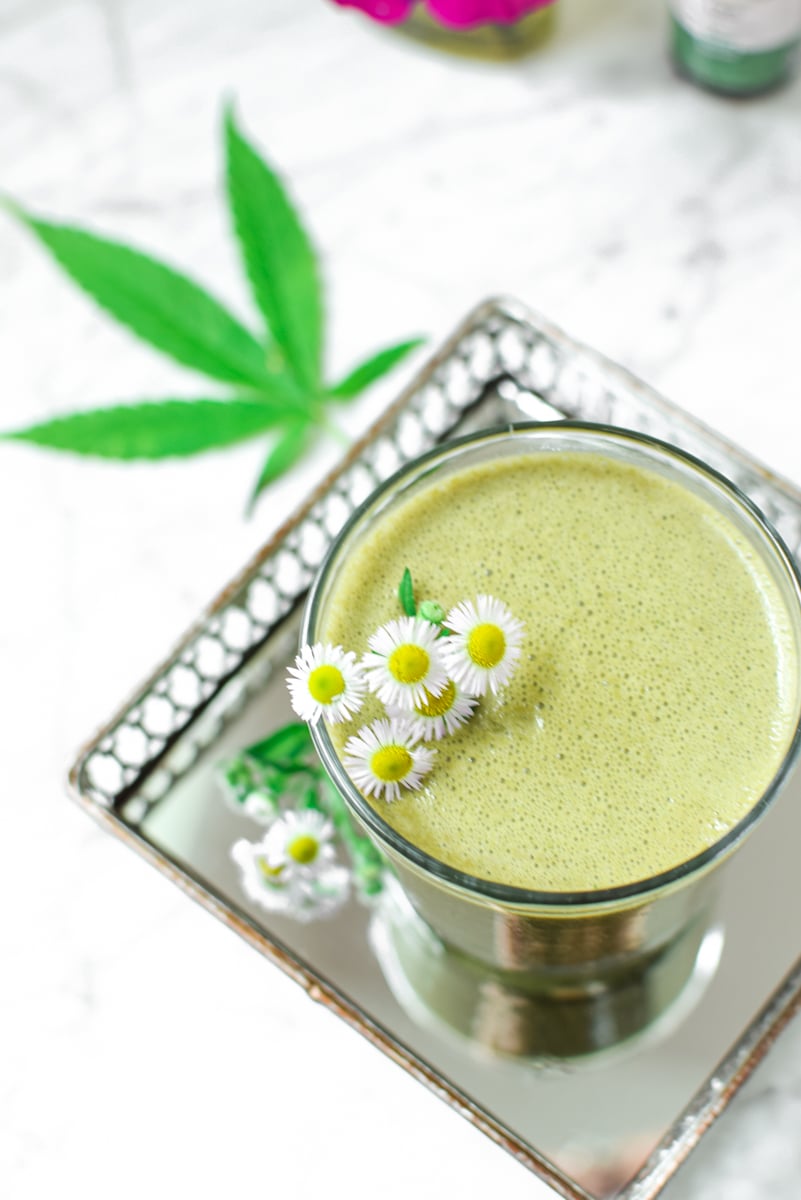 Mint Chocolate Cannabis Smoothie
I am so excited to share this delicious mint chocolate cannabis smoothie adapted from my 4th cookbook, The Clean Eating Meal Prep Cookbook, with you.
While the original recipe in the cookbook does not contain cannabis, we've added it in here with many different infusion options for you to choose from.
If you've never made a cannabis smoothie before, be sure to check out my How to Make The Perfect Cannabis Smoothie guide here!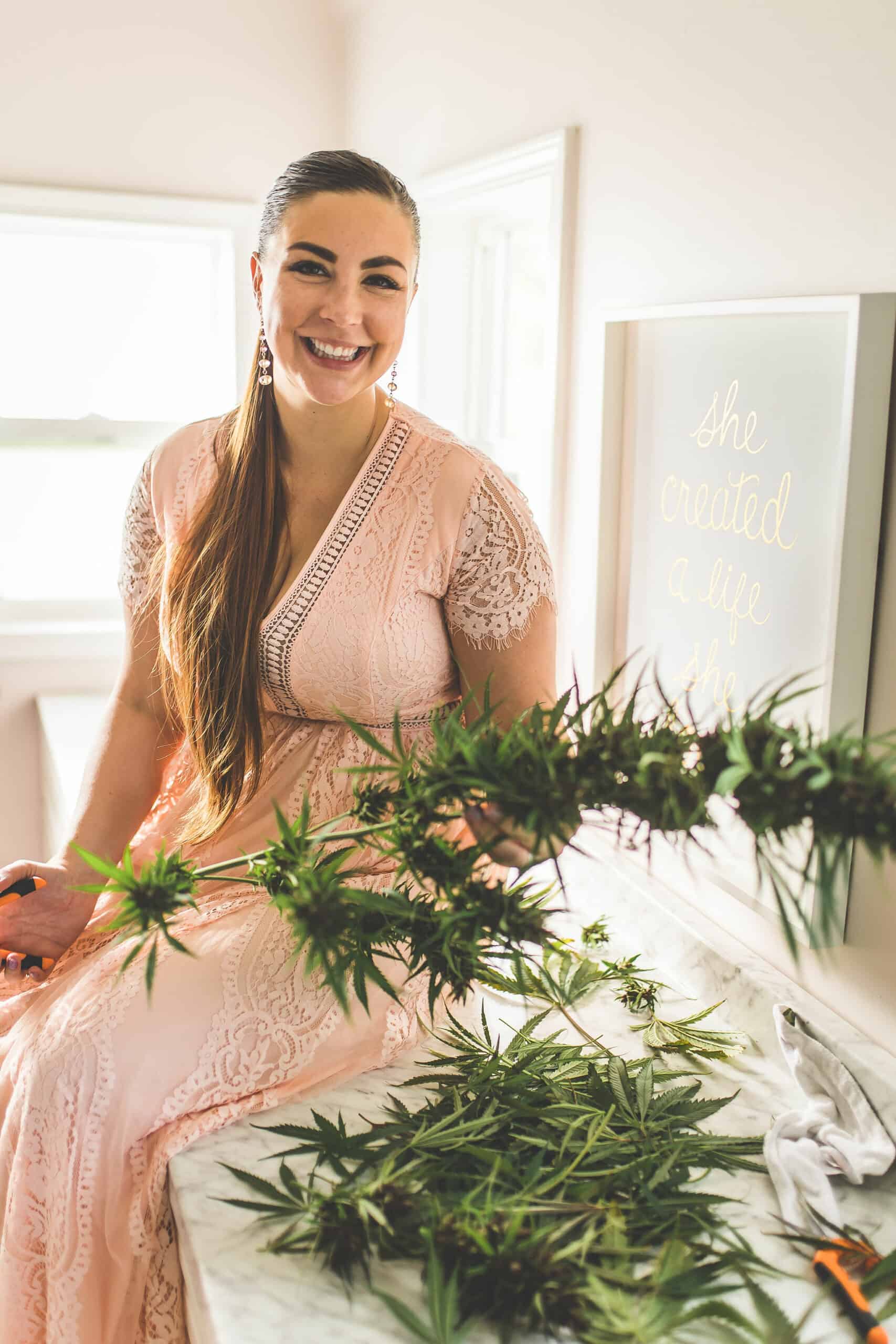 Looking For More Support?
Join thousands of members inside my private Well With Cannabis Community to ask questions, find support, and share your edible creations!
Clean Eating Smoothie Ingredients
Each of the ingredients used in this recipe fits the clean eating lifestyle perfectly, and below, we will explore the benefits of each one in this recipe.
Bananas
Bananas make the perfect base smoothie ingredient because of their flavor and texture.
Whether you want to use them raw or frozen, they help create the perfect consistency that makes this smoothie so silky and sippable.
Plus, adding bananas to a smoothie is the best way to use up those 'too soft' bananas on the counter.
Spinach or Raw Cannabis Leaves
Spinach is one of my favorite leafy greens to add to a smoothie.
It is packed with many vitamins and minerals, and truly you can't even taste it.
If spinach isn't your thing, one awesome thing you can do is swap the spinach for raw cannabis leaves.
If you are lucky enough to grow your own cannabis, you may enjoy saving the plant's fan leaves, and this is one of the best ways to use them up.
Terpenes Found in Chocolate and Cannabis
Linalool, myrcene, and ocimene are three terpenes found in chocolate, and they may also exist in raw cannabis plants as well.
And the terpene menthol, found in mint, is thought to be one of the most beneficial terpenes to exist.
With its array of unique properties, menthol used orally or topically is a great natural alternative with various purposes.
According to one study published in Phytochemistry, menthol can also be used for headache relief, reducing fever, reducing acne, stimulating hair growth, and even asthma (1).
Your Choice of Milk
As we know, milk choices really are a personal preference for everyone.
Luckily, this smoothie is flexible, and you can use any milk you desire, including cannabis-infused milk.
Whether it be traditional dairy-based or a dairy-free alternative, switching milk for any plant milk will work just fine.
Plant milk substitutions include:
Almond milk
Pea milk
Oat milk
Soy milk
Cashew milk
Greek Yogurt
Plain Greek yogurt is one of my favorite kitchen staples and is always in my refrigerator.
Whether it be for making homemade cannabis ranch dressing or a delicious smoothie like this, it works in my different sweet or savory applications.
However, I understand dairy products like full-fat Greek yogurt are not for everyone.
If you are looking for a dairy-free option, substituting full-fat greek yogurt for a plant-based yogurt is easy.
Many types of delicious dairy-free yogurts are made from almonds, cashews, oats, and even my easy 2-ingredient homemade coconut milk yogurt.
Unsweetened Cocoa Powder
Cocoa powder is so delicious, it's hard to believe it is nutritious, too.
When shopping for cocoa powder it is very important to get a natural brand, rather than a processed powder.
The natural version of cocoa powder is what contains more nutrients and beneficial ingredients.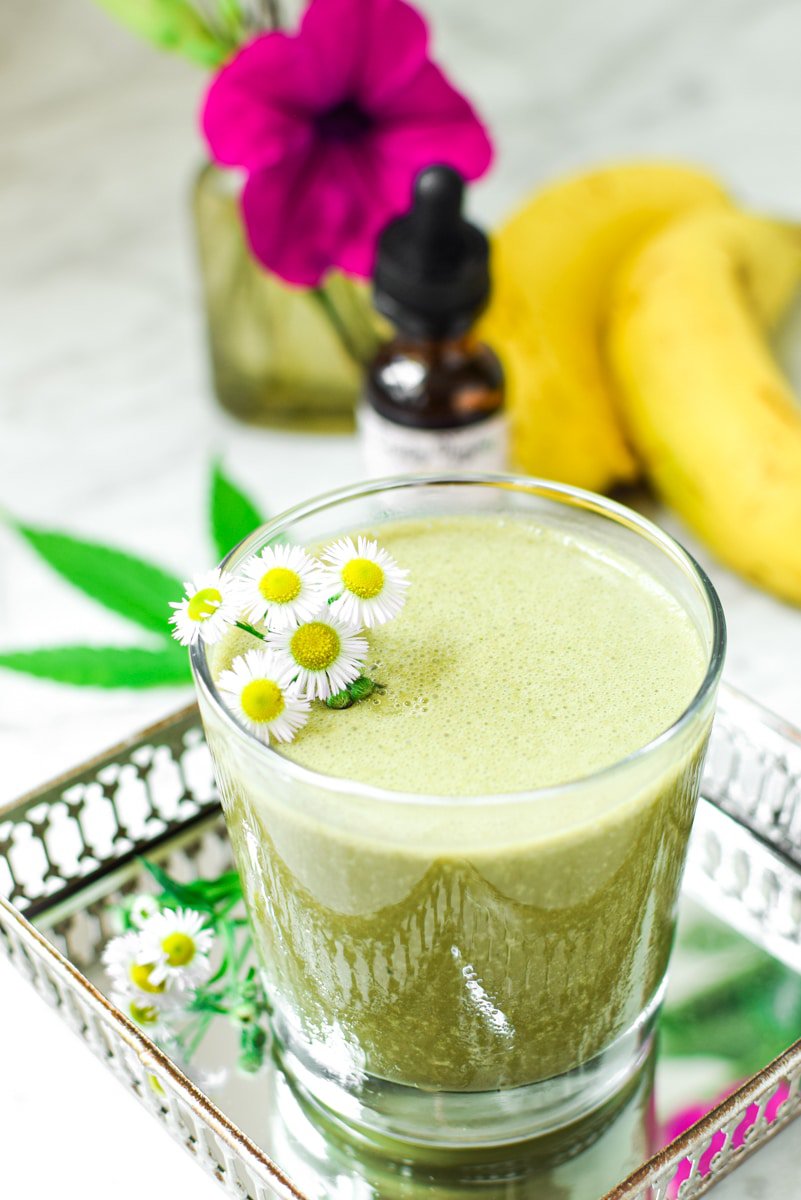 Cannabis Smoothie Infusion Options
There are many different ways to infuse your cannabis smoothie, and you can choose one based on what product you have available and your personal taste preferences.
Always remember to dose based on your own personal tolerance.
If you're not sure how to start, follow the golden rule: start low and go slow.
Below are just a few smoothie infusion options to choose from:
If you're unsure about which cannabis oil to use, be sure to check out this guide to understanding the many different types of cannabis oil.
And if you're unsure about how to incorporate any of these other infusion options into your smoothie, don't forget to check out this ultimate guide showing you how to make a cannabis smoothie.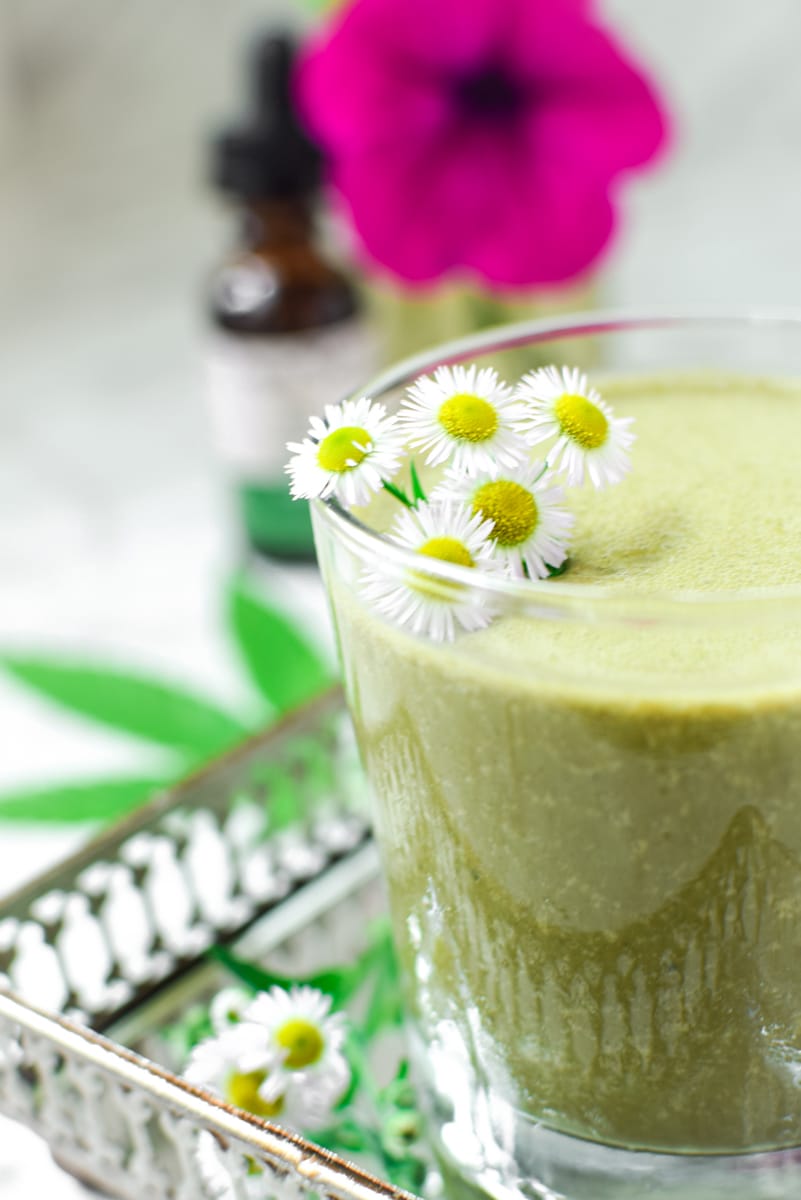 Looking for More Cannabis Smoothies?
Check out my other delicious cannabis smoothie recipes below:
And if you're struggling with the munchies, be sure to get my 10 Helpful Tips for Managing the Munchies here!
Looking for more delicious cannabis drinks? Check out my Homemade Hemp Seed Milk and Cannabis Pumpkin Spice Latte or my 15 Easy Cannabis-Infused Drinks to Make at Home.
How to Determine The Dosing
Want to get a more accurate guesstimate of the potency of your cannabis infusions and extractions? Try our popular edibles calculator!
Not sure what your perfect dose is? Learn more here.

Want To Make This Easier? Use A Machine!
If the process of decarbing and infusing feels like too much work, an all-in-one countertop device may be a perfect all-in-one solution!
My personal favorite? The Ardent FX! Review the six most popular infusion machines here.
Want A Discount Code?
My Edibles Made Easy Online Cooking Course will teach you how to make cannabis edibles and topical recipes at home with ease. This step-by-step video course will teach you how to infuse, extract, and create edibles with many different product types - all from the comfort of your own home.

Learn more and enroll today →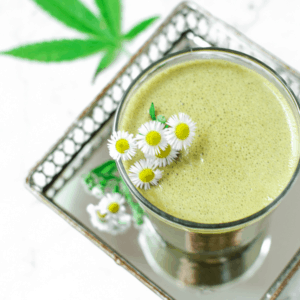 Mint Chocolate Cannabis Smoothie
Creamy and delicious, this chocolate mint smoothie makes a decadent breakfast, snack, or even dessert. The bananas and milk make for a light and creamy base, and the chocolate and mint come together to create the perfect, decadent flavor. The spinach is not noticeable in taste, but it does help to increase the nutritional benefits of this smoothie.
Ingredients
1

medium

frozen bananas

½

cup

cannabis fan leaves

tightly packed

1

cup

milk

of choice

2

scoops

unflavored collagen protein powder

1

tablespoon

cocoa powder

unsweetened

1

teaspoon

fresh mint leaves

chopped

1

teaspoon

cannabis oil

of choice

¼

teaspoon

vanilla extract
Instructions
Add the banana, spinach, milk, cocoa powder, mint leaves and oil to a high-speed blender.

Blend for 1 minute, or until completely smooth.

Pour into your favorite cup, and enjoy!
Notes
Yield: This recipe makes approximately 12 ounces.
CBD Variation: To make CBD oil or CBD butter, swap CBD dominant cannabis flower for THC dominant cannabis flower.
Ingredient Variation: If you do not have access to fresh mint leaves, you can easily use ¼ teaspoon of mint extract instead.
Flavor Variation: You can easily replace the spinach with any dark green leafy vegetable you enjoy, such as kale. Additionally, if you have access to fresh cannabis plants, you can use fresh cannabis fan leaves.
Nutrition Tip: To boost the nutritional value of this recipe, it is recommended to add 2 scoops of unflavored collagen peptides. While optional, this protein powder is completely tasteless and can contribute an additional 70 calories and 18 grams of high-quality protein. You can easily find collagen peptides online or at your local health food store.
Alternative Infusion Options:
Nutrition
Serving:
1
smoothie
Calories:
185
kcal
Carbohydrates:
34
g
Protein:
8
g
Fat:
4
g
Saturated Fat:
2
g
Cholesterol:
10
mg
Sodium:
68
mg
Potassium:
701
mg
Fiber:
4
g
Sugar:
20
g
Vitamin A:
1633
IU
Vitamin C:
14
mg
Calcium:
159
mg
Iron:
1
mg
Did you make this recipe or have a question?
Join hundreds of members inside private Well With Cannabis Community for help, support, and to share your edible creations!