This post may contain affiliate links, to find out more information, please read my disclosure statement.
Using natural ingredients like blueberries, lavender, and avocado this delicious Blueberry & Lavender Stress Relief Smoothie is the ultimate holistic cure for stress relief by combining ingredients that can help ease stress, panic, and anxiety.
Blueberry & Lavender Stress Relief Smoothie
Life can be stressful! Sometimes you just need to stop what you're doing and take a moment for a little self-care.
When you take a moment to whip up this Blueberry Lavender Smoothie, you can enjoy a few minutes of stress relief thanks to a few amazing, all-natural, plant-based ingredients that will help to calm your mind, soothe your body, and relax your soul.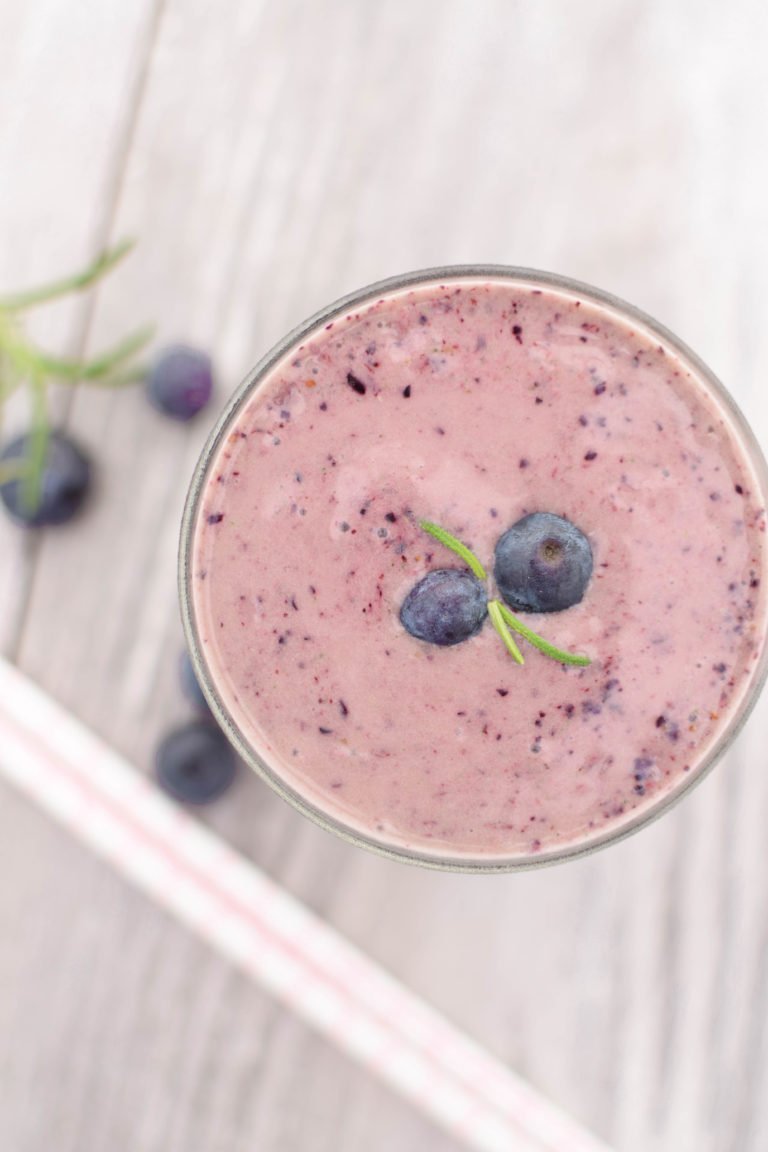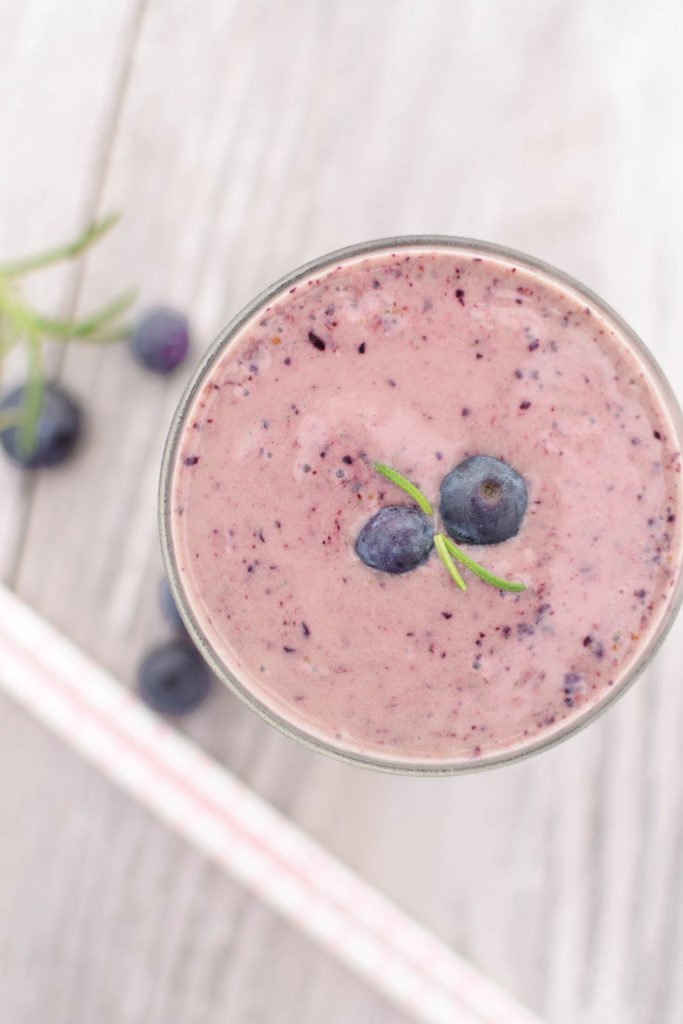 The Health Benefits of Blueberries
Compared to traditionally cultivated blueberries, wild blueberries have twice the amount antioxidants per serving. Antioxidants help to minimize the amount of free radicals found in the body and can even help to prevent cancer. Wild blueberries can also play an important role in many other health conditions including diabetes prevention and management, as well as gut and brain health.
This Wild Blueberry & Lavender Smoothie is made with good-for-you ingredients that are meant to help relax and calm you, especially during busy and hectic mornings.
And don't worry about wild blueberries being in season, you can buy wild blueberries in the frozen section of your local supermarket. These wild berries are frozen at their peak ripeness, preserving their nutritional value, leaving you with an amazingly delicious and healthful option all year long.
Homegrown Blueberries
I am proud to say that I have three blueberry bushes growing in my garden!!
Unfortunately, here in Upstate NY my own homegrown blueberries are only available a few months of the year. If you have ever had a wild blueberry, you know that wild blueberries are more special than traditionally cultivated blueberries – their flavor is more complex and their nutritional benefits are tremendous.
As an avid gardener, I truly believe that the closer the produce is to nature, the healthier it is!
Holistic Measures for Stress Relief
Lavender has been traditionally used to help ease panic and anxiety for thousands of years, just the smell of lavender can evoke a sense of stress relief and relaxation.
Lavender can be used fresh or dried, in oil or tea form and can be used in this smoothie in whatever way you can find it. I personally love to enjoy a hot cup of lavender tea during times of stress to bring about a sense of calm and peace.
Together in this smoothie, lavender combined with avocado and banana proves to have some amazing stress relieving qualities. 
Both of these amazing fruits are high in potassium which can help to reduce and regulate blood pressure levels within the body. During times of stress, regulating blood pressure is key to remaining calm and focused. 
Updated Recipe Note:
My husband is a chef and he sometimes brings be home surprises, like the time he brought me two pounds of fresh lavender. I dried it and stored it for recipes like this, however I realize that fresh lavender is not always easy to come by unless you grow it yourself.
I have never seen culinary lavender for purchase in the grocery store, but I don't think that should stop anyone from enjoying this fabulous smoothie recipe.
To Purchase Quality Lavender Products
Either way, these are the best two options for being able to enjoy this smoothie all year long, even when you do not have fresh lavender available.
How to Make Lavender Infused Ice Cubes
In order to make your own lavender ice cubes, all you need to do is steep a cup of lavender tea. I like to use this Yogi Honey Lavender Tea.
Then pour this tea into ice cube molds, add blueberries and fresh lavender if you have it, and freeze. Ta-da! Ready to go for this recipe.
Blueberry Lavender Stress Relief Smoothie
Using natural ingredients like blueberries, lavender, and avocado this delicious Blueberry & Lavender Stress Relief Smoothie is the ultimate holistic cure for stress relief by combining ingredients that can help ease stress, panic, and anxiety.
Ingredients
1 cup frozen wild blueberries
1/2 banana
1/2 avocado
1 cup red swiss chard
1 cup plant-based milk
1 tablespoon culinary lavender
1 teaspoon pure vanilla extract
1/2 cup of ice, or lavender ice cubes as mentioned above
Instructions
Put all of the ingredients in a high-speed blender and blend on high for 60-seconds, or until smooth.
Recommended Products
As an Amazon Associate and member of other affiliate programs, I earn from qualifying purchases.
Nutrition Information:
Yield:

1
Serving Size:

smoothie
Amount Per Serving:
Calories:

190
Saturated Fat:

3.5g
Sodium:

160mg
Carbohydrates:

25g
Fiber:

7g
Sugar:

12g
Protein:

3g
DON'T FORGET YOUR MEAL PLAN
If you're looking for additional help in meal planning or discovering new and delicious recipes to try, be sure to download my Free eBook – The Happy & Healthy Flexible Meal Plan below:
Have you tried this recipe? Be sure to tag me on Facebook, Instagram, or let me know in the comments below ♥

Welcome! I'm Emily Kyle, a nationally recognized media registered dietitian nutritionist & holistic cannabis practitioner providing holistic health care for those living with autoimmune and inflammatory conditions. To help you, I offer food sensitivity testing, cannabis education, and this blog which provides free resources including anti-inflammatory recipes, holistic health, wellness and nutrition related articles, and evidence-based cannabis education.