Using natural ingredients like CBD oil, blueberries, and lavender this delicious CBD Blueberry Lavender Anti-Anxiety Smoothie combines ingredients that can help ease stress, panic, and anxiety and bring about calm, happiness, and relaxation.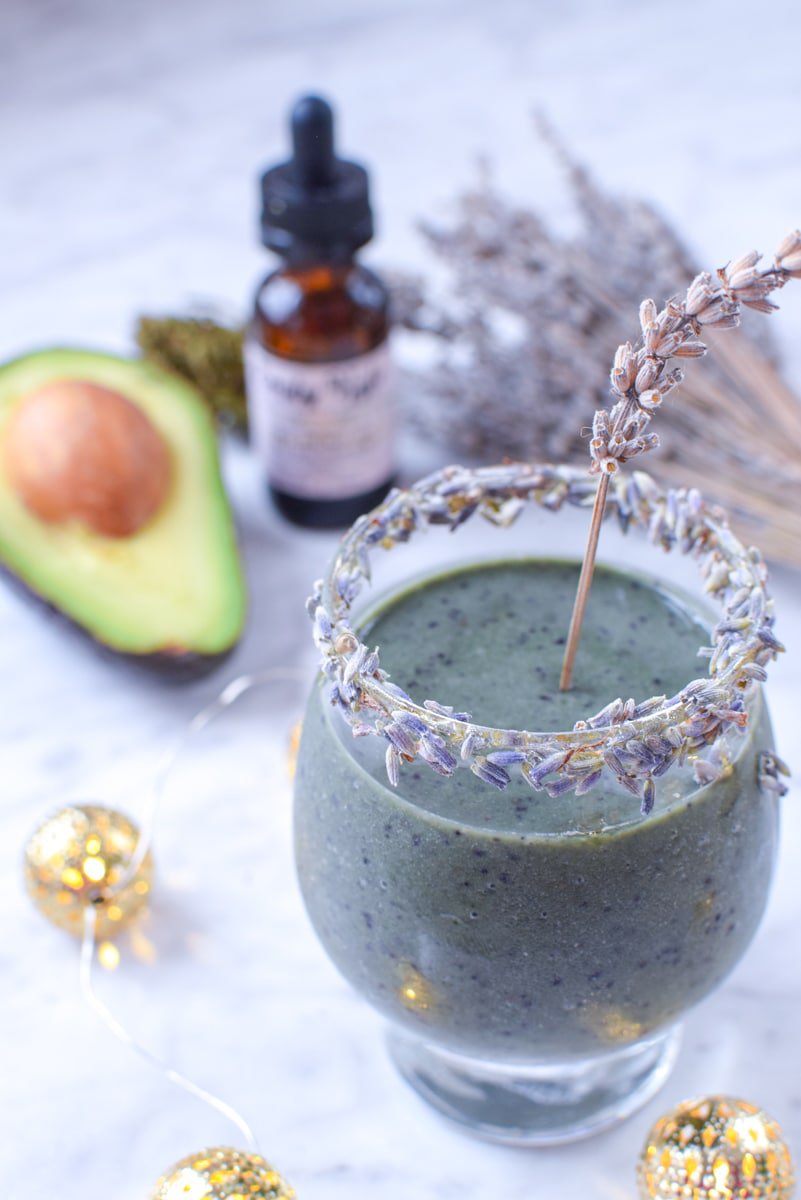 CBD Infused Anti-Anxiety Smoothie
As we all know, life can be stressful, but it's how you manage that stress that matters most.
Thankfully, there is no better all-natural anxiety relief than the combination of plant-based food and plant-based medicine like in this CBD Infused Blueberry Lavender Smoothie.
I show the women that I work with how important it is to stop and take a few minutes of holistic stress relief for their mental and emotional wellbeing.
I teach them how to use the power of nutrition and cannabis, together, to naturally manage anxiety, pain, and inflammation. This recipe is a great place for beginners to start, but if you're brand new to using CBD, I recommend starting here.
Gather your delicious, all-natural, plant-based ingredients, your favorite blender, and whip up this delicious smoothie to calm your mind, soothe your body, and relax your soul.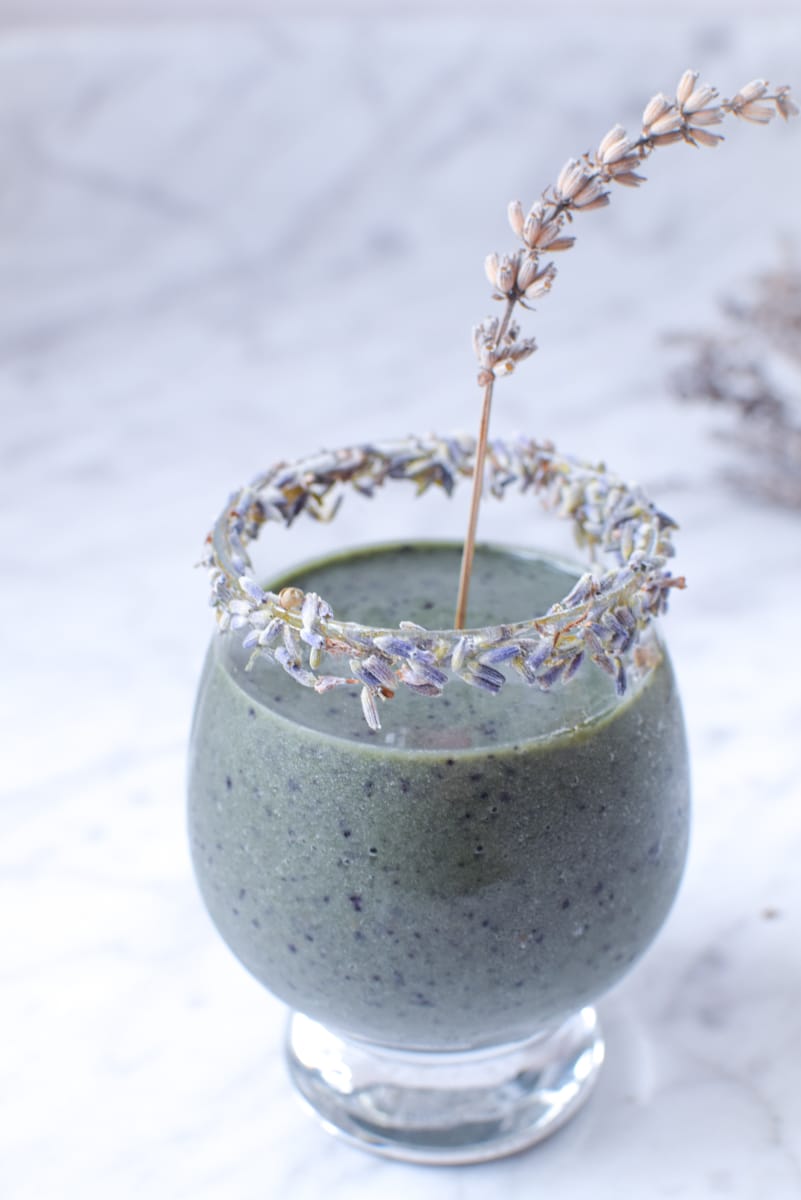 Holistic Approaches For Natural Anxiety Relief
I teach my clients that we have the power to implement natural, holistic approaches to manage our anxiety and naturally manage stress based on my 7 Pillars of Holistic Wellness.
The most prominent pillar of holistic wellness is a functional nutrition approach and the use of plant-based foods as medicine as a way to improve the quality of our lives and improve our health.
This smoothie focuses on combining blueberries, lavender, and CBD oil as our star functional foods.
HEALTH BENEFITS OF CBD OIL
Scientific research and anecdotal reports indicate that CBD can have the potential to help with the following: anxiety, epilepsy and seizure disorders, pain and inflammation, PTSD, and even opioid withdrawal.
There is preliminary evidence to support the idea that CBD oil can, in fact, help to alleviate stress and anxiety.
In a 2015 study, it was concluded that "existing preclinical evidence strongly supports CBD as a treatment for generalized anxiety disorder, panic disorder, social anxiety disorder, obsessive-compulsive disorder, and post-traumatic stress disorder when administered acutely". (1)
The endocannabinoid system acts as a balancing mechanism for other body systems such as the circulatory, nervous and digestive systems.
By providing the body with CBD to match the receptors in the body, CBD can produce therapeutic effects that help to alleviate stress and anxiety.
Health Benefits of Wild Blueberries
While you can use any type of frozen blueberries you want, this recipe specifically calls for frozen wild blueberries due to their incredible nutrition and antioxidant benefits.
Compared to traditionally cultivated blueberries, wild blueberries have twice the number of antioxidants per serving, which is especially important when building an autoimmune diet.
Antioxidants also help to minimize the number of free radicals found in the body and can even help to prevent cancer.
Wild blueberries can also play an important role in many other health conditions including diabetes prevention and management, as well as gut and brain health.
You can buy wild blueberries in the frozen section of your local supermarket at any time of year. The wild berries are frozen at their peak ripeness, preserving their nutritional value, leaving you with an amazingly delicious and healthful option all year long.
Health Benefits of Lavender
Lavender has been traditionally and medicinally used as part of a holistic lifestyle to help ease panic and anxiety for thousands of years.
It has been reported just the thought of the smell of lavender can evoke a sense of stress relief and relaxation.
Together in this smoothie lavender combined with avocado and banana proves to have some amazing stress-relieving qualities. Both of these amazing fruits are high in potassium which can help to reduce and regulate blood pressure levels within the body.
During times of acute stress, regulating blood pressure is key to remaining calm and focused.
Lavender can be used fresh or dried, in oil or tea form and can be used in this smoothie in whatever way you can find it.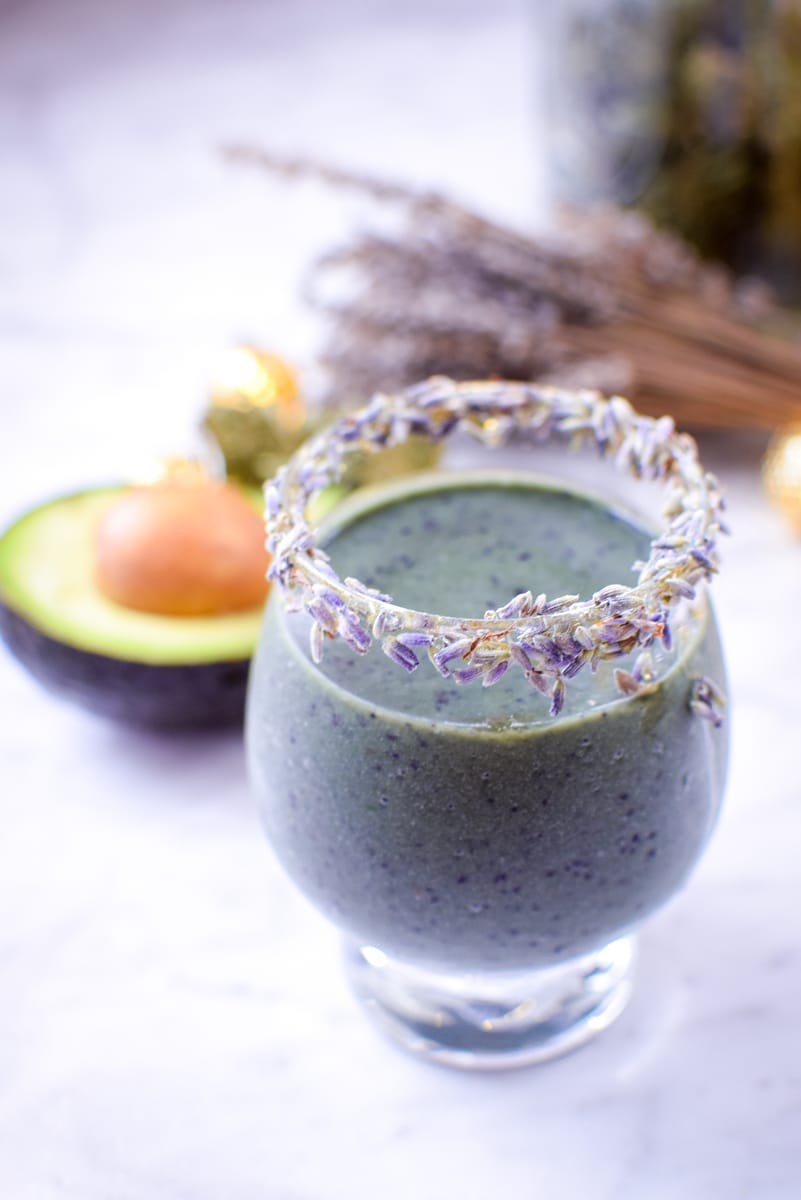 Featured In My Cookbooks
Because it is one of my favorite recipes from this blog, this Blueberry Lavender Smoothie made it into my first cookbook, The 30-Minute Thyroid Cookbook: 125 Healing Recipes for Hypothyroidism and Hashimoto's.
The nutrient-dense ingredients help to make this smoothie a powerful healing drink for those who are managing Hashimoto's disease or any other autoimmune or inflammatory condition.
This recipe is also approved for the Paleo Autoimmune Protocol diet as detailed in my second cookbook, The Hashimoto's AIP Cookbook: Easy Recipes for Thyroid Healing on the Paleo Autoimmune Protocol and can be made with our without the CBD oil.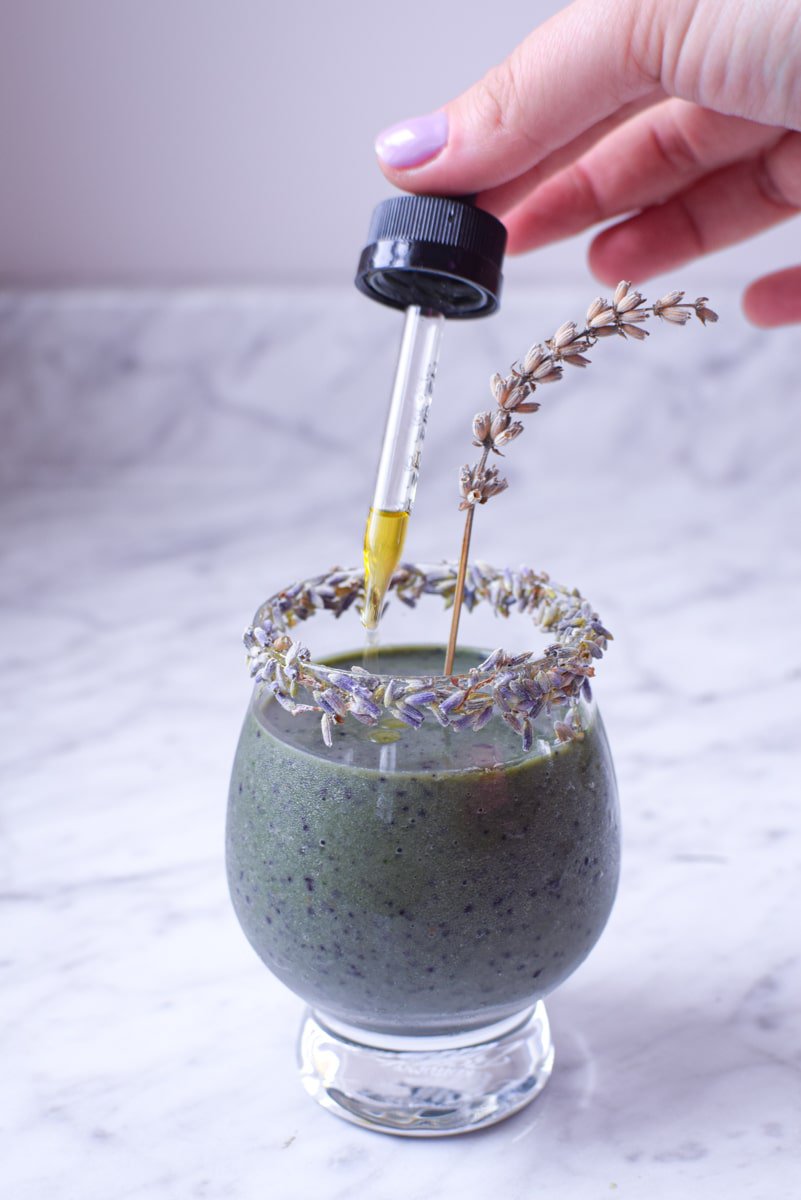 Looking For More Cannabis Smoothies?
Check out my other delicious cannabis smoothie recipes:
Looking for more delicious cannabis drinks? Check out my Homemade Hemp Seed Milk and Cannabis Pumpkin Spice Latte or my 15 Easy Cannabis-Infused Drinks to Make at Home.
Elevate Your Cannabis Education
The Cannabis Compass Online Course will show you how to dose, use, and apply cannabis safely and effectively so that you can begin to manage your most unwanted symptoms the natural way, from the comfort of your own home.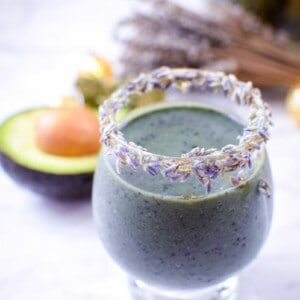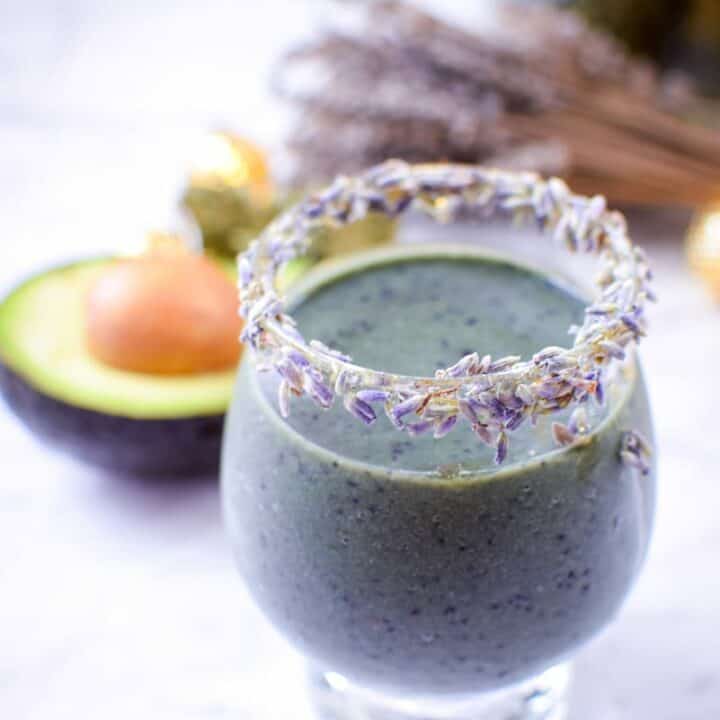 CBD Blueberry Lavender Anti-Anxiety Smoothie
Using natural ingredients like blueberries, lavender, and CBD oil, this delicious Blueberry Lavender Stress Relief Smoothie is the ultimate holistic cure for stress relief by combining ingredients that can naturally help ease stress, panic, and anxiety. This recipe is Gluten-Free, Dairy-Free, Paleo, AIP recipe friendly, and Vegan.
Instructions
Put all of the ingredients in a high-speed blender and blend on high for 60-seconds, or until smooth.

Pour into 2 cups & enjoy.
Notes
*To keep this recipe AIP friendly, ensure you are using coconut-milk without additives for the plant-based milk option.
**If you want to keep this recipe vegan, swap the collagen protein powder for a plant-based protein powder of choice.
Nutrition
Serving:
1
smoothie
Calories:
295
kcal
Carbohydrates:
28
g
Protein:
25
g
Fat:
11
g
Saturated Fat:
3
g
Polyunsaturated Fat:
7
g
Cholesterol:
12
mg
Sodium:
120
mg
Fiber:
7
g
Sugar:
11
g