This creamy, easy-to-make blueberry lavender cannabis smoothie combines all-natural ingredients to bring about calm, happiness, and soothing relaxation in a delicious plant-based drink complete with multiple different cannabis-infusion options to suit your preferences.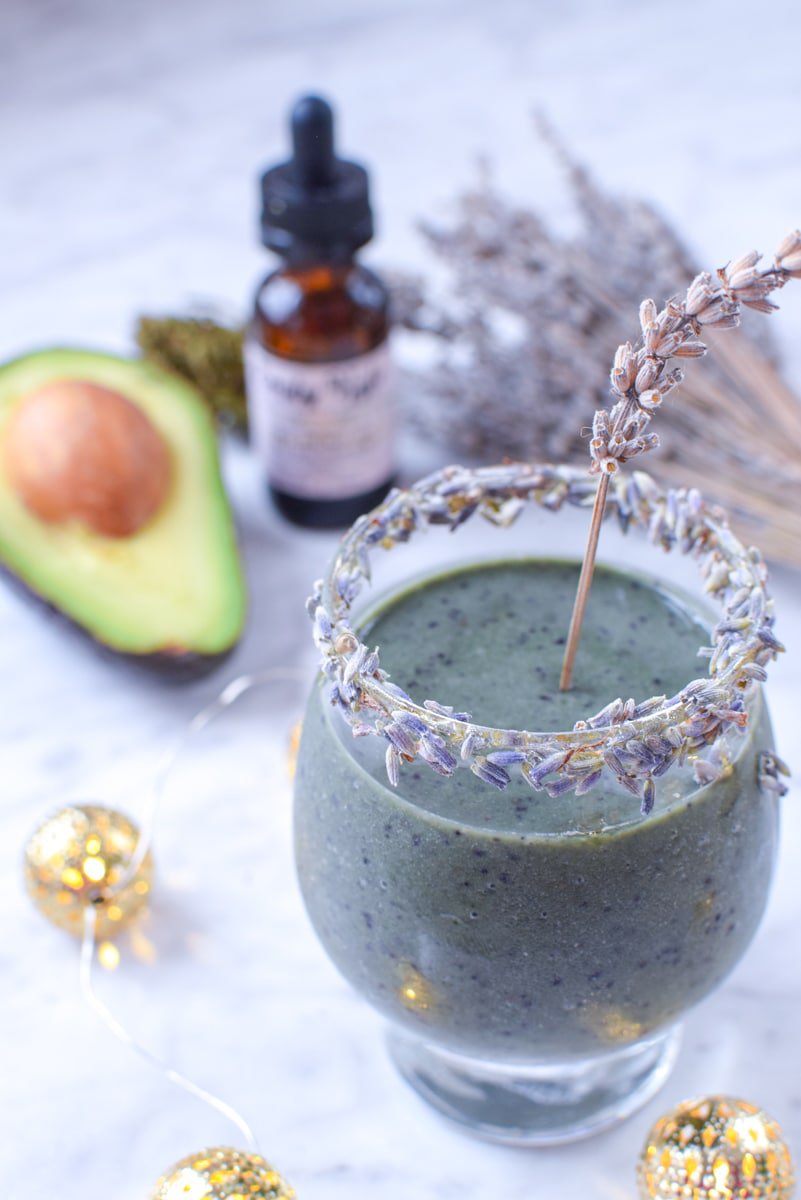 Blueberry Lavender Cannabis Smoothie
As we all know, life can be stressful, but it's how you manage that stress that matters most.
Thankfully, there is no better all-natural relief than the combination of healthy foods and cannabis, like in this relaxing blueberry lavender cannabis smoothie.
I show the members of my Well With Cannabis Community how important it is to stop and take a few minutes of holistic stress relief to support their wellbeing. 
This recipe is a great place for beginners to start, but if you're brand new to using cannabis, I recommend starting here with my beginner's guide to cannabis edibles.
If you've never made a cannabis smoothie before, be sure to check out my How to Make The Perfect Cannabis Smoothie guide here!
I've also included many different infusion options, so you can make your smoothie with whatever you have available on hand.
So, gather your delicious, all-natural, plant-based ingredients, your favorite blender, and whip up this delicious smoothie to calm your mind, soothe your body, and relax your soul.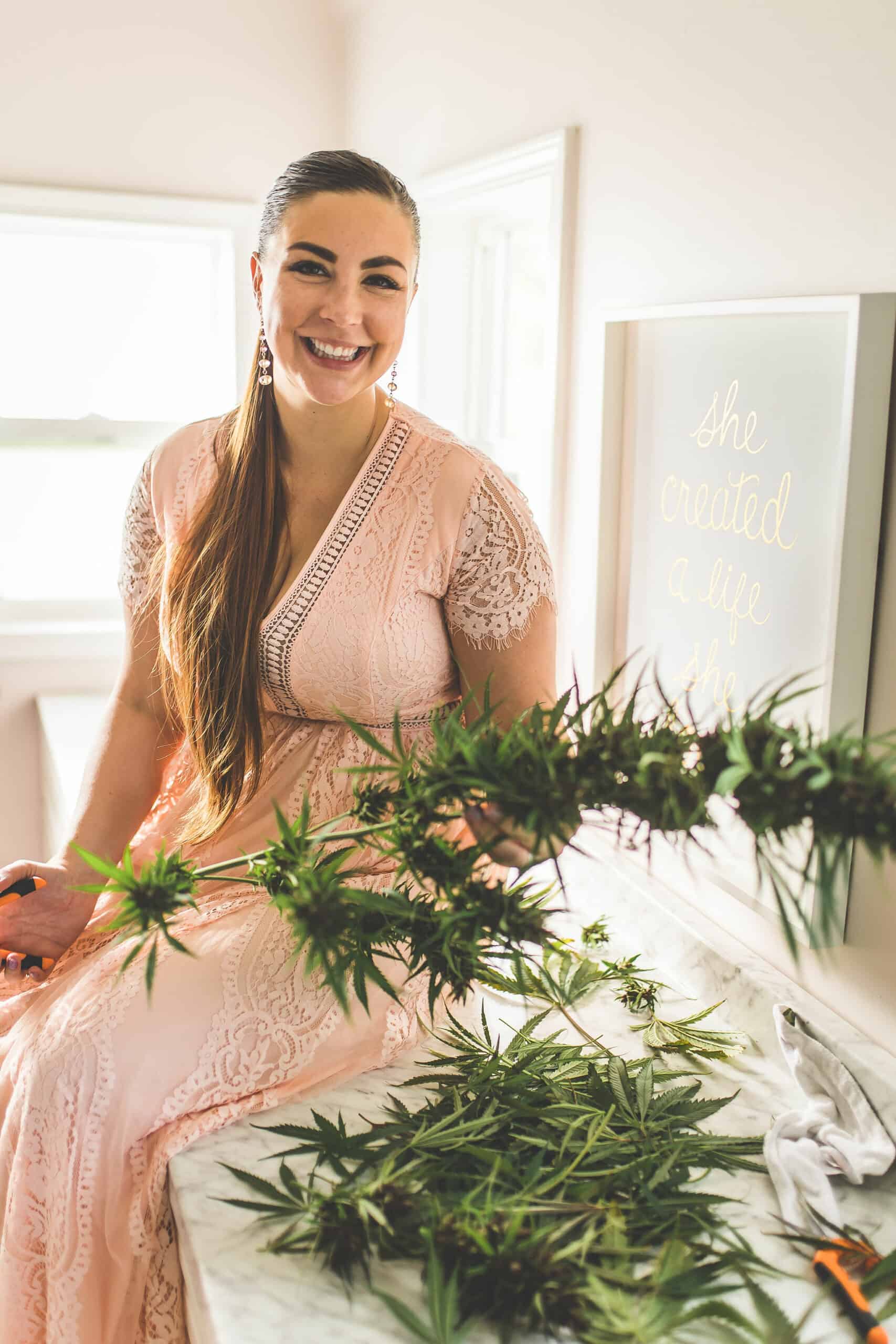 Looking For More Support?
Join thousands of members inside my private Well With Cannabis Community to ask questions, find support, and share your edible creations!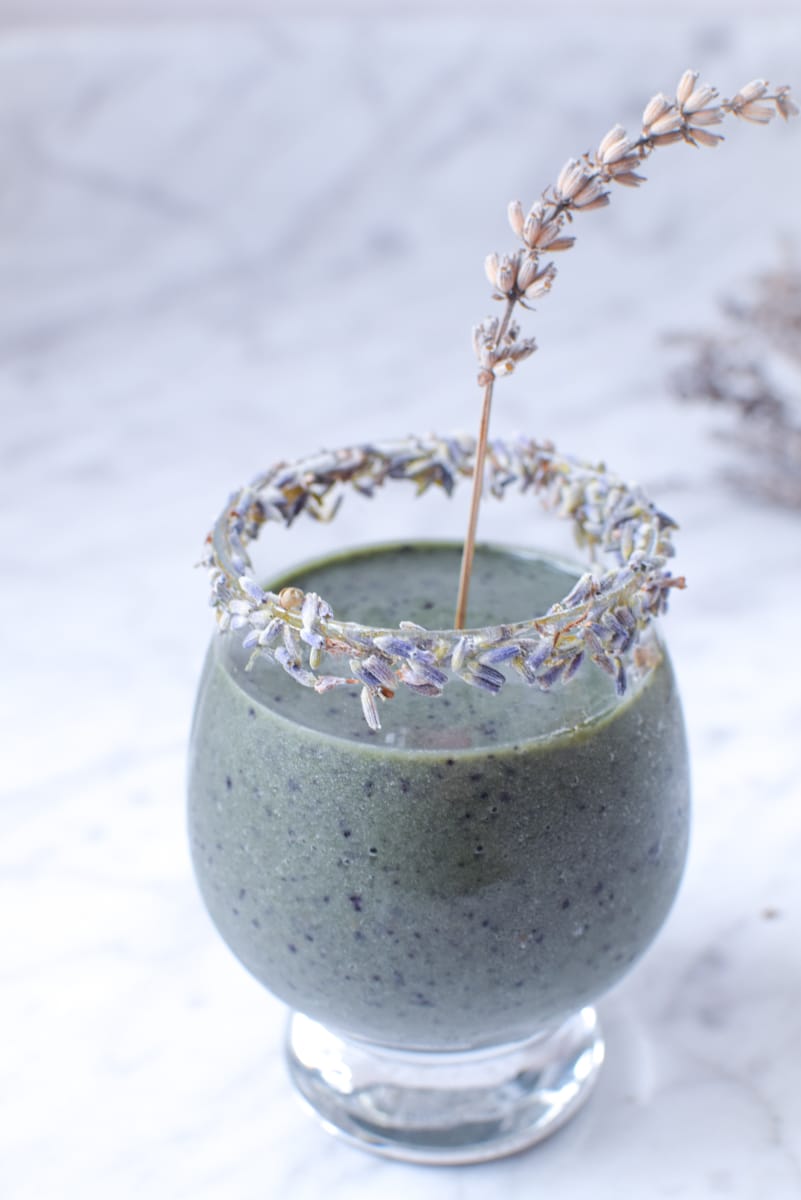 Cannabis Smoothie Infusion Options
There are many different ways to infuse your cannabis smoothie, and you can choose one based on what product you have available and your personal taste preferences.
Always remember to dose based on your own personal tolerance.
If you're not sure how to start, follow the golden rule: start low and go slow.
If you're unsure about which cannabis oil to use, be sure to check out this guide to understanding the many different types of cannabis oil.
And if you're unsure about how to incorporate any of these other infusion options into your smoothie, don't forget to check out this ultimate guide showing you how to make a cannabis smoothie.
Holistic Approaches For Natural Relaxation
The most prominent pillar of holistic wellness is a functional nutrition approach and the use of plant-based foods as medicine as a way to improve the quality of our lives and improve our health.
This smoothie focuses on combining blueberries, lavender, and CBD oil as our star foods.
Health Benefits of Wild Blueberries
While you can use any frozen blueberries you want, this recipe specifically calls for frozen wild blueberries due to their incredible nutrition and antioxidant benefits.
Compared to traditionally cultivated blueberries, wild blueberries have twice the number of antioxidants per serving.
Antioxidants also help to minimize the number of free radicals found in the body.
You can buy wild blueberries in the frozen section of your local supermarket at any time of year. The wild berries are frozen at their peak ripeness, preserving their nutritional value, leaving you with an amazingly delicious and healthful option all year long.
Health Benefits of Lavender
Lavender has been traditionally and medicinally used as part of a holistic lifestyle for thousands of years.
It has been reported just the thought of the smell of lavender can evoke a sense of stress relief and relaxation.
Together in this smoothie, lavender combined with avocado and banana proves to have some amazing stress-relieving qualities.
Lavender can be used fresh or dried, in oil or tea form and can be used in this smoothie in whatever way you can find it.
Milk & Plant-Based Alternatives
As we know, milk choices really are a personal preference for everyone.
Luckily, this smoothie is flexible and you can use any type of milk you desire.
Whether it be traditional dairy-based or a dairy-free alternative, switching milk for any plant milk will work just fine.
Plant milk substitutions include:
Almond milk
Pea milk
Oat milk
Soy milk
Cashew milk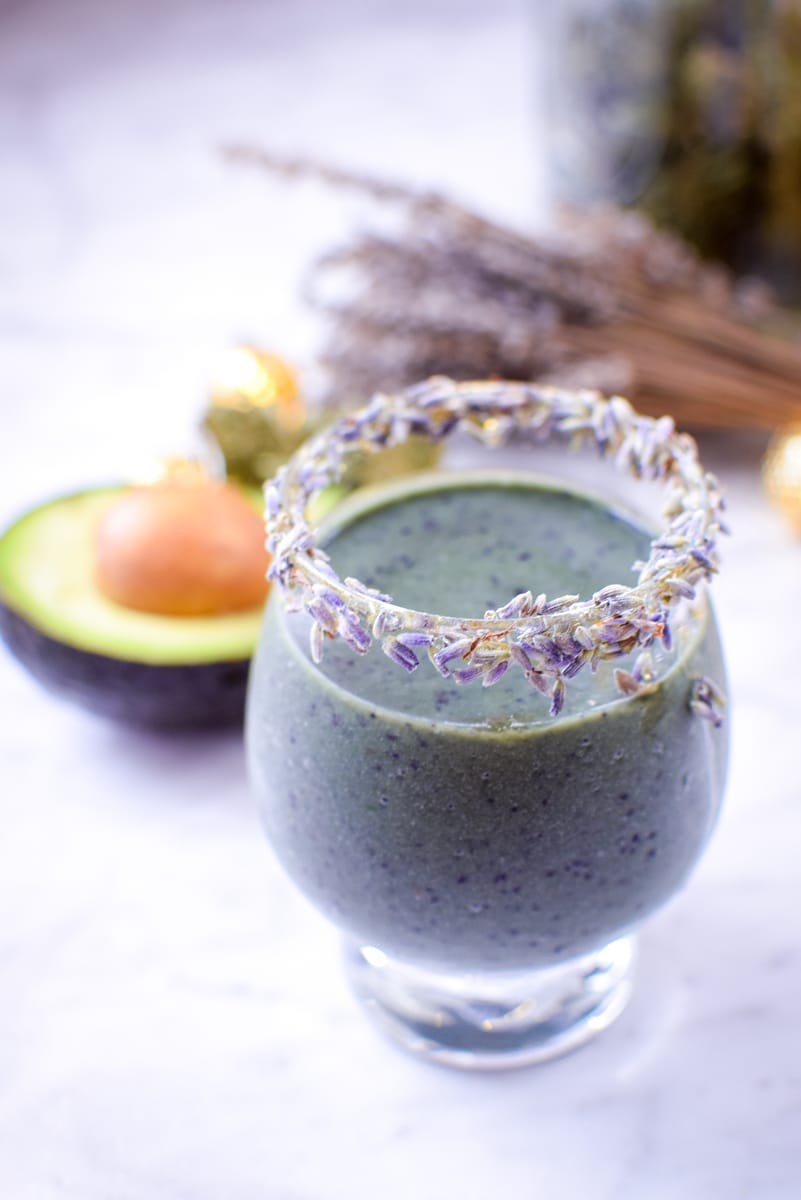 How to Determine The Dosing
Want to get a more accurate guesstimate of the potency of your cannabis infusions and extractions? Try our popular edibles calculator!
Not sure what your perfect dose is? Learn more here.

As Featured In My Cookbooks
Because it is one of my favorite recipes from this blog, this Blueberry Lavender Smoothie made it into my first cookbook, The 30-Minute Thyroid Cookbook: 125 Healing Recipes for Hypothyroidism and Hashimoto's.
The nutrient-dense ingredients help to make this smoothie a powerful healing drink for those who are managing Hashimoto's disease or any other autoimmune or inflammatory condition.
This recipe is also approved for the Paleo Autoimmune Protocol diet as detailed in my second cookbook, The Hashimoto's AIP Cookbook: Easy Recipes for Thyroid Healing on the Paleo Autoimmune Protocol, and can be made with our without the CBD oil.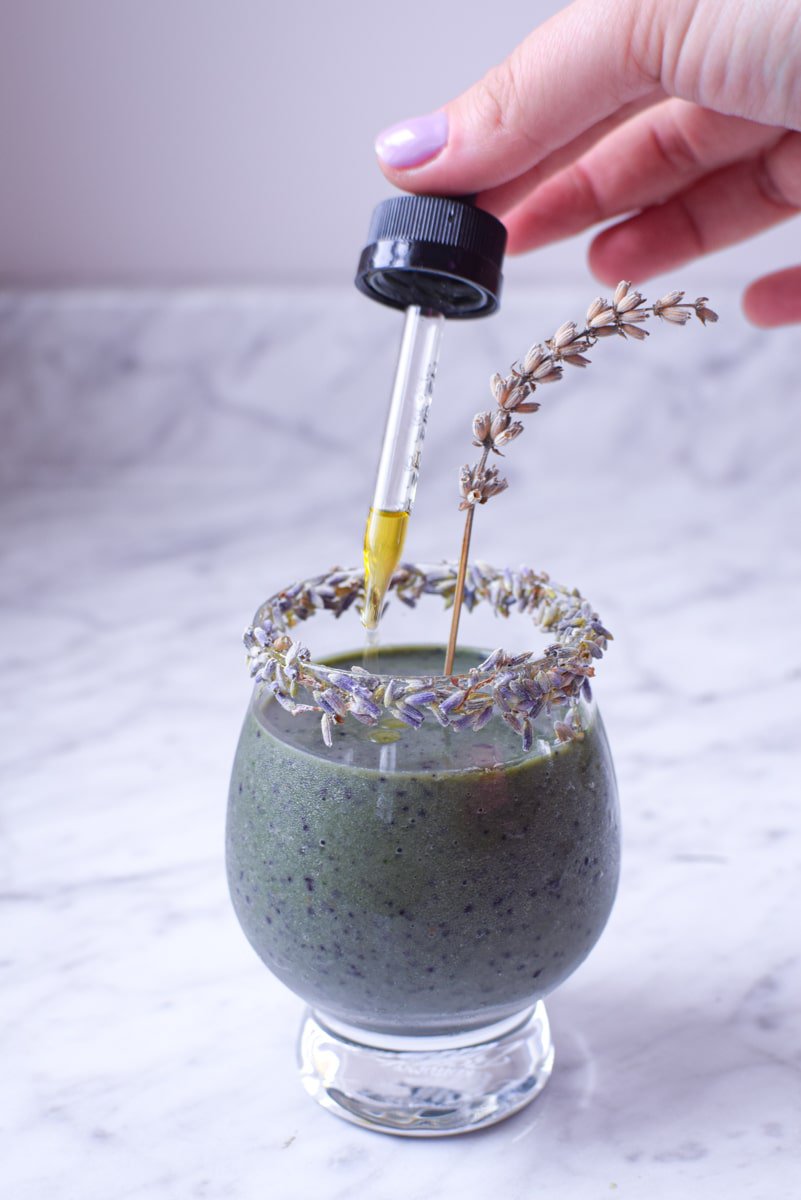 Want To Make This Easier? Use A Machine!
If the process of decarbing and infusing feels like too much work, an all-in-one countertop device may be a perfect all-in-one solution!
My personal favorite? The Ardent FX! Review the six most popular infusion machines here.
Want A Discount Code?
Looking For More Cannabis Smoothies?
Check out my other delicious cannabis smoothie recipes below:
And if you're struggling with the munchies, be sure to get my 10 Helpful Tips for Managing the Munchies here!
Looking for more delicious cannabis drinks? Check out my Homemade Hemp Seed Milk and Cannabis Pumpkin Spice Latte or my 15 Easy Cannabis-Infused Drinks to Make at Home.
My Edibles Made Easy Online Cooking Course will teach you how to make cannabis edibles and topical recipes at home with ease. This step-by-step video course will teach you how to infuse, extract, and create edibles with many different product types - all from the comfort of your own home.

Learn more and enroll today →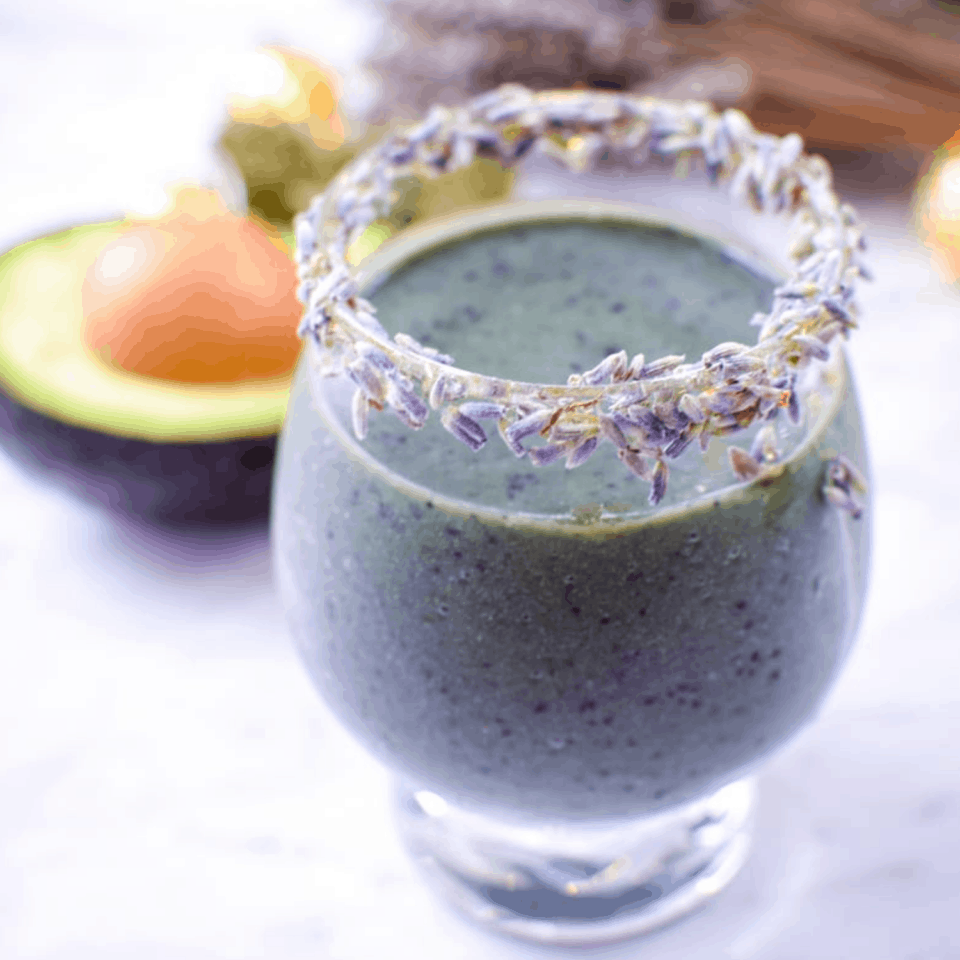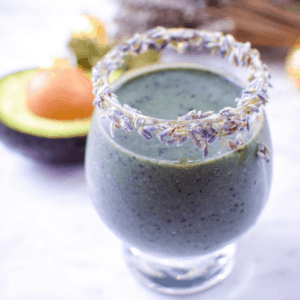 Blueberry Lavender Cannabis Smoothie
This creamy, easy-to-make blueberry lavender cannabis smoothie combines all-natural ingredients like blueberries, avocado, dried lavender flowers along with cannabis for a smoothie that brings about calm, happiness, and a sense of soothing relaxation – anytime of day.
Instructions
Add the banana, avocado, blueberries, milk, oil, and lavender flowers, to a high-speed blender.

Blend on high for 1 minute, or until completely smooth.
Notes
Yield: This recipe makes approximately 12 ounces.
CBD Variation: To make CBD oil or CBD butter, swap CBD dominant cannabis flower for THC dominant cannabis flower.
Flavor Variation: If you don't have access to dried lavender flowers, you can use food-grade lavender essential oil. If you're not a fan of the taste of lavender, you can easily omit this ingredient from the recipe.
Nutrition Tip: To boost the nutritional value of this recipe, it is recommended to add 2 scoops of unflavored collagen peptides. While optional, this protein powder is completely tasteless and can contribute an additional 70 calories and 18 grams of high-quality protein. You can easily find collagen peptides online or at your local health food store.
Alternative Infusion Options:
Nutrition
Serving:
1
smoothie
Calories:
370
kcal
Carbohydrates:
54
g
Protein:
24
g
Fat:
9
g
Saturated Fat:
6
g
Cholesterol:
12
mg
Sodium:
60
mg
Potassium:
700
mg
Fiber:
7
g
Sugar:
35
g
Vitamin A:
356
IU
Vitamin C:
25
mg
Calcium:
154
mg
Iron:
1
mg
Did you make this recipe or have a question?
Join hundreds of members inside private Well With Cannabis Community for help, support, and to share your edible creations!