This Green Dream Hemp Seed Smoothie inspired by my book, The 30-Minute Thyroid Cookbook, is a whole-food, plant-based, vegan, gluten-free, dairy-free smoothie that tastes amazing while delivering an abundance of nutrients and antioxidants. This smoothie includes options for infusing this drink with CBD oil.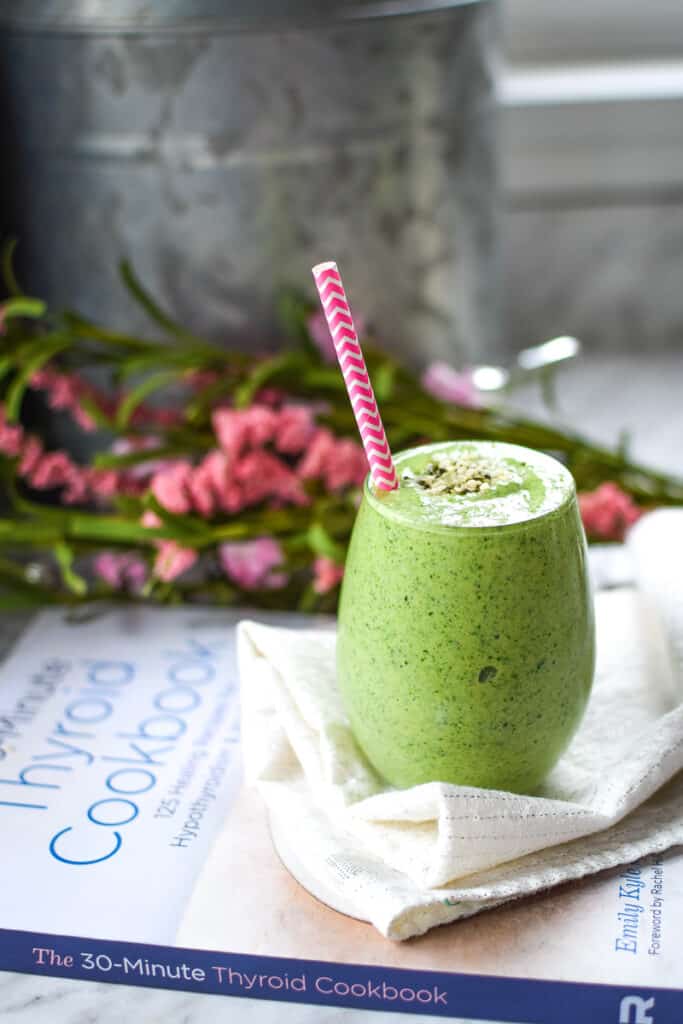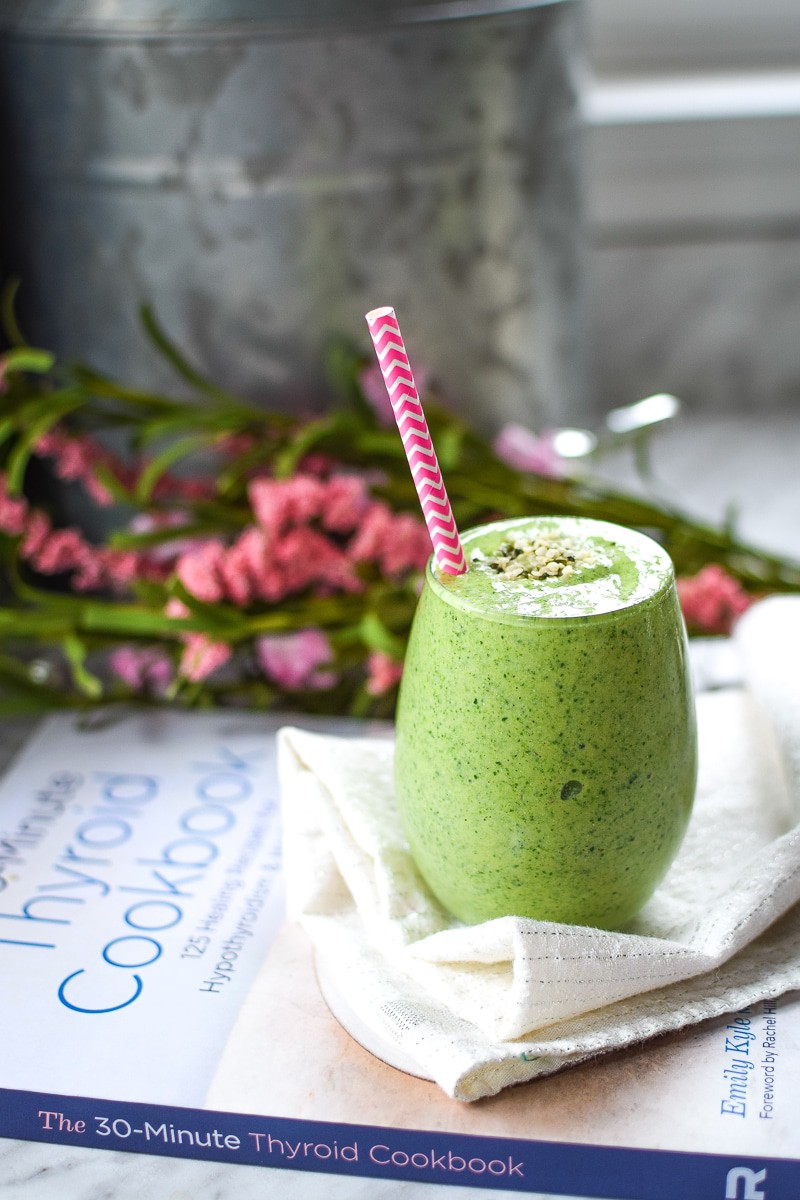 Green Dream Hemp Seed Smoothie
It can be hard to find a smoothie that tastes delicious, especially a green one. Many people have a hard time getting past the green color, but I assure you, this Green Dream Hemp Seed Smoothie is truly delicious.
So delicious, in fact, it was featured in my first cookbook, The 30-Minute Thyroid Cookbook: 125 Healing Recipes for Hashimoto's and Hypothyroidism.
If you're unfamiliar with Hashimoto's, it is an autoimmune condition that affects nearly 14 million Americans, mostly women, causing debilitating symptoms like brain fog, lethargy, weight gain, and general malaise. You can learn more about Hashimoto's and how it affects women here.
Whether you have Hashimoto's or not, this smoothie is perfect for anyone who is looking to incorporate many nutritious ingredients like mango, spinach, and hemp seeds into their diet.
Just recently I got the most wonderful comment from a friend who has my cookbook, and it inspired me to publish this recipe on the blog. I hope you enjoy!
Congrats on the next cookbook!! And my family think your smoothie recipes are so good, that you should write a mini-cookbook for drinkables!! – Lily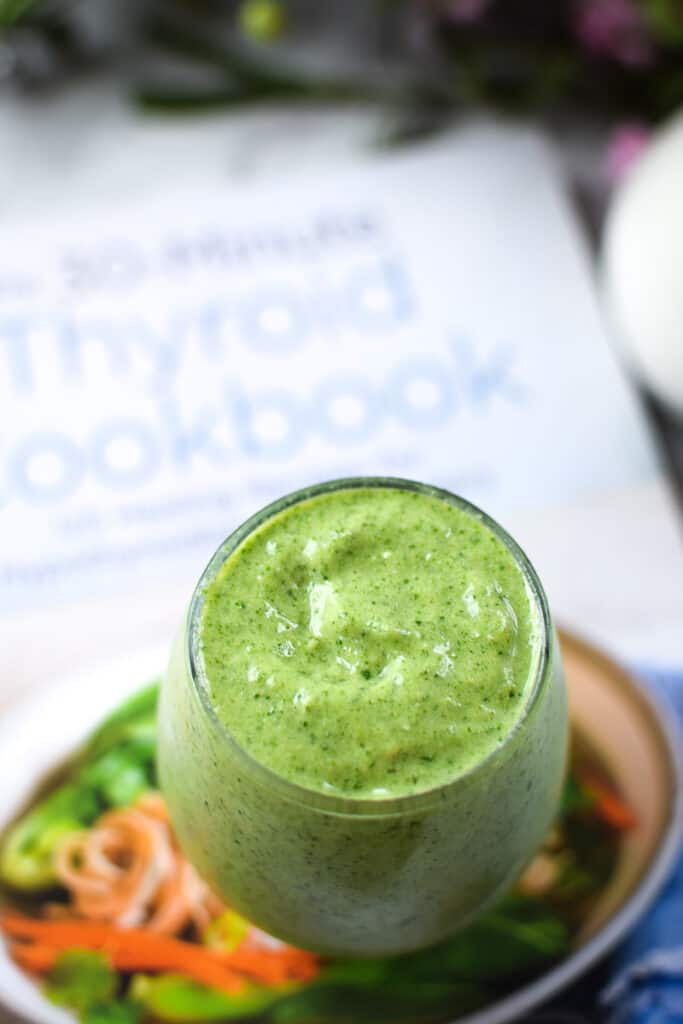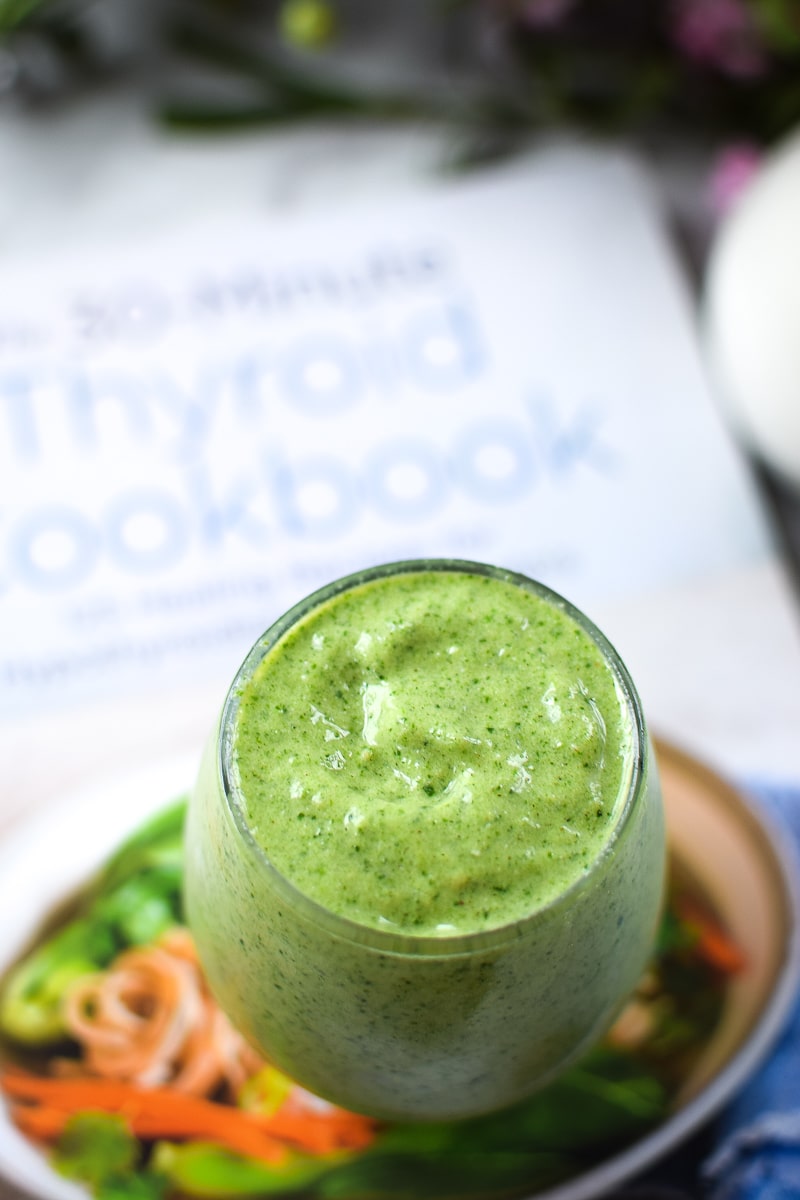 The Health Benefits of Mango
I am a proud ambassador for The National Mango Board, but this recipe post is not sponsored or associated with our partnership. I just really love mangos 🙂
Mango Nutrition Facts – 1 cup of mango provides:
100% of Daily Vitamin C
100 Calories
35% of Daily Vitamin A
No Cholesterol, Codium or Fat
Surprising Mango Health Benefits:
One cup of mangos is just 100 calories, so it's a satisfyingly sweet treat.
Each serving of mango is fat-free, sodium free and cholesterol free.
Mangos contain over 20 different vitamins and minerals, helping to make them a superfood.
A mango a day contains 12 percent of your daily fiber requirement. It's a delicious and fun way to work your way up to that 100 percent daily intake.
If you are not familiar with fresh mangos or have never cut one yourself, visit this page for a video and full tutorial on how to cut a mango, it is simple!
The Health Benefits of Spinach
While this recipe includes spinach, any dark leafy green will do. If you have kale or swiss chard on hand, that will work as well.
Spinach Nutrition Facts –1 cup of uncooked spinach provides:
180% of Daily Vitamin K
10 Calories
1 Gram of Protein
55% of Daily Vitamin A
15% of Daily Folate
No Cholesterol, Sodium or Fat
Surprising Spinach Health Benefits:
Spinach is a dark-green leafy vegetable that is rich in water-soluble vitamins, fat-soluble vitamins, minerals, and a wide variety of phytonutrients.
According to the World's Healthiest Foods rating system: "spinach ranks as our Number 1 source of magnesium and iron (both minerals); our Number 2 source of vitamins B2 and B6 (both water-soluble vitamins); our Number 3 source of folate (another water-soluble vitamin); and our Number 2 source of vitamin K (a fat-soluble vitamin). Spinach is also our Number 2 source of vitamin E; our Number 3 source of calcium, potassium, and vitamin A; our Number 5 source of manganese; and our Number 8 source of copper". (1)
Spinach contains a multitude of anti-inflammatory nutrients and phytonutrients like flavonoids and carotenoids that help to support an anti-inflammatory diet and lifestyle.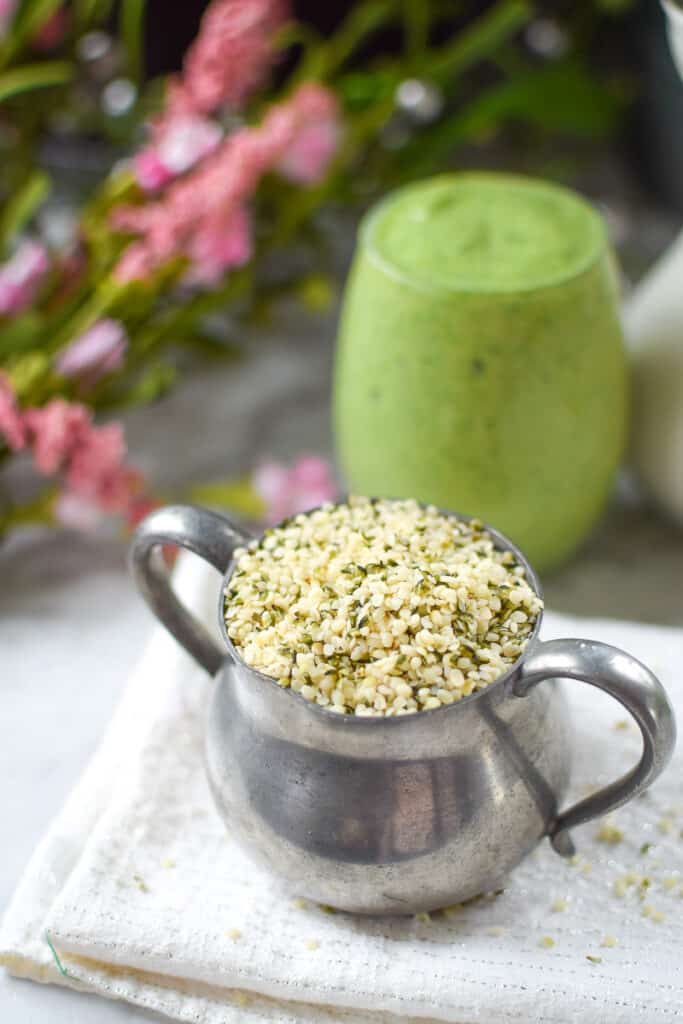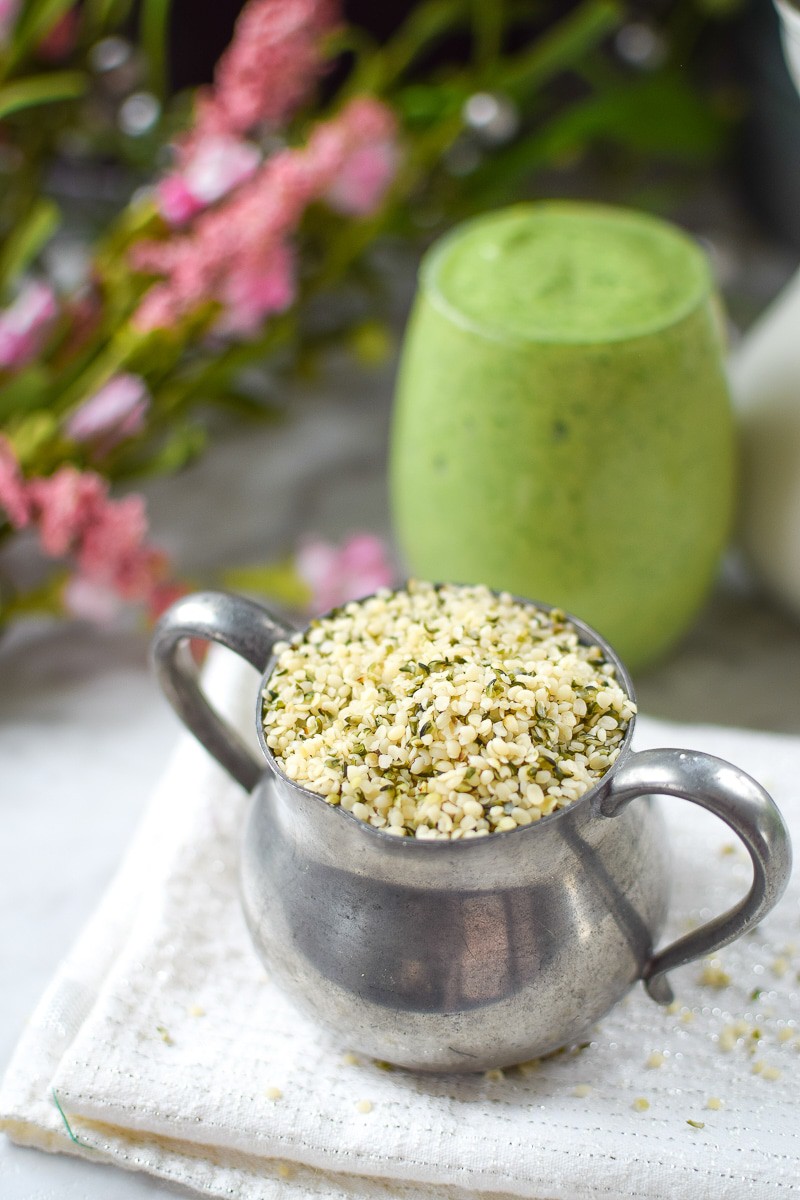 The Health Benefits of Hemp Seeds
A serving of Hemp Seeds is considered to be 3-tablespoons, approximately 1-ounce, or 30 grams. This serving size nutritional breakdown is:
170 Calories
13 Grams of Total Fat
1.5 Grams of Saturated Fat
10 Grams of Polyunsaturated Fat (this includes 8 grams of Omega-6 fatty acids and 2.5 grams of Omega-3 fatty acids).
1.5 Grams of Monounsaturated Fat
3 Grams of Carbohydrates
3 Grams of Dietary Fiber
1 Gram of Sugars
10 Grams of Protein
Surprising Hemp Seed Health Benefits:
Hemp seeds are naturally lean or low in saturated fat and have little or no added fat, sugars, refined starches, and sodium.
Hemp seeds are what I consider to be a great source of plant-based protein for those who are adopting a more plant-based diet.
Hemp seeds and homemade hemp seed milk are not only nut and/or tree-nut free, but they are also free of the Top-8 major allergens found in food, which account for nearly 90% of all food allergies in the United States.
Related: The Health Benefits of Hemp Seeds & Get 30+ Delicious & Healthy Hemp Seed Recipes
Hemp Seed Milk Smoothie
This recipe features my Homemade Hemp Seed Milk as the base of the recipe.
You can read more about why I prefer homemade hemp seed milk on the blog and grab the recipe if you want to make it. It is simple, convenient, and ready in just a few minutes.
Of course, you can easily swap any milk you prefer for the hemp seed milk if you don't have any already made. Sunflower seed milk, coconut milk, almond milk, cashew milk, traditional dairy milk – pick whichever you enjoy!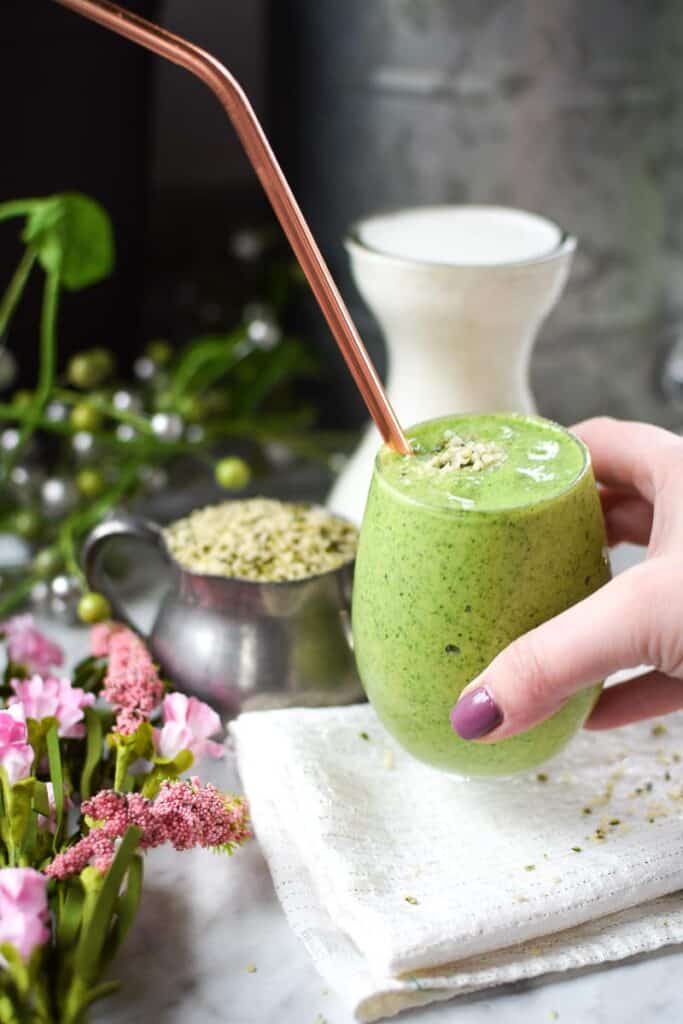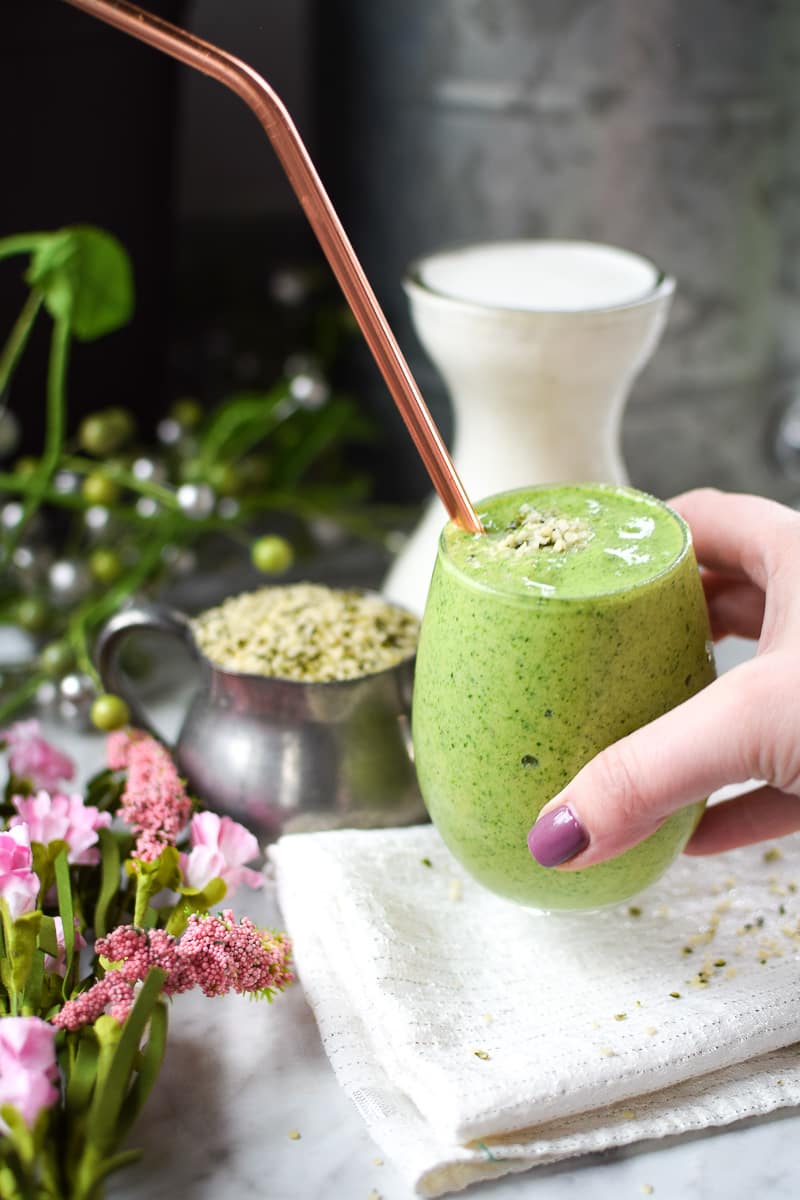 Recipe Inspired by The 30-Minute Thyroid Cookbook
This is one of my favorite green smoothie recipes which is why it made it into my first cookbook, The 30-Minute Thyroid Cookbook: 125 Healing Recipes for Hypothyroidism and Hashimoto's.
"Green smoothies are one of the easiest, and most delicious, ways to get in an extra serving of those highly nutritious dark green leafy vegetables. Spinach is packed with vitamin C, K, folic acid, iron and calcium as well as important B vitamins. The spinach brings a lovely green color to this smoothie, but you won't taste it among the fresh tropical fruits."
Recipe featured on page 22 of The 30-Minute Thyroid Cookbook under Green Dream Tropical Smoothie. Vegan, Vegetarian, Paleo, Dairy-Free, Gluten-Free, Grain-Free, Nut-Free, Seed-Free, Soy-Free, Corn-Free, Nightshade- Free, AIP Friendly
The original recipe featured in The 30-Minute Thyroid Cookbook uses coconut milk. This substitution must be made in order to make this recipe AIP friendly.
CBD Infused Hemp Seed Smoothie
The trend these days is to infuse CBD into everything, smoothies, coffees, cocktails and more. While I understand that it is trendy and fun to put CBD into everything, the truth is you may be wasting your money.
You see, when consumed orally through food or drink, CBD has only a 6% bioavailability rate. Compare that to a 30% bioavailability rate of CBD when used as a tincture and absorbed buccally.
While there is nothing wrong with consuming CBD orally, you may find that you find greater benefits when used differently.
Here are a few articles that may help you decide which route is best for you.
Of course, these articles are just guidelines.
As a Holistic Cannabis Practitioner, I realize that people need a more personalized, individualized approach to determining CBD dosage and usage, which is why I have created my class Know Your Dose: CBD Usage, Application, and Dosing Workshop.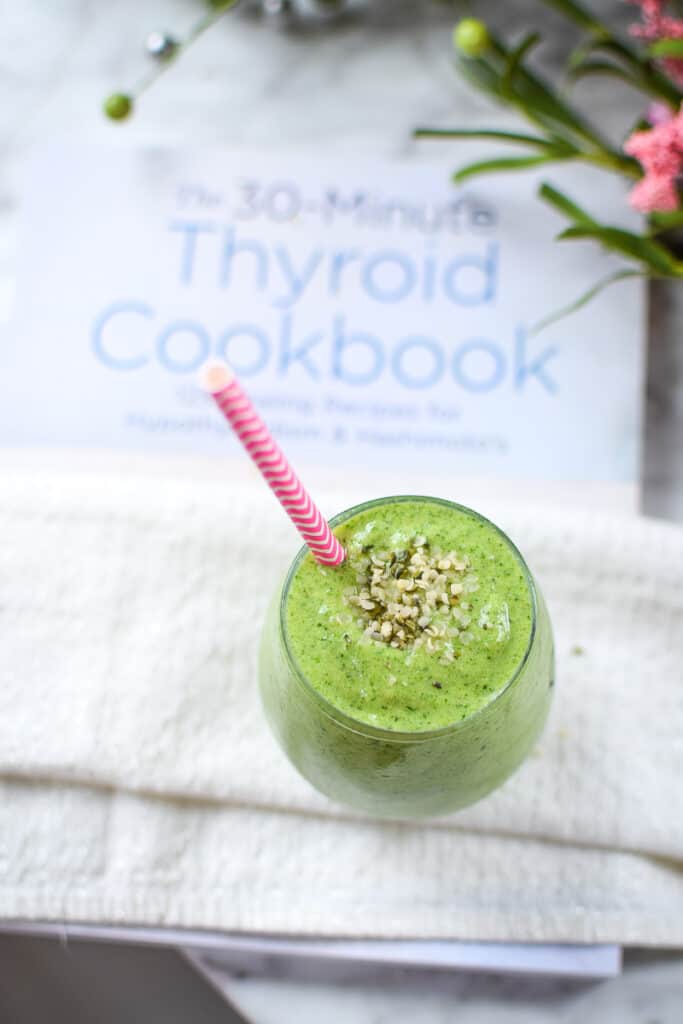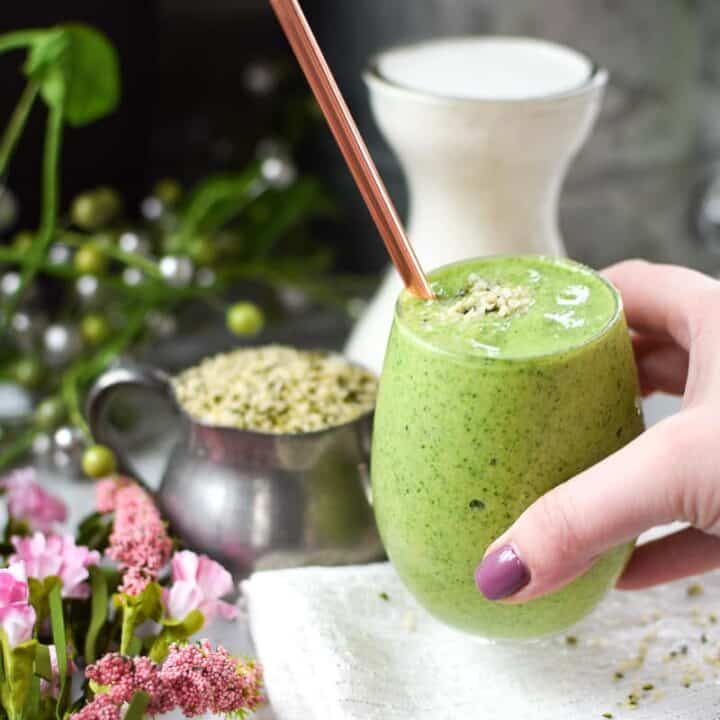 Green Dream Hemp Seed Smoothie
This Green Dream Hemp Seed Smoothie inspired by my book, The 30-Minute Thyroid Cookbook, is a whole food, plant-based, vegan, gluten-free, dairy-free smoothie that tastes amazing while delivering an abundance of nutrients and antioxidants. This smoothie includes options for infusing this drink with CBD oil if desired.
Ingredients
2 cups frozen mango
2 cups frozen pineapple
2 cups packed spinach
2 cups homemade hemp seed milk (or alternative plant-based milk)
3 tablespoons hulled hemp seeds
¼ teaspoon coconut extract, optional
Instructions
Add the frozen mango, pineapple, spinach, hemp seed milk, hemp seeds, and coconut extract to a high-speed blender.

Blend for 2 minutes or until completely smooth.

Stir in CBD Oil, if using.
Notes
*Substitution Tip: Use any dark green leafy vegetable for spinach. Try swiss chard, beet greens, or kale.
*Ingredient Tip: To get more protein into your smoothie, add 1 scoop of unflavored collagen protein powder.
*Nutrition facts calculated not including CBD oil.
Nutrition Information:
Yield:

4
Serving Size:

1 smoothie
Amount Per Serving:
Calories:

260
Total Fat:

12g
Saturated Fat:

1.5g
Cholesterol:

0mg
Sodium:

100mg
Carbohydrates:

28g
Fiber:

5g
Sugar:

21g
Protein:

11g
More Delicious Hemp Drinks
Looking for more delicious hemp infused drinks? Check out my Hemp Infused Kombucha and CBD Pumpkin Spice Latte.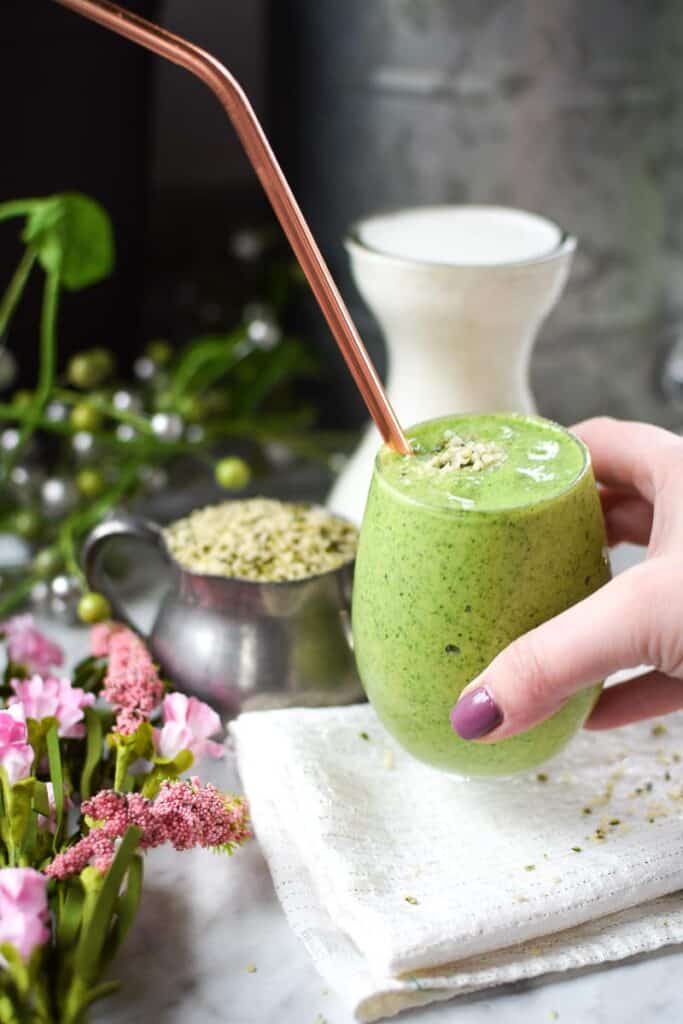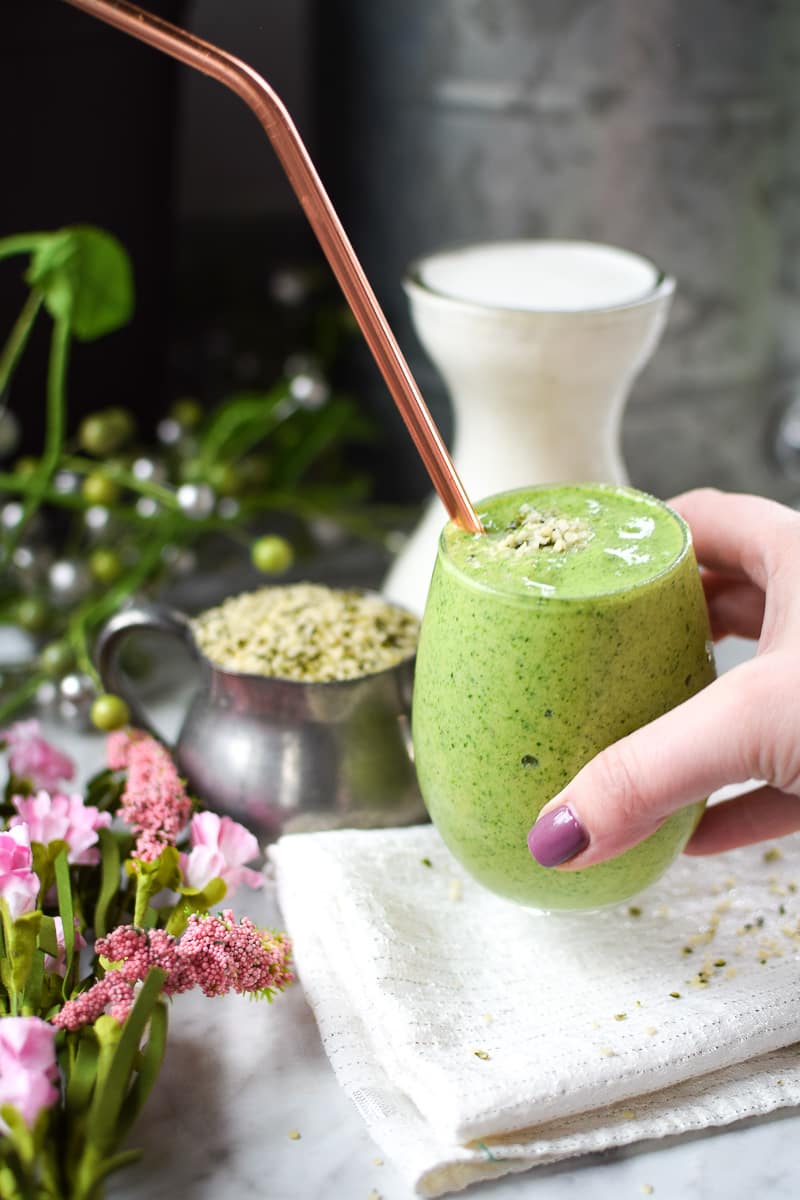 ---
More From The Cannabis Blog
Emily Kyle's Cannabis Blog is an online resource created to help women like you discover how hemp, cannabis, CBD or THC can improve your health, and quality of life, mentally, physically, and emotionally.