Get the recipe for this plant-based, nutrient-dense, gluten-free and completely customizable Mango Smoothie Bowl with Edible Flowers plus fun facts about mango nutrition.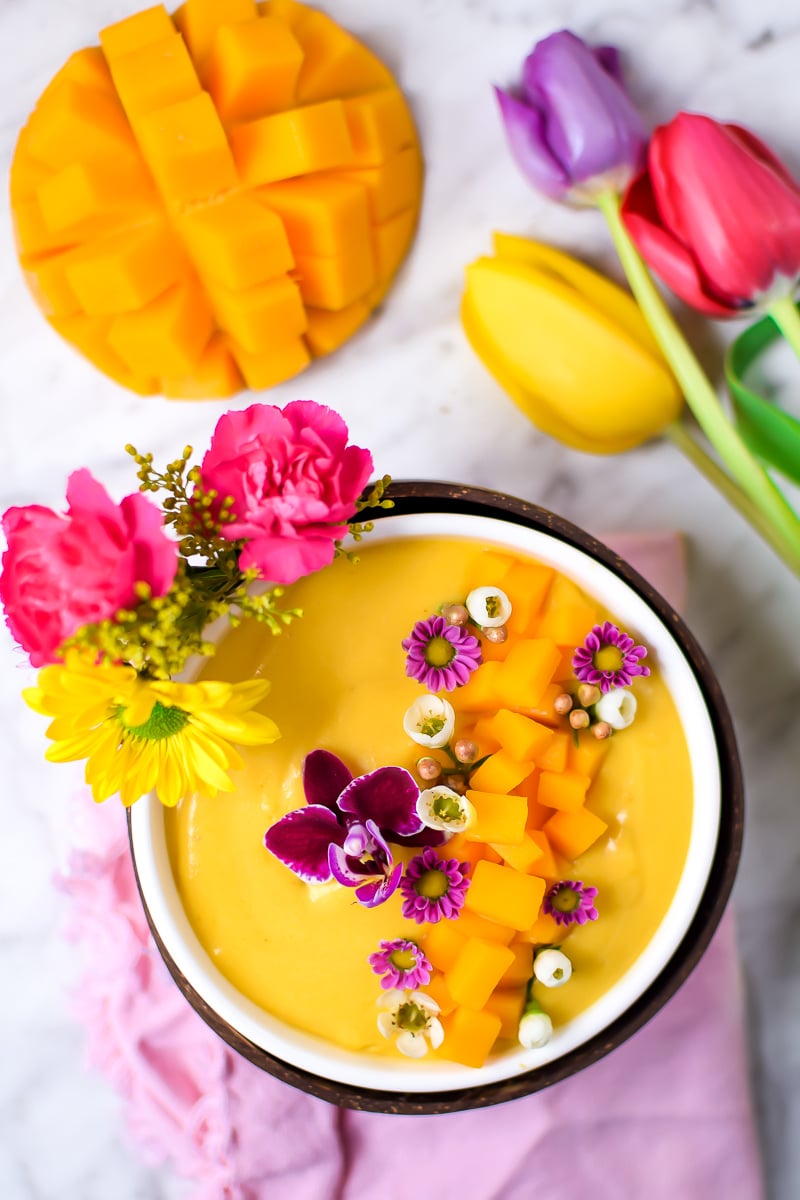 Mango Smoothie Bowl with Edible Flowers
Ask any New Yorker and they will tell you that March is no doubt the hardest time of year.
Spring is so close, and yet so far away.
After a brutal long winter, it is hard to know that warmer days are on the way while still living with another possible month or two of cold, miserable winter weather.
Luckily, we can bring springtime indoors with this delicious Mango Smoothie Bowl with Edible Flowers.
The bright, vibrant color signals springtime and will put you in a happy mood for sunnier days to come.
If you have never had a smoothie bowl before, you're in for a treat.
Smoothie bowls are slightly thicker than traditional smoothies and then topped with a variety of ingredients to make for a unique eating experience that requires sitting down and eating with a spoon.
This Mango Smoothie bowl comes together with a perfect blend of fresh mango, coconut cream, and anti-inflammatory spices for a bright, vibrant taste and a hearty dose of nutrients and antioxidants.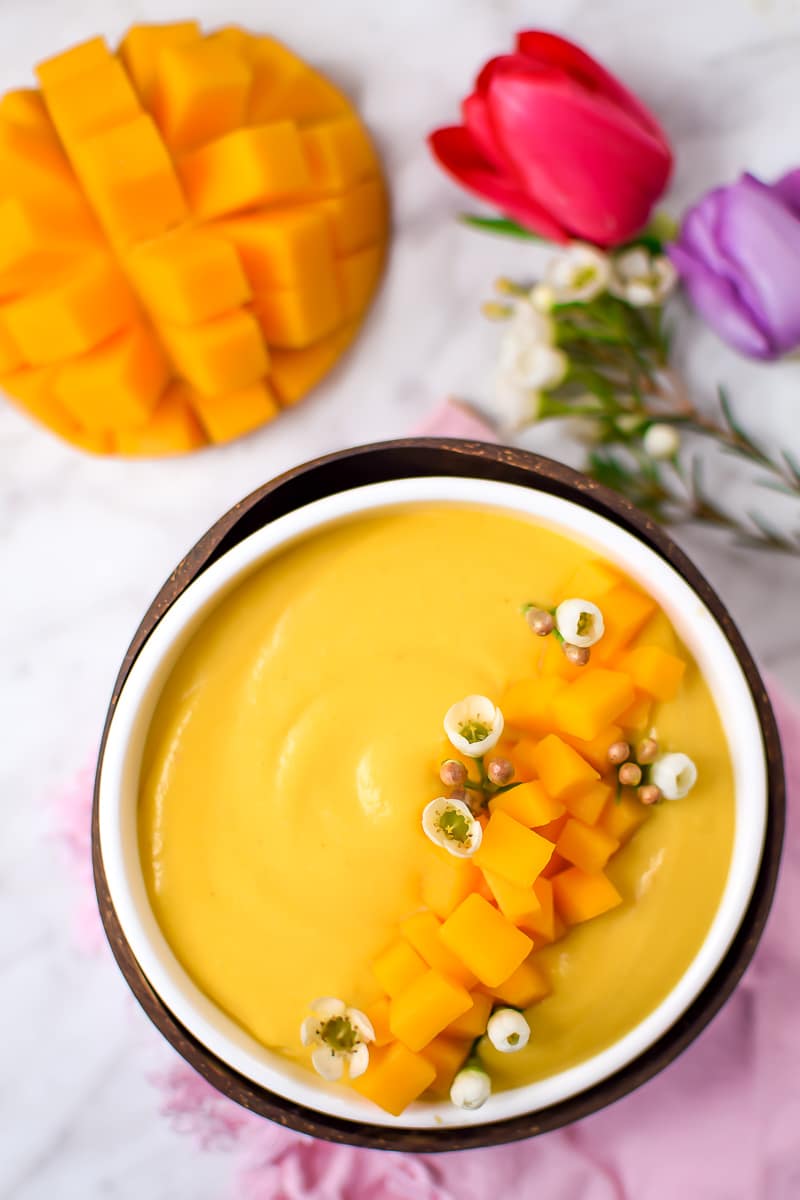 How to Make a Smoothie Bowl
I love smoothie bowls because they take a food that is typically consumed on-the-go, a traditional smoothie, and transform it into a meal that can be enjoyed sitting down.
Below I will go over the most important steps for making your very own smoothie bowl at home.
Pick The Base
Mangos make the perfect base for any smoothie or smoothie bowl due to their ultra-creamy texture.
They also serve as an excellent smoothie bowl base because of their vibrant color and nutritional benefits outlined below.
Pick The Liquid
You want a smoothie bowl to be slightly thicker than a traditional smoothie, so you can easily enjoy it with a spoon.
For this reason, you will want to use less liquid than you would in a regular smoothie.
For this smoothie bowl recipe, we have combined coconut milk and coconut cream which gives this recipe a thick, silky texture.
You could also opt for options like avocado for a thicker option or another plant-based milk for a thinner liquid option, like hemp seed milk or homemade sunflower seed milk.
Pick The Flavor Enhancers
Mango itself is one of the sweetest, most delicious fruits available year round, so there really is not much to add in terms of flavor and sweetness, but rather to simply compliment the flavor.
To add an extra pop of flavor and nutrition, we added ginger and turmeric, two spices whose flavors pair nicely with the mango to enhance, not overwhelm, the natural flavors of the fruit.
Pick The Toppings
Once you get the base made, your smoothie bowl truly is a blank canvas. The toppings of your smoothie bowl are seemingly unlimited.
The key is to pick 2-3 nutritious options than you enjoy the most and add them in reasonable quantities.
Many of the most popular smoothie bowl toppings include:
Fresh fruit like diced mango
Nuts like almonds or walnuts
Seeds like chia seeds or hemp seeds
Additional garnishes like edible flowers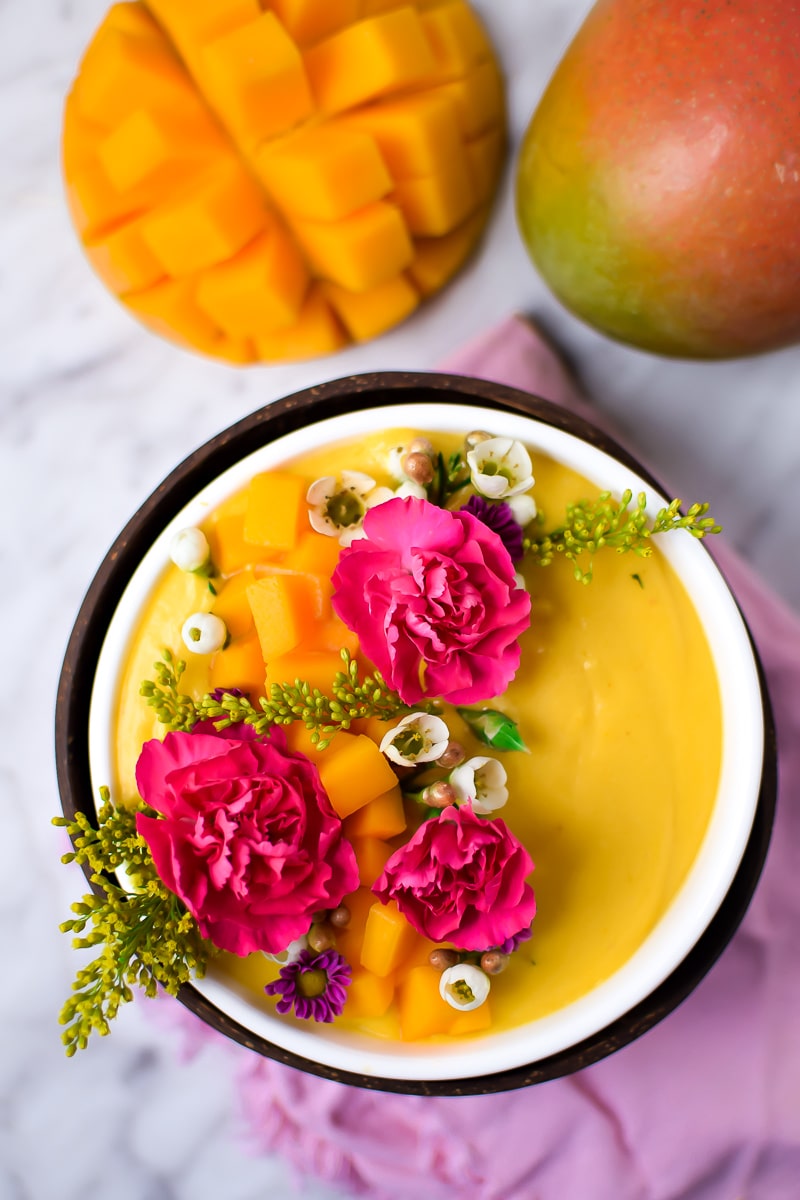 Mango Nutrition Benefits
Mangos are no doubt the sunniest fruit in the product aisle. Their sweet flavor and rich health benefits make them the most widely consumed fruit in the entire world.
Just 1 cup of mango provides:
100% of Daily Vitamin C
100 calories
35% of Daily Vitamin A
No cholesterol, sodium, or fat
Surprising Mango Health Benefits
Each serving of mango is fat-free, sodium-free, and cholesterol-free.
Mangos contain over 20 different vitamins and minerals, helping to make them a superfood.
A mango a day contains 12 percent of your daily fiber requirement.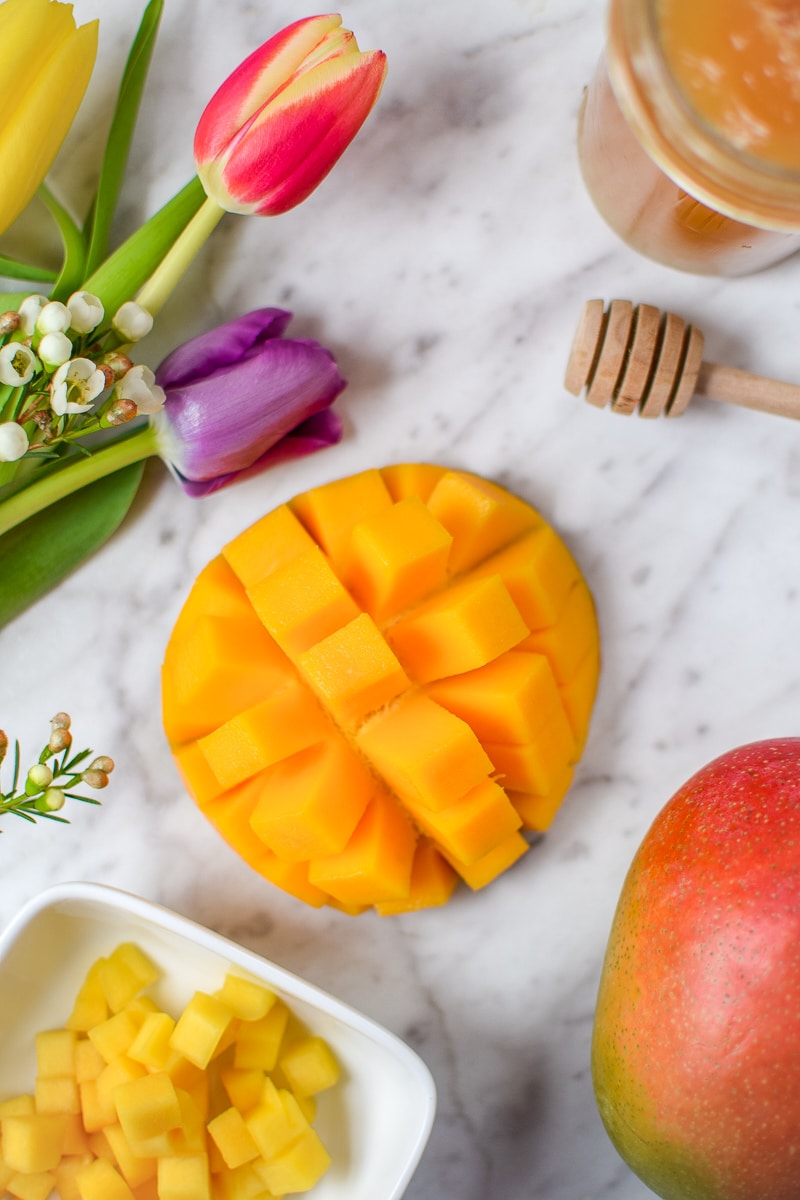 Ginger:
Ginger is a spice that is derived from the rhizome of a flowering Chinese plant that has many health benefits. While fresh ginger is recommended in this recipe, you can use ground ginger as well if that is what you have on hand.
Turmeric:
Known for its bright, vibrant orange color, this spice has an important compound called curcumin. Because, this recipe calls for a tiny dash of black pepper, but don't worry – you can't even taste it!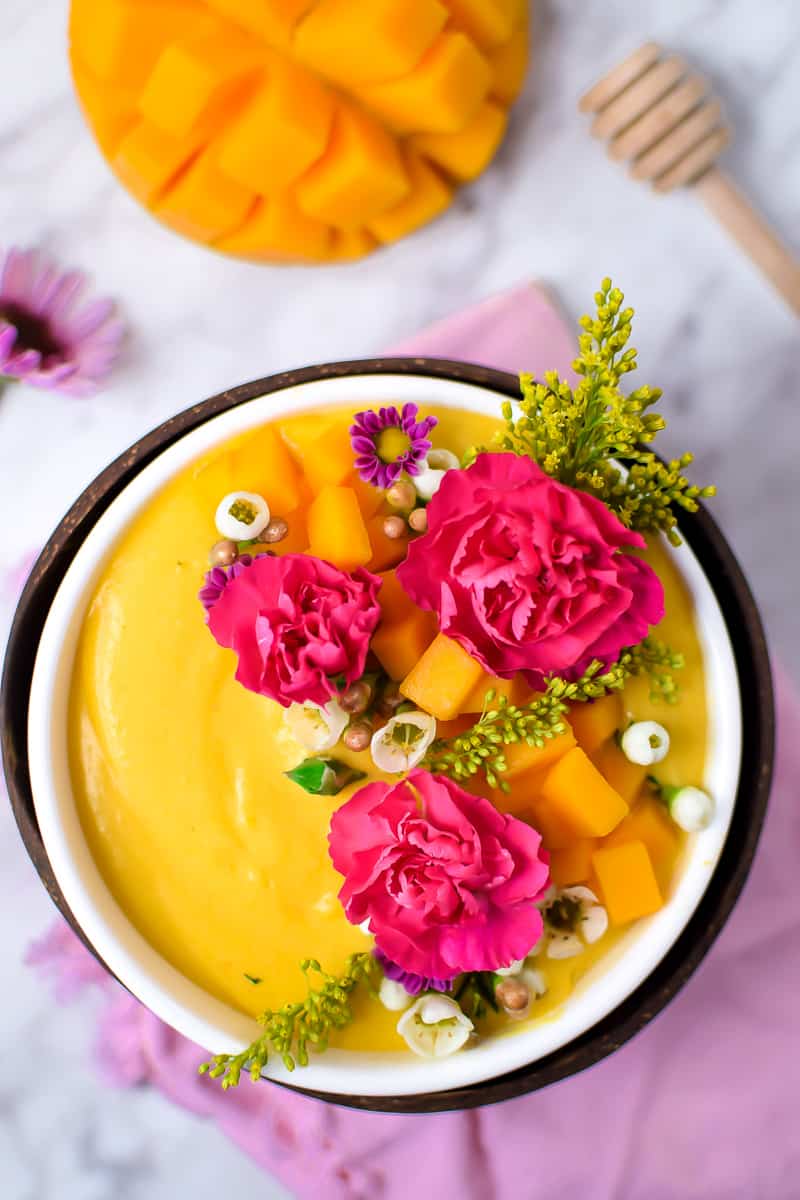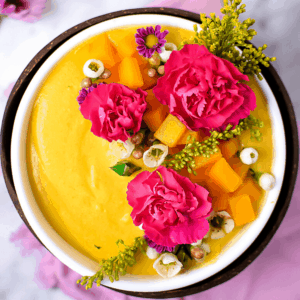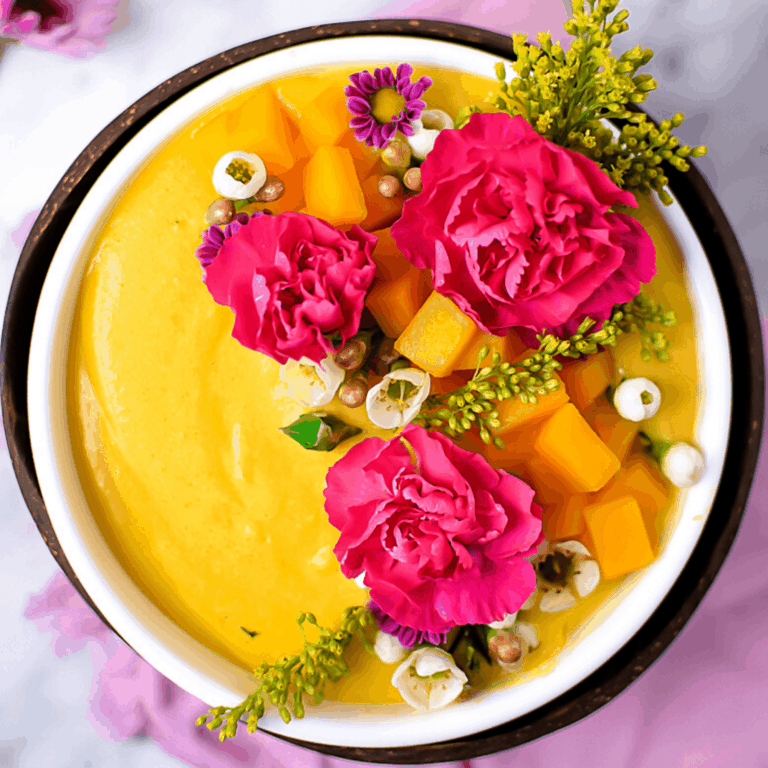 Coconut Mango Smoothie Bowl
This delicious smoothie bowl is a plant-based, nutrient dense, gluten-free meal that can be completely customized with edible flowers or other nutritious garnishes like nuts, seeds, and fruit.
Ingredients
2

cups

fresh mango

½

cup

lite coconut milk

¼

cup

coconut cream

1

tablespoon

pure honey

1

teaspoon

freshly grated ginger

1/8

teaspoon

cayenne pepper*

⅛

teaspoon

ground black pepper*

Optional: 2 scoops unflavored collagen peptides
Instructions
In a high speed blender, combine the mango, coconut milk, coconut cream, honey, ginger, cayenne, black pepper, and collagen (if using).

Blend on high for 90-seconds, or until silky smooth.

Garnish with additional mango and edible flowers as desired.
Notes
If you are using this smoothie bowl as a full meal, be sure to add the unflavored collagen peptides. This will add 20 grams of high-quality protein and round out the carbohydrates and fat to create a balanced meal. The peptides are completely tasteless and will not alter the taste or texture of this bowl.
*To make this recipe vegan-friendly, swap the honey for maple syrup and omit the collagen peptides.
Nutrition
Serving:
1
cup
Calories:
400
kcal
Carbohydrates:
55
g
Protein:
9
g
Fat:
19
g
Saturated Fat:
17
g
Polyunsaturated Fat:
1
g
Sodium:
37
mg
Fiber:
3
g
Sugar:
50
g