This ultra-creamy, tropical, delicious cannabis mango smoothie bowl bursts with flavor from the mangoes and coconut milk. Get the recipe and learn more about how cannabis and mango are the perfect pair here.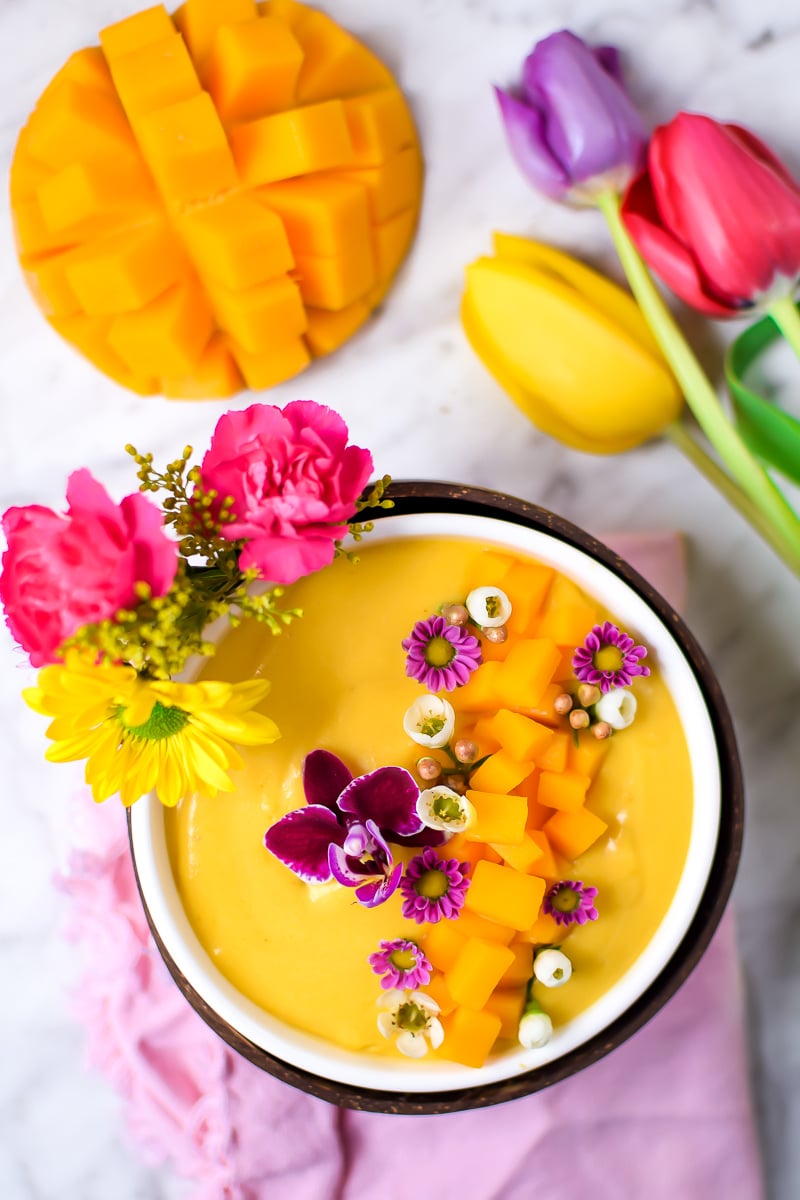 Features
An easy-to-make cannabis smoothie bowl
Multiple infusion options to choose from
The benefits of combining mango and cannabis
Plus, this smoothie incorporates mango, an ingredient that has been anecdotally reported to help enhance the effects of cannabis.
We will discuss this more in the post, but it is thought to be likely due to the terpene myrcene present in mangos.
Continue reading to learn more and get the full recipe with printable directions below.
---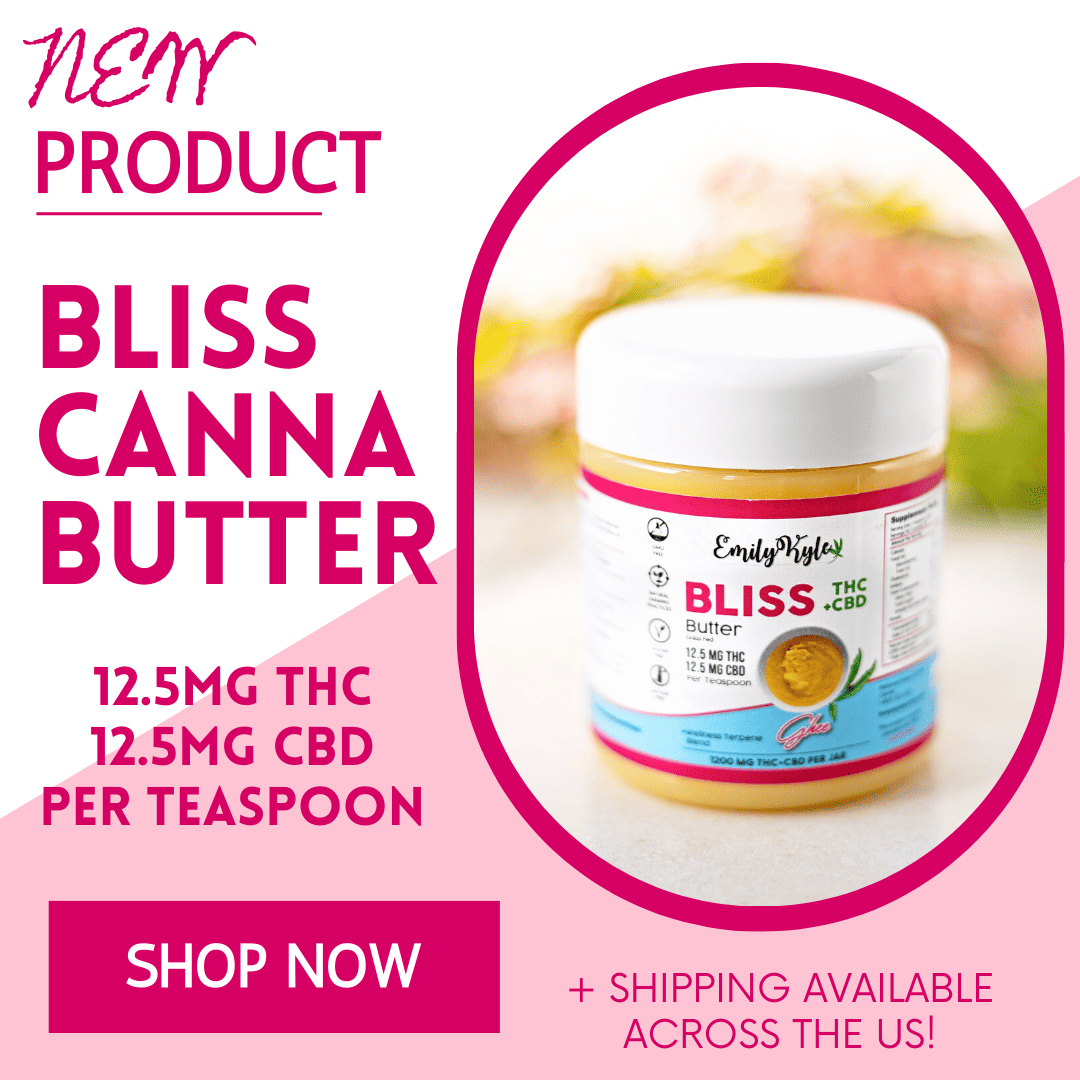 Skip the hard work and have perfectly dosed, delicious, pure Bliss Cannabutter delivered directly to your door! Shop Now →
---
Ingredient Notes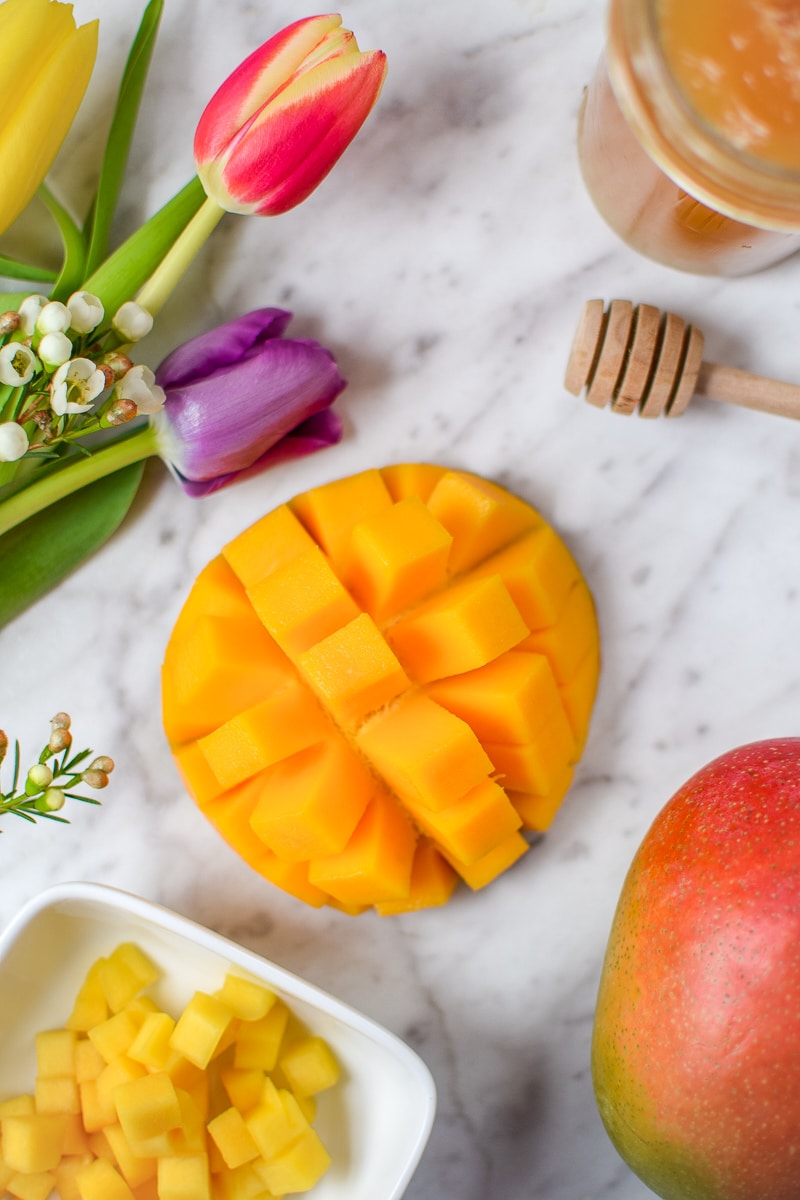 Mango – frozen mango chunks are best
Greek yogurt – plain, vanilla, or coconut flavors work best
Coconut milk – or any type of milk you prefer, like cannabis milk
Protein powder – optional, but this helps to increase the nutrient density of this smoothie bowl. I prefer unflavored collagen peptides.
Cannabis oil – your choice for what kind of oil to use; find many different options below
Honey – regular or cannabis-infused honey
Ginger – ground or fresh work
Turmeric – ground or fresh work
Black pepper – optional, but this helps increase the bioavailability
Note: a complete list of ingredients with amounts and printable instructions is located in the recipe card below.
How to Make a Smoothie Bowl
I love smoothie bowls because they take a food that is typically consumed on the go, a traditional smoothie, and transform it into a meal that can be enjoyed sitting down.
Below I will go over the most important steps for making a smoothie bowl at home.
If you've never made a cannabis smoothie before, you can check out my ultimate cannabis smoothie guide here.
The bright, vibrant color of this beautiful cannabis mango smoothie bowl signals springtime and will put you in a happy mood for sunnier days to come.
If you have never had a smoothie bowl, you're in for a treat.
This cannabis mango smoothie bowl has a perfect blend of fresh mango, coconut, and anti-inflammatory spices for a bright, vibrant taste and a hearty dose of nutrients and antioxidants.
Pick The Base
Frozen mangos make the perfect base for any smoothie or bowl due to their ultra-creamy texture.
They also serve as an excellent smoothie bowl base because of their vibrant color and nutritional benefits outlined below.
Pick The Liquid
You want a smoothie bowl to be slightly thicker than a traditional smoothie, so you can easily enjoy it with a spoon.
For this reason, you will want to use less liquid than you would in a regular smoothie.
For this smoothie bowl recipe, I used coconut milk which gives this recipe a thick, silky texture.
You could also opt for options like avocado for a thicker option or another plant-based milk for a thinner liquid option, like hemp seed milk or homemade sunflower seed milk.
Additionally, you could use cannabis-infused milk or cream as an extra cannabis-infusion option.
Pick The Flavor Enhancers
Mango is one of the sweetest, most delicious fruits, so there is not much to add to flavor and sweetness but to complement the flavor.
To add an extra flavor and nutrition, I added ginger and turmeric, two spice flavors that pair nicely with the mango to enhance, not overwhelm, the fruit's natural flavors.
Pick The Toppings
Once you make the base, your smoothie bowl is a blank canvas.
The toppings of your smoothie bowl are seemingly unlimited.
The key is picking 2-3 nutritious options you enjoy and adding them in reasonable quantities.
Many of the most popular smoothie bowl toppings include:
Fresh fruit like diced mango
Nuts like almonds or walnuts
Seeds like chia seeds or hemp seeds
Additional garnishes like edible flowers
Cannabis Infusion Options
When making cannabis edibles, there is always more than one way to infuse a recipe.
While I prefer to add a teaspoon of cannabis oil directly to this smoothie bowl, there are many other options you can choose from, depending on what you have on hand.
Alternative Infusion Options: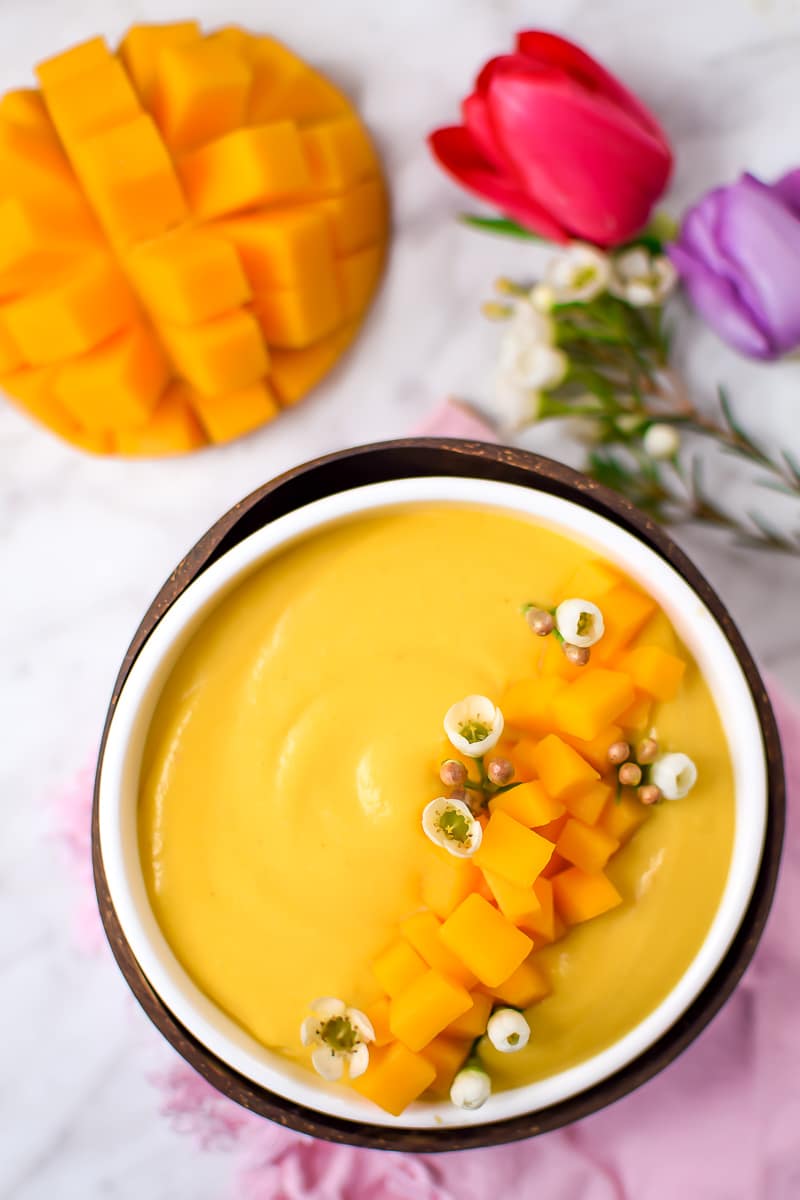 Smoothie Bowl Nutrition Benefits
Mangos are no doubt the sunniest fruit in the product aisle.
Their sweet flavor and rich health benefits make them the most widely consumed fruit in the entire world.
According to the National Mango Board, just 1 cup of mango provides:
100% of Daily Vitamin C
100 calories
35% of Daily Vitamin A
No cholesterol, sodium, or fat
Mango Benefits
Each serving of mango is fat-free, sodium-free, and cholesterol-free
Mangos contain over 20 different vitamins and minerals, helping to make them a superfood
A mango a day contains 12 percent of your daily fiber requirement
Ginger Benefits
Ginger is a spice derived from the rhizome of a flowering Chinese plant with many health benefits.
It is anecdotally used as a stomachache remedy or to reduce nausea.
While ground ginger is used in this recipe, you can also use fresh ginger if available.
Turmeric Benefits
Known for its bright, vibrant orange color, this spice has a special compound called curcumin.
Curcumin is more bioactive when paired with black pepper.
Because of this fact, this recipe calls for a tiny dash of black pepper, but don't worry – you can't even taste it!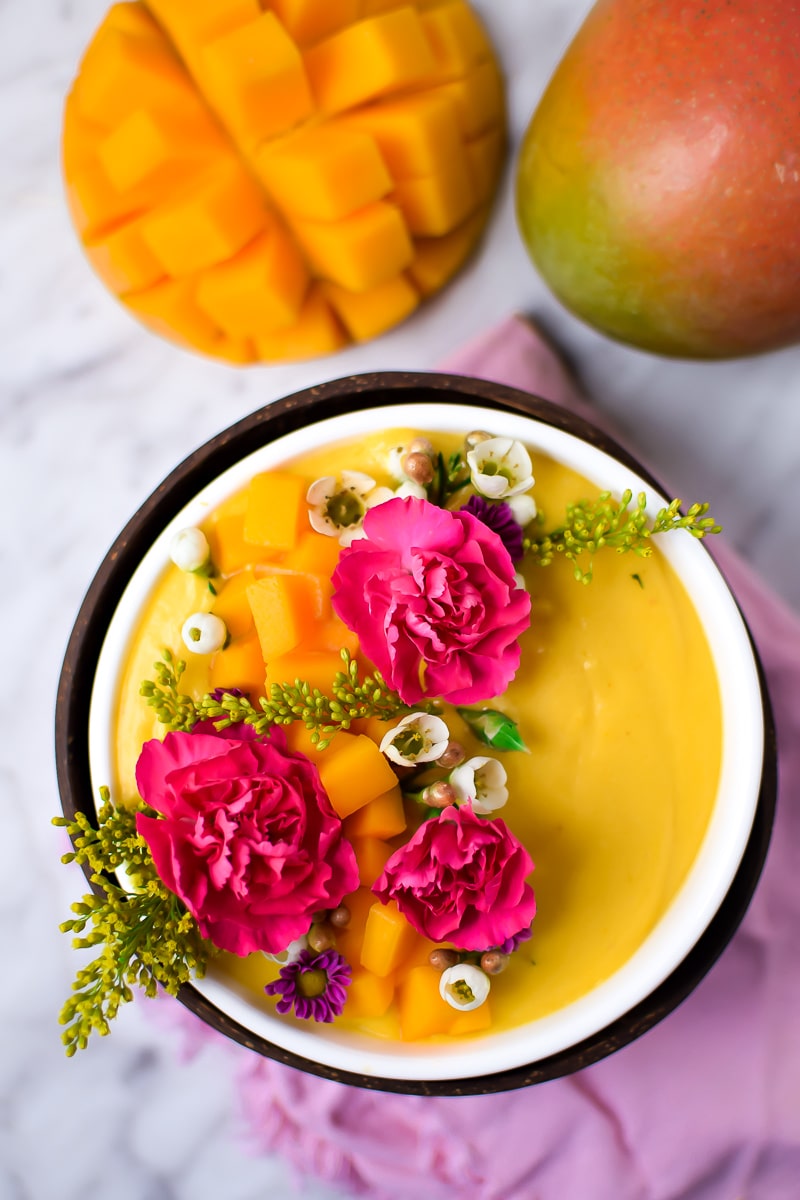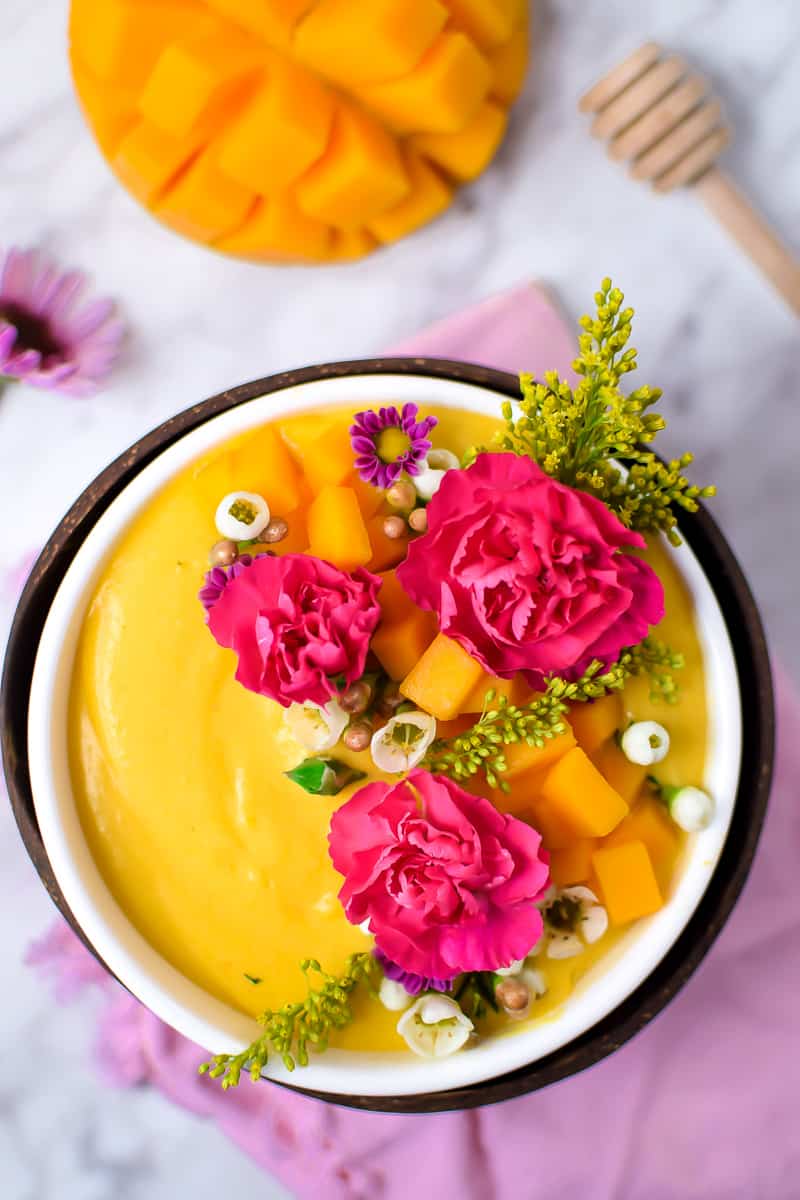 Determine The Dose
Want to get a more accurate guesstimate of the potency of your cannabis infusions and extractions? Try my popular edibles dosage calculator. Not sure what your perfect dose is? Learn more here.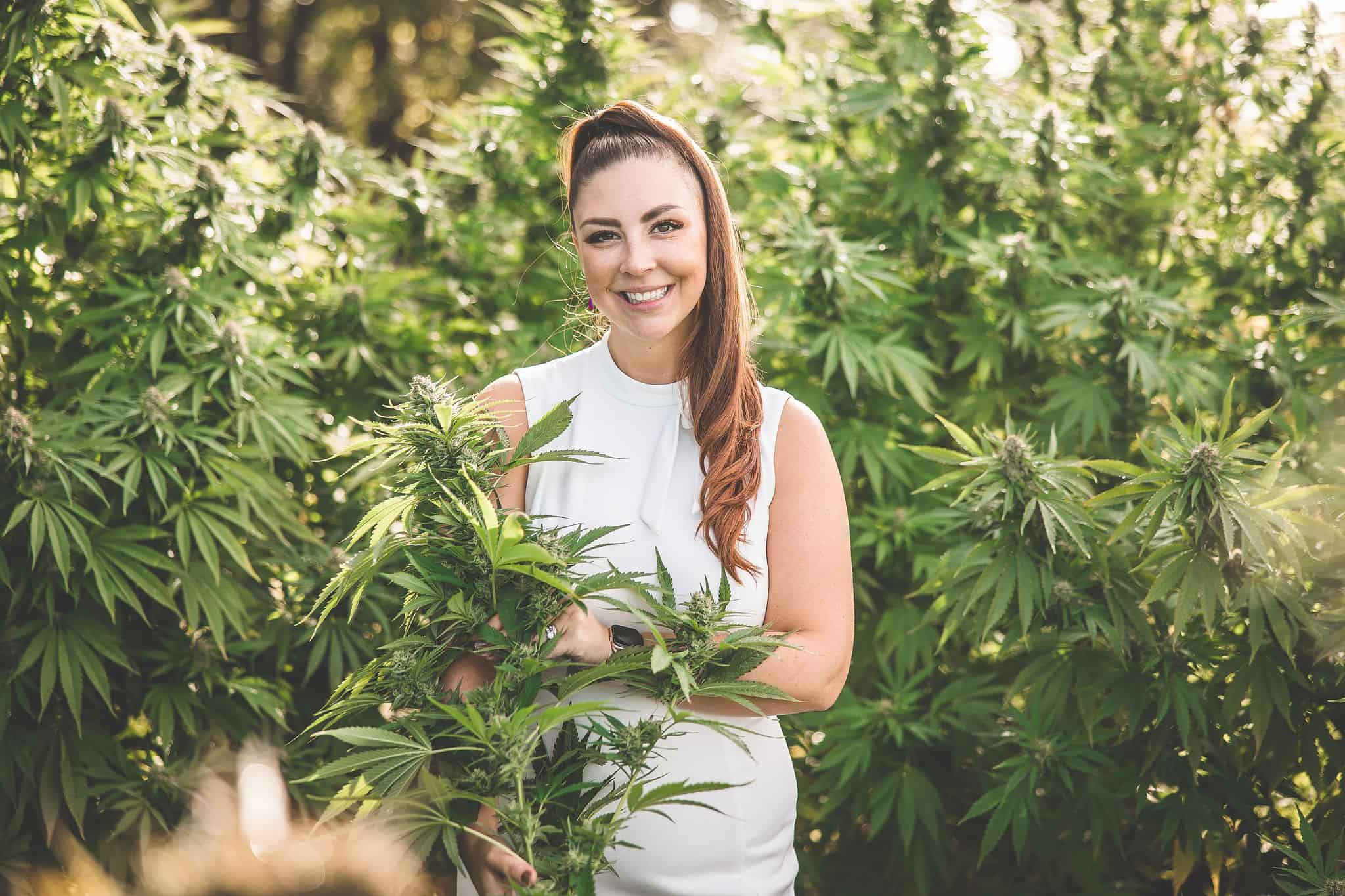 Join thousands of like-minded cannabis lovers from across the world inside a censor-free forum where you can explore the health benefits of cannabis and truly learn what it means to live Well With Cannabis →
More Smoothie Recipes You Will Love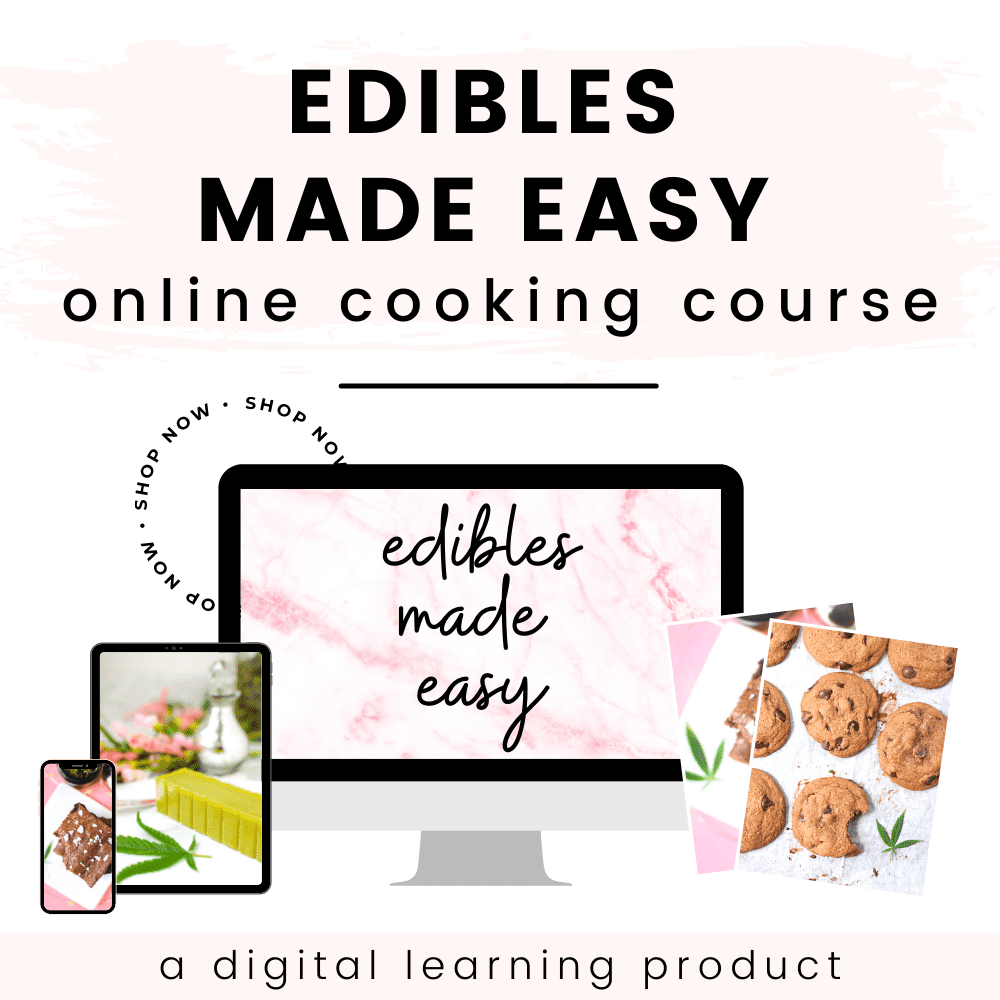 Take your edibles to the next level…
My Edibles Made Easy Online Cooking Course will teach you how to easily make cannabis edibles and topical recipes at home. This step-by-step video course will teach you how to infuse, extract, and create edibles with many different product types – all from the comfort of your own home.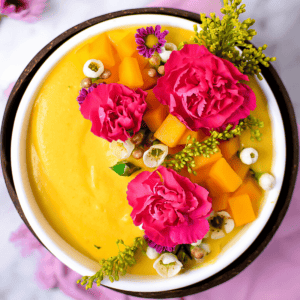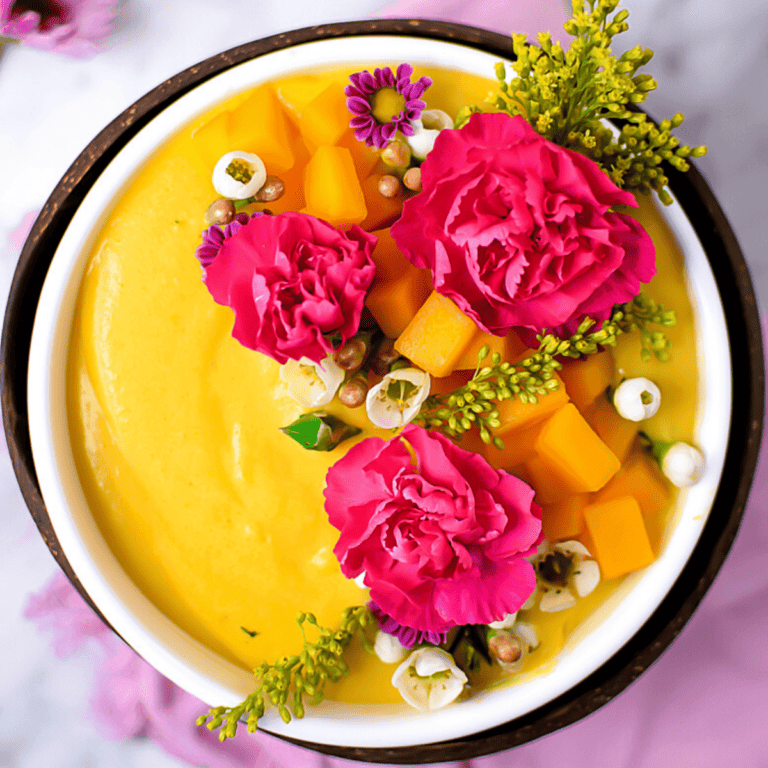 Cannabis Mango Smoothie Bowl
This ultra-creamy, tropical, delicious smoothie is bursting with flavor from the mangoes and coconut milk. While not scientifically proven, there are anecdotal reports that mango can help enhance the effects of cannabis, thought to be likely due to the terpene myrcene present in mangos. 
Instructions
Add the mango, yogurt, coconut milk, collagen peptides, honey, oil, and ginger to a high-speed blender.

Blend on high for 1 minute, or until silky smooth.

Garnish with additional mango and edible flowers, if desired.
Notes
Yield: This recipe makes approximately 12 ounces.
CBD Variation: To make CBD oil or CBD butter, swap CBD dominant cannabis flower for THC dominant cannabis flower.
Flavor Variation: If you want a more prominent ginger flavor, you can use 1/2 teaspoon of freshly grated ginger instead of the ground.
Nutrition Tip: To boost the nutritional value of this recipe, it is recommended to add 2 scoops of unflavored collagen peptides. While optional, this protein powder is completely tasteless and can contribute an additional 70 calories and 18 grams of high-quality protein. You can easily find collagen peptides online or at your local health food store.
Alternative Infusion Options:
Nutrition
Serving:
1
serving
,
Calories:
375
kcal
,
Carbohydrates:
13
g
,
Protein:
31
g
,
Fat:
25
g
,
Saturated Fat:
22
g
,
Trans Fat:
1
g
,
Cholesterol:
5
mg
,
Sodium:
56
mg
,
Potassium:
402
mg
,
Fiber:
1
g
,
Sugar:
9
g
,
Vitamin A:
108
IU
,
Vitamin C:
1
mg
,
Calcium:
131
mg
,
Iron:
4
mg
Did you make this recipe or have a question?
Join hundreds of members inside private Well With Cannabis Community for help, support, and to share your edible creations!