Learn more about the health benefits of chia seeds, the nutrition benefits they provide, how easy it can be to add them to your favorite meals, plus some tasty chia seed recipes you can try today.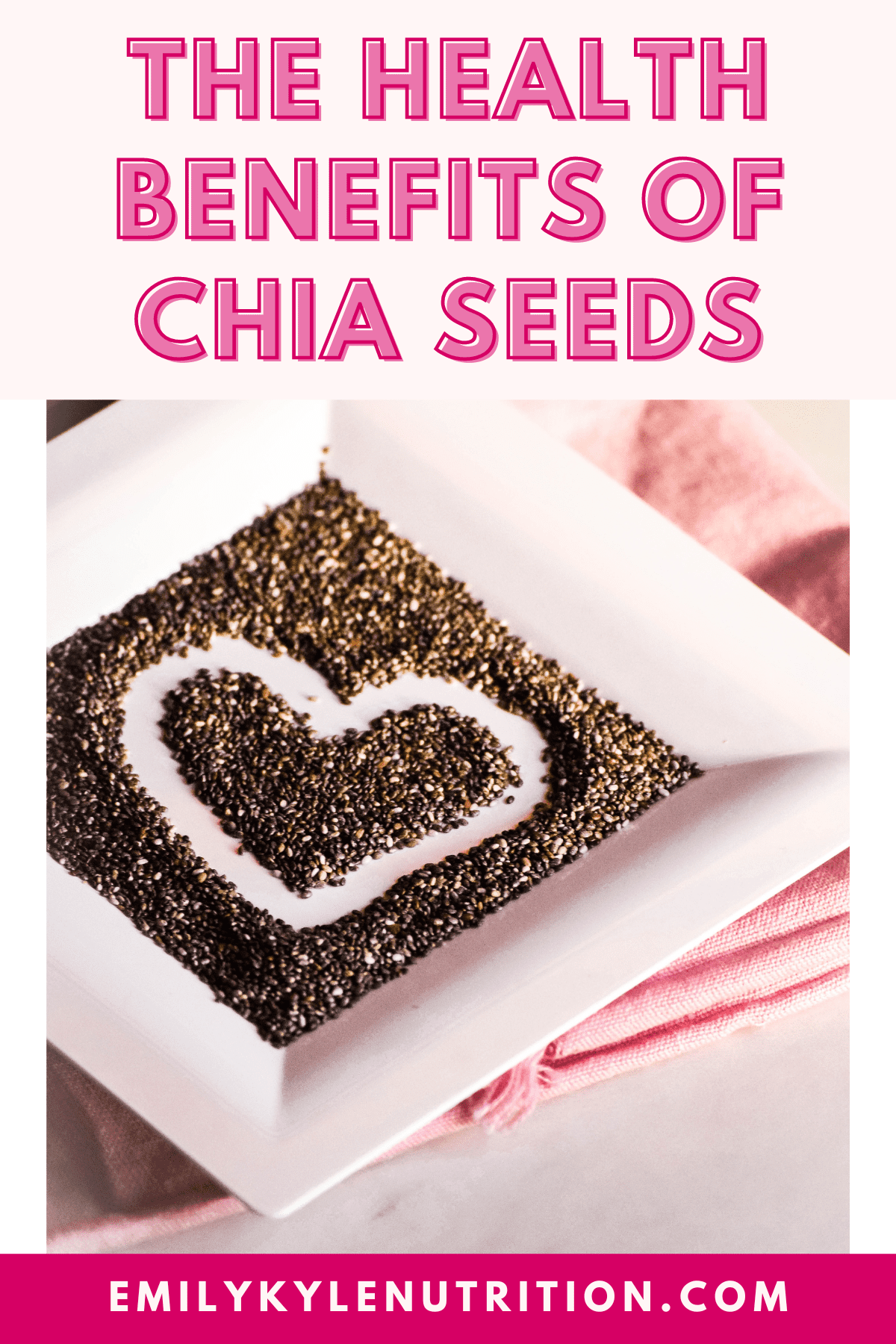 New to Chia Seeds?
You may be hesitant to incorporate these powerful seeds into your daily routine, but have no fear.
Chia seeds are one of the greatest new foods that have made their way to the mainstream grocery market over the past few years, and a personal favorite of mine.
Not only are they a great addition to just about any dish, but they are extremely nutritious as well.
Adding just a small amount of chia seeds to the foods and recipes you already love is an easy way to get more vitamins, minerals, dietary fiber, and omega-3 fatty acids into your diet.
Omega 3 Fatty Acids in Chia Seeds
Chia Seeds are composed of nearly 60% ALA omega-3 fatty acids and are the richest plant source of Omega 3's.
What are Omega 3's you ask?
Healthy fats may help to reduce inflammation, enhance cognitive performance, and reduce high levels of cholesterol!
If you're not a fan of fish, this is a great way to get the omega-3 fatty acids you may otherwise be missing.
Dietary Fiber in Chia Seeds
Chia seeds contain a unique combination of both soluble and insoluble fiber, which means you will stay fuller longer, and in turn, eat less overall, which may lead to weight loss.
Are Chia Seeds Diabetes-Friendly?
Chia seeds are an excellent choice for those who have diabetes.
Chia seeds are relatively low in carbohydrates, with just 5 grams in 1 tablespoon.
Those 5 carbohydrates are complex carbohydrates, which means they take longer for the body to digest, minimizing blood sugar spikes during digestion.
The Health Benefits of Chia Seeds
NUTRITION FACTS. Serving Size 1 Tablespoon:
60 Calories
3.5 grams of Heart-Healthy Polyunsaturated Fats
4 grams of Carbohydrates
4 grams of Dietary Fiber – 15% of your Daily Value!
2 grams of Protein
1mg of Iron – 4% of your daily value
2200mg of ALA Omega-3 Fatty Acids
Fun Chia Seed Facts
Chia seeds are a rich source of minerals such as iron, potassium, folate, phosphorus, and magnesium.
Don't like fish? Weight for weight – chia seeds contain more Omega 3's fatty acids than salmon!
Lactose-intolerant? Weight for weight chia seeds contain more calcium than a glass of milk.
Chia seeds are extremely high in antioxidants, which help to combat damage by free radicals.
Naturally, cholesterol and gluten-free!
What to Do with Chia Seeds?
Chia seeds are unique because when they are mixed with a liquid, they have the ability to absorb 5 times their weight in liquid.
When they are combined with the liquid, they form a gel-like substance – creating a variety of possible uses.
This is why chia seeds are so famous for their ability to create awesome pudding and dessert dishes.
But that's not all they can do!
Chia seeds are incredibly versatile and can be used whole or milled.
Toss them into a salad, blend into smoothies, add to oatmeal or yogurt, make a homemade jam/jelly, use as an egg substitute for baking, or use as a thickener for soups.
I use chia seeds in so many of my recipes and my daily eating routine in general. Here are my favorites!