Warm, soothing, and packed with anti-inflammatory spices, this easy-to-make cannabis pumpkin spice latte brings together this traditional Fall favorite with soothing cannabis for a relaxing experience like no other.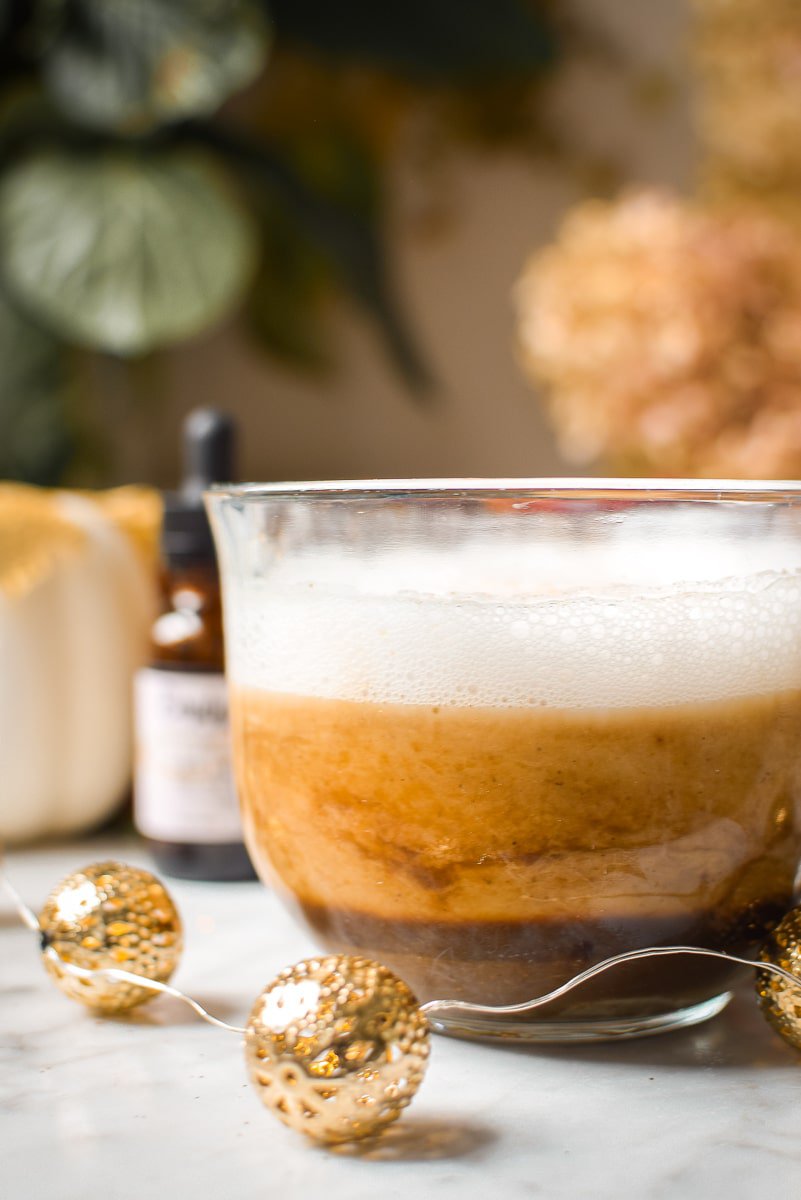 Cannabis Pumpkin Spice Latte
Being from Upstate NY, I am about as basic as it gets when it comes to all things fall. I'm talking Autumn-scented candles, cozy knit sweaters, soft blankets, apple picking, and yes, all things pumpkin spice.
Now I could tell you that a standard 16 ounce Starbucks Pumpkin Spice Latte has 380 calories and 13 grams of fat, but that wouldn't make it any less delicious, warming, or comforting.
It wouldn't take away that sense of nostalgia I feel every time I sip the first PSL of the season, and it wouldn't make it any less enjoyable.
But the truth is, I live at least 30-minutes from the closest Starbucks, so I tend to enjoy one 'real' pumpkin spice latte each year, and then make my own at home. Of course, I do like making my own at home because I can control the ingredients, and make it all the time.
So here is, my easy-to-make-at-home version that is naturally dairy-free, gluten-free, yet still creamy and delicious, and even better than any PSL you've ever had before because it is made with my full-spectrum CBD Oil.
Of course, there are many different ways to make a cannabis-infused PSL so we've included instructions for infusing this recipe with cannabis coconut oil, cannabutter, full-extract cannabis oil FECO, and even leftover cannabis pulp.
Join nearly twenty thousand awesome members inside my Well With Cannabis Facebook Community if you have any questions about cooking with cannabis or want to share your creations!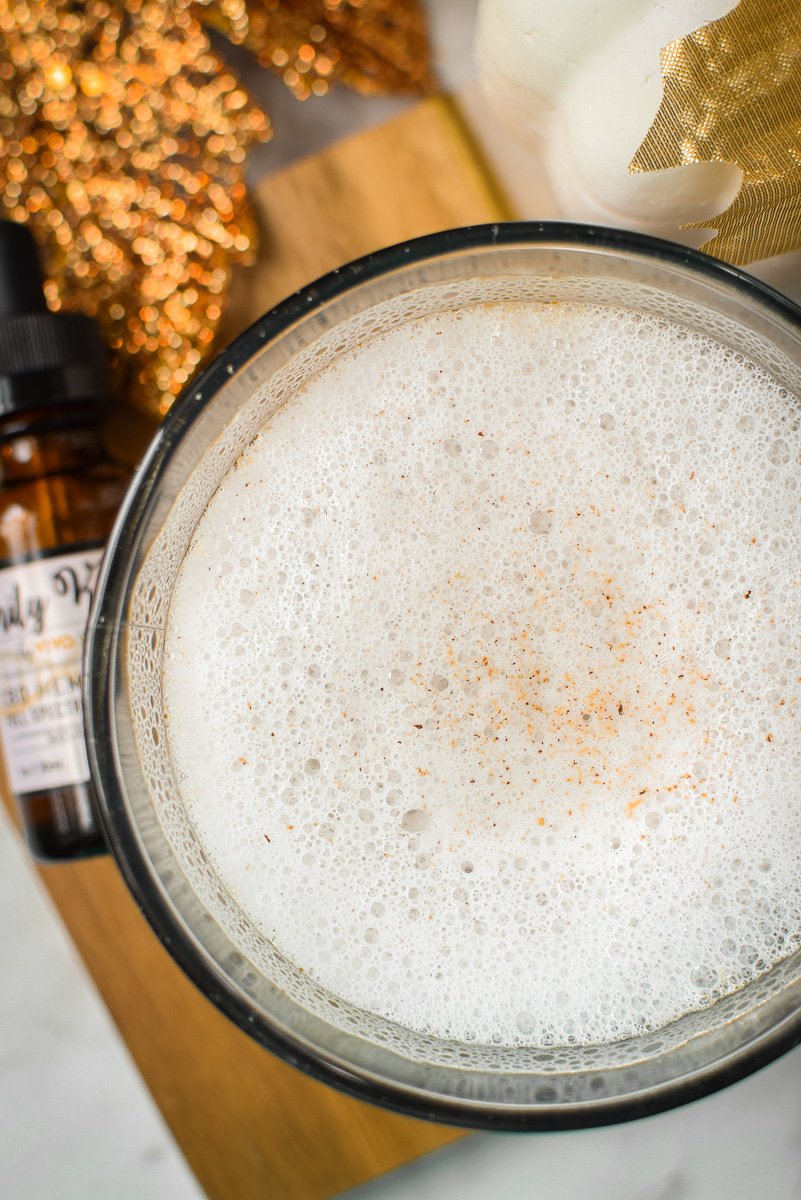 Anti-Inflammatory Spices in This Pumpkin Spice Latte
The spices traditionally found in a Pumpkin Spice Latte have many health benefits, including important anti-inflammatory properties, making this recipe not only delicious but nutritious as well.
Cinnamon
The health benefits of cinnamon have been studied for many years, and this spice is considered to be one of the most healthful on the planet.
Cinnamaldehyde is a compound found in cinnamon that is thought to provide the most of its medicinal benefits. Packed with polyphenol antioxidants, cinnamon can help the body protect itself from free radicals.
Inflammation, one of the most talked-about causes of chronic disease, can be counterbalanced by the foods that we eat. Cinnamon is no exception and has been heavily studied for its ability to provide anti-inflammatory benefits to the human body. Cinnamon has also been studied for its ability to lower cholesterol and reduce the risk of developing heart disease.
Ginger
Ginger is another spice that has been studied for quite some time to prove the effectiveness of its medicinal qualities. Gingerol, the main bioactive compound in ginger, provides many of the health benefits we know and use today.
Ginger is most notably considered for its ability to ease nausea and morning sickness but has also been found to help with reducing muscle pain and soreness, reducing inflammation in the body, and lowering blood sugars in certain circumstances.
Nutmeg
Nutmeg, a popular spice in ethnic cuisine around the world, is a popular spice that is best known for its warm, delicious taste and it's health benefits. Recent studies have shown that nutmeg is an anti-inflammatory food that has the ability to help treat insomnia, pain, aid in digestion and enhance blood pressure and circulation.
Cloves
Cloves are a flower bud that has been dried and traditionally ground, although whole cloves make excellent and eye-catching use of ingredients in particular dishes. Cloves have been studied for their anti-inflammatory properties and have been found to be rich in antioxidants. There is even ongoing research to support the idea that cloves may protect against certain types of cancer.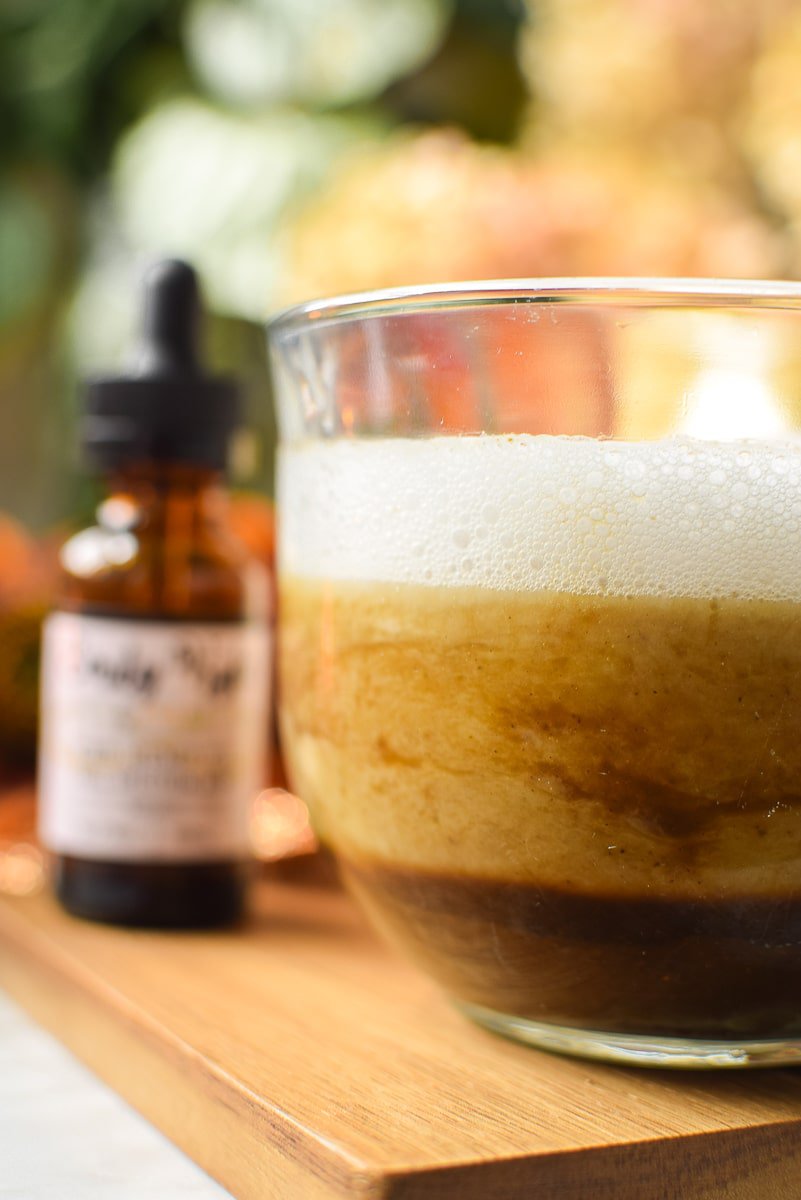 Customizing Your CBD Infused Pumpkin Spice Latte
I believe that we all have our own definition of healthy, so how you define a recipe as healthy may be different than how I do.
For me, that means making this recipe with dairy-free milk, because that is what makes my tummy feel best – and adding some sugar – because what is life without sugar?
Feel free to substitute different types of milk in this recipe depending on what you personally prefer. Whether it is traditional dairy milk or plant-based options like homemade hemp seed milk, sunflower seed milk, almond, cashew or coconut – it is totally up to you. Just remember, it may not froth the same way.
How to Infuse Your Cannabis PSL
There are many different ways to make a cannabis-infused PSL so we've included instructions for infusing this recipe with CBD oil, cannabis coconut oil, cannabutter, full-extract cannabis oil FECO, and even leftover cannabis pulp.
1. Infuse with CBD Oil
If you are new to CBD or cannabis in general, CBD is the newly legal hemp oil supplement taking the wellness scene by storm. CBD is non-intoxicating meaning it does not give the feeling of intoxication or 'being high'.
Instead, CBD provides many benefits of the cannabis plant without the high, meaning you can enjoy the therapeutic effects of this plant including anecdotal reports of reducing symptoms associated with anxiety, depression, pain, and inflammation
To infuse this PSL with CBD oil, simply start with a safe CBD product and add your desired amount to your hot beverage just before consuming.
2. Infuse with Cannabis Coconut Oil or Cannabutter
If you already have a cannabis coconut oil or cannabutter made at home, one of the easiest ways to make this recipe is to simply stir in a spoonful of oil or butter right into your finished drink.
3. Infuse with Cannabis Concentrates
If you are a medical marijuana patient or live in a recreationally legal state, chances are you may have access to cannabis concentrates.
You can easily use cannabis concentrates in this recipe to make a delicious infused pumpkin spice latte.
From distillate or CO2 oil, to shatter or wax, and FECO or RSO, all can work for this recipe.
Depending on what concentrate you are using, you will want to ensure that your cannabis concentrate is decarbed first, if needed.
If you are not sure if your cannabis concentrate needs to be decarbed, you can check this guide here.
Once you know whether or not you need to decarb your concentrate, you can gently warm it up and mix it into the milk called for in this recipe.
How much you will add is up to you and your personal taste preferences.
4. Infuse with Leftover Cannabis Pulp
Yes, leftover cannabis pulp is a thing! And if you're anything like me, you don't want any part of your amazing cannabis plant to go to waste.
If you don't know what I'm talking about, leftover cannabis pulp is the leftover plant material that is left over after making cannabis coconut oil or cannabutter.
While many people toss it, many anecdotal reports suggest these leftovers may be very potent!
The best way to add these cannabis pulp leftovers to this drink is to place the leftover plant material in a teaball and steep it in your finished drink. This is the teaball I recommend.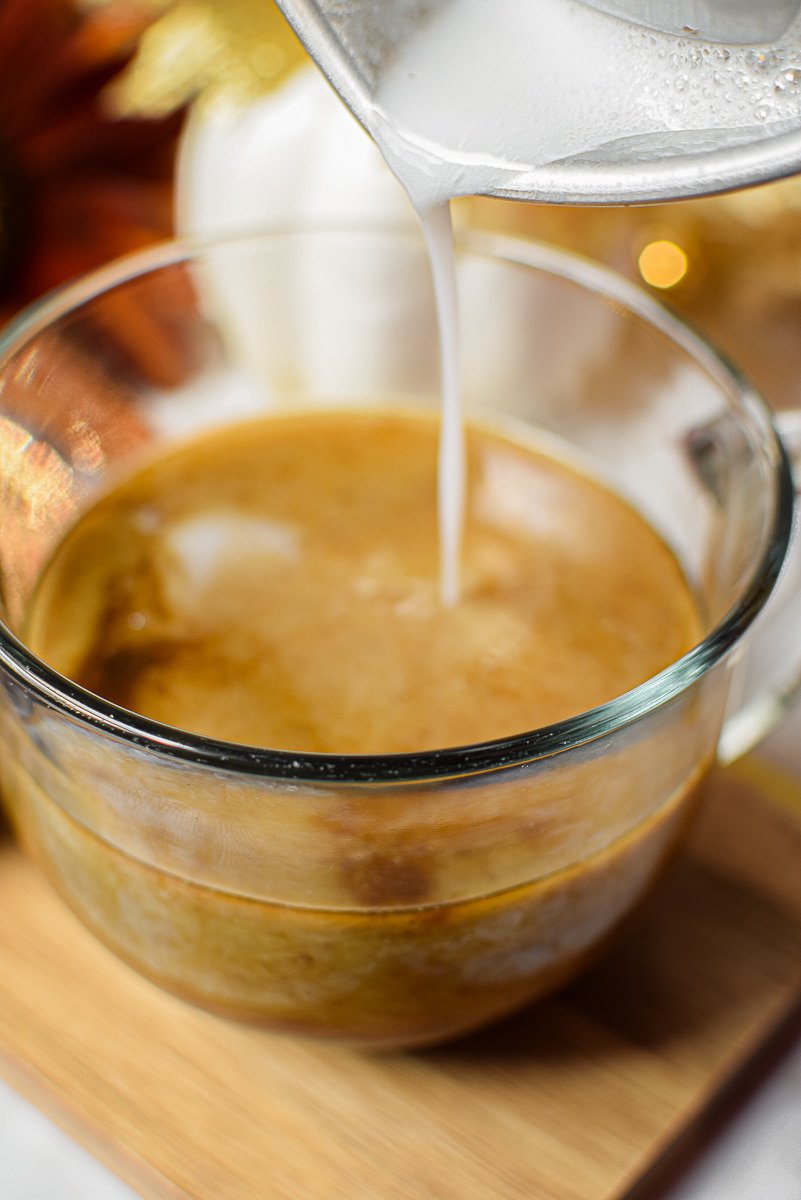 Use An Infusion Machine For Your Edibles
If the process of decarboxylating and infusing your cannabis edibles seems like too much work, a cannabis infusion machine is a perfect solution for you!
Cannabis-infusion machines are countertop devices that do all the work for you by decarboxylating and infusing your butters, oils, and more.
The most popular machines on the market today include LEVO Infusion Machines and Ardent Cannabis Infusion Machines.
Use a LEVO Machine
The LEVO II machine can be used to decarboxylate, infuse, and make perfect small batches of butter or oil at home.
Want a discount on a LEVO machine? Be sure to use the discount code EMILY10 at checkout for 10% off your purchase!
Use an Ardent Cannabis Machine
The Ardent Cannabis FX Machine can be used to decarboxylate, infuse, and make perfect larger batches of butter or oil and more at home.
Want a discount on an Ardent Cannabis Machine? Be sure to use the coupon code EMILY30 at checkout for $30 off your order!
Elevate Your Cannabis Education
The Cannabis Compass Online Course will show you how to dose, use, and apply cannabis safely and effectively so that you can begin to manage your most unwanted symptoms the natural way, from the comfort of your own home.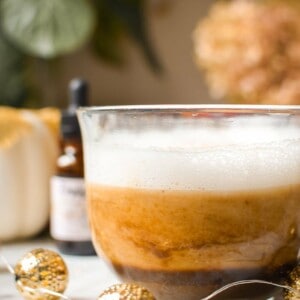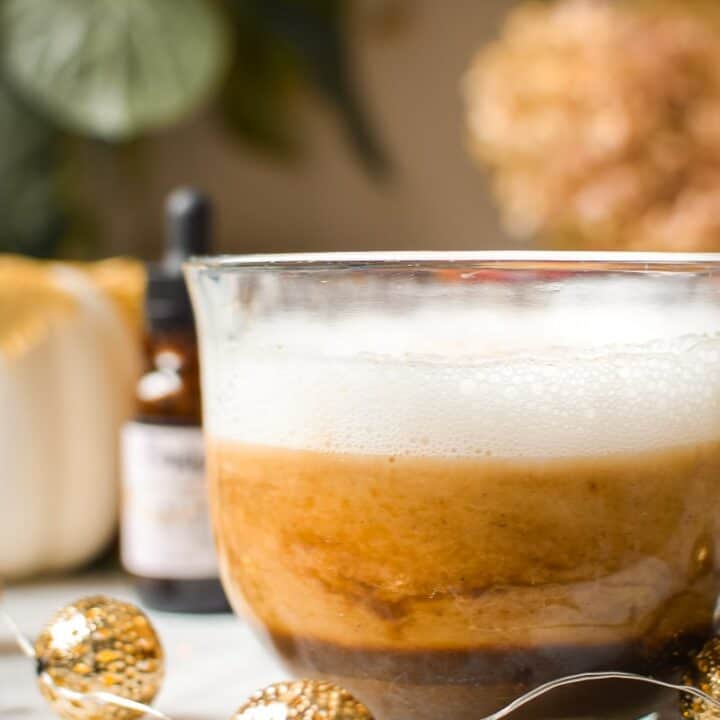 Cannabis-Infused Pumpkin Spice Latte
Combine anti-inflammatory spices with the healing benefits of cannabis for the ultimate comfort beverage that will leave you feeling calm and happy.
Ingredients
1

cup

strongly brewed coffee

¼

cup

pumpkin puree

1

tablespoon

coconut sugar

½

teaspoon

pumpkin pie spice

½

teaspoon

pure vanilla extract

2

cups

milk of choice

¼

teaspoon

freshly ground nutmeg

1

tablespoon

CBD Oil

cannabis coconut oil or cannbutter
Instructions
In a medium saucepan over medium heat add the coffee, pumpkin, coconut sugar, pumpkin pie spice, and vanilla extract. Heat for 3-5 minutes, or until hot, but not boiling.

While the coffee is cooking, add the milk to the frothing pitcher and place over medium heat.

When the temperature reaches between 120-150°F, you can begin to use the frother. Remove the pitcher from heat and continue to froth when the temperature reaches 160°F.

Move the frother in a circular, up & down motion, until 1-2 inches of foam is formed.

Divide the coffee mixture between two mugs and add the desired amount of cannabis oil.

Using a spoon to hold back the foam, add the hot milk to each cup. Aim for a 2:1 milk to coffee ratio.

Spoon the remaining foam into each mug. Top with freshly grated nutmeg as desired.
Notes
Ensure your liquid never reaches a temperature above 240 degrees F, as this will inactivate many important properties of the cannabis oil.
Nutrition
Serving:
1
cup
Calories:
110
kcal
Carbohydrates:
7
g
Protein:
1
g
Saturated Fat:
7
g
Sodium:
160
mg
Fiber:
2
g
Sugar:
4
g