Learn how to make a classic cannabis apple pie with either store-bought or homemade crust and carious infusion options including cannabis sugar, cannabutter, cannabis coconut oil, and cannabis concentrates.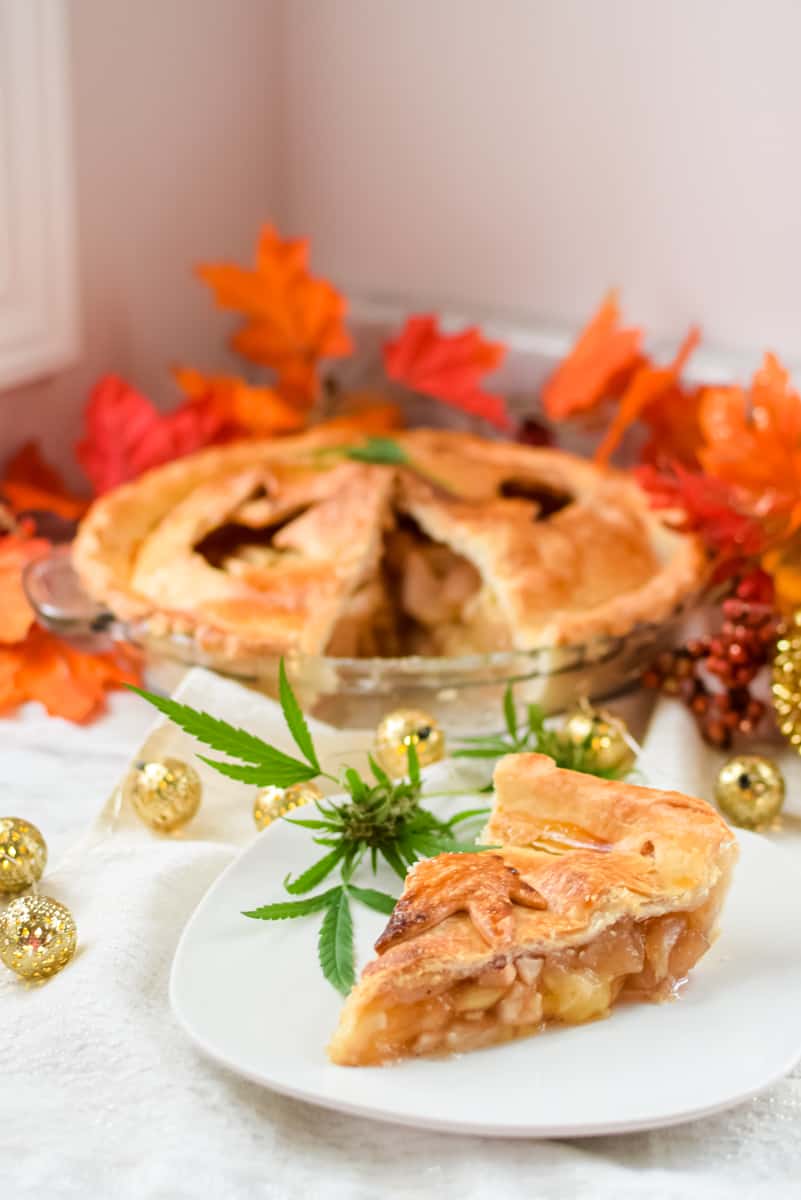 Features
A classic, easy-to-make recipe
Several different infusion options
Expert tips and tricks to make it perfect
Why You Will Love This Recipe
It is October here in Upstate, NY, and that means it is officially time for all things FALL, including pumpkin spice lattes and this brand new cannabis apple pie!
This recipe was one of the most requested recipes from members in my Well With Cannabis Community when I polled for must-have Fall cannabis recipes.
As I always say, there are many different ways to make edibles, and there is never only one right way, so today, I have many different options for making cannabis apple pie using my favorite staple cannabis recipes.
---
Buy Cannabutter Online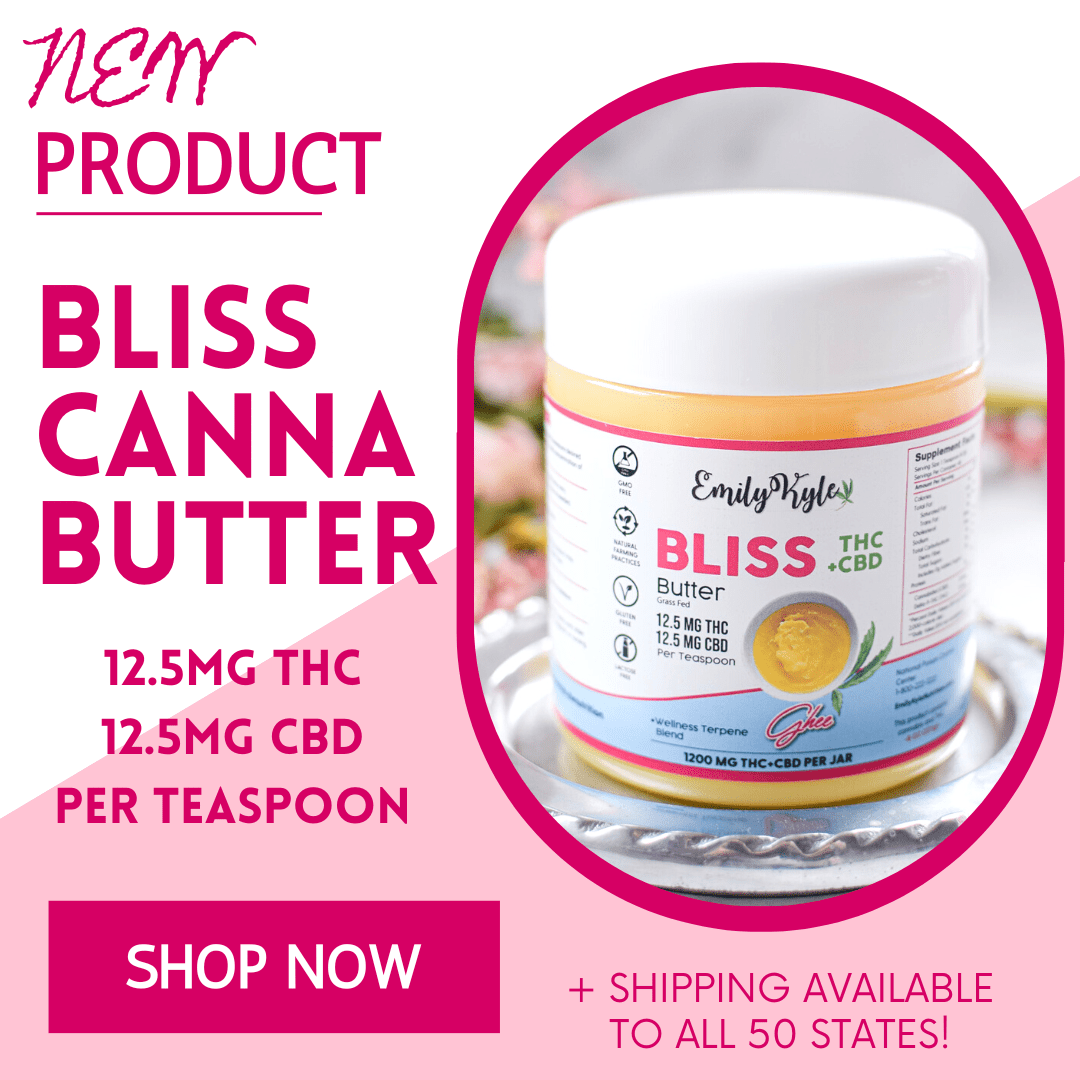 Skip the hard work and have perfectly dosed, delicious, pure Bliss Cannabutter delivered directly to your door! Shop Now →
---
Storebought or Homemade Crust
You can decide how to make your own cannabis-apple pie based on what you have available and how strong you want the dosage.
This will help determine whether you should make a homemade pie crust or use a store-bought one, as we used in this recipe.
If you only have cannabutter or coconut oil available to you, you will want to make a from-scratch cannabis-infused pie crust.
Of course, if you want a super-strong cannabis apple pie, you can infuse your crust with cannabutter AND infuse your filling with sugar or concentrates.
We will explore all of the possible infusion options below.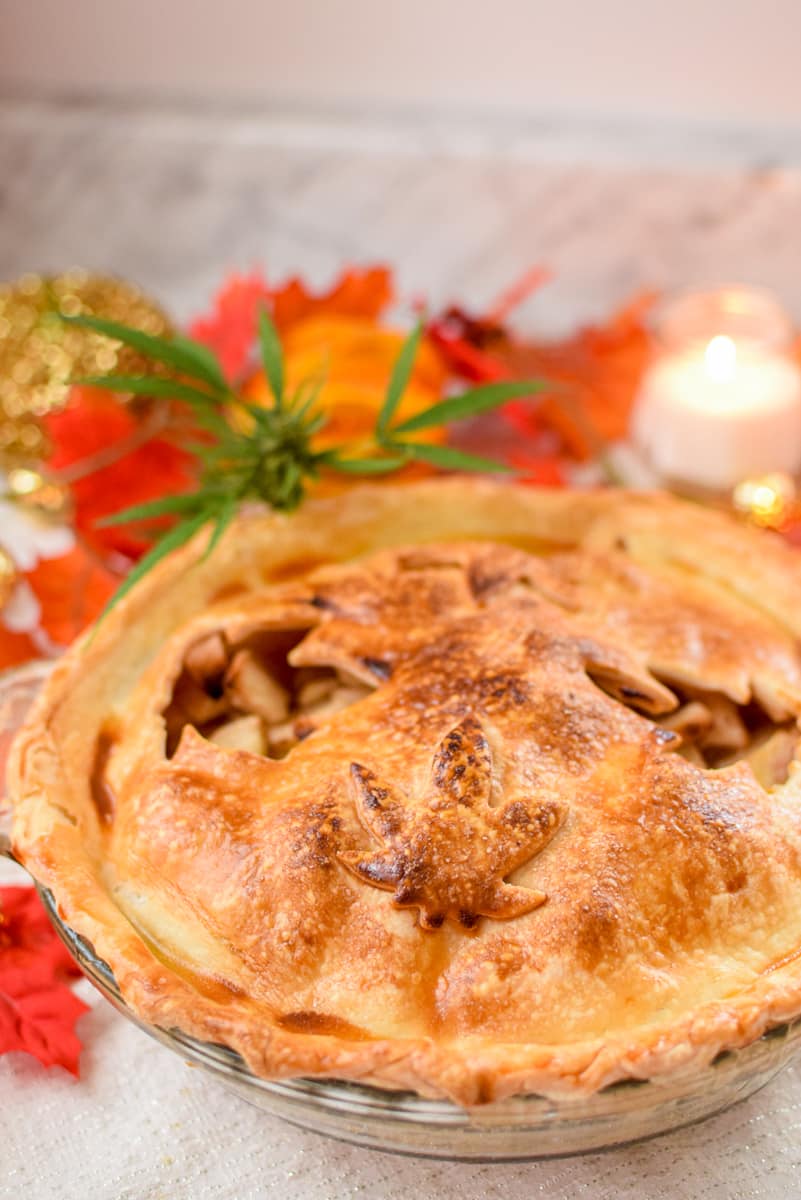 Cannabis Apple Pie Infusion Options
We will explore four different infusion options:
Infused with cannasugar
Infused with cannabutter or cannabis coconut oil
Infused with concentrates like FECO
Infused with decarbed flowers or kief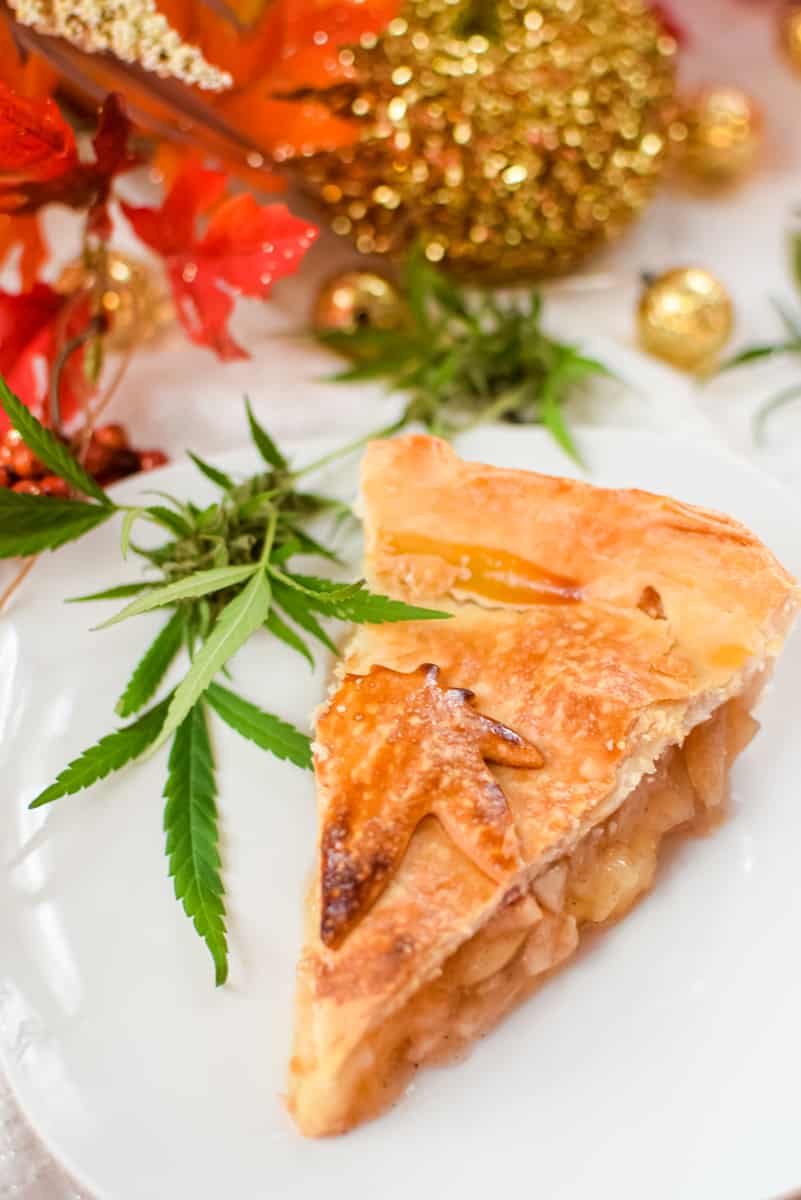 Cannabis Sugar
Cannabis sugar is one of my favorite staple recipes because it is so versatile.
It also works perfectly because the recipe calls for a full cup of sugar, making it easier to increase the dosage and potency of this recipe.
While it isn't exactly the easiest recipe to make, once you have it prepared, you can use this recipe in so many other cannabis recipes.
To make cannabis sugar, you must first start by making an alcohol tincture.
The process may seem intimidating at first, but I promise you it is easy, and you can get started with my step-by-step guide here.
Once the tincture is made, the next step of infusing the sugar is easy; you pour the tincture over the sugar and let the alcohol naturally evaporate off.
Cannabutter or Coconut Oil
While we add 1 tablespoon of cannabutter to the pie filling, that alone is likely not enough to make you feel any intoxicating effects of cannabis.
If you only have cannabutter or coconut oil available, you will want to make a from-scratch cannabis-infused pie crust.
This will allow you to infuse the crust with your already infused cannabutter or cannabis coconut oil.
While I don't have my own cannabis crust recipe here on the blog, you can take any traditional pie crust recipe and swap the fat called for your cold, infused fat option.
Cannabis Concentrates
If you are one of the lucky consumers to have access to concentrates like , distillate, FECO, wax, shatter, and more, it will be super easy to infuse this pie (and make it super strong!)
Add the concentrate after step five when you are stirring all of the dry ingredients together with the apples. Stir well to ensure it is well incorporated.
Be sure to stir well to ensure the concentrate is incorporated evenly.
Decarbed Cannabis Flower
While not ideal, you can make your apple pie with just decarbed cannabis flower if you wish. Or you can use trim or kief.
Adding dried, ground, decarbed cannabis flowers may cause a texture issue for some people, while others note that if they grind their cannabis fine enough, they can't even notice it's there.
Ultimately the decision is yours; make sure whatever you do, you decarb in an oven or Instant Pot before using them in any recipe.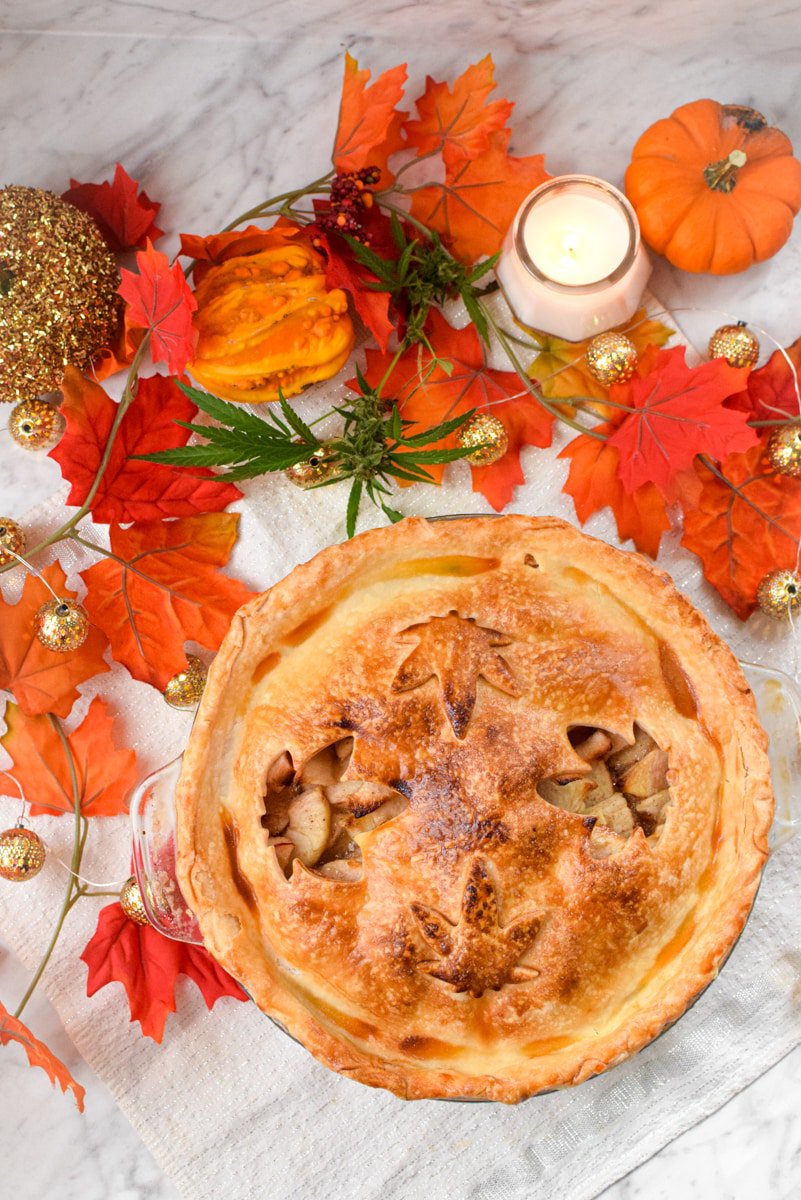 How to Determine The Dosing
Want to get a more accurate guesstimate of the potency of your cannabis infusions and extractions? Try our popular edibles calculator!
Not sure what your perfect dose is? Learn more here.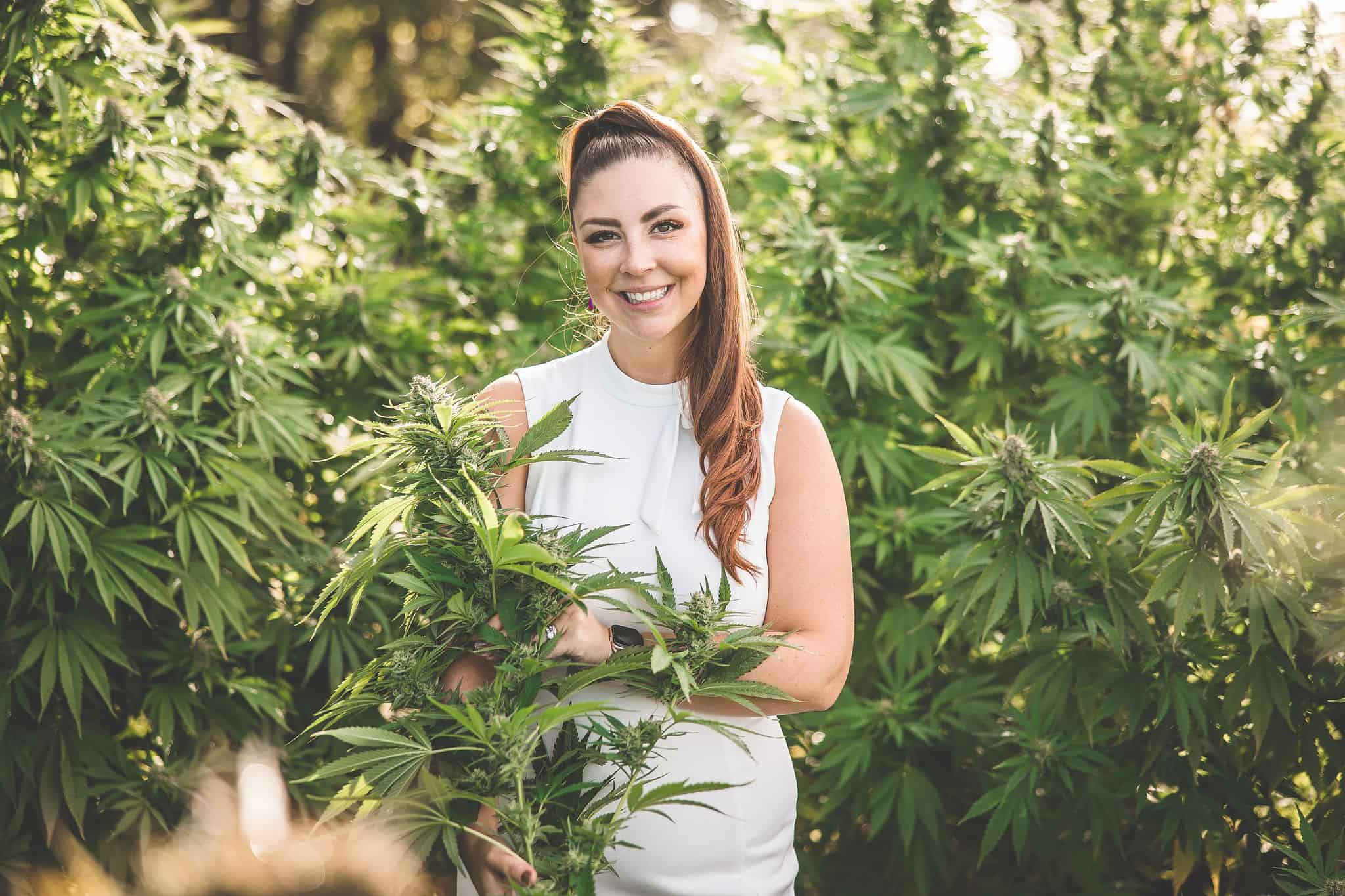 Join thousands of like-minded cannabis lovers from across the world inside a censor-free forum where you can explore the health benefits of cannabis and truly learn what it means to live Well With Cannabis →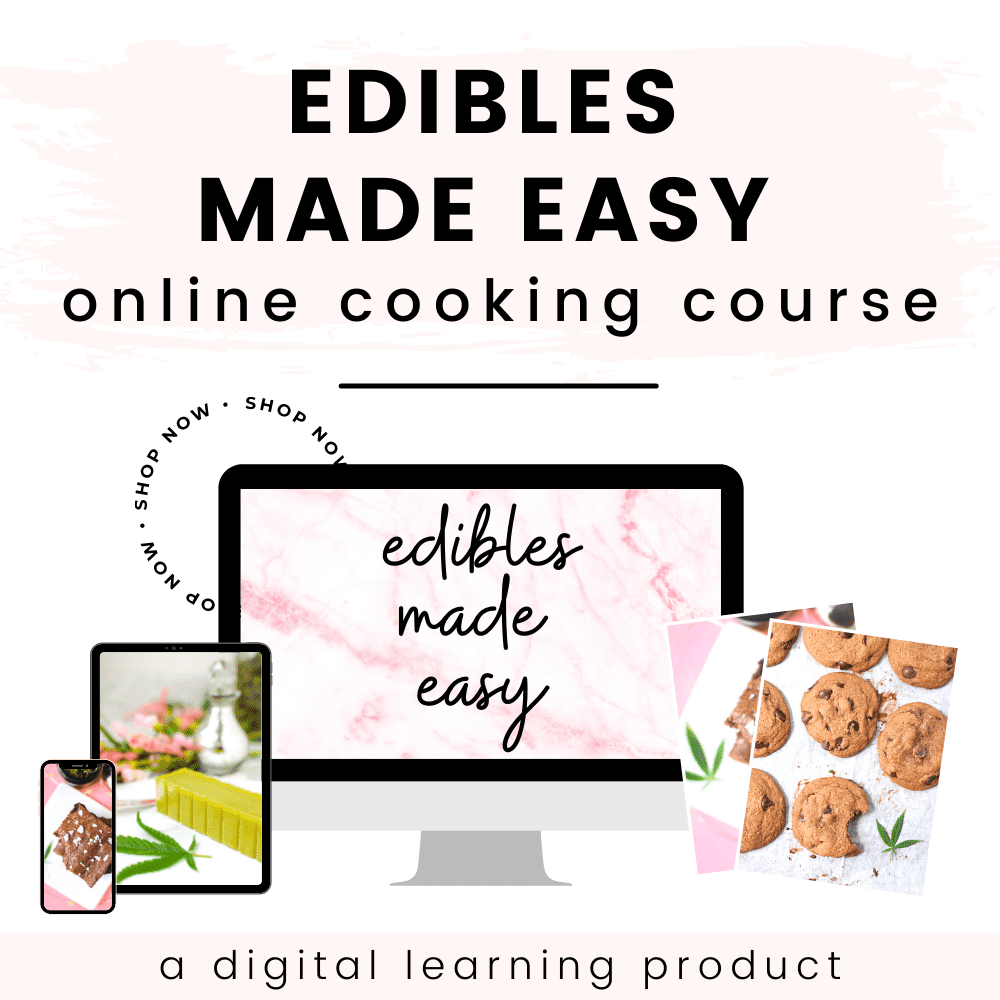 My Edibles Made Easy Online Cooking Course will teach you how to easily make cannabis edibles and topical recipes at home. This step-by-step video course will teach you how to infuse, extract, and create edibles with many different product types - all from the comfort of your own home.

Learn more and enroll today →
📖 Recipe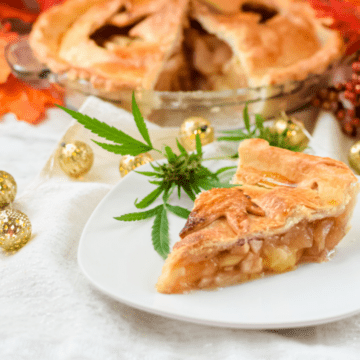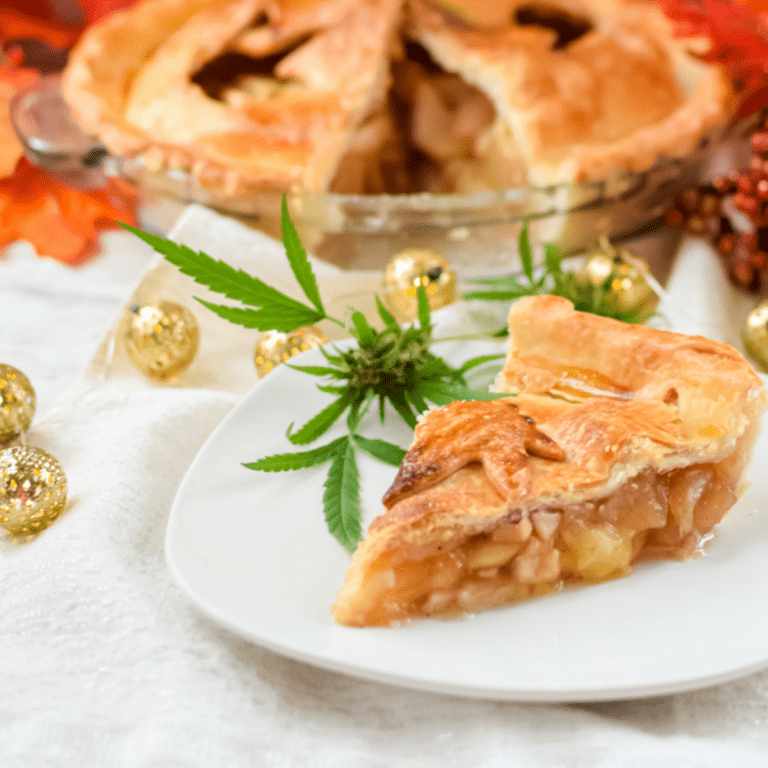 Classic Cannabis Apple Pie
A classic homemade cannabis apple pie with either store-bought or homemade crust and many infusion options including cannabis sugar, cannabutter, cannabis coconut oil, and/or cannabis concentrates.
Ingredients
For the Apple Pie Filling
1

cup + 1 teaspoon

cannabis sugar

divided

2

tablespoons

corn starch

2

tablespoons

tapioca flour

½

teaspoon

ground cinnamon

¼

teaspoon

ground ginger

¼

teaspoon

ground nutmeg

1/16

teaspoon

ground clove

6

cups

peeled

cored, and sliced apples

1

tablespoon

lemon juice

1

tablespoon

cannabutter

diced
For The Egg Wash
1

large

egg

beaten

1

tablespoon

water
Instructions
If you are using a homemade pie crust, make this first. If you are using a store-bought crust, pull the crusts out of the refrigerator and allow the crust to come to room temperature for at least 15-20 minutes.

Preheat oven to 425°F. Coat a large baking sheet in foil and set aside.

In a small bowl whisk together 1 cup of cannabis sugar with the corn starch, tapioca flour, cinnamon, ginger, nutmeg, and cloves until well incorporated. Set aside.

In a large bowl mix the apples with lemon juice until well coated.

Add the dry ingredients to the apple mixture and mix well until all of the apple slices are evenly coated. Set aside.

Place one pie crust in a 9-inch glass pie dish, center accordingly, and press the crust against the sides and bottom of the dish.

Carefully add the reserved apple filling and spread evenly. Dot the top with the diced cannabutter.

Place the second crust atop the pie filling and center accordingly. Using your forefingers and thumbs, pinch the crust to seal and create a scalloped edge all the way around. Trim any excess crust if needed.

Cut four slits into the top of the crust, or make cutouts before step 8 using a cute cannabis cookie cutter.

In a small bowl, whisk together the egg and water.

Brush the pie crust with enough egg wash to coat the top and sprinkle with the reserved 1 teaspoon of cannabis sugar.

Cover the edges of the pie with a strip of aluminum foil to avoid excessing browning.

Place the pie on the reserved foil-lined baking sheet (to catch possible leaks) and place it in the oven to bake for 15 minutes.

After 15 minutes, reduce oven temperature to 375°F and continue cooking for an additional 50-55 minutes.

When the pie is golden brown and the filling is bubbling, remove from the oven and place on a cooling rack.

Let cool approximately 30 minutes before serving.
Notes
See the alternate cannabis infusion options above if you want to infuse with concentrates.
Nutrition
Serving:
1
g
|
Calories:
450
kcal
|
Carbohydrates:
87
g
|
Protein:
4
g
|
Fat:
12
g
|
Saturated Fat:
4
g
|
Polyunsaturated Fat:
7
g
|
Cholesterol:
23
mg
|
Sodium:
194
mg
|
Fiber:
12
g
|
Sugar:
48
g
Did you make this recipe or have a question?
Join hundreds of members inside private Well With Cannabis Community for help, support, and to share your edible creations!