Learn everything you need to know about how to make your own naturally vegan, gluten-free, nut-free, Paleo, Keto, and Whole30 approved Homemade Hemp Seed Milk easily at home in under 30-minutes.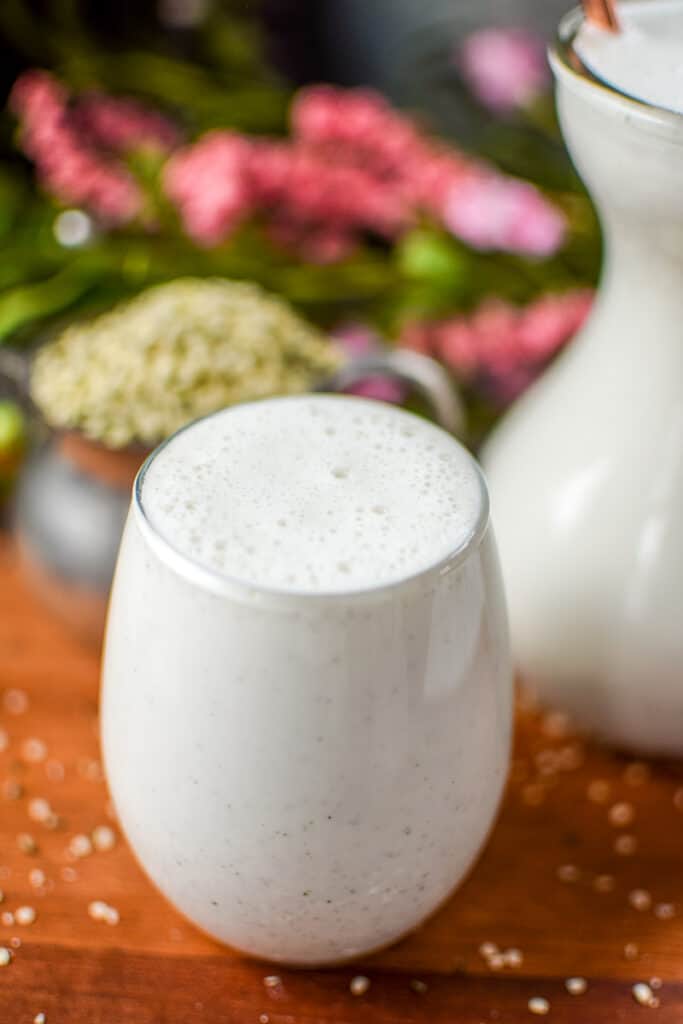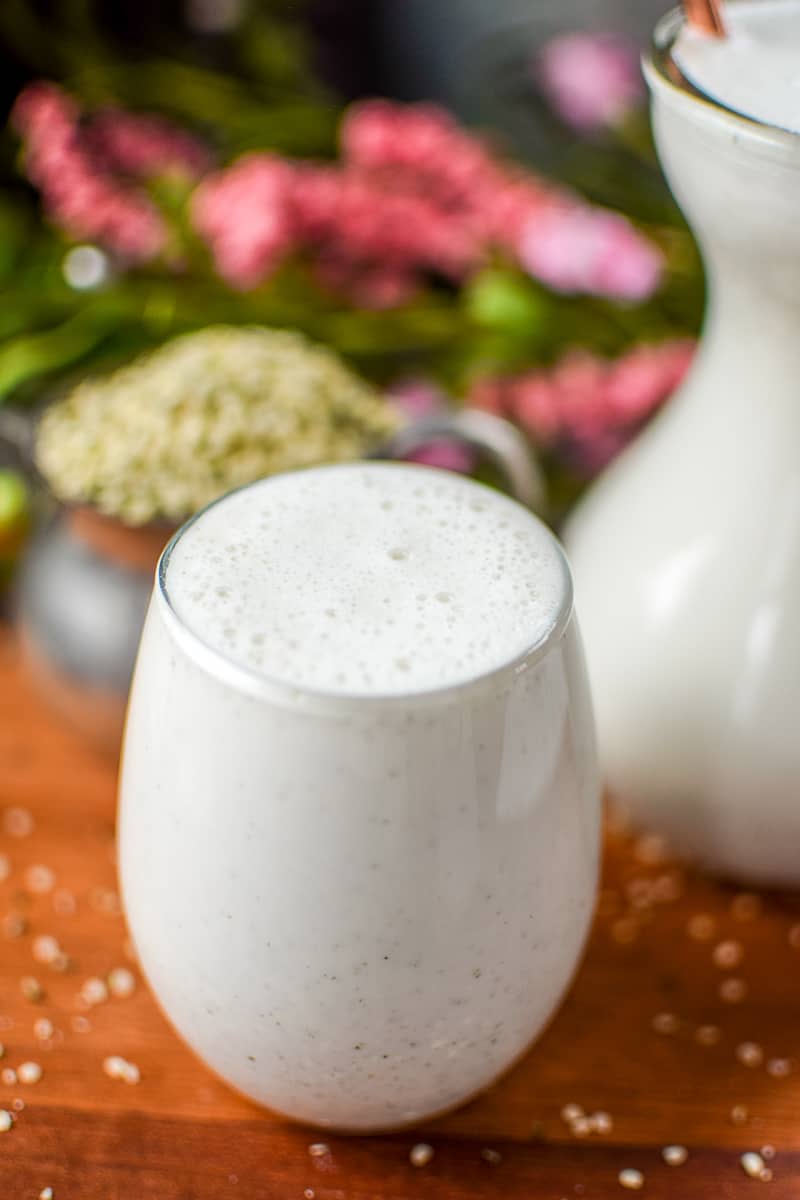 How to Make Homemade Hemp Seed Milk
If you're new to the world of culinary cannabis, hemp seeds are a great ingredient to start cooking with. Hemp seeds are the seed of the hemp, or Cannabis sativa, plant and have a subtle, slightly nutty flavor and an impressive amount of health benefits.
As a Holistic Cannabis Practitioner, I am fascinated with all parts of the cannabis plant for both their culinary and medicinal purposes. You can learn more about the difference between different types of hemp, CBD, and THC oil here.
Hemp seeds, also known as hulled hemp hearts, contain no intoxicating cannabinoids like CBD or THC, but they do have an impressive nutrient profile, making them a healthy choice for many different diets.
While hulled hemp hearts are great to enjoy in their raw form, they also have the ability to make the easiest, most creamy and delicious hemp seed milk that is naturally vegan, gluten-free, nut-free, Paleo, Keto, and Whole30 approved.
Related: Culinary Tips for Cooking With CBD Hemp Oil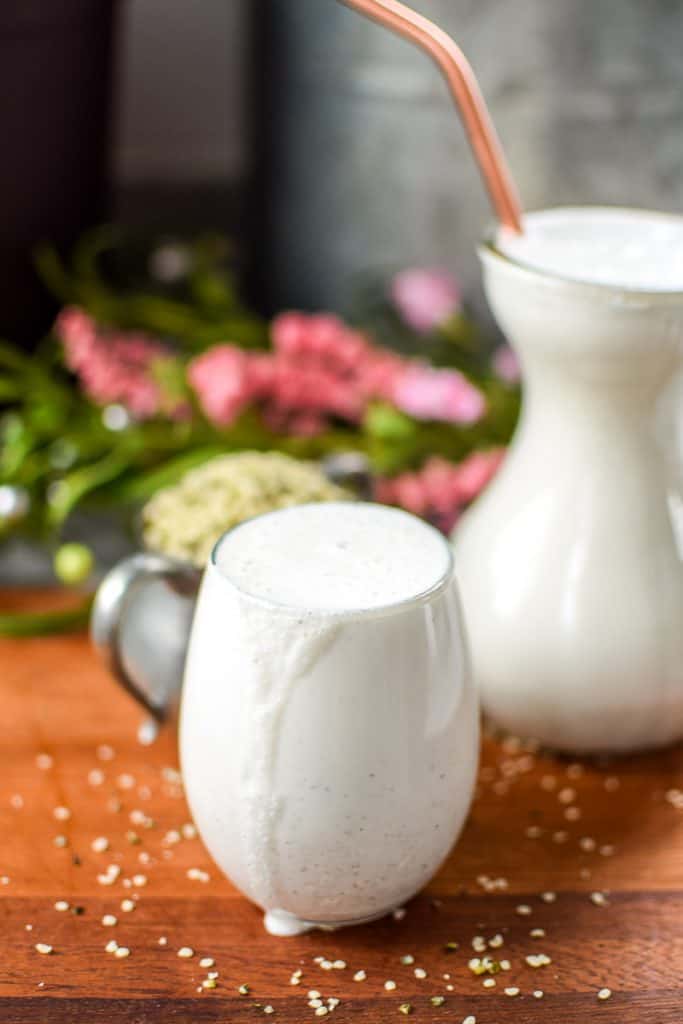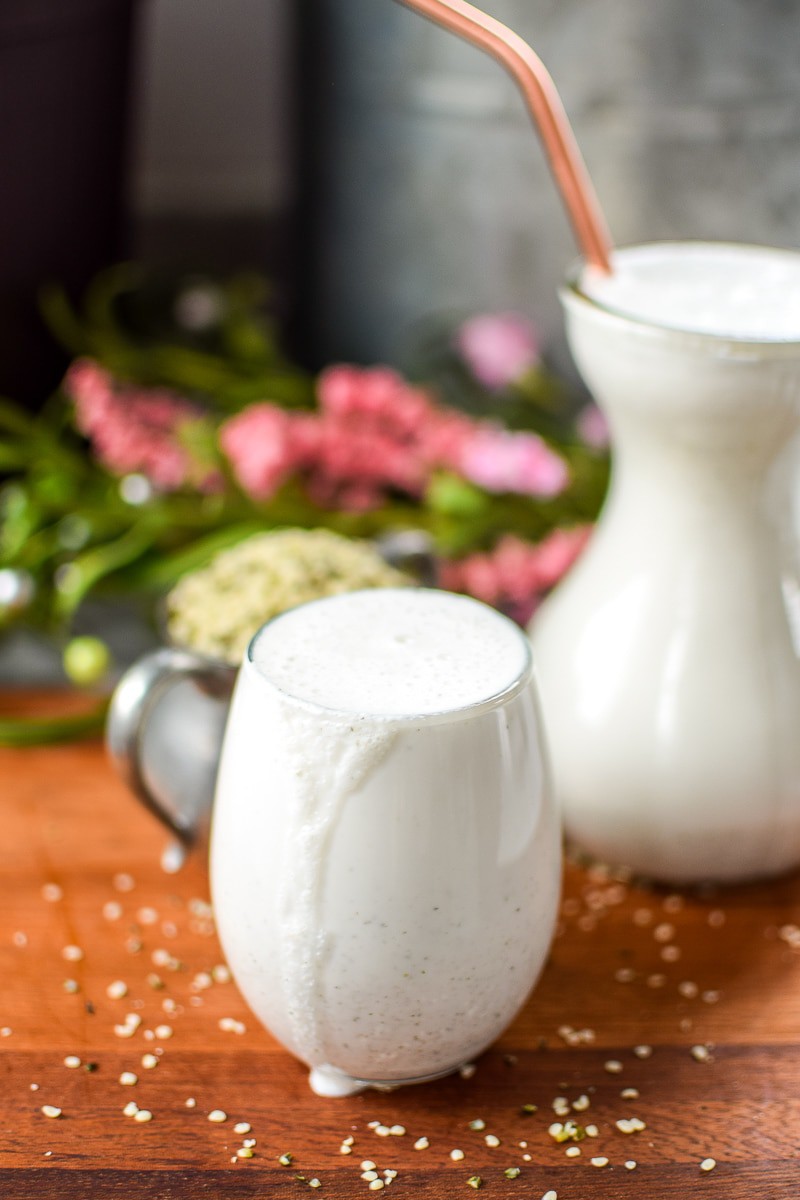 Is Consuming Hemp Seeds During Pregnancy Safe?
One important question is in regards to hemp seeds and hemp products, is it safe to consume hemp or homemade hemp milk when it comes to pregnancy and breastfeeding?
I asked my colleague Liz Shaw, a fellow dietitian Food & Fertility expert, for her professional opinion:
Hemp seeds are a great way to get some healthy fats and quality protein in your diet, especially if you've been battling morning sickness during your first trimester (or heaven forbid even longer than that)! Not only do they contain important vitamins and minerals that can provide you and your growing baby the nutrition you both need, but they're also convenient and easy to toss on a salad or mix in a smoothie.

However, since they are from a particular variety of marijuana plants, it's recommended you do speak to your physician if you are concerned about the potential risks to your baby. Though research is non-existent at this time in humans as to the amount and effect hemp seed intake will have on your pregnancy, as a nutrition professional and mother, I see no harm in incorporating a small serving (1 tablespoon) a few times a week!

Elizabeth Ann Shaw, MS, RDN, CLT, CPT
Owner, Shaw's Simple Swaps Consulting
Author, Fertility Foods Cookbook+: 100 Recipes to Nourish Your Body

In short, yes, hemp seeds and homemade hemp seed milk are safe to consume during pregnancy but talk to your doctor first if you are unsure or uneasy.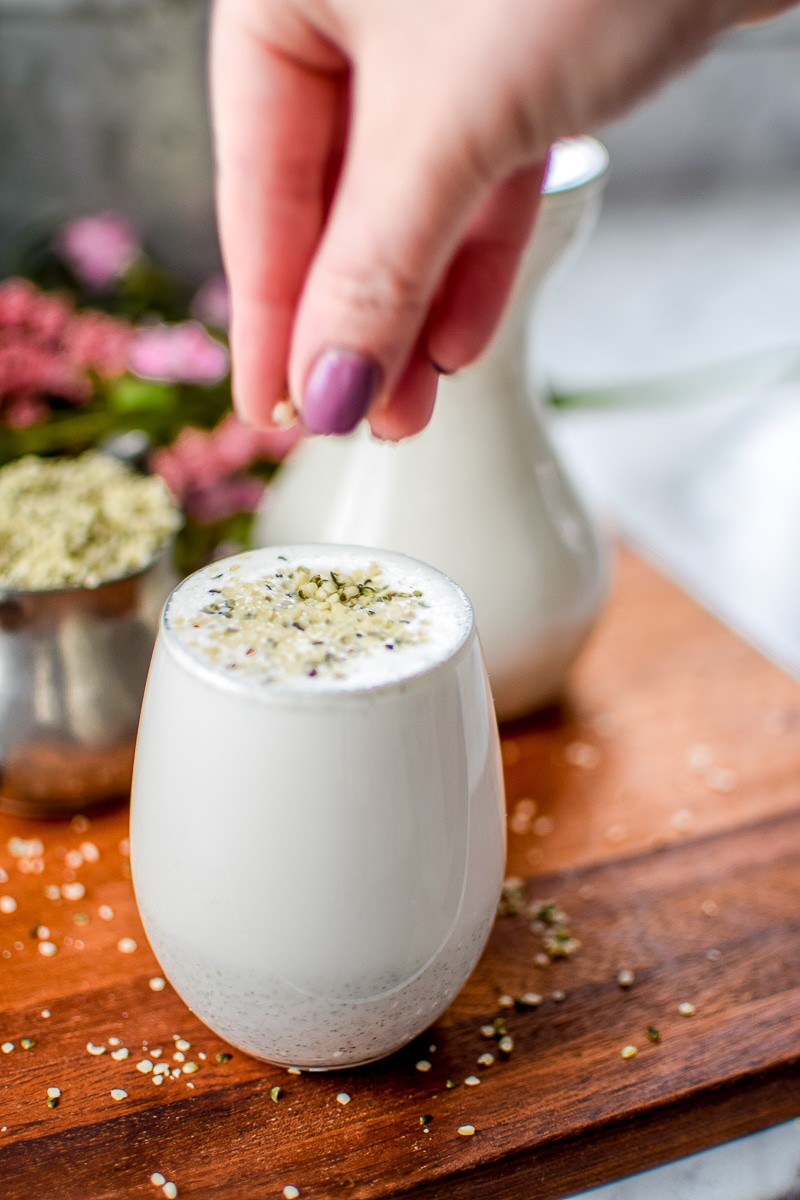 Hemp Seed Milk By Diet
Is Homemade Hemp Milk Vegan, Vegetarian, or Plant-Based?
Yes, homemade hemp seed milk is naturally vegan, vegetarian, and plant-based. This makes hemp seeds and homemade hemp milk an excellent addition to any plant-based diet.
Vegan, Plant-Based Hemp Recipe: CBD Hemp Oil Infused Pumpkin Spice Latte
Is Homemade Hemp Seed Milk Paleo Friendly?
Yes, hemp seeds and homemade hemp seed milk is paleo-friendly. Many people who follow the paleo diet enjoy hemp seeds in a variety of different ways to replace common, non-compliant foods, like whole grains.
Is Homemade Hemp Seed Milk Autoimmune Paleo Protocol Friendly?
No, hemp seeds and homemade hemp seed milk is not Autoimmune Paleo Protocol friendly during the first phase.
However, with that being said, homemade hemp seed milk may be a great non-dairy or non-nut alternative milk to try when reintroducing foods back into the diet during the protocol.
You can learn more about following the AIP diet in my newest cookbook, The Hashimoto's AIP Cookbook.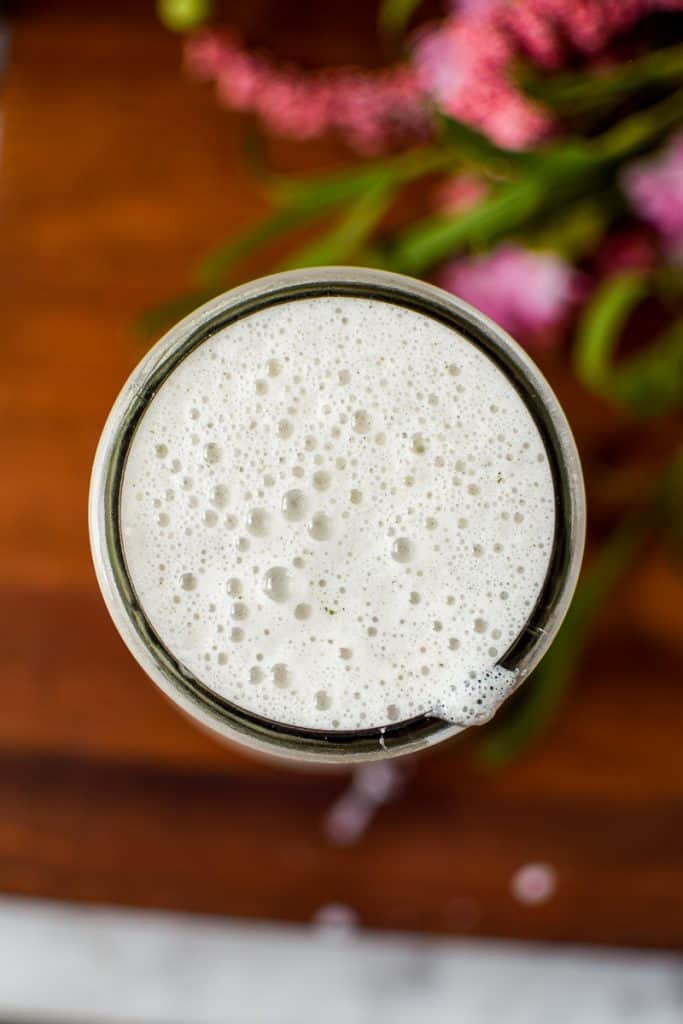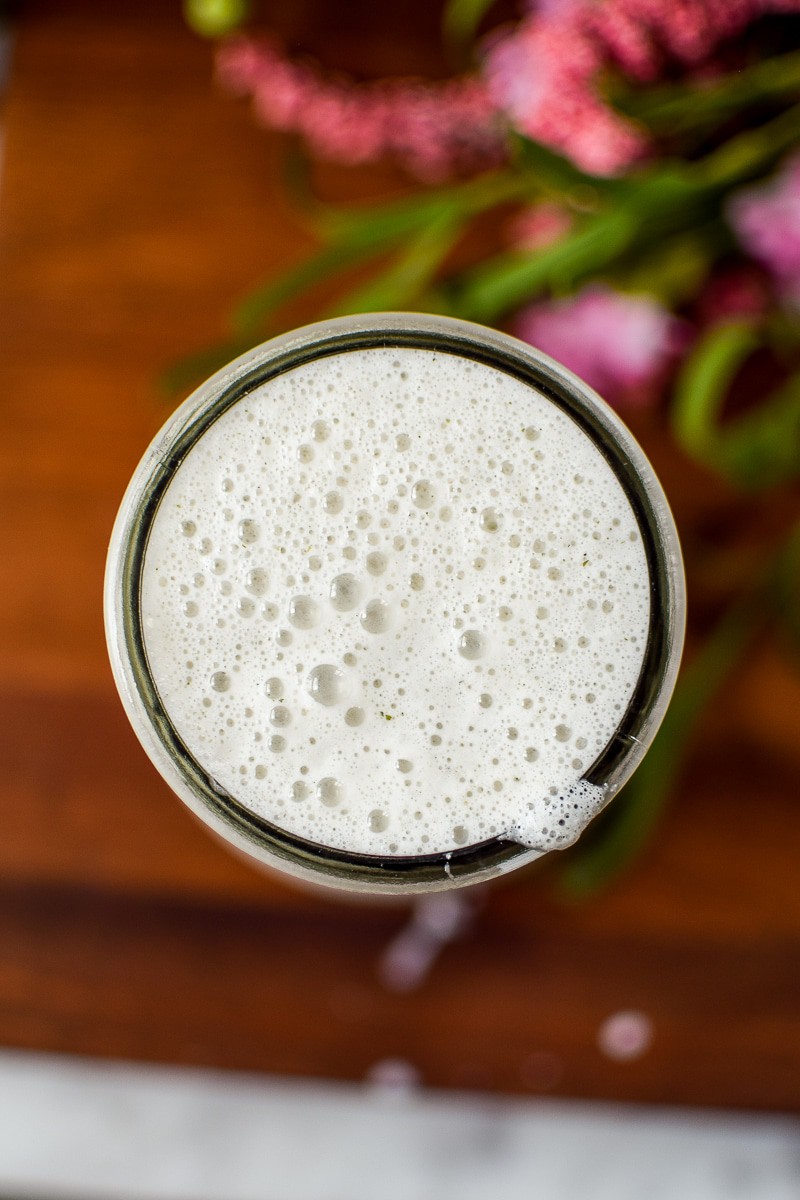 Is Homemade Hemp Seed Milk Keto Friendly?
Yes, hemp seeds themselves are high in healthy fat and protein, while being lower in carbohydrates, making them keto-friendly.
When making your own homemade hemp seed milk to be Keto-friendly, just ensure you are not adding too much sweetener, or opt for a non-nutritive sweetener of choice, like stevia.
Keto-Friendly Hemp Seed Recipe: Hemp & Avocado Mayo-Free Deviled Eggs
Is Homemade Hemp Seed Milk Whole30 Compliant?
Yes, hemp seeds and homemade hemp seed milk is Whole30 compliant.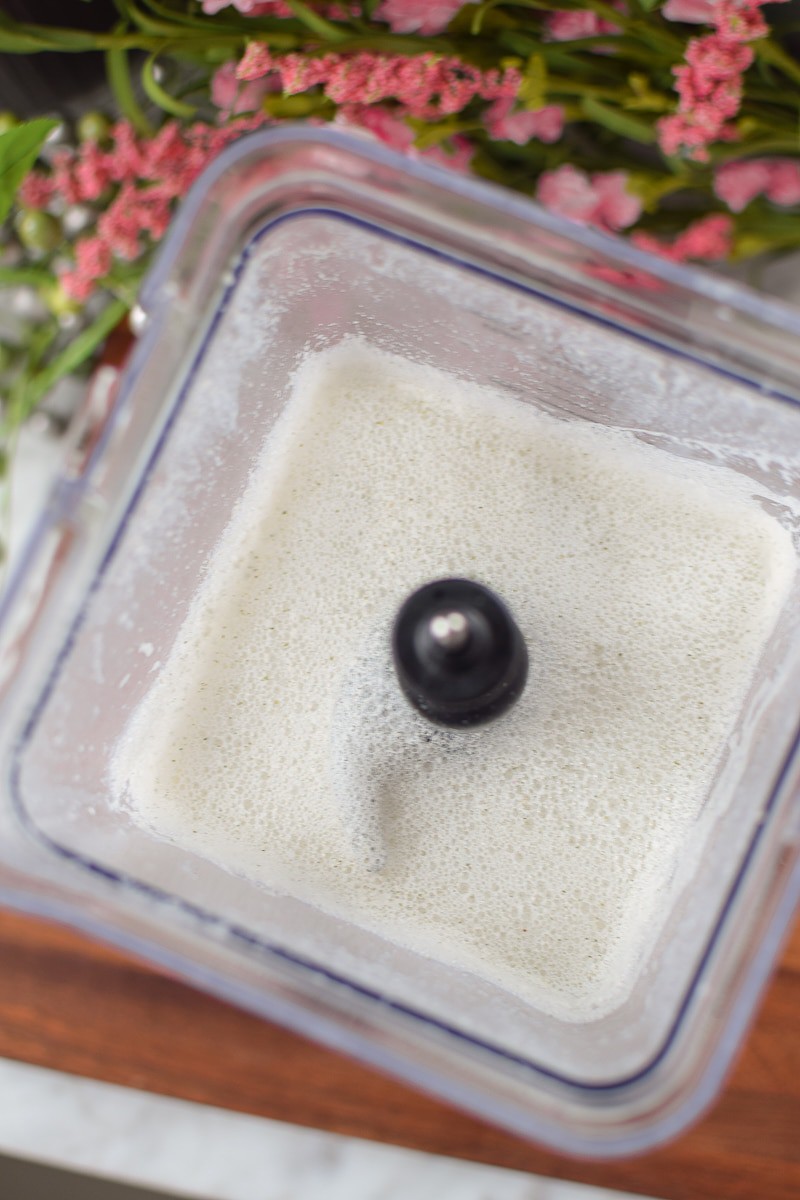 All-Natural Hemp Seed Drink
Should You Add CBD To Your Hemp Milk?
It is a personal decision as to whether or not you want to add CBD Hemp Oil to your homemade hemp seed milk and it should be an educated decision made together with your healthcare provider.
Click here to learn more about the health benefits of CBD Hemp Oil.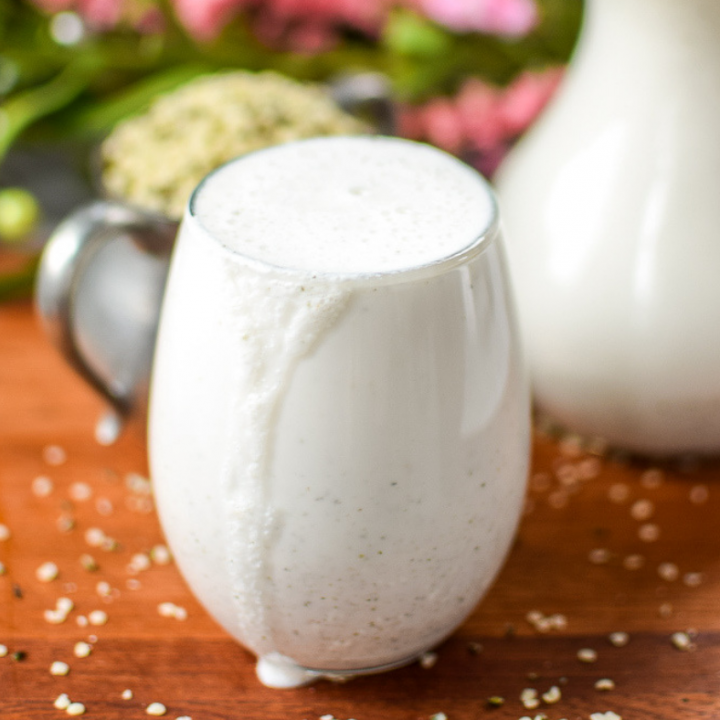 Homemade Hemp Seed Milk
Easily make your own creamy Homemade Hemp Seed Milk in under 30 minutes. Naturally vegan, gluten free, Paleo, Keto, and Whole30 approved.
Ingredients
Required:
Optional:
Instructions
In a high-speed blender, combine the hemp hearts and water. Let sit for 20 minutes.
Turn the blender on high speed for 60-seconds.
Add the maple syrup, vanilla extract, and sea salt.
Run the blender on high for another 30 seconds.
Strain through a fine-mesh sieve, pour the mixture into a nut milk bag, or strain through cheesecloth if desired.
Stir in the CBD oil, if using.
Pour milk into a container and refrigerate for up to 3 days.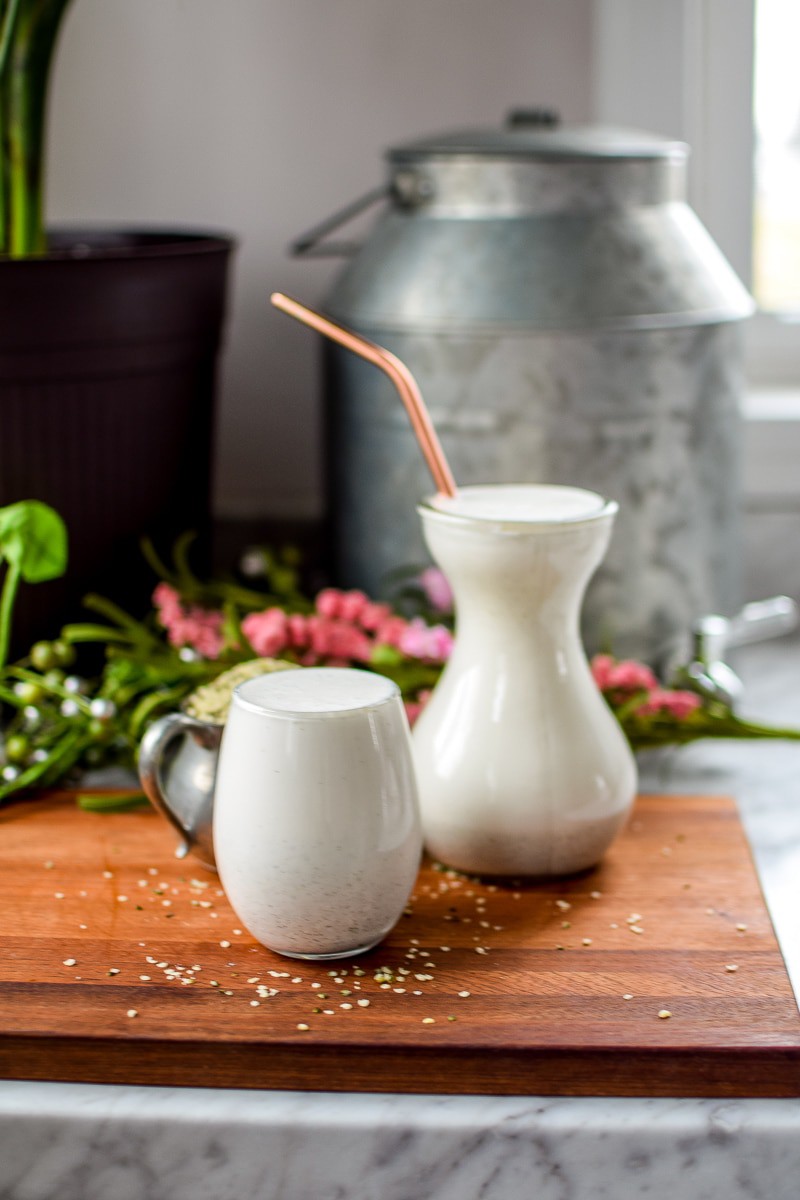 Notes
*If you strain the remaining contents of the milk, you will lose some of the nutritional benefits. I recommend to simply shake or stir your hemp seed milk well before consuming.
Nutrition Information:
Yield:

4
Serving Size:

1 cup
Amount Per Serving:
Calories:

230
Total Fat:

18g
Saturated Fat:

2g
Trans Fat:

0g
Unsaturated Fat:

16g
Cholesterol:

0mg
Sodium:

45mg
Carbohydrates:

5g
Fiber:

4g
Sugar:

3g
Protein:

14g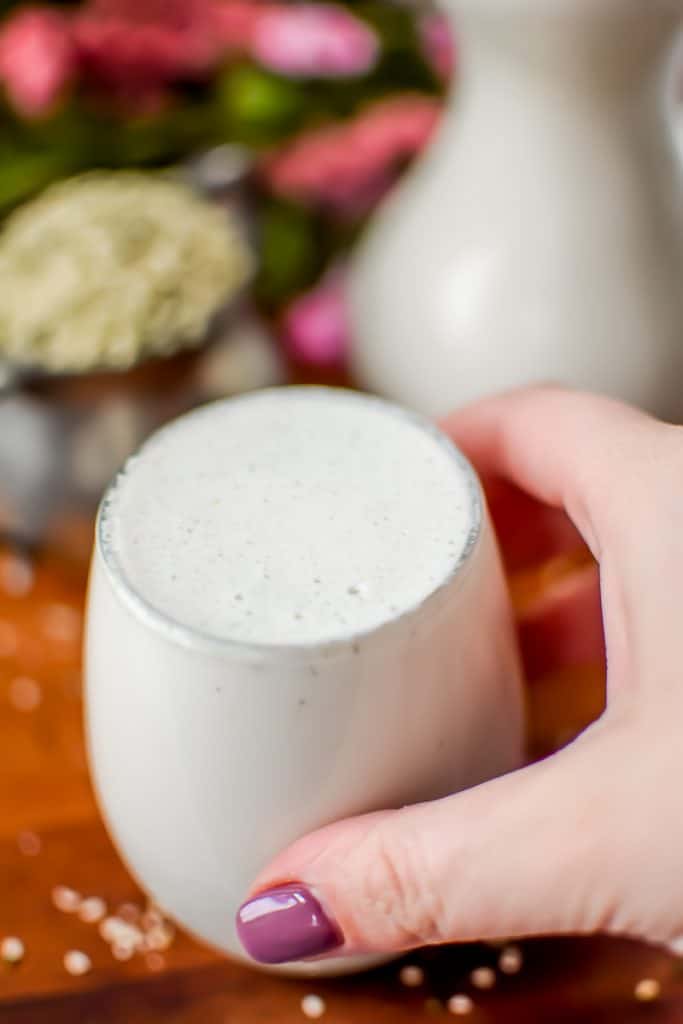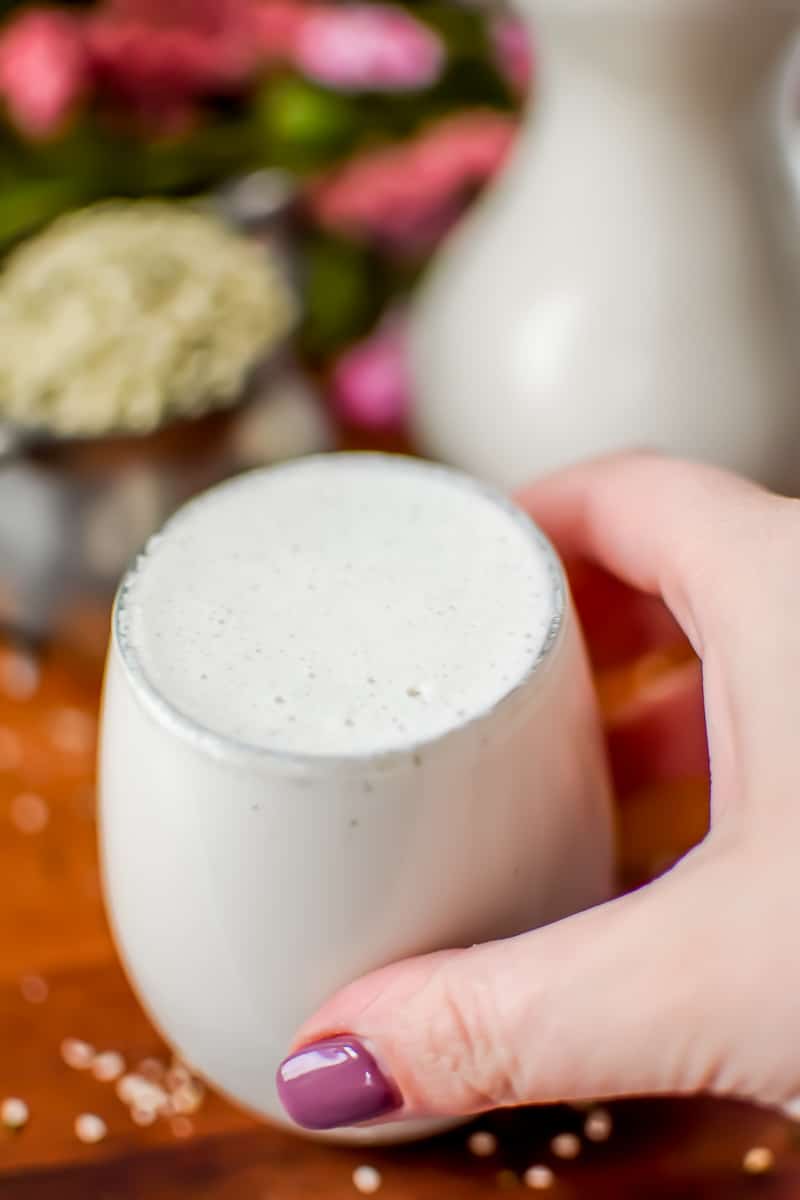 More From The Cannabis Blog
Emily Kyle's Cannabis Blog is an online resource created to help women like you discover how hemp, cannabis, CBD or THC can improve your health, and quality of life, mentally, physically, and emotionally.