Discover how to make a delicious Cannabis-Infused Chai Latte, a warming herb & spice-infused beverage at-home to naturally support your holistic lifestyle with anti-inflammatory health benefits and mouth-watering flavor.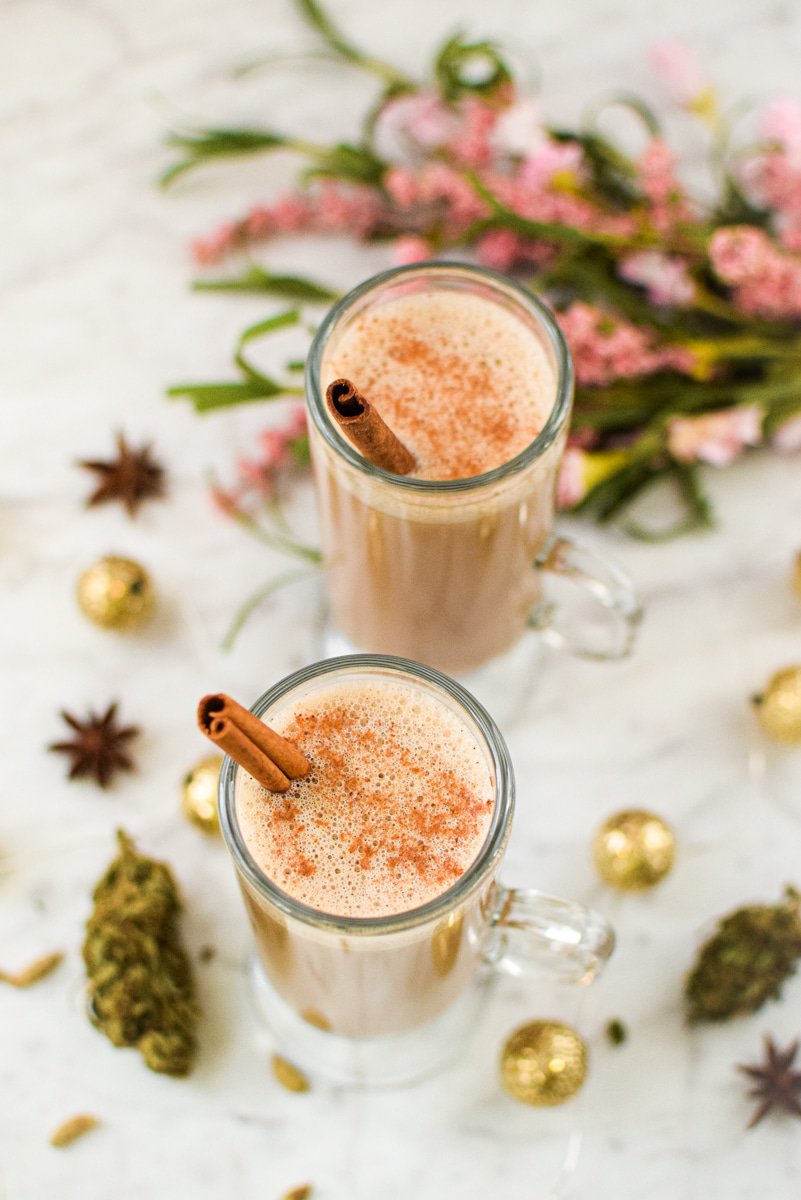 This Cannabis-Infused Chai latte is naturally vegan, vegetarian, Paleo, and Keto-diet friendly.
The Amazing Benefits of Chai Tea
Chai tea, or masala tea (spiced tea), is a delicious brew that is brimming with aromatic spices, steeped tea leaves, and natural additives, like decarboxylated cannabis flower.
This Cannabis-Infused Chai Tea's unique flavor profile and powerful nutrition benefits make it a popular drink for those who want to enjoy the euphoric benefits of cannabis edibles.
However, most people don't realize that chai tea isn't just another beverage found as a popular drink in coffee shops and teahouses.
It's an ancient remedy traditionally used to soothe many common ailments.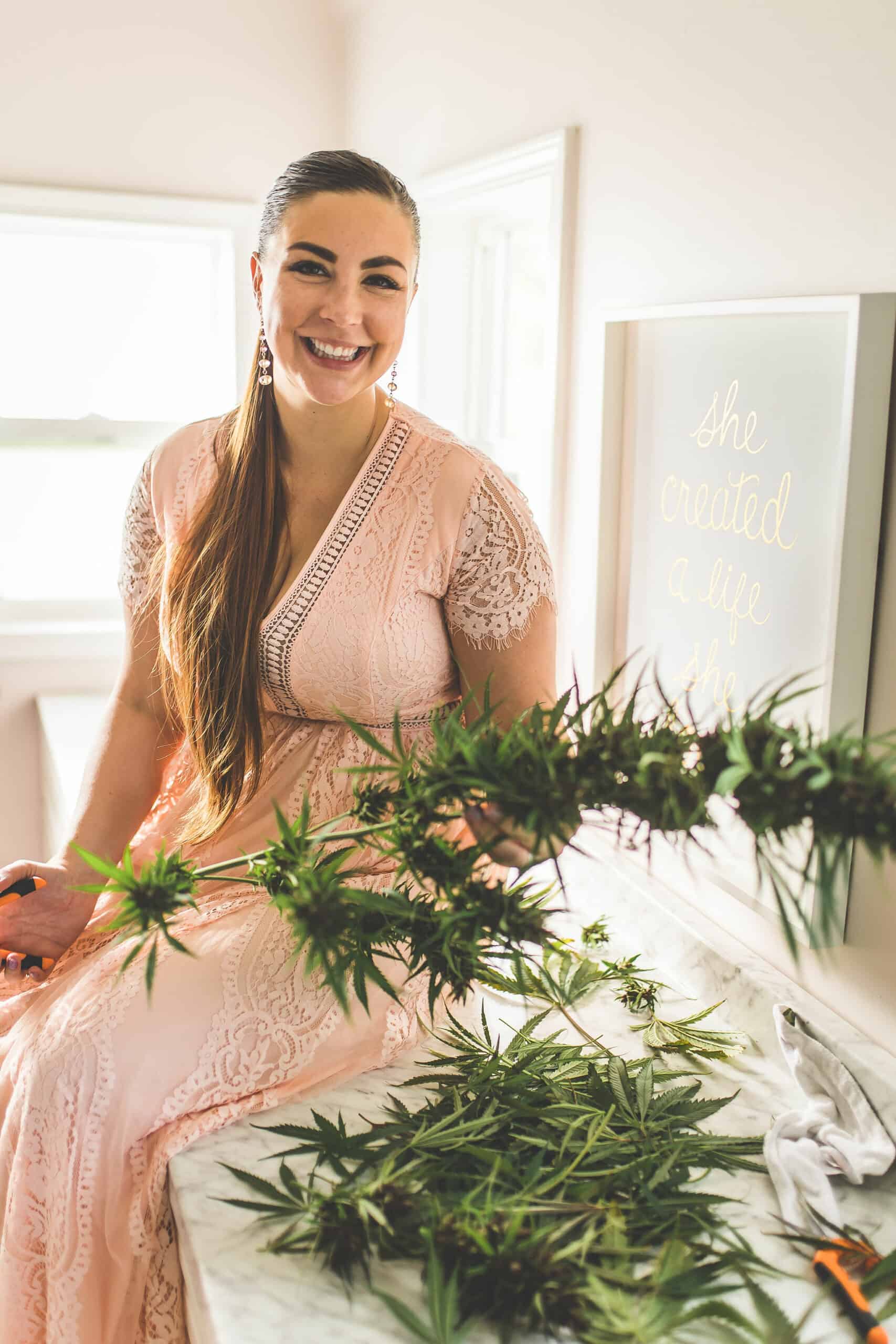 Looking For More Support?
Join thousands of members inside my private Well With Cannabis Community to ask questions, find support, and share your edible creations!
How Did It All Begin?
The origin of chai tea is buried deep within Ayurvedic medicine and ancient Chinese remedies―where people have been sipping this botanical blend for centuries.
Over the years, the traditional chai tea has gone through thousands of renditions as it got passed down from one generation to another.
Yet, it remains to be a revered antidote for headaches and fatigue.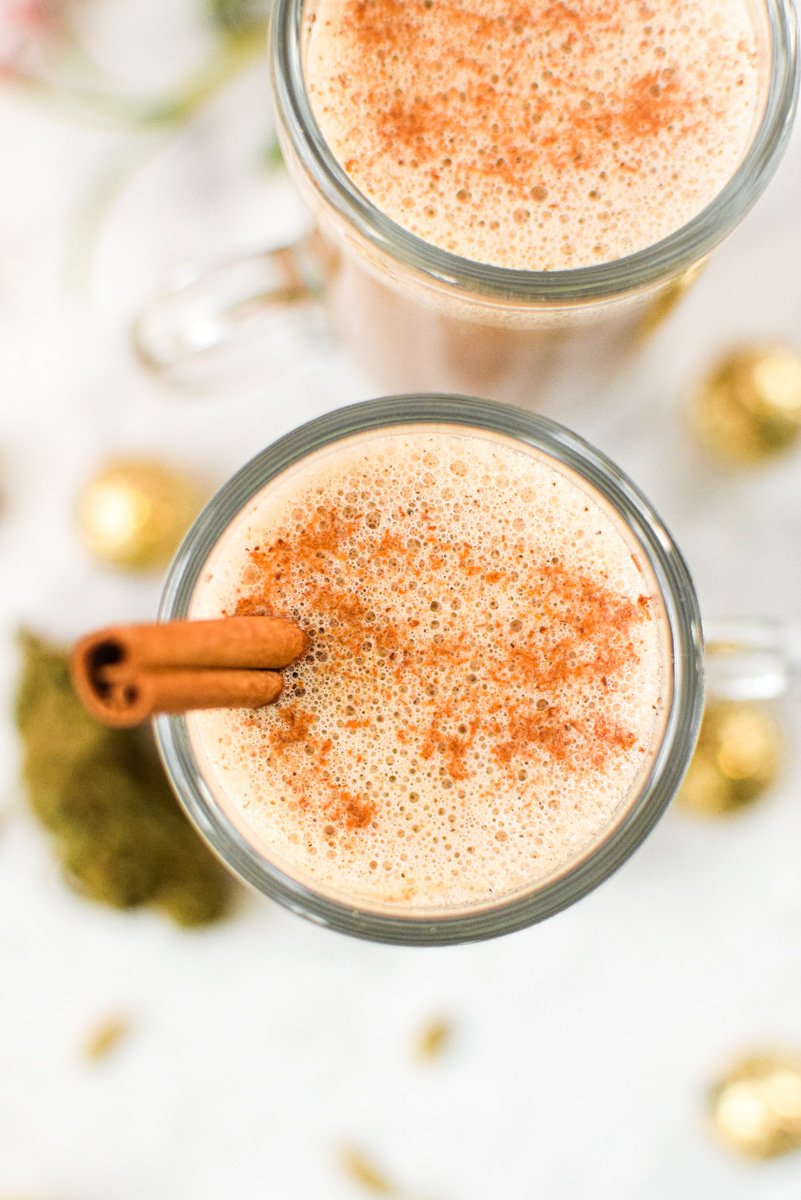 What Are Traditional Chai Spices?
The traditional masala chai is a potent blend of spices, herbs, and freshly steeped tea leaves.
You can sip this botanical concoction as it is or add plant-based milk, like homemade hemp seed milk if you like.
Let's look at the standard spices found in a traditional chai:
Cardamom
Clove
Ginger
Cinnamon
Black pepper
Vanilla bean
Star anise
Fennel seeds
Nutmeg
For my own health and the health of my online course students, I always try to include spices that promote good health and align with my holistic lifestyle.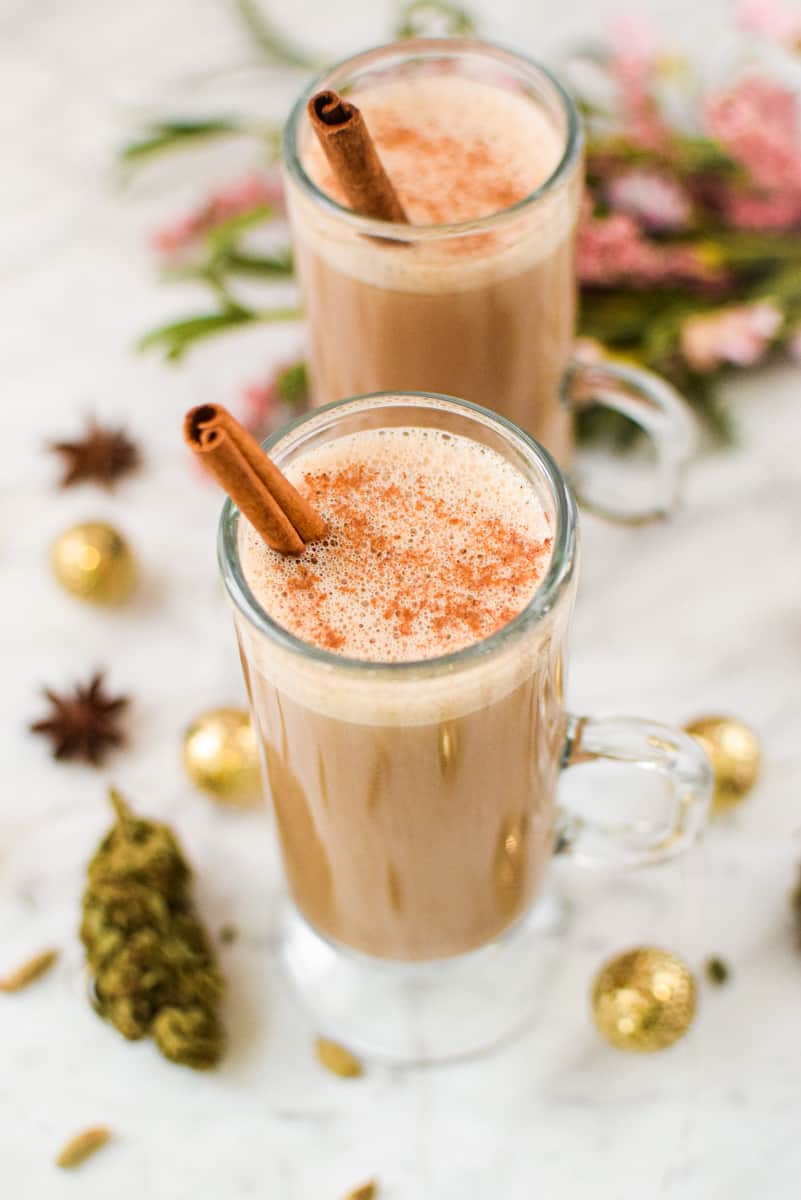 The Health Benefits of Chai Spices
The power of this Cannabis-Infused Chai Latte lies in the synergistic benefits of the spices and herbs.
If you're making your own chai tea blend, then here is more information about the individual health benefits of its ingredients.
1. Benefits of Cardamom
Cardamom is a staple ingredient in ancient Tibetan remedies.
The spice is known for its antibacterial, antimicrobial, and anti-inflammatory properties.
All of which play a pivotal role in supporting our immune system and fighting off various disorders.
The main benefits of cardamom include:
Detoxifies the toxins present inside the body.
It improves blood circulation.
It combats respiratory allergies and breathing disorders.
The high vitamin-C content helps cure the flu.
It improves metabolism and digestion.
Moreover, the antioxidants found inside cardamom fight off free-radicals and decrease the risk of cell damage.
2. Benefits of Cinnamon
Cinnamon is extracted from the bark of its tree. The fragrance of the cinnamon stalks comes from the oil it secretes.
The medicinal properties of this spice include antibacterial, anti-inflammatory, and antioxidant benefits.
You can use cinnamon to:
Regulate your cholesterol and blood sugar levels
Improve heart health and control blood pressure
Curb your appetite and promote weight loss
Prevent the formation of digestive disorders
Combat bacteria, fungus, and viruses
In short, cinnamon is a superfood that elevates the health benefits of chai tea.
3. Benefits of Clove
Clove comes from the flower buds of a clove (or myrtle) tree, which gives off a distinctive smell.
The buds are bursting with valuable components such as vitamin E and B, fiber, and manganese.
The combination of minerals and vitamins enhances the chai tea's nutritional value.
As a consequence, including clove in our diet allows us to:
Inhibit gastrointestinal diseases (e.g. constipation, diarrhea, and stomach aches).
Stabilize insulin secretion to treat diabetes
Prevent liver and stomach ulcers
Improve bone density and strength
Decreases risks of degenerative disorders (e.g. Alzheimer's disease)
Reduce anxiety and stress
Apart from this, the clove shows signs of analgesics that offer instant pain relief.
4. Benefits of Star Anise
Star anise is made from grounded seeds of a native Chinese tree (Illicium verum).
The seeds are encased within star-shaped pods that are sold in the spice market.
The spice is made of bioactive compounds that give its antioxidant, anti-inflammatory, and antimicrobial properties.
The medicinal benefits of star anise are:
Relieves muscle pain and inflammation
It prevents cellular damage and accelerates regeneration
It fights off common symptoms of flu and bacterial infections
It can treat fungal skin infections such as toenail fungus
Decreases risks of heart diseases
Acts as a sedative and promotes sleep
Improves gut health by removing toxins
Overall, star anise has a soothing influence on our body and mind.
5. Benefits of Black Pepper
The 'king of spices' black pepper is perhaps the most widely used spice in the world.
For ayurvedic practitioners, it's more than a culinary staple.
That's because black pepper contains anti-inflammatory, antibacterial, and antimicrobial properties like the other spices.
You can use black pepper to:
Improve your metabolism
Fights off viral and bacterial infections
Decrease the risk of digestive disorders
Inhibit the symptoms of Alzheimer's and Parkinson's disease
Control abnormal blood sugar and cholesterol levels
In short, black pepper is a gut-friendly ingredient that keeps you healthy and fit.
6. Benefits of Vanilla Bean
Often considered as a sweetener, vanilla bean extracts are actually a potent source of nutrients.
The pods contain high levels of magnesium, calcium, and vitamin A and D. These nutrients enrich your body and make it stronger.
Other health benefits of vanilla include:
The sweet aroma alleviates anxiety and stress
Improves your immune system
Prevents inflammation and blockage caused due to cholesterol
Curbs your craving and accelerates your metabolism
Promotes good gut health
Treats congestion and respiratory problems
As a result, the inclusion of vanilla bean extract has a positive impact on your health.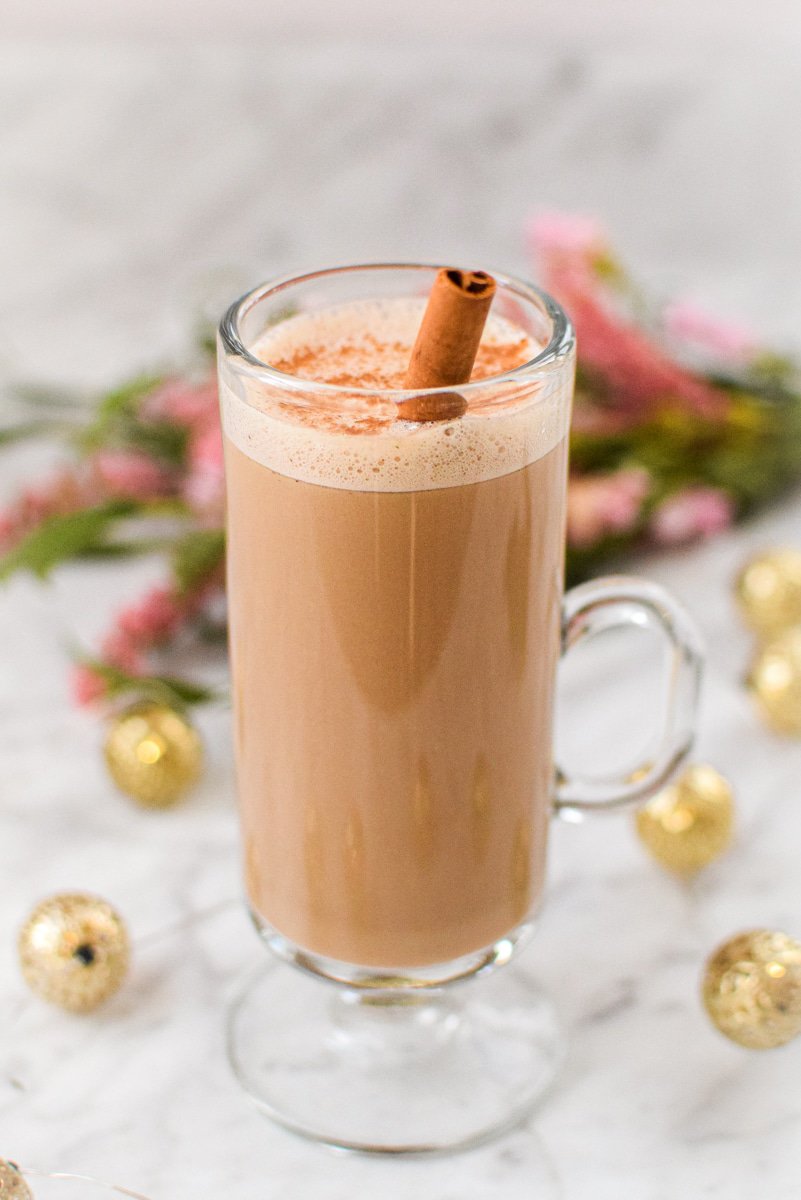 Cooking With Cannabis
While dried cannabis flower contains nutrients and other potential health compounds in its fresh state, it does not naturally contain THC or CBD.
These are the two most popular cannabinoids people typically expect to ingest when eating cannabis.
To experience the benefits of activated THC or CBD, the cannabis flower must first undergo a process called decarboxylation.
Decarboxylation occurs when cannabis is exposed to heat, light, cofactors, or solvents, all of which can be manipulated in your own kitchen.
Without decarboxylation, you may not experience the full range of beneficial health effects of cannabinoids such as THC or CBD.
Before incorporating cannabis as an ingredient to be used in various culinary applications such as cooking, baking, oil extraction, and more, it's important to understand the process of cannabis decarboxylation.
Discover why it must occur during the cooking process to experience THC or CBD's activated health benefits.
Get The Beginners Guide to Cannabis Decarboxylation here.
My Edibles Made Easy Online Cooking Course will teach you how to make cannabis edibles and topical recipes at home with ease. This step-by-step video course will teach you how to infuse, extract, and create edibles with many different product types - all from the comfort of your own home.

Learn more and enroll today →
Cannabis-Infused Chai Latte
This delicious cannabis-infused Chai Latte is a warming herb and spice-infused tea beverage easily made at home with anti-inflammatory spices bursting with mouth-watering flavor. 
Instructions
Preheat a water bath to 185° F. Various water bath techniques are explained in the notes section below.

In a small cast iron pan over medium heat, add the whole cardamom pods. Constantly move the pan to stir and prevent burning for 3-4 minutes.

Add the whole black peppercorns and cook an additional 3-4 minutes, constantly moving the pan to stir.

Add the cinnamon stick, whole allspice berries, whole anise pod, and whole cloves. Cook for 2-3 minutes and then turn off the pan. You are looking for fragrant spices with a light golden brown hue.

Shake well and pour coconut milk into a mason a jar and then add the brown sugar, Ceylon tea, decarbed cannabis flower, vanilla bean or extract, and fresh ginger.

When the spices are cool enough to handle, break the cinnamon stick by hand into smaller pieces and hand crack open the cardamom pods.

Add all of the toasted spices to the coconut milk mixture and gently stir to incorporate.

With a clean paper towel, wipe the rim of the jar and place the lid on, tighten the metal ring till fingertip tight (it does not need to be tightened all the way down.)

Carefully lower the sealed jar into the water bath. When the water bath returns to 185° F and starts a timer for 2 hours. Allow cooking undisturbed.

After 2 hours, remove the mason jar from the water bath and place it onto a tea towel-lined work surface. Remove the lid and give a couple of gentle stirs.

Using a fine-mesh strainer, cone filter, doubled up cheesecloth or even a coffee filter; strain the tea into another mason jar or other heat resistant vessel.

This can be enjoyed immediately, garnished with fresh ground cinnamon or decarbed kief for a little extra jazz. This chai can also be enjoyed cold.

Store in the refrigerator for up to a week. If you plan to reheat this chai after cooling, do so slowly in a saucepot. Do NOT microwave the chai as you will risk overheating and denaturing your cannabis cannabinoids.
Notes
Make sure the cannabis flower is decarbed prior to adding it to this recipe or you may not experience the activated effects of CBD or THC.
Any Black Tea will work for this recipe, we used Ceylon, but you can play around with different flavors for your liking.
If you are using an Immersion Cooker or Sous Vide Cooker, fill a vessel deep enough to hold a 1-quart mason jar with an inch of water above lid with hot water. Preheat the water to 185° F.
If you are using a Crock Pot or Instant Pot for your water bath, you will need to divide the recipe equally between 2 (16 ounces) mason jars. Fill the cooking vessel with enough hot water to cover both mason jars with an inch of water above the lids.
If using an Instant Pot; set the slow cooker mode to 185° F and preheat.
If using a Crock-Pot; preheat on high until 185° F is reached, then turn to low, a digital probe thermometer is recommended for Crock-Pot to ensure accurate temperature control.
We recommend sanitizing my jars in the 185° F water for at least 5-minutes before filling with coconut milk. This step isn't necessary, but good safety practice.
Nutrition
Serving:
1
g
Calories:
60
kcal
Carbohydrates:
12
g
Protein:
1
g
Fat:
2
g
Saturated Fat:
1
g
Sodium:
7
mg
Fiber:
3
g
Sugar:
5
g
Did you make this recipe or have a question?
Join hundreds of members inside private Well With Cannabis Community for help, support, and to share your edible creations!