This creamy, delicious Cannabis-Infused Golden Milk is a warm beverage made with anti-inflammatory superfoods like turmeric, cannabis, and coconut oil to help nourish the body and soothe chronic inflammation.
Naturally plant-based, this recipe is vegan, paleo, AIP, and Keto-diet friendly.
Making Cannabis-Infused Golden Milk
Golden milk is one of the most popular and trendy health drinks in the holistic wellness scene today.
Made with ground turmeric and milk, there are hundreds of variations and ways to make this warm, delicious drink your own.
This is my own Cannabis-Infused Golden Milk version.
Loosely modeled after a traditional Indian drink made of ground turmeric and milk, haldi doodh, golden milk is a modern-day version of this reported ancient healing beverage.
Turmeric, which has been used in Ayurvedic medicine for centuries, is a ground spice that is easily found in your local grocery store.
Prized for its main active ingredient, curcumin, turmeric has many purported health benefits including the ability to help reduce inflammation in the body.
Like turmeric, cannabis has been used in Ayurvedic medicine for centuries.
Cannabis use was first noted in Northern India approximately 8,000 years ago.
Evidence suggests that cannabis has been used as medicine for over 2,400 years.
Join over 10K members inside my Well With Cannabis Facebook Community if you have any questions about cooking with cannabis or want to share your creations!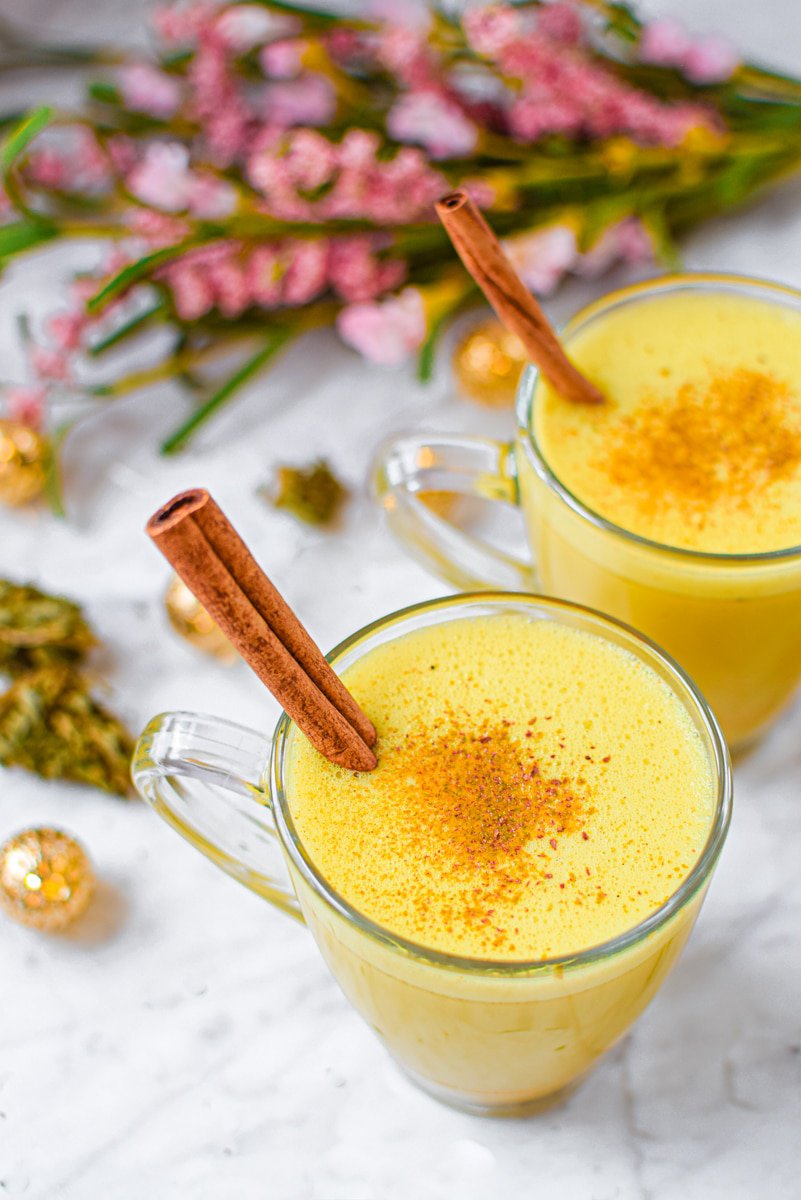 Cannabis Coconut Oil for Inflammation
One of the most promising therapeutic interventions being studied for the treatment of chronic inflammation is cannabis, also known as phytocannabinoid pharmacotherapy.
The endocannabinoid system—and specifically therapy focused on using exogenous cannabinoids found within the cannabis plant, including THC and CBD—is an emerging target of pharmacotherapy.
Several studies have demonstrated that cannabinoids, like CBD and THC, have the ability to downregulate and upregulate various mechanisms to suppress the body's inflammatory responses.
One of the easiest and most convenient ways to use cannabis for the management of inflammation is with homemade cannabis-infused coconut oil.
Coconut oil is the perfect substitute for butter when making a dairy-free and/or vegan cannabutter.
The coconut oil performs similar to butter in regards to extracting a broad-spectrum of cannabinoids from the plant matter, and it remains solid at room temperature like butter.
You can adjust your potency of the cannabis oil based on the strain of cannabis-flower you choose and how much you decide to use.
Many of my cannabis course students perfect cannabis coconut oil that is made with CBD dominant flower.
CBD flower does not produce a traditional high but still provides all of the other health benefits of the cannabis plant.
Ground Turmeric for Inflammation
Turmeric is a rhizome with powerful antioxidant, anti-inflammatory, and anti-fungal properties. These powerful properties stem from the important plant compound called Curcumin which is found in turmeric.
Inflammation is at the heart of many chronic health conditions, and evidence suggests that adding more anti-inflammatory foods to the diet, such as turmeric, can help to reduce the instance of chronic disease.
Click to learn more about The Health Benefits of Cooking with Turmeric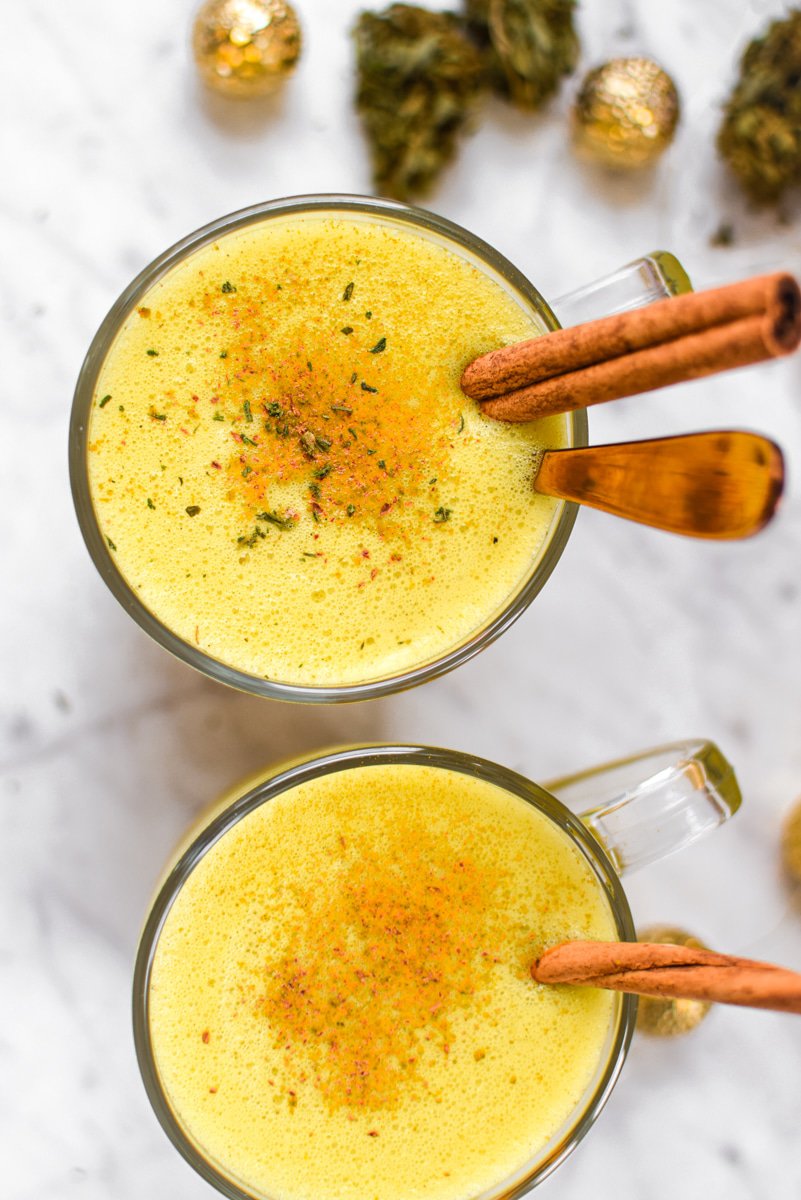 Cannabis Golden Milk Recipe FAQ
Can I make this recipe without cannabis oil?
Yes, if you want this recipe to be cannabis-free, simply swap in traditional coconut oil.
Can I make this recipe with CBD oil?
Yes, CBD oil is much easier to access and purchase than it is to make your own homemade cannabis-infused coconut oil.
You can swap your own CBD oil product for the cannabis-infused coconut oil in this recipe, just be sure to take into account the concentration of your product before adding the full amount.
Can I make this recipe without Coconut Milk?
Yes, you can use any type of milk you prefer in this recipe. Many people like traditional full-fat dairy, while others prefer plant-based alternatives.
You can use anything you like including almond milk, hemp seed milk, or even sunflower seed milk.
Just remember, each milk alternative has its own slight taste, which will impact your final recipe.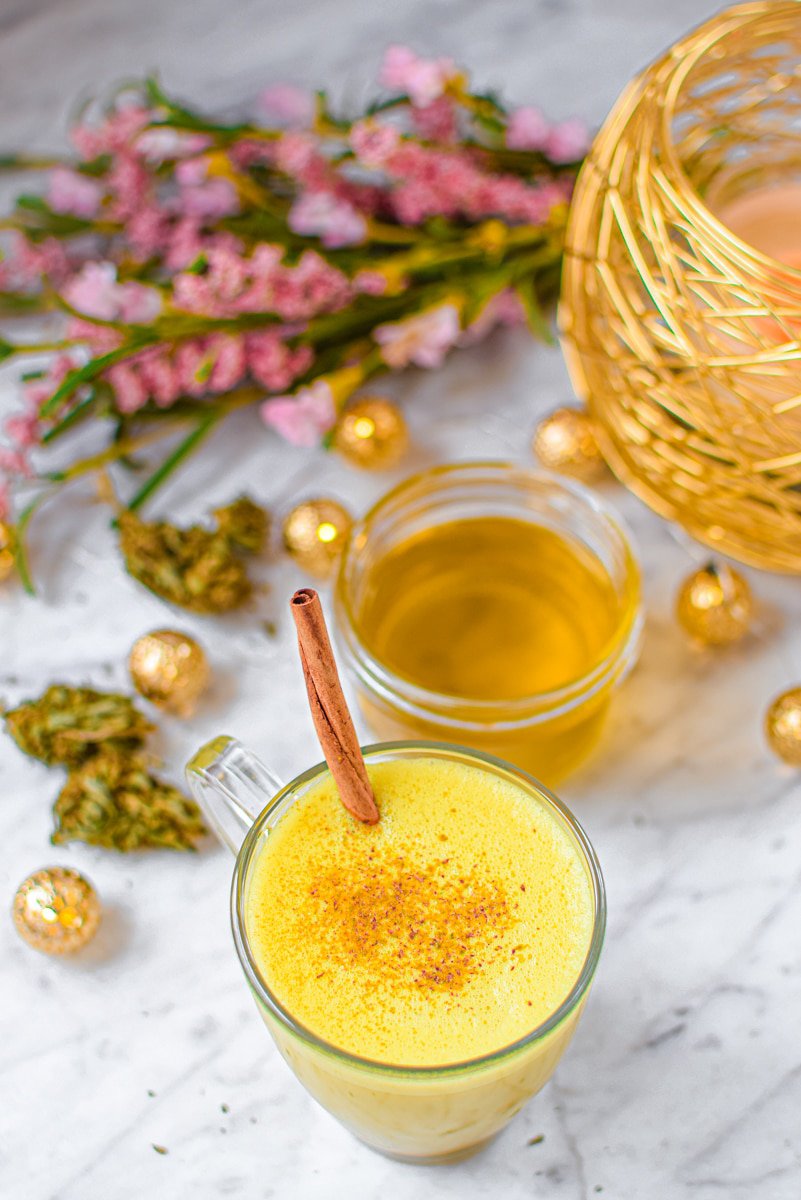 Note: Oil Separation Will Occur
It's important to keep in mind that mixing coffee and cannabis oil is like mixing oil and vinegar; they don't naturally stay together well.
You will likely notice the oil floating on the top of your coffee after the cup is left to sit for a few minutes.
This is harmless and left to your personal taste and texture preferences.
If you do not like the oil separation, I recommend adding a bit of lecithin to your drink.
A ¼ teaspoon of liquid sunflower lecithin along with the oil and mix the infusion together using a milk frother.
This will help to emulsify all of the ingredients together and prevent any oil from floating on top.
Elevate Your Cannabis Education
The Cannabis Compass Online Course will show you how to dose, use, and apply cannabis safely and effectively so that you can begin to manage your most unwanted symptoms the natural way, from the comfort of your own home.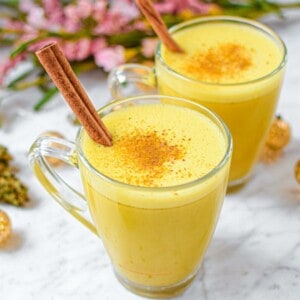 Cannabis-Infused Golden Milk
Cannabis-infused golden milk is a creamy, delicious warm beverage made with anti-inflammatory superfoods like turmeric, cannabis, and coconut oil to help nourish the body and ward off inflammation.
Ingredients
2

cans

lite coconut milk

13.5-ounce cans

1

tablespoon

pure maple syrup

2

teaspoons

ground turmeric

¼

teaspoon

ground ginger

¼

teaspoon

ground cinnamon

¼

teaspoon

pure vanilla extract

¼

teaspoon

ground black pepper

1

tablespoon

cannabis-infused coconut oil
Instructions
In a 1-quart saucepot over medium heat, add all of the ingredients except for the cannabis coconut oil.

Bring to a boil, stirring occasionally. Allow to boil for 1 minute.

Turn the heat to low and allow the liquid to simmer for 10-minutes to allow the flavors to meld.

After 10-minutes, turn off the heat and whisk in the cannabis oil.

Divide the mixture into mugs and garnish with ground cinnamon.

For some extra jazz, garnish with a little decarbed kief.

Enjoy immediately or store in the refrigerator for up to one week.
Notes
To make this recipe AIP-friendly, omit the ground black pepper.
*If you choose to enjoy this beverage at a later time; reheat it on the stovetop and not in the microwave in order to avoid overheating the cannabis oil.
Nutrition
Serving:
1
serving
Calories:
340
kcal