This delicious Anti-Inflammatory CBD Smoothie includes a full serving of fruit, a full serving of vegetables, and anti-inflammatory ingredients like ground turmeric and full-spectrum CBD oil.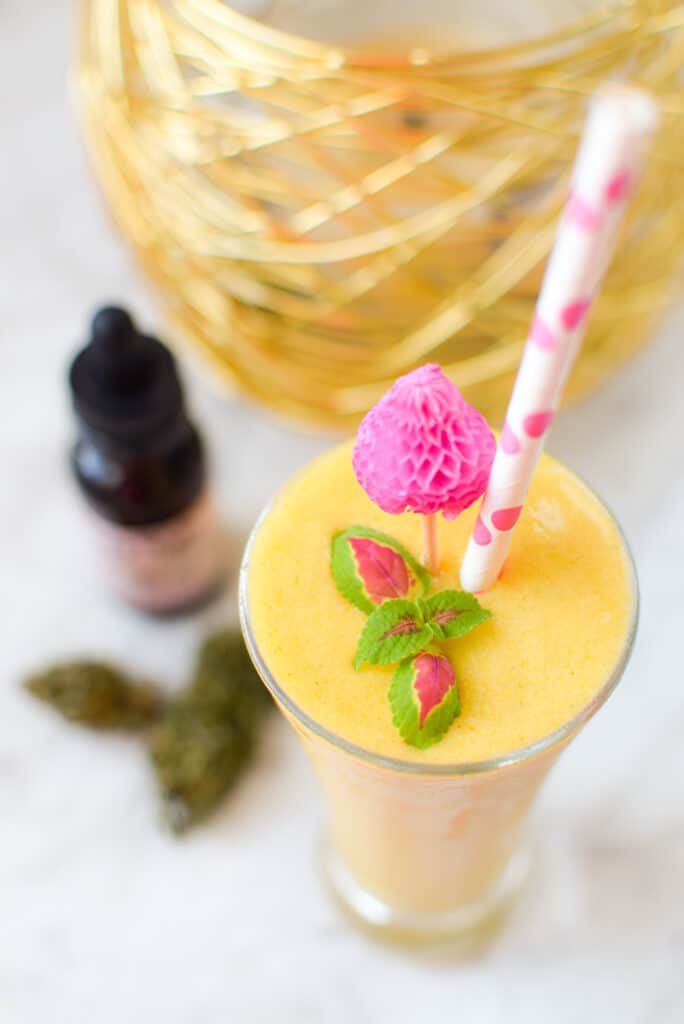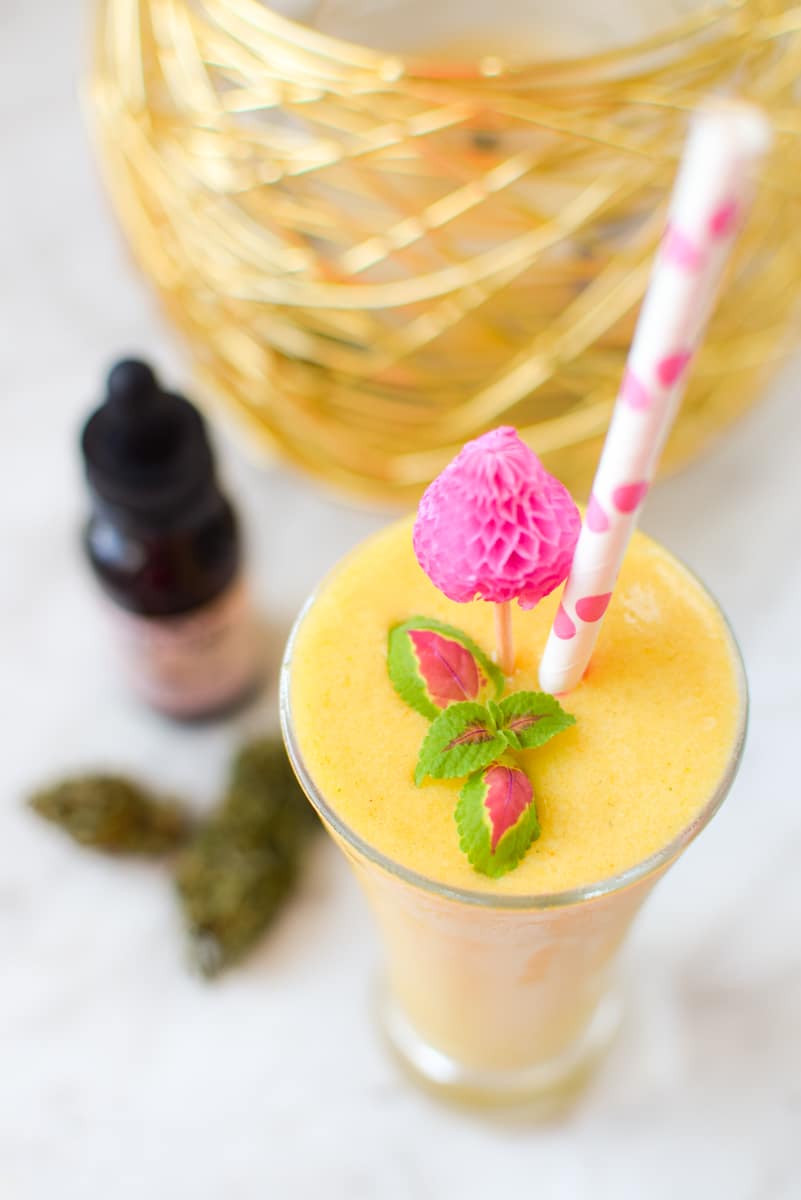 Natural Remedies for Inflammation
I teach my clients how to use a combination of nutrition and cannabis to manage anxiety and improve their health.
For many people, CBD is a safe, comfortable first place to start their cannabis journey.
Recipes using CBD are just one of the ways I show people how to nourish their bodies with nutrient-dense, functional foods, and nourish their endocannabinoid system.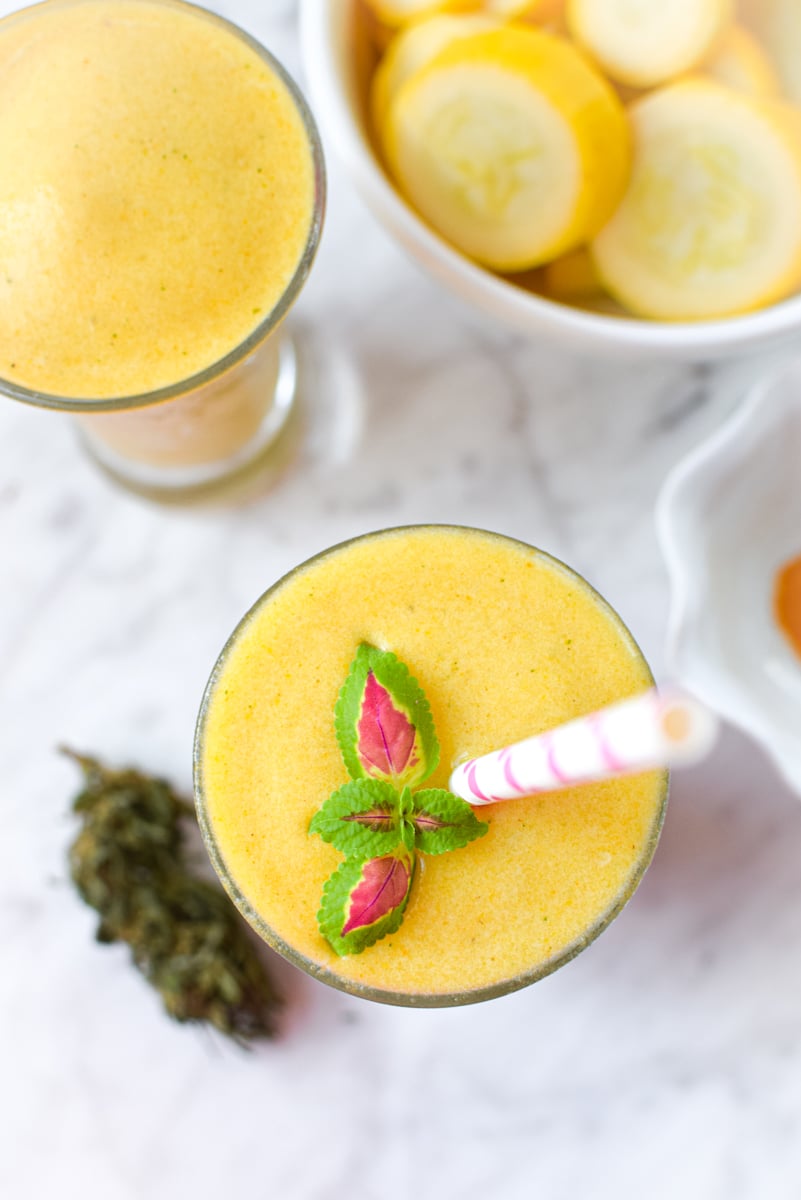 CBD For Inflammation
One of the most promising therapeutic interventions currently being studied for the treatment of chronic inflammation is cannabis, which includes both CBD and THC.
Our bodies have what is known as an endocannabinoid system that directly interacts with cannabinoids found in the cannabis plant, like CBD and THC.
Several studies have demonstrated that cannabinoids have the ability to downregulate cytokine and chemokine production and, in some models, upregulate T-regulatory cells as a mechanism to suppress the body's inflammatory responses (Nagarkatti 2009).
Overall, preclinical and clinical data support the potentially effective anti-inflammatory properties of cannabinoids like CBD.
For this recipe, we will be using a traditional CBD oil, as this is what is most easily available on the market today.
Turmeric for Inflammation
If you have never heard of it before, turmeric is a spice from the rhizome of the turmeric plant, typically ground into a powder form.
Turmeric is one of the most popular and common anti-inflammatory foods on the market today. It has been studied extensively for its role in reducing inflammation in the body.
With the rise in popularity of turmeric in recent years, you can now easily purchase it in any grocery store in the spice section.
Turmeric has a vibrant yellow color which helps to make this smoothie so beautiful.
This rhizome, similar to ginger, has powerful antioxidant, anti-inflammatory, and anti-fungal properties.
These powerful properties stem from the important plant compound called Curcumin, which is found in the turmeric itself.
Curcumin has been shown to be more bioavailable, or powerful in the body, when paired with black pepper, which is why we have included black pepper in this recipe (but don't worry, you can't taste it).
This is because black pepper which contains a powerful component called piperine which has been shown to help increase the bioavailability of Curcumin by 2,000%. (2)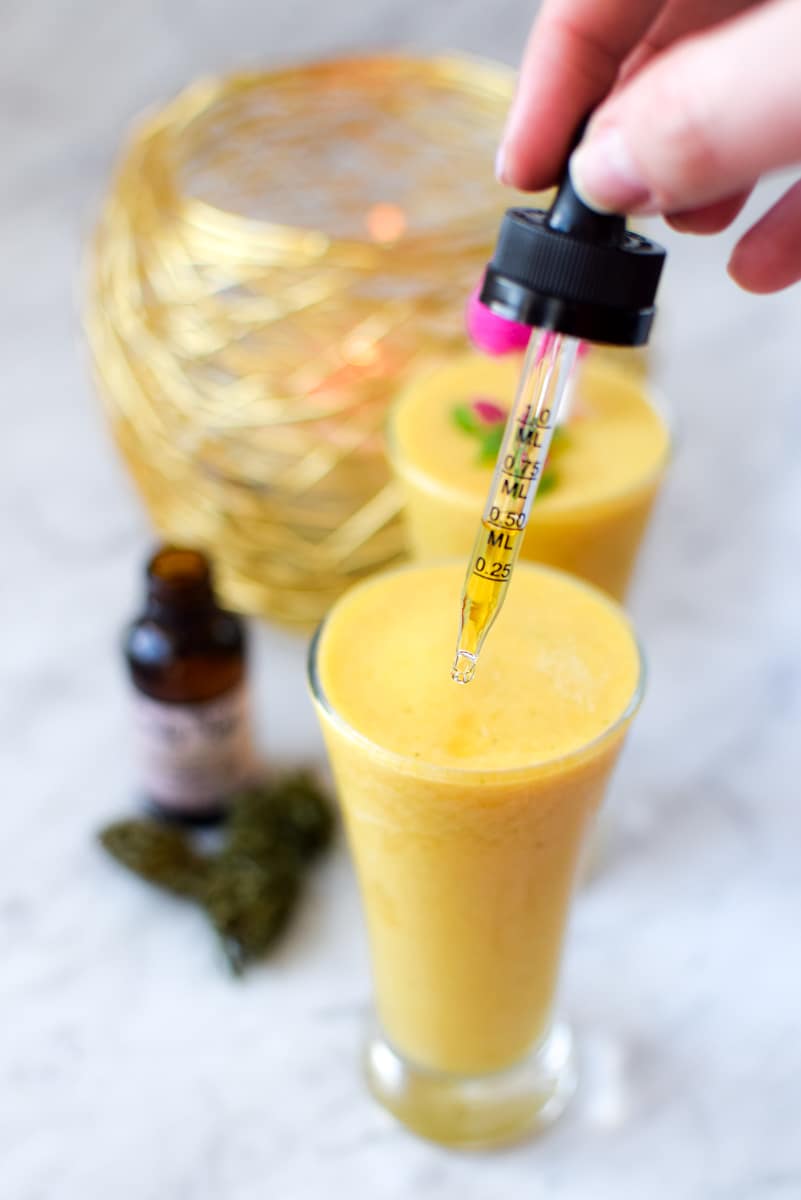 Use Up Extra Squash From The Garden
If we are friends on Instagram, you know that my summer squash harvest from our garden has been out of control this season.
We have been harvesting nearly twenty zucchini and yellow squash a day, and while I have given a lot of it away, I still have about thirty squash sitting on my dining room table!
It is important to me to preserve our summer harvests as much as possible for the winter, which is what led me to the idea of freezing the squash to be added to smoothies throughout the year.
Summer squash makes an excellent smoothie base because it has a creamy, smooth texture and a milk flavor that easily blends with any other ingredients you are using.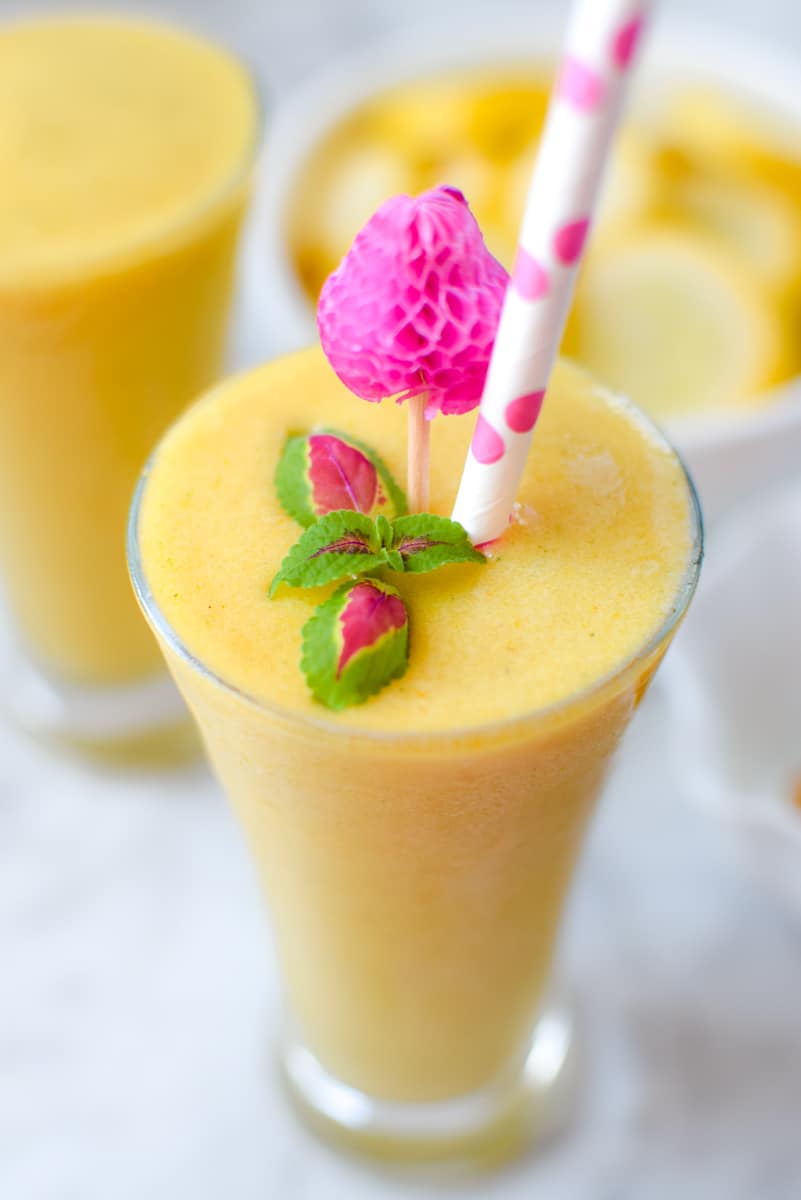 LOOKING FOR MORE CBD SMOOTHIES?
Check out our other delicious CBD Smoothie recipes: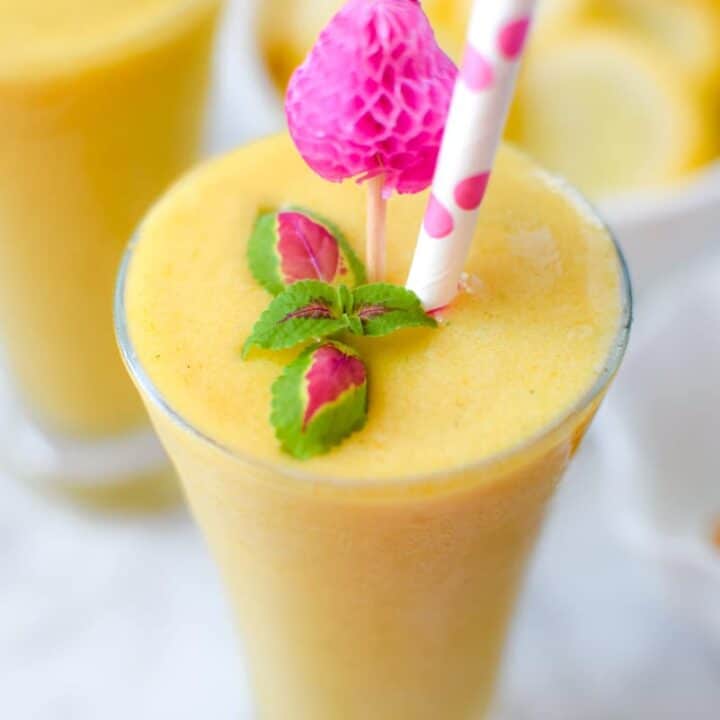 CBD Anti-Inflammatory Summer Squash Smoothie
This delicious CBD Anti-Inflammatory Summer Squash Smoothie is naturally gluten-free, Paleo, and AIP-friendly, has a delicious, sweet taste from the peaches and contains a full serving of vegetables.
Ingredients
6 ounces (1 cup) diced yellow squash, seeded if needed
4 ounces (1 cup) frozen peaches
3 ounces (1/2 large) banana
1 cup ice
1 tablespoon lemon juice
1 tablespoon honey
1 teaspoon ground turmeric
1/16 teaspoon ground cinnamon
1/16 teaspoon freshly ground black pepper
1-2 large mint leaves, optional
Instructions
Put all of the ingredients in a high-speed blender and blend on high for 60-seconds, or until smooth.
Pour into 2 cups & enjoy.
Recommended Products
As an Amazon Associate and member of other affiliate programs, I earn from qualifying purchases.
Nutrition Information:
Yield:

2
Serving Size:

1 smoothie
Amount Per Serving:
Calories:

250
Total Fat:

7g
Saturated Fat:

2g
Trans Fat:

0g
Unsaturated Fat:

5g
Cholesterol:

10mg
Sodium:

72mg
Carbohydrates:

41g
Fiber:

8g
Sugar:

17g
Protein:

9g
Elevate Your Cannabis Education!
The Cannabis Compass Online Course teaches you how to use, apply, and dose all forms of cannabis safely and effectively so that you can begin to manage your anxiety, pain, and/or inflammation from the comfort of your own home.

Learn More & Enroll Today