This delicious tropical fruit & veggie cannabis smoothie includes a full serving of fruit, a full serving of vegetables, and a variety of different ways to infuse this smoothie from cannabis oils, tinctures, leaves, and more.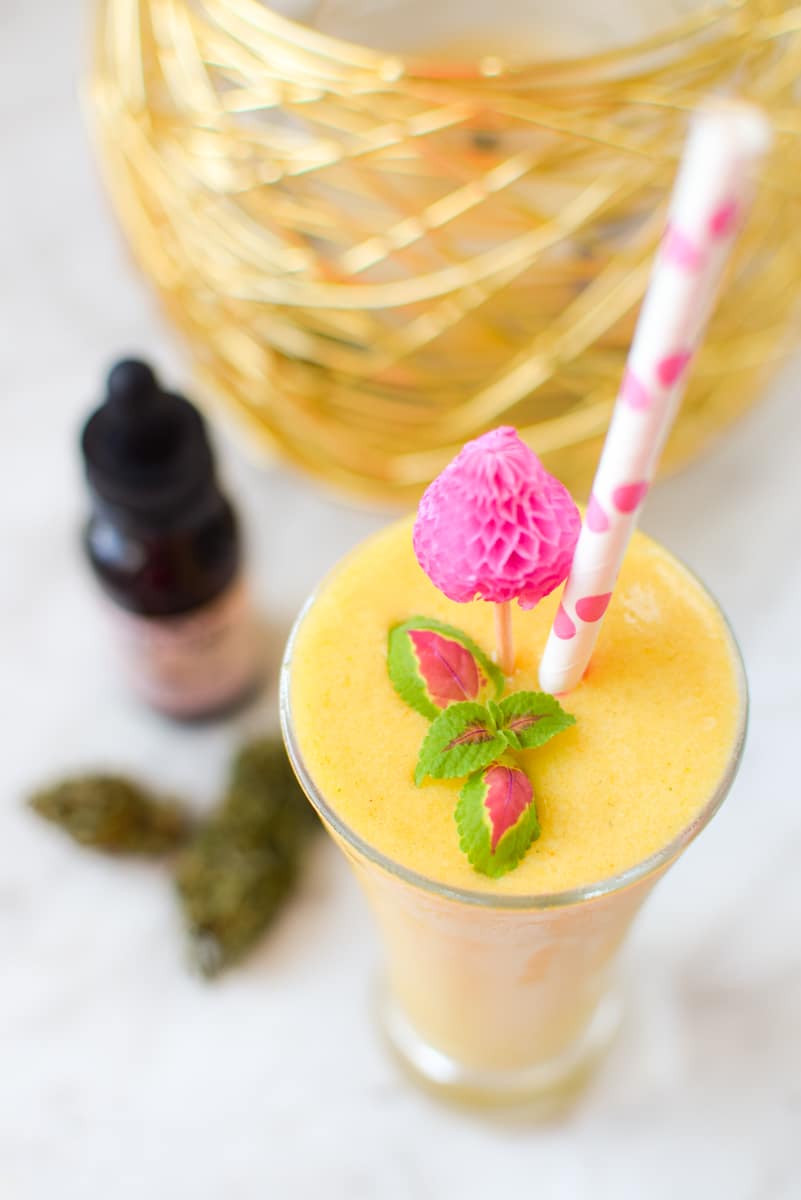 Tropical Fruit & Veggie Cannabis Smoothie
For many people in my Well With Cannabis Facebook Community, consuming healthier cannabis recipes is an important step for their cannabis journey.
This delicious tropical fruit and veggie cannabis smoothie is the perfect combination is the perfect way to get a full serving of fruits and a full serving of veggies each day.
Recipes like this are just one way I show people how to nourish their bodies with nutrient-dense foods and naturally support their endocannabinoid system.
If you've never made a cannabis smoothie before, be sure to check out my How to Make The Perfect Cannabis Smoothie guide here!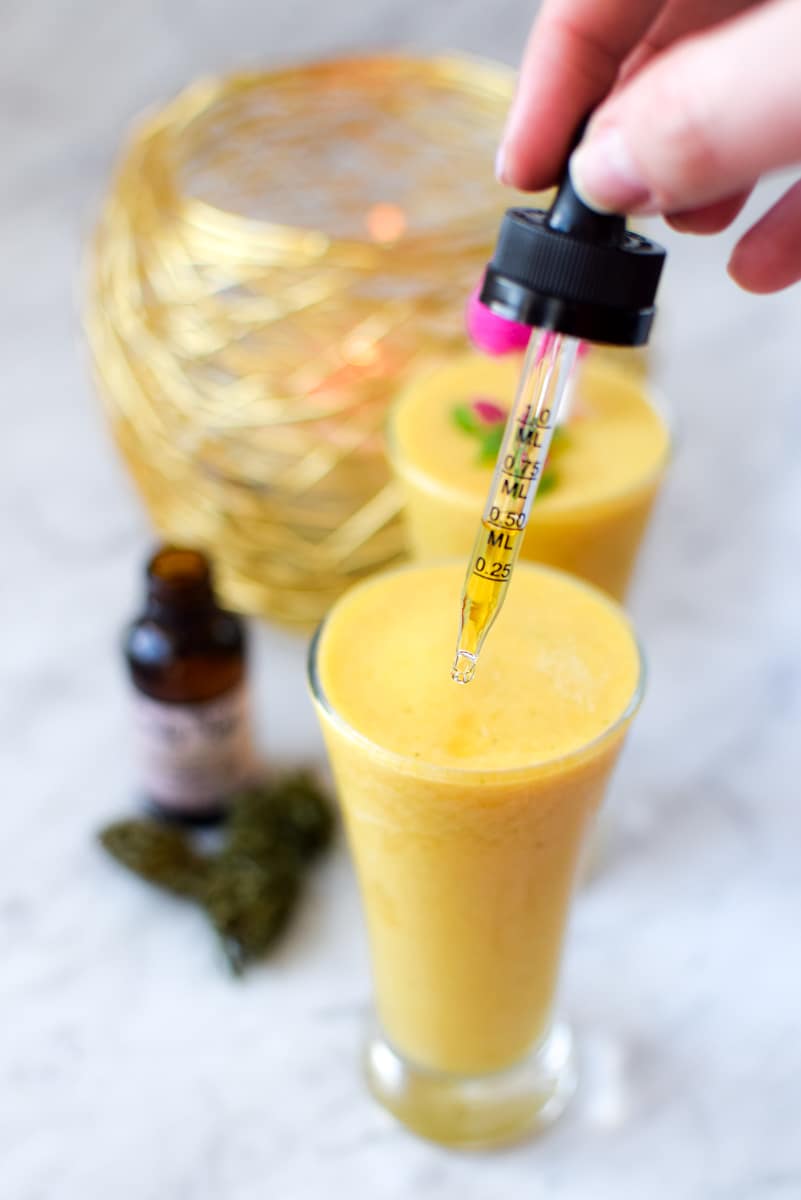 Cannabis Smoothie Infusion Options
There are many different ways to infuse your cannabis smoothie, and you can choose one based on what product you have available and your personal taste preferences.
Always remember to dose based on your own personal tolerance.
If you're not sure how to start, follow the golden rule: start low and go slow.
Here are a few smoothie infusion options to choose from:
If you're unsure about which cannabis oil to use, be sure to check out this guide to understanding the many different types of cannabis oil.
And if you're unsure about how to incorporate any of these other infusion options into your smoothie, don't forget to check out this ultimate guide showing you how to make a cannabis smoothie.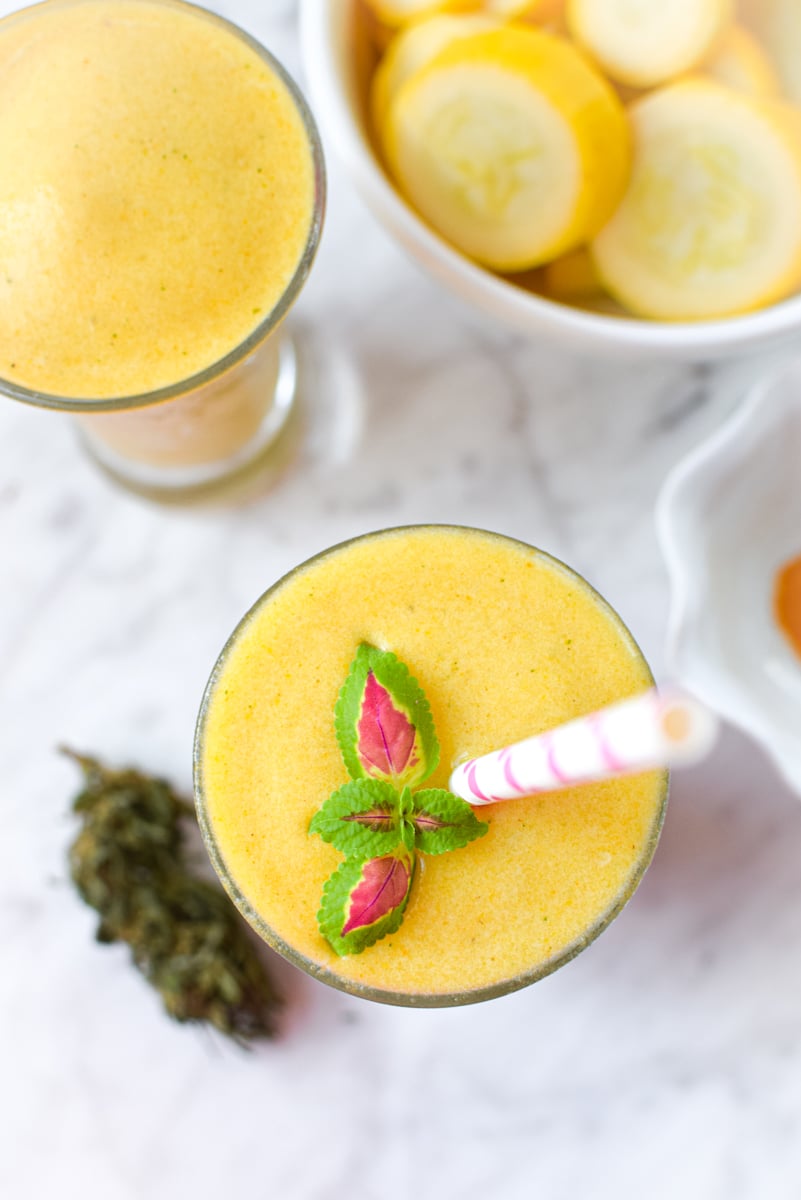 Additional Smoothie Ingredients
Beyond just cannabis, this smoothie contains many delicious ingredients that are good for you, too!
Ground Turmeric
If you have never heard of it before, turmeric is a spice from the rhizome of the turmeric plant, typically ground into a powder form.
Turmeric has a vibrant yellow color which helps to make this smoothie so beautiful.
This ground spice is one of the most popular and common 'superfoods' on the market today and has been studied extensively for its role in reducing inflammation in the body.
These powerful properties stem from the important plant compound called curcumin, which is found in the turmeric itself.
Curcumin has been shown to be more bioavailable, or powerful in the body, when paired with black pepper, which is why we have included black pepper in this recipe (but don't worry, you can't taste it).
This is because black pepper contains a powerful component called piperine which has been shown to help increase the bioavailability of curcumin by 2,000%, according to clinical trials.
With the rise in popularity of turmeric in recent years, you can now easily purchase it in any grocery store in the spice section.
Summer Squash
If you're like me, your summer squash harvest from the garden has been out of control this season.
We have been harvesting nearly twenty zucchini and yellow squash a day, and while I have given a lot of it away, I still have about thirty squash sitting on my dining room table!
It is important to me to preserve our summer harvests as much as possible for the winter, which is what led me to the idea of freezing the squash to be added to smoothies throughout the year.
Summer squash makes an excellent smoothie base because it has a creamy, smooth texture and a milk flavor that easily blends with any other ingredients you are using.
How to Determine The Dosing
Want to calculate the dosage of your cannabis edibles and homemade cannabis recipes?
While a calculator is no replacement for lab testing, this tool has been designed to help you get a more accurate guesstimate of the potency of your cannabis infusions and extractions.
Unlike other calculators available online, this calculator aims to provide more accuracy by accounting for the losses associated with decarboxylation, infusion oils, or extraction solvents used.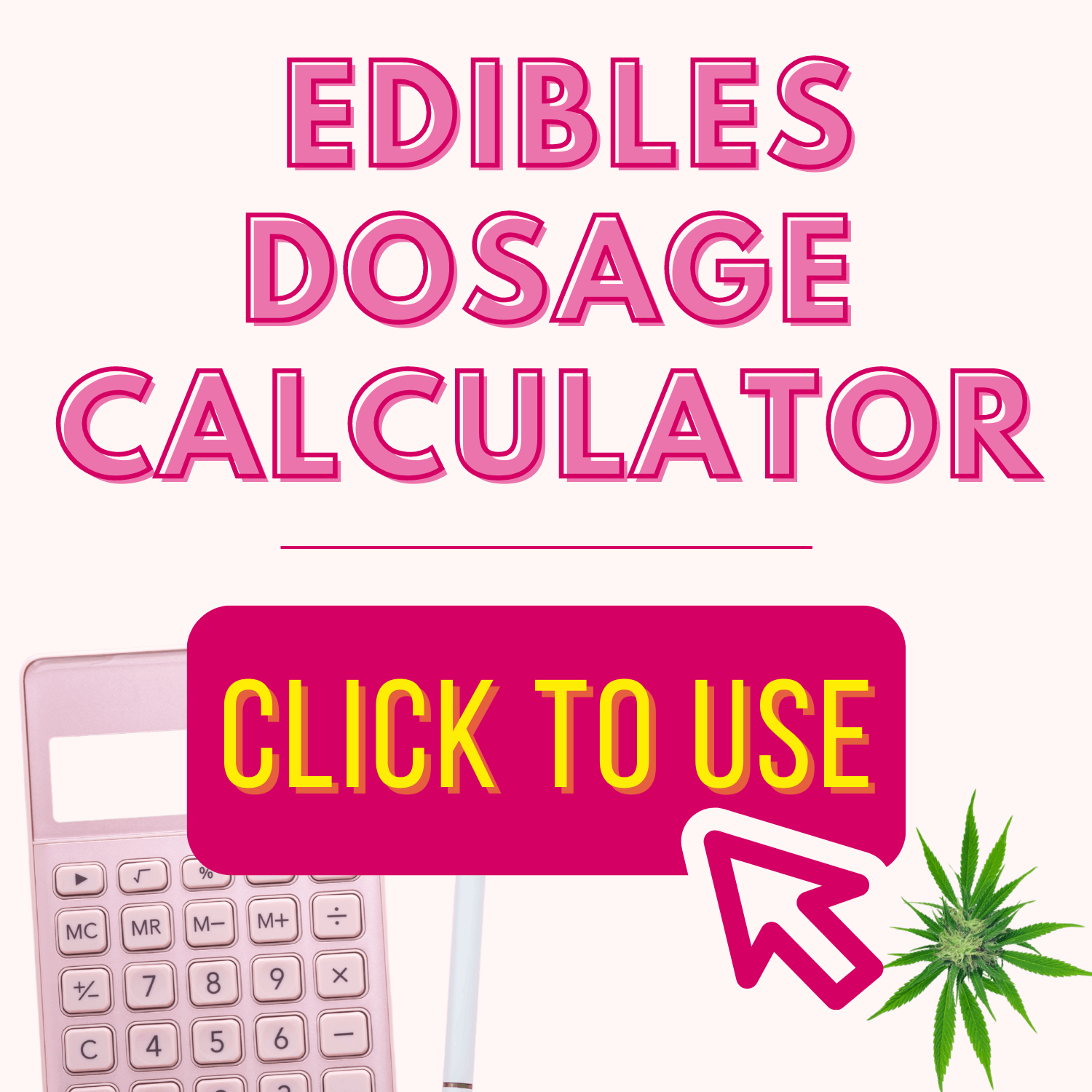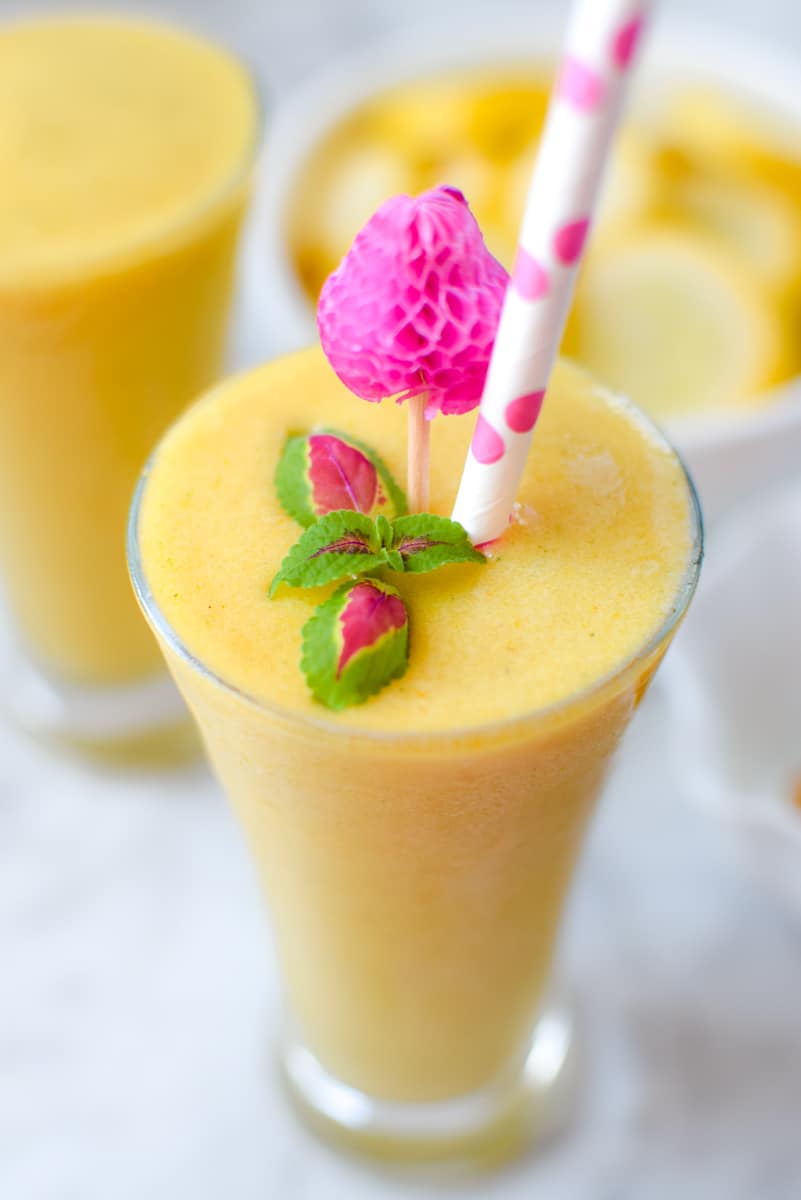 Looking For More Cannabis Smoothies?
Check out my other delicious cannabis smoothie recipes below:
And if you're struggling with the munchies, be sure to get my 10 Helpful Tips for Managing the Munchies here!
Use An Infusion Machine For Your Edibles
If the process of decarboxylating and infusing your cannabis edibles seems like too much work, a cannabis infusion machine is a perfect solution for you!
Cannabis-infusion machines are countertop devices that do all the work for you by decarboxylating and infusing your butters, oils, and more.
The most popular machines on the market today include LEVO Infusion Machines and Ardent Cannabis Infusion Machines.
Want A Discount Code?
Enhance Your Cannabis Education
My beginner-friendly Cannabis Compass Online Course will show you how to dose, use, and apply cannabis safely and effectively so that you can begin to manage your most unwanted symptoms the natural way from the comfort of your own home.

Learn more and enroll today →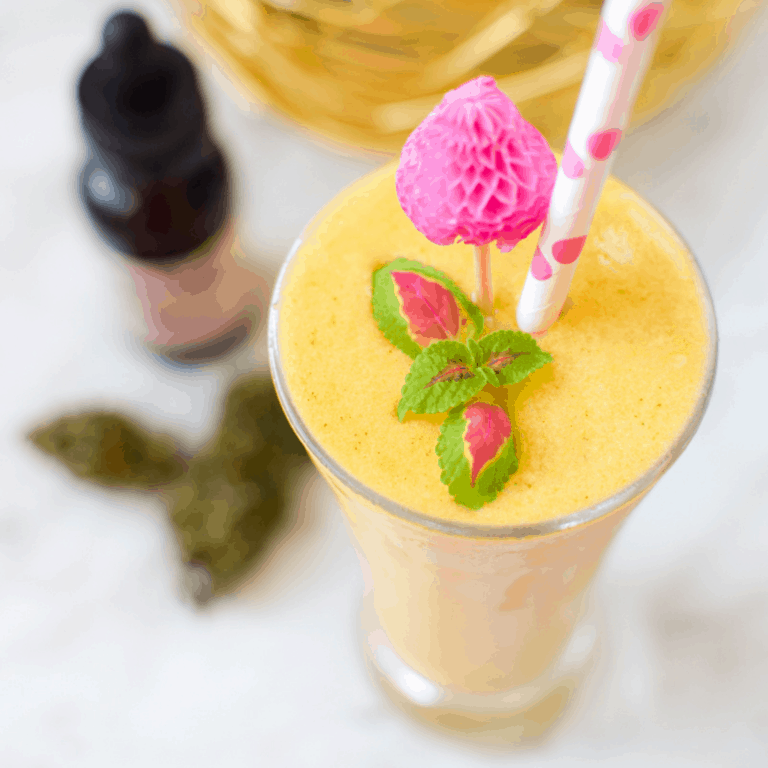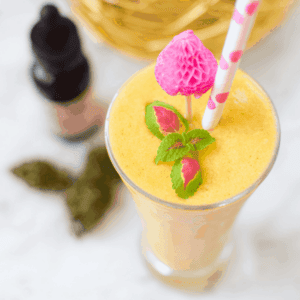 Tropical Fruit & Veggie Cannabis Smoothie
This delicious tropical fruit & veggie cannabis smoothie includes a full serving of fruit, a full serving of vegetables, and a variety of different ways to infuse this smoothie from cannabis oils, tinctures, leaves, and more.
Instructions
Put all of the ingredients in a high-speed blender and blend on high for 60-seconds, or until smooth.

Pour into your favorite cup and enjoy.
Notes
Yield: This recipe makes approximately 12 ounces.
CBD Variation: To make CBD oil or CBD butter, swap CBD dominant cannabis flower for THC dominant cannabis flower.
Flavor Variation: If you don't like mango, you can swap the frozen mango chunks for frozen pineapple chunks.
Nutrition Tip: To boost the nutritional value of this recipe, it is recommended to add 2 scoops of unflavored collagen peptides. While optional, this protein powder is completely tasteless and can contribute an additional 70 calories and 18 grams of high-quality protein. You can easily find collagen peptides online or at your local health food store.
Alternative Infusion Options:
Nutrition
Serving:
1
smoothie
Calories:
220
kcal
Carbohydrates:
30
g
Protein:
14
g
Fat:
6
g
Saturated Fat:
4
g
Cholesterol:
12
mg
Sodium:
57
mg
Potassium:
531
mg
Fiber:
3
g
Sugar:
23
g
Vitamin A:
739
IU
Vitamin C:
25
mg
Calcium:
152
mg
Iron:
1
mg