A chocolate chip cookie dough that you don't have to worry about eating? Chickpeas are the secret ingredient in these mouthwatering, vegan, and egg-free cannabis chocolate chip cookie dough bites that you can easily make with pantry staples in just a few minutes.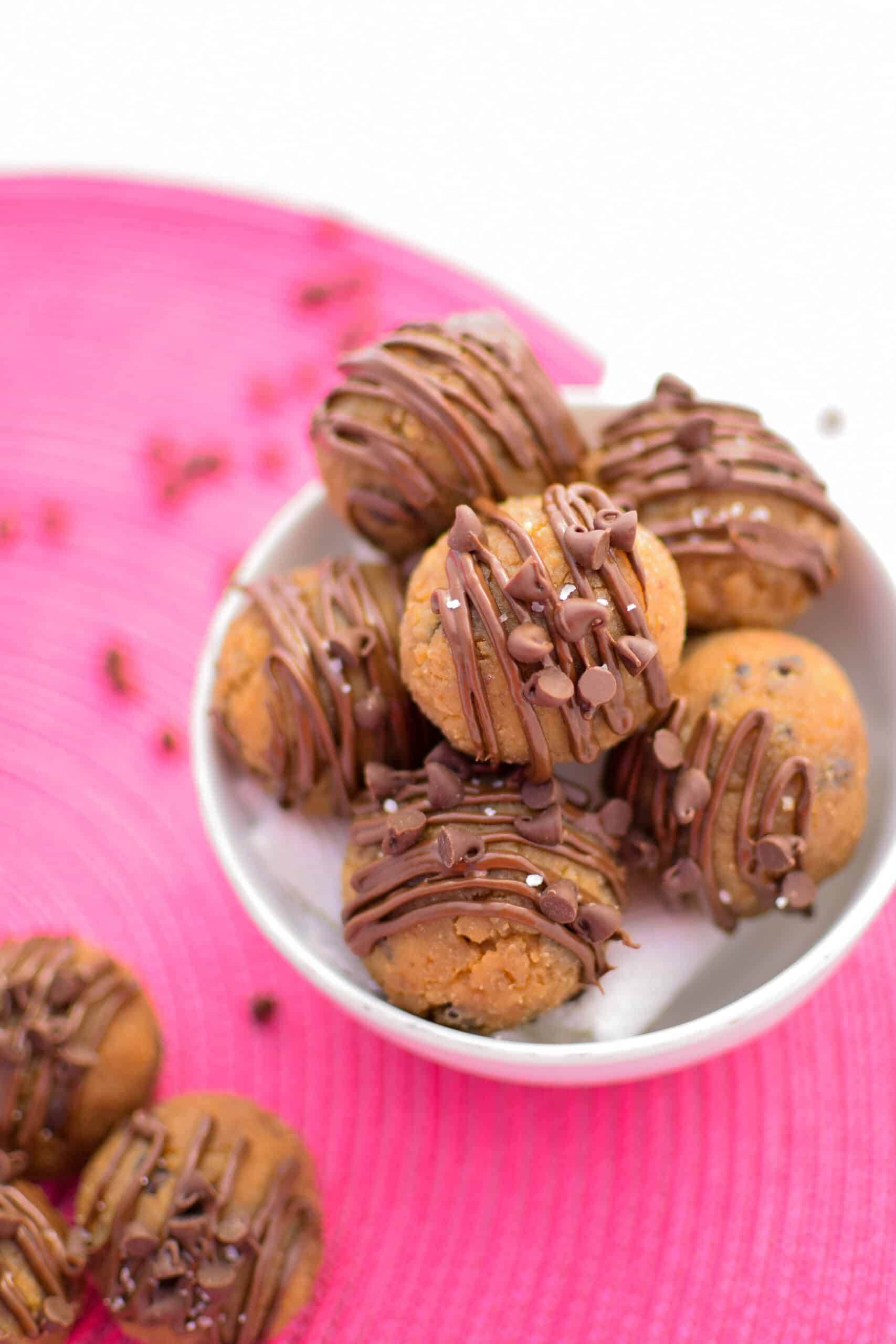 Let's Make Cannabis Chocolate Chip Cookie Dough Bites!
Have you ever met anyone who doesn't love chocolate chip cookie dough?
Maybe they love it even more than chocolate chip cookies themselves?
We all love this delicious treat, but as our mothers warned us time and time again, "don't eat the cookie dough, it will make you sick!!"
I love cookie dough as much as the next girl, but the potential risk of eating raw eggs led me to search for a better alternative.
The secret ingredient in these delicious cannabis chocolate chip cookie dough bites?
Chickpeas.
I know, you may be thinking EWWW, that doesn't sound right, but trust me on this one!
Plus, they fit in perfectly with my other healthy cannabis recipes that my Well With Cannabis Community is always asking for.
In this post, you will find everything you need to make these sweet, delicious, and super easy to make cannabis chocolate chip cookie dough bites along with printable instructions at the end.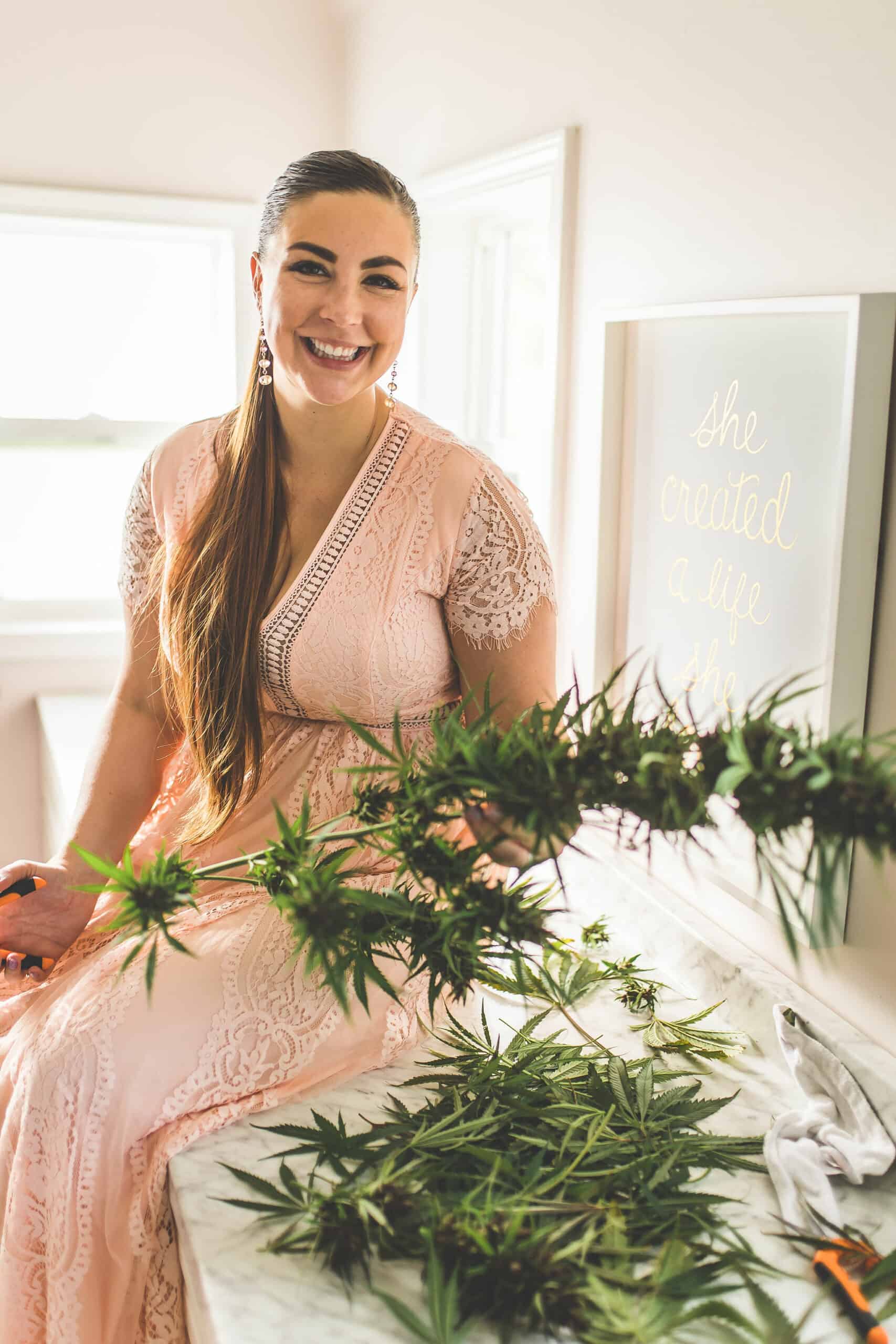 Looking For More Support?
Join thousands of members inside my private Well With Cannabis Community to ask questions, find support, and share your edible creations!
What You Need: The Ingredients
Cookie Dough Made with Chickpeas
That's right, you heard me, chickpeas!
Don't worry, you can't taste them at all, but they do create the perfect consistency for this treat.
Not only do they help make the perfect texture for this dish, but they also contribute many nutritional benefits as well, which takes this treat from occasional indulgence to a completely acceptable weekly snack.
Chickpeas, also known as garbanzo beans, are traditionally eaten whole or blended into everyone's favorite dip, hummus.
Still, they are a versatile ingredient that is making its way into the desert scene.
Each 1 cup serving can provide 15 grams of plant-based protein and 12.5 grams of dietary fiber.
Together both protein and fiber have the ability to keep you feeling fuller, longer!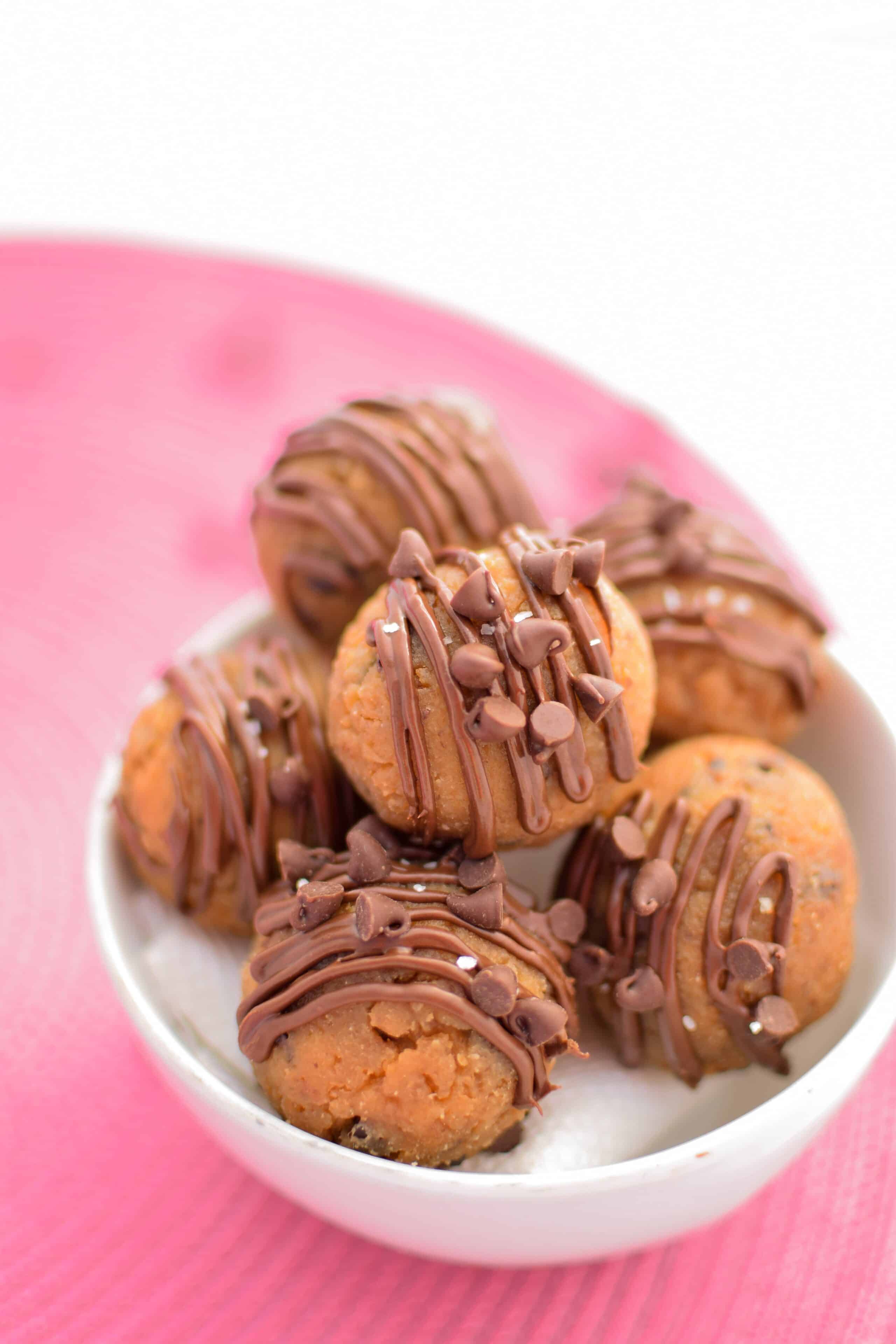 How to Infuse These Energy Bites with Cannabis
As with all things cannabis, there are many different ways to infuse something.
Below I will go through all of the various cannabis oils and different infusions and extractions you can use to make energy bites just right for you and your preferences.
It is important that you choose an option that is right for you, based on your own personal tolerance.
If you are unsure, it is best to follow the golden rule of "start low and go slow" while you experiment to find what option is right for you.
Various Cannabis Oils
My preferred way to infuse this recipe is by adding 1 tablespoon of infused cannabis oil to the mix.
The infused oil easily blends well with the rest of the ingredients, and it is something most people have on hand already.
Of course, there are so many different oils to choose from, you're going to want to pick the one that is right for you.
Here are just a few ideas of different oils I have available here.
Cannabis Concentrates
One of the easiest ways to make infused foods is with cannabis concentrates.
These are the most convenient, easy-to-use, pre-prepared concentrated products for cannabis infusions.
Because they are concentrated, you only need to add a tiny bit to each recipe to get the experience you are looking for.
Because you only need to add a tiny bit, cannabis concentrates will not disrupt your food's volume, texture, or flavor.
For this reason, cannabis concentrates are the perfect way to infuse these no-bake energy bites.
Distillate Concentrates
While THC-dominant cannabis concentrates must be purchased at a recreational or medical dispensary in a legal state, CBD-dominant cannabis concentrates can be purchased from my shop here.
Full Extract Cannabis Oil (FECO)
Full-extract cannabis oil, also known as FECO, is a concentrated, whole-plant, full-spectrum cannabis extract.
This means that all of the important plant compounds, from cannabinoids to terpenes and other plant materials, are present in the extract.
FECO is a powerful concentrated cannabis extract that interacts with our own endocannabinoid system.
Because of its potency, a few drops may be all you need for a perfectly portioned energy bite.
Simply mix in your FECO with the nut or seed butter you are using.
If you are interested in making your own FECO, check out my post detailing how to make full-extract cannabis oil here.
Decarbed Cannabis Flower
Adding just ground, decarbed cannabis flowers is not everyone's favorite way to infuse, but it works.
Before incorporating straight cannabis as an ingredient in any recipe, it's important to understand the process of decarboxylation or decarbing.
This process must occur before creating the recipe for you to experience the benefits of activated THC or CBD.
Raw cannabis flower buds contain nutrients and other amazing compounds in their fresh state, like CBDA, THCA, and terpenes.
However, raw cannabis plants do not naturally contain large amounts of active THC or CBD, the two most popular cannabinoids.
To experience the benefits of activated THC or CBD, the cannabis must first undergo a process called decarboxylation.
Without decarboxylation, you will not experience the full range of activated cannabinoids such as THC or CBD.
In your own kitchen, you will use an oven to provide the heat needed to decarb the cannabis.
If you've never gone through the process before, have no fear, decarbing really is simple.
Bake the dried cannabis in the oven at 240° F for 40 minutes for a THC-dominant flower and 240° F for 90 minutes for a CBD-dominant flower.
If you have never decarbed before, you can get started with my beginners guide to cannabis decarboxylation here.
After this process occurs, you can add this decarbed flower to any recipe, such as my favorite cannabis ranch or cannabis taco seasoning.
Because each person has a different endocannabinoid system and responds to cannabis differently, it is important to add an appropriate amount for your personal tolerance.
This recipe calls for 1 teaspoon of ground, decarbed cannabis flower, but you can adjust this as needed to suit your needs.
Decarbed Kief
Kief is the fine, powdery substance that accumulates at the bottom of a grinder or other cannabis container.
Kief typically contains the highest concentration of resinous glands, or trichomes, that contain the cannabinoids like CBD, THC, CBG, etc.
This means that kief can be much more potent than flower or trim.
Because of this, you may be able to use less of it in this recipe, or more, depending on the effect you're looking for.
Remember that you still need to decarb the kief just as you would traditional flower to enjoy the activated benefits of CBD, THC, CBG, etc.
If you've never worked with kief before, you can get my full guide to decarbing and making edibles with kief here.
How to Determine The Dosing
Want to get a more accurate guesstimate of the potency of your cannabis infusions and extractions? Try our popular edibles calculator!
Not sure what your perfect dose is? Learn more here.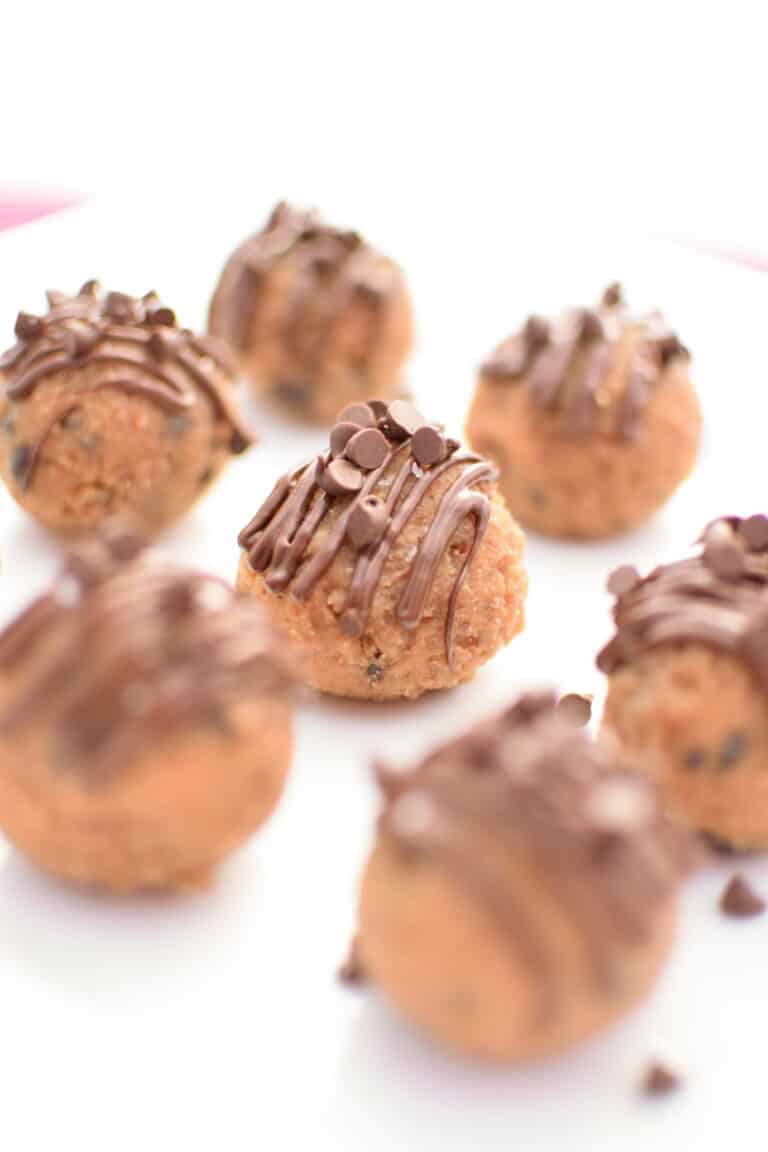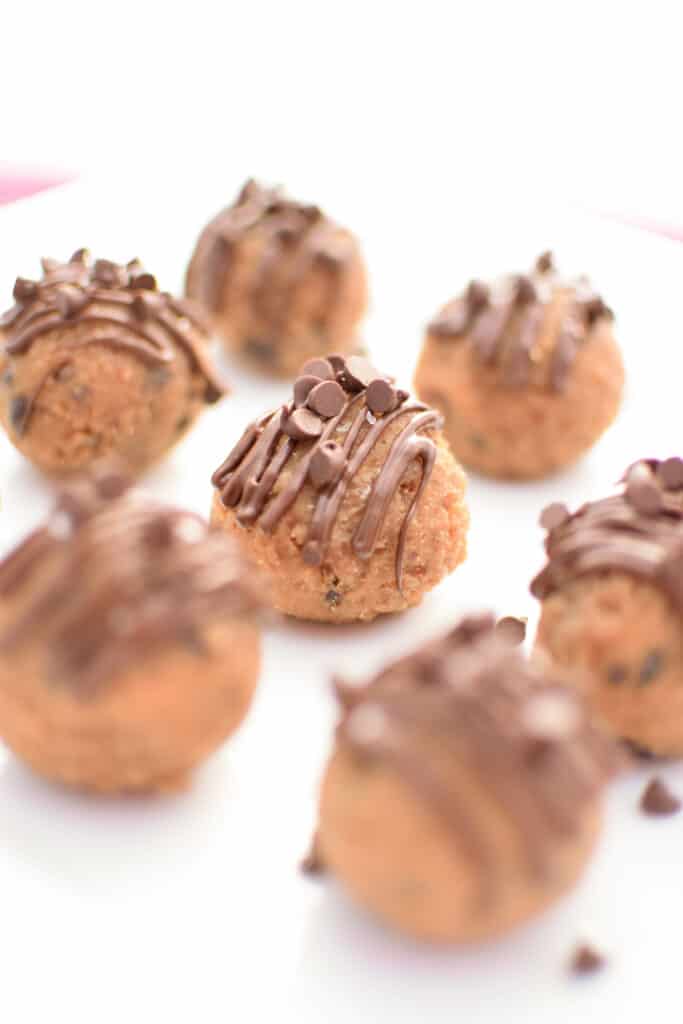 Want To Make This Easier? Use A Machine!
If the process of decarbing and infusing feels like too much work, an all-in-one countertop device may be a perfect all-in-one solution!
My personal favorite? The Ardent FX! Review the six most popular infusion machines here.
Want A Discount Code?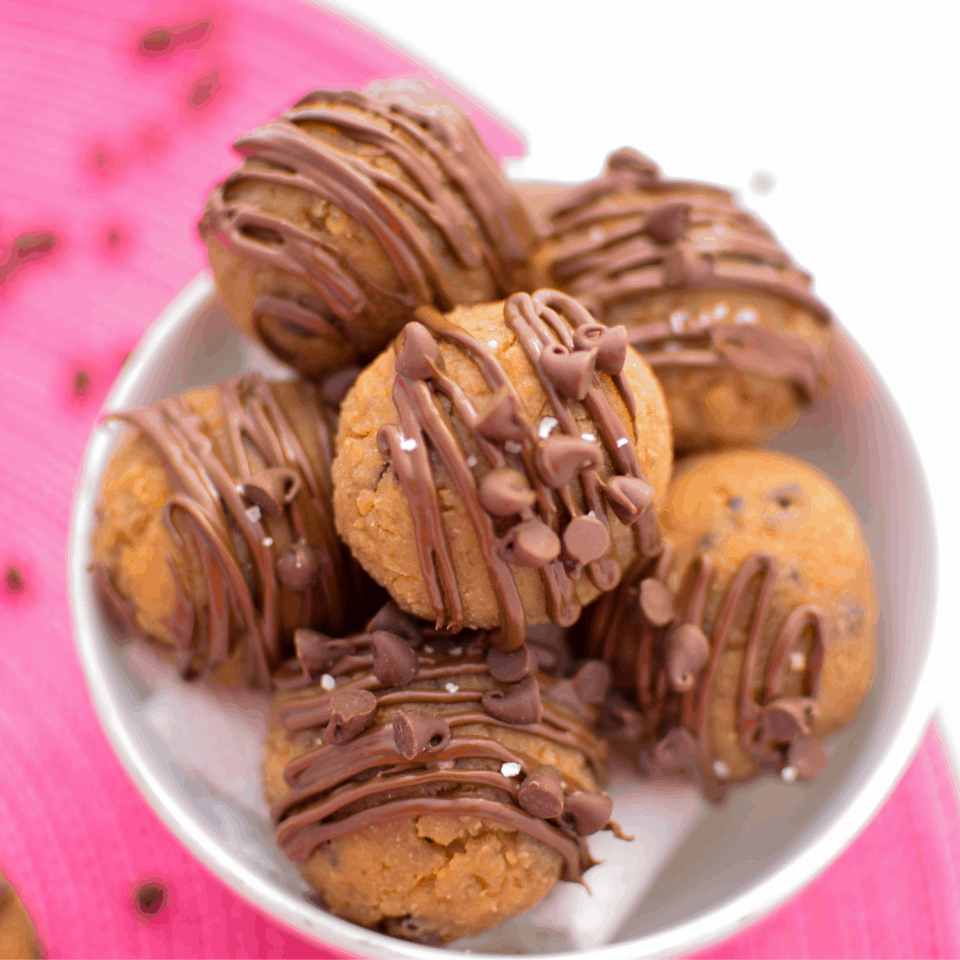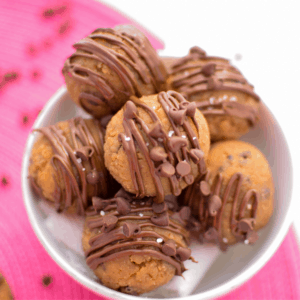 Cannabis Chocolate Chip Cookie Dough Bites
A chocolate chip cookie dough that you don't have to worry about eating? Chickpeas are the secret ingredient in these mouthwatering, vegan, and egg-free, cannabis-infused chocolate chip cookie dough bites that you can easily make with pantry staples in just a few minutes.
Ingredients
For the Chocolate Chip Cookie Dough Bites:
For The Chocolate Drizzle:
Instructions
For the Chocolate Chip Cookie Dough Bites:
Line a baking sheet with foil or parchment paper and set it aside.

Place the chickpeas in a food processor and pulse on high for 30 seconds, or until roughly broken down.

Add the peanut butter, maple syrup, cannabis oil, powdered peanut butter, vanilla, and salt to the food processor.

Blend on high until a smooth consistency is achieved, about 1 minute.

Remove the blade and gently fold in the chocolate chips.

Place the dough in the refrigerator for 5-minutes to chill.

Remove the chilled dough from the refrigerator and roll into 1" balls. Place them on the reserved baking sheet.
For the Chocolate Drizzle:
Place the chocolate chips and coconut oil in a microwave-safe container.

Microwave in 30-second intervals, stirring in between until the chocolate is melted smooth.

Drizzle over the cookie dough bites. Top with sea salt if desired. Let the chocolate dry before enjoying.
Notes
*If you choose another infusion option, be sure to still use 1 tablespoon of non-infused oil to keep the consistency of these bites the same.
Alternate Infusion Options:
Nutrition
Serving:
1
bite
Calories:
125
kcal
Carbohydrates:
11
g
Protein:
5
g
Fat:
8
g
Saturated Fat:
2
g
Polyunsaturated Fat:
2
g
Monounsaturated Fat:
3
g
Cholesterol:
1
mg
Sodium:
208
mg
Potassium:
134
mg
Fiber:
2
g
Sugar:
4
g
Vitamin A:
10
IU
Vitamin C:
1
mg
Calcium:
24
mg
Iron:
1
mg
Did you make this recipe or have a question?
Join hundreds of members inside private Well With Cannabis Community for help, support, and to share your edible creations!
More Cannabis Recipes to Try
Looking for more healthy cannabis recipes to try? Check out these:
And if you're having trouble managing the munchies, be sure to check out my 10 Tips For Managing the Cannabis Munchies!