These No-Bake Customizable Energy Bites are a naturally vegan and gluten-free, nutrient-dense snack you can feel good about feeding yourself and your family and can easily be made with ingredients you already have on hand.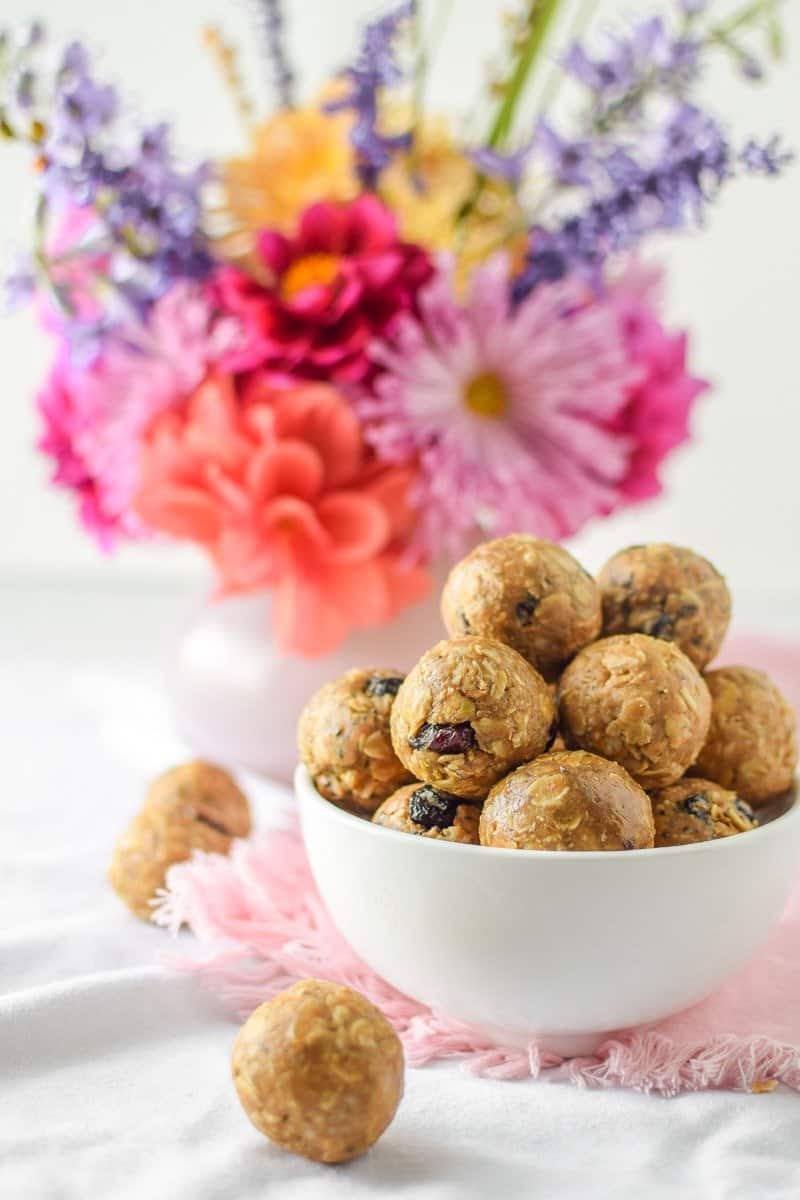 What Are Energy Bites?
Energy bites are a cute, compact version of the energy bar and can be made with all of the goodness of plant-based ingredients. I love energy bites because all you have to do is mix everything together and roll in a ball – that's it, you have a snack prepped and ready to go.
These Customizable Fruit, Nut & Seed Energy Bites are naturally sweetened with dates and dried fruit and are packed with nutrition from the nuts and seeds. All of the healthy ingredients in this recipe come together to make a sweet and chewy, super nutritious, balanced snack.
The oatmeal and the chia seeds provide complex carbohydrates and dietary fiber while the nuts and nut butter provide protein and heart-healthy fats to slow down digestion. These energy bites healthy are enough for breakfast, a post-workout snack, and even for your toddler and they require no baking or cooking.
All of these healthy ingredients work together to help to keep you fueled, full, and focused all morning long.
The best part about this recipe? With my basic formula, you can switch up your dried fruits, nuts, seeds, and nut or seed butter to make completely customizable bites packed with your favorite ingredients.
Peanuts and Peanut Butter
The key to this recipe is a good nut butter to hold everything together. As a peanut ambassador, I am obviously partial to peanut butter – but for so many good reasons.
Last summer I was able to go on a once-in-a-lifetime trip to Georgia with the National Peanut Board to learn how peanuts are produced and harvested. It was incredible to meet the farmers and to learn more about how peanuts are brought to us, from farm to table.
For everyday use, I am most partial to peanut butter because it is the most affordable nut butter and accessible to everyone at just about every grocery store.
The Health Benefits of Peanuts
For those who do not have a peanut allergy or intolerance, peanuts can be a healthy addition to the diet. Research confirms that peanuts provide our bodies with protective benefits that are essential for healthy living and aging. Here are some peanut nutrition facts courtesy of the National Peanut Board.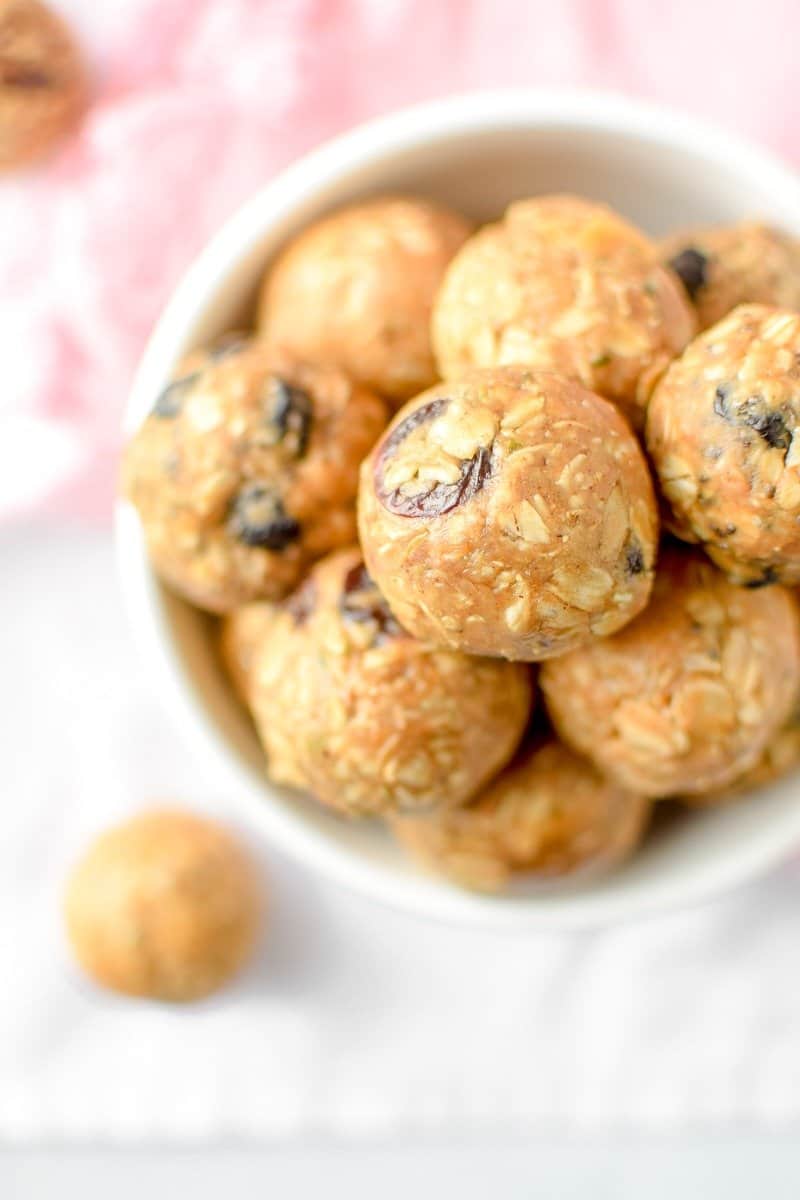 Prevent Stroke
We know that high cholesterol is a risk factor for having a stroke. One ounce of peanuts contains 2.4 grams of dietary fiber, which is about 10% of of your daily recommended value. Including adequate amounts of dietary fiber in your daily intakes may help to maintain healthy cholesterol levels.
Improve Vision
Zinc and vitamin E are important nutrients for maintaining optimal eye health. One ounce of peanuts contains more than 6% of the daily recommended value for zinc and 10% of the daily value for vitamin E.
Protect Heart Health
Scientific evidence suggests, but does not prove, that eating 1.5 ounces per day of most nuts, including peanuts, as part of a diet that is low in saturated fat and cholesterol and reduce the risk of heart disease.
Weight Management
One ounce of peanuts contains 2.4 grams of fiber which aids in digestion and adds bulk to the diet, which help you feel fuller, faster.
Diabetes Management
Peanuts and peanut butter, when eaten in moderate amounts (which equates to 2 tablespoons of peanut butter or 1 ounce of whole peanuts), do not cause blood sugar to spike drastically.
Healthy Skin
One ounce of peanuts contains 10% of the daily value for Vitamin E, an important antioxidant in maintaining skin health.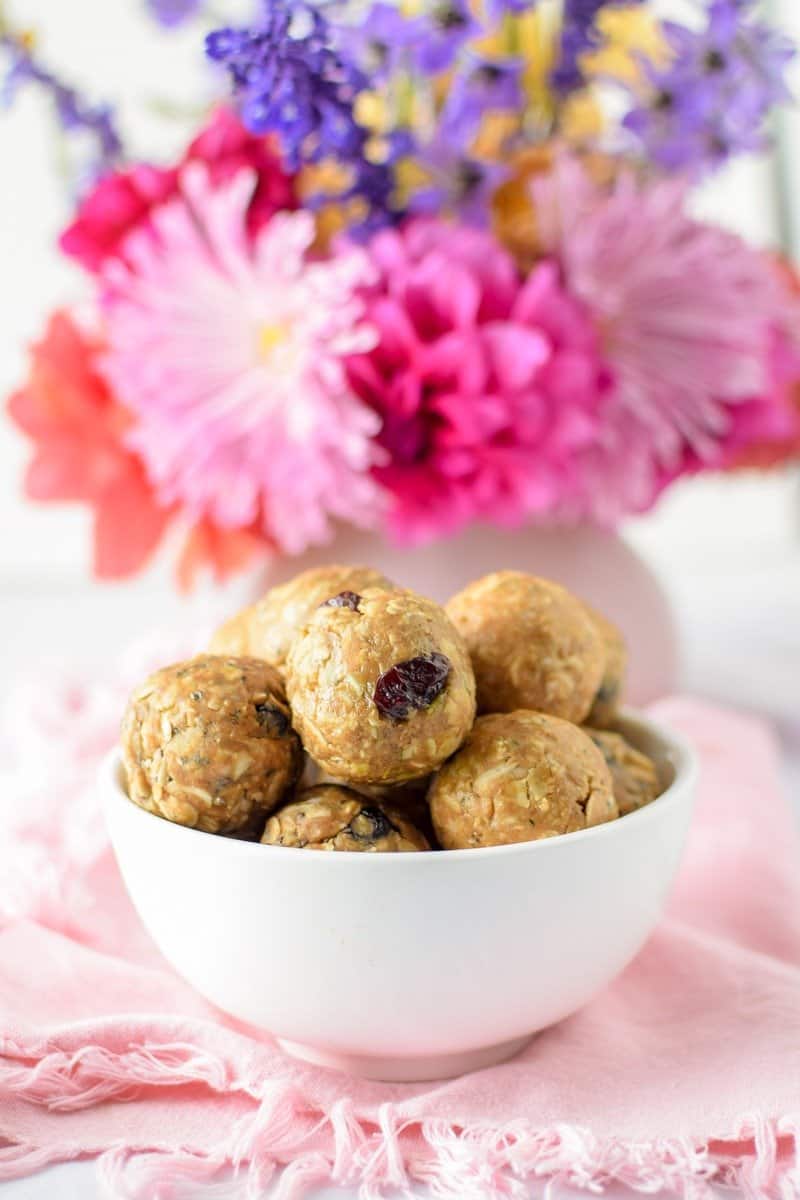 The Formula for Customizable Energy Bites
1 Cup of Oatmeal
For this recipe, you will want to use Old Fashioned Rolled Oats. Quick oats will not provide the same consistency. I use Bob's Red Mill Wheat Free, Dairy Free, Gluten Free rolled oats.
While oatmeal is naturally gluten-free, it is often cross-contaminated with gluten-containing grains during processing. Bob's Red Mill is a brand that is committed to the purity of their oats. To ensure that the oats stay gluten-free, they test each batch in their quality control laboratory when the oats arrive from the farm, and after they are packaged in their dedicated gluten-free facility.
*Note: a small percentage of people with Celiac disease may not tolerate even the purest of oats.
½ Cup of Nut or Seed Butter
Peanut butter is my nut butter of choice due to convenience and cost, but this recipe works with just about any type of nut butter you like. This is my favorite choice for peanut butter.
For those who are allergic to peanuts, alternate nut butter may be a better option. Current options on the market today include almond butter, cashew butter, walnut butter,
For those who may be allergic to all nuts and peanuts, butter made from seeds is a great choice. Hemp seed butter is a popular choice that uses allergen-friendly hemp seeds to make a creamy, delicious nut-free butter.
⅓ Cup Dried Fruit
Options include, but are not limited to: dried blueberries, cherries, cranberries, figs, apricots, dates, pineapple, apricots, banana chips, and coconut flakes.
Recipe Note: be sure to chop your dried fruit, unless it is already chopped or small like dried blueberries. If the dried fruit pieces are too big, the energy balls will not hold together as well.
3 Tablespoons Liquid Sweetener
Using a liquid sweetener in this recipe not only adds a sweet flavor but also contributes to the texture and consistency of the recipe. I do not recommend swapping this for a dry sweetener like granulated sugar.
Pure maple syrup, honey, agave, or another liquid sweetener will work.
2 Tablespoons Seeds
Adding just a small amount of seeds to this recipe is an easy way to get more vitamins, minerals, dietary fiber, and omega-3 fatty acids into your diet. Seed options include, but are not limited to: chia seeds, flax seeds, hemp seeds, sunflower seeds, or pumpkin seeds. When using pumpkin seeds, or any other larger seed, be sure to break them down in a food processor first.
Learn More: The Health Benefits of Hemp Seeds
½ Teaspoon Spices
Spices are an excellent way to add not only delicious flavor to your energy bites but also to add extra nutrition. Warming spices work best in this recipe, such as cinnamon, nutmeg, all-spice, ground cloves, ground ginger, or even turmeric.
Just be mindful of which spices you are using, you wouldn't want to use an entire 1/2 teaspoon of ground cloves – instead, you would want to opt for something milder, like pumpkin pie spice.
Learn More: The Health Benefits of Turmeric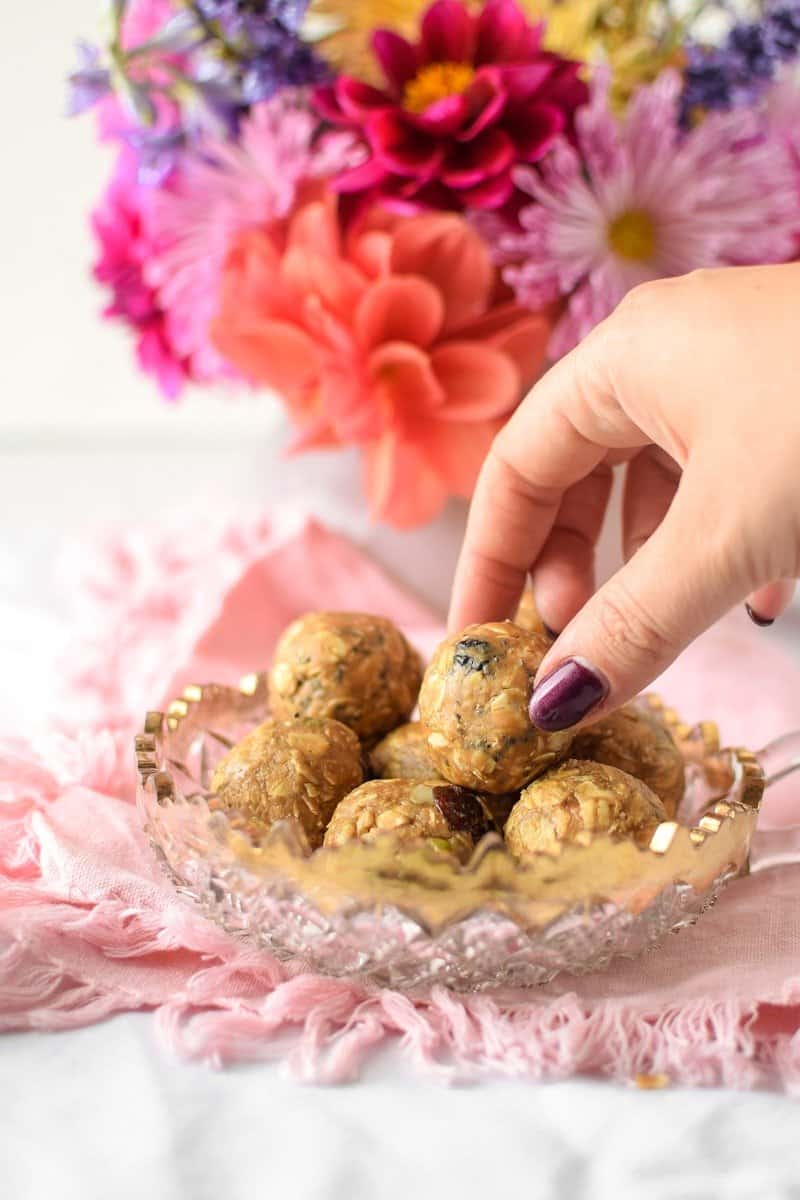 My Favorite Energy Bite Combinations
Hemp Seed Butter + Dried Blueberries + Chia Seeds + Cinnamon
Cashew Butter + Dried Tropical Fruit (pineapple, banana, coconut) + Hemp Seeds + Ground Ginger

Sunflower Butter + Dried Cherries + Pumpkin Seeds + Pumpkin Spice
Customizable Energy Bites
A naturally vegan and gluten-free, nutrient dense no-bake snack you can feel good about feeding yourself and your family and can easily be made with ingredients you already have on hand.
Ingredients
1 cup old fashioned rolled oats
1/3 cup dried fruit
3 tablespoons liquid sweetener
2 tablespoons seeds
1/2 teaspoon spices
Instructions
In a large bowl, mix everything together until all of the ingredients are well incorporated.
Using your hands, begin to create 1 inch balls and roll between your palms until they are perfectly ball-shaped.
Store in the refrigerator for up to 7 days or the freezer for up to 3 months.
Enjoy!
Notes
Nutrition facts calculated using a combination of peanut butter, dried blueberries, pure maple syrup, chia seeds and ground cinnamon.
Recommended Products
As an Amazon Associate and member of other affiliate programs, I earn from qualifying purchases.
Nutrition Information:
Yield:

1
Serving Size:

energy bite
Amount Per Serving:
Calories:

130
Saturated Fat:

1g
Sodium:

10mg
Carbohydrates:

14g
Fiber:

3g
Sugar:

5g
Protein:

4g