This post may contain affiliate links, to find out more information, please read my disclosure statement.
 Enjoy the comforts of your favorite fall flavors with these Vegan Fruit, Nut & Seed Energy bites.
Vegan Fruit, Nut & Seed Energy Bites
Breakfast time is always a struggle, that is why I never, ever cook breakfast at breakfast time. I always prepare my breakfast, like a quinoa breakfast bowl or tropical fruit breakfast bowl during my meal prep days so that I am never left struggling to make a nutritious choice for one of the most important meals of the day.
I love these energy bites because all you have to do is mix everything together and roll in a ball – that's it!
What Are Energy  Bites?
Energy bites are a cute, compact version of the energy bar – made with all of the goodness of plant-based ingredients! These Vegan Fruit, Nut & Seed Energy Bites are naturally sweetened with date fruit and agave syrup and the best part is that these energy bites healthy enough for breakfast and require no baking or cooking!
All of the super healthy ingredients in this recipe come together to make a sweet and chewy, super nutritious, balanced meal or snack. The oatmeal and the chia seeds provide complex carbohydrates and fiber while the almonds and almond butter provide protein and heart healthy fats to slow down digestion. All of these healthy ingredients will help to keep you full all morning long.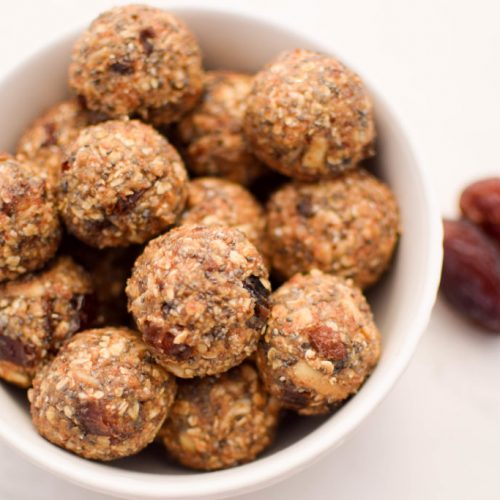 Vegan Fruit, Nut & Seed Energy Bites
Whip up these Vegan Fruit, Nut & Seed Energy Bites for the perfect portable breakfast or snack!
Ingredients
1

cup

of oatmeal

¼

cup

of chia seeds

¼

cup

of wheat germ or flax seeds

for a gluten-free option!

⅔

cup

slivered almonds

1

teaspoon

cinnamon

1/2

teaspoon

nutmeg

1/4

teaspoon

cloves

1

cup

chopped dates

½

cup

coconut milk

¼

cup

almond butter

1

tablespoon

coconut oil

¼

cup

agave syrup

½

teaspoon

almond extract

½

teaspoon

coconut extract
Instructions
Prepare a parchment paper lined baking sheet and set aside.

In a large bowl add the oats, chia seeds, wheat germ, slivered almonds and spices and mix. together well,

Add the dates, coconut milk, almond butter, coconut oil, agave syrup, almond and coconut extract.

Using your hands, mix everything together well. The warmth from your hands will help to melt the almond butter and coconut oil, creating the perfect consistency.

Begin to create 1 inch balls and roll between your palms until they are perfectly ball-shaped, set on parchment paper.

Store in the refrigerator for up to 7 days or the freezer for up to 3 months.

Optional: Using paper straws, put them in the center of each pop until they are approximately ¾ of the way through. Freeze if desired for the perfect toddler snack!