These Mini-Mango Fruit Tarts are a cute, delicious, plant-based, gluten-free dessert that is easy to make and fun to enjoy. Made with nutritious ingredients like fresh mangos, these tiny tarts are perfect for summer entertaining and fit almost any dietary need.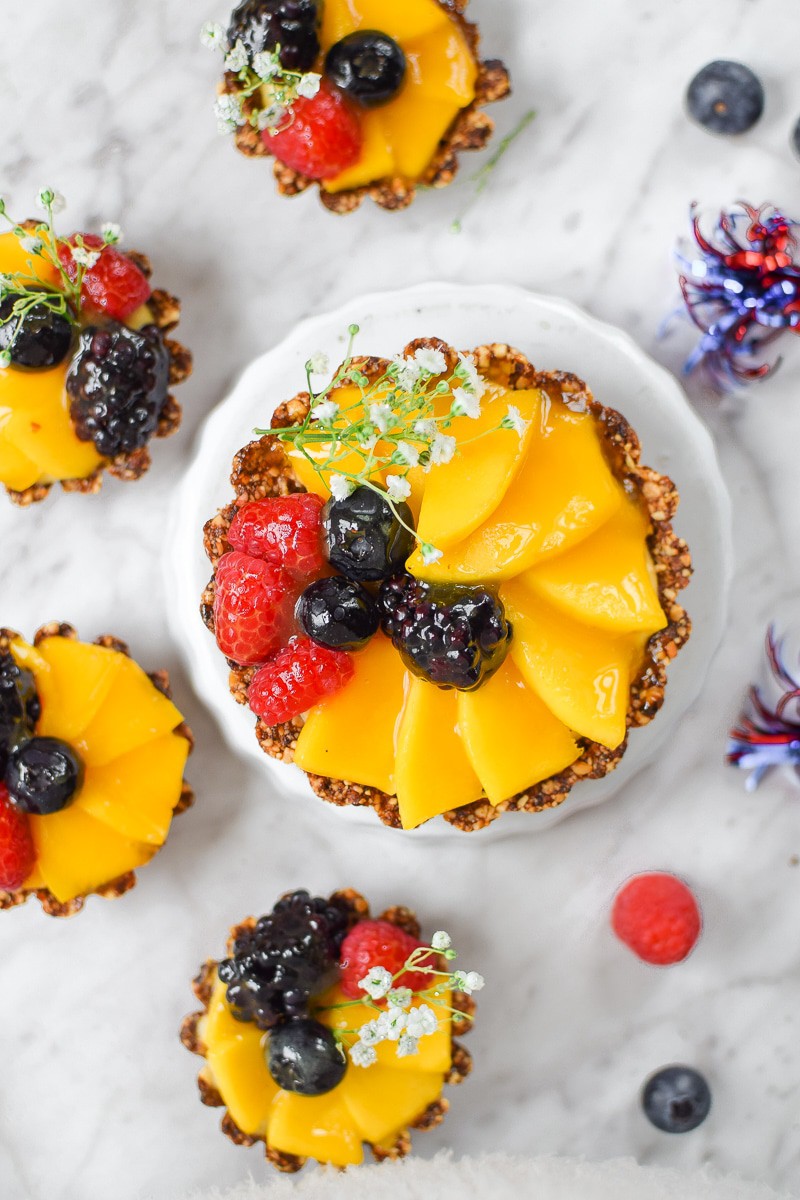 This post has been proudly sponsored by The National Mango Board, all thoughts and opinions expressed are my own.
Mini-Mango Fruit Tarts
With summer entertaining season upon us, I am excited to share with you my new favorite recipe for these Mini-Mango Fruit Tarts.
Whether you are attending a baby shower or graduation party, or hosting your own Memorial or Labor Day cookout, having a go-to dessert recipe that is not only delicious, but actually nutritious, is key.
These Mini-Mango Fruit Tarts are perfect because they are naturally sweetened from the mangos used in the mango cream, fruit on top, and mango glaze. Mangos are the good kind of sweet!
These vibrant fruits are so deliciously sweet that they feel like a treat, but they're extremely nutrient dense and can be a wholesome addition to anyone's daily diet. They add flavor, color, texture and important nutrients to this fruit tart which is 100% plant-based.
Mangos are full of health-promoting nutrients and bioactive compounds. Scientific research continues to unlock new reasons to bite into this luscious, sweet fruit, but here is what we already know:
In one cup of fresh mango:
You'll get vitamin C, vitamin A, folate and fiber
Beneficial polyphenols or phytonutrients
Only 100 calories, making it a satisfying sweet treat
Each serving of mango is fat free, sodium free and cholesterol free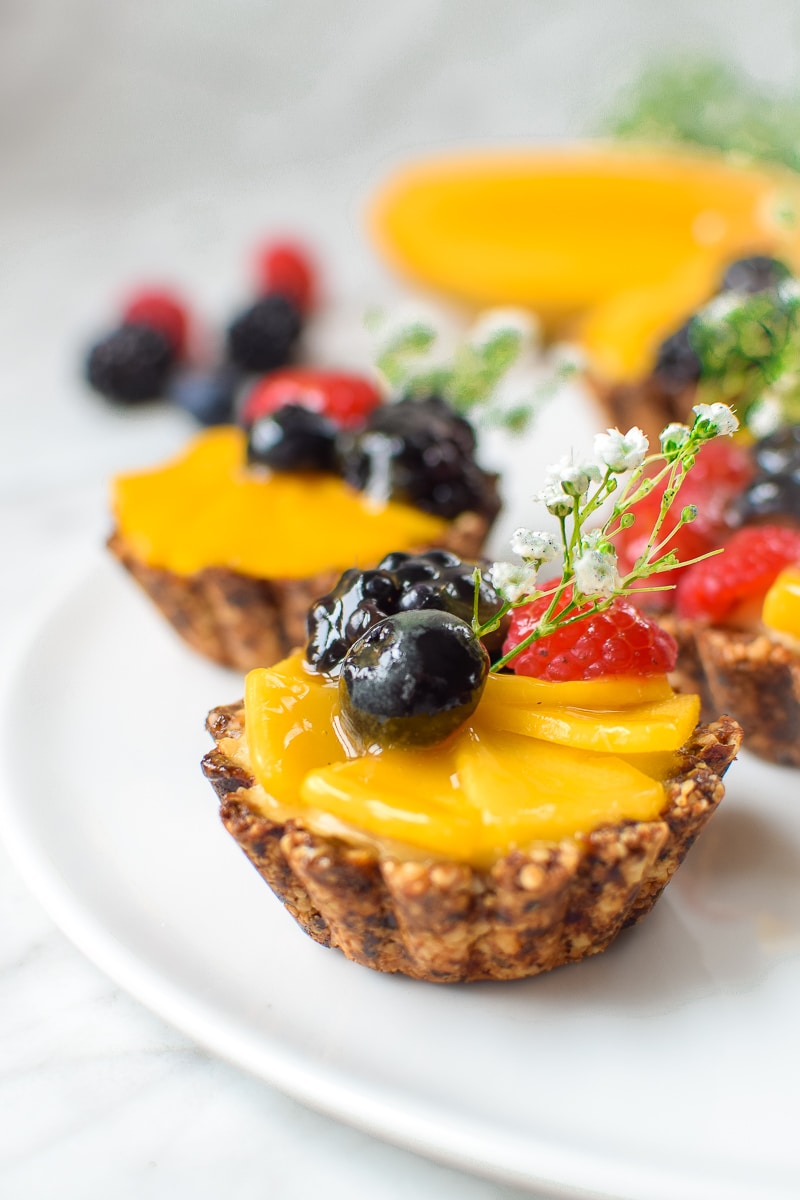 How to Pick the Perfect Mango
For this recipe, you are going to use fresh mango for both the mango cream and the fresh mango slices on top. Here is a quick overview of mangos taste, usage, and tips for picking the perfect one:
Mangos: Taste & Usage
Many people don't realize that there six main varieties of mangos sold in the U.S. at different times throughout the year, which means mangos are always in season. Each variety has a distinct and unique color and taste.
How to Choose The Perfect Mango: When searching for a perfectly ripe mango, it is important to focus on feel, not color, because every variety is a different color. A ripe mango will give slightly, indicating soft flesh inside.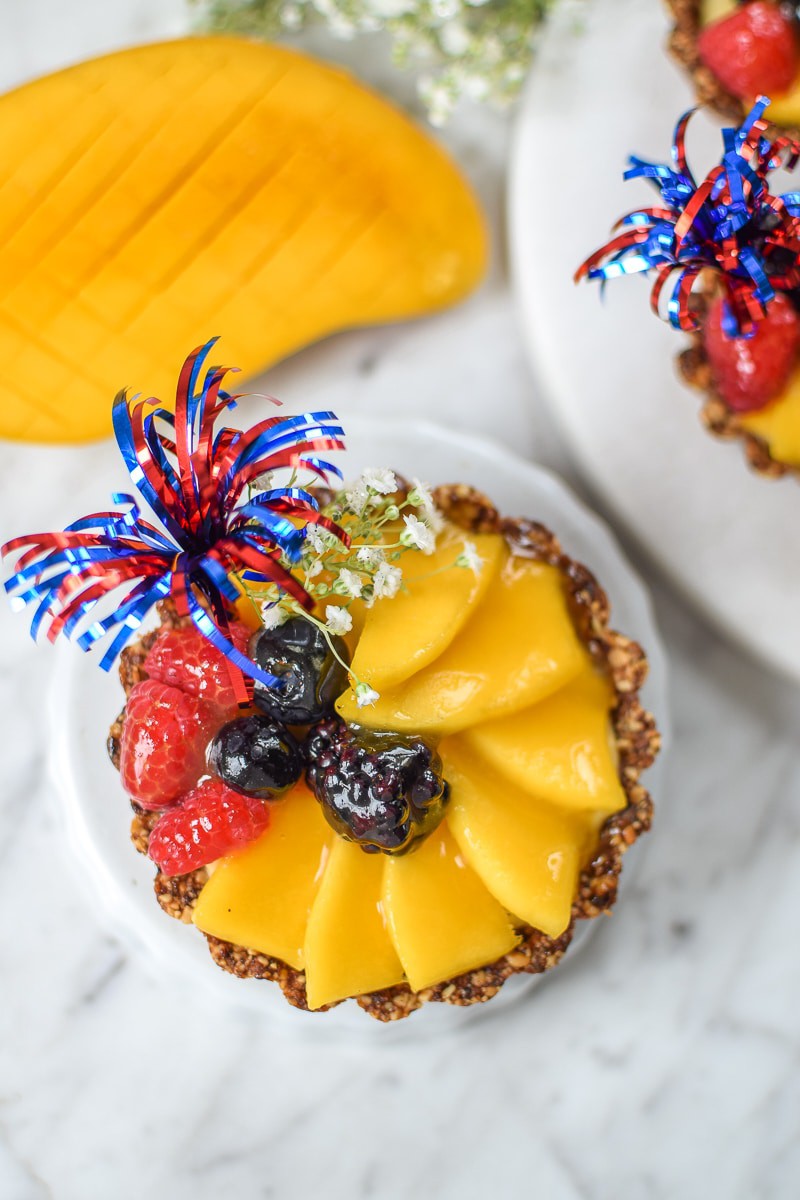 How Do You Cut a Mango?
Many people are intimidated by cutting a mango, but there's no reason to be, it's simple!
Start by locating the stem. The long, flat seed runs from stem to nose.
Cut around the pit by making two cuts on either side of the stem.
Finish by dicing or slicing, and scooping out the flesh with a spoon.
Whether enjoyed in a smoothie, piled high on pancakes or oatmeal, stuffed in a taco, added to a salad or grain bowl, stirred into a salsa, or simply eaten whole with juice dripping down your chin, there are endless ways to soak up this tropical flavor all year round.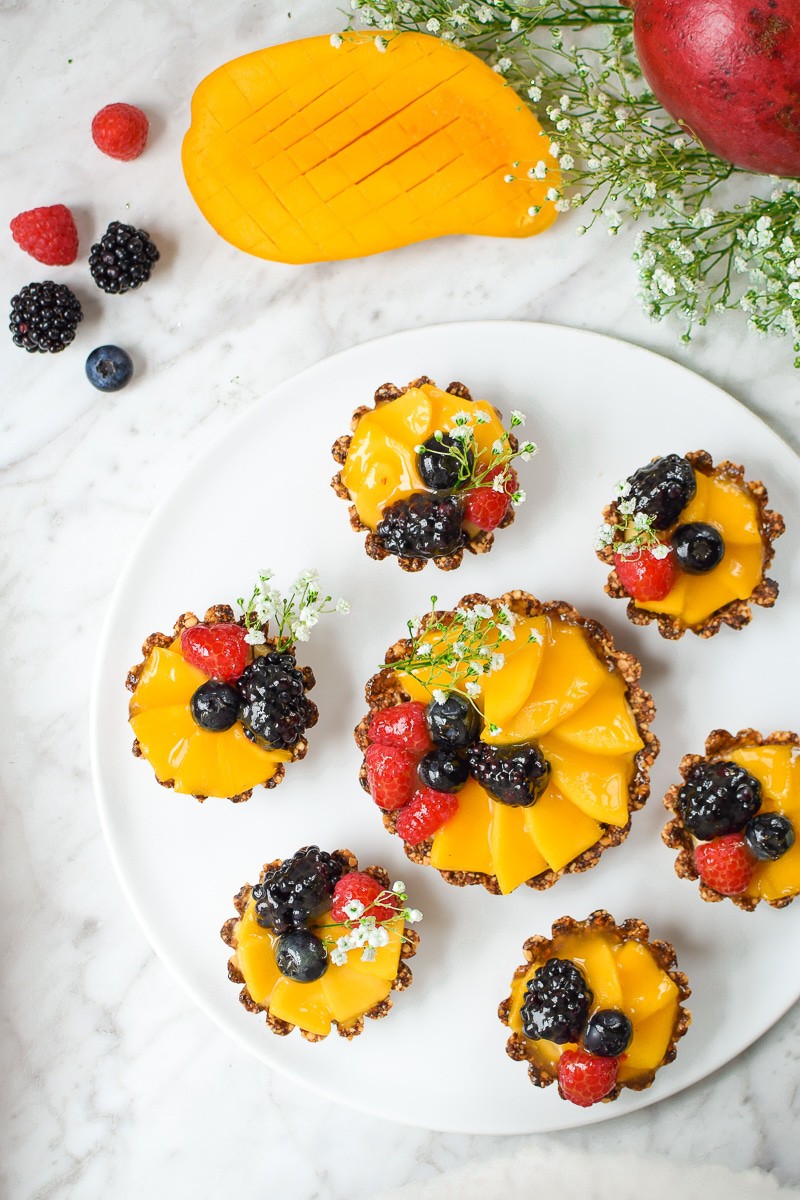 Gluten-Free Fruit Tart Crust
The base of these delicious Mini-Mango Fruit Tarts starts with three simple ingredients: dates, cashews, and coconuts. This recipe was inspired by the Fruit Tart with Date Crust recipe featured in my first cookbook.
When mixed together, dates and cashews make the perfect crust to hold the creamy mango cream filling and fresh fruit. Unlike the recipe in the cookbook which is for a raw crust, this gluten-free tart crust is baked which brings out the toasted flavor of the cashews and dates.
Because this crust is made of just three simple ingredients, it is naturally gluten-free, which makes it a dessert nearly everyone can enjoy.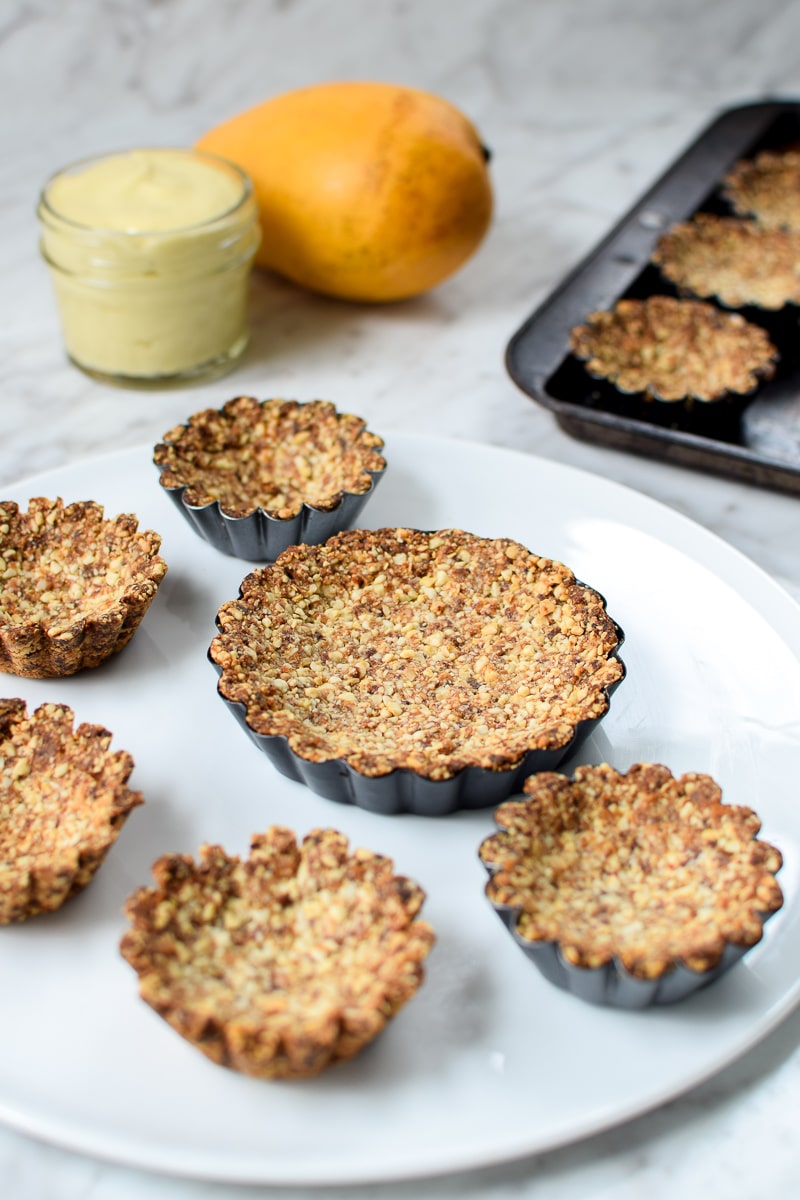 Mango Cream Filling
This recipe has no added sugar, but is delightfully sweet, thanks to the delicious mango cream filling that sits in the center of the tart.
Made by blending just two simple ingredients together, fresh mango and homemade coconut milk yogurt, this cream is ready in just 60-seconds.
If you do not have homemade coconut milk yogurt, simply swap your favorite full-fat yogurt in its place.
Whether it be dairy-based or plant-based, the choice is yours. I prefer the homemade coconut milk yogurt for the sweetness the coconut lends to the tropical vibe of this dessert.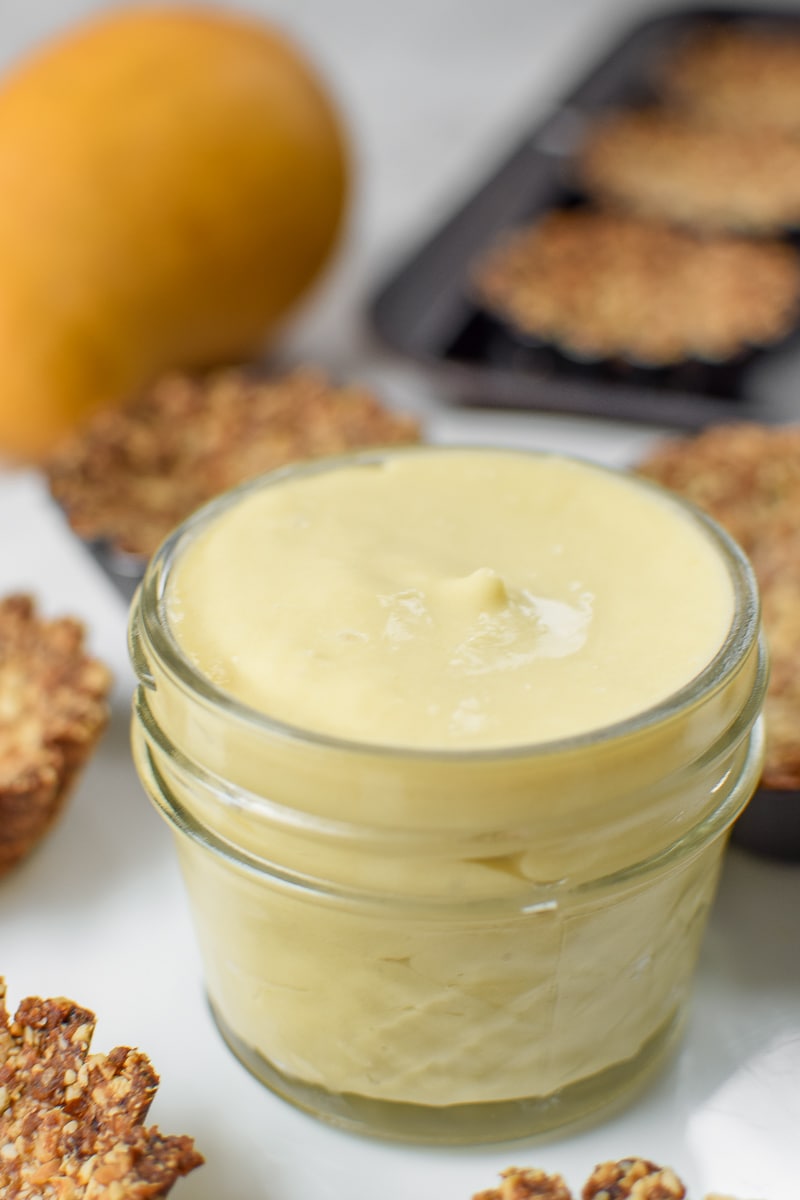 Mango Superfruit Nutrition
Mangos are known as the "king of fruits." That's because mangos are the sunniest fruit in the produce aisle and the most commonly consumed fruit in the world.
Not only are they sweet and delicious, but they are also a superfruit that contains many of the important nutrients and antioxidants vitamins A and C we need to keep our bodies healthy.
Vitamins
Excellent source of vitamin C, 100% DV, which can play an important role in immune function and skin health, since it plays a role in collagen formation
Excellent source of vitamin A, which helps maintain healthy skin
Excellent source of folate, 20% DV, which supports healthy cardiovascular function
Good source of vitamin B6, which helps the body maintain normal blood sugar levels
Minerals
Good source of copper, which supports healthy immune function
Dietary Fiber
Good source of filling dietary fiber, 3 grams or 10% DV
For more recipes and information about mangos health benefits, visit Mango.org.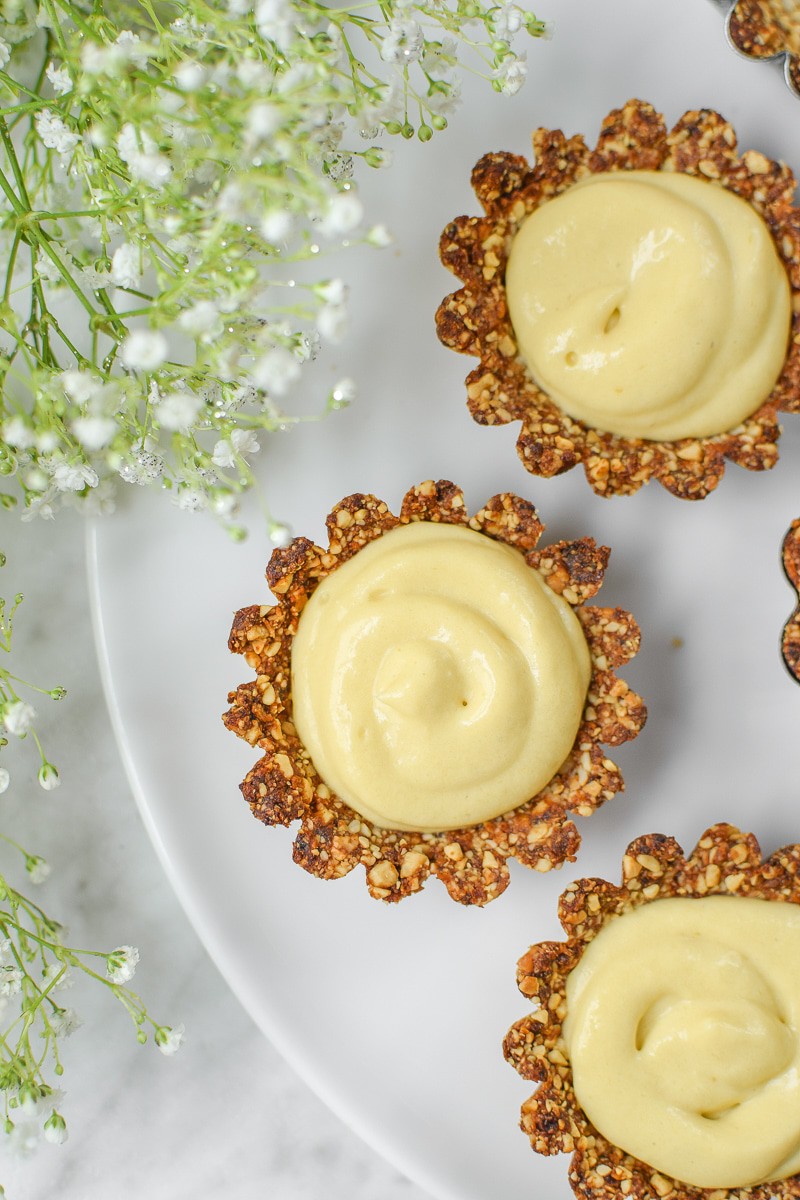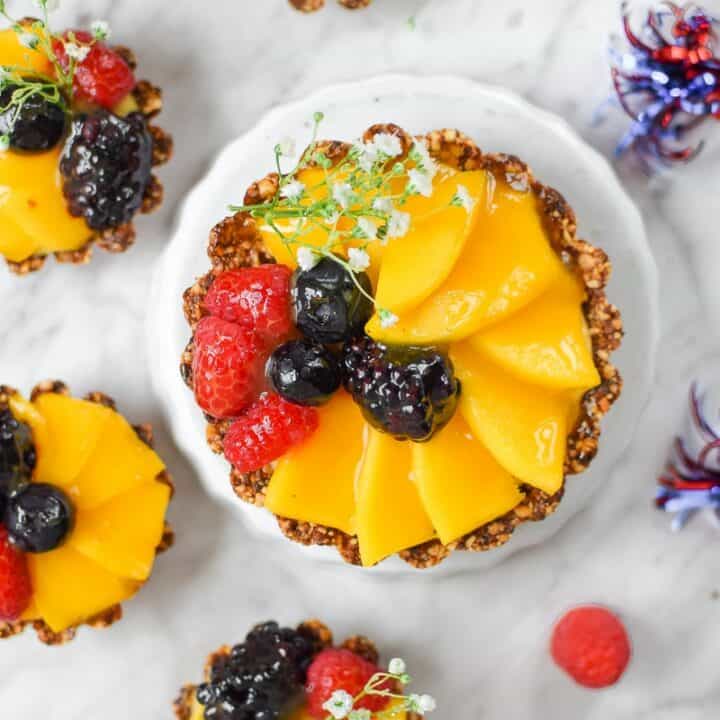 Mini-Mango Fruit Tart
Additional Time:
15 minutes
These Mini-Mango Fruit Tarts are a cute, delicious, plant-based, gluten-free dessert that is easy to make and fun to enjoy! Made with nutritious ingredients like fresh mangos, these tiny tarts are perfect for summer entertaining and fit almost any dietary need.
Ingredients
For Tart Crust
15 dried, pitted medjool dates
3/4 cup raw, unsalted cashews
2 tablespoons unsweetened shredded coconut flakes
1 tablespoon coconut oil, melted
For the Mango Cream
For The Fruit Topping
1 cup freshly sliced mango
½ cup fresh raspberries
½ cup fresh blueberries
½ cup fresh blackberries
Optional Mango Glaze
1 tablespoon mango preserves
1 teaspoon water
Instructions
Preheat the oven to 350 degrees F.
In a food processor, pulse together the medjool dates, cashews, coconut flakes and coconut oil until a fine consistency is achieved.
Remove the date mixture and shape the crust on the bottom and up the sides of a tart tin pan.
Bake for 15 minutes. Remove from the oven and allow to cool completely before removing the crust from the tin.
In a blender or food processor, combine the yogurt and fresh mango. Blend until completely smooth.
Pour the mango cream mixture into the date crust and return to the refrigerator to set for 20 minutes.
Top with fresh mango, raspberries, blueberries and blackberries.
In a small bowl, combine the mango preserves and water. Microwave for 20 seconds and then stir well.
Gently brush over the fruit tart to create a mango glaze.
Serve immediately or refrigerate until ready to enjoy.
Nutrition Information:
Yield:

10
Serving Size:

1 tart
Amount Per Serving:
Calories:

225
Total Fat:

8g
Saturated Fat:

3g
Trans Fat:

0g
Unsaturated Fat:

4g
Cholesterol:

0mg
Sodium:

5mg
Carbohydrates:

41g
Fiber:

4g
Sugar:

33g
Protein:

3g