These cannabis mango fruit tarts are a cute, delicious, plant-based, gluten-free dessert that is easy to make and fun to enjoy. Made with cannabis coconut oil and fresh mangos, these tiny tarts are perfect for summer entertaining and fit almost any dietary need.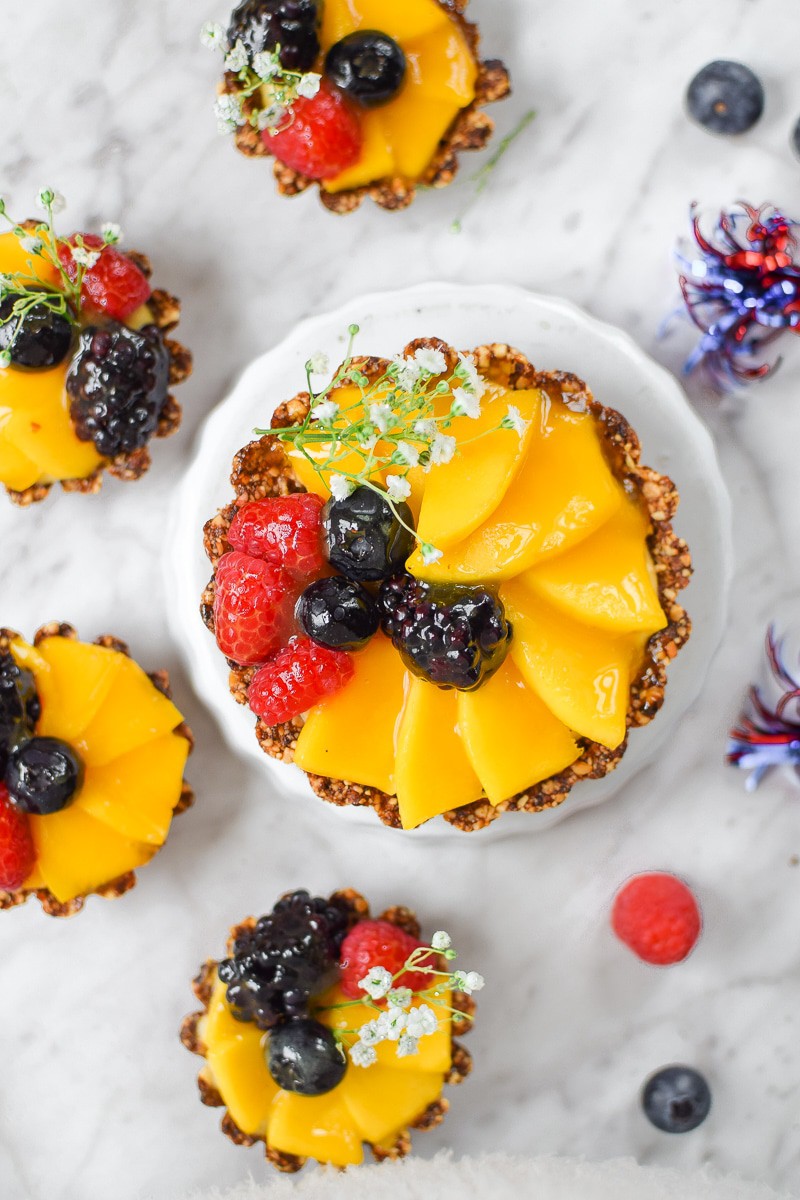 Lets Make Cannabis Mango Fruit Tarts!
With summer entertaining season upon us, I am excited to share with you my new favorite recipe for these cannabis mango fruit tarts.
Whether you are preparing a full sit-down cannabis infused meal or or hosting your own Memorial or Labor Day cookout, having a go-to dessert recipe that is not only delicious, but actually nutritious, is key.
These Mini-Mango Fruit Tarts are perfect because they are naturally sweetened from the mangos used in the mango cream, fruit on top, and mango glaze.
These vibrant fruits are so deliciously sweet that they feel like a treat, but they're extremely nutrient dense and can be a wholesome addition to anyone's daily diet.
They add flavor, color, texture and important nutrients to this fruit tart which is 100% plant-based.
They fit in perfectly with my other healthy cannabis recipes, and make the perfect low-sugar cannabis edibles.
Plus, they're perfect for my Well With Cannabis Community members who report that mango helps enhance their overall cannabis experience.
Get the recipe for these delicious mini-fruit tarts with printable instructions below, plus some fun facts about mangos.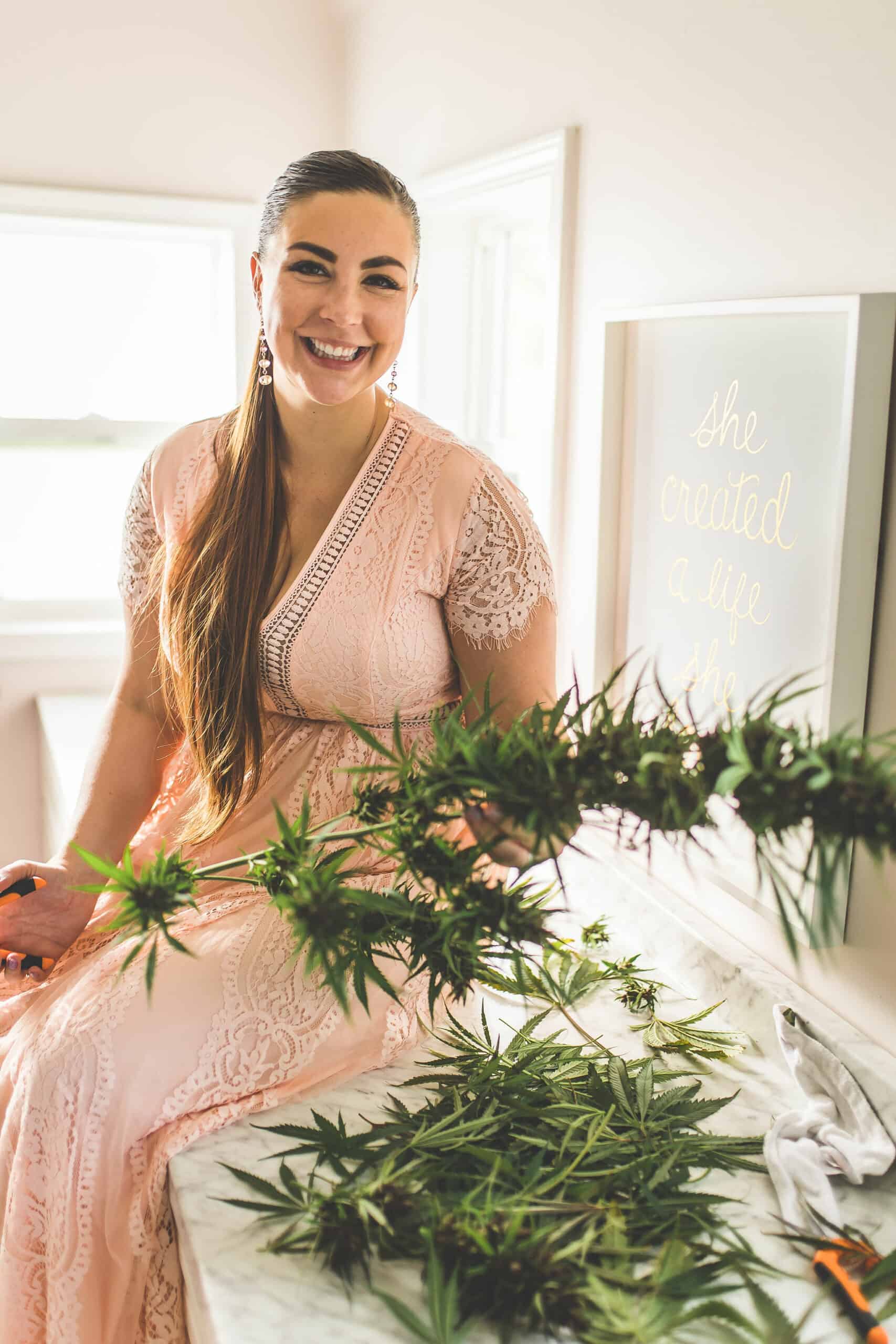 Looking For More Support?
Join thousands of members inside my private Well With Cannabis Community to ask questions, find support, and share your edible creations!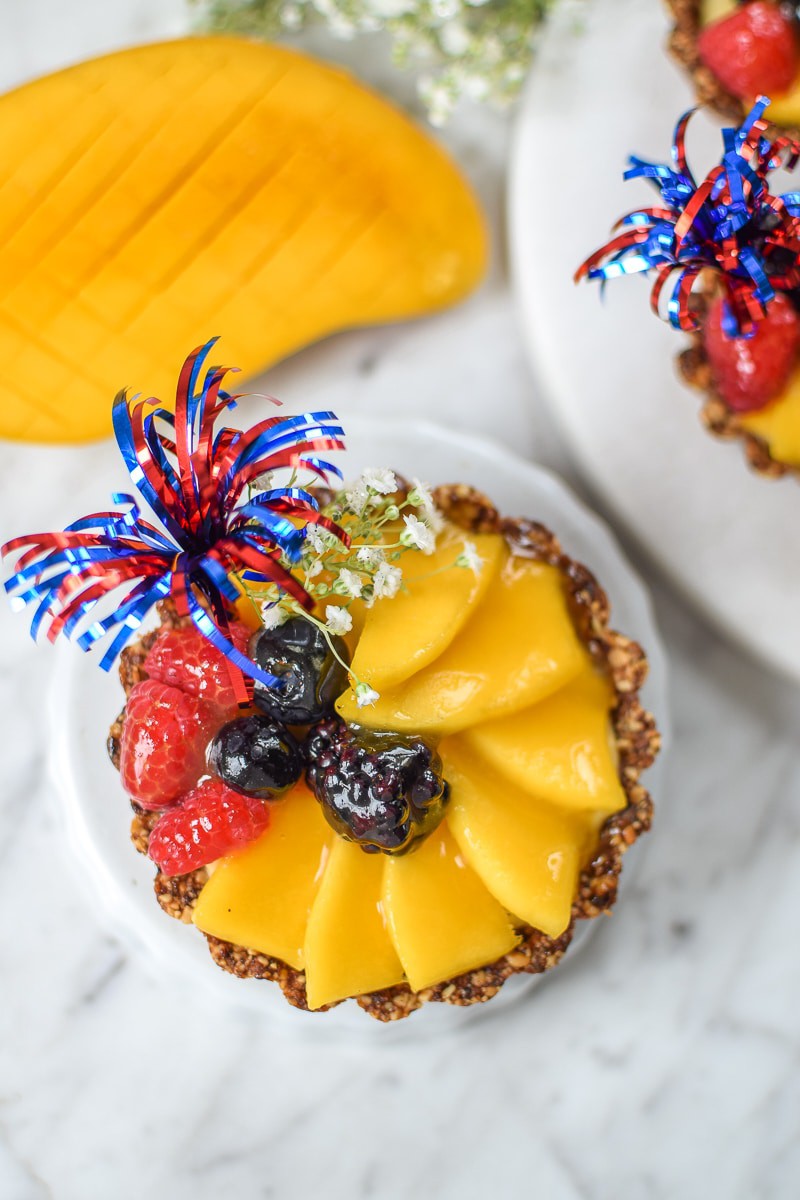 Cannabis Infusion Options
As with all things cannabis, there is more than one way to infuse a recipe.
Here I will share with you my preferred ways to infuse this recipe, along with a few other options.
Cannabis Coconut Oil or Cannabutter
You can't make these cannabis mango tarts without a staple cannabis recipe most important for every cannabis kitchen: cannabis coconut oil or cannabutter.
Used interchangeably, infusing oil or butter with cannabis is an easy way to extract a broad-spectrum of compounds like CBD or THC from the cannabis plant and get them into the food you are eating.
You will want to make sure you have this recipe prepared BEFORE diving into making your own cannabis mango tarts.
The process involves cannabis decarboxylation and then oil infusion and takes approximately 5-hours.
Once you have your cannabis oil or butter ready, you can go ahead and prepare these tarts.
It is your choice on whether or not you would prefer to use cannabis coconut oil or cannabutter.
Just remember, cannabis coconut oil is vegan and plant-based, if you're planning around any dietary restrictions.
Cannabis Concentrates
If you are a medical marijuana patient or live in a recreationally legal state, chances are you may have access to cannabis concentrates.
You can easily use cannabis concentrates in this recipe.
From distillate or CO2 oil, to shatter or wax, and FECO or RSO, all can work for this recipe.
Depending on what concentrate you are using, you will want to ensure that your cannabis concentrate is decarbed first, if needed.
If you are not sure if your cannabis concentrate needs to be decarbed, you can check this guide here.
Once you know whether or not you need to decarb your concentrate, you can gently warm it up and mix it into the mango cream in this recipe.
How much you will add is up to you and your personal taste preferences, but 1mL or 1 gram is a good place to start.
How to Determine The Dosing
Want to get a more accurate guesstimate of the potency of your cannabis infusions and extractions? Try our popular edibles calculator!
Not sure what your perfect dose is? Learn more here.

Gluten-Free Fruit Tart Crust
The base of these delicious cannabis mango fruit starts with four simple ingredients: dates, cashews, coconuts, and your choice of cannabis coconut oil or cannabutter, as explained above.
When mixed together, dates and cashews make the perfect crust to hold the creamy mango cream filling and fresh fruit.
This gluten-free tart crust is baked which brings out the toasted flavor of the cashews and dates.
Because this crust is made of just four simple ingredients, it is naturally gluten-free, which makes it a dessert nearly everyone can enjoy.
Does Baking the Cannabis Oil at 350°F Destroy the THC?
Good question, and no, it does not.
It's kind of like when you roast a chicken.
You put it in the oven at 350°F for 1-2 hours, but the chicken itself only ever needs to get to the internal temp of 165°F until it's done.
When baking, the item itself, in this case, the gluten-free crust, should not get to 350°F because it would burn up.
You don't want or need to get up to 350°F; you just want the item cooked through or to 165°F.
This low temperature does not destroy THC or other cannabinoids.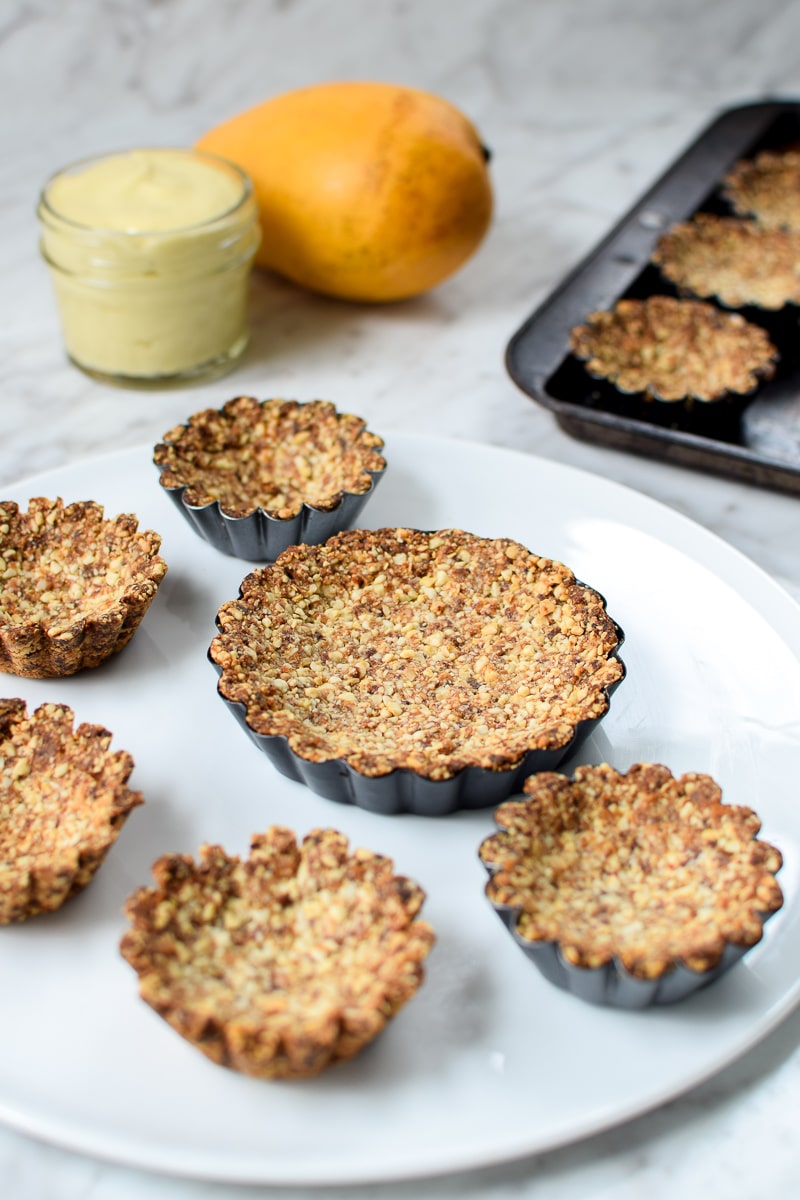 Homemade Mango Cream Filling
This recipe has no added sugar, but is delightfully sweet, thanks to the delicious mango cream filling that sits in the center of the tart.
Made by blending just two simple ingredients, fresh mango, and homemade coconut milk yogurt, this cream is ready in just 60-seconds.
Fun Fact: mangoes may also help enhance the effects of the cannabis.
If you do not have homemade coconut milk yogurt, simply swap your favorite full-fat yogurt in its place.
Whether it be dairy-based or plant-based, the choice is yours.
I prefer the homemade coconut milk yogurt for the sweetness the coconut lends to the tropical vibe of this dessert.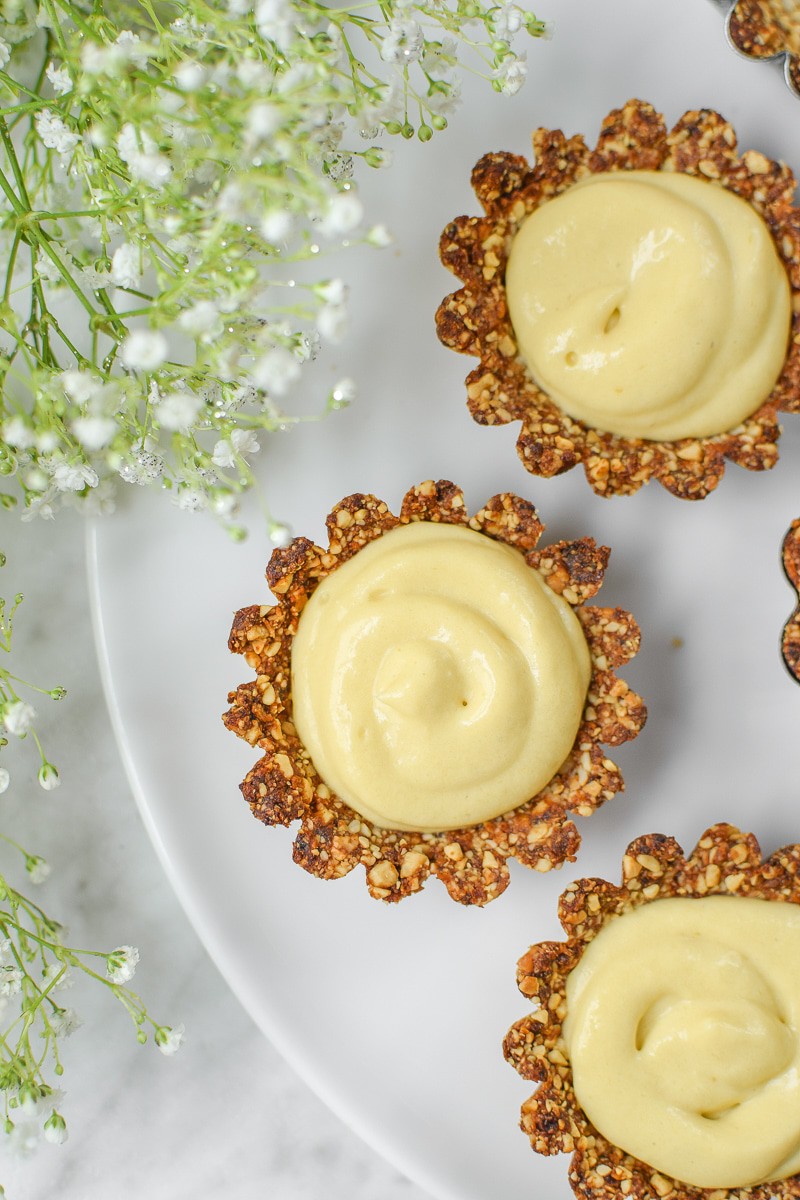 How to Pick the Perfect Mango
For this recipe, you are going to use fresh mango for both the mango cream and the fresh mango slices on top.
Here is a quick overview of mangos taste, usage, and tips for picking the perfect one:
Mango Taste & Usage
Many people don't realize that there six main varieties of mangos sold in the U.S. at different times throughout the year, which means mangos are always in season.
Each variety has a distinct and unique color and taste.
Various Mango Varieties Include:
Tommy Atkins
Kent
Honey (also called Ataulfos)
Keitt
Francis
Haden
How to Choose The Perfect Mango:
When searching for a perfectly ripe mango, it is important to focus on feel, not color, because every variety is a different color.
A ripe mango will give slightly, indicating soft flesh inside.
How Do You Cut a Mango?
Many people are intimidated by cutting a mango, but there's no reason to be, it's simple!
Start by locating the stem. The long, flat seed runs from stem to nose.
Cut around the pit by making two cuts on either side of the stem.
Finish by dicing or slicing, and scooping out the flesh with a spoon.
Whether enjoyed in a smoothie, piled high on pancakes or oatmeal, stuffed in a taco, added to a salad or grain bowl, stirred into a salsa, or simply eaten whole with juice dripping down your chin, there are endless ways to soak up this tropical flavor all year round.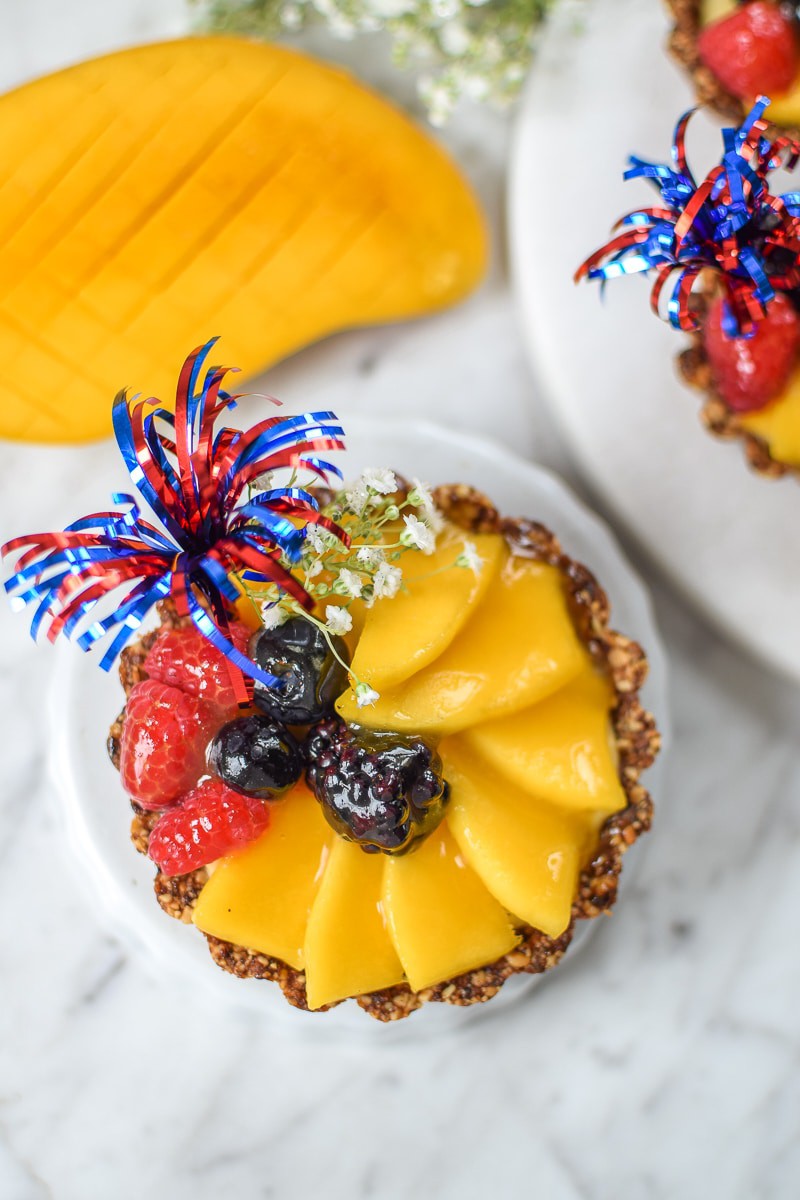 Mango Superfruit Nutrition
Mangos are known as the "king of fruits."
That's because mangos are the sunniest fruit in the produce aisle and the most commonly consumed fruit in the world.
Not only are they sweet and delicious, but they are also a superfruit that contains many of the important nutrients and antioxidants vitamins A and C we need to keep our bodies healthy.
Vitamins
Excellent source of vitamin C, 100% DV, which can play an important role in immune function and skin health, since it plays a role in collagen formation
Excellent source of vitamin A, which helps maintain healthy skin
Excellent source of folate, 20% DV, which supports healthy cardiovascular function
Good source of vitamin B6, which helps the body maintain normal blood sugar levels
Minerals
Good source of copper, which supports healthy immune function
Dietary Fiber
Good source of filling dietary fiber, 3 grams or 10% DV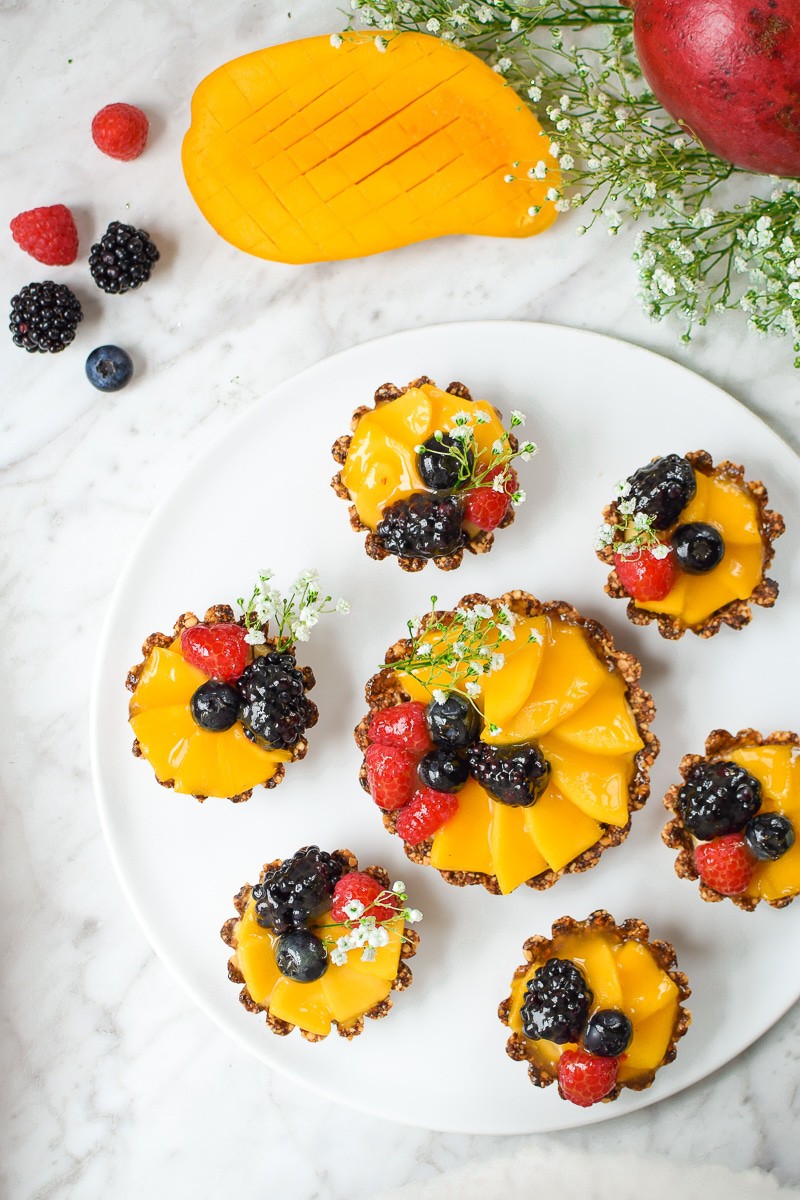 Want To Make This Easier? Use A Machine!
If the process of decarbing and infusing feels like too much work, an all-in-one countertop device may be a perfect all-in-one solution!
My personal favorite? The Ardent FX! Review the six most popular infusion machines here.
Want A Discount Code?
My Edibles Made Easy Online Cooking Course will teach you how to make cannabis edibles and topical recipes at home with ease. This step-by-step video course will teach you how to infuse, extract, and create edibles with many different product types - all from the comfort of your own home.

Learn more and enroll today →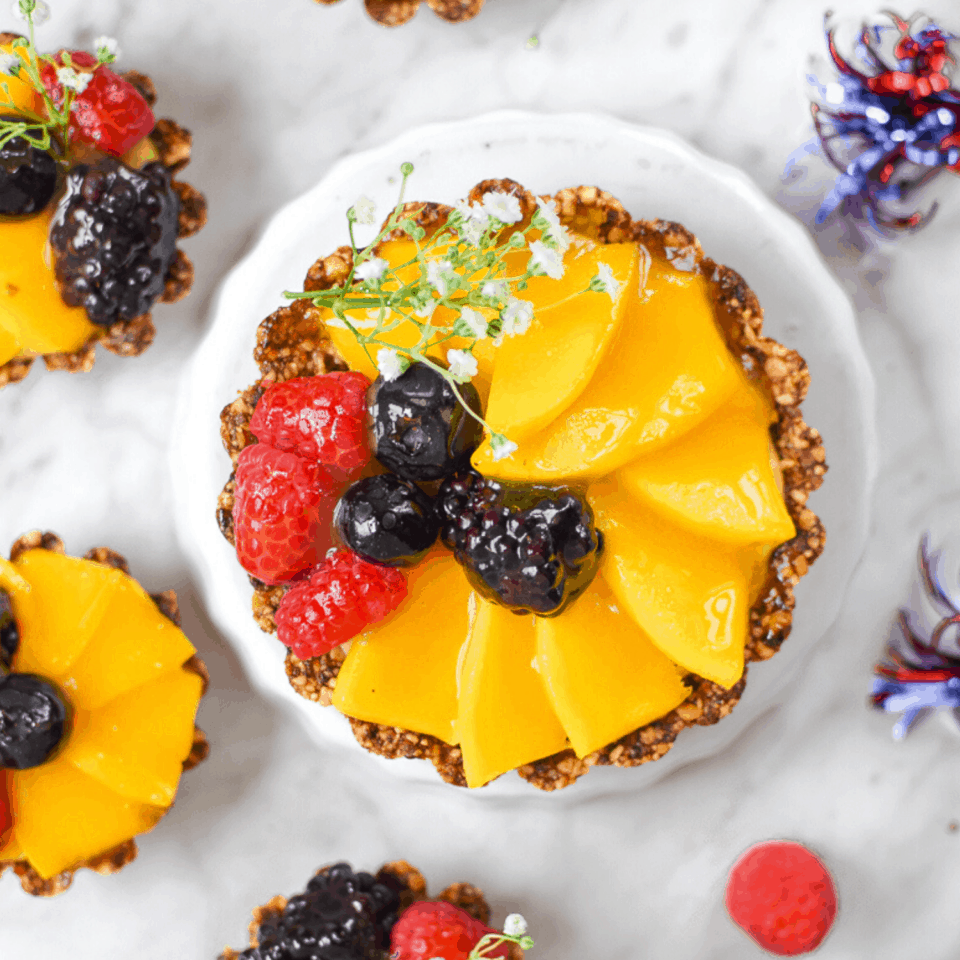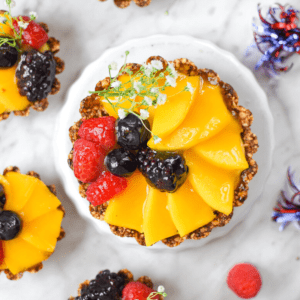 Cannabis Mango Fruit Tarts
These cannabis mango fruit tarts are a cute, delicious, plant-based, gluten-free dessert that is easy to make and fun to enjoy. Made with cannabis coconut oil and fresh mangos, these tiny tarts are perfect for summer entertaining and fit almost any dietary need.
Ingredients
For the Tart Crust
15

whole

pitted, chopped dates

dried, pitted

¾

cup

raw unsalted cashews

2

tablespoons

unsweetened shredded coconut flakes

1

tablespoon

coconut oil

or cannabutter, room temperature*
For The Fruit Topping
1

cup

fresh mango

diced

½

cup

fresh raspberries

½

cup

fresh blueberries

½

cup

fresh blackberries
Optional Mango Glaze
1

tablespoon

mango preserves

1

teaspoon

water
Instructions
For the Tart Crust
Preheat the oven to 350° F.

In a food processor, pulse together the Medjool dates, cashews, coconut flakes, and cannabis coconut oil until a fine consistency is achieved.

Remove the date mixture and shape the crust on the bottom and up the sides of a tart tin pan.

Bake for 15 minutes. Remove from the oven and allow to cool completely before removing the crust from the tin.
For the Mango Cream
In a blender or food processor, combine the yogurt and fresh mango. Blend until completely smooth.

Pour the mango cream mixture into the date crust and return to the refrigerator to set for 20 minutes.
For The Fruit Topping
After the tarts have had the chance to set, top each one with fresh mango, raspberries, blueberries and blackberries.
Optional Mango Glaze
In a small bowl, combine the mango preserves and water. Microwave for 20 seconds and then stir well.

Gently brush over the fruit tart to create a mango glaze.

Serve immediately or refrigerate until ready to enjoy.
Notes
*Do not melt the cannabis-infused coconut oil in the microwave!
Alternative Infusion Option:
If you prefer to infuse your tarts with cannabis concentrates, gently warm them and mix with the yogurt and mangos in the blender when making the mango cream.
Nutrition
Serving:
1
tart
Calories:
120
kcal
Carbohydrates:
13
g
Protein:
3
g
Fat:
7
g
Saturated Fat:
3
g
Polyunsaturated Fat:
1
g
Monounsaturated Fat:
3
g
Cholesterol:
2
mg
Sodium:
11
mg
Potassium:
185
mg
Fiber:
2
g
Sugar:
9
g
Vitamin A:
358
IU
Vitamin C:
15
mg
Calcium:
35
mg
Iron:
1
mg
Did you make this recipe or have a question?
Join hundreds of members inside private Well With Cannabis Community for help, support, and to share your edible creations!