Everyone will love these crispy baked cannabis tofu bites, a mouthwatering, delicious, and naturally gluten-free entrée or snack. Not just for vegan or vegetarians, this is the perfect recipe for first-time tofu eaters or for those who want more plant-based, vegan, or vegetarian cannabis recipes in their diet.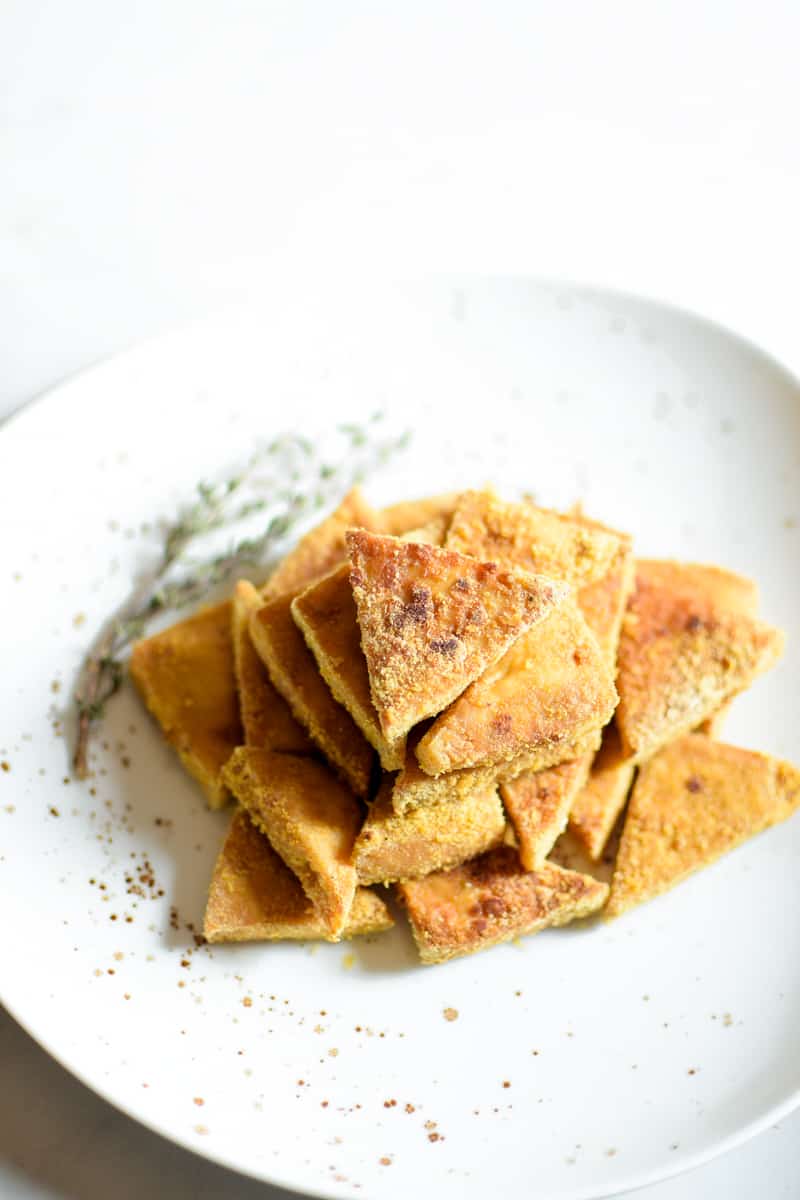 Let's Make Crispy Baked Cannabis Tofu Bites
I recently got this question from a Well With Cannabis Community member:
I've been getting many vegan/dairy-free, basically, allergen-free requests, which have led to requests from people with diabetes. What is a safe, healthy way for a person with diabetes to enjoy sweet and/or savory edibles? What better place to ask than here? Thank you so much in advance.

Well With Cannabis Community member
The truth is, just about any recipe can be made into a healthy cannabis recipe.
Yep, even tofu.
That's the beautiful thing about cannabis edibles; they are so versatile and don't have to be limited to the traditional cannabis brownies and cookies we've all grown accustomed to.
It doesn't matter if your vegan, vegetarian, or just looking to have more plant-based foods in your diet.
Making small changes each day, at each meal, is a great way to start eating more plant-based foods without feeling like you're making an overwhelming commitment to a vegan or vegetarian lifestyle.
In this post, I will show you how to infuse these perfectly crispy cannabis tofu bites with a variety of different options, including decarbed cannabis flower, decarbed kief, and more.
And don't forget to check out my awesome cannabis-infused ranch dressing to dip these in!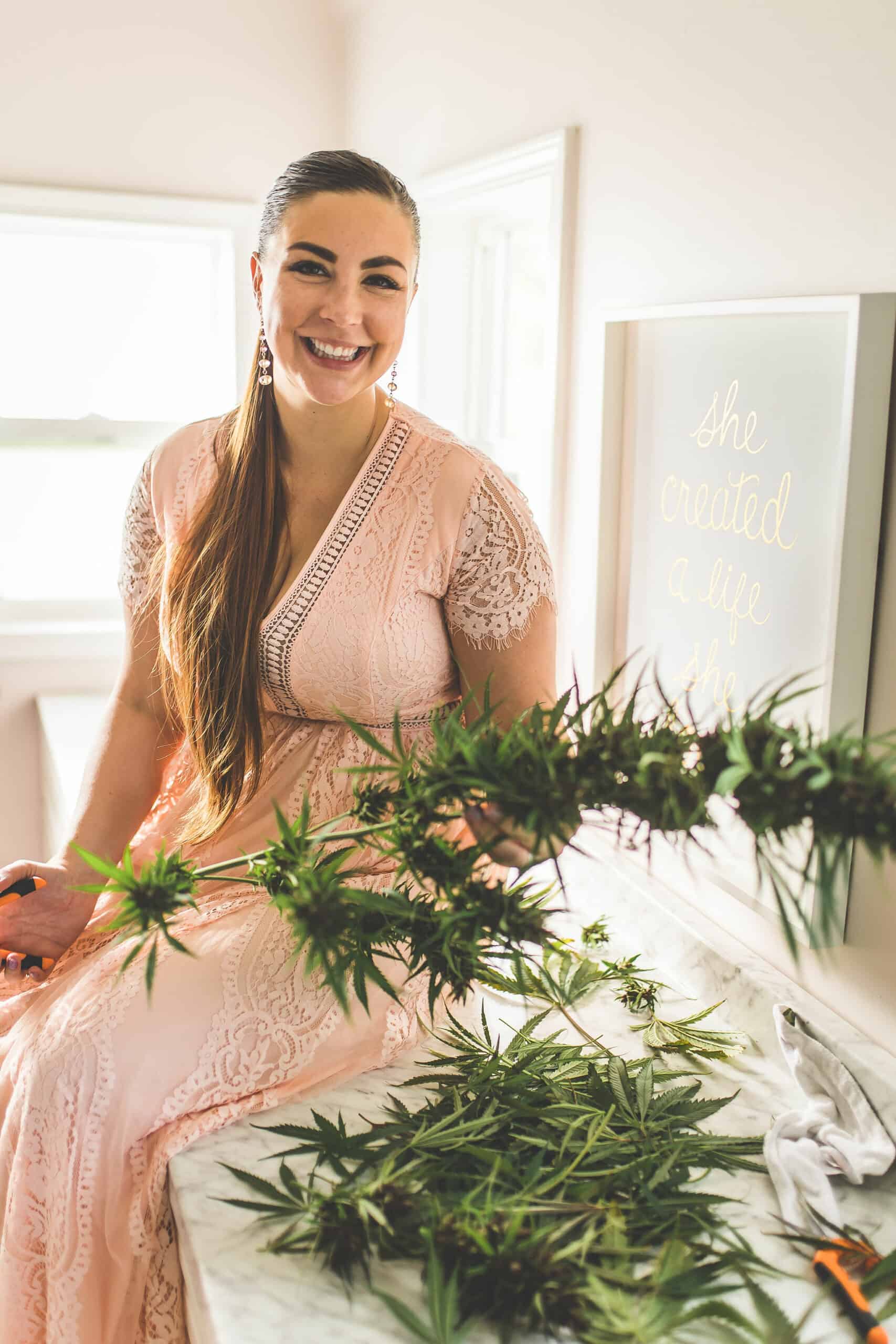 Looking For More Support?
Join thousands of members inside my private Well With Cannabis Community to ask questions, find support, and share your edible creations!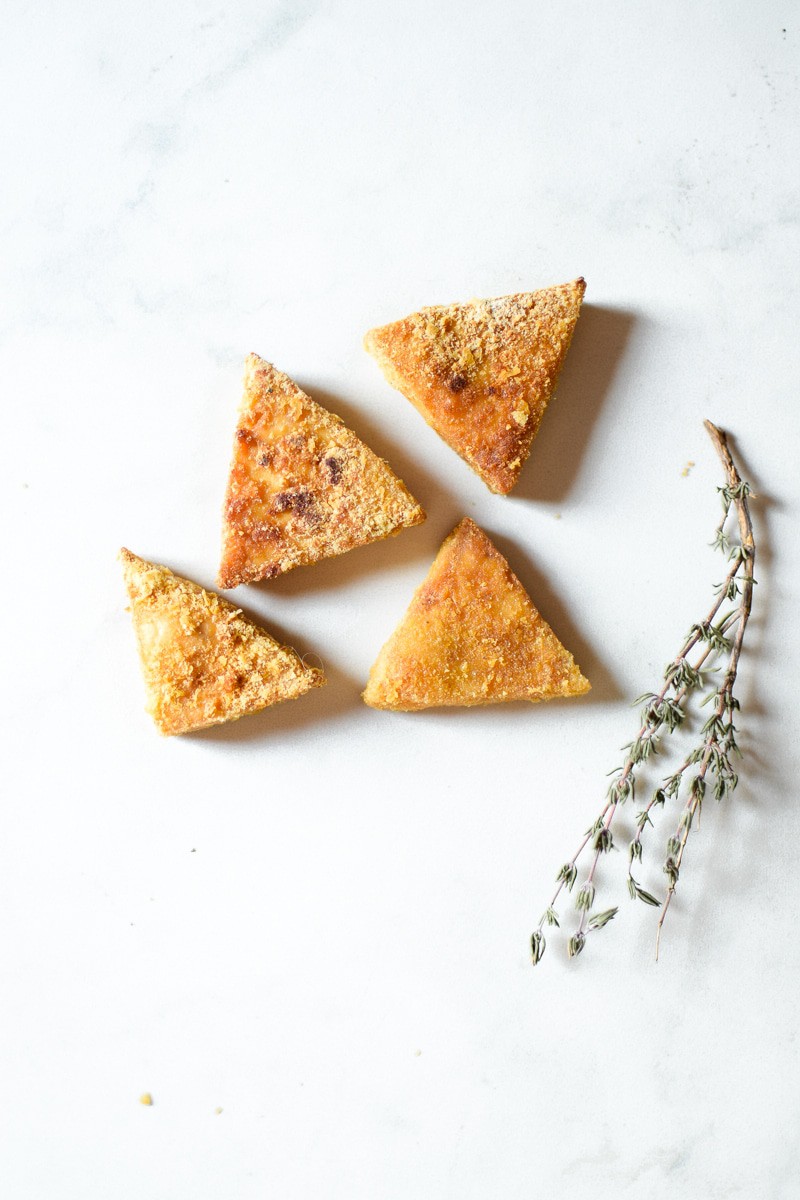 Preparing The Most Delicious Tofu
I'm not saying I will likely ever give up meat completely, but I have been actively consuming more plant-based options.
Which leads me to tofu.
When thinking about planning out some entirely plant-based meals, I found myself wondering - well, what am I going to eat?
Fruits and vegetables obviously, but I always felt like I was missing something, as meat tends to be the focus of the meal.
Tofu was the first thing that came to my mind when I started thinking of meat substitutes, but then I realized:
How the heck do I cook tofu and make it taste good?
And if I feel that way, I am sure you do too.
If you have never cooked with tofu before, it seems intimidating to try for the very first time.
That's why I wanted to share with you my experiences so you can feel comfortable learning how to cook tofu for the first time, too - and actually make it taste good! 😉
The Key to Crispy Tofu
Apparently, the secret to crispy tofu is to remove even more water from the tofu by pressing it between two clean towels, to absorb the excess moisture.
So grab your clean dish towels and get to pressing!
I put a clean towel on top of the tofu and then placed a cutting board on top with a big cookbook on top of that.
Use whatever works for you!
Using Nutritional Yeast
Also, this recipe calls for nutritional yeast.
You may be thinking, "Emily, you're pushing it with the tofu", but I swear, nutritional yeast is awesome.
It is a plant-based product that has a 'cheesy' flavor.
It is exceptionally nutritious, high in many vitamins and minerals including B12.
You can find nutritional yeast in the natural foods section of most grocery stores, or get it right online.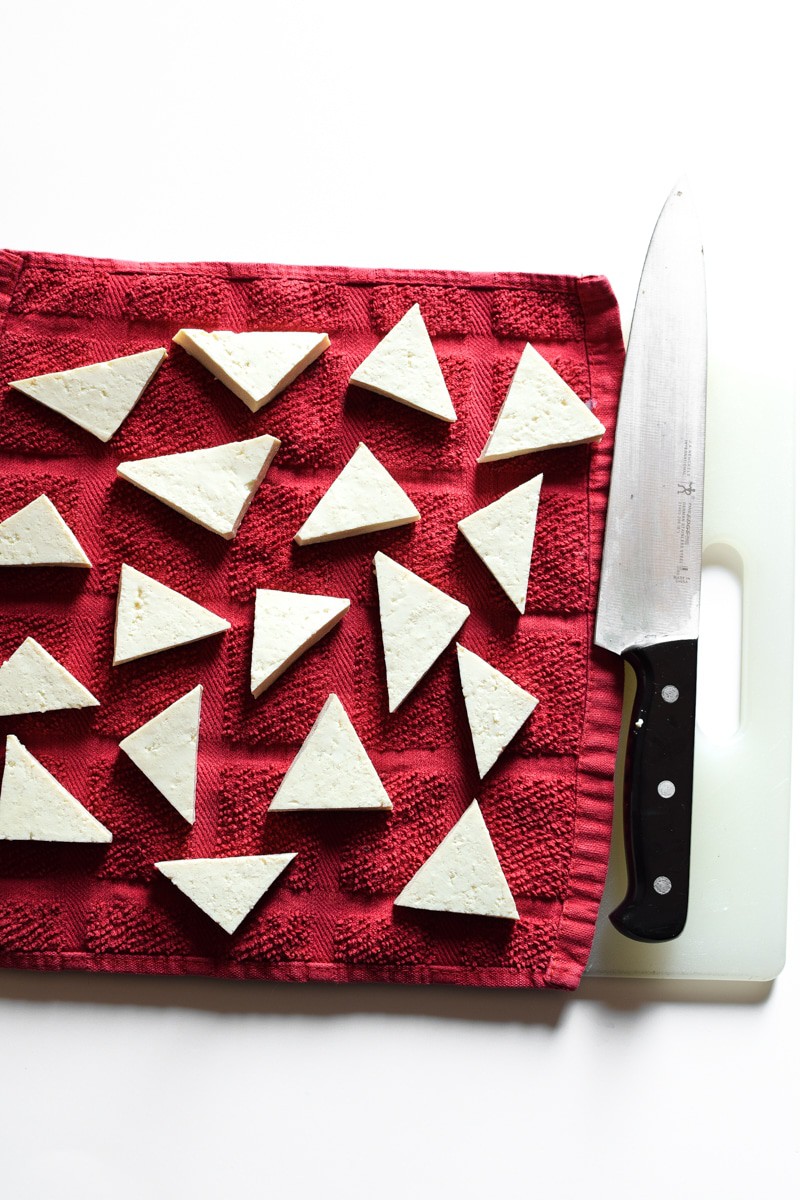 Choose Your Cannabis-Infusion Option
As I am always teaching my Well With Cannabis Community members, there are many different ways to infuse something.
Here we will cover how to make infuse these crispy cannabis tofu bites with:
Decarbed Cannabis Flower
Decarbed Kief
Cannabis Olive Oil
Cannabis Concentrates
Cannbis Ranch Dressing
Decarbed Cannabis Flower
Decarbed cannabis flower can be used like any other herb in this recipe.
To experience the benefits of activated THC or CBD, the cannabis must first undergo a process called decarboxylation.
Without decarboxylation, you will not experience the full range of activated cannabinoids such as THC or CBD.
You can use the oven in your kitchen to provide the heat needed to decarb the cannabis.
If you've never gone through the process before, have no fear, decarbing really is simple.
Bake the dried cannabis in the oven at 240° F for 40 minutes for a THC-dominant flower and 240° F for 90 minutes for a CBD-dominant flower.
If you have never decarbed before, you can get started with my beginners guide to cannabis decarboxylation here.
After this process occurs, you can add this decarbed flower to any recipe, such as my favorite cannabis beet hummus or my yummy cannabis taco seasoning.
Because each person has a different endocannabinoid system and responds to cannabis differently, it is important to add an appropriate amount for your personal tolerance.
If you want to infuse the recipe with decarbed cannabis flower, I recommend using 1 teaspoon of ground, decarbed cannabis flower, and adjusting as needed to suit your individual needs.
Decarbed Kief
Kief is the fine, powdery substance that accumulates at the bottom of a grinder or other cannabis container.
Kief typically contains the highest concentration of resinous glands, or trichomes, that contain the cannabinoids like CBD, THC, CBG, etc.
This means that kief can be much more potent than flower or trim.
Because of this, you may be able to use less of it in this recipe, or more, depending on the effect you're looking for.
Remember that you still need to decarb the kief just as you would traditional flower to enjoy the activated benefits of CBD, THC, CBG, etc.
If you've never worked with kief before, you can get my full guide to decarbing and making edibles with kief here.
If you want to infuse the recipe with decarbed cannabis kief, I recommend using 1 gram or less of decarbed cannabis kief and adjusting as needed to suit your individual needs.
Cannabis Olive Oil
One of the easiest ways to infuse this cannabis tofu is by using cannabis-infused olive oil.
Because this recipe only calls for a tablespoon of oil, you may find that this is a great way to micro dose.
Once you have your cannabis-infused olive oil prepared, you can use it anywhere, in any recipe, including this one.
If you've never made it before, you can follow my cannabis olive oil recipe to easily make your own at home.
While I think EVOO works best in this recipe, there are many different types of cannabis-infused oils you can also use here, including:
Cannabis Concentrates
One of the easiest ways to make infused edibles is with cannabis concentrates.
These are the most convenient, easy-to-use, pre-prepared concentrated products for cannabis infusions.
Because they are concentrated, you only need to add a tiny bit to each recipe to get the experience you are looking for.
Because you only need to add a tiny bit, cannabis concentrates will not disrupt your food's volume, texture, or flavor.
For this reason, cannabis concentrates are the perfect way to infuse cannabis tofu.
Distillate Concentrates
While THC-dominant cannabis concentrates must be purchased at a recreational or medical dispensary in a legal state, CBD-dominant cannabis concentrates can be purchased from my shop here.
Full Extract Cannabis Oil (FECO)
Full-extract cannabis oil, also known as FECO, is a concentrated, whole-plant, full-spectrum cannabis extract.
This means that all of the important plant compounds, from cannabinoids to terpenes and other plant materials, are present in the extract.
FECO is a powerful concentrated cannabis extract that interacts with our own endocannabinoid system.
Because of its potency, a few drops may be all you need for a perfectly dosed hummus.
Simply stir in your FECO or other concentrate during step 5.
You may need to gently warm the olive oil and concentrate together to get them to incorporate.
If you are interested in making your own FECO, check out my post detailing how to make full-extract cannabis oil here.
Cannabis Ranch Dressing
Who doesn't love creamy ranch dressing?
Especially when it's cannabis infused!
My homemade ranch is made with wholesome, delicious ingredients that taste amazing when combined with your choice of cannabis.
It's also a really simply way to infuse this dish, especially if you already have some prepared at home.
If you've never made your own homemade cannabis ranch dressing before, be sure to get the recipe here!
How to Determine The Dosing
Want to get a more accurate guesstimate of the potency of your cannabis infusions and extractions? Try our popular edibles calculator!
Not sure what your perfect dose is? Learn more here.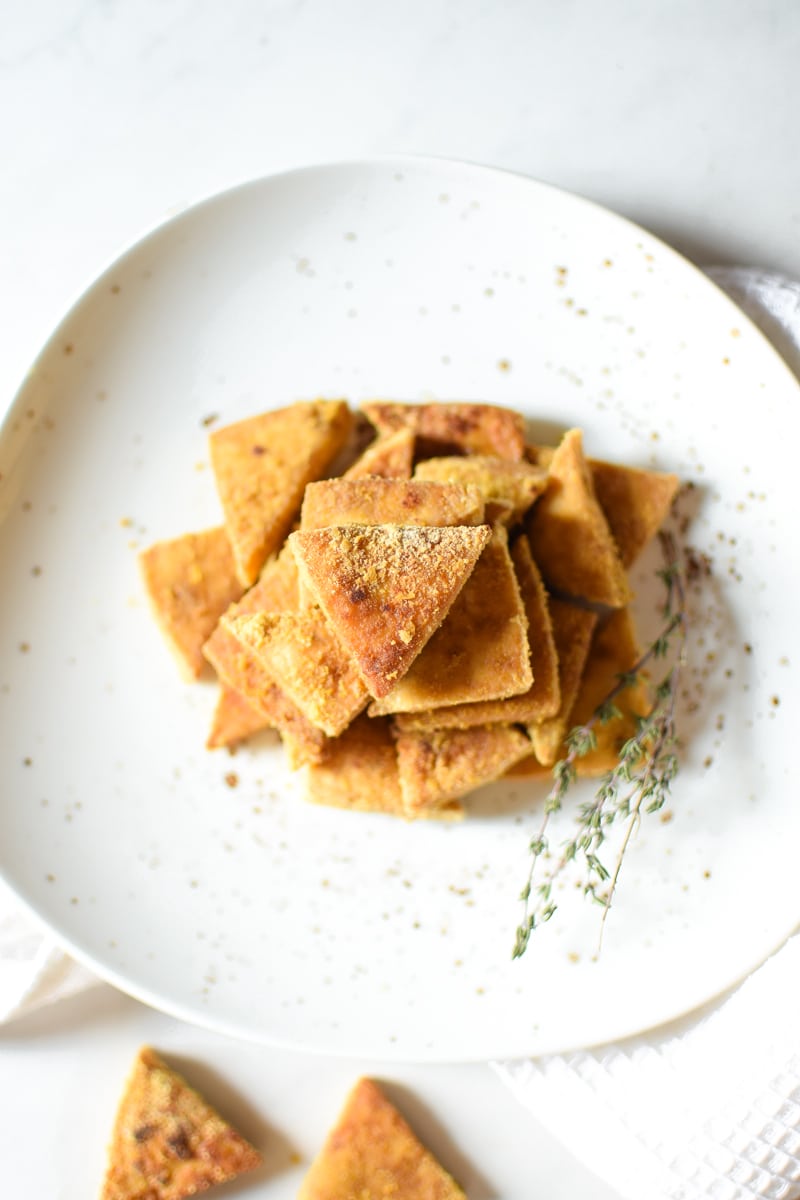 Frequently Asked Questions
Does baking the cannabis at 350°F destroy the THC?
Good question, and no. It's kind of like when you roast a chicken. You put it in the oven at 350°F for 1-2 hours, but the chicken itself only ever needs to get to the internal temp of 165°F until it's done. When baking, the item itself, in this case, the tofu, should not get to 350°F because it would burn up. You don't want or need to get up to 350°F; you just want the item cooked through or to 165°F. This low temperature does not destroy THC or other cannabinoids.

Doesn't the cannabis need to be paired with a fat to be effective?
According to scientific studies, when paired with a fat source, the absorption of cannabinoids is enhanced: THC and CBD by 2.5-fold and 3-fold, respectively, compared to fat-free formulations (1). This means that adding a fat source to your cannabis recipe may make it up to 2.5-3 times more potent than choosing to skip a fat source. Thankfully, tofu contains plant-based fats, which can help with absorption.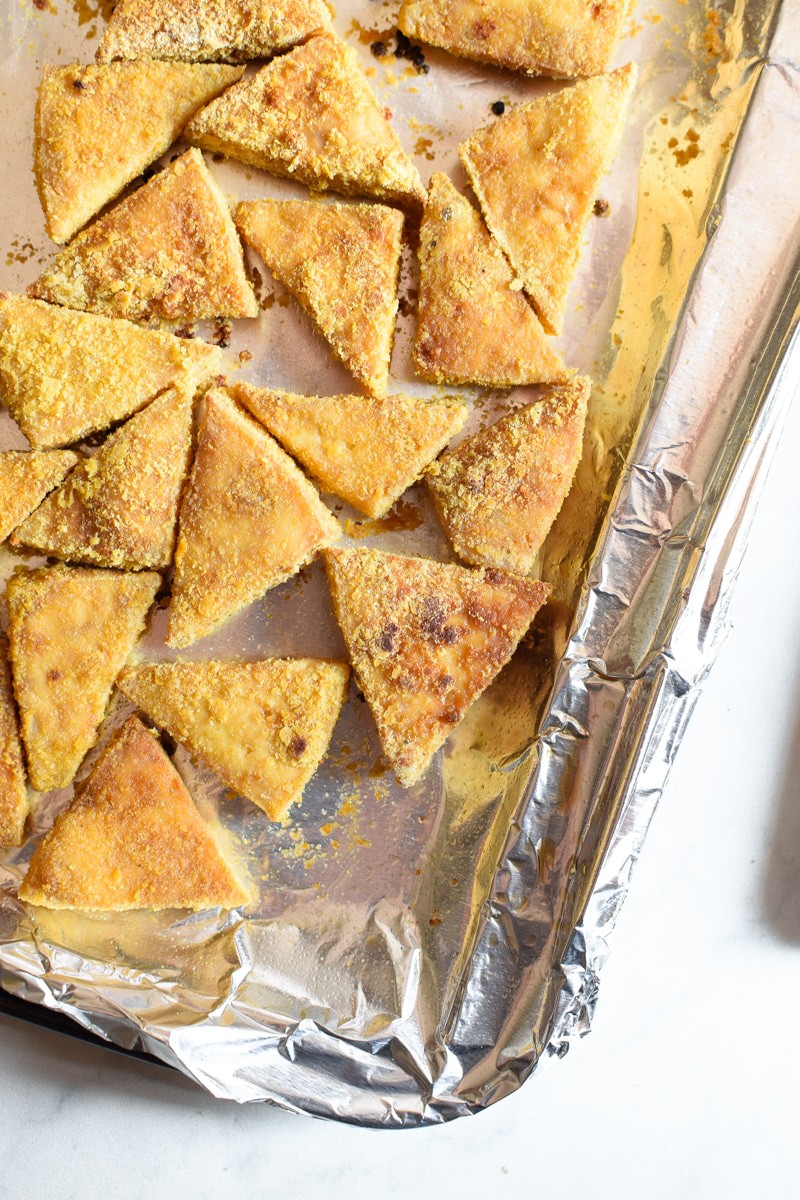 Want To Make This Easier? Use A Machine!
If the process of decarbing and infusing feels like too much work, an all-in-one countertop device may be a perfect all-in-one solution!
My personal favorite? The Ardent FX! Review the six most popular infusion machines here.
Want A Discount Code?
My Edibles Made Easy Online Cooking Course will teach you how to make cannabis edibles and topical recipes at home with ease. This step-by-step video course will teach you how to infuse, extract, and create edibles with many different product types - all from the comfort of your own home.

Learn more and enroll today →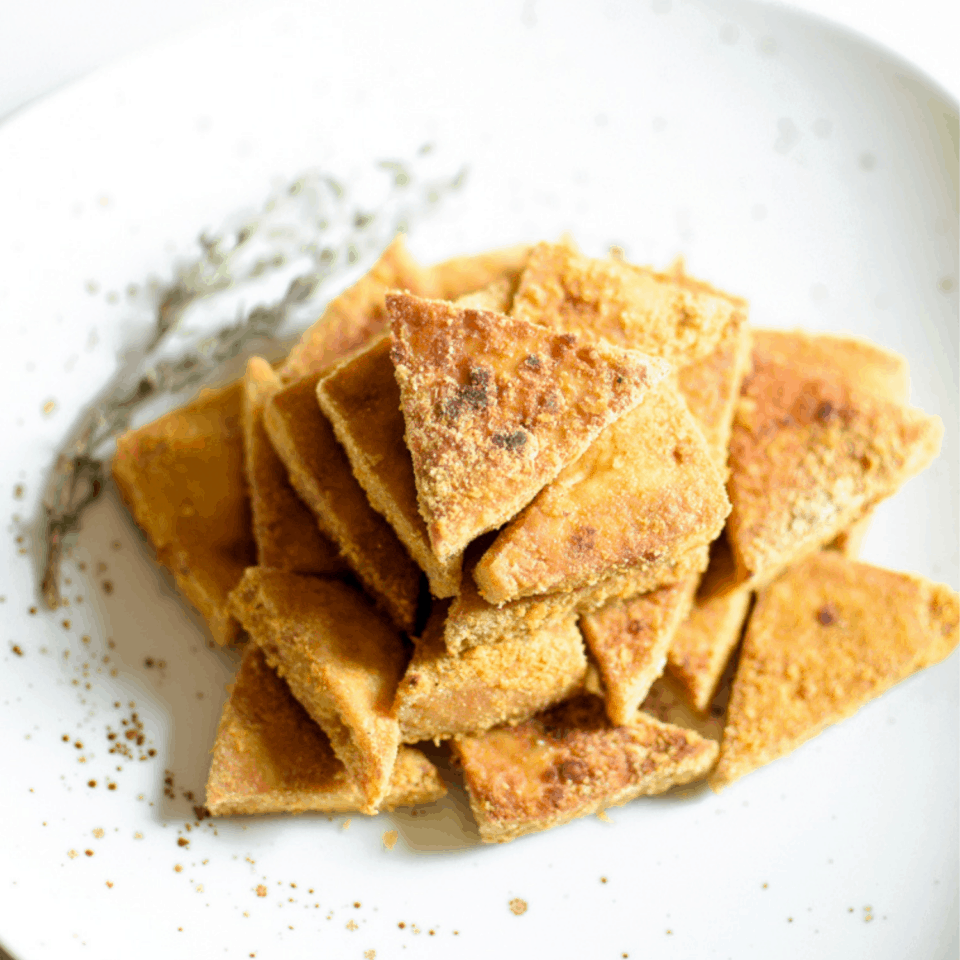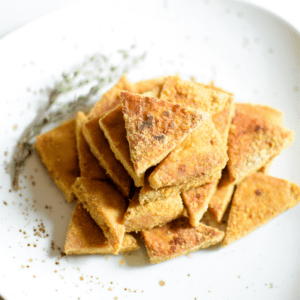 Crispy Baked Cannabis Tofu Bites
Everyone will love these crispy baked cannabis tofu bites, a mouthwatering, delicious, and naturally gluten-free entrée or snack. Not just for vegan or vegetarians, this is the perfect recipe for first-time tofu eaters or for those who want more plant-based, vegan, or vegetarian cannabis recipes in their diet.
Instructions
Preheat the oven to 350° F. Line two baking sheets with foil and set aside.

Drain the excess water from the tofu package and slice the block of tofu lengthwise into ¼ inch slabs.

Cut those slabs into bite-sized pieces and arrange them in a flat layer atop a clean towel.

Top the tofu with an additional clean towel and set a book or something heavy on top of the towel to squeeze the water out of the tofu. Let rest for 15 minutes.

While waiting for the tofu, in a small bowl, mix together the wet ingredients: olive oil, soy sauce, and garlic in a small bowl.

In a large bowl, whisk together the dry ingredients: flour, nutritional yeast, cannabis flower, pepper, and salt.

After 15 minutes have passed for the tofu, remove the weight and top cloth. Brush both sides of the tofu with the reserved olive oil mixture. 

Transfer the tofu to the large bowl with the dry ingredients and toss until all pieces are well coated.

Arrange the coated pieces on the reserved foil-lined baking sheets in an even layer.

Gently coat all pieces evenly with a light mist of cooking spray. This will help them get crispier.

Bake for 30 minutes, flipping once and spraying again with cooking spray halfway through, so both sides get crispy.
Notes
*To make this recipe gluten-free, ensure you are using gluten-free flour.
Alternate Infusion Options:
*Nutrition facts calculated without the consideration of ranch dressing or other dipping sauces.
Nutrition
Serving:
2
servings
Calories:
255
kcal
Carbohydrates:
15
g
Protein:
20
g
Fat:
13
g
Saturated Fat:
2
g
Sodium:
921
mg
Potassium:
494
mg
Fiber:
2
g
Sugar:
2
g
Vitamin A:
2
IU
Vitamin C:
1
mg
Calcium:
69
mg
Iron:
3
mg
Did you make this recipe or have a question?
Join hundreds of members inside private Well With Cannabis Community for help, support, and to share your edible creations!