Everyone in the family will love this Perfectly Baked Cheesy Crispy Tofu, a mouthwatering, delicious and naturally gluten-free entree or snack. Tofu is not just for vegan or vegetarians anymore, this is the perfect recipe for first-time tofu eaters.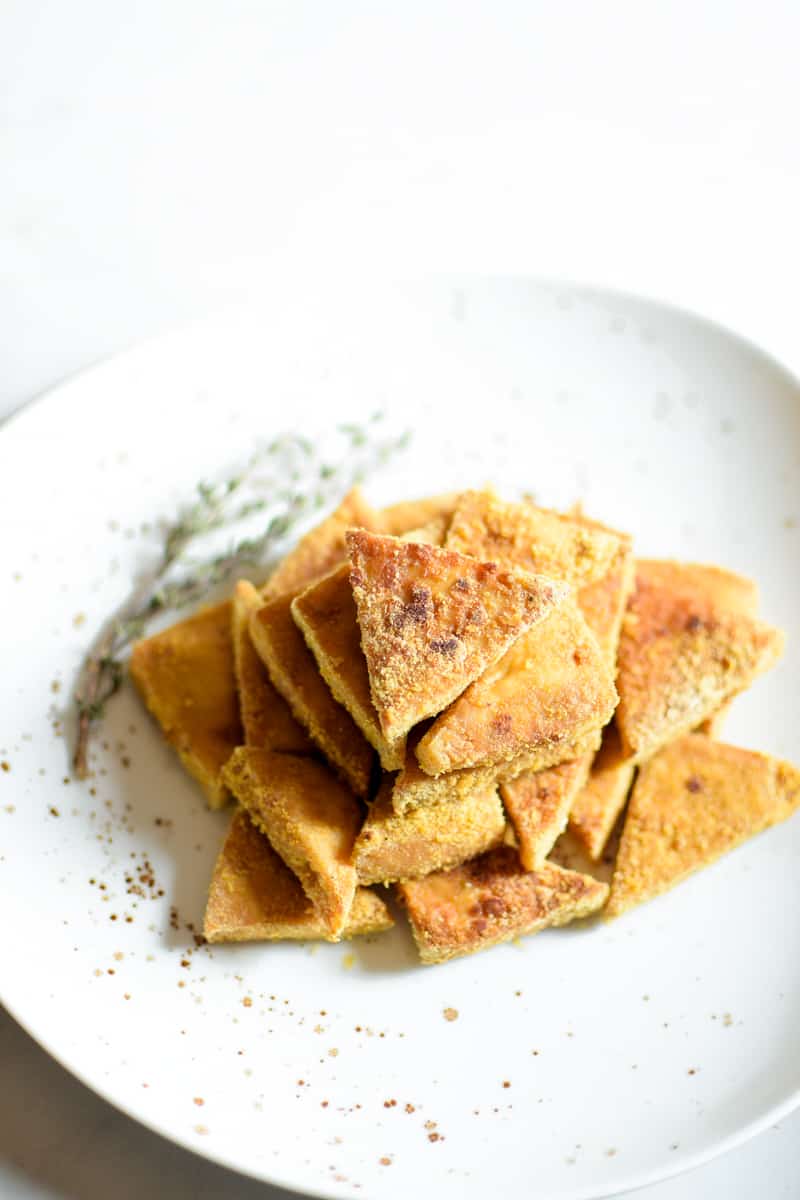 Perfectly Baked Cheesy Crispy Tofu
I admit it, I was a tofu snob.
I am not a vegetarian or a vegan, so I assumed that tofu was just not 'for me', I eat meat after all! But, like many Americans, I have had some experiences lately that make me question my consumption of meat products, especially as the main focus of a meal.
It all started when I got my chickens.
I am in love with them and it has really made me question the treatment of animals and practices within the food industry, as well as the need to reconsider the role of animal products in my diet.
I am always talking to my clients about the importance of eating more plant-based meals, or at least cutting the meat down to be a side in the meal, not the focus of the meal.
There is overwhelming evidence to support the cause behind consuming more plant-based foods, but I personally don't think it needs to be an all or nothing deal.
Making small changes each day, at each meal, is a great way to start eating more plant-based foods without feeling like you're making an overwhelming commitment to a vegan or vegetarian lifestyle.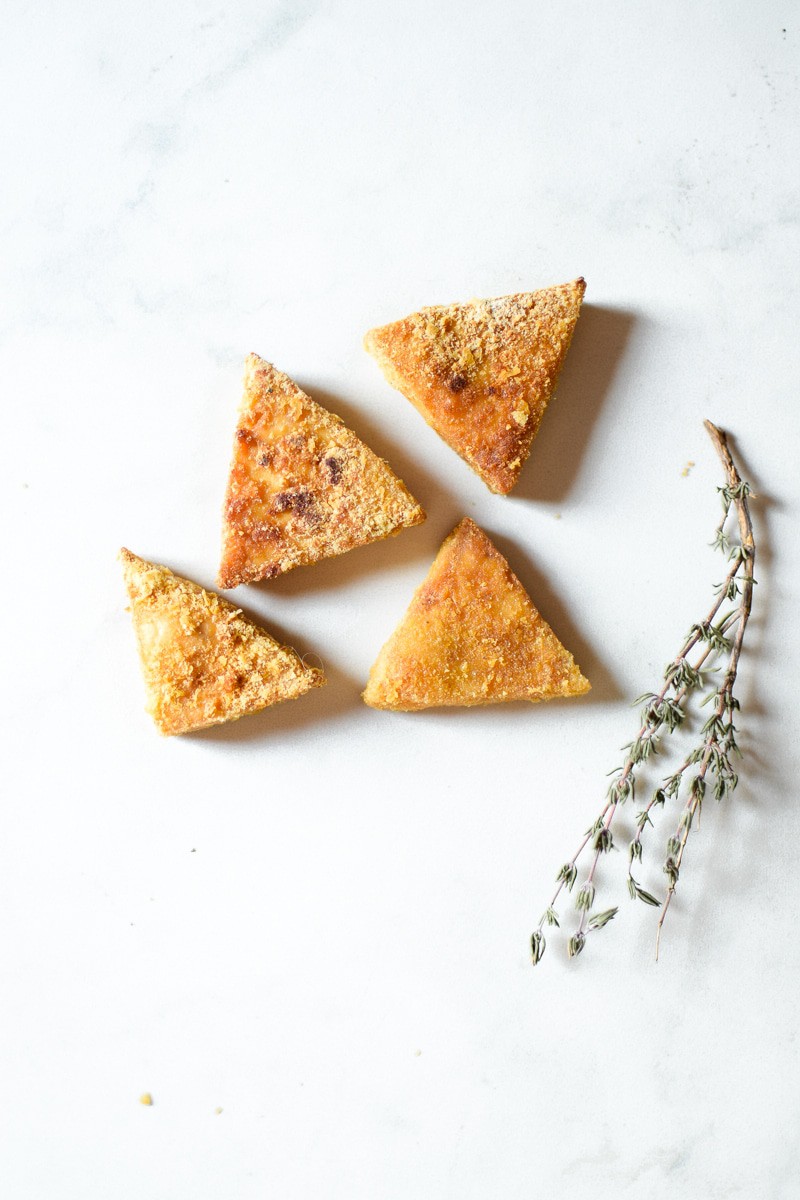 The More Plants The Better
I'm not saying I will likely ever give up meat completely, but I have been actively trying to consume more plant-based options. Which leads me to tofu.
When thinking about planning out some entirely plant-based meals, I found my self wondering – well what am I going to eat?
Fruits and vegetables obviously, but I always felt like I was missing something, as meat tends to be the focus of the meal. Tofu was the first thing that came to my mind when I started thinking of meat substitutes, but then I realized:
How the heck do I cook tofu and make it taste good?
And if I feel that way, I am sure you do too.
Because I've never cooked with tofu before, it seemed so intimidating to try for the very first time. That's why I wanted to share with you my experiences so you can feel comfortable learning how to cook tofu for the first time too – and actually make it taste good! 😉
Which leads us to this delicious Perfectly Baked Cheesy Crispy Tofu.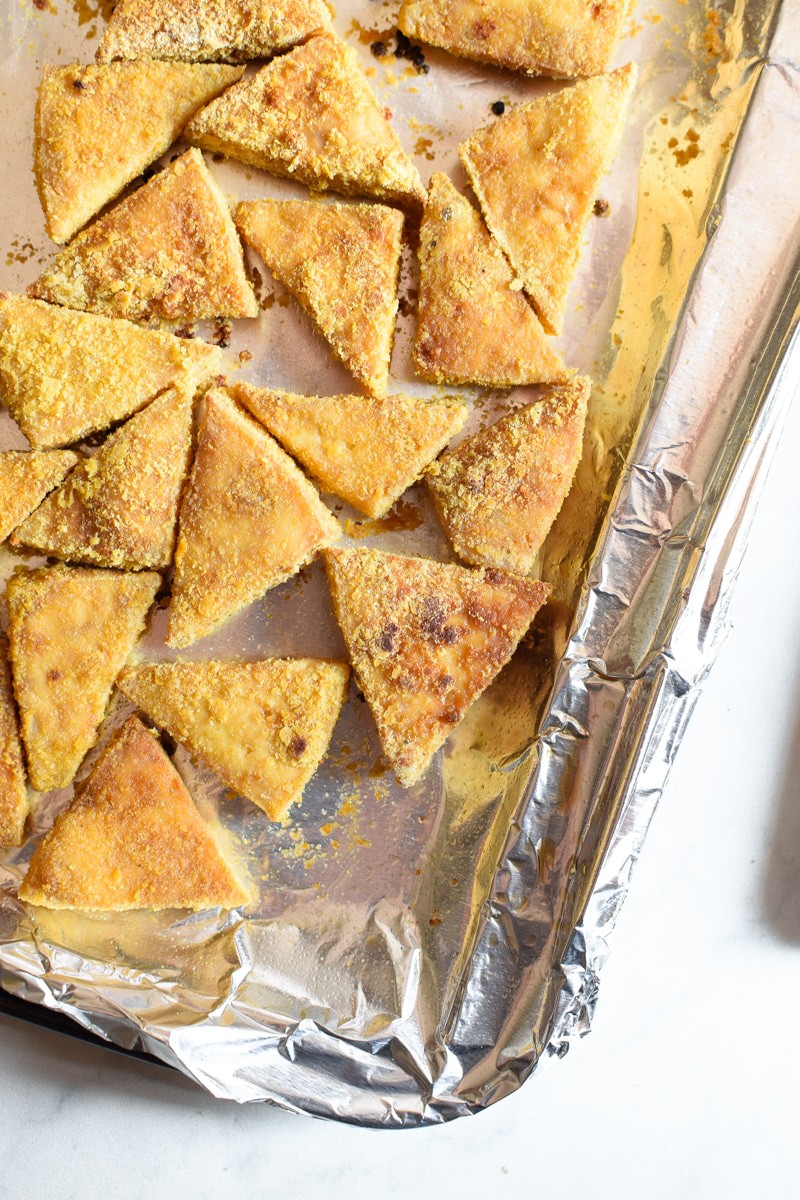 The Key to Crispy Tofu
And as I started exploring different ways to get started with tofu, I stumbled upon this tutorial from Cookie + Kate.
Apparently, the secret to crispy tofu is to remove even more water from the tofu by pressing it between two clean towels, to absorb the excess moisture. Who knew? Not this tofu newbie!
So grab your clean dish towels and get to pressing! I put a clean towel on top of the tofu and then placed a cutting board on top with a big cookbook on top of that. Use whatever works for you!
Also, this recipe calls for nutritional yeast.
You may be thinking, "Emily, you're pushing it with the tofu", but I swear, nutritional yeast is awesome. It is a plant-based product that has a 'cheesy' flavor. It is exceptionally nutritious, high in many vitamins and minerals including B12.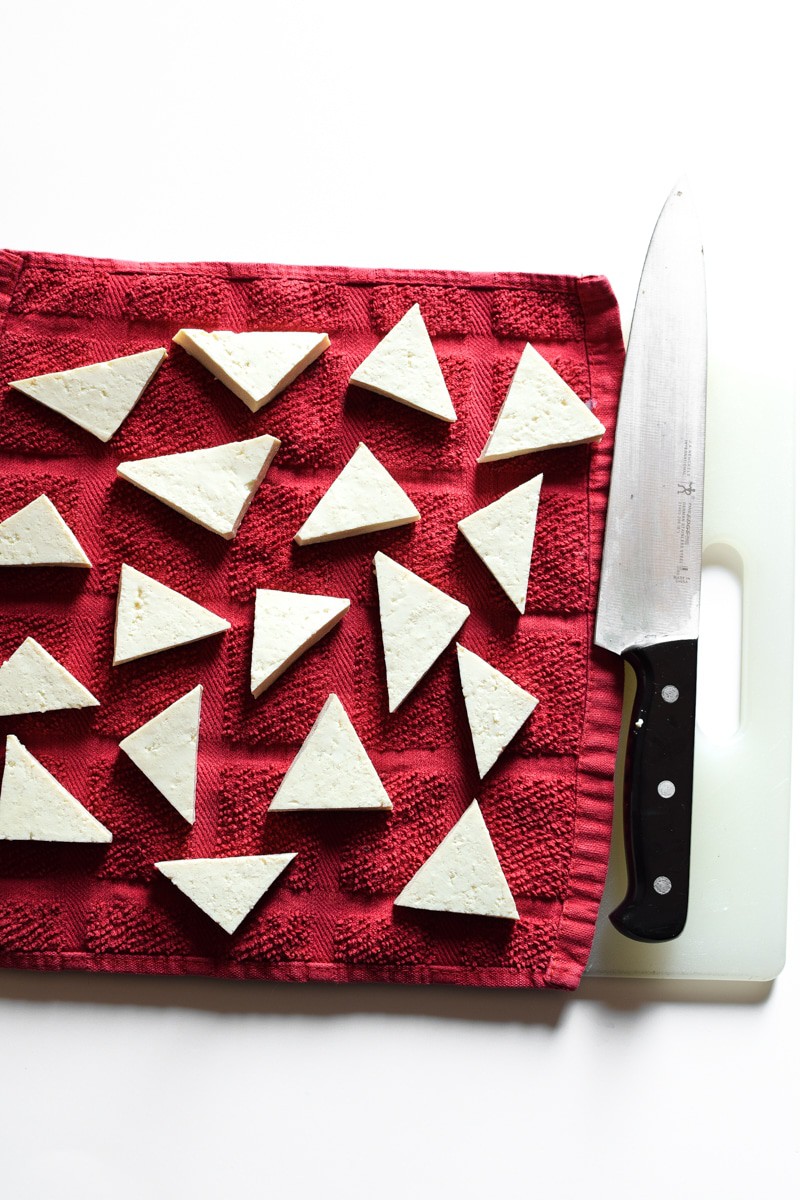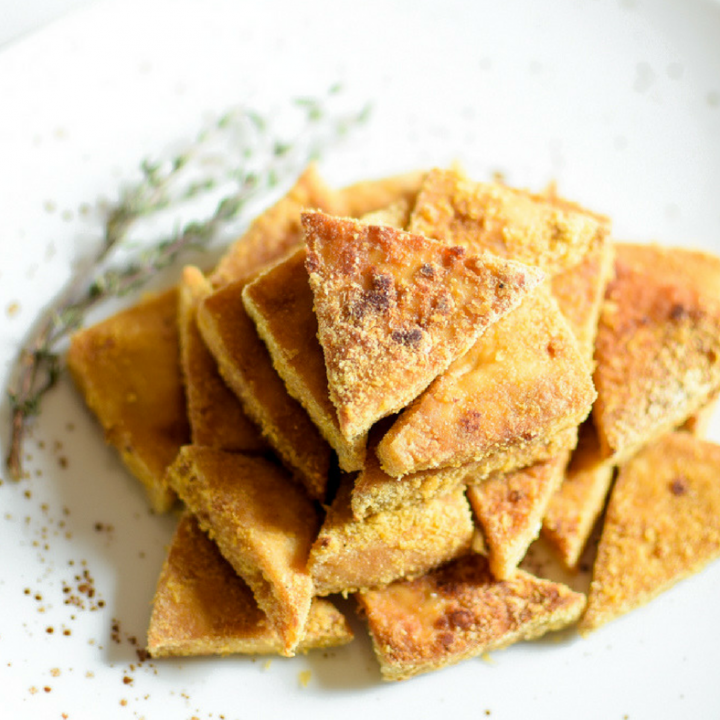 Baked Cheesy Crispy Tofu
Everyone in the family will love this Perfectly Baked Cheesy Crispy Tofu, a mouthwatering, delicious and naturally gluten free entree or snack.
Ingredients
14-ounce package Extra Firm Organic Tofu
1 tablespoon olive oil, extra virgin
1 tablespoon soy sauce, or coconut aminos
½ tablespoon minced garlic
2 tablespoon cornflour, any kind of flour will work
2 tablespoon nutritional yeast
¼ teaspoon of sea salt
¼ teaspoon of black pepper
Instructions
Preheat the oven to 350 degrees F.
Drain the excess water from the tofu package.
Drain the excess water from the tofu package and Slice the block lengthwise into 1/4 inch slabs.
Slice those slabs into bite sized pieces and arrange in a flat layer atop a clean cloth.
Top with an additional clean cloth and top with a book or something heavy, to squeeze the water out. Let rest 15 minutes.
While waiting, mix together the wet ingredients: olive oil, soy sauce, and garlic in a small bowl.
Whisk together the dry ingredients: the cornflour, nutritional yeast, salt, and pepper in a large bowl.
After 15 minutes, remove the weight and top cloth from the tofu and brush with the olive oil mixture on both sides.
Transfer the tofu to the large bowl with the dry ingredients and toss until well coated.
Arrange the coated tofu on a foil-lined baking sheet in an even layer.
Coat all pieces evenly with cooking spray.
Bake for 30 minutes, flipping once and spraying again with cooking spray halfway through.
Serve with your favorite dipping sauce - marinara is my family's favorite! Enjoy!
Nutrition Information:
Yield:

2
Serving Size:

servings
Amount Per Serving:
Calories:

310
Saturated Fat:

2.5g
Sodium:

740mg
Carbohydrates:

15g
Fiber:

5g
Sugar:

1g
Protein:

25g