Veggies just taste better when you have a pretty dip to pair them with. Try this super easy-to-make, vegan & gluten-free Pink Gremolata Hummus today!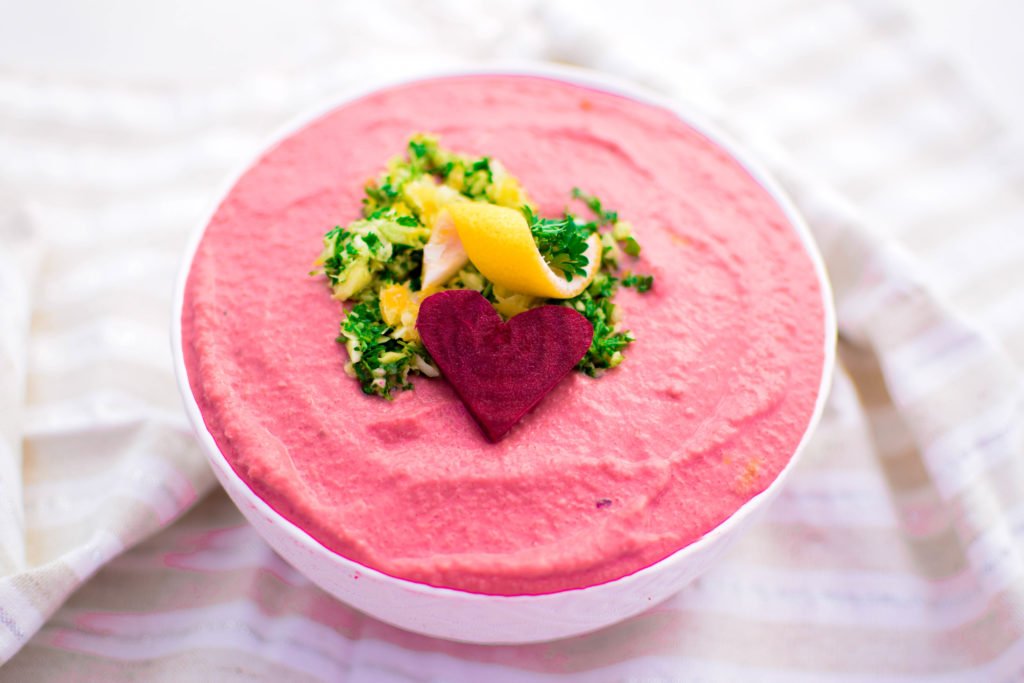 Wow everyone at your next party or get together with this beautiful Pink Gremolata Hummus! Made with white beans and beets, this beautiful dish is 100% plant-based with no artificial colors or ingredients. This is the perfect dip to pair with your favorite veggie or whole grain crackers, and can be the perfect accompaniment to any sandwich or wrap!

For the Love of Garlic
I don't particularly like the taste of beets but I can't help but be attracted to the stunning pink color they bring to every dish.
Luckily, the flavor of the beets in this dish is so very mild compared to the delicious garlicky, lemony flavor that makes this hummus pop.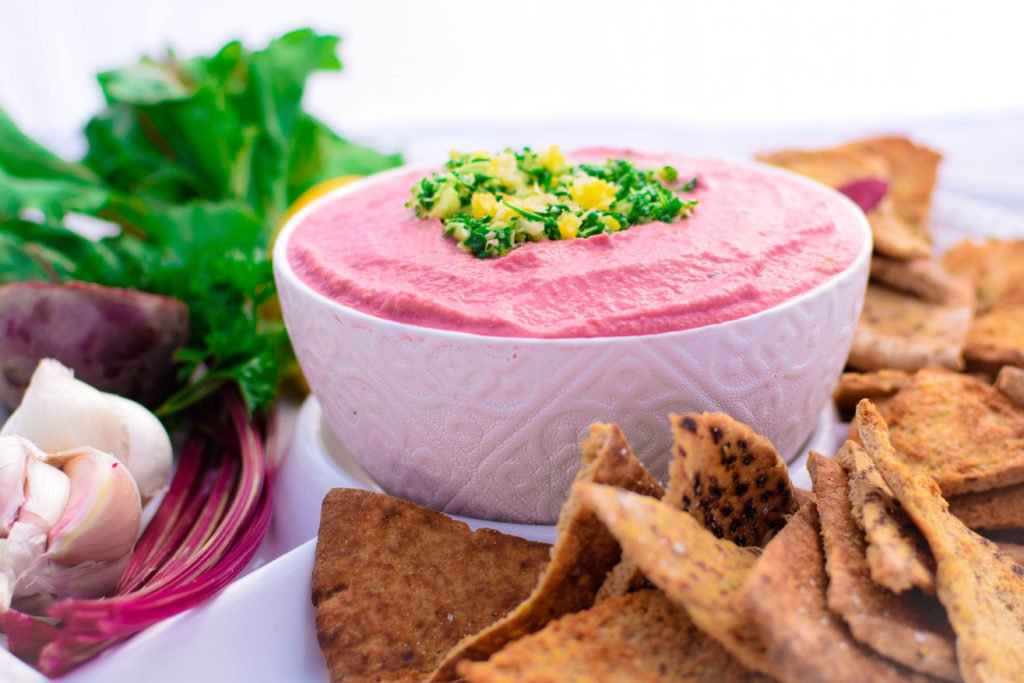 One of the great things about making your own hummus is that you can use just about any type of bean that you like!  I used white beans but you could use the traditional chickpea, lima beans, or pinto beans.
This Pink Gremolata Hummus is the perfect dish for any party!
Click To Tweet
Pink Gremolata Hummus
The fresh and tasty flavor of this dish is courtesy of the gremolata flavor profile. Gremolata is a traditional Italian herb condiment that combines the flavor of parsley, lemon zest and fresh garlic with olive oil. This recipe combines these tasty flavors all in one with the hummus, making this dish super easy to prepare.

Click Here to Download Your Happy & Healthy Meal Plan – FREE!

As Featured on Good Day Rochester!
I just couldn't let April slip away without honoring my true love for garlic ♥ Garlic gets a whole month in April plus a special day; April 19th was officially named National Garlic Day! So this week for my news segment on Good Day Rochester we talked all about the great health benefits of garlic, especially for diabetics. We featured this recipe, my other favorite garlic recipe Greens & Beans Stuffed Portabella Mushrooms, plus these tasty Garlic Pita Crisps from the American Diabetes Association.
Watch the video below and get some great information about how garlic can benefit your health and some awesome and delicious garlicky recipes!

Pink Gremolata Hummus
Pink Gremolata Hummus5 : Appetizer Author: Emily Cope, MS, RDN Prep time: 10 mins Total time: 10 mins Serves: 12 servings Pink Gremolata Hummus
Author:
Emily Kyle, MS, RDN
Ingredients
1 can of white beans, like cannellini or chickpeas
8 ounces of cooked beets
¼ cup tahini butter
¼ cup of lemon juice
¼ cup chopped fresh parsley
½ a whole lemon, minus the seeds and peel
2 tablespoons of olive oil
3 tablespoons of fresh chopped garlic
¼ teaspoon of organic sea salt
¼ teaspoon of ground pepper
Instructions
Add all ingredients to a to a food processor.
Blend for several minutes until blended smooth.
Garnish and enjoy!
I hope you enjoy this pink gremolata hummus as much as I do! If you've made this recipe and love it, let me know in the comments section below!


BEFORE YOU GO!
Subscribe to get your weekly dose of holistic wellness, health & happiness!

The following two tabs change content below.
I am a registered dietitian nutritionist located in Rochester, NY and the founder of
The School of Health & Happiness
, an online program that teaches women like you how to get healthy, and stay happy, without ever having to diet again! My popular
blog
Emily Kyle Nutrition focuses on plant centric, whole food
recipes
, and real-life evidence-based nutrition information. Learn more about me
here
.
Lets Connect!   
Facebook
»
Instagram
»
Twitter
»
Pinterest
♥
Latest posts by Emily Kyle (see all)