Wow everyone at your next party or get together with this eye catching, easy-to-make, naturally vegan & gluten-free, Pink Gremolata Hummus that comes together in 5-minutes with a can of beans and a can of beets.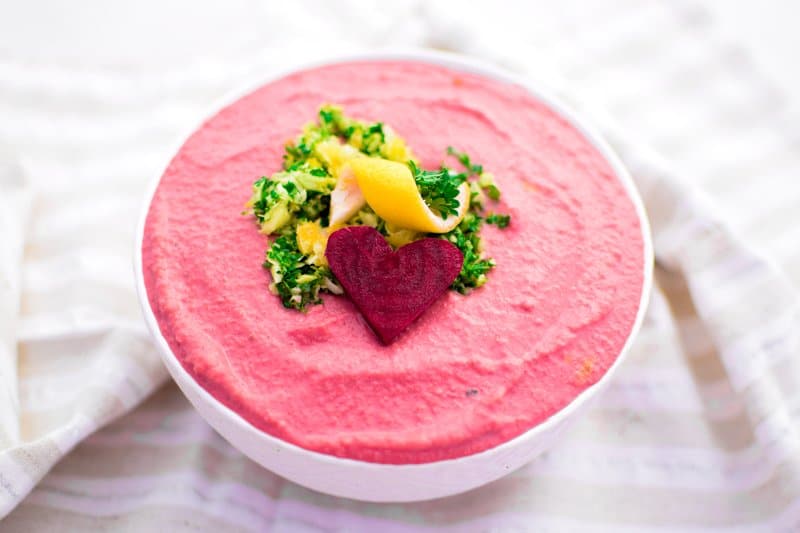 Homemade Beet Hummus Featured on Good Day Rochester
This week on Good Day Rochester I shared this recipe along with some other quick and easy snacks for game day.
Homemade Pink Beet Hummus
Making hummus at home is much easier than you think, the only thing you need is a good food processor and a great recipe and you are 5-minutes away from deliciousness.
Plus, we all know that veggies just taste better when you have a pretty dip to pair them with 😉
Made with white beans and cooked beets, this beautiful dish is 100% plant-based with no artificial colors or ingredients.
One of the great things about making your own hummus at home is that you can use just about any type of bean that you have on hand. I used white cannellini beans in this recipe, but you could use traditional chickpeas, lima beans, or even pinto beans.
What I love most about this recipe is the versatility of the dish. You can enjoy this as dip paired with your favorite veggie or whole grain crackers, and I have found that it makes the perfect spread on any sandwich or wrap as an alternative to mayo or dressing.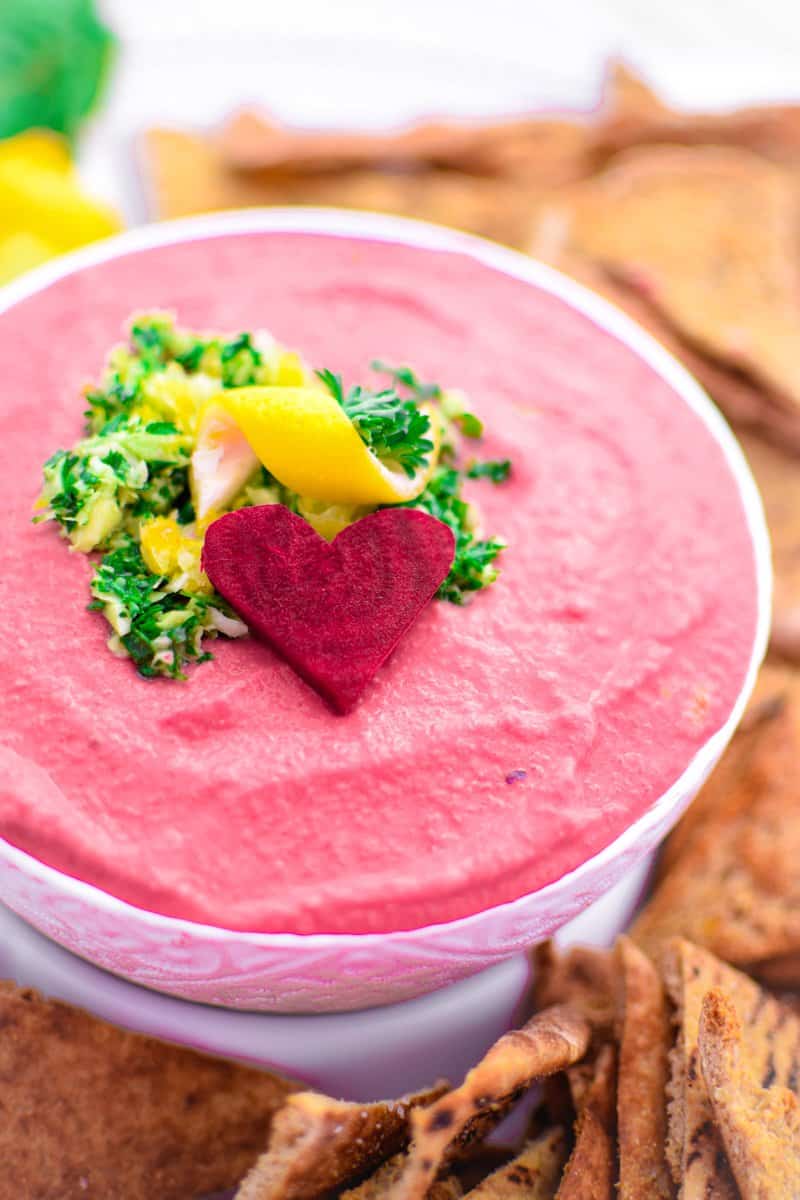 Pink Beet Gremolata Hummus
Now, I don't particularly like the taste of beets by themselves, but I can't help but be attracted to the stunning pink color they bring to every dish. Luckily, the flavor of the beets here is very mild when paired with the delicious garlic & lemon flavor of the gremolata.
The fresh and tasty flavor of this dish is courtesy of the gremolata flavor profile really makes this hummus pop.
Gremolata is a traditional Italian herb condiment that combines the flavor of parsley, lemon zest and fresh garlic with olive oil.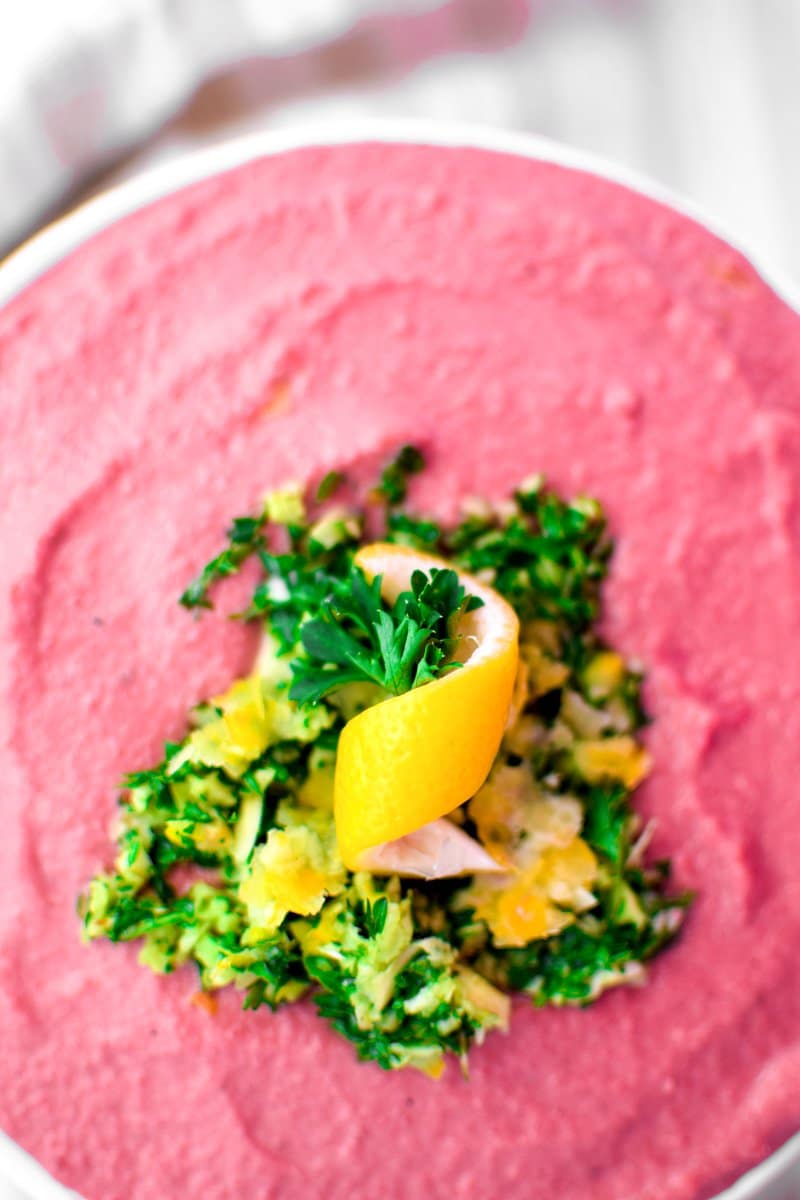 The Health Benefits of Garlic
Garlic is one of my favorite heart healthy super foods thanks to its beneficial anti-inflammatory and immune boosting properties.
There have been many research studies conducted to demonstrate that garlic has the potential to decrease risk of cardiovascular disease by increasing blood vessel flexibility. The sulfur-containing compounds in garlic have also been identified as beneficial to the upper digestive tract and the stomach.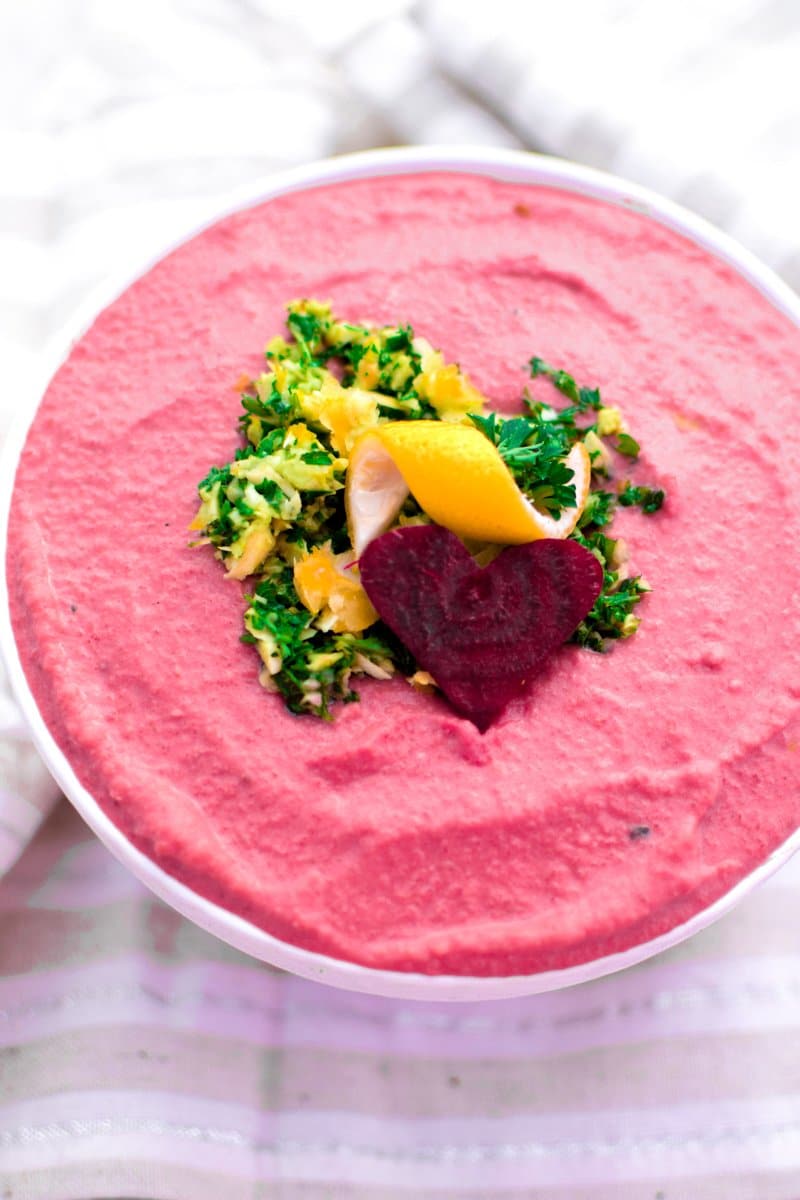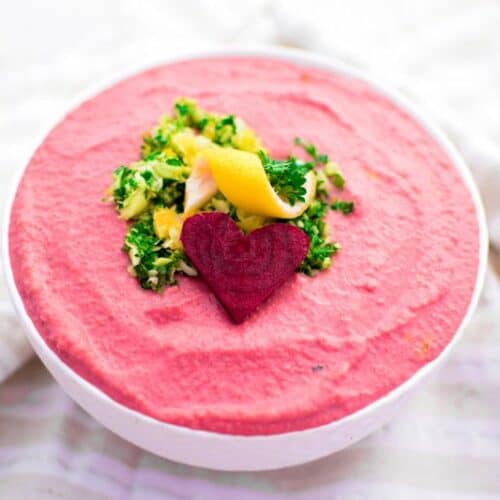 Pink Gremolata Beet Hummus
Wow everyone at your next party or get together with this eye catching, easy-to-make, naturally vegan & gluten-free, Pink Gremolata Hummus today!
Ingredients
3 garlic garlic cloves, roughly chopped
¼ cup fresh parsley
2 tablespoons extra virgin olive oil
¼ cup fresh squeezed lemon juice
1 can cannellini beans, drained (you can use any type of white bean)
8 ounces cooked beets, drained
¼ cup tahini butter
¼ teaspoon salt
¼ teaspoon black pepper
Instructions
Add the garlic, parsley, olive oil and lemon juice to the food processor and pulse until roughly chopped.
Reserve a spoonful of the garlic mixture to be used as garnish.
Add the remaining ingredients to the food processor and blend for several minutes until  smooth.
Garnish with reserved garlic mixture and enjoy!
Nutrition Information:
Yield:

6
Amount Per Serving:
Calories:

180
Saturated Fat:

1.5g
Sodium:

380mg
Carbohydrates:

16g
Fiber:

4g
Sugar:

3g
Protein:

8g