Learn how to make your very own cannabis-infused beet hummus with vibrant lemon and garlic flavors. This easy-to-make, naturally vegan, and gluten-free hummus recipe comes together in just 10-minutes with a can of beans and a can of beets. This recipe includes multiple different cannabis-infusion options to suit your preferences.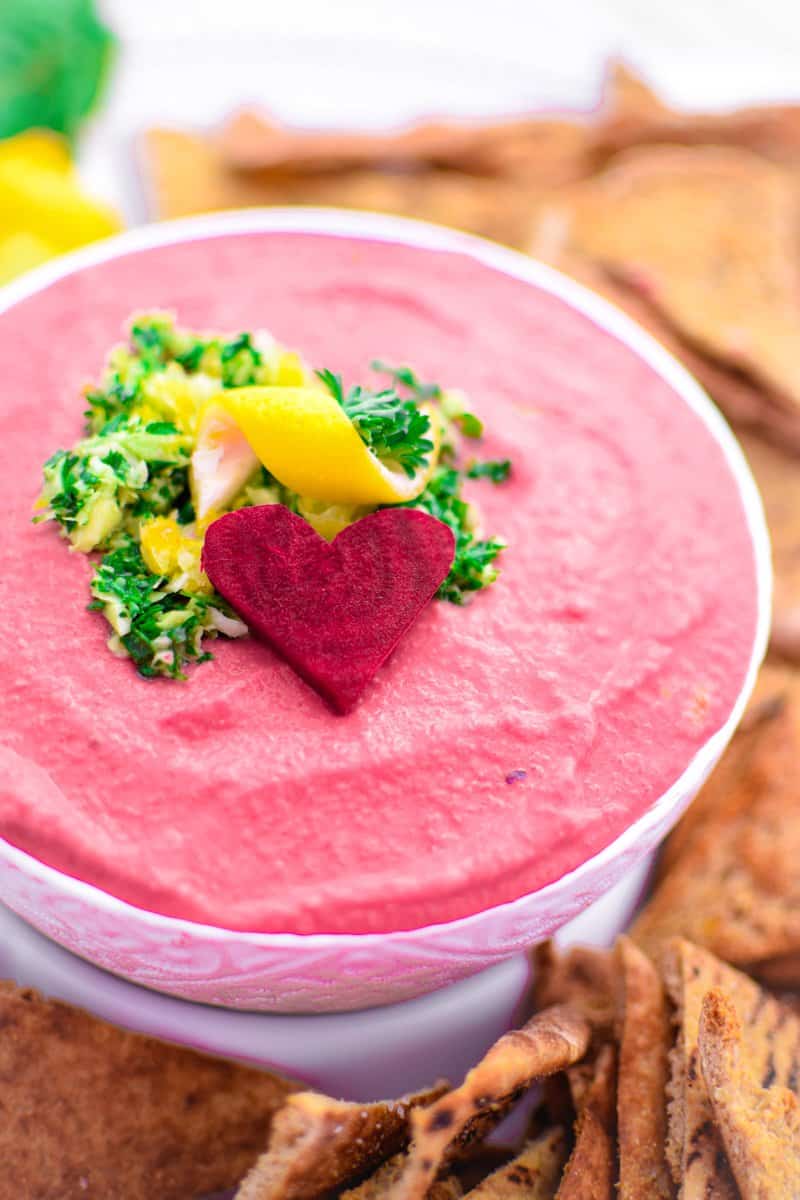 How to Make Cannabis-Infused Hummus
Everyday I get asked for more healthy cannabis recipes from my Well With Cannabis Community.
While it's common to think of cannabis edibles as being traditional sweets like brownies and cookies, the reality is that any recipe can be cannabis-infused.
And, any cannabis-infused recipe can be a healthy cannabis recipe, if desired.
Whether you're following a plant-based diet or are perhaps looking to manage the munchies, this delicious, healthy recipe is perfect for all cannabis consumers.
In this post I will cover all of the different variations for making a delicious homemade hummus at home, along with all of the different ways you can infuse cannabis into this dish.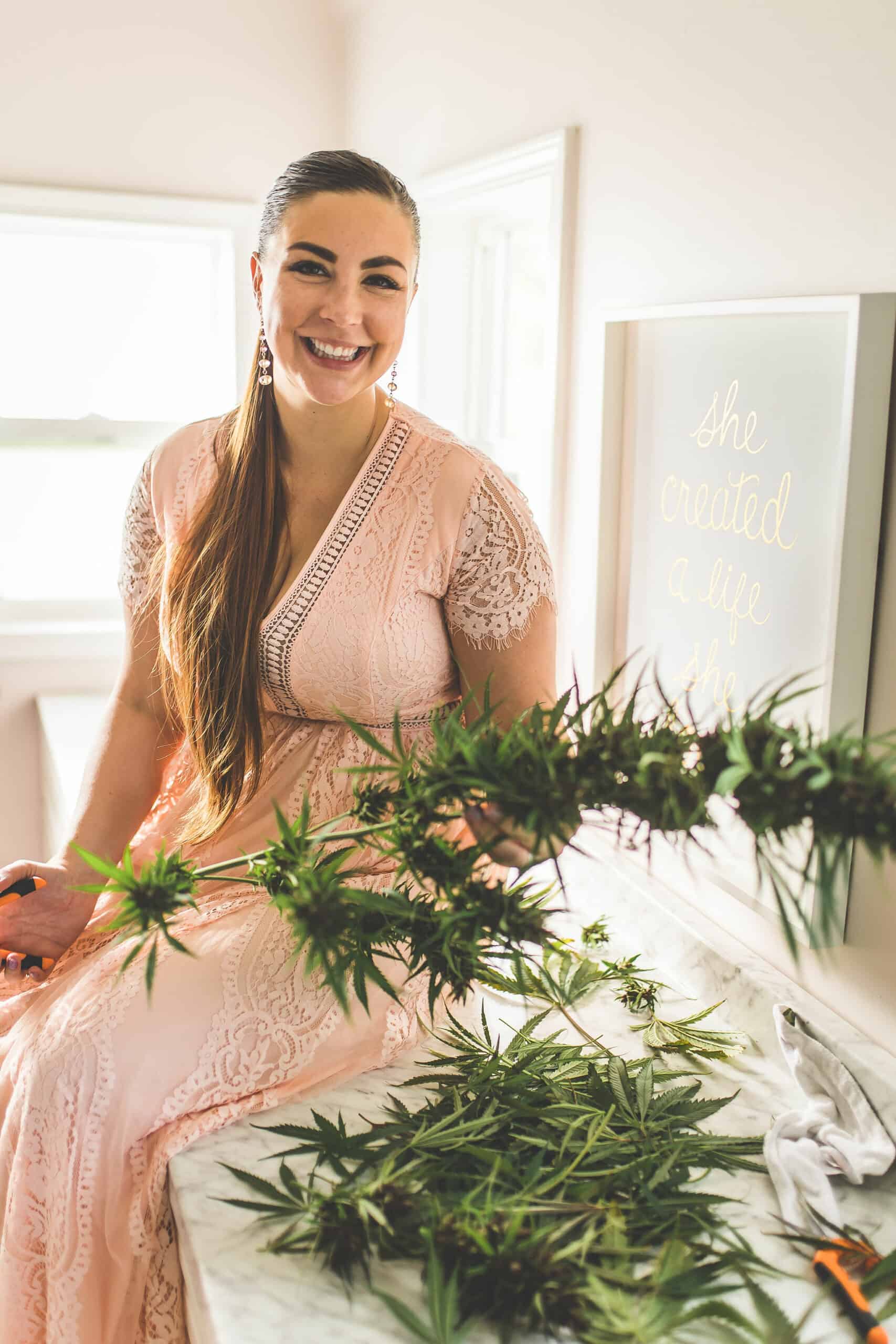 Looking For More Support?
Join thousands of members inside my private Well With Cannabis Community to ask questions, find support, and share your edible creations!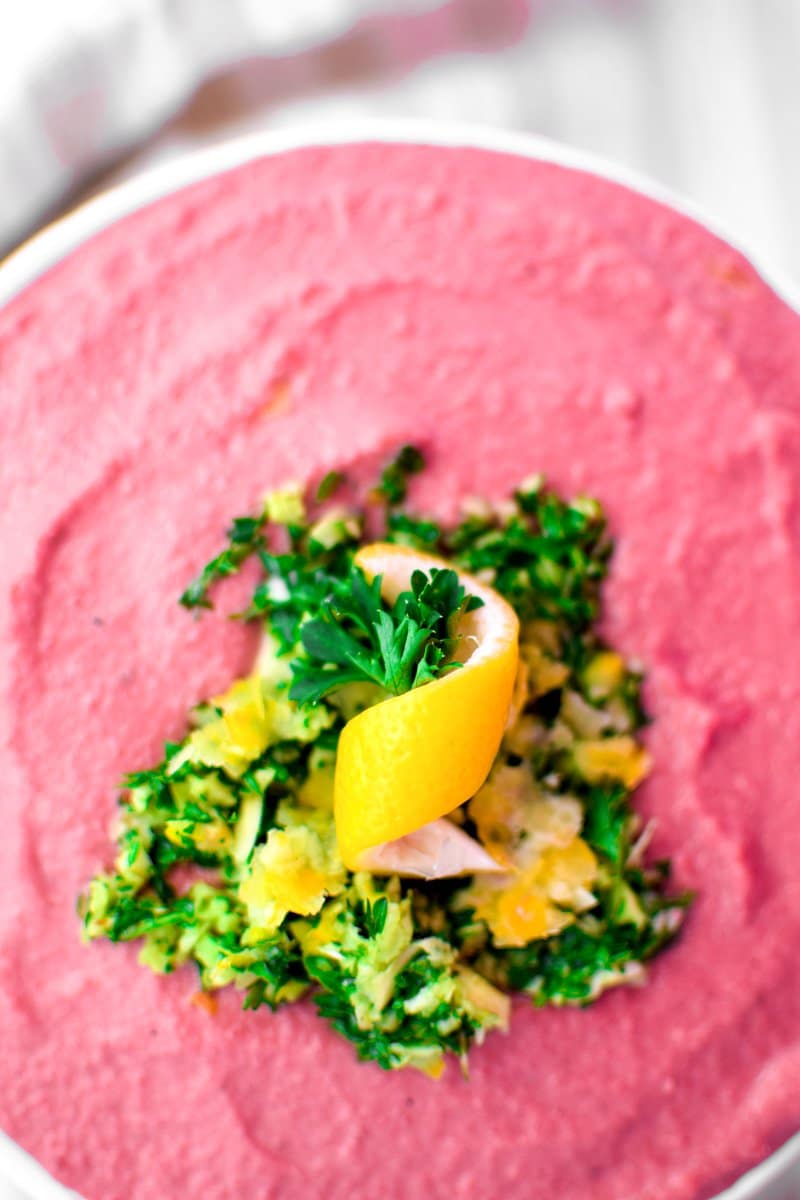 Make Homemade Hummus Your Way
Making hummus at home is much easier than you think; the only thing you need is a good food processor and a great recipe, and you are 10-minutes away from deliciousness.
Plus, we all know that veggies just taste better when you have a pretty dip to pair them with.
Easily made with a can of beans, hummus is 100% plant-based, gluten-free, packed with complex carbs and protein, with no artificial colors or ingredients.
One of the great things about making your own hummus at home is that you can use just about any type of bean that you have on hand.
I used traditional garbanzo beans in this recipe, but you could use white cannellini, navy beans, or even pinto beans.
What I love most about this recipe is the versatility of the dish.
You can easily mix and match your flavors and ingredients based on your personal preferences.
Once made, you can enjoy this as dip paired with your favorite veggie or whole-grain crackers.
I have found that it makes the perfect spread on any sandwich or wrap as an alternative to mayo or dressing.
What Is Gremolata?
Gremolata is a traditional Italian herb condiment that combines parsley, lemon zest, and fresh garlic with olive oil.
The fresh and tasty flavor of this dish is due to the gremolata flavor profile and really makes this hummus pop.
What If I Don't Like Beets?
Now, I don't particularly like the taste of beets by themselves, but I can't help but be attracted to the stunning pink color they bring to every dish.
Luckily, the flavor of the beets here is very mild when paired with the delicious garlic and lemon flavor of the gremolata.
If you prefer to skip the beets, go ahead and swap them out for an extra can (14 ounces) of drained, rinsed chickpeas.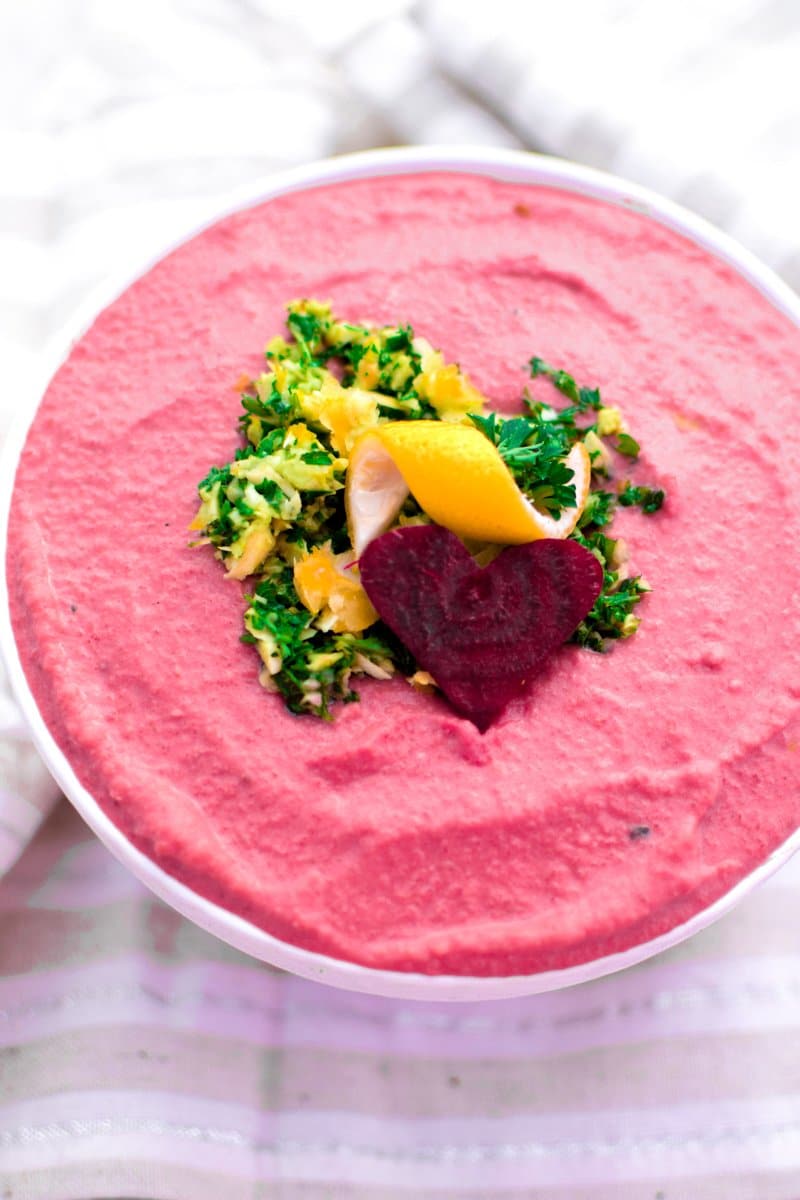 Cannabis Infusion Options
As I always teach my Well With Cannabis CommunityWell With Cannabis Community, there is always more than one way to infuse a recipe.
This recipe is no exception, and I have many different ways to infuse this hummus.
I will start with my favorite way, cannabis-infused olive oil, and then talk about alternative options including raw cannabis leaves, decarbed cannabis flower or kief, and even cannabis concentrates.
Cannabis-Infused Olive Oil
One of the easiest ways to infuse cannabis hummus is by using cannabis-infused olive oil.
Once you have a cannabis-infused olive oil prepared, you can use it anywhere, in any recipe, including this one.
If you've never made it before, you can use this cannabis olive oil recipe to easily make your own at home.
While I think EVOO works best in this recipe, there are many different types of cannabis-infused oils you can also use here, including:
Raw Cannabis Leaves
If you have access to fresh cannabis leaves you can use them to make the gremolata part of this recipe.
Fan leaves would work best here, and these should be washed well, with any long stems trimmed off, before adding to the food processor.
Keep in mind that cannabis fan leaves do not contain very high amounts of active cannabinoids and are typically not intoxicating in nature.
They do however contain some cannabinoid acids, like THCA and CBDA.
These acids have many powerful benefits on their own, are generally non-intoxicating in nature.
Cannabis leaves also contain many nutrients and other amazing compounds in their fresh state, like CBDA, THCA, and terpenes.
To add them to this recipe, simply add ¼ cup of raw cannabis leaves in addition to the ¼ of fresh parsley.
Decarbed Cannabis Flower
Using decarbed cannabis flower is no different than using any other ground spice or herb in this recipe.
To experience the benefits of activated THC or CBD, the cannabis must first undergo a process called decarboxylation.
Without decarboxylation, you will not experience the full range of activated cannabinoids such as THC or CBD.
You can use the oven in your kitchen to provide the heat needed to decarb the cannabis.
If you've never gone through the process before, have no fear, decarbing really is simple.
Bake the dried cannabis in the oven at 240° F for 40 minutes for a THC-dominant flower and 240° F for 90 minutes for a CBD-dominant flower.
If you have never decarbed before, you can get started with my beginners guide to cannabis decarboxylation here.
After this process occurs, you can add this decarbed flower to any recipe, such as my favorite cannabis ranch or cannabis taco seasoning.
Because each person has a different endocannabinoid system and responds to cannabis differently, it is important to add an appropriate amount for your personal tolerance.
If you want to infuse the recipe with decarbed cannabis flower, I recommend using 1 teaspoon of ground, decarbed cannabis flower, and adjusting as needed to suit your individual needs.
Decarbed Kief
Kief is the fine, powdery substance that accumulates at the bottom of a grinder or other cannabis container.
Kief typically contains the highest concentration of resinous glands, or trichomes, that contain the cannabinoids like CBD, THC, CBG, etc.
This means that kief can be much more potent than flower or trim.
Because of this, you may be able to use less of it in this recipe, or more, depending on the effect you're looking for.
Remember that you still need to decarb the kief just as you would traditional flower to enjoy the activated benefits of CBD, THC, CBG, etc.
If you've never worked with kief before, you can get my full guide to decarbing and making edibles with kief here.
If you want to infuse the recipe with decarbed cannabis kief, I recommend using 1 gram or less of decarbed cannabis kief, and adjusting as needed to suit your individual needs.
Leftover Cannabis Pulp
Leftover cannabis pulp is the leftover cannabis flower material that remains after the straining process when making cannabutter, cannabis coconut oil, cannabis olive oil or any other oil infusion.
Many people tend to throw out these cooked leaves after extraction, but I recommend saving them, especially for a full-spectrum experience.
The leftover leaves are not that potent after the infusion process has taken place, but they contain beneficial nutrients and even a few remaining cannabinoids.
Plus, the terpenes in the cannabis pair well with the terpenes found in the other herbs and spices used in this recipe.
As long as you like the taste and enjoy it, it's great to reuse and recycle cannabis plant byproducts wherever possible.
If you haven't already, I do recommend grinding down the leftover pulp to a more fine consistency so it blends into this recipe nicely.
How Much Pulp To Use?
If you're brand new to cannabis edibles, it's important to note that it can be difficult to estimate your final product potency.
It is even more difficult to estimate the potency of leftover pulp because most of the cannabinoids will have already been extracted during the cooking process.
Ultimately, the potency of your leftover weed material will depend on two things, the potency of your starting material (i.e., buds, flowers, or trim, regular vs. CBD flower) and the cooking process you have already used.
I recommend adding just 2 teaspoons of leftover flower pulp in addition to the other ingredients of this recipe and going from there.
This will give you time to experiment with the potency and the taste, too, as the spent cannabis flower can have a powerful taste for some individuals.
Cannabis Concentrates
One of the easiest ways to make infused foods is with cannabis concentrates.
These are the most convenient, easy-to-use, pre-prepared concentrated products for cannabis infusions.
Because they are concentrated, you only need to add a tiny bit to each recipe to get the experience you are looking for.
Because you only need to add a tiny bit, cannabis concentrates will not disrupt your food's volume, texture, or flavor.
For this reason, cannabis concentrates are the perfect way to infuse this cannabis hummus.
Distillate Concentrates
While THC-dominant cannabis concentrates must be purchased at a recreational or medical dispensary in a legal state, CBD-dominant cannabis concentrates can be purchased from my shop here.
Full Extract Cannabis Oil (FECO)
Full-extract cannabis oil, also known as FECO, is a concentrated, whole-plant, full-spectrum cannabis extract.
This means that all of the important plant compounds, from cannabinoids to terpenes and other plant materials, are present in the extract.
FECO is a powerful concentrated cannabis extract that interacts with our own endocannabinoid system.
Because of its potency, a few drops may be all you need for a perfectly dosed hummus.
Simply stir in your FECO during step 3.
If you are interested in making your own FECO, check out my post detailing how to make full-extract cannabis oil here.
How to Determine The Dosing
Want to get a more accurate guesstimate of the potency of your cannabis infusions and extractions? Try our popular edibles calculator!
Not sure what your perfect dose is? Learn more here.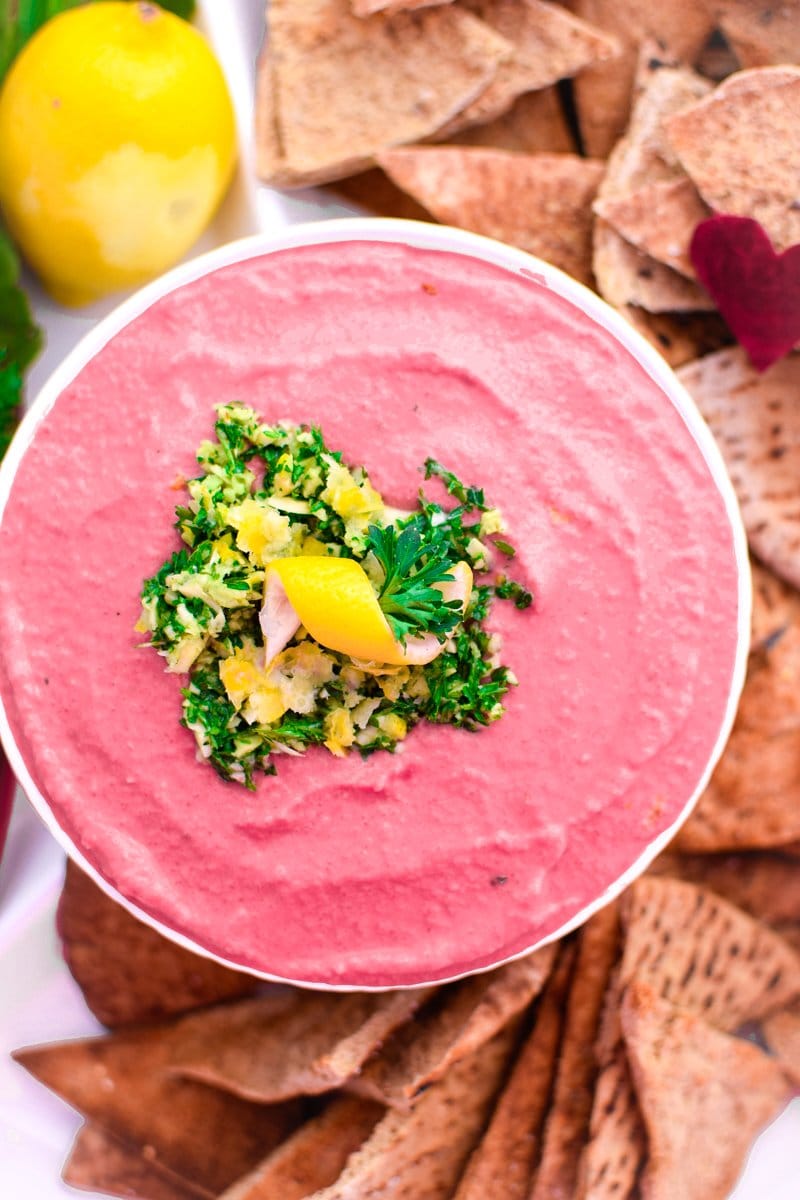 Want To Make This Easier? Use A Machine!
If the process of decarbing and infusing feels like too much work, an all-in-one countertop device may be a perfect all-in-one solution!
My personal favorite? The Ardent FX! Review the six most popular infusion machines here.
Want A Discount Code?
My Edibles Made Easy Online Cooking Course will teach you how to make cannabis edibles and topical recipes at home with ease. This step-by-step video course will teach you how to infuse, extract, and create edibles with many different product types - all from the comfort of your own home.

Learn more and enroll today →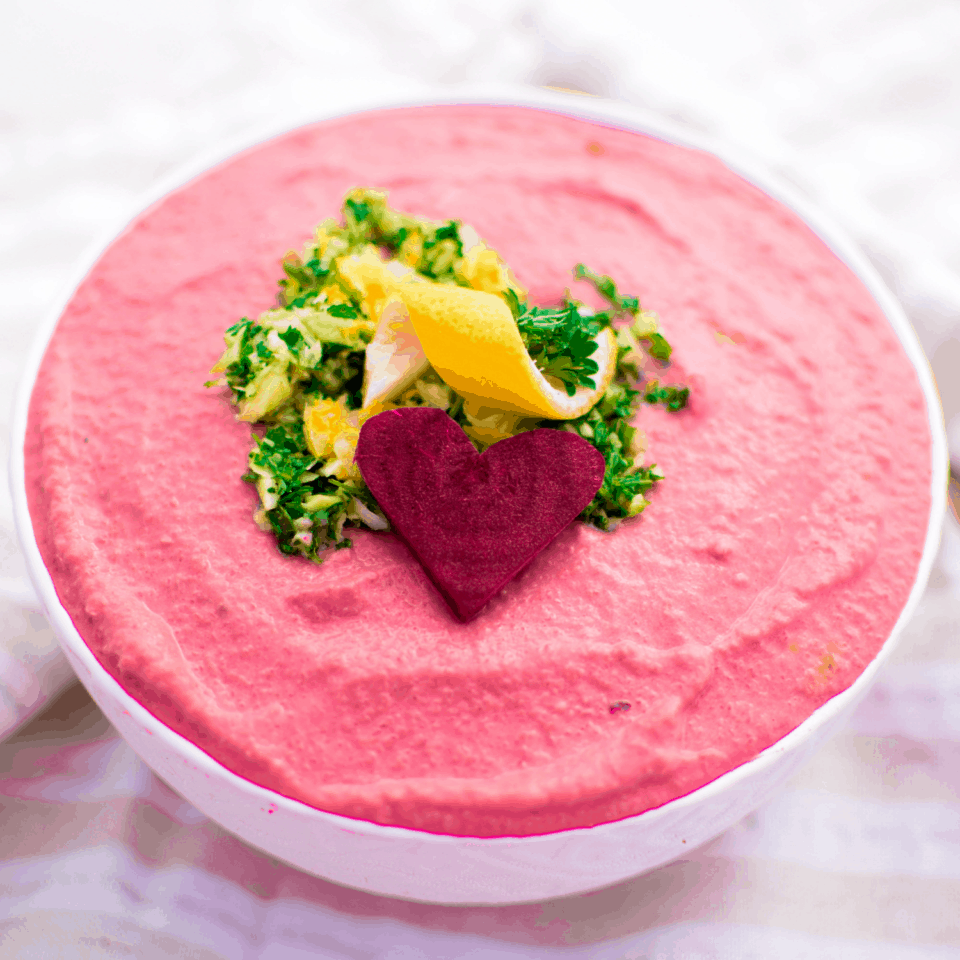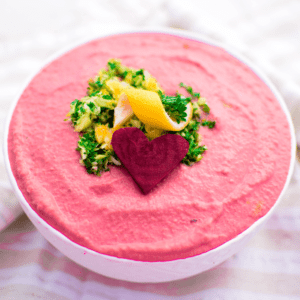 Cannabis-Infused Beet Hummus
Learn how to make your very own cannabis-infused beet hummus with vibrant lemon and garlic flavors. This easy-to-make, naturally vegan, and gluten-free hummus recipe comes together in just 10-minutes with a can of beans and a can of beets.
Instructions
Add the garlic, parsley, olive oil and lemon juice to the food processor and pulse until roughly chopped.

Reserve a spoonful of the garlic mixture to be used as garnish.

Add the remaining ingredients to the food processor and blend for several minutes until  smooth.

Garnish with reserved garlic mixture.

Enjoy this hummus with fresh veggies or your choice of crackers.
Notes
Alternate Infusion Options:
Nutrition
Serving:
2
ounces
Calories:
135
kcal
Carbohydrates:
14
g
Protein:
4
g
Fat:
8
g
Saturated Fat:
1
g
Sodium:
103
mg
Potassium:
161
mg
Fiber:
3
g
Sugar:
4
g
Vitamin A:
127
IU
Vitamin C:
5
mg
Calcium:
28
mg
Iron:
1
mg
Did you make this recipe or have a question?
Join hundreds of members inside private Well With Cannabis Community for help, support, and to share your edible creations!