This chickpea spinach salad made with avocado, salty roasted chickpeas, and a zesty lemon cannabis vinaigrette is a nutrient-dense powerhouse bursting with flavor. Packed with fiber and protein, this salad is satisfying enough to be an enjoyable entree or main dish. Recipe modifications for vegan, paleo and Keto diets included.
Chickpea Spinach Salad with Cannabis Lemon Vinaigrette
Every day, I get asked by my Well With Cannabis Community members for more healthy cannabis recipes.
It's an honor, really, being a Registered Dietitian and a Cannabis Practitioner, to create delicious, healthy cannabis recipes for you all.
There are a few extra steps that keep this recipe from being a 'quick and easy salad,' but I promise you it will be worth your time for not only this recipe but for your meal prep game.
Once you have all of the main ingredients prepared, like the salty roasted chickpeas and the truly drool-worthy zesty cannabis lemon vinaigrette, you can put this salad together in 5-minutes.
While I favor the recipe below as-is, I have included recipe modifications for a plant-based option, a paleo diet option, and a Keto option for you below to ensure this delicious dish can be enjoyed by all.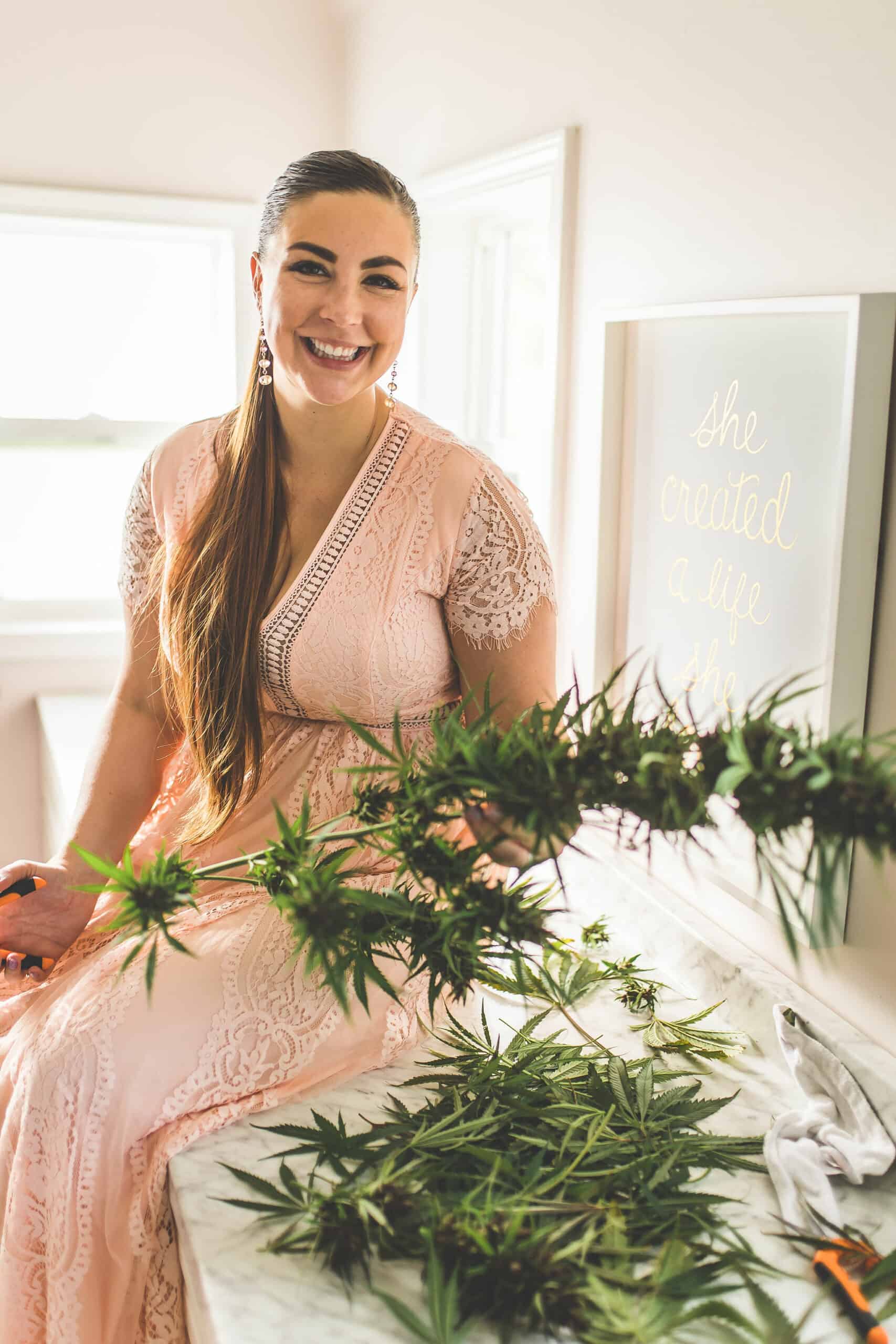 Looking For More Support?
Join thousands of members inside my private Well With Cannabis Community to ask questions, find support, and share your edible creations!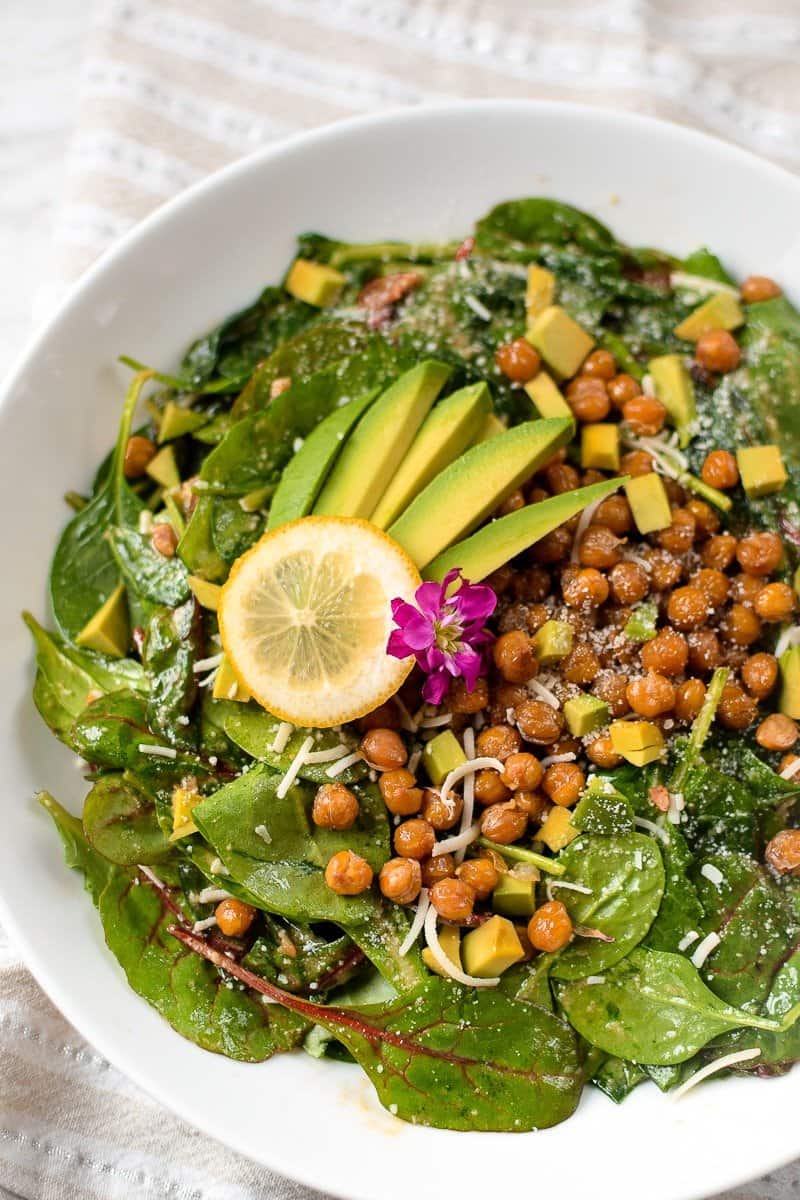 Make Salty Roasted Chickpeas
I'm just going to say this ahead of time; you really should make double the batch of these salty roasted chickpeas because you're going to eat half of them off the sheet pan before they make it onto your salad.
And if you like to snack, you're going to want to have some extra salty roasted chickpeas leftover because they are honestly just as satisfying and delicious as chips, with more nutritional health benefits.
Chickpeas, also known as garbanzo beans, are a member of the legume family and are a plant-based food that serves as a good source of protein, carbohydrates, dietary fiber, and other nutrients like vitamins, minerals, and antioxidants.
Chickpeas help to make this salad a satisfying plant-based entree because of their high protein and dietary fiber content.
They contain soluble fiber, which helps to promote healthy gut flora, and are considered low glycemic food thanks to the resistant starch called amylose that digests slowly in the body.
There are complete instructions below for making your own salty roasted chickpeas, and you can definitely make them ahead of time if you're meal prepping.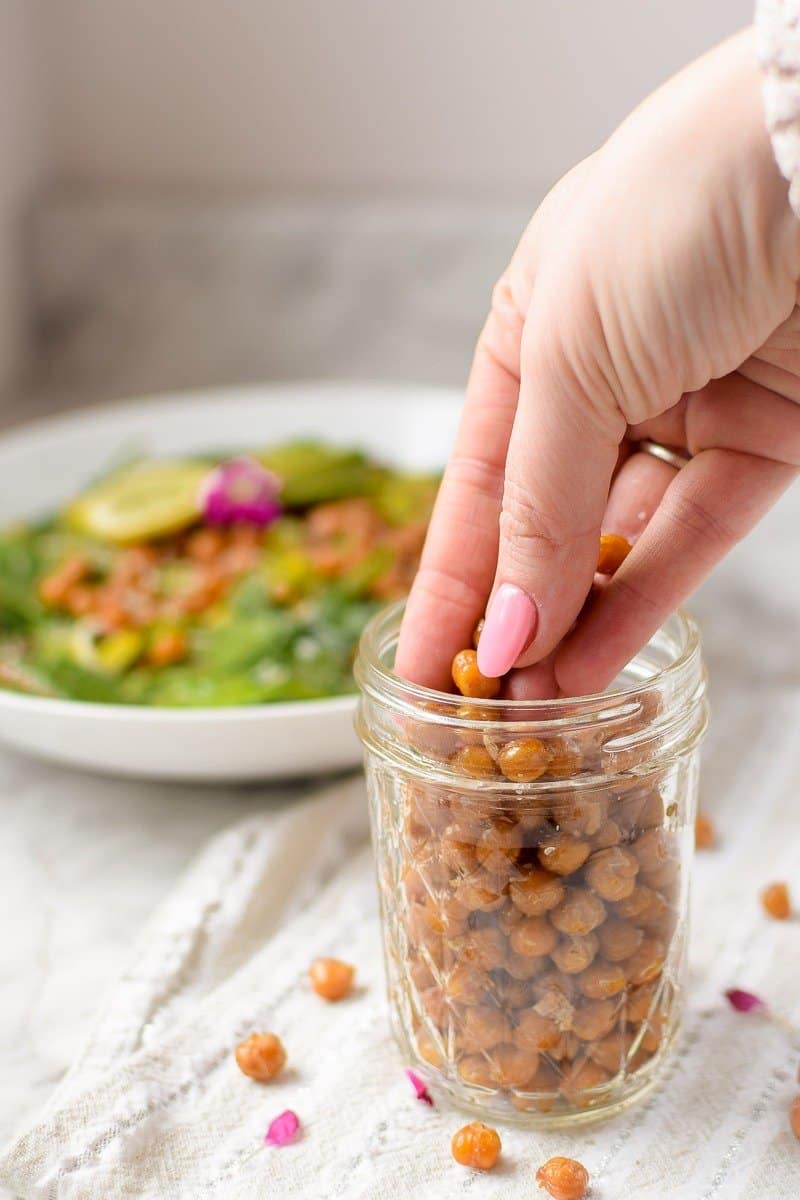 Make Zesty Lemon Cannabis Vinaigrette
This dressing truly makes the salad, it is that good.
If you don't already have it made, you can get printable instructions for the Zesty Lemon Cannabis-Infused Vinaigrette here.
I've included many different ways to infuse this recipe with:
With so many options, you can choose exactly how you want to infuse this dressing.
And have no worries, you can easily customize this dressing to be plant-based or dairy-free if you need to by omitting the freshly grated parmesan cheese.
I used to be intimidated by the idea of making my own homemade salad dressings until I started writing cookbooks, which forced me to make endless amounts of homemade dressing during testing and production.
It turns out, making homemade salad dressing is much easier than expected, and in most cases, tastes 100% better than store-bought dressings.
It only takes about an extra 10-minutes to make and can stay in the refrigerator for a surprisingly long time.
Consider Investing in an Immersion Blender
While you can easily make this recipe by shaking all of the ingredients together vigorously in a mason jar, I highly suggest investing in an immersion blender if you anticipate making homemade salad dressing more than once in your life.
An immersion blender, also known as a stick blender, really is a handy tool to have on hand in the kitchen and is good for more than just making salad dressing.
Freshly Squeezed Lemon Juice
One more small suggestion for making this recipe as amazing as possible, take the 5 extra seconds to freshly squeeze your lemon juice.
Of course, if you are strapped for time, you can easily use bottled lemon juice, but if you have a moment, squeeze that lemon!
My tip for squeezing a lemon quickly and easily?
Put the lemon in the microwave for 20 seconds, carefully remove it and place it on the counter.
Roll the lemon between your palm and the countertop a few times, with some force, and then squeeze it using a glass citrus juicer.
I got my glass citrus juicer from Goodwill for 99 cents, but you could also grab one from Amazon here.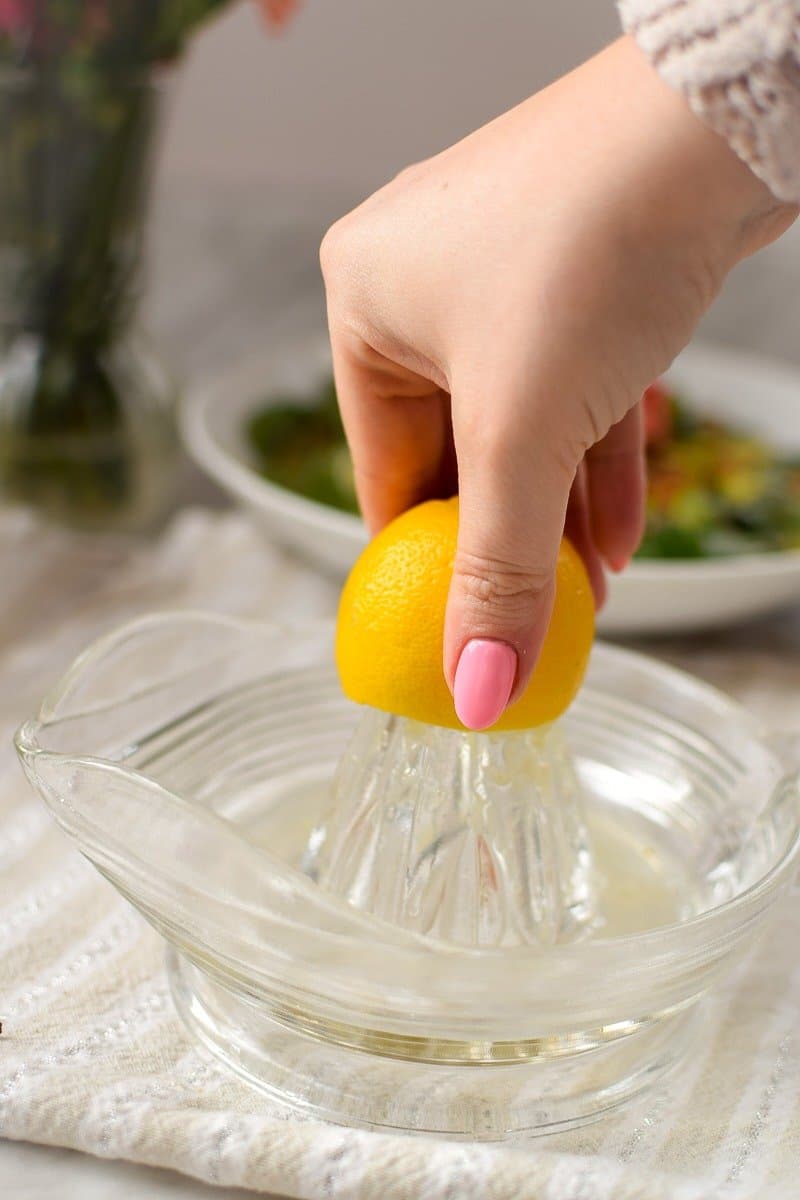 Optional, Use Fresh Cannabis Leaves
While not all people have access to fresh cannabis leaves, for those who do, using them up in a salad is a great way to reap the benefits.
In addition to many nutritional benefits typically associated with dark-green leafy vegetables, the cannabis plant also contains unique phytocannabinoids that nourish the endocannabinoid system.
Cannabis leaves do not produce cannabinoids quite as the mature female flower buds do; they contain important nutrients, antioxidants, and cannabinoid acids like THCA and CBDA, meaning they are not useless.
Additionally, they also contain beneficial compounds known as terpenes.
How to Prepare The Leaves
Small, immature fan leaves and small sugar leaves make the best salad greens.
Large, older fan leaves are oftentimes too tough to be enjoyed in a salad and are better off used to be juiced to blended in a smoothie.
Harvest, wash, and dry the cannabis leaves just as you would with kale or spinach leaves.
Give a rough chop of the leaves, removing all long stems as necessary, and enjoy.
Recipe Modifications by Diet
Below you will find diet modifications for plant-based, Paleo, and Keto version of this recipe.
Of course, if you currently need help with one of these specific diets or are wondering which one is right for you, I recommend working with a professional who can help you reach your goals safely.
Plant-Based Diet Modifications
Plants are amazing and I agree that we should all be eating more of them.
For some people, a plant-based diet is defined by consuming few or little animal products, while other people view a plant-based diet as a completely vegan diet, meaning free of any animal products.
There is no right or wrong take on plant-based and what it means to you, it is all subjective.
If you want a plant-based dish that contains few animal products, go ahead and enjoy this dish as-is.
For a complete vegan diet modification of this recipe, eliminate the parmesan cheese from both the dressing and the salad.
Paleo Diet Modifications
After working as a Paleo diet consultant for many years, I have gotten pretty good at making delicious Paleo diet swaps and substitutions.
I also included a Paleo-friendly option on almost all of the recipes in my cookbook, The 30-Minute Thyroid Cookbook.
The Paleo diet excludes dairy and legumes, which means the Parmesan and the chickpeas have to go in this recipe.
For the chickpeas, I would substitute them for a half-pound of cooked and diced, organic, free-range chicken.
Keto Diet Modifications
I do know that there are many people who appreciate a low-carb, high-fat recipe for a variety of reasons.
As long as you are safe and happy, you do you, I'm not here to judge.
To make this recipe Keto-friendly, or simply lower carb and higher in protein and fat, substitute the chickpeas for a half-pound of cooked and diced, organic, free-range chicken.
Depending on your specific nutrient needs, you may want to add more chicken, cheese, or dressing as needed.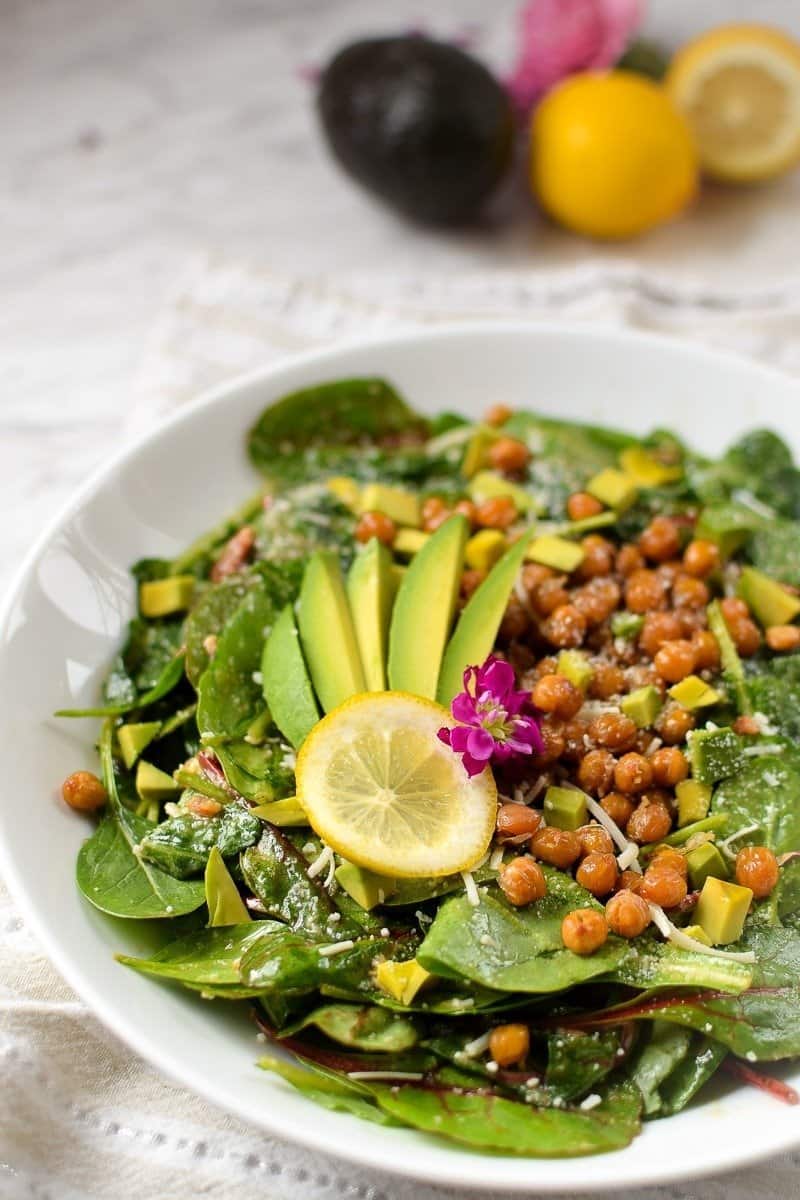 Get More Cannabis Salad Recipes
Are you looking for more healthy cannabis recipes, including salads and dressings?
I've got you covered with these delicious options below:
And if you're struggling with the munchies, be sure to get my 10 Helpful Tips for Managing the Munchies here!
How to Determine The Dosing
Want to get a more accurate guesstimate of the potency of your cannabis infusions and extractions? Try our popular edibles calculator!
Not sure what your perfect dose is? Learn more here.

My Edibles Made Easy Online Cooking Course will teach you how to make cannabis edibles and topical recipes at home with ease. This step-by-step video course will teach you how to infuse, extract, and create edibles with many different product types - all from the comfort of your own home.

Learn more and enroll today →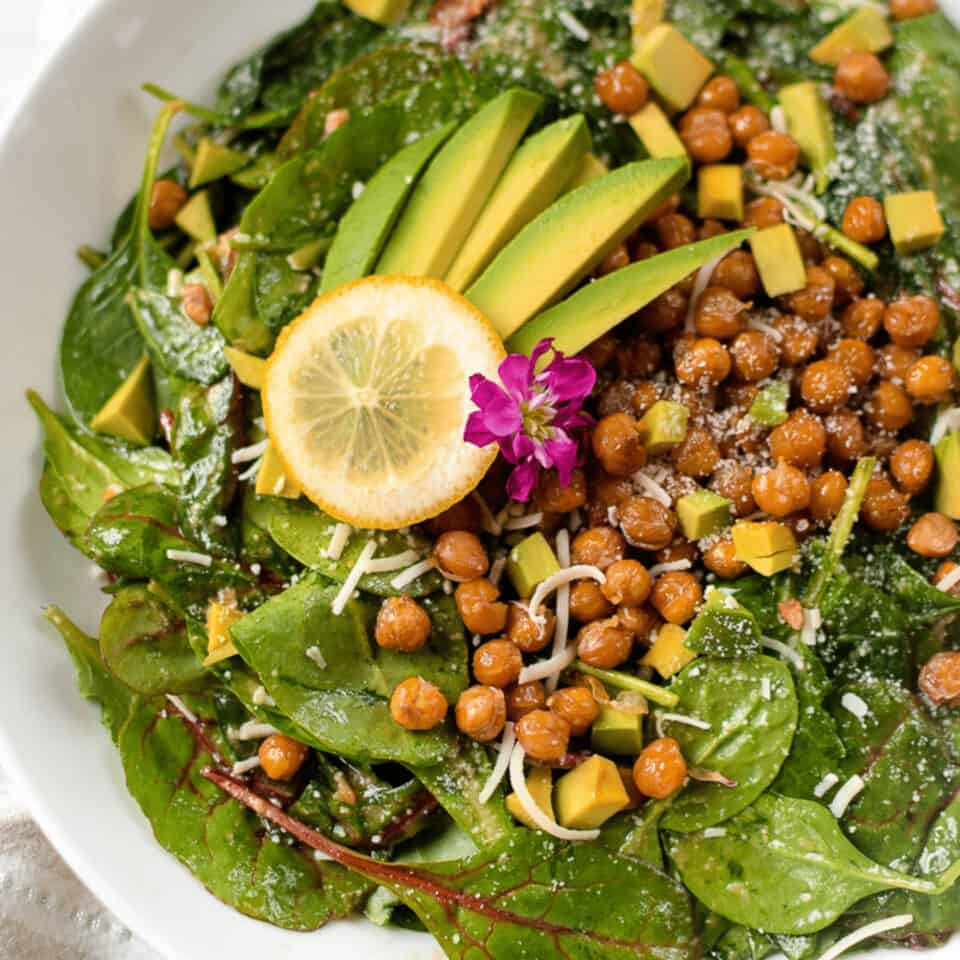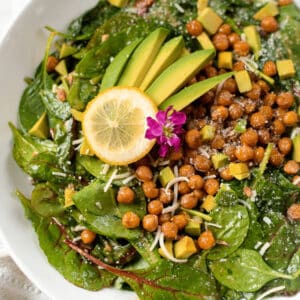 Chickpea Spinach Salad with Cannabis Lemon Vinaigrette
This chickpea spinach salad made with avocado, salty roasted chickpeas, and a zesty lemon cannabis vinaigrette is a nutrient-dense powerhouse bursting with flavor. Packed with fiber and protein, this salad is satisfying enough to be an enjoyable entree or main dish. Recipe modifications for vegan, paleo and Keto diets included.
Ingredients
Chickpea and Spinach Salad
Instructions
For the Salty Roasted Chickpeas
Preheat the oven to 425°F. Line a baking sheet with foil and set it aside.

Place the chickpeas on a layer of paper towel and cover with a second layer. Dry the chickpeas as much as possible.

Transfer them to the reserved sheet pan and coat with olive oil and sea salt.

Place the sheet pan in the hot oven and roast for 12 minutes.

Turn the chickpeas over with a spatula and roast for another 10-12 minutes. When crisp, remove from the oven, set aside and allow to cool.
Assembling The Salad
Chop the kale and spinach mix, and cannabis leaves, if using, into small pieces, if desired— place in a serving bowl.

Pour the cannabis lemon vinaigrette over the blend and mix with tongs until all leaves are well coated. Allow the salad to sit with the dressing on for 15 minutes. 

Immediately before serving, remix the salad. Top with the salty roasted chickpeas, diced avocado, and parmesan cheese. 

Give the salad a grind of fresh black pepper and serve immediately. 
Nutrition
Serving:
1
salad
Calories:
320
kcal
Carbohydrates:
47
g
Protein:
18
g
Fat:
9
g
Saturated Fat:
2
g
Cholesterol:
4
mg
Sodium:
1269
mg
Potassium:
973
mg
Fiber:
9
g
Sugar:
6
g
Vitamin A:
13462
IU
Vitamin C:
161
mg
Calcium:
331
mg
Iron:
5
mg
Did you make this recipe or have a question?
Join hundreds of members inside private Well With Cannabis Community for help, support, and to share your edible creations!