These delicious no-bake CBD energy bites combine the nutritious goodness of oatmeal, dates, and almonds with the sweet and satisfying combination of coconut and dark chocolate with anti-inflammatory CBD oil for a delicious sweet treat.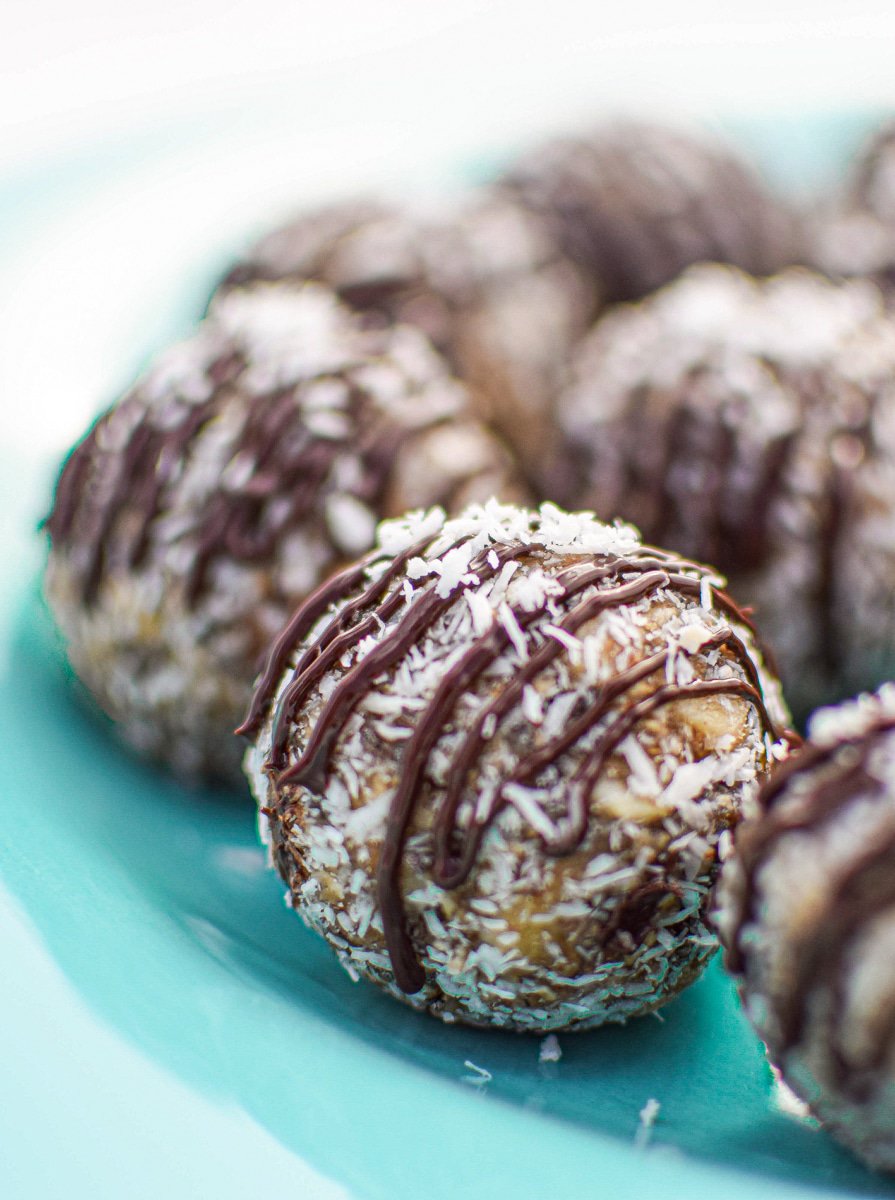 No-Bake Energy Bites
I love sweet treats more than I love any other meal or snack. I am a sweets lover, but I also know that for my own healthy holistic lifestyle, I need to be thoughtful about the food I eat every day.
Luckily, with some experimenting, I have found some pretty tasty ways to enjoy my favorite treats in a healthy and fun way. Whether it be for breakfast or a snack, CBD energy bites are always a great option.
By using nutrient-dense ingredients that taste good too, I am able to have my cake & eat it too!
I also like to infuse my energy bites with CBD oil or a teaspoon of cannabis coconut oil (depending on my mood) for an anti-inflammatory boost, but that is totally based on your own preferences.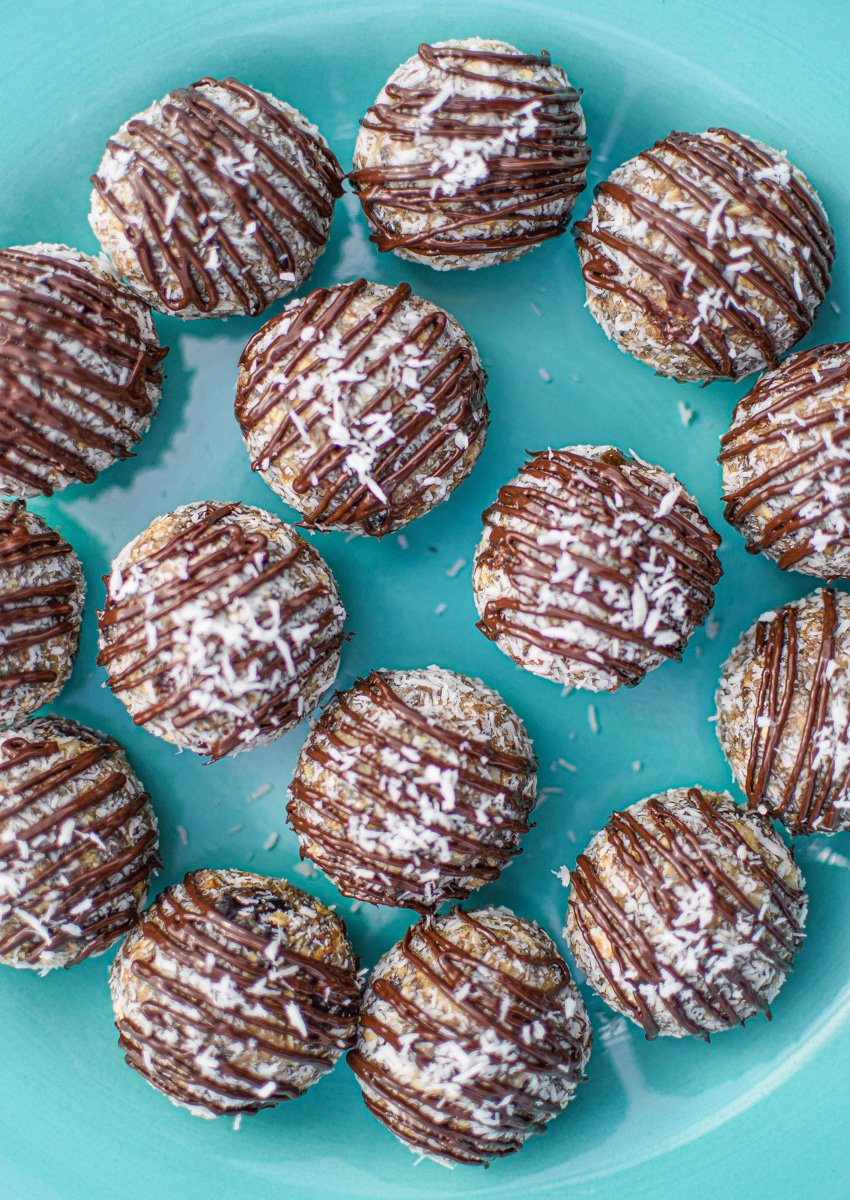 Can You Eat CBD Oil?
Yes, you can eat CBD!
You can add CBD to your favorite wellness shots, homemade CBD gummies, and a CBD smoothie, or even these delicious almond joy energy bites.
But first, as a cannabis educator, I always want to make sure you know what you're getting yourself into. Here's what I tell my Cannabis Compass Online Course students:
Orally ingesting, or eating, CBD results in a ~6% bioavailability rate, which is much lower compared to other application methods.
This means eating CBD is not the most effective way to consume it.
Oral absorption, inhalation methods, and topical absorption all have around a ~30% bioavailability rate, making them a much more cost-effective way to use CBD.
But, that doesn't mean that enjoying CBD in your favorite food and drinks is worthless.
There is both scientific and anecdotal evidence to support the idea that CBD does truly help with pain, anxiety, and more, which is why so many people are excited to add it to their food and drinks.
CBD may have the ability to help manage pain and anxiety inside the body thanks to our Endocannabinoid System. The main responsibility of the endocannabinoid system is to help maintain homeostasis in the body.
Enjoying Sugar in Moderation
One of the most important aspects of enjoying a healthy dessert or sweet treat on a daily basis (whether you have the munchies or not) is ensuring that the treats are also packed with nutrition.
These CBD energy bites have only ¼ cup of added sugar from the maple syrup and a little bit from the chocolate drizzle. Otherwise, these tasty treats are naturally sweetened with dates.
These tasty protein bites are also nutrient-dense, meaning they provide many important vitamins, minerals, and amino acids from the collagen protein powder that will serve the body well.
The oatmeal and chia seeds provide complex carbohydrates that help to prevent blood sugar spikes, while the almonds and hemp-seed butter provide heart-healthy fats needed to keep you full and focused during the day.
Your Ideal Serving Size
These tasty treats make the perfect dessert - or even breakfast or a snack! They are pretty filling and 2-3 bites make the perfect snack serving size.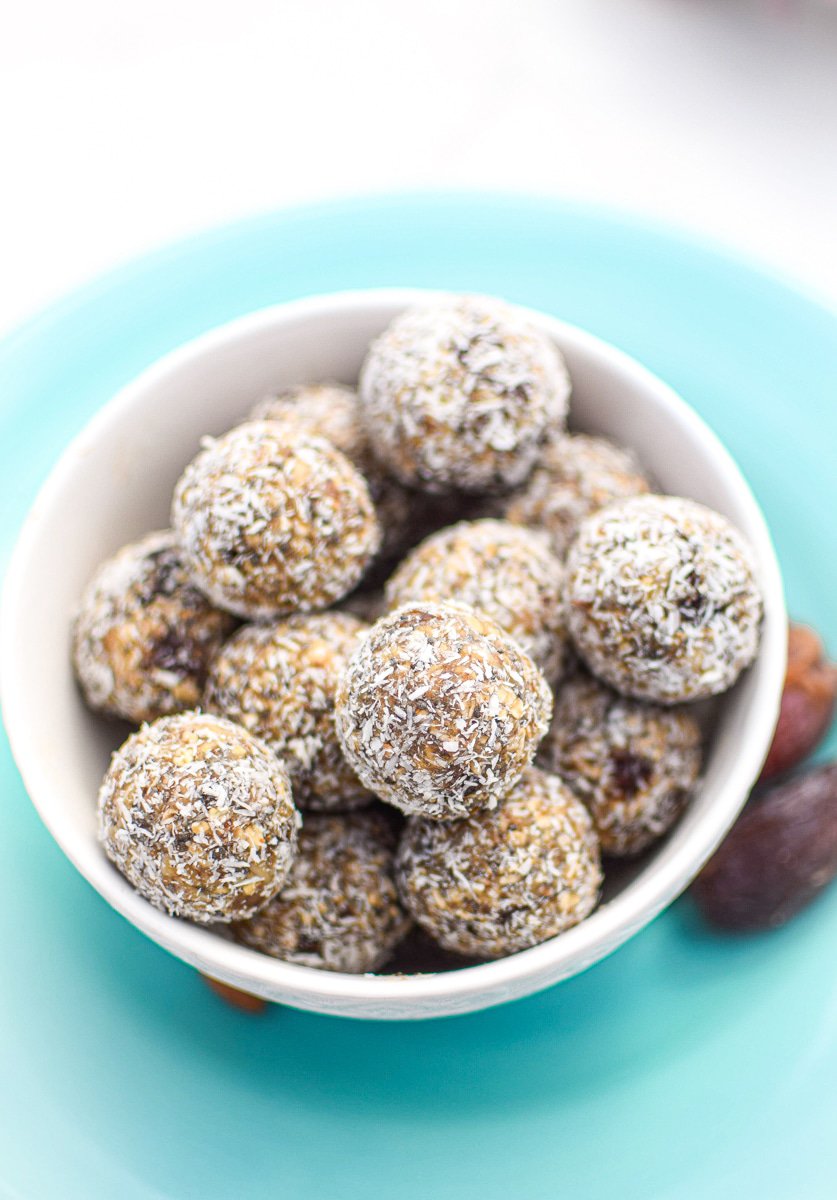 Optional: Collagen Protein Powder
Collagen is a protein that our body needs to protect the health and vitality of skin, hair, tendons, cartilage, bones, and joints. You can easily find collagen peptides at your local health food store or buy it online.
While the collagen peptides are optional in this recipe, it is recommended to add them if you can for their ability to boost the nutritional value of this recipe.
Each scoop of collagen peptides provides 20 grams of high-quality protein that can help to keep you full and satisfied after your morning meal. I prefer collagen peptides because they are a single ingredient protein source, but if you have a protein powder you already love, feel free to use it!
How Much CBD Should I Add?
The one thing I teach my Cannabis Compass Online Course students is that we all have completely unique reactions to CBD and cannabis due to our own unique Endocannabinoid systems.
This means that you should decide on how much CBD to add based on your own body and personal experience. I've called for 1mL of CBD oil in this recipe, but that will vary based on the concentration of the CBD oil that you're using.
My full-spectrum CBD oil is a 500mg bottle providing 16mg of CBD per 1mL dropperful. A 1000mg bottle, for example, would provide twice as much CBD per dropperful.
My own CBD product is a full-spectrum product, meaning it contains trace amounts of THC.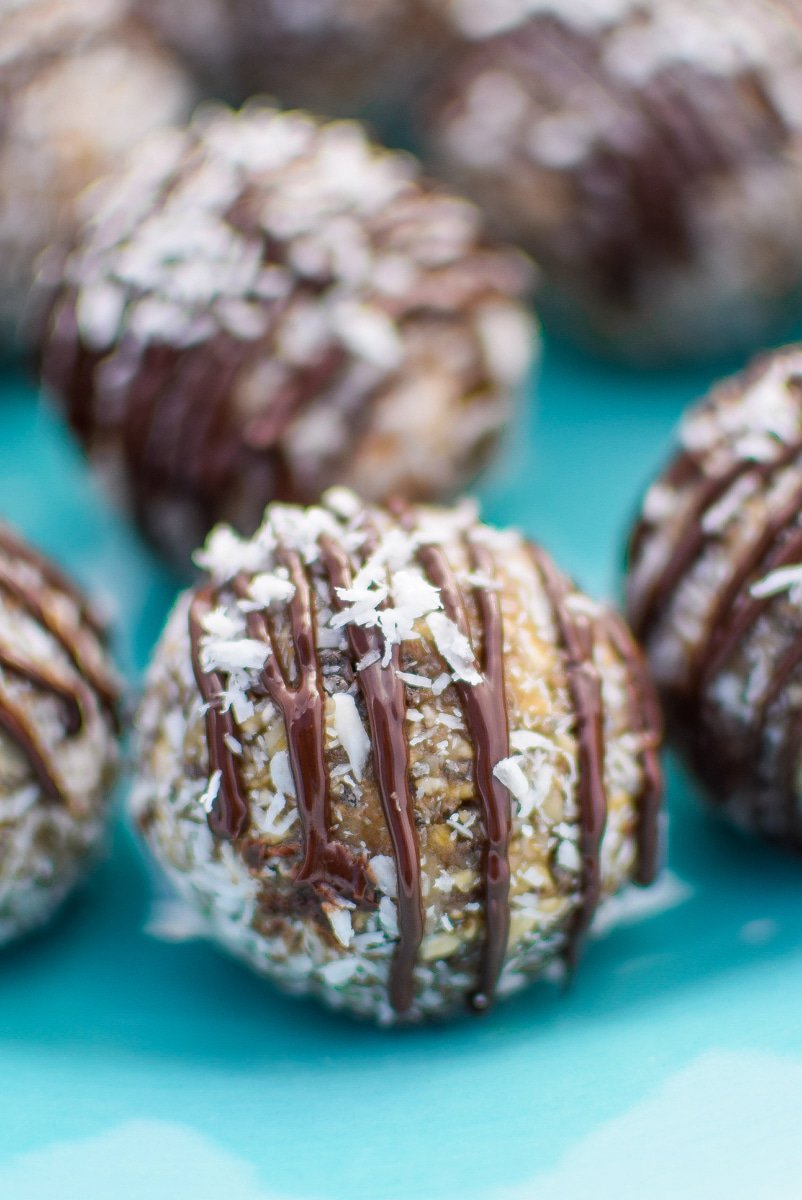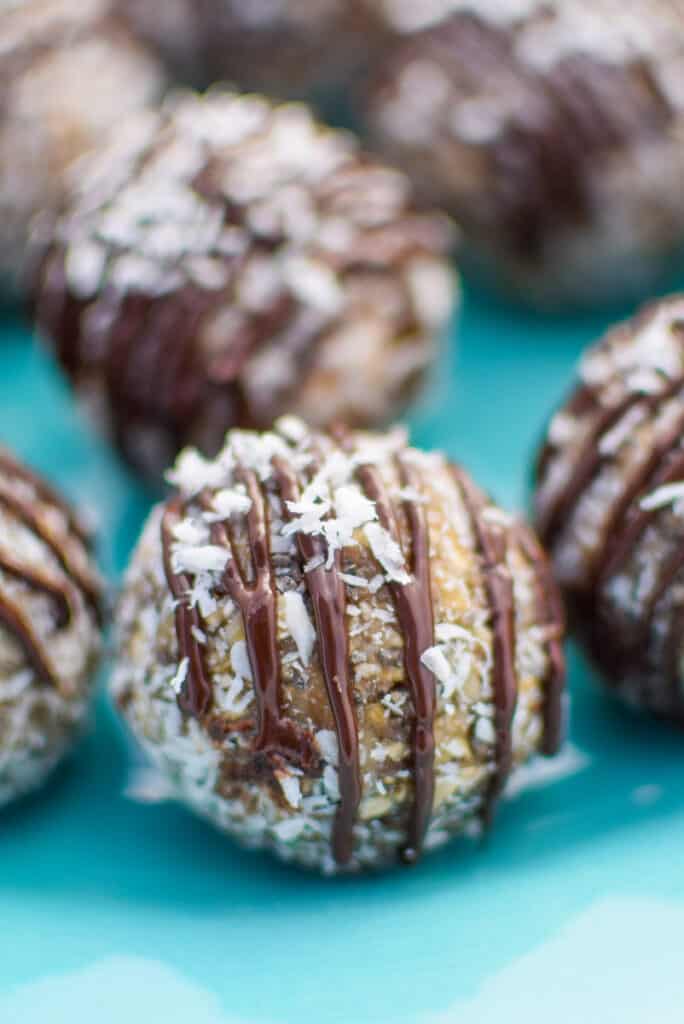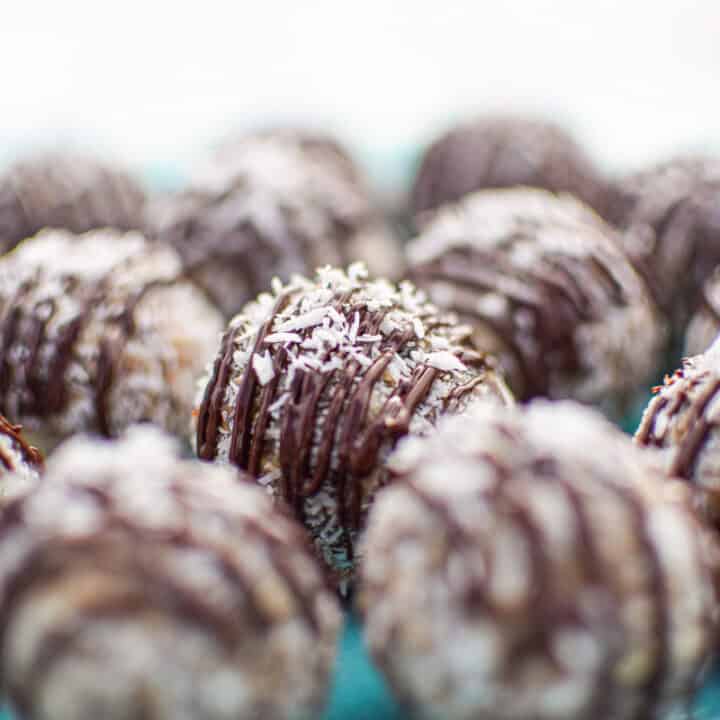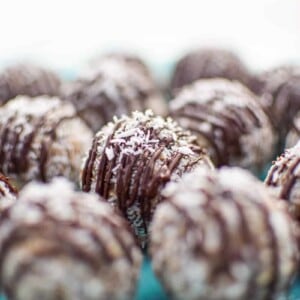 Almond Joy CBD Energy Bites
These no-bake Almond Joy Energy Bites combine the nutritious goodness of oatmeal, dates, and almonds with the sweet and satisfying combination of coconut and dark chocolate with anti-inflammatory CBD for a delicious, gluten-free treat.
Ingredients
1

cup

old fashioned rolled oats

gluten-free

⅔

cup

almonds

slivered

¼

cup

chia seeds

2

scoops

unflavored collagen peptides

3

tablespoons

unsweetened shredded coconut flakes

divided

1

cup

dates

pitted, chopped

½

cup

of coconut milk

¼

cup

hemp seed butter

or nut butter of choice]

¼

cup

maple syrup

1

teaspoon

almond extract

1

mL

CBD Oil
Optional Chocolate Drizzle
2

tablespoons

dark chocolate chips

¼

teaspoon

coconut oil
Instructions
In a large bowl add the oats, almonds, chia seeds, collagen peptides, and 1 tablespoon of coconut flakes. Stir together to mix well.

Add the dates, coconut milk, hemp butter, maple syrup, almond extract, and CBD oil.

Using a spatula, or clean hands, mix everything together well until all ingredients are well incorporated

Create 1" balls and roll them between your palms until they are perfectly ball-shaped. If you are doing a chocolate drizzle, set these balls aside on parchment paper.

When all the bites are formed, roll each ball in the remaining coconut flakes and return to the parchment paper.

In a small microwave-safe dish, microwave the chocolate chips for 60 seconds. Remove, stir, and add coconut oil, microwave for another 30 seconds.

Remove and stir. Microwave in additional 30-second intervals as needed until smooth.

Gently pour the chocolate into the corner of a ziplock bag. Snip a small piece off the corner and drizzle away.
Nutrition
Serving:
1
g
Calories:
105
kcal
Carbohydrates:
12
g
Protein:
5
g
Fat:
6
g
Saturated Fat:
2
g
Polyunsaturated Fat:
3
g
Sodium:
3
mg
Fiber:
2
g
Sugar:
7
g
More Cannabis Recipes to Try
Looking for more healthy cannabis recipes to try? Check out these:
And if you're having trouble managing the munchies, be sure to check out my 10 Tips For Managing the Cannabis Munchies!