Learn how to make a delicious cannabis strawberry vinaigrette with fresh strawberries, white balsamic vinegar, and cannabis oil to pair with a deliciously creamy strawberry burrata salad that is naturally low-carb and gluten-free.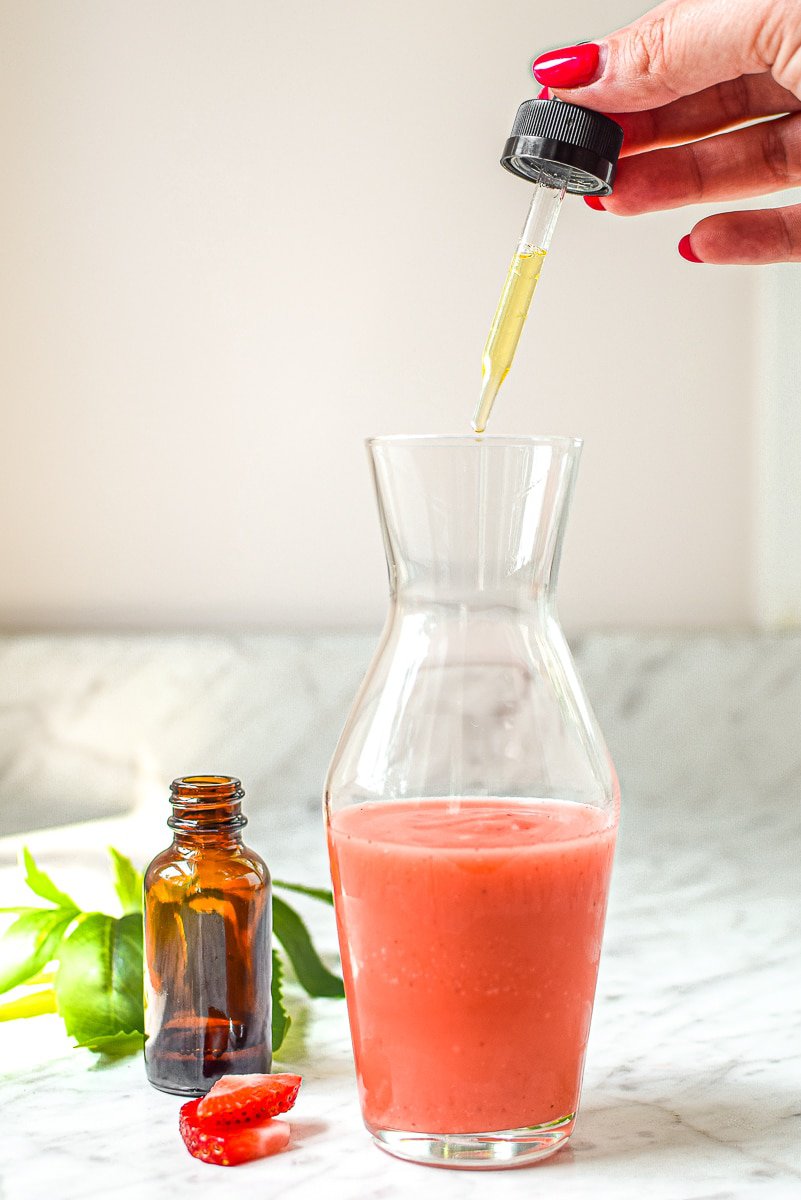 Homemade Cannabis Strawberry Vinaigrette
I take pride in guiding my Well With Cannabis Community through the many different ways that cannabis can be consumed and used to complement a happy & healthy holistic lifestyle.
While I've written extensively about my cooking with CBD hemp oil here, we will be focusing on how to make a cannabis-infused strawberry vinaigrette.
It is entirely your choice whether you want to make it with CBD oil, cannabis-infused MCT oil, or cannabis-infused olive oil.
If you're new to making your own edibles, I encourage you to check out my beginners guide here.
Looking For More Support?
Join thousands of members inside my private Well With Cannabis Community to ask questions, find support, and share your edible creations!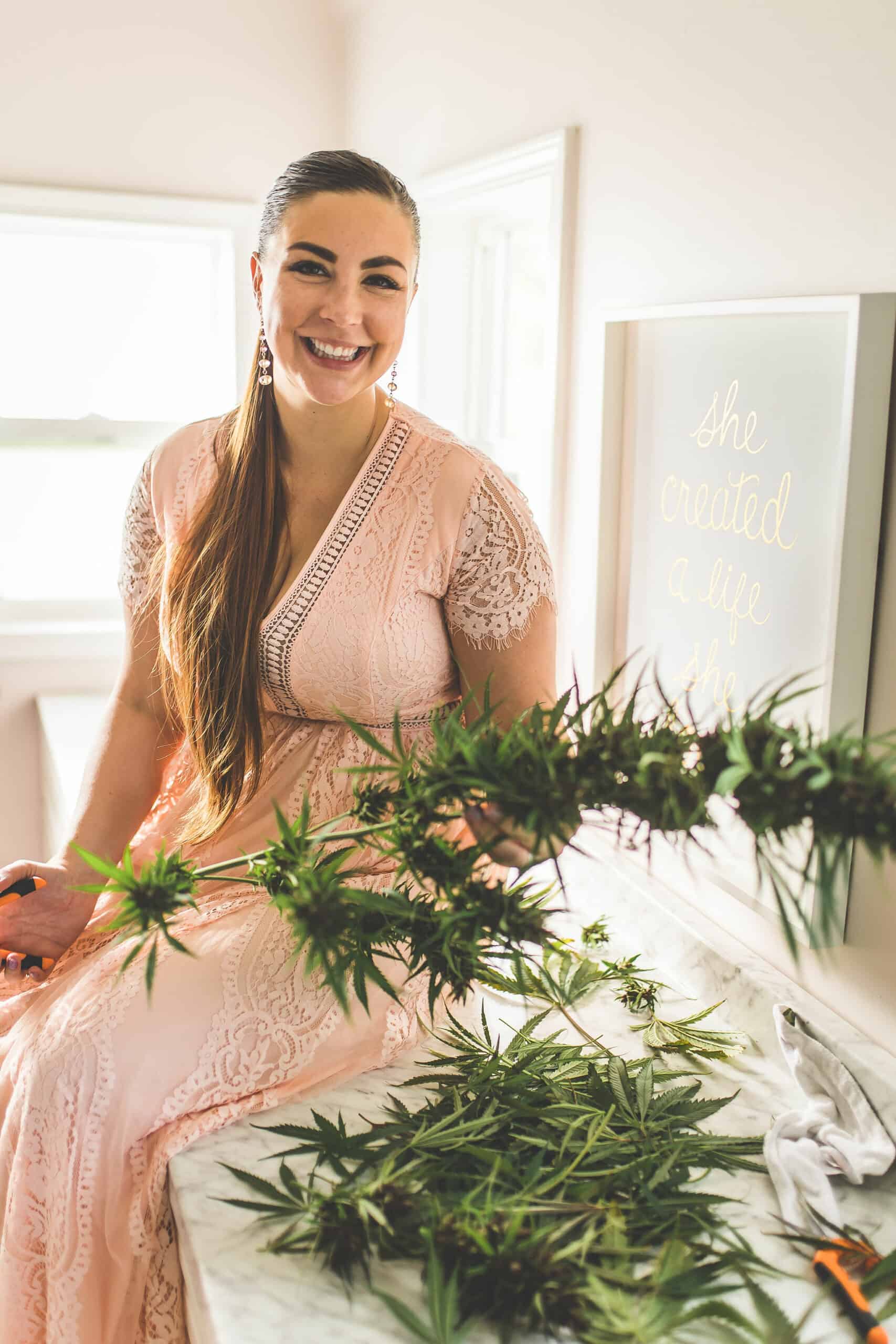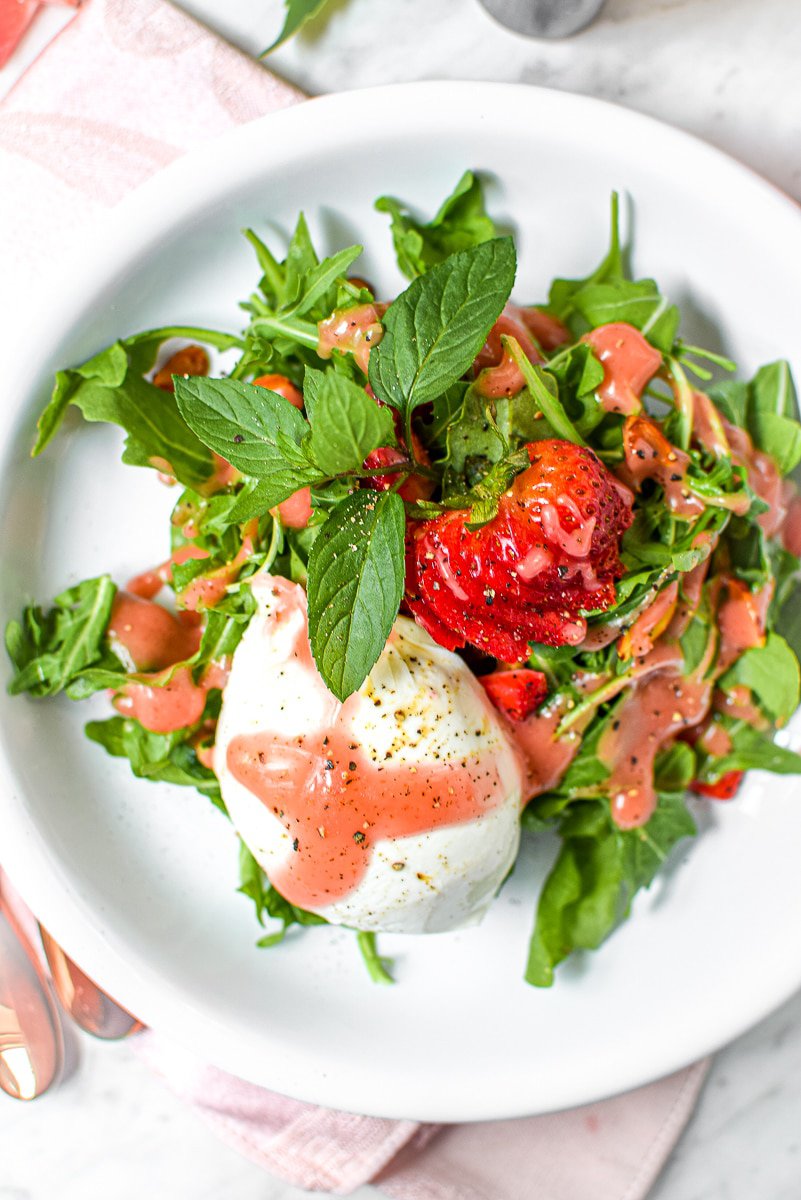 Cannabis Infusion Options
The beautiful thing about making your own cannabis edibles at home is that there are many different ways to infuse a recipe.
Choosing an infusion option should be based on your personal preferences and what you already have available on hand.
The options for this vinaigrette will include using CBD oil, cannabis-infused MCT oil, or cannabis-infused olive oil.
Of course, I have infused my cannabis lemon vinaigrette with decarbed cannabis flowers and leftover cannabis pulp as well.
Be sure to check out this Zesty Cannabis-Infused Lemon Vinaigrette recipe for these ideas.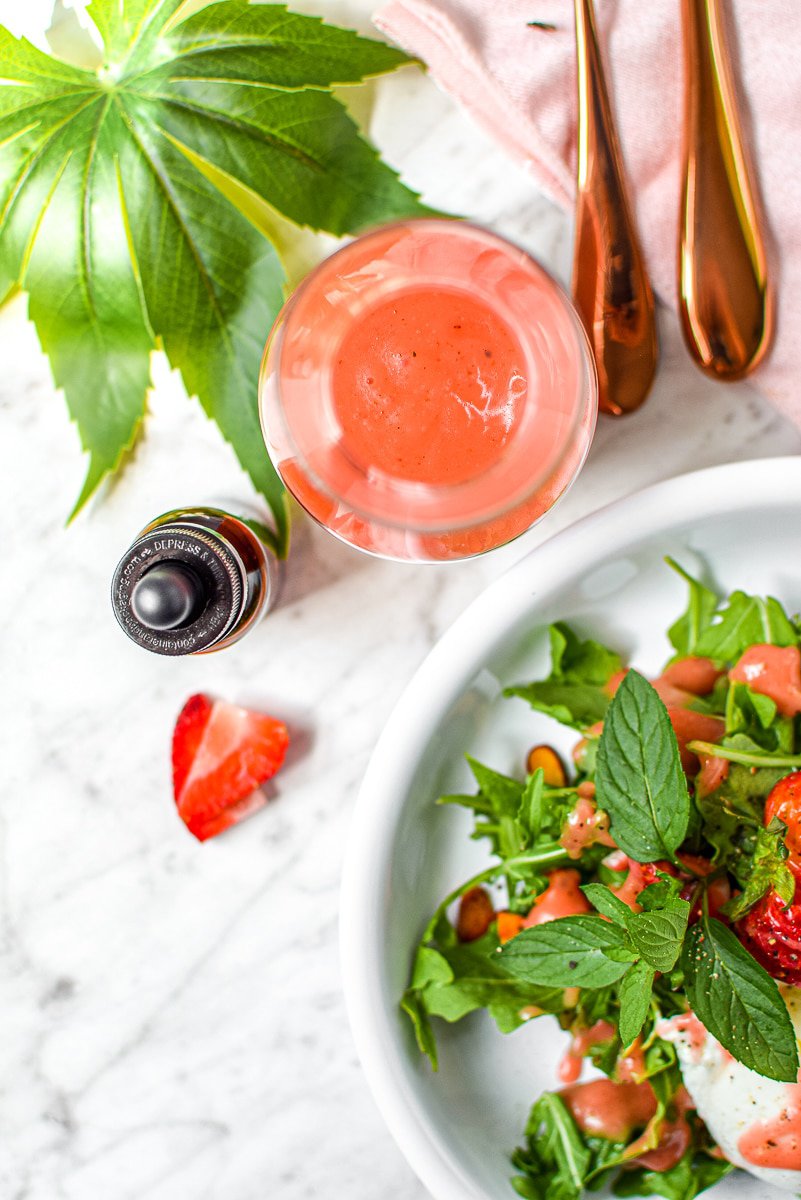 Option 1. Store-Bought or Homemade CBD Oil
In my Cannabis Compass Online Course, I teach my students that it is important to understand the different bioavailability rates with various cannabis consumption methods.
CBD is the non-intoxicating cannabinoid found in the cannabis plant that is anecdotally used to help a wide range of conditions from pain management to general health and wellness.
Whether it be in the form of a salad dressing or CBD gummy, it is orally consumed when you eat CBD, resulting in a ~6% bioavailability rate.
This is because the CBD must travel through the digestive system and undergo the hepatic first-pass metabolism.
As an educator, I always like to remind my students that sublingual absorption, vapor inhalation, and topical absorption all have around a ~30% bioavailability rate, making them a much cost-effective way use CBD.
Of course, there is nothing wrong with eating CBD, and many people prefer to consume their cannabis this way.
As I always say, cannabis is a self-experiment, to each their own.
Trust your own body and make responsible delicious and you will be just fine.
Option 2. Cannabis-Infused MCT Oil
Cannabis-infused MCT oil is a popular cannabis infusion made with just cannabis flowers and MCT oil.
MCT oil remains liquid at room temperature, is completely clear with no color, and has no flavor.
Many people prefer liquid MCT oil for infusions because it is tasteless, and some people find it easier to digest than other oils.
The process for infusing MCT oil with cannabis is the same as making traditional infused coconut oil and can be achieved in many different ways.
You can use this simple at-home process with printable directions to make a crockpot cannabis-infused MCT oil, or you could use an infusion machine like the LEVO II to infuse for you.
Option 3. Cannabis-Infused Olive Oil
Cannabis-infused olive oil is a light, delicious, and versatile cannabis infusion that is an important staple recipe for any cook to master.
Making infused olive oil is a straightforward process that uses heat to decarboxylate the cannabis flower and oil to infuse the cannabinoids from the plant.
Our default infusion method involves combining the olive oil and cannabis flowers inside a mason jar and then submerging that mason jar inside a water bath made with a crockpot or slow cooker.
This simple process allows you to essentially 'set it and forget it' once it is set up.
The final product is a cannabis-infused olive oil that can make many delicious cannabis recipes like this lemon vinaigrette or our popular tomato-cucumber salad.
Recipe Recommendation: This is our preferred infusion method for this recipe.
Get the full recipe and directions for making Cannabis-Infused Olive Oil here.
How to Determine The Dosing
Want to get a more accurate guesstimate of the potency of your cannabis infusions and extractions? Try our popular edibles calculator!
Not sure what your perfect dose is? Learn more here.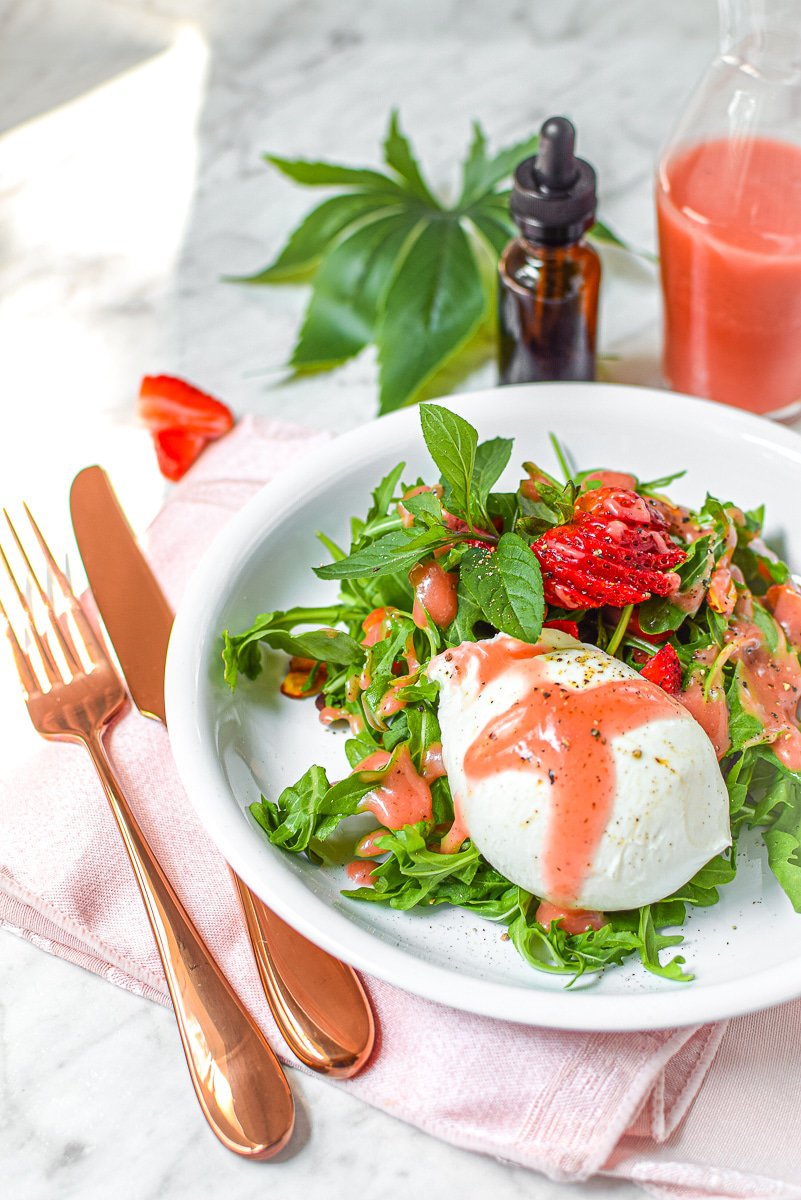 Get More Cannabis Salad Recipes
Are you looking for more healthy cannabis recipes, including salads and dressings?
I've got you covered with these delicious options below:
And if you're struggling with the munchies, be sure to get my 10 Helpful Tips for Managing the Munchies here!
Want To Make This Easier? Use A Machine!
If the process of decarbing and infusing feels like too much work, an all-in-one countertop device may be a perfect all-in-one solution!
My personal favorite? The Ardent FX! Review the six most popular infusion machines here.
Want A Discount Code?
My Edibles Made Easy Online Cooking Course will teach you how to make cannabis edibles and topical recipes at home with ease. This step-by-step video course will teach you how to infuse, extract, and create edibles with many different product types - all from the comfort of your own home.

Learn more and enroll today →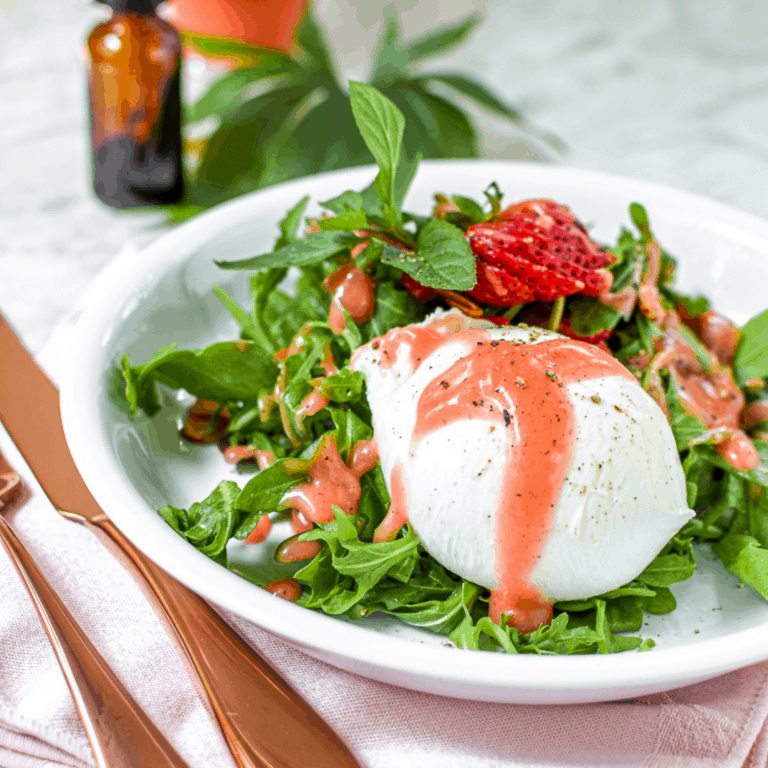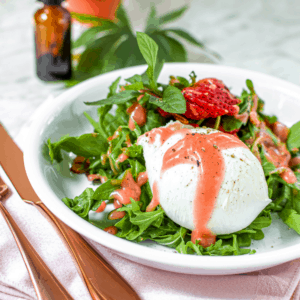 Cannabis Strawberry Vinaigrette with Burrata Salad
Learn how to make a delicious Cannabis Strawberry Vinaigrette with fresh strawberries, white balsamic vinegar, and cannabis oil to pair with a deliciously creamy Strawberry Burrata Salad that is naturally low-carb and gluten-free.
Ingredients
For the Cannabis Strawberry Vinaigrette
For the Strawberry Burrata Salad
6

cups

arugula

packed

1

cup

strawberries

sliced

¼

cup

slivered almonds

toasted

4

balls

burrata cheese

4-ounce each, 16-ounce total
Instructions
For the Cannabis Strawberry Vinaigrette
In a small, tall container, add the strawberry puree, white balsamic vinegar, honey, and black pepper. Blend with an immersion blender.

While the blender continues to run, slowly drizzle in the cannabis oil until well incorporated.

Set aside to be served immediately over Strawberry Burrata Salad.
For the Strawberry Burrata Salad
Evenly divide the arugula, strawberries, and almonds amongst 4 large salad bowls.

Top each salad with a burrata cheese ball.

Drizzle 2.5 ounces of the cannabis strawberry vinaigrette per salad.

Toss if desired, top with freshly ground black pepper, and enjoy.
Notes
*To make strawberry puree, simply blend ¼ cup fresh strawberries in a blender until smooth.
**If you do not have an immersion blender, you can use a regular blender. You can also use a mason jar or salad dressing shaker and simply shake the ingredients together.
*** If you have leftover dressing, store in a sealed container in the refrigerator for up to 2-weeks if not using immediately, although cannabinoids may degrade at this time.
Nutrition
Serving:
1
salad
Calories:
455
kcal
Carbohydrates:
17
g
Protein:
3
g
Fat:
43
g
Saturated Fat:
6
g
Polyunsaturated Fat:
35
g
Cholesterol:
6
mg
Sodium:
57
mg
Fiber:
2
g
Sugar:
15
g
Did you make this recipe or have a question?
Join hundreds of members inside private Well With Cannabis Community for help, support, and to share your edible creations!