Taste the rainbow with this vibrant, high-protein, Rainbow Chicken Salad made with delicious fresh fruit for a hearty entree-style meal that is Paleo and AIP-friendly, naturally dairy and gluten-free.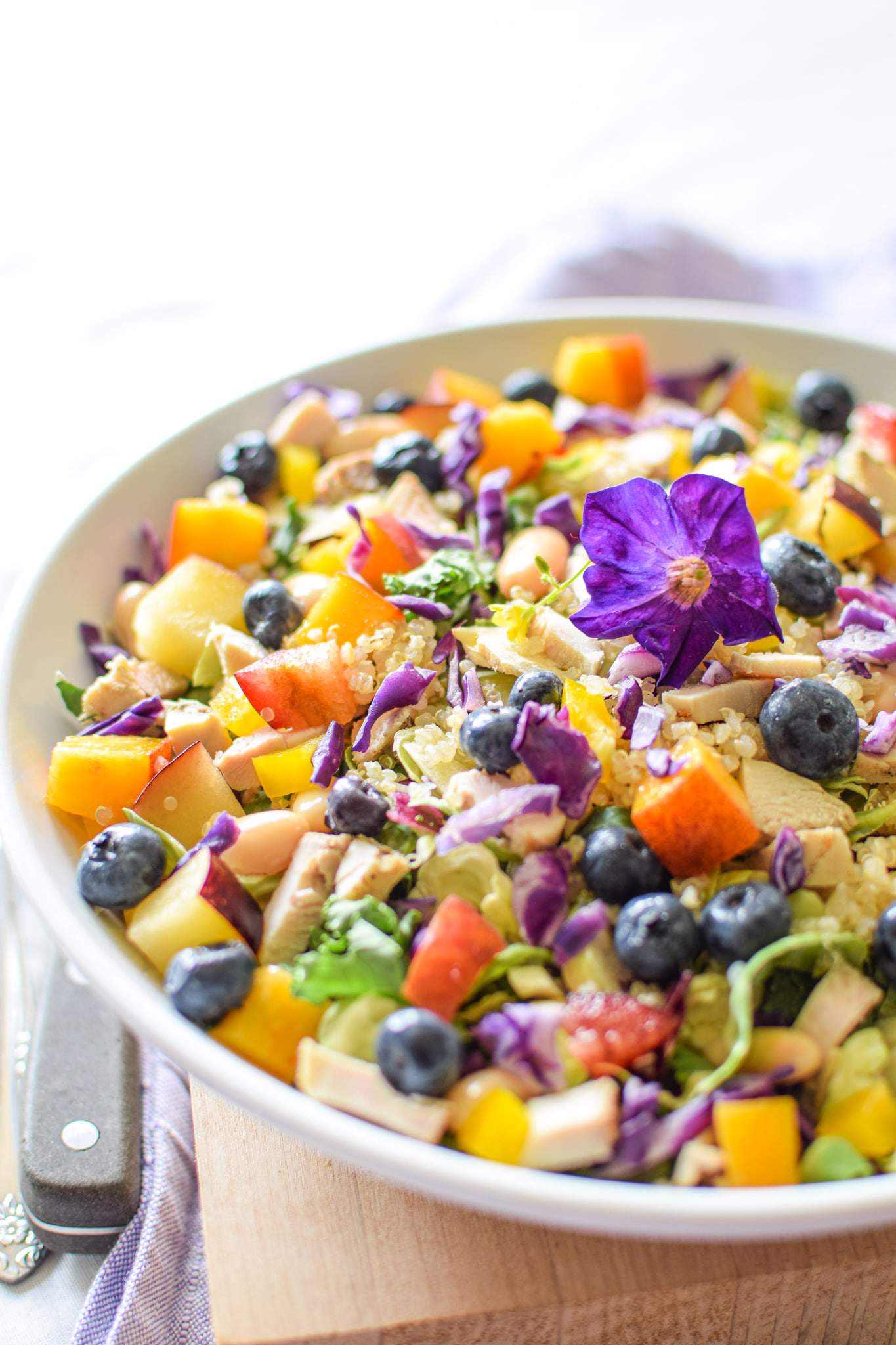 Rainbow Chicken Salad
Brighten up your traditional lunch salad with this vibrant rainbow chicken salad that is made with good-for-you ingredients like fruit, vegetables, and lean, organic chicken.
Together these ingredients will give you a powerful dose of phytonutrients; important compounds that help to act as protective antioxidants, natural detoxifiers and helpful immune boosters in our bodies.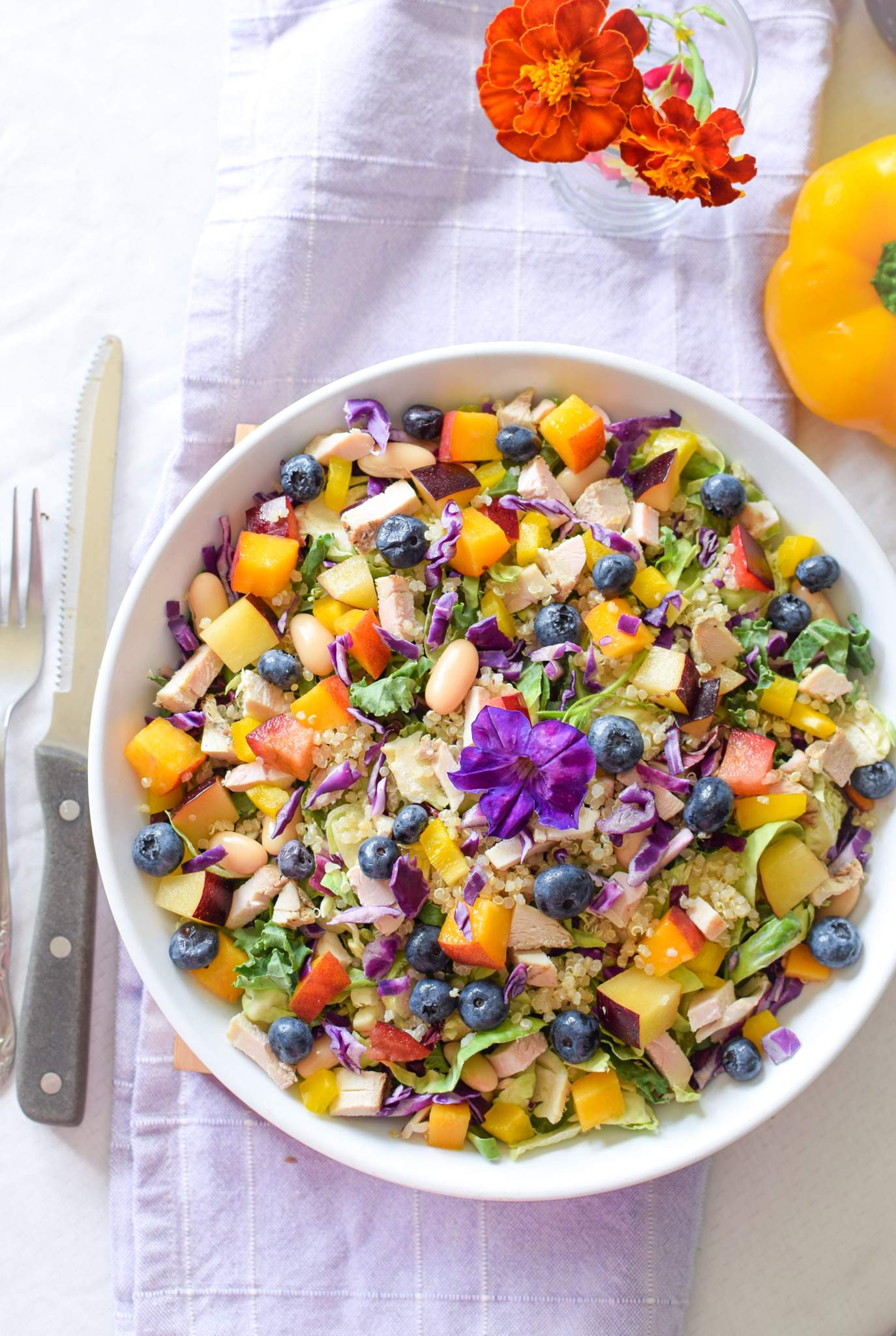 Fruits and Veggies Make The Perfect Salad
Now, my Dad says that fruit has no place in a salad, but I seriously have to disagree. I think that fruits and vegetables make a perfect pair in this salad, the flavors balance each other well and every single bite is bursting with flavor.
It is also an excellent way to increase your fruit and vegetable intake, which we all know is the key to better health and should be the foundation of any healthy diet.
I can't argue that a diet rich in plant foods is the single best way to improve and maintain good health. I, however, am not against the consumption of meat and follow a more Paleo or AIP diet approach.
To Eat Meat or Not To Eat Meat?
I was a vegetarian in college and while it was a great learning experience for me, I learned that my body feels better when I incorporate lean, organic, high-quality meats in my diet.
I do consume meat in much smaller quantities than I did before, but that's because I treat meat as more of a 'side' item rather than an entree.
I always try to make sure that the majority of my diet is plant-based, meaning at least 75% of my food comes from plants.
What I am most concerned about when it comes to meat consumption is the quality of the meat.
We are proud to raise our own egg-laying hens for a daily harvest of farm fresh eggs right from our own backyard.
I love those chickens. Is that weird to say?? Well, I do.
They are much smarter and much more fun than I been thought they would be.
They have taught me a lot about mini-farming and have given me a lot to consider when it comes to how animals are treated.
I do believe that when it comes to meat, we have a choice when it comes down to quality.
Not everyone agrees with this and that's is okay, but for me, I feel more comfortable only consuming organic meat, free-range is possible, and more importantly, from a local farmer if at all possible.
Growing my own food and raising my own chickens has given me a much greater appreciation for the food I consume, which is something I hope everyone can learn over time as well.
It is easy to buy food at the grocery store and never think about the source, but now that I realize how much time and love and dedication goes into growing and producing good, I have a much deeper sense of appreciation for how it actually arrived on my plate.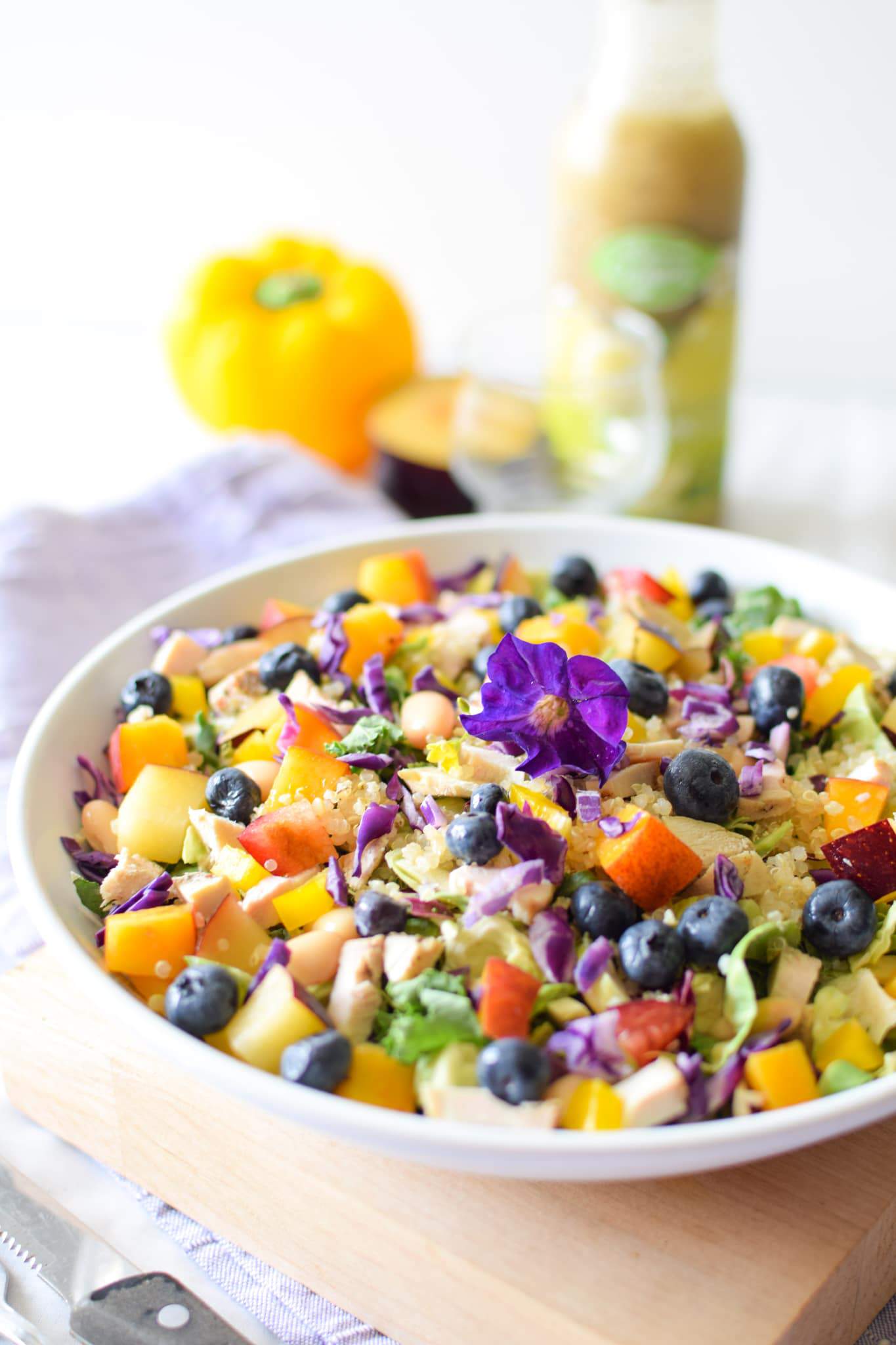 Using Fresh Summer Produce
This rainbow chicken salad was born from my obsession with eating all the fresh fruits and vegetables.
Whatever I didn't grow myself I got from a local farm. Right now peaches and blueberries are so fresh and plentiful, they really add a fantastic element to this salad.
With summer in full swing, I am trying to savor as much fresh produce as possible. I love my garden, we are very blessed to have harvested so much already and are thankful for an abundant season this year.
This year, I am still trying to get as much fresh, local produce as possible.
While I of course always want to grow my own food, I cannot forget about the bounty of farmers' markets and other local farmers who are experiencing a more bountiful year than I.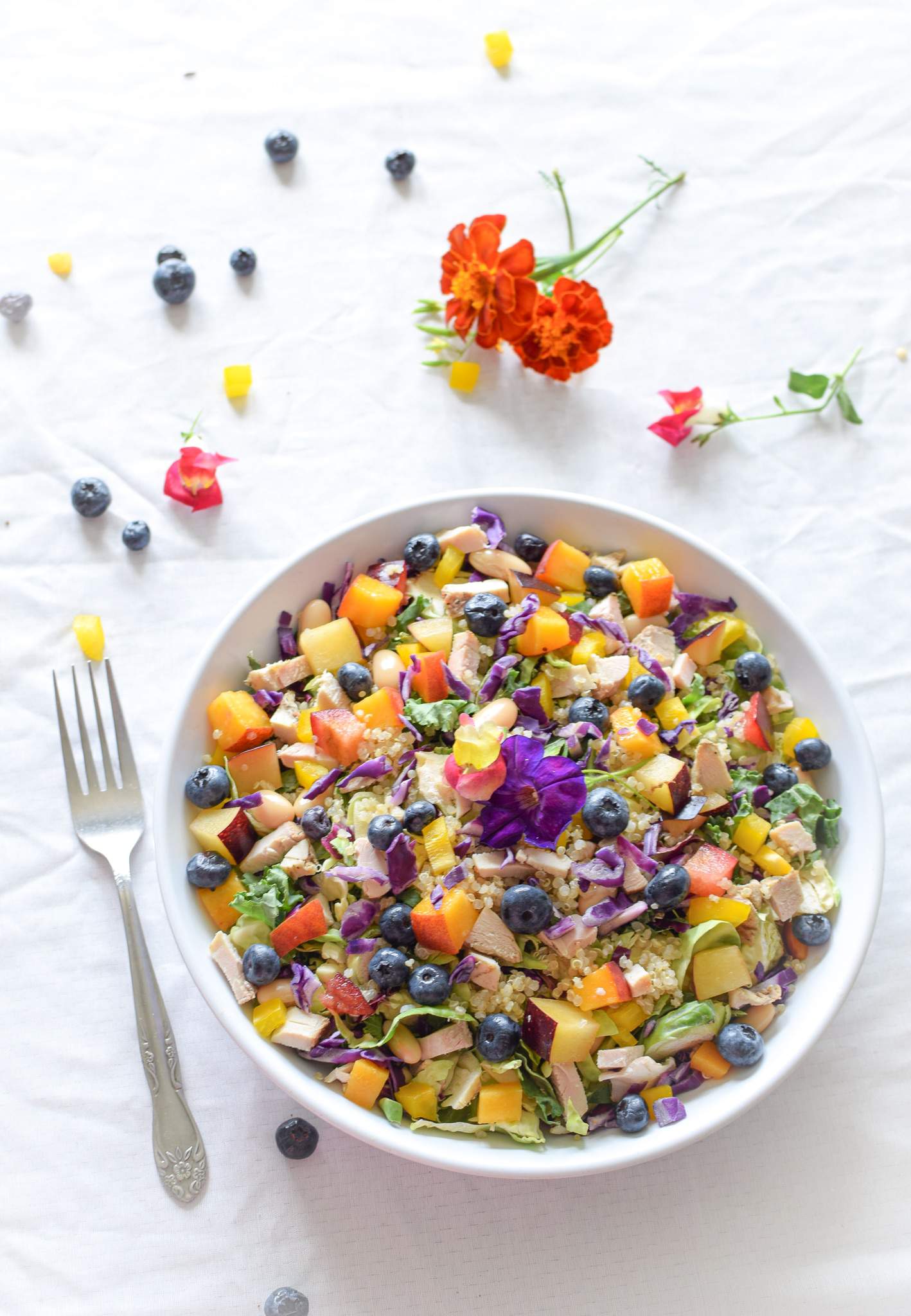 This Recipe is Featured In My Cookbook
I am excited to have been able to include a version of this recipe inside my first cookbook, The 30-Minute Thyroid Cookbook: 125 Healing Recipes for Hashimoto's and Hypothyroidism.
An excerpt from the book:
The old saying, "eat the rainbow" has some truth behind it. A healthy diet is full of a variety of foods. The different colors in whole, all-natural foods indicate a wide variety of available nutrients. This rainbow salad features antioxidant health benefits from plums, peaches, and blueberries for a delicious, high-fiber salad that is filling and satisfying.

The recipe featured on page 83 of The 30-Minute Thyroid Cookbook under Rainbow Salad Grain Bowl.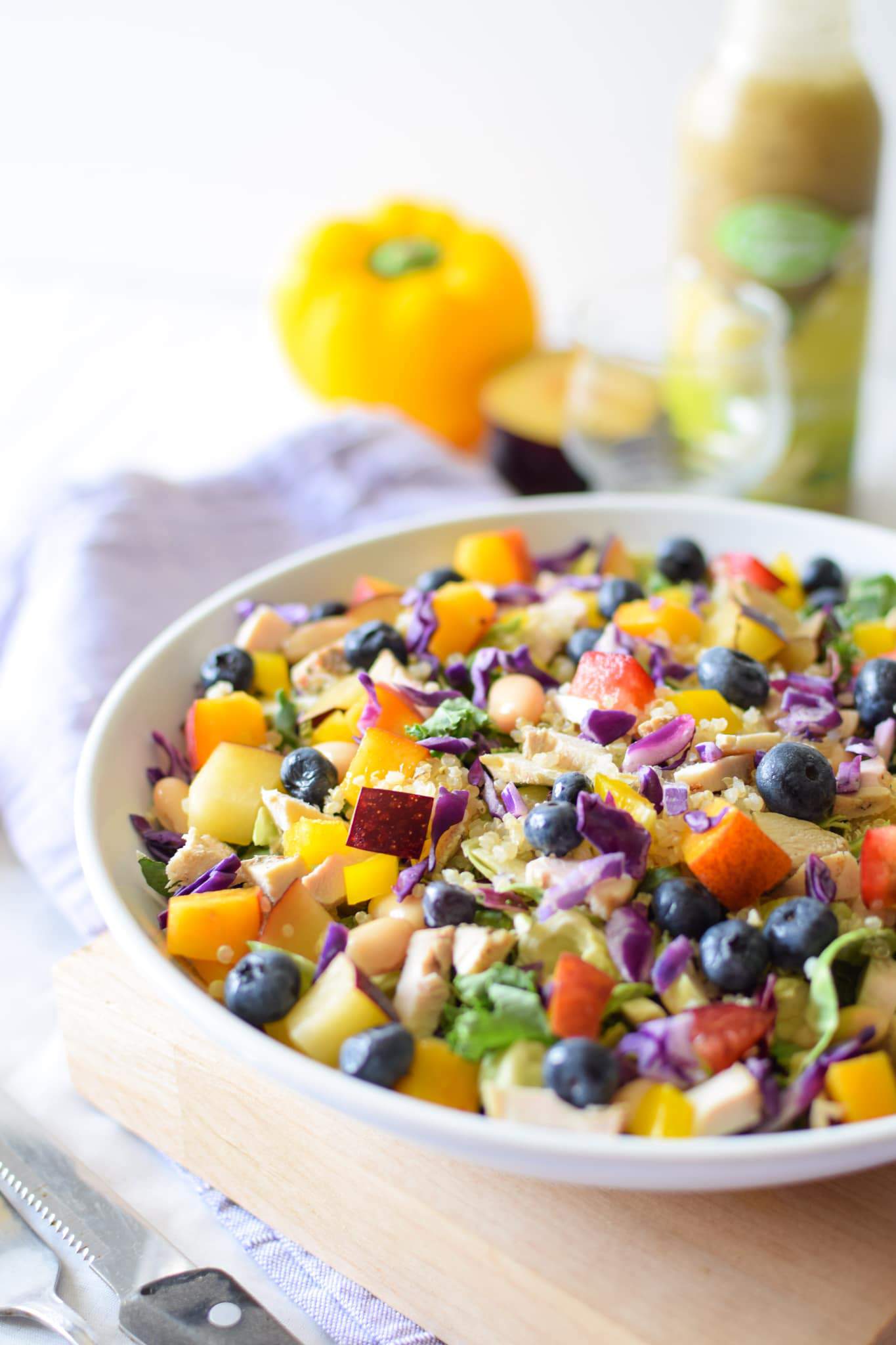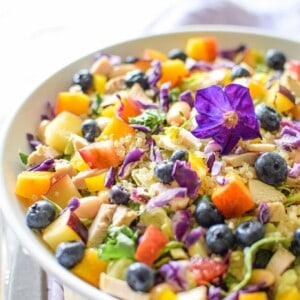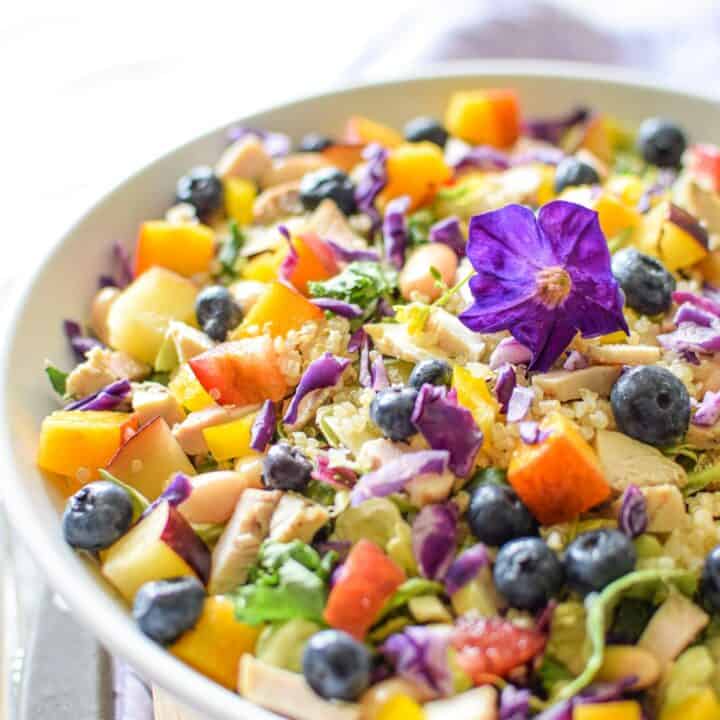 Rainbow Chicken Salad
Taste the rainbow with this vibrant, high-protein, Rainbow Chicken Salad made with delicious fresh fruit for a hearty entree-style meal that is Paleo-friendly, naturally dairy and gluten-free.
Ingredients
1/2

pounds

organic chicken tenderloins

1

cup

lemon vinaigrette

divided

4

cups

baby kale

chopped

1

cup

red cabbage

chopped

1

cup

shaved Brussels sprouts

1

yellow bell pepper

diced

1

plum

diced

1

peach or nectarine

diced

1

cup

blueberries
Instructions
Preheat the oven to 350°F. Prepare a foil-lined baking sheet and set aside.

In a gallon-sized ziplock bag, combine the chicken breast and 1/2 cup of the lemon vinaigrette. Let sit to marinate for at least 20 minutes.

After the chicken has marinated, discard the excess marinade and evenly lay the chicken on the foil-lined baking sheet. Sprinkle with salt and pepper to taste.

Bake the chicken for 20 minutes, flipping once halfway through. Ensure the chicken has been cooked to an internal temperature of 165°F.

Once cool enough to handle, chop or shred the chicken into bite-sized pieces.

While the chicken is cooking, mix together the kale, red cabbage and shaved Brussels sprouts for the base of your salad. Spread evenly among four bowls or meal prep containers.

Top each salad evenly with the bell pepper, plum, peach or nectarine, and blueberries.

Top with chopped chicken.

Serve with the remaining lemon vinaigrette and enjoy!
Notes
To make this recipe AIP-friendly, omit the black pepper and yellow bell pepper. Check to ensure your lemon vinaigrette is AIP-friendly and enjoy!
Nutrition
Serving:
1
salad
Calories:
480
kcal
Carbohydrates:
33
g
Protein:
24
g
Fat:
31
g
Saturated Fat:
4
g
Polyunsaturated Fat:
25
g
Cholesterol:
48
mg
Sodium:
595
mg
Fiber:
8
g
Sugar:
16
g