Taste the rainbow with this vibrant, high-protein, cannabis rainbow chicken salad made with delicious fresh fruit for a hearty entree-style meal that is naturally gluten-free and finished with a zesty lemon cannabis vinaigrette.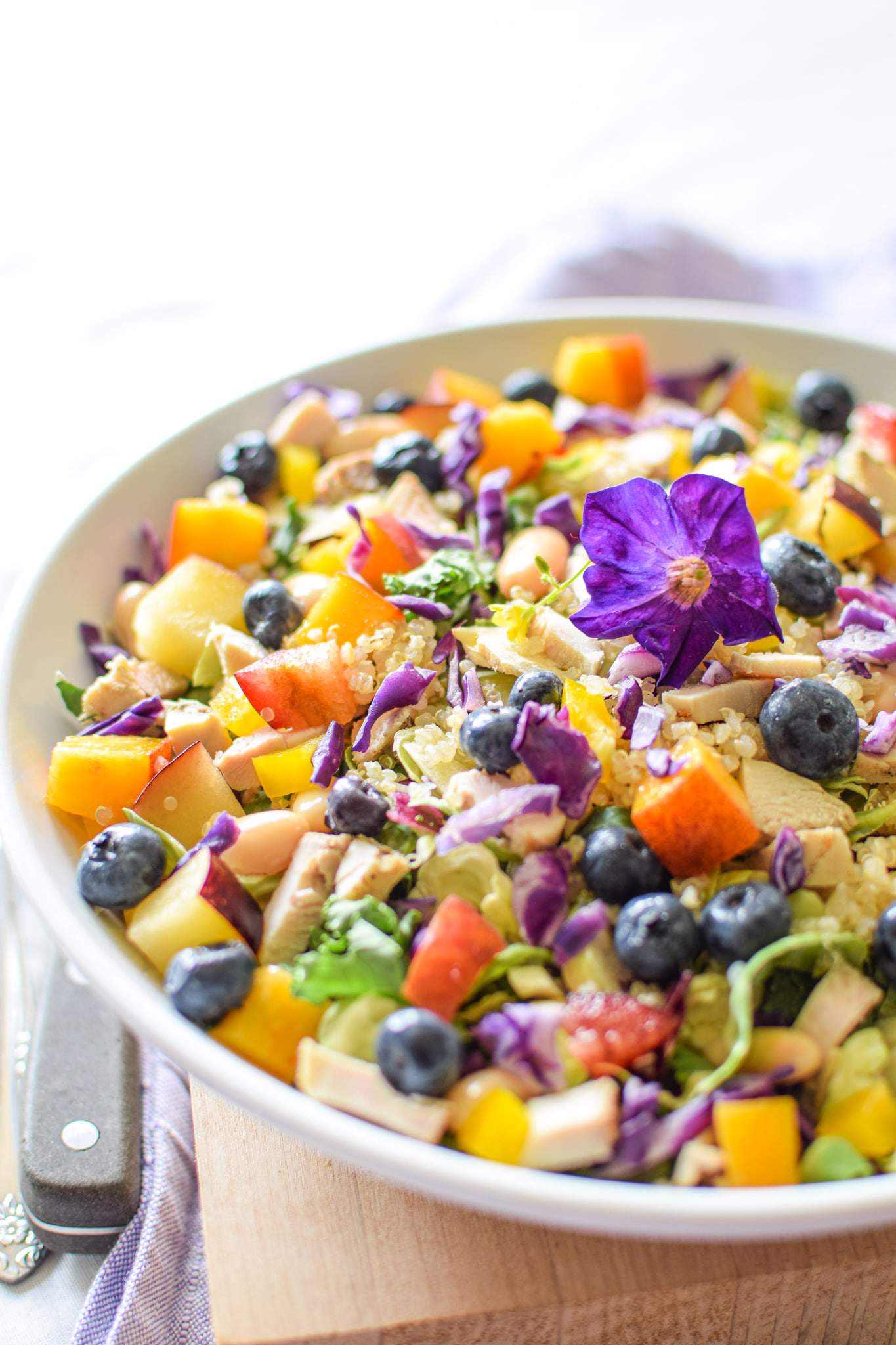 Let's Make a Cannabis Rainbow Chicken Salad
Brighten up your traditional lunch with this vibrant rainbow chicken salad made with good-for-you ingredients like fruit, vegetables, and lean, organic chicken.
My Well With Cannabis Community members are always asking for more delicious, healthy cannabis recipes, and this one definitely fits the bill.
Complete with the option to infuse this salad with fresh cannabis leaves and a zesty lemon cannabis vinaigrette, there's many different ways to enjoy cannabis in this salad.
In this post you will learn more about the benefits of adding more fruits and veggies to your diet, the benefits of consuming raw cannabis leaves, and get the recipe for this delicious salad with printable instructions.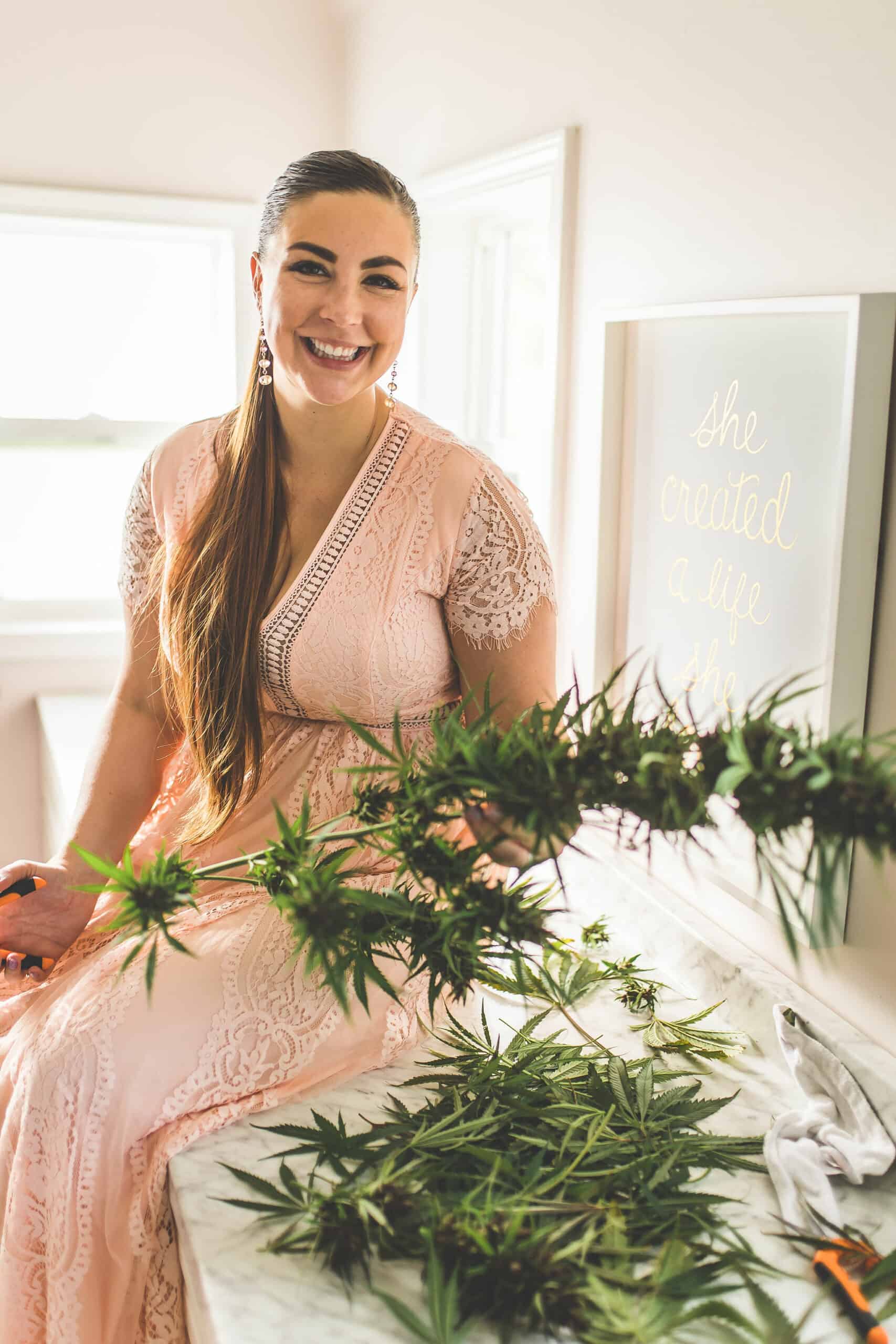 Looking For More Support?
Join thousands of members inside my private Well With Cannabis Community to ask questions, find support, and share your edible creations!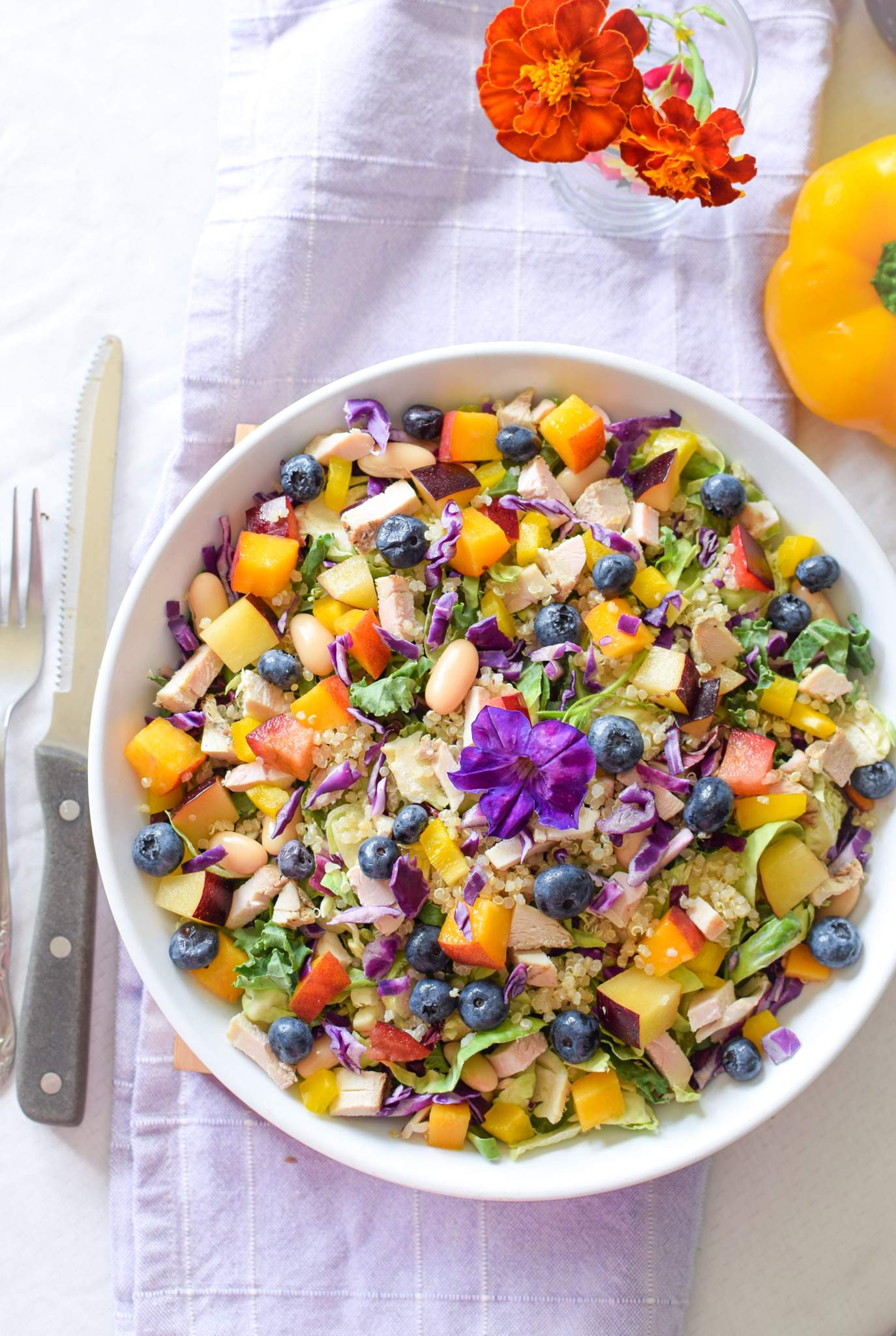 Using Fresh Summer Produce to Make The Perfect Salad
Now, my Dad says that fruit has no place in a salad, but I seriously have to disagree.
I think that fruits and vegetables make a perfect pair in this salad, the flavors balance each other well, and every single bite is bursting with flavor.
It is also an excellent way to increase your fruit and vegetable intake, which we all know is the key to better health and the foundation of any healthy diet.
This cannabis rainbow chicken salad was born from my obsession with eating fresh fruits and vegetables, including the fan leaves from my cannabis plants.
I love my garden; we are very blessed to have harvested so much already and are thankful for an abundant season this year.
While I always want to grow my own food, I cannot forget about the bounty of farmers' markets and other local farmers.
To Eat Add or Not To Add Meat?
I was a vegetarian in college and while it was a great learning experience for me, I learned that my body feels better when I incorporate lean, organic, high-quality meats in my diet.
I do consume meat in much smaller quantities than I did before, but that's because I treat meat as more of a 'side' item rather than an entree.
I always try to make sure that the majority of my diet is plant-based, meaning at least 75% of my food comes from plants.
What I am most concerned about when it comes to meat consumption is the quality of the meat.
We are proud to raise our own egg-laying hens and meat birds right in our own backyard.
Not everyone agrees with this, and that's okay, but I feel more comfortable only consuming organic meat; free-range is possible.
Growing my own food and raising my own chickens has given me a much greater appreciation for the food I consume, which is something I hope everyone can learn over time as well.
It is easy to buy food at the grocery store and never think about the source, but now that I realize how much time and love and dedication goes into growing and producing good, I have a much deeper sense of appreciation for how it actually arrived on my plate.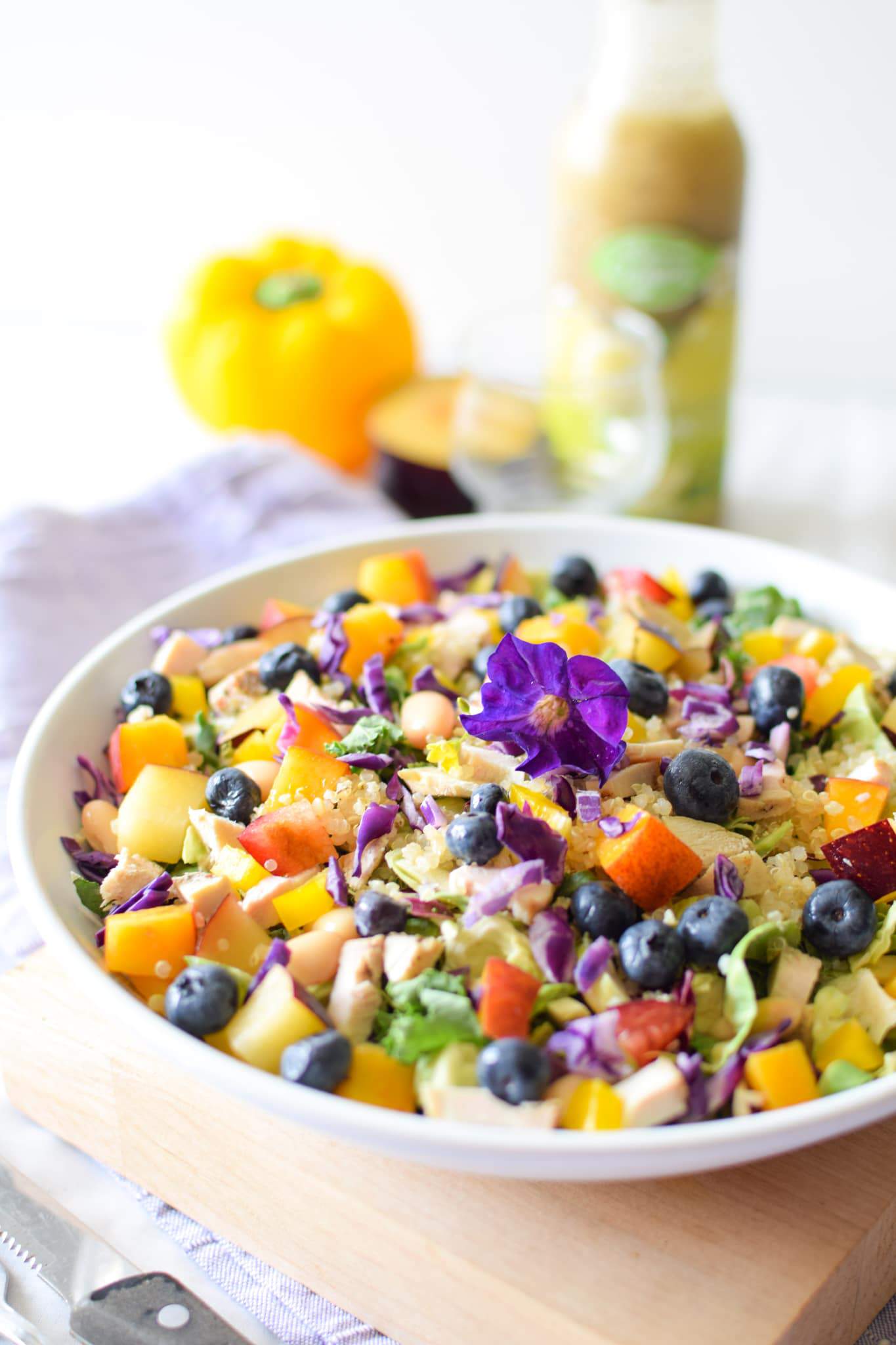 How to Prepare a Cannabis Leaf Salad
Thankfully, as cannabis becomes legalized throughout the country, more and more people have access to raw cannabis leaves.
Raw cannabis can be found in the form of living plants that produce fan leaves, sugar leaves, raw flower buds, fresh leaf trim, seeds, stems, stalks, and more.
If you have access to fresh cannabis fan leaves and don't want to waste them, this is a great recipe to try them in.
In addition to many nutritional benefits typically associated with dark-green leafy vegetables, the cannabis plant also contains unique phytocannabinoids that nourish the endocannabinoid system.
Cannabis leaves do not produce cannabinoids quite as the mature female flower buds do; they contain important nutrients, antioxidants, and cannabinoid acids like THCA and CBDA, meaning they are not useless. 
Additionally, they also contain beneficial compounds known as terpenes.
How to Prepare The Leaves
Small, immature fan leaves and small sugar leaves make the best salad greens.
Large, older fan leaves are oftentimes too tough to be enjoyed in a salad and are better off used to be juiced to blended in a smoothie.
To prepare the leaves, harvest, wash, and dry the cannabis leaves just as you would with kale or spinach leaves.
Give the leaves a rough chop, removing all long stems as necessary, and enjoy.
Pair This Salad With Cannabis Lemon Vinaigrette
This salad is delicious with many different vinaigrette types, but this zesty cannabis-infused lemon vinaigrette is my favorite!.
It is just the perfect combination of bright, zesty flavor with mild notes of cannabis that pair perfectly with this salad.
Alongside my cannabis lemon vinaigrette, classic balsamic vinaigrette also makes a delicious topping for this salad.
If you haven't made it yet, be sure to get the recipe for my zesty cannabis-infused lemon vinaigrette here.
How to Determine The Dosing
Want to get a more accurate guesstimate of the potency of your cannabis infusions and extractions? Try our popular edibles calculator!
Not sure what your perfect dose is? Learn more here.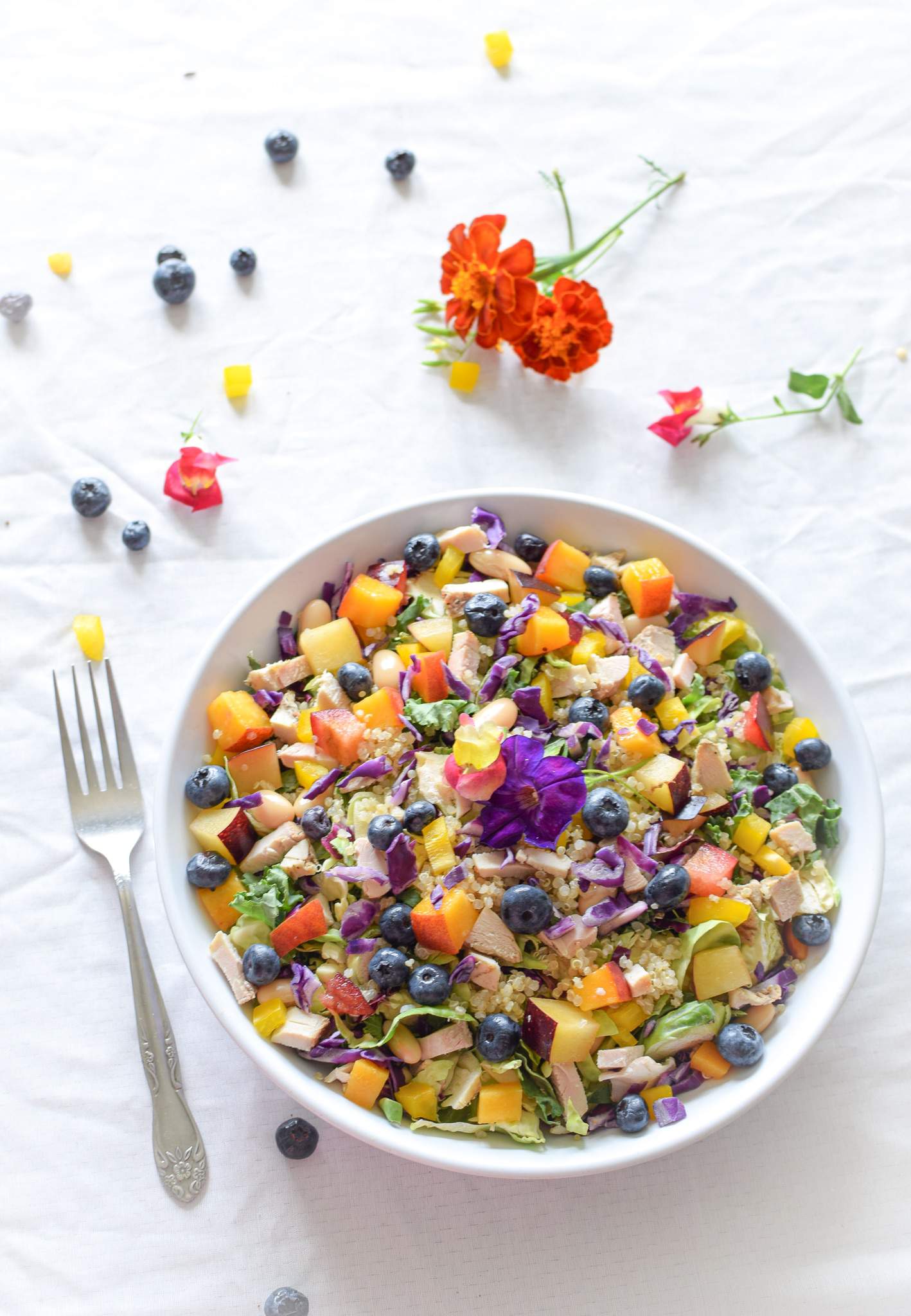 This Recipe is Featured In My Cookbook
I am excited to have been able to include a version of this recipe inside my first cookbook, The 30-Minute Thyroid Cookbook: 125 Healing Recipes for Hashimoto's and Hypothyroidism.
An excerpt from the book:
The old saying, "eat the rainbow" has some truth behind it. A healthy diet is full of a variety of foods. The different colors in whole, all-natural foods indicate a wide variety of available nutrients. This rainbow salad features antioxidant health benefits from plums, peaches, and blueberries for a delicious, high-fiber salad that is filling and satisfying.

The recipe featured on page 83 of The 30-Minute Thyroid Cookbook under Rainbow Salad Grain Bowl.
Get More Cannabis Salad Recipes
Are you looking for more healthy cannabis recipes, including salads and dressings?
I've got you covered with these delicious options below:
And if you're struggling with the munchies, be sure to get my 10 Helpful Tips for Managing the Munchies here!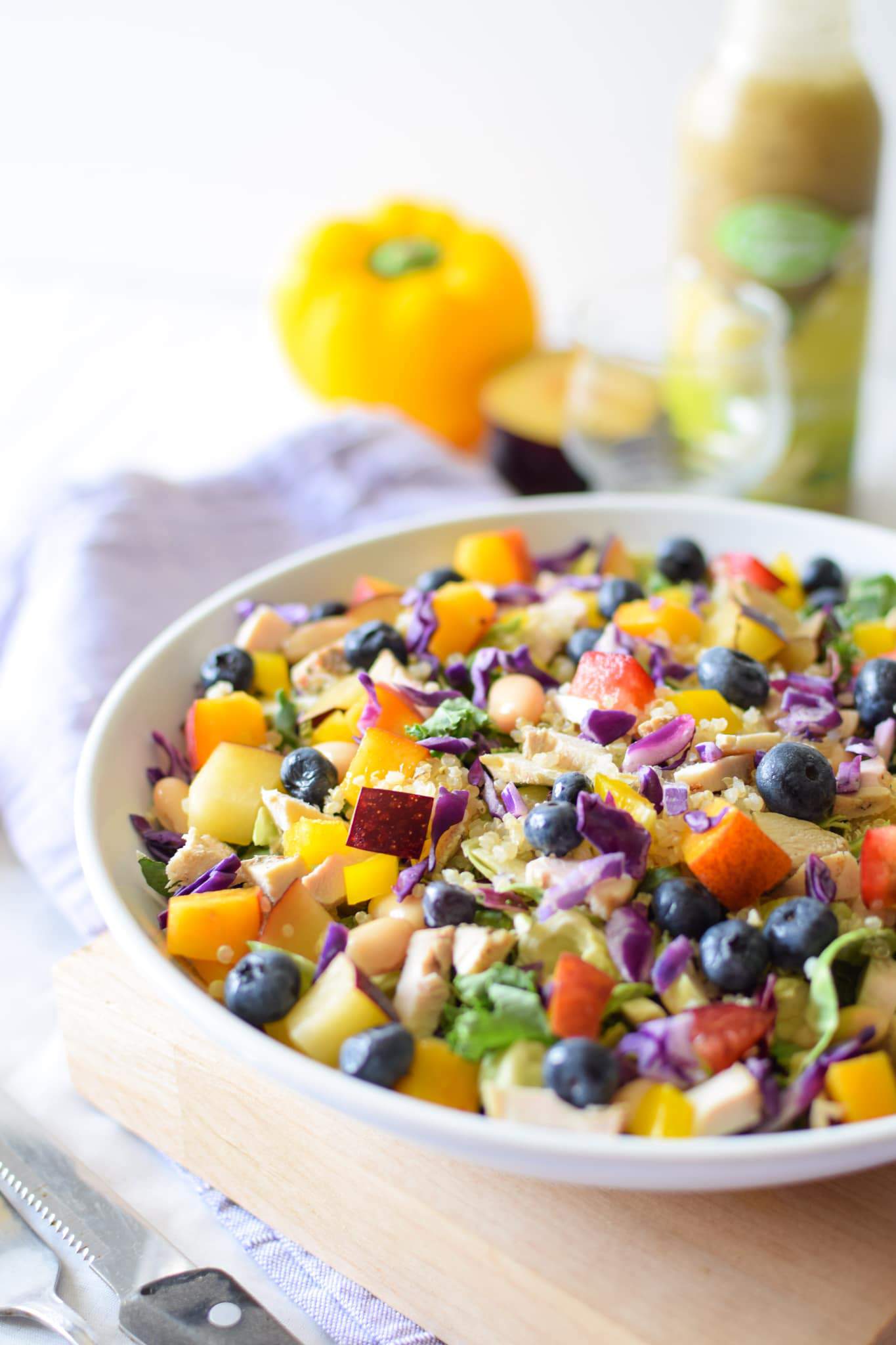 Want To Make This Easier? Use A Machine!
If the process of decarbing and infusing feels like too much work, an all-in-one countertop device may be a perfect all-in-one solution!
My personal favorite? The Ardent FX! Review the six most popular infusion machines here.
Want A Discount Code?
My Edibles Made Easy Online Cooking Course will teach you how to make cannabis edibles and topical recipes at home with ease. This step-by-step video course will teach you how to infuse, extract, and create edibles with many different product types - all from the comfort of your own home.

Learn more and enroll today →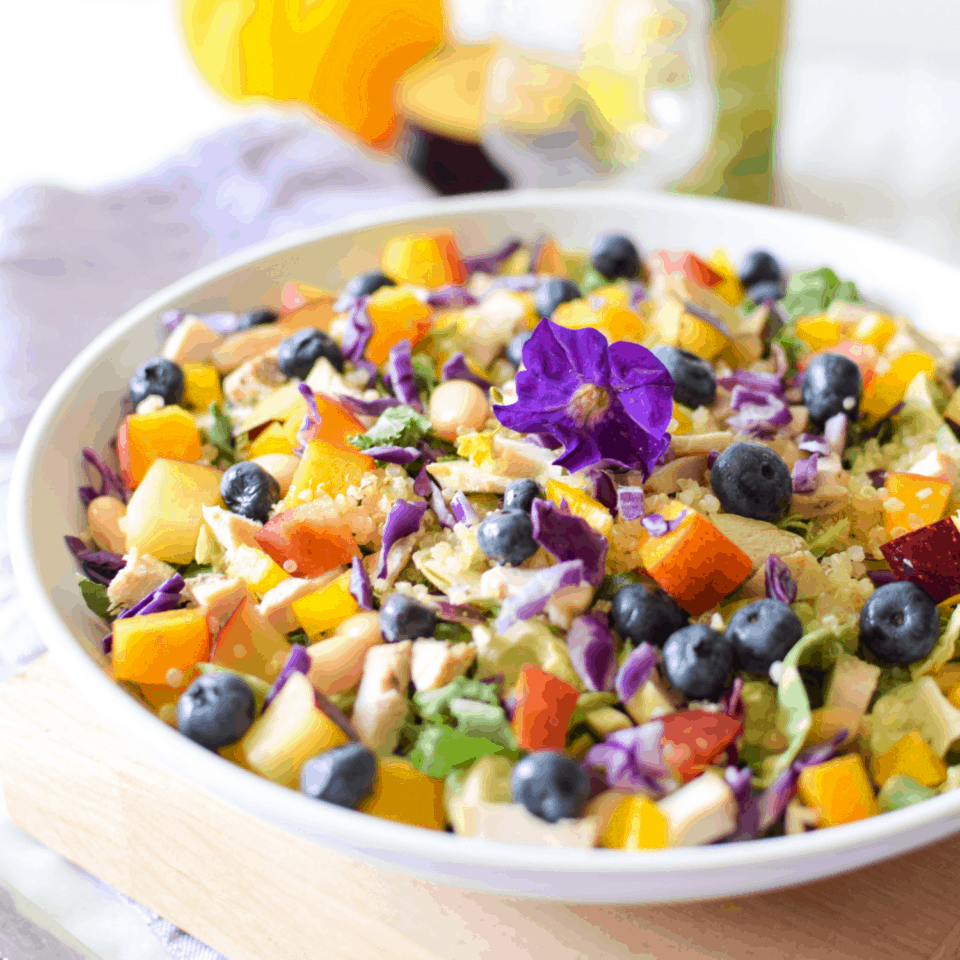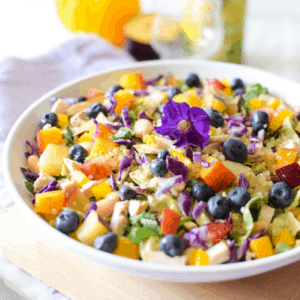 Cannabis Rainbow Chicken Salad
Taste the rainbow with this vibrant, high-protein, cannabis rainbow chicken salad made with delicious fresh fruit for a hearty entree-style meal that is naturally gluten-free and finished with a zesty lemon cannabis vinaigrette.
Ingredients
¼

pounds

organic chicken breast

diced

¼

cup

cannabis lemon vinaigrette

divided

½

cup

baby kale

chopped

½

cup

cannabis fan leaves

chopped

¼

cup

red cabbage

chopped

¼

cup

shaved Brussels sprouts

¼

cup

yellow bell pepper

diced

¼

medium

plum

diced

¼

medium

peach or nectarine

diced

¼

fresh

blueberries
Instructions
Preheat the oven to 350°F. Prepare a foil-lined baking sheet and set aside.

In a ziplock bag, combine the diced chicken breast and ½ of the lemon vinaigrette. Let sit to marinate for at least 20 minutes.

After the chicken has marinated, discard the excess marinade and evenly lay the chicken on the foil-lined baking sheet. Sprinkle with salt and pepper to taste.

Bake the chicken for 20 minutes, tossing once halfway through. Ensure the chicken has been cooked to an internal temperature of 165°F.

While the chicken is cooking, mix together the kale, cannabis leaves, red cabbage and shaved Brussels sprouts for the base of your salad. Spread evenly among your bowl or meal prep container.

Top with the bell pepper, plum, peach or nectarine, and blueberries.

Serve topped with the remaining lemon vinaigrette and enjoy!
Nutrition
Serving:
1
salad
Calories:
265
kcal
Carbohydrates:
30
g
Protein:
29
g
Fat:
4
g
Saturated Fat:
1
g
Polyunsaturated Fat:
1
g
Monounsaturated Fat:
1
g
Trans Fat:
1
g
Cholesterol:
73
mg
Sodium:
689
mg
Potassium:
1065
mg
Fiber:
2
g
Sugar:
19
g
Vitamin A:
7395
IU
Vitamin C:
186
mg
Calcium:
133
mg
Iron:
2
mg
Did you make this recipe or have a question?
Join hundreds of members inside private Well With Cannabis Community for help, support, and to share your edible creations!