This post may contain affiliate links, to find out more information, please read my disclosure statement.
I partnered with Nestlé's Balance Your Plate program and Lean Cuisine to bring you this Citrus Pear & Arugula Salad + Perfect Pairings for a Balanced Plate. As always, all thoughts and opinions are my own.
Making Lunch Easy & Nutritious – Balance Your Plate
If you took my 2nd Anniversary Reader Survey last week, thank you so much! Your answers will help me shape what kind of content I provide here on the blog so that I am helping you with your biggest health and wellness problems.
Which brings us to today's post. One of the most important questions in the survey read:
"What is your biggest challenge when it comes to living a healthy lifestyle?"
Out of six different options to choose from, the overwhelming majority, 47.7% of you selected "Lack of time and energy" as your biggest challenge to living a healthy lifestyle.
As a business owner, wife, and mother I totally get it!
One of the biggest misconceptions I encounter when working with my nutrition counseling clients is that they believe healthy eating needs to be difficult, complicated or time consuming.
Taking the time to care for ourselves can quickly fall to the wayside when everything else life has planned gets in the way.
That's why I am excited to share with you how to achieve a balanced plate at lunchtime using the Balance Your Plate method so that you can have a complete, nutritious meal ready in less than 5 minutes.
Perfect Pairings for a Balanced Plate
I first learned about the Balance Your Plate approach to eating when I got to visit Nestlé outside of Cleveland, Ohio in August.
Balance Your Plate is an educational program that shows you how frozen and chilled entrées can be an ally at mealtime – saving you time in the kitchen while helping you create a nutritious, balanced plate. This means more time for the things that matter most to you: family, exercise, or down time to do something that you love.
This Balance Your Plate equation is as simple as 1,2,3!
Pick a frozen or chilled entrée that appeals to your taste and schedule – whether dining solo or feeding your entire family.
Pair with a nutritious side dish full of fruits, vegetables, lean proteins! Remember: all forms fit, so lean on canned, frozen, dried fruits & veggies in the dreary winter month.
Plate together & enjoy!
Frozen foods have gotten a bad rap over the years. Before I learned about Nestlé's line of frozen entrées, I used to be very judgmental when it came to foods like Lean Cuisine and frozen pizza. I used to think that they were full of 'chemicals' and sodium and could serve no role inside a healthy diet.
My opinion of frozen entrées completely changed on my trip.
I got to meet with the registered dietitians on their team who offered education on how these brands have updated their recipes, ingredients, and labels to meet the growing demand for more nutritious options. Their ingredient labels are much cleaner than they used to be.
You will notice if you look at both the ingredients list and the nutrition facts label that Lean Cuisine entrées contain a much shorter list of ingredients than they used to, with much more familiar and commonly recognizable ingredients that people can pronounce.
How to Find Balance at Lunchtime
I keep several Lean Cuisine meals in my freezer for when hanger strikes mid-day, but the Marketplace Mushroom Mezzaluna Ravioli is my current lunchtime favorite. It is rich and decadent, and perfectly portioned for a meal I can easily overeat if not for built-in portion control.
With it being the dead of winter right now and my garden long gone, I wanted to share a vibrant and fresh salad made with produce easily found in the grocery that can be prepared in just 5 minutes while my Lean Cuisine is heating up.
My Citrus Pear & Arugula Salad is the perfect pairing with the ravioli. The fresh arugula and lemon vinaigrette help to cut through the richness offering a zesty, fresh flavor. The idea behind this recipe is that you can put everything (aside from the dressing) together right in your Tupperware container, so you can grab your Lean Cuisine, your salad, and rush out the door to work knowing that you have a nutritious and delicious lunch waiting for you later in the day.
Don't like mushrooms? No problem! Lean Cuisine is a brand with many unique recipes that offer adventurous flavors and variety to keep nutritious eating convenient and interesting year-round. Just check out their many options here!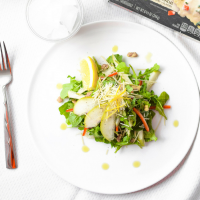 Citrus Arugula & Pear Salad
Easily made in just five minutes, this fresh salad made with peppery arugula, mellow pears and red peppers is the perfect side dish to accompany any meal. 
Ingredients
1/2 pear, thinly sliced
1/4 red pepper, thinly sliced
1 cup arugula, arugula, sorrel blend
1 teaspoon aged Parmesan cheese
1 tablespoon chopped walnuts
1 tablespoon citrus vinaigrette
Instructions
Thinly slice your pear and red pepper.
Gently toss sliced pears and red pepper with the arugula and Parmesan cheese.
If preparing ahead of time, put this mixture in a sealable plastic container.
Garnish with walnuts and additional Parmesan cheese as desired.
Gently toss with the citrus vinaigrette right before consumption.
Enjoy!
Notes
*The grocery store I shop at has an Arugula + Sorrel blend. Sorrel is a lemony flavored green, and if you get the chance to try some, it makes a great addition to this salad.
*Canned or fresh pears will work in this recipe. Canned pears are a great option if you can't find good fresh pears. Canned pears are available all year round and are easy to keep on hand in your pantry!
Nutrition Information:
Yield:

1
Serving Size:

1 salad
Amount Per Serving:
Calories:

160
Total Fat:

9g
Saturated Fat:

1g
Trans Fat:

0g
Unsaturated Fat:

7g
Cholesterol:

2mg
Sodium:

190mg
Carbohydrates:

20g
Fiber:

4g
Sugar:

13g
Protein:

3g
DON'T FORGET YOUR MEAL PLAN
If you're looking for additional help in meal planning or discovering new and delicious recipes to try, be sure to download my Free eBook – The Happy & Healthy Flexible Meal Plan below:
Have you tried this recipe? Be sure to tag me on Facebook, Instagram, or let me know in the comments below ♥

Hi there, I'm Emily Kyle, a nationally recognized media dietitian & nutrition communications expert on a mission to help you create the happy & healthy holistic lifestyle you deserve. To help you on your wellness journey, I offer holistic health counseling and resources that focus on holistic health & wellness, anti-inflammatory, whole food recipes, and my love for gardening inside #TheMillennialGarden.