These delicious cannabis cut-out sugar cookies paired with an easy-to-make cannabis-infused icing are perfect for any elevated occasion and will quickly become your new favorite go-to cannabis cookie recipe.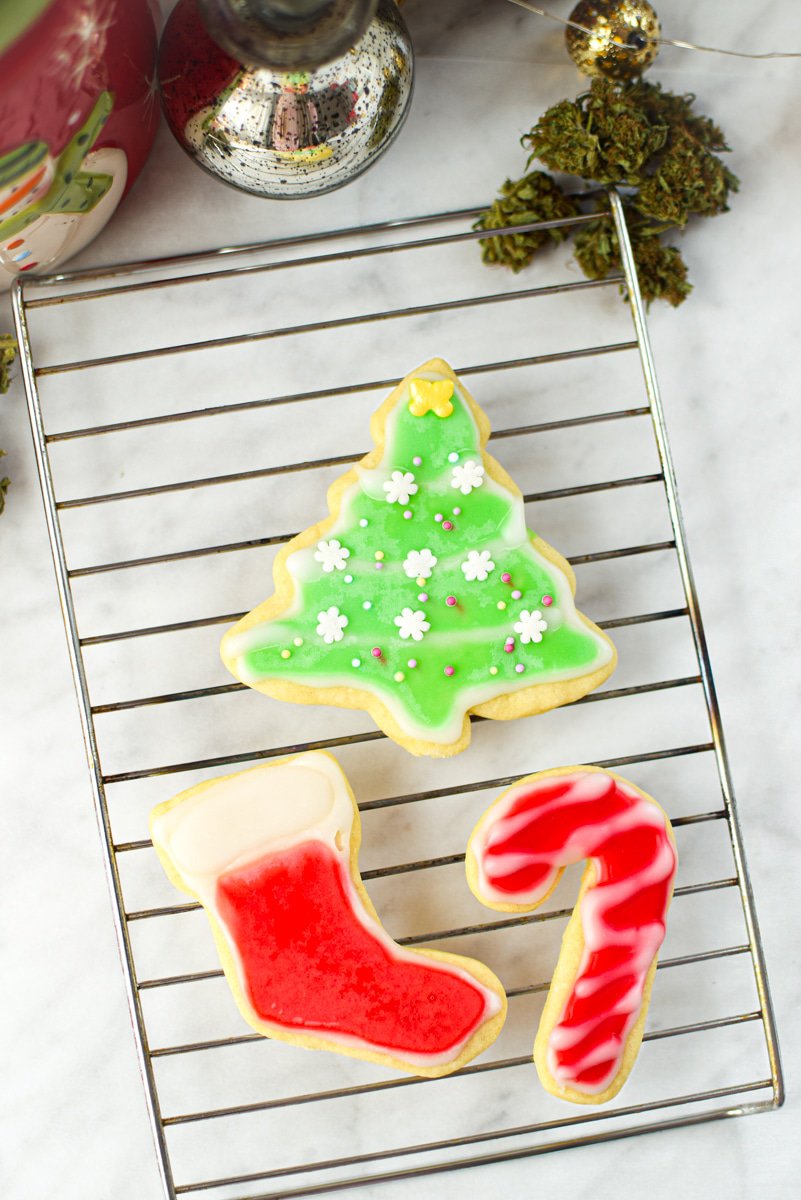 Cut-Out Cookies Perfect For Any Occasion
I have a ton of cannabis cookie recipes here on the blog – but these cut-out cookies are one of my favorites!
Perfect for any occasion, these medicated cut-out cookies are perfect to make for Valentine's Day, St. Patrick's Day, Christmas, birthdays, holidays, and more.
This is a traditional cannabis cut-out sugar cookie recipe infused with cannabis in three different ways, with cannabis butter, cannabis sugar, or cannabis-infused icing.
Of course, you do not have to infuse all three ways, it is totally up to you how you want to incorporate the cannabis and totally dependent on what you have available.
Below we will go over all of the different ways you can infuse your cookies, including important tips and tricks for keeping them looking pretty, and include the recipe for the cannabis-infused icing used on top.
And if you're brand new to the world of cannabis edibles, be sure to check out my beginners guide to cannabis edibles before getting started to ensure you have a safe and enjoyable experience.
---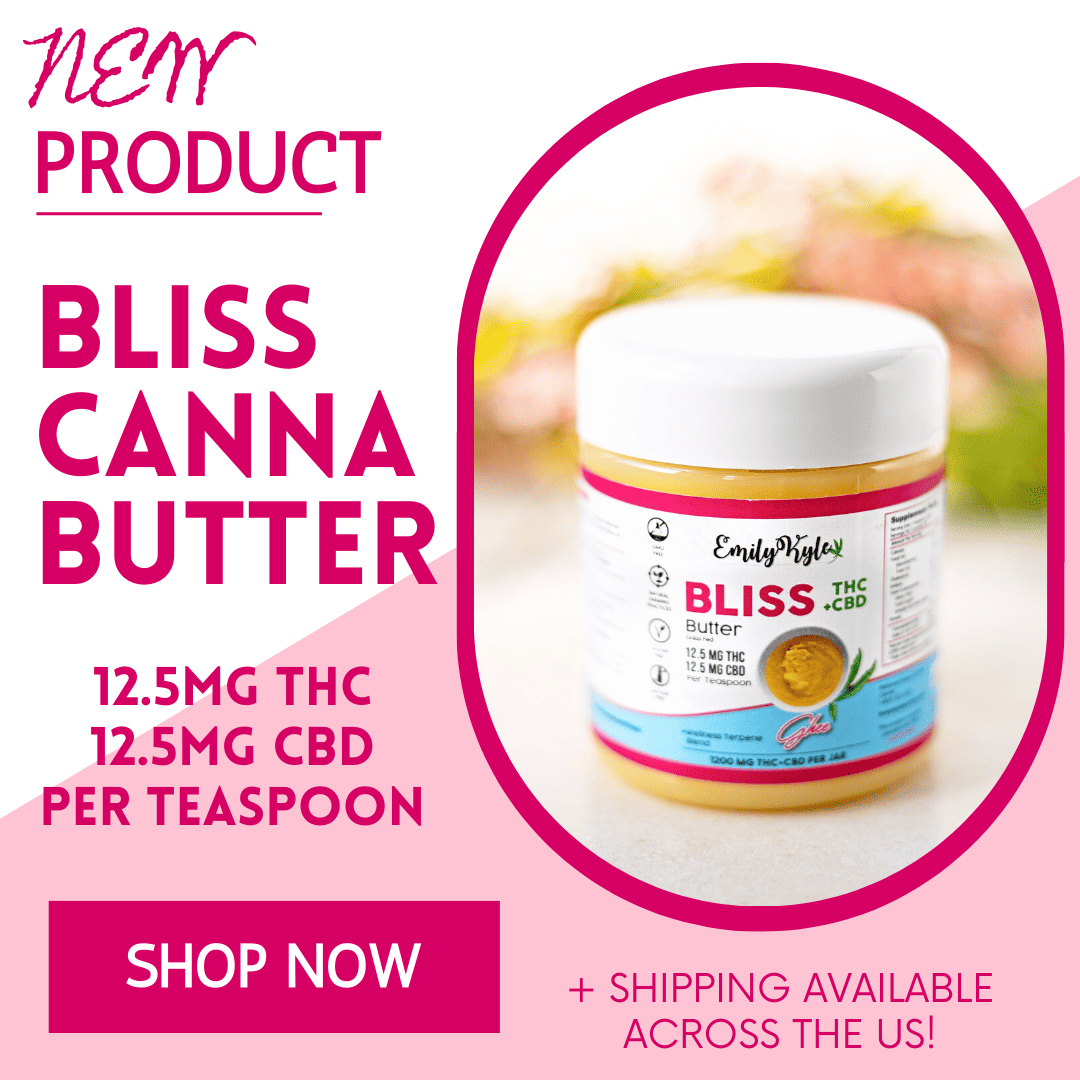 Skip the hard work and have perfectly dosed, delicious, pure Bliss Cannabutter delivered directly to your door! Shop Now →
---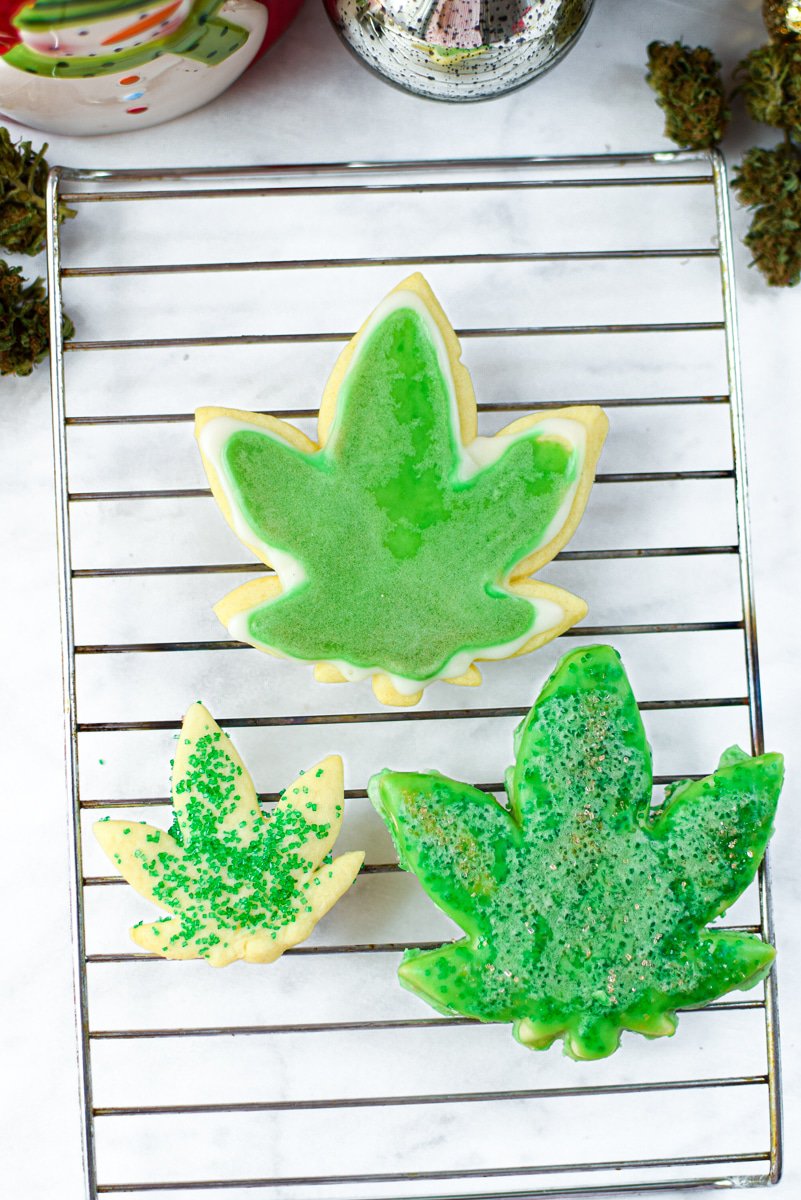 Cut Out Cookie Infusion Options
As with all things cannabis, there is more than one way to infuse something.
Here you will find multiple different ways to infuse these cookies based on your personal preferences and what you have available already.
Infuse With Cannabutter
Cannabutter is the star of this medicated recipe.
If you're not familiar with cannabutter, cannabis-infused butter is likely one of the most tried and true staple cannabis recipes for any home cook.
If you've never made cannabutter before, it really is quite simple – although it can seem overwhelming at first.
It starts with decarboxylation, which activates the important cannabinoids, like CBD and THC, in the flower itself.
After this simple process, simply combine the flower with butter in a slow cooker or double boiler and cook for 4 hours.
If this is a brand new process for you, I have an easy beginner's guide to making cannabutter that will walk you through the process with easy instructions and step-by-step photos.
Infuse With Cannabis Coconut Oil
A sister to cannabutter, cannabis-infused coconut oil is a plant-based version of this staple recipe.
If you desire, you can use cannabis coconut oil in place of cannabutter, but you want to ensure it is solidified to cream together with the sugar properly.
I do not believe infused MCT oil will work well as a substitute in this recipe because it remains liquid regardless of the temperature and won't cream together with the sugar.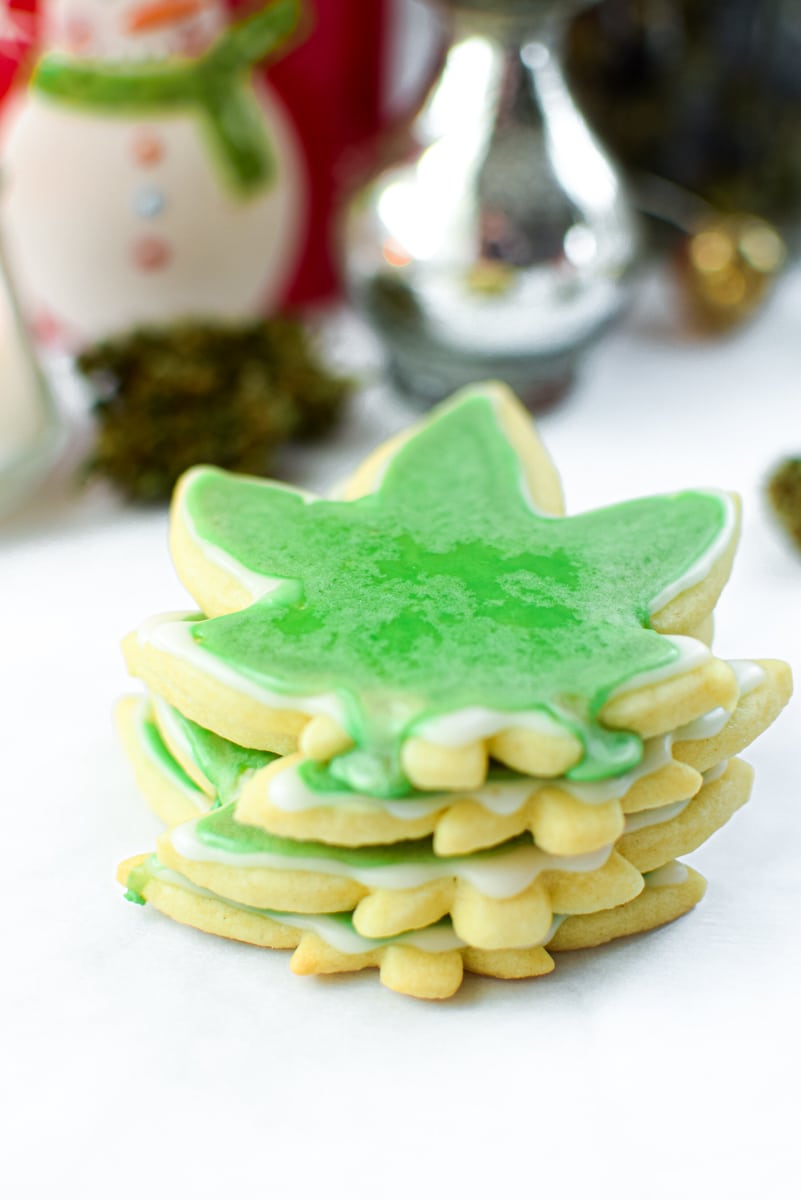 Infuse With Cannabis Sugar
Cannabis sugar is white sugar that has been infused with a cannabis tincture like the Green Dragon or QWET freezer tincture.
The alcohol in the tincture will evaporate while the extracted cannabinoids cling to the sugar crystals, leaving a versatile, easy-to-use cannabis-infused sugar.
Once you have cannabis sugar made, you can use it interchangeably in recipes that call for white sugar, brown sugar, and more.
You can choose to infuse the cookie dough with both cannabis butter and cannabis sugar for a more potent, stronger final product for this recipe.
You can also choose to skip the cannabutter and infuse the cookie dough with cannabis sugar.
If you choose to make cannabis sugar, you can also use it to make the cannabis icing for this recipe.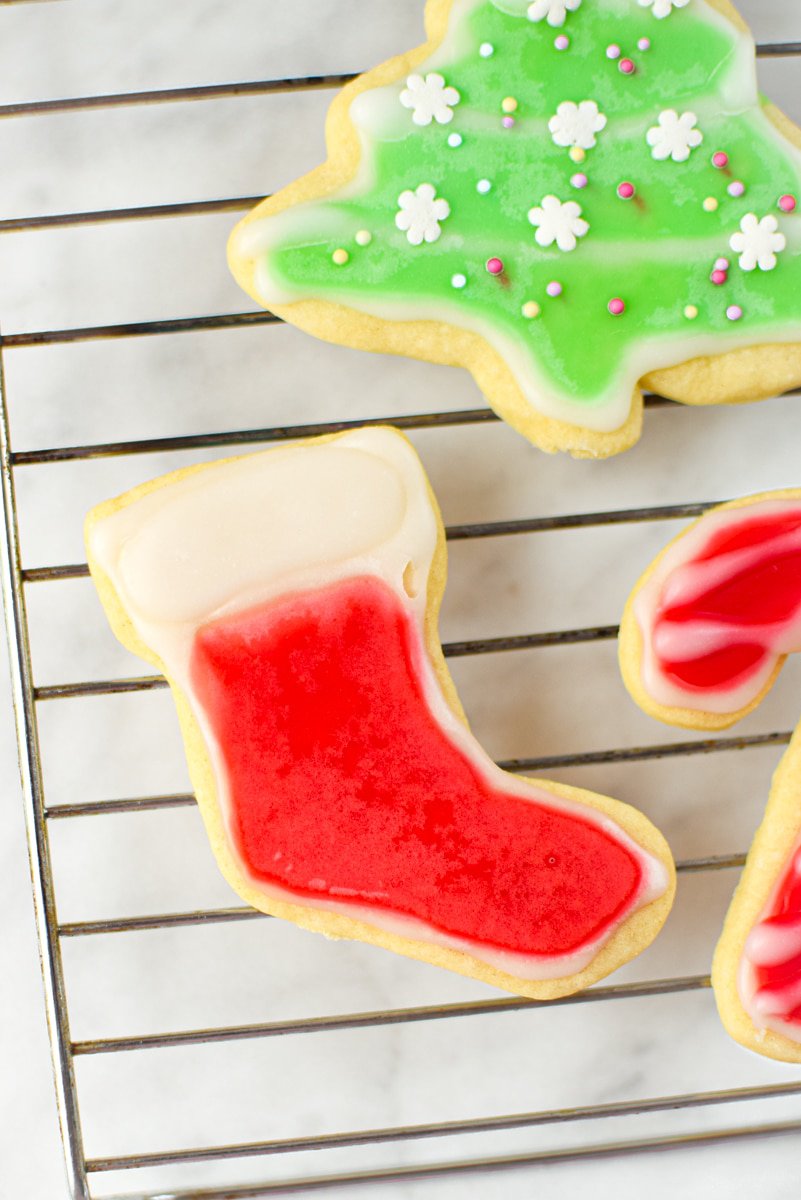 How to Make Cannabis Icing
You can easily make a traditional icing for these cookies, but if you want to elevate the experience altogether, you're going to want to use a cannabis-infused icing,
Luckily, it is very easy to make a cannabis-infused icing for these cookies using cannabis sugar.
Once you have prepared your cannabis sugar, the first step is to turn it into powdered cannabis sugar using a blender.
This step is simple and easy if you have a high-speed blender or even a high-speed food processor.
Just add the sugar to the blender and pulse on high until the sugar crystals are broken down into a fine powder resembling the consistency of powdered sugar.
Once broken down, combine with corn starch.
Add 1 tablespoon of corn starch for every 1 cup of granulated sugar.
In the recipe below you will see that we call for two batches of icing: a batch for the borders and a batch for the filling.
The batch for the borders is thicker and helps to keep the filling contained. While this step is optional, it will help you have prettier looking cookies.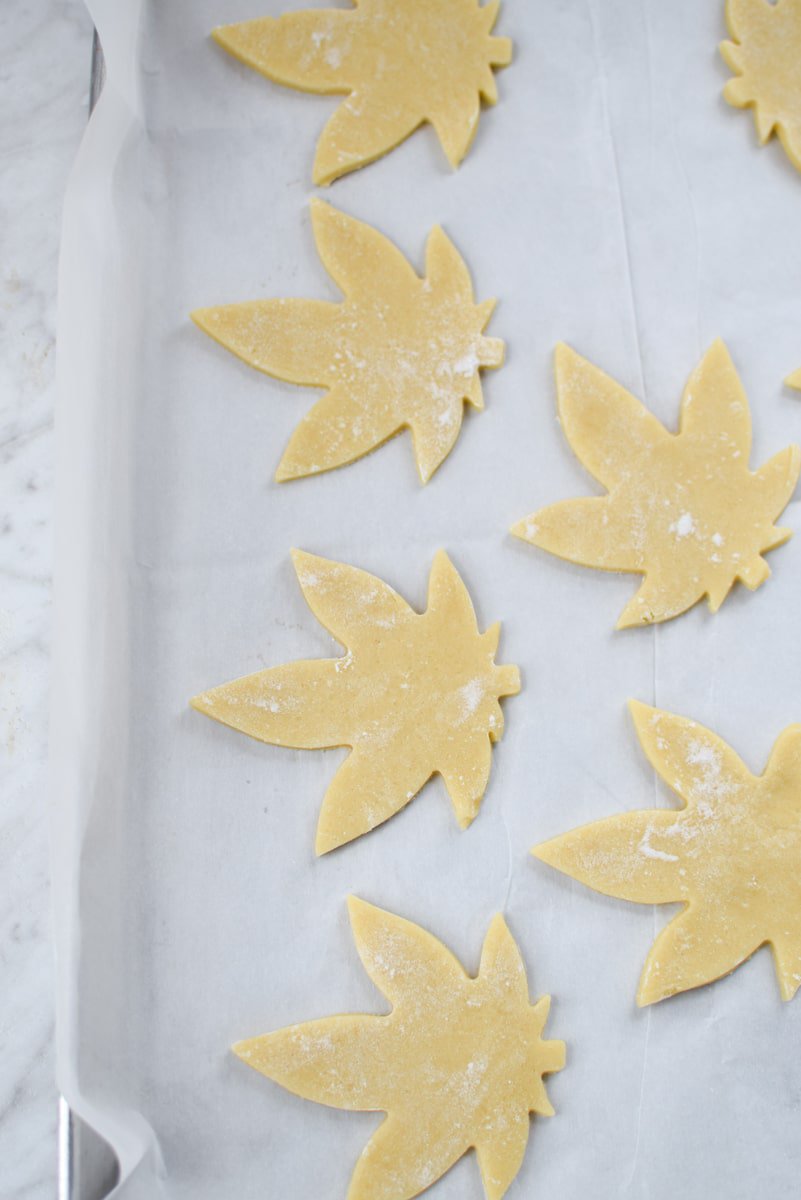 Don't Skip The Refrigeration Process
As tempting as it might be, it is important to not skip the refrigeration process.
Chilling the dough for at least 2 hours is an important step that allows the butter to harden.
Chilling overnight is ideal.
This ensures that these cannabis cut-out sugar cookies hold their shape when cut, and prevents them from spreading while baking.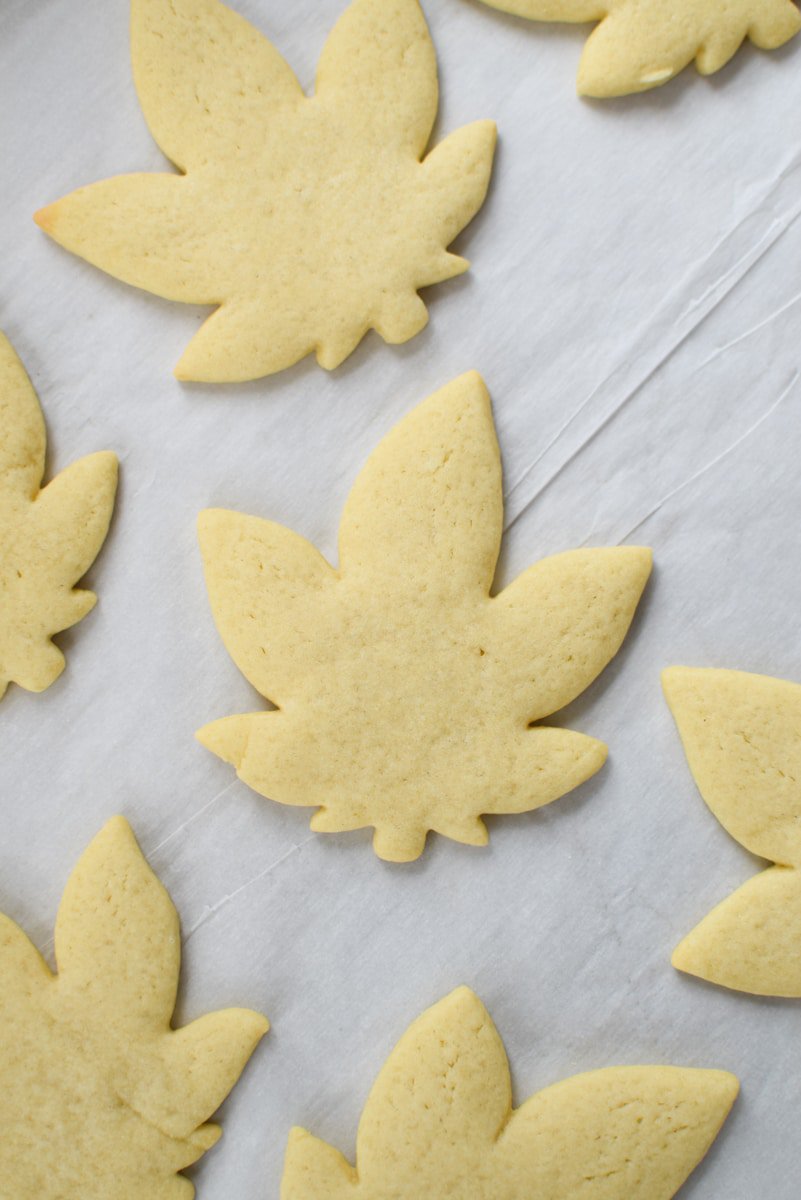 Helpful Tools For Making Cannabis Cut-Out Sugar Cookies
Determine The Dose
Want to get a more accurate guesstimate of the potency of your cannabis infusions and extractions? Try my popular edibles dosage calculator. Not sure what your perfect dose is? Learn more here.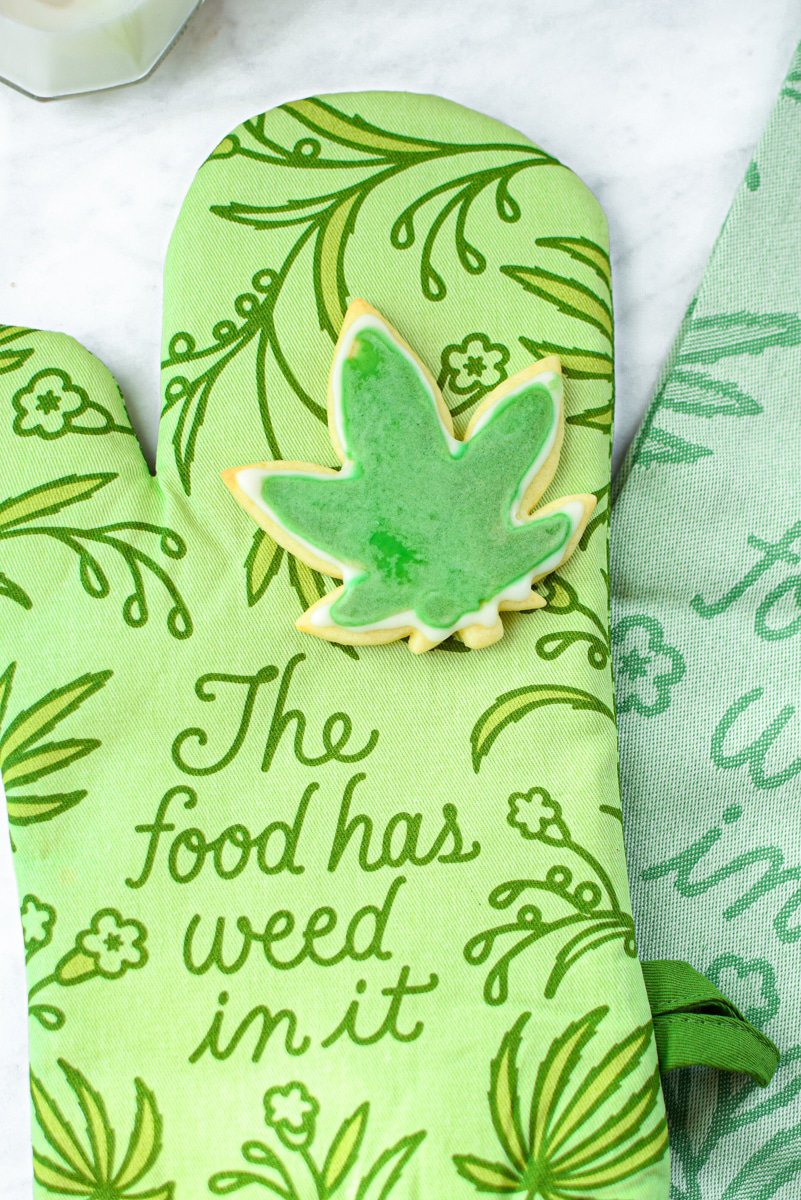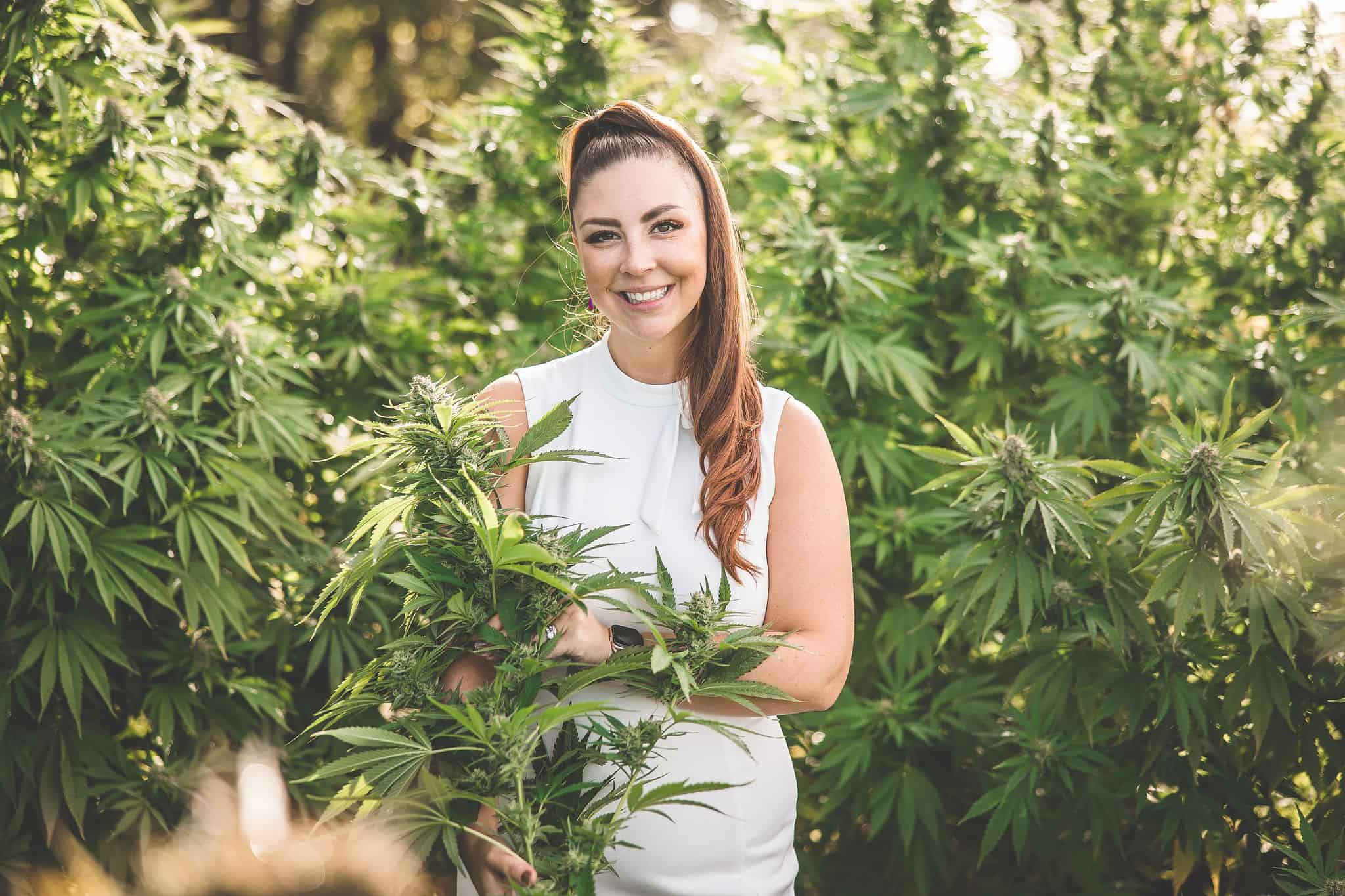 Join thousands of like-minded cannabis lovers from across the world inside a censor-free forum where you can explore the health benefits of cannabis and truly learn what it means to live Well With Cannabis →
More Cannabis Cookie Recipes
Looking for more delicious cannabis cookie recipes? Check out all of our tried and true recipes for a fun, delicious, medicated baking experience!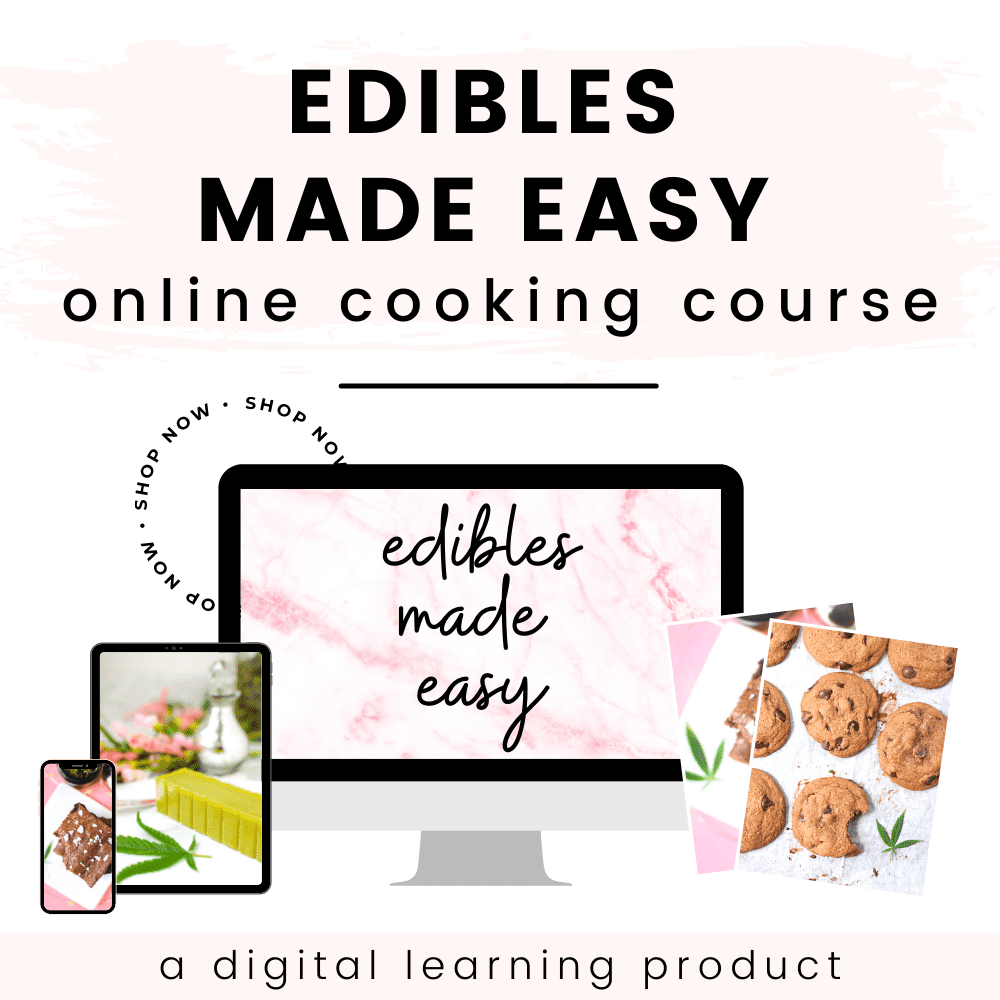 Take your edibles to the next level…
My Edibles Made Easy Online Cooking Course will teach you how to easily make cannabis edibles and topical recipes at home. This step-by-step video course will teach you how to infuse, extract, and create edibles with many different product types – all from the comfort of your own home.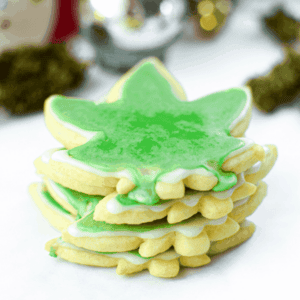 Cannabis Cut-Out Sugar Cookies
Get the recipe for these delicious cannabis cut-out sugar cookies paired with an easy-to-make cannabis icing. Perfect for Christmas cookies, or any other holiday, these medicated cut-out cookies will become your new favorite go-to recipe.
Ingredients
For the Cut-Out Sugar Cookie Dough
For The Cannabis-Infused Icing
3

cup

sifted cannabis-infused powdered sugar*

divided

5

tablespoons

milk

divided

1

teaspoon

vanilla or lemon extract

divided

2

teaspoons

light corn syrup

optional*, divided

pinch

salt

optional, divided

Food coloring gel of choice
Instructions
For the Cut-Out Sugar Cookie Dough

Measure and sift 3 cups of white flour into a medium bowl.

Add the salt and baking powder. Mix well and set aside.

In a large bowl using a hand mixer on high speed, cream together the sugar and butter until light and fluffy, approximately 3-5 minutes.

In the same bowl using a hand mixer on low speed, add the eggs and vanilla. Beat until well incorporated.

With the hand mixer still on low speed, gradually add the dry ingredients to the wet ingredients.

When the dough forms, it should be soft, not sticky. If the dough is sticky, add more flour 1 tablespoon at a time until the proper consistency is achieved.

Split the dough into two equal portions. Roll each portion into a large ball and then flatten each ball into a disc shape. Wrap each disc tightly in plastic wrap and place in the refrigerator for at least two hours.

Longer, or overnight, is better. If chilling longer than 2 hours, place the wrapped dough into zip-top bags for safekeeping in the refrigerator.

Once the refrigeration process is complete and you're ready to bake, preheat the oven to 375°F.

Line 2-4 baking sheets with parchment paper and set aside.

Pull out one disc of dough at a time (this will keep the other one cold while you work).

On a lightly floured surface, roll the dough into a ¼" thick slab. Cookies that are rolled too thin will be crunchy and cracker-like.

Cut-out your cookie shapes using your cutter of choice and place each cookie on a parchment-lined baking sheet.

Once all shapes have been cut, ball up the scrap dough and re-roll again. Do this up to a third time, after that, the dough gets too warm and can become tacky or may spread in the oven. You can re-refrigerate if needed.

Bake the cookies for 7-9 minutes or until set. The color should remain light. A little golden color is OK, but a darker cookie will result in a crispier cookie.

After removing from the oven, let the cookies sit on the baking tray for 1-2 minutes. You can then move the cookies to a cooling rack with a thin, wide spatula.

Allow the cookies to cool completely before frosting.

For The Cannabis-Infused Icing

As noted in the content above, you will want to make two batches of icing: one for the borders and one for the filling.

For the border icing: mix together 1½ cups powdered sugar and 1½-2 tablespoons of water or milk.

For the filler icing: mix together 1½ cups powdered sugar and 2-3 tablespoons of water or milk.

If using, add in the vanilla or lemon extract, corn syrup and salt.

Color the icing with your desired food coloring of choice.

Add the icing to a squeeze bottle for easy dispensing.

Frost the borders first and allow to dry slightly before filling in the center with the colored filling.
Notes
*Yield will depend on the size of the cookie cutters you use.
*To make cannabis-infused powder sugar, combine 3 cups of cannabis sugar with 3 tablespoons of cornstarch. Mix well.
*Corn syrup makes for a hardier, shinier finish on the icing. This prevents the cookies from sticking together if stacked.
*When making your icing, water will retain a longer shelf life than milk if the cookies are not refridgerated.
Nutrition
Serving:
1
cookie
,
Calories:
108
kcal
,
Carbohydrates:
24
g
,
Protein:
2
g
,
Cholesterol:
10
mg
,
Sodium:
95
mg
,
Sugar:
14
g
Did you make this recipe or have a question?
Join hundreds of members inside private Well With Cannabis Community for help, support, and to share your edible creations!