This page may contain affiliate links. Read my full disclosure here.
These Butterscotch Oatmeal Cookies are a Gluten Free treat the whole family will love. Crispy, chewy, sweet and satisfying all at the same time, made with whole-grain oats and butterscotch chips, these are a family favorite all year round.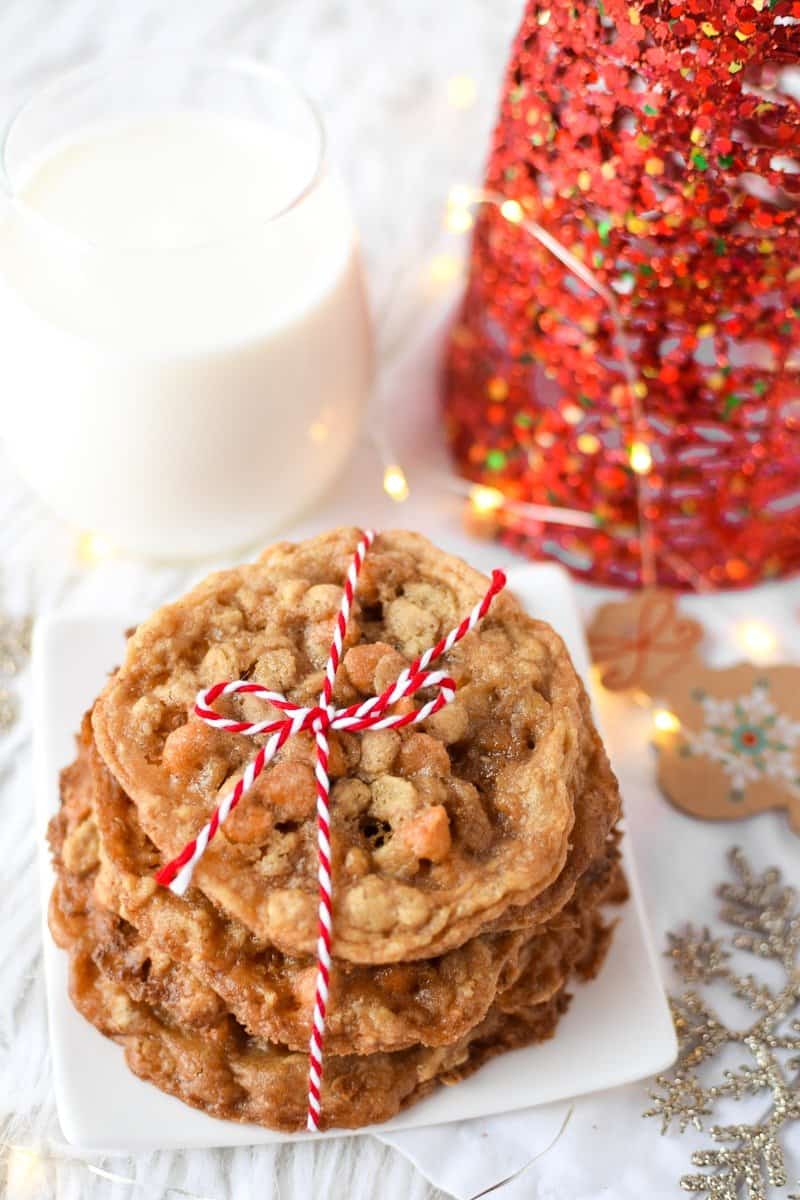 A Guest Post From My Dad
Have I ever told you that I am obsessed with my parents? In the best way possible.
They are awesome and my best friends and I love them so much. And I'm not just saying that!
I hang out with them more than anyone, they're fun and they're my biggest fans. It also helps that they are both fabulous cooks.
My dad even helped me test, develop and create recipes for my cookbook – thanks Dad!
When I needed a cookie recipe stat for a virtual cookie party this holiday season, I knew my dad would come through. And he surprised me with not only a recipe, but a fun little guest post as well.
So without further adieu, the first guest blog post from my Dad, The Silent Food Critic.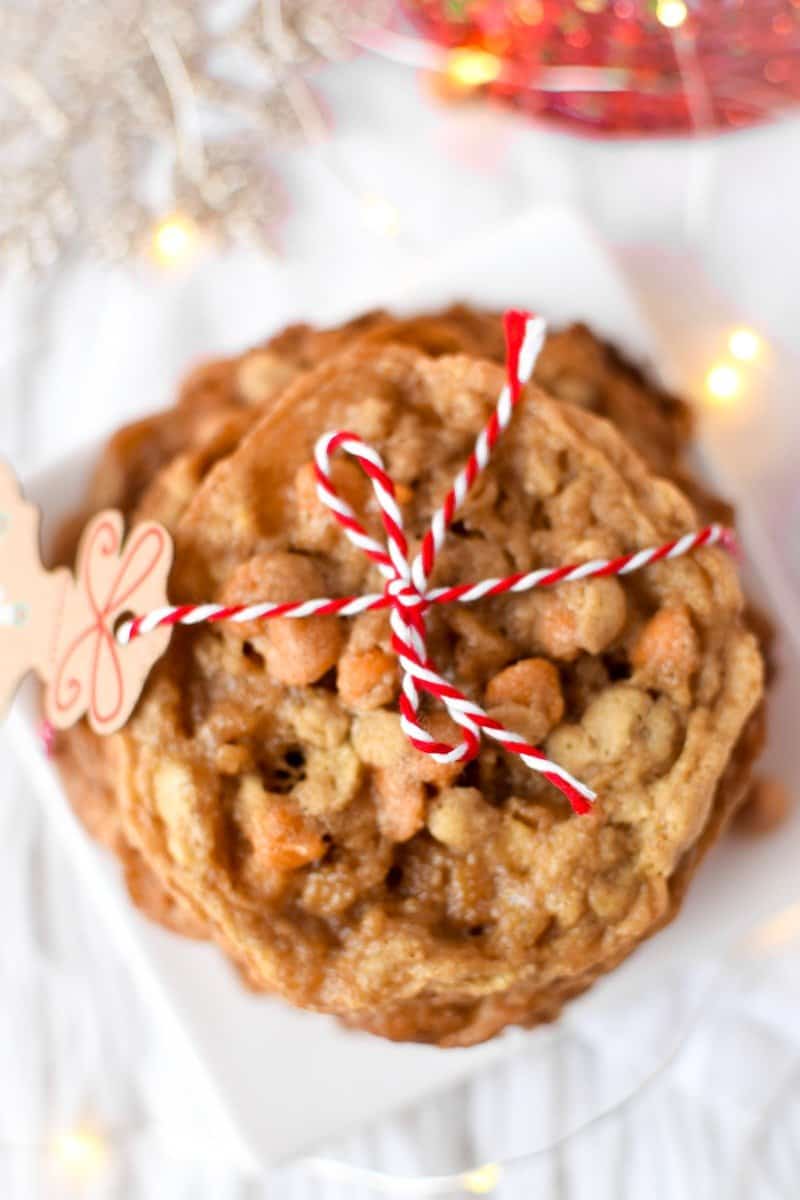 Butterscotch Oatmeal Cookies
from The Silent Food Critic
"Butterscotch Oatmeal Cookies are a bit controversial in our family. We have two that love them and two that would rather leave them.
In my opinion there are a few things that make the perfect Butterscotch Oatmeal cookie.
They have to be soft, but not fluffy.
They have to be chewy and a little crispy around the edges,
They have to be not too thick and not too thin.
I have been making these for years and have learned a few tricks to help achieve the perfect cookie.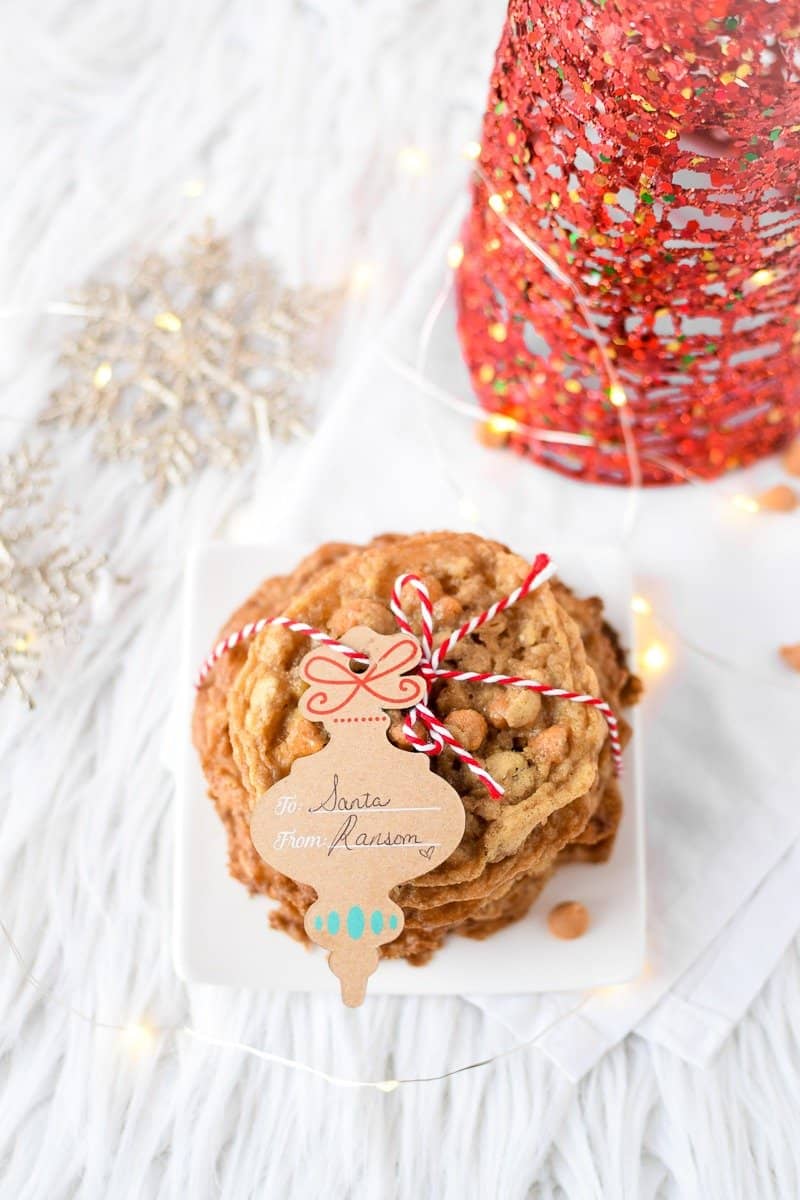 Follow These Tips for The Best Cookies Possible
The butter must be soft (room temperature) but not melted.
The best results come from baking these on parchment paper vs. aluminum foil.
Baking time is critical, and you have the watch them closely to get the best results. For my oven 350 F for about 9 minutes works best. They should be just starting to crisp around the edges but remain soft in the center.
When these come out of the oven, I prefer to them cool on a rack to help prevent further cooking on the hot pan.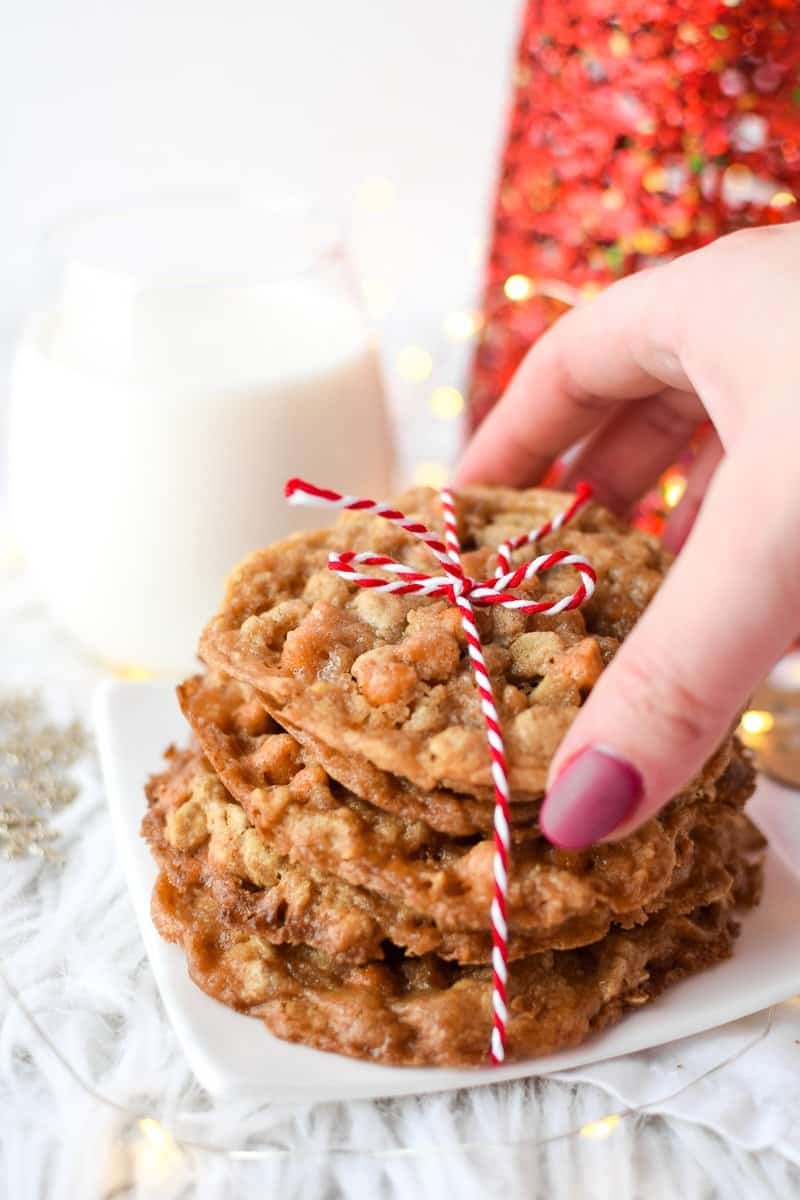 P.S. Don't forget about these Vegan Anise Spritz Cookies too!
Still looking for the Perfect Holiday Gift?
My new cookbook The 30-Minute Thyroid Cookbook: 125 Healing Recipes for Hypothyroidism and Hashimoto's was released on Christmas Day, December 25th, 2018. Merry Christmas!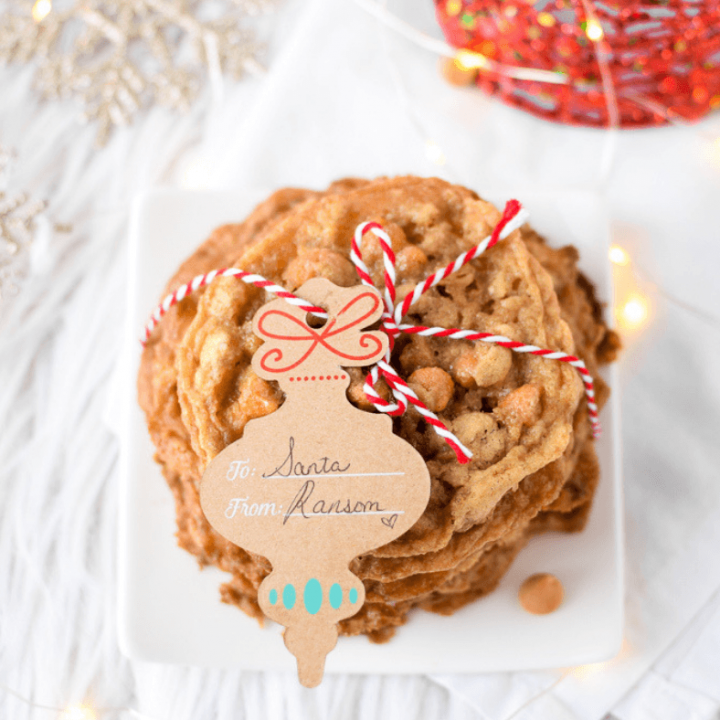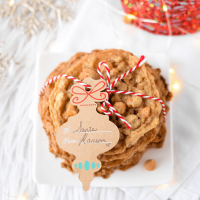 Butterscotch Oatmeal Cookies
Crispy, chewy, sweet and satisfying all at the same time, made with whole-grain oats and butterscotch chips, these are a family favorite all year round.
Ingredients
3/4 cup unsalted butter, room temperature
1 cup brown sugar, packed
1 large farm fresh egg
1 tablespoon vanilla extract
1.5 cups old-fashioned rolled oats
1.25 cups all-purpose flour, traditional or gluten-free
1/2 teaspoon ground cinnamon
1/2 teaspoon baking powder
1/2 teaspoon baking soda
1/4 teaspoon salt
1.25 cups butterscotch chips
1/8 teaspoon nutmeg, optional
Instructions
Preheat the oven to 350 degrees.
Place all of the ingredients in a stand mixer and using paddle attachment mix until all ingredients are combined. If you do not have a stand mixer these can be mixed by hand.
Place rounded teaspoons of dough on parchment paper about 2" apart. 
Bake at 350 for 9 minutes.
Notes
Ensure the ingredients in your butterscotch chips are gluten-free by reading the ingredients list and ensure your oats are certified gluten-free and produced in a dedicated gluten-free facility.
Nutrition Information:
Yield:

24
Serving Size:

1 cookie
Amount Per Serving:
Calories:

175
Total Fat:

9g
Saturated Fat:

6g
Trans Fat:

0g
Unsaturated Fat:

3g
Cholesterol:

23mg
Sodium:

73mg
Carbohydrates:

22g
Fiber:

1g
Sugar:

13g
Protein:

2g
Download Your FREE Meal Plan Before You Go!
If you're looking for additional help in meal planning or discovering new and delicious recipes to try, be sure to download my Free eBook – The Happy & Healthy Flexible Meal Plan below:
---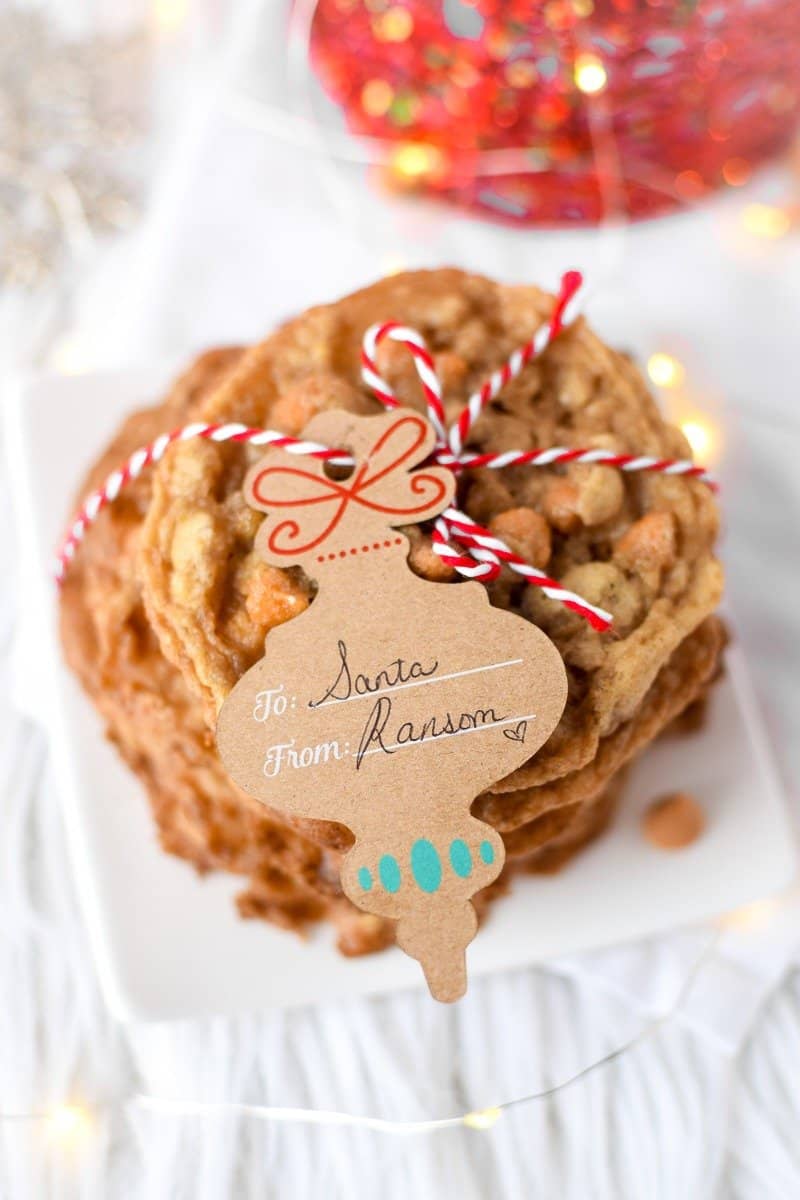 Welcome! I'm Emily Kyle, a nationally recognized media registered dietitian nutritionist & holistic cannabis practitioner providing holistic health care for those living with autoimmune and inflammatory conditions. To help you, I offer food sensitivity testing, cannabis education, and this blog which provides free resources including anti-inflammatory recipes, holistic health, wellness and nutrition related articles, and evidence-based cannabis education.