These cannabis peanut butter cookies are the same delicious melt-in-your-mouth peanut butter cookies you already know and love infused with cannabis coconut oil, cannabutter, cannasugar, or cannabis concentrates.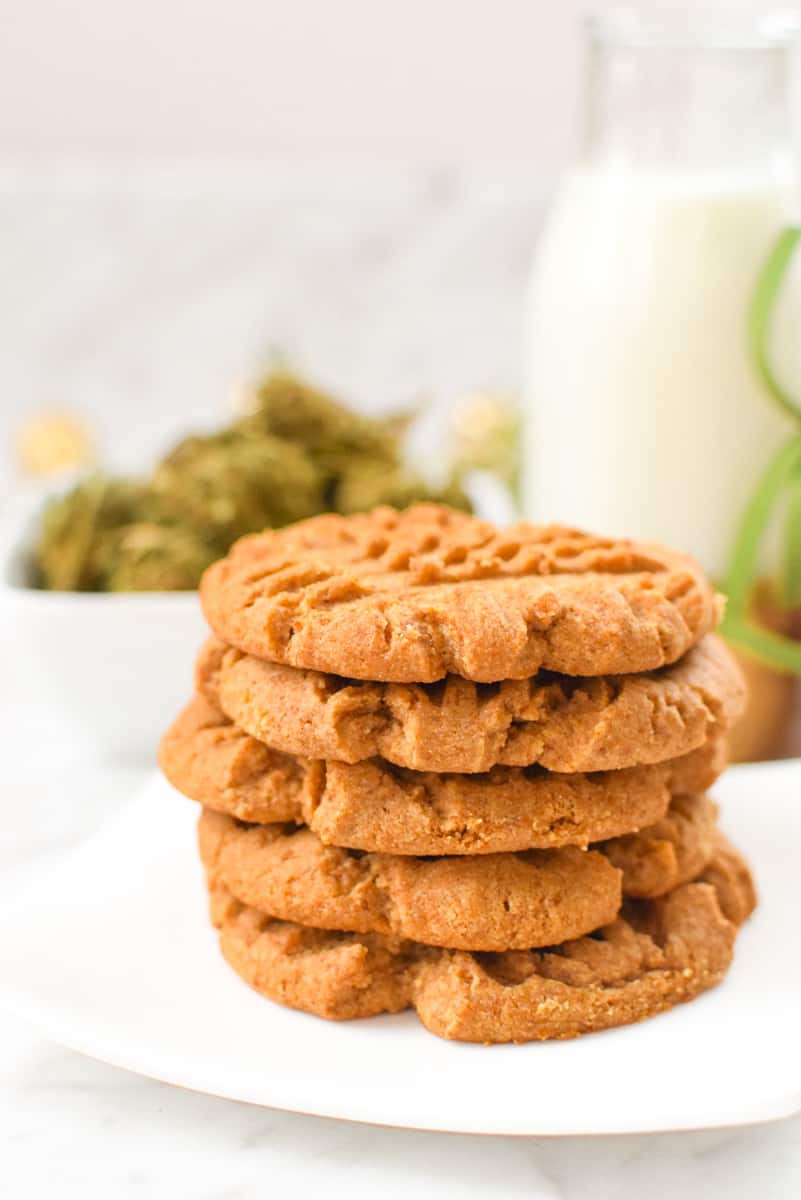 Cannabis Peanut Butter Cookies
This recipe is the best warm, delicious, melt-in-your-mouth peanut butter cookie made even better because it comes with multiple cannabis-infusion options!
Yes, you could transform any peanut butter cookie recipe into a cannabis-infused peanut butter cookie.
Simply swap the fat called for, like butter or oil, for cannabis butter or cannabis oil, and voila – you have a cannabis-infused cookie.
But if you're looking for the perfect cannabis peanut butter cookie recipe that has been made specifically with cannabis-infused oil, cannabutter, cannabis sugar, or cannabis concentrates – this is it!
And if you're brand new to making cannabis recipes, be sure to get my beginner's guide to cannabis edibles to help you on your journey.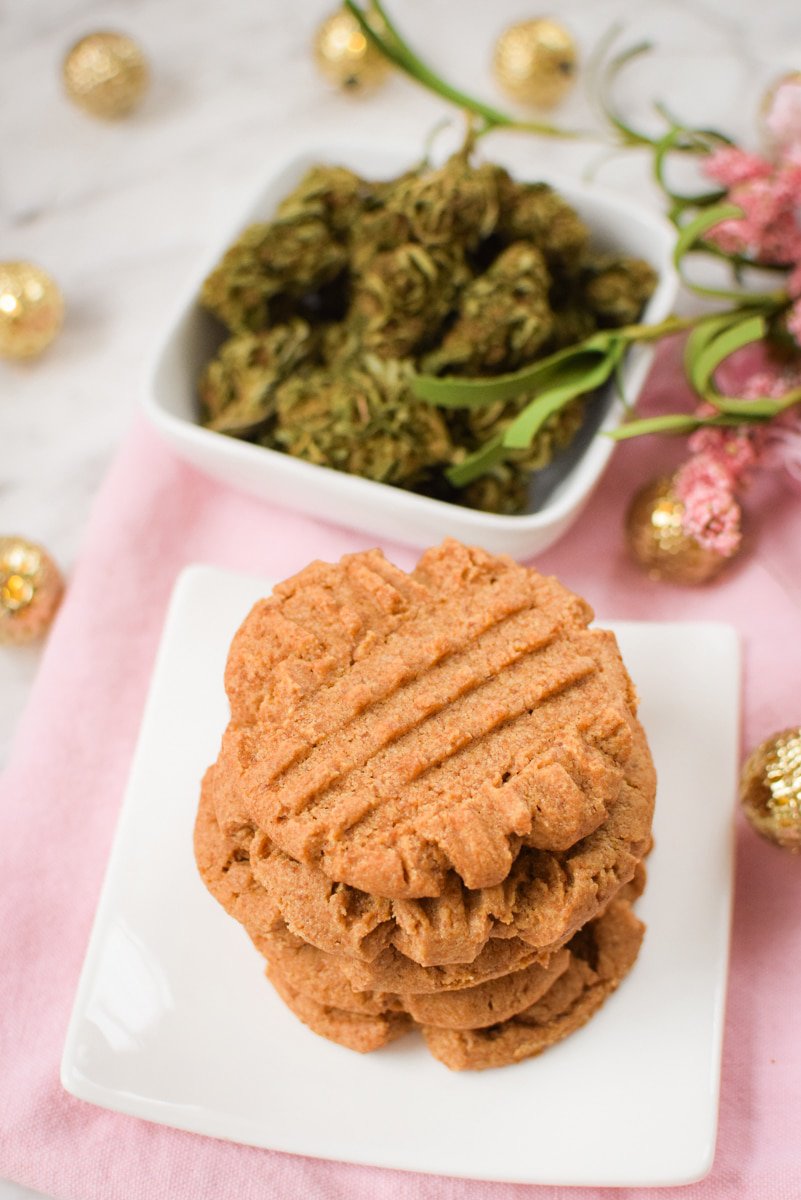 Choose Your Infusion Option
You can't make cannabis peanut butter cookies without one of the staple recipes important for every cannabis kitchen: cannabis coconut oil, cannabutter, cannabis sugar or cannabis concentrates.
You can use any optionn you want, or mix and match them to adjust the potency and taste of your final product.
Cannabis Coconut Oil or Cannabutter
Used interchangeably, baking with cannabis oil or cannabutter is an easy way to infuse a broad-spectrum of compounds like CBD or THC from the cannabis plant and get them into the food you are eating.
As a heads up, you will want to make sure you have one of these recipes prepared BEFORE diving into making your own cannabis-infused peanut butter cookies.
The process involves cannabis decarboxylation and then oil infusion and takes approximately 5-hours.
The process of infusion is nearly the same, but does have some differences, which is why I have two different guides for you:
Again, it is your choice which one you want to make, both work well in this recipe.
Once you have your cannabis coconut oil or cannabutter ready, you can go ahead and prepare these peanut butter cookies.
Cannabis Sugar
You can also make these cannabis peanut butter cookies with cannabis-infused sugar if you have some on hand.
Cannasugar is made by pouring a QWET tincture or a Green Dragon tincture over white sugar and letting the alcohol evaporate off, leaving a cannabis-infused sugar behind.
It is entirely up to you whether or not you want to use cannabis oil or cannasugar in this recipe.
Additionally, you could use BOTH infused oil or butter and infused sugar together for an extra potent batch of medicated cookies.
Cannabis Concentrates
You can also make cannabis edibles with cannabis concentrates like FECO.
First, check to see if your concentrate needs to be decarbed before consuming.
Some concentrates and extracts like distillate and FECO do not need to be decarbed first, while other concentrates like wax and shatter need to be decarbed before using in edibles.
Once the concentrate is ready to go, you will simply mix it in with the ½ cup of oil or butter as called for in this recipe.
Then prepare the recipe as described in the instructions below.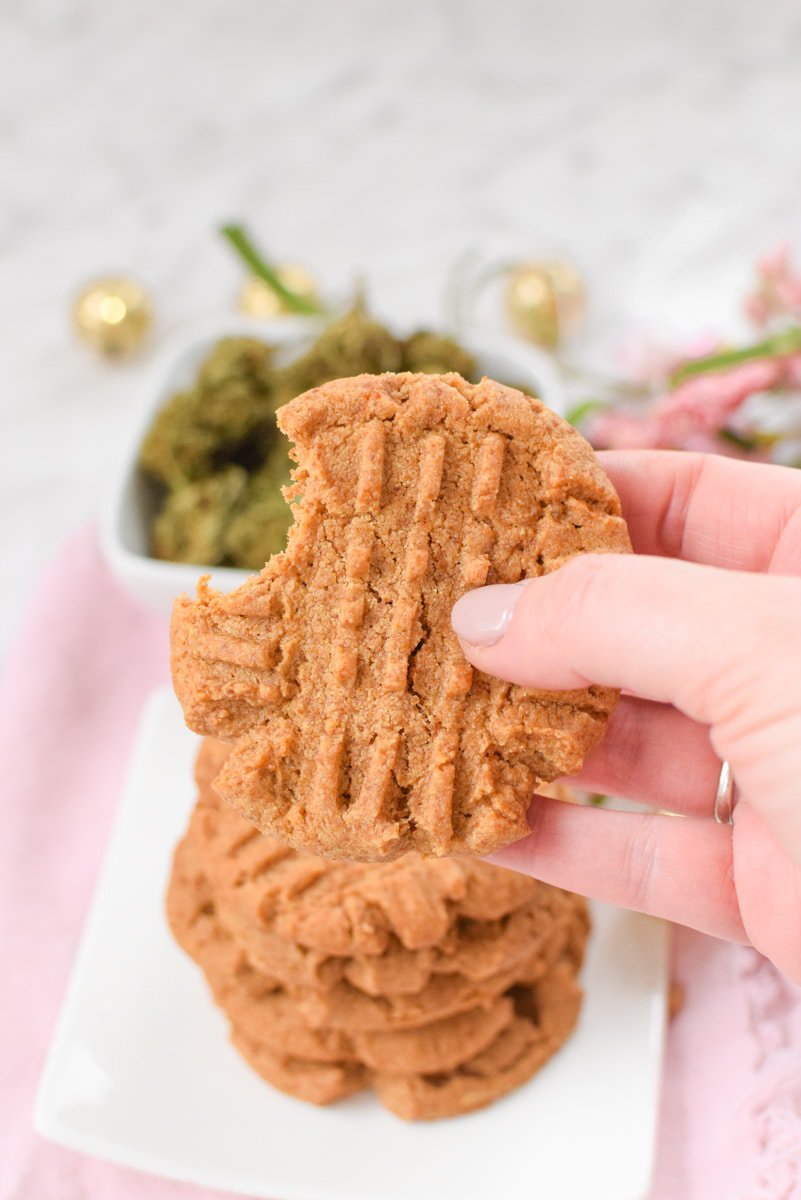 Different Dietary Options:
Cannabis-infused food doesn't have to be junk food, but it can still be a tasty treat that you enjoy.
This also makes sure that your edibles don't inadvertently contain something you happen to be allergic to or have had problems with in the past.
In other words, this recipe is accommodating to more diets than "normal" peanut butter cookies, whilst still being absolutely delicious and a great vehicle for your cannabis.
For Dairy-Free Cookies
This recipe is dairy-free if you use cannabis coconut oil rather than cannabutter.
For Gluten-Free Cookies
If you are looking for a delicious gluten-free peanut butter cookie recipe, we have had great success with using cassava flour. Swapping cassava flour for traditional all-purpose flour makes these cookies gluten-free.
These cookies can also work with the Paleo diet if you use seed butter in place of peanut butter (cassava is not a grain, but a tropical root vegetable).
You can generally get cassava flour at your local Whole Foods or even Wal-Mart, or you can order it online.
Check your supermarket first though; with the growing popularity of the Paleo diet, it's become a lot easier to get.
Gluten-Free Recipe Note:
To make these cookies gluten free, use the same recipe below with the following changes:
Add another egg for a total of 2 beaten eggs
Swap 1 cup cassava flour with ¼ reserved for the traditional all-purpose flower
When following the instructions, only add 1 cup of cassava flour at first. Add the reserved ¼ by the tablespoon, as needed, to get the right consistency in the dough
Peanut-Free Cookie Recipe
Don't like (or can't eat) peanut butter? You can also make this recipe with homemade hemp seed butter.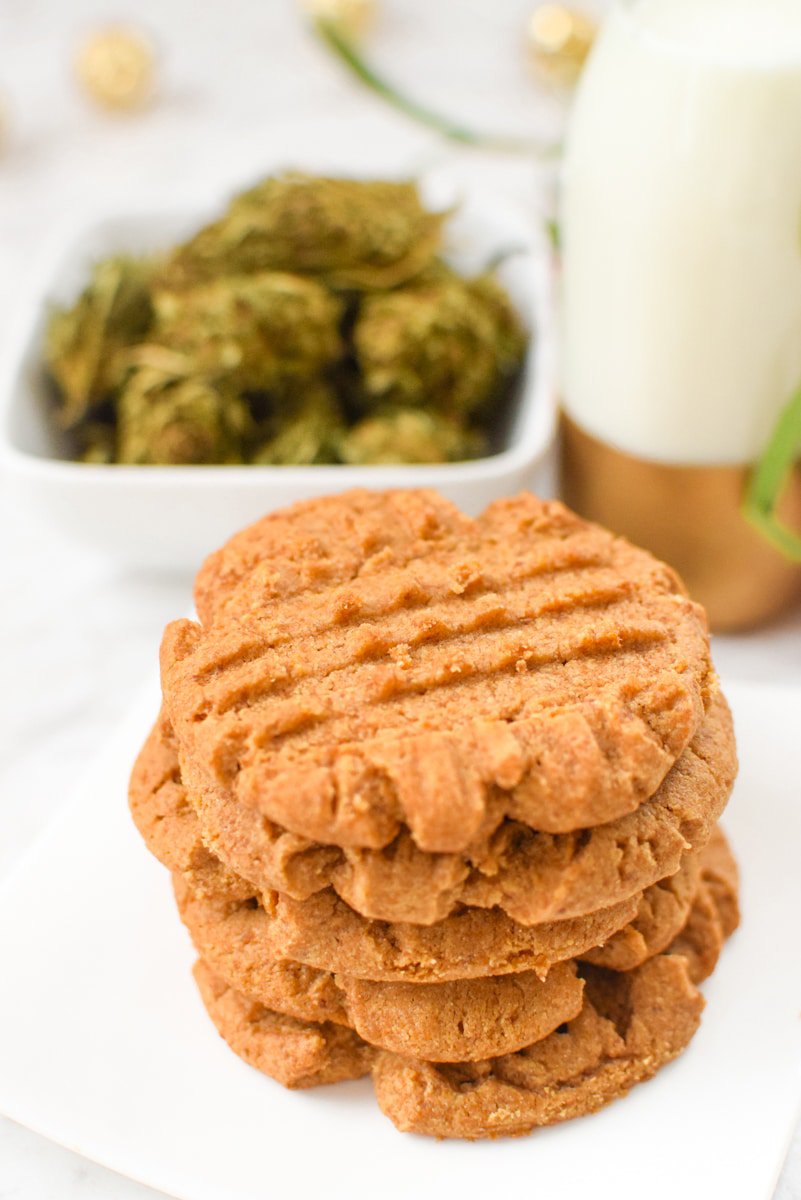 How to Determine The Dosing
Want to calculate the dosage of your cannabis edibles and homemade cannabis recipes?
While a calculator is no replacement for lab testing, this tool has been designed to help you get a more accurate guesstimate of the potency of your cannabis infusions and extractions.
Unlike other calculators available online, this calculator aims to provide more accuracy by accounting for the losses associated with decarboxylation, infusion oils, or extraction solvents used.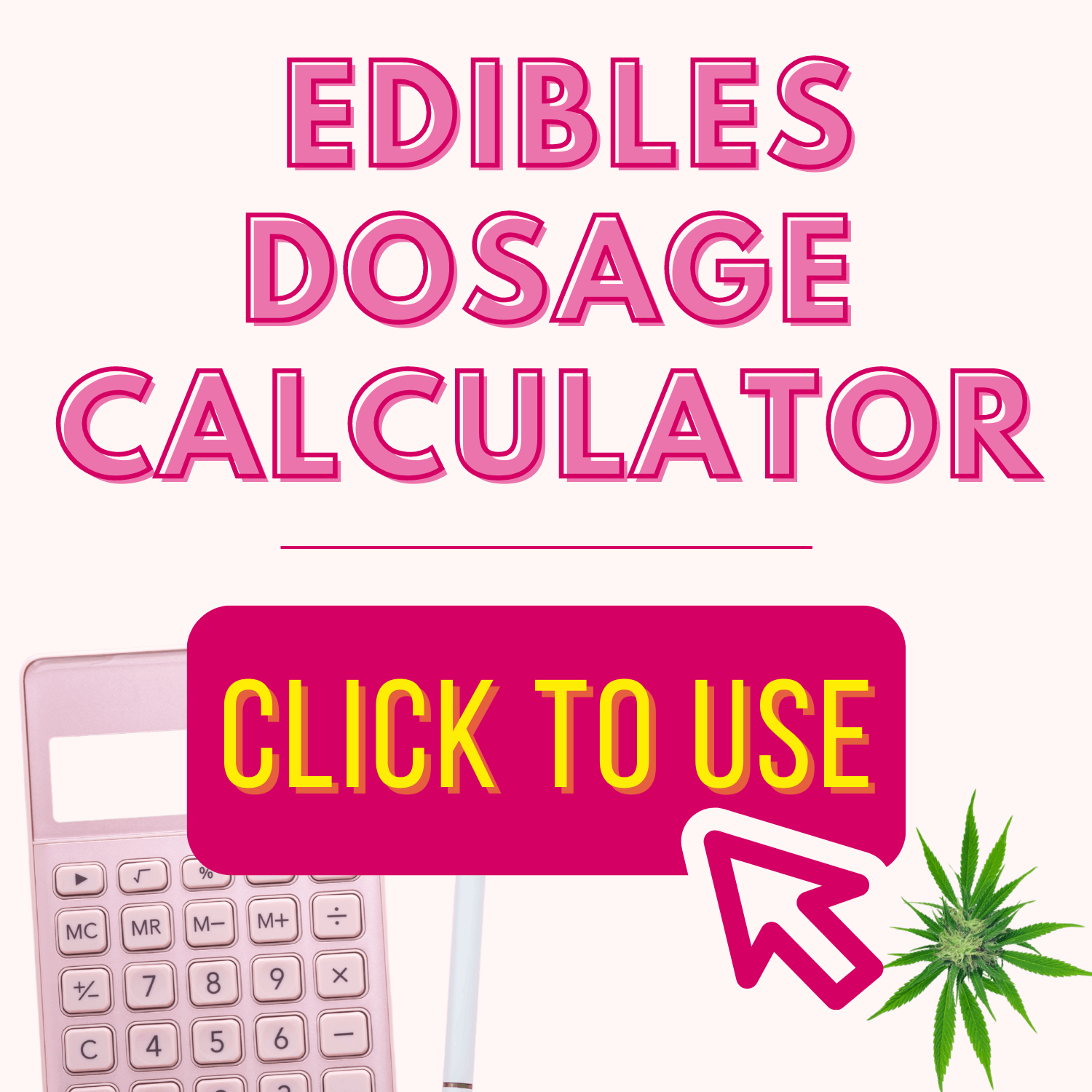 Use An Infusion Machine For Your Edibles
If the process of decarboxylating and infusing your cannabis edibles seems like too much work, a cannabis infusion machine is a perfect solution for you!
Cannabis-infusion machines are countertop devices that do all the work for you by decarboxylating and infusing your butters, oils, and more.
The most popular machines on the market today include LEVO Infusion Machines and Ardent Cannabis Infusion Machines.
Want A Discount Code?
More Cannabis Cookie Recipes
Looking for more delicious cannabis cookie recipes? Check out all of our tried and true recipes for a fun, delicious, medicated baking experience!
Enhance Your Cannabis Education
My beginner-friendly Cannabis Compass Online Course will show you how to dose, use, and apply cannabis safely and effectively so that you can begin to manage your most unwanted symptoms the natural way from the comfort of your own home.

Learn more and enroll today →
Cannabis Peanut Butter Cookies
These cannabis peanut butter cookies are the same delicious melt-in-your-mouth peanut butter cookies you already know and love infused with cannabis coconut oil, cannabutter, cannasugar, or cannabis concentrates.
Instructions
Using a hand mixer, cream the ingredients together until the mixture is light and fluffy, approximately 2-3 minutes.

Add the beaten egg to the creamed sugar and mix until well incorporated. Set aside.

With the hand mixer on low, gently incorporate the dry ingredients into wet ingredients.

Turn the mixer to medium speed and mix until a dough is formed. The consistency of the dough should be able to ball up and hold shape.

Using your hands, create a dough ball approximately 1" in size. Place each ball on a clean baking pan with 3-4 inches of space between the dough balls and the edge of the pan.

Flatten the dough balls once with a fork, then turn the fork 90° and flatten again to create a crosshatch pattern.

Place the cookies in the oven and bake for 10 minutes.

After 10 minutes, remove the baking sheet from the oven and allow the cookies to cool 1-2 minutes.

Enjoy the cookies warm or wait until they cool. Store extra cookies in an airtight container for a later time.
Notes
*Note: If you don't have or don't want to use cannabis sugar, we recommend using ½ cup white sugar mixed with ½ cup brown sugar.
*If adding cannabis concentrates, mix them into the oil or butter before preparing this recipe.
Nutrition
Serving:
1
g
Calories:
129
kcal
Carbohydrates:
11
g
Protein:
2
g
Fat:
9
g
Saturated Fat:
4
g
Polyunsaturated Fat:
4
g
Cholesterol:
8
mg
Sodium:
130
mg
Fiber:
1
g
Sugar:
8
g