Learn more about cooking with CBD oil in order to create delicious and nutritious recipes that can help you to naturally manage your health and potentially manage the unwanted symptoms of anxiety, depression, pain, and inflammation.
Let's Get COOKING WITH CBD OIL
Hemp oil and CBD oil products have become so popular that they're now considered mainstream health products with the most notable therapeutic value as an anti-inflammatory.
Cooking with CBD oil can be an enjoyable, safe, and legal way to consume cannabis edibles, but there are a few important tips and tricks to note before getting started making delicious CBD-infused recipes.
In this post, we will explore important considerations for cooking with CBD oil including:
The Difference Between Hemp Oil and CBD Oil
What Does CBD Taste Like?
Understanding CBD Edible Consumption
Why CBD Loves Fat
Important Temperature Considerations
Working With Different Product Types
The Best CBD Recipes
---
Please join my Well With Cannabis Facebook Community if you have any questions about cooking with CBD oil, making CBD edibles, how to make a specific recipe or anything else you can think of!
---
First, The Important Difference Between Hemp Oil and CBD Oil
Let's clarify this before getting started and selecting a product to work with…
There is CBD in CBD hemp oil, but there is NO CBD in hemp seed oil.
The difference lies in where the oil is extracted from the plant. To be specific, hemp seeds do not contain CBD, so oil extracted from hemp seeds does not contain CBD.
Hemp buds, flowers, and leaves do contain CBD, so oil extracted from CBD hemp flower buds do contain CBD.
While both CBD oil and hemp seed oil can be used in the kitchen, it is only the CBD oil that contains the medicinal benefits of CBD.
Hemp seed oil is still important because it contains many nutrition benefits, including heart-healthy omega-3 fatty acids, which are also great for helping to reduce inflammation in the body.
Hemp seed oil is 100% legal and can be bought in just about any grocery store or from online retailers. Hemp seed oil can be used in various ways, most commonly as a alternative to olive oil in salad dressings and more.
A high-quality CBD oil is the product you want to start with when using CBD cannabis to manage the symptoms of anxiety, depression, and pain. CBD is also legal to obtain and use in nearly every state, thanks to the passage of the 2018 Farm Bill.
WHAT DOES CBD TASTE LIKE?
Cannabis has a very distinct taste and flavor thanks to its unique terpene profile, and CBD oil is no different. Terpenes are the volatile organic compounds that give all plants their unique smells and strong taste.
Terpenes can vary greatly from strain to strain, and how the CBD oil is extracted from the plant will also impact how the final product will taste.
Both CBD and cannabis can be an acquired taste for some, and many find it to be a flavor that can greatly enhance the overall flavor profile of any dish.
UNDERSTANDING CBD EDIBLE CONSUMPTION
It is believed that CBD can nourish the body's own endocannabinoid system which is directly responsible for maintaining homeostasis or balance in the body.
The way CBD is consumed or applied to the body will make a difference in how bioavailable, or easily absorbed, the CBD is and how long the onset and duration times last.
CBD can be applied directly to the skin topically or taken sublingually under the tongue. Both application methods yield an approximate ~30% bioavailability rate, with an average onset time of 15-30 minutes, and a typical duration time of 2-4 hours.
In contrast, oral or edible consumption of CBD in the form of food and drinks yields an approximate ~6-10% bioavailability rate, with an average onset time of 30-90 minutes, and a typical duration time of 4-8 hours.
It is important to remember that different CBD application methods will yield different experiences and results for each person. Additional factors like body weight, health status, and more can affect the individual as well.
CBD and cannabis use are about self-experimentation in order to find which application method works best for you.
Why CBD Loves Fat
CBD, like all cannabinoids, is lipophilic – meaning that it loves to cling to fat. The cannabinoids are most easily and readily absorbed when paired with a fat, such as coconut oil or olive oil (1). This is why you will find most CBD recipes use these infused oils.
Because CBD is a natural supplement, it is very important to pair it with a healthy diet for the best health outcomes!
A diet full of processed and fried foods creates an imbalance in the body and the inability of your body to receive all the amazing benefits of CBD. Remember a healthy diet, is a diet high in fruits, vegetables, whole grains, nuts, and seeds.
IMPORTANT TEMPERATURE CONSIDERATIONS
CBD oil can be added to any of your favorite recipes. A few drops of CBD oil can be easily combined with salad dressings, smoothies, lattes, and much more!
To preserve the integrity of the plant compounds, CBD oil should not be heated on direct heat.
Heating the oil too high can change its chemical composition, reducing its overall effectiveness (2).
However, CBD can be heated up to about 240° Fahrenheit, making baking an appropriate way to use CBD while keeping all of its benefits.
Traditional CBD oil does not need to be decarboxylated, because it already is. The decarboxylation period happens during the processing period. CBD oil is ready to be added and enjoyed in that favorite dish of yours.
WORKING WITH DIFFERENT CBD Oil PRODUCT TYPES
Full Spectrum vs Broad Spectrum vs Isolate:
You can find CBD oil in three different variations; full-spectrum, broad-spectrum, and isolate. It is important to understand the difference before purchasing, so you can make the best decision possible.
Full Spectrum. Full-spectrum cannabis means that all of the naturally occurring cannabinoids found in the mature growing plant are still present in the final processed product. Full-spectrum products also contain the other important compounds that the cannabis plant contains including the terpenes, flavonoids, and more.
Broad Spectrum. Broad-spectrum products contain a range of many different kinds of cannabinoids and terpenes found within the plant, but not all of the compounds naturally found within the plant. Broad-spectrum CBD oil contains the same compounds as the full-spectrum oil, however, the THC has been physically separated out, leaving no trace amounts of that specific cannabinoid.
*Broad-Spectrum products are ideal for users who cannot have any trace of THC in their system, whether it be for a job, passing a drug test, or personal reasons.
Isolate. Isolate products are specifically isolated cannabinoids that have been physically separated from the cannabis plant. For example, CBD isolate is an extraction that is 99.9% pure cannabidiol. During the CBD isolate extraction process, every compound contained in the plant matter is removed, including any traces of THC, terpenes, waxes, oils, chlorophyll, and more.
Full-spectrum cannabis is thought to be superior to broad-spectrum or isolated cannabis products because all of the constituents together help create what's known as The Entourage Effect.
Traditional CBD Oil vs CBD Concentrate
The only difference between CBD oil vs CBD concentrate is volume. When something is concentrated, that means that it is denser, stronger, or purer by the removal or reduction of liquid.
You will find CBD oil sold in a much greater volume and directed to use a few drops per serving. While CBD concentrate will be sold in a much lesser volume, and is typically used for making bath and body products, food preparation, baking or even to add to your favorite refillable vape tank.
Check out these recipes that are perfect to use for CBD concentrate:
Try One of These Delicious CBD Recipes
Are you ready to get started using CBD oil in your kitchen? Get started with one of these delicious recipes featuring CBD oil, CBD concentrate, or CBD hemp flower.
CBD Smoothies & Drinks
This delicious, refreshing CBD smoothie is the perfect combination of tart and sweet, and it's filled with antioxidant-rich additions like ground flax, turmeric, and cinnamon. The ingredients of this smoothie provide both prebiotics and probiotics, which are important for good gut health and digestion.
Creamy, minty, and chocolatey, this smoothie makes a decadent yet refreshing breakfast, snack, or even dessert. The bananas provide a light and creamy base, and the cocoa powder and mint complement one another perfectly to create a clean-eating treat that will likely become a favorite.
This Green Dream Hemp Seed Smoothie is a whole-food, plant-based, vegan, gluten-free, dairy-free smoothie that tastes amazing while delivering an abundance of nutrients and antioxidants. This smoothie includes options for infusing this drink with CBD oil if desired.
This delicious CBD Anti-Inflammatory Summer Squash Smoothie is naturally gluten-free, Paleo, and AIP-friendly, has a delicious, sweet taste from the peaches and contains a full serving of vegetables.
Using natural ingredients like blueberries, lavender, and CBD oil, this delicious Blueberry Lavender Stress Relief Smoothie is the ultimate holistic cure for stress relief by combining ingredients that can naturally help ease stress, panic, and anxiety.
Whether you're starting your morning off right or planning a fun party or get together, these CBD Infused Watermelon Shooter Shots are a nutrient-dense, anti-inflammatory option for consuming CBD and supporting your overall wellness.
These Ginger Turmeric CBD Wellness Shots are a quick and easy, delicious way to enjoy a burst of nutritious superfoods like ginger, turmeric, and green apple with CBD for the ultimate anti-inflammatory wellness shot.
Easily make your own creamy Homemade Hemp Seed Milk in under 30 minutes. Naturally vegan, gluten free, Paleo, Keto, and Whole30 approved.
CBD Recipes & Sweet Treats
Learn how to make a delicious CBD Infused Vinaigrette with fresh strawberries, CBD hemp oil, and avocado oil to pair with a deliciously creamy Strawberry Burrata Salad that is naturally gluten-free, low-carb, and Keto diet-friendly.
Whether it be Valentine's Day or a date-night-in, these CBD Chocolate Covered Strawberries will make your next special occasion indulgent, relaxing, and delicious with this easy to make a recipe that is naturally vegan, gluten-free, and ready in as little as 10 minutes.
These no-bake Almond Joy Energy Bites combine the nutritious goodness of oatmeal, dates, and almonds with the sweet and satisfying combination of coconut and dark chocolate with anti-inflammatory CBD for a delicious, gluten-free treat.
In this Ultimate Guide to CBD Gummies, we will explore what exactly CBD gummies are, the potential health benefits, the potential effects of consuming CBD Gummies, and a delicious Peach Chamomile Homemade CBD Gummy Bear recipe.
Hemp seed butter is an easy-to-make at home seed butter that requires no soaking, special equipment, or long processes. You can customize your hemp seed butter to your flavor preferences and this recipe is naturally plant-based, vegan, nut-free, gluten-free, dairy-free, Paleo, and Keto-friendly.
Looking To Further Your Cannabis Education?
Are you ready to learn more about cannabis and how you can use it to maximize your health and wellness? Click to learn more about my Cannabis Compass Online Course.
This online cannabis education teaches you how to use, apply, and dose all forms of cannabis safely and effectively so that you can begin to manage your anxiety, pain, and/or inflammation the natural way from the comfort of your own home.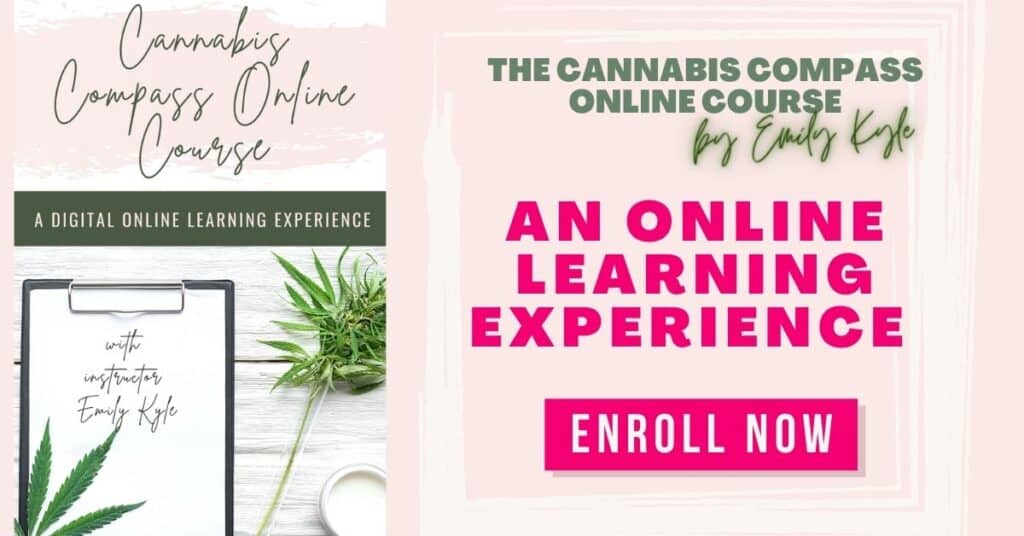 References:
1 – Bielawiec, P., Harasim-Symbor, E., & Chabowski, A. (2020, March 04). Phytocannabinoids: Useful Drugs for the Treatment of Obesity? Special Focus on Cannabidiol. Retrieved from https://www.ncbi.nlm.nih.gov/pmc/articles/PMC7064444/

2 – Pacifici R;Marchei E;Salvatore F;Guandalini L;Busardò FP;Pichini S;. (n.d.). Evaluation of cannabinoids concentration and stability in standardized preparations of cannabis tea and cannabis oil by ultra-high performance liquid chromatography tandem mass spectrometry. Retrieved from https://pubmed.ncbi.nlm.nih.gov/28207408/