These delicious fruit gummies are made with just 3 whole food ingredients: fruit, water or juice, and gelatin. They contain no added sugar, dyes, or artificial flavors​ and can be easily infused with your choice of CBD or THC concentrates for a more natural, delicious gummy experience.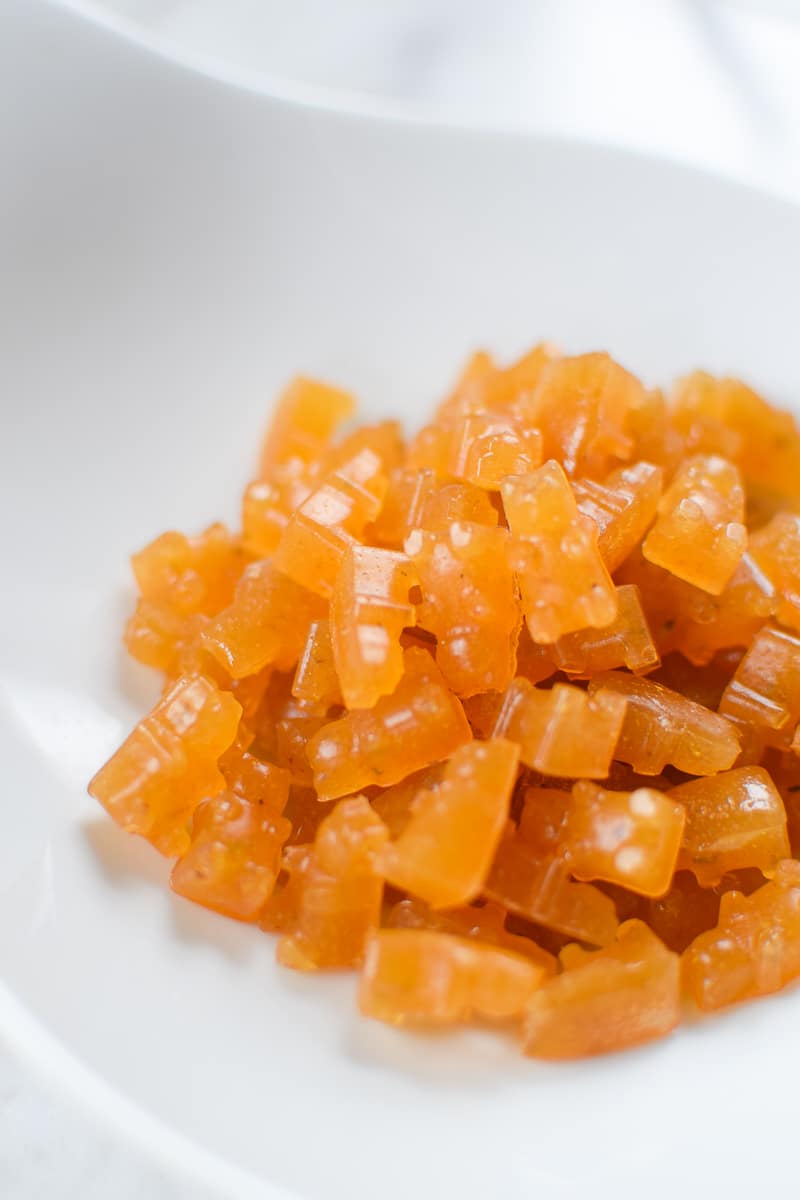 Healthy Cannabis Gummies Made With Concentrates
These healthy cannabis gummies are made with just 3 whole food ingredients: fruit, water or juice, and gelatin and are perfect for supporting a healthy cannabis lifestyle.
Unlike traditional cannabis gummies, these gummies contain no jello, no artificial dyes, no artificial flavors​, no artificial sweeteners, and no added sugar.
If you don't have cannabis concentrates available or are looking for a more traditional cannabis gummy alternative, I also have these different gummy recipes available: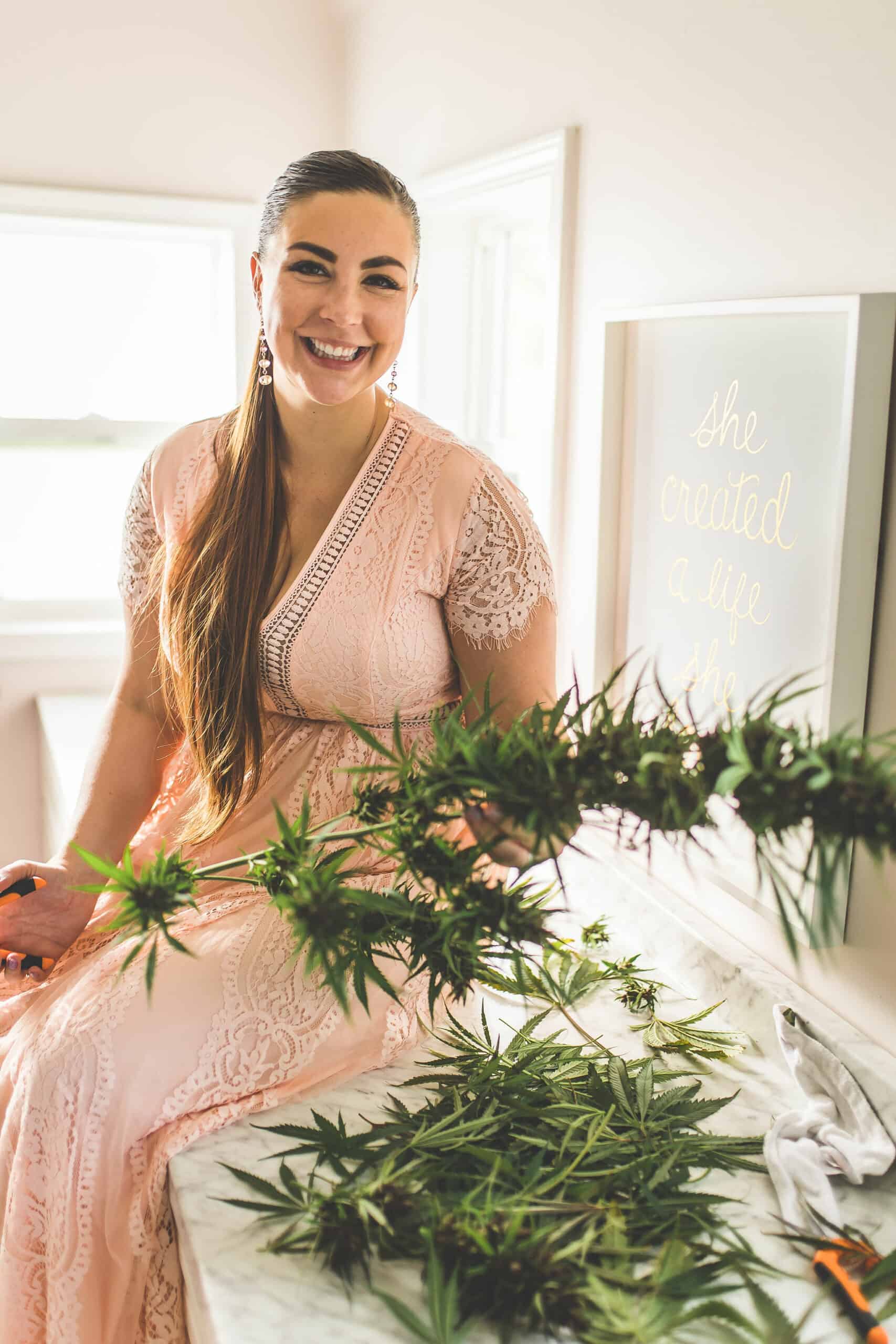 Looking For More Support?
Join thousands of members inside my private Well With Cannabis Community to ask questions, find support, and share your edible creations!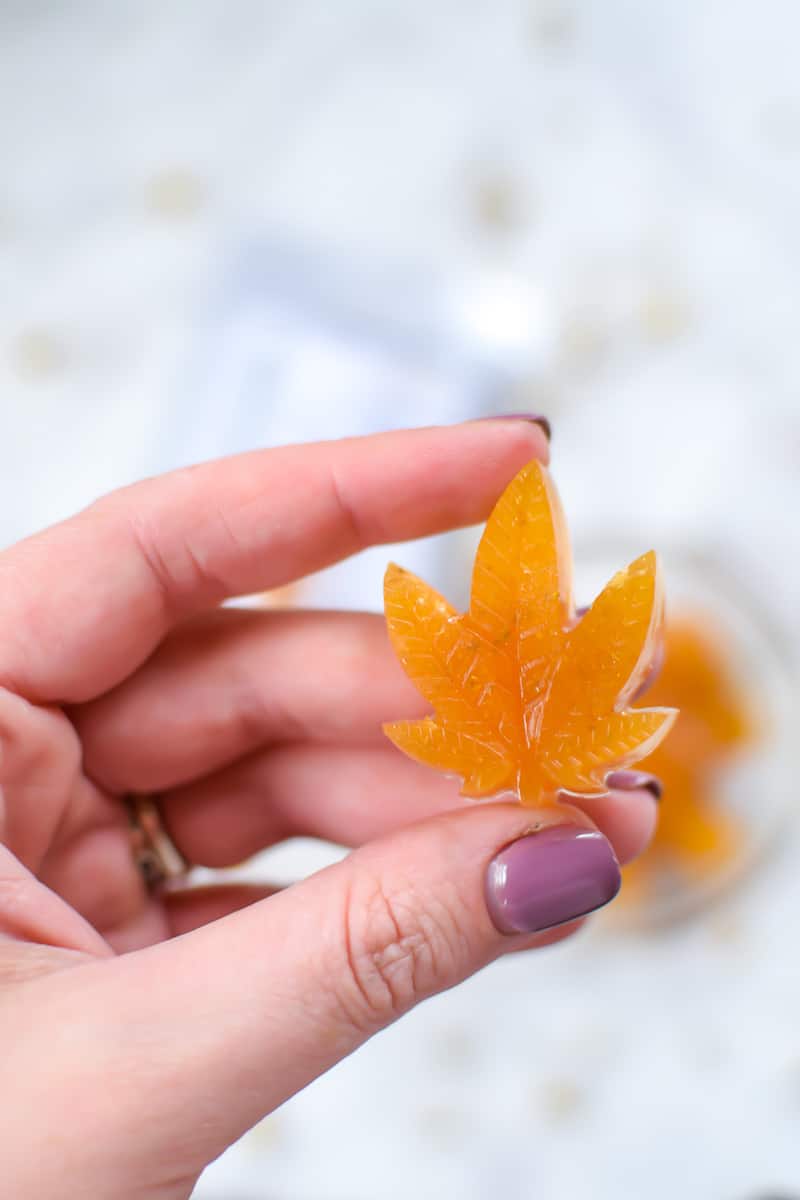 Why Homemade Edibles Are Better
As a Holistic Cannabis Practitioner and registered dietitian, my students come to me looking for ways to improve their health through a holistic lifestyle approach.
Many people don't want the traditional jello gummies and instead want a healthier cannabis recipe, and I totally respect that.
Unfortunately, many of the cannabis edibles on the shelves today are filled with ingredients that don't support good health, including high fructose corn syrup, artificial food dyes, artificial sugar, or tons of unnecessary added sugar.
Like you, many people I've worked with are managing their health and wellness with diet and lifestyle changes, which means these products are not right for you or them.
By making your own healthy gummies at home, you will have more control over the ingredients you use, the quality of the ingredients, and the final dosages.
Why Cannabis Gummies?
Consuming cannabis edibles is a way of consuming CBD or THC other forms of cannabis in food.
For many people, the thought of cannabis edibles conjures up stereotypical images.
Just imagine a friend accidentally eating too much of a special brownie and subsequently freaking out or passing out.
Thankfully with the rapid legalization of cannabis, talk of CBD or THC edibles has become much more educated, informed, and diverse.
Along with brownies and cookies, gummies and gummy bears seem to be among the most popular edible choices on the market, especially for first-time consumers.
Gummies continue to be a consumer favorite because they are relatively easy to make, enjoyable to eat, and easy to dose once you know how they affect you personally.
CBD or THC Gummies?
CBD, also known as cannabidiol, is a cannabinoid taking the wellness scene by storm, and for a good reason.
THC, known as Δ9-tetrahydrocannabinol, is a cannabinoid loved by both medical and recreational cannabis consumers.
Consuming CBD or THC gummies may impact your physical or mental health by interacting with your body's endocannabinoid system.
The endocannabinoid system is meant to help maintain homeostasis, or balance in the body.
CBD is not intoxicating, meaning it does not give the feeling of intoxication or 'being high', while THC can be intoxicating and induce a high feeling.
It's entirely your choice whether you would like to use CBD or THC in this recipe.
Both offer many benefits, making them a favorite choice for many of my Cannabis Compass Course students.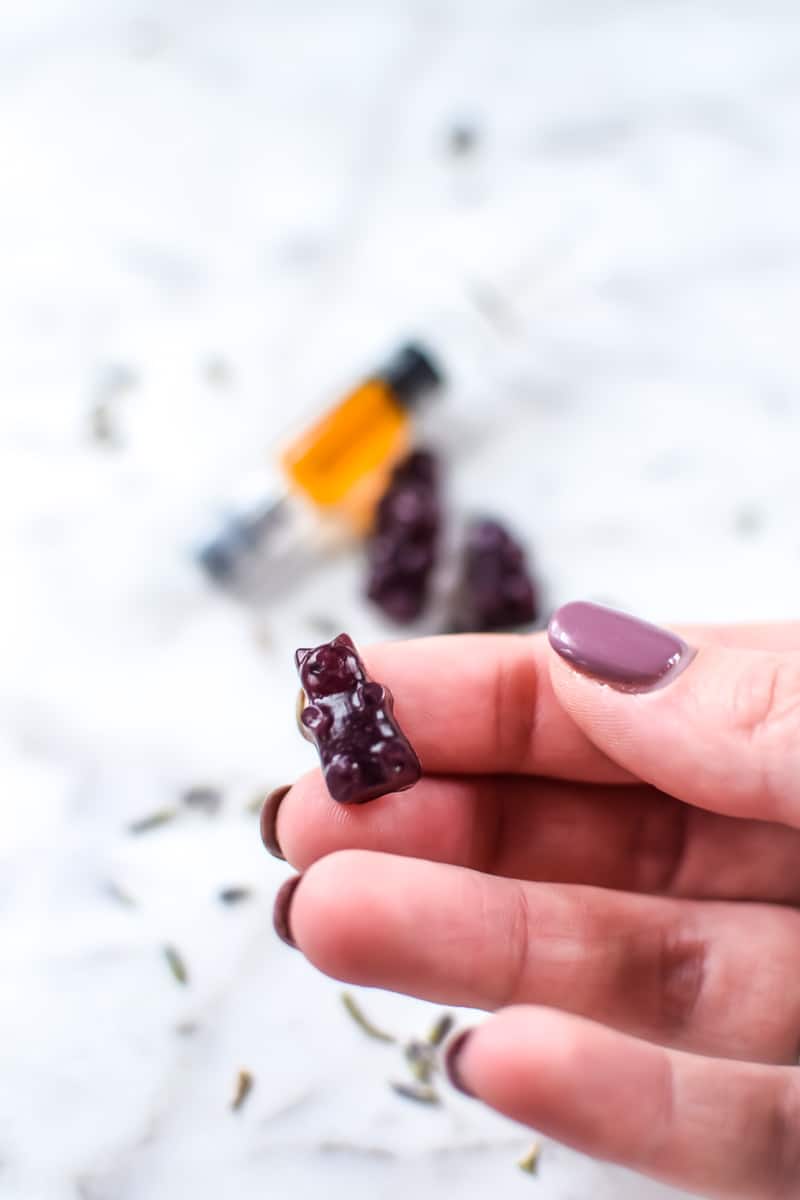 How to Make Healthy Gummies At Home
Luckily, after weeks and weeks of testing, I have finally locked down a healthy homemade infused gummy recipe that I am happy with.
This recipe tastes amazing, it can easily be customized, and all of the ingredients have a health-benefiting property.
Made with real fruits and/or real vegetables, these gummies have a vibrant color, a delicious taste, important vitamins, minerals, antioxidants, and even dietary fiber – without anything artificial.
Made with Cannabis Concentrates
You can easily use cannabis concentrates in this recipe to make perfect gummies.
From distillate or CO2 oil, to shatter or wax, and FECO or RSO, all can work for this recipe.
Depending on what concentrate you are using, you will want to ensure that your cannabis concentrate is decarbed first, if needed.
If you are not sure if your cannabis concentrate needs to be decarbed, you can check this guide here.
How much you will add is up to you and your personal taste preferences, 1mL or 1 gram is a good place to start.
Expert Tips For Making Good Cannabis Gummies
Set your intention first; how much CBD or THC do you want to use?
Do you want to eat the entire batch in one sitting, or do you want to take two-a-day like a supplement along with your daily multivitamin?
When using gummy molds, know that using different shapes or sizes will result in different dosages per gummy, even for a single batch.
When making your fruit puree, your fruit puree of choice can be either fresh or canned or frozen and thawed.
Depending on the fruit, peel or remove any seeds first as desired.
Avoid choosing the following fruits: pineapple, kiwi, ginger root, papaya, figs, or guava.
These fruits contain an enzyme that will break down the gelatin protein structures and ruin the recipe.
To make your own customizable version with vegetables, use ½ fruit paired with ½ vegetable puree of choice.
While having a dedicated gummy bear mold may be cute and helpful, it is not necessary.
You can make this recipe just about any container you have and cut it to the desired shape and size once the mixture is set.
Helpful Tools to Make Homemade Gummies
If you are like me, you might want to make your gummies RIGHT NOW, but there are a few things you're going to need before you can make this recipe.
You can certainly opt for alternatives, but to make these the right way, you're going to need to order a few things first: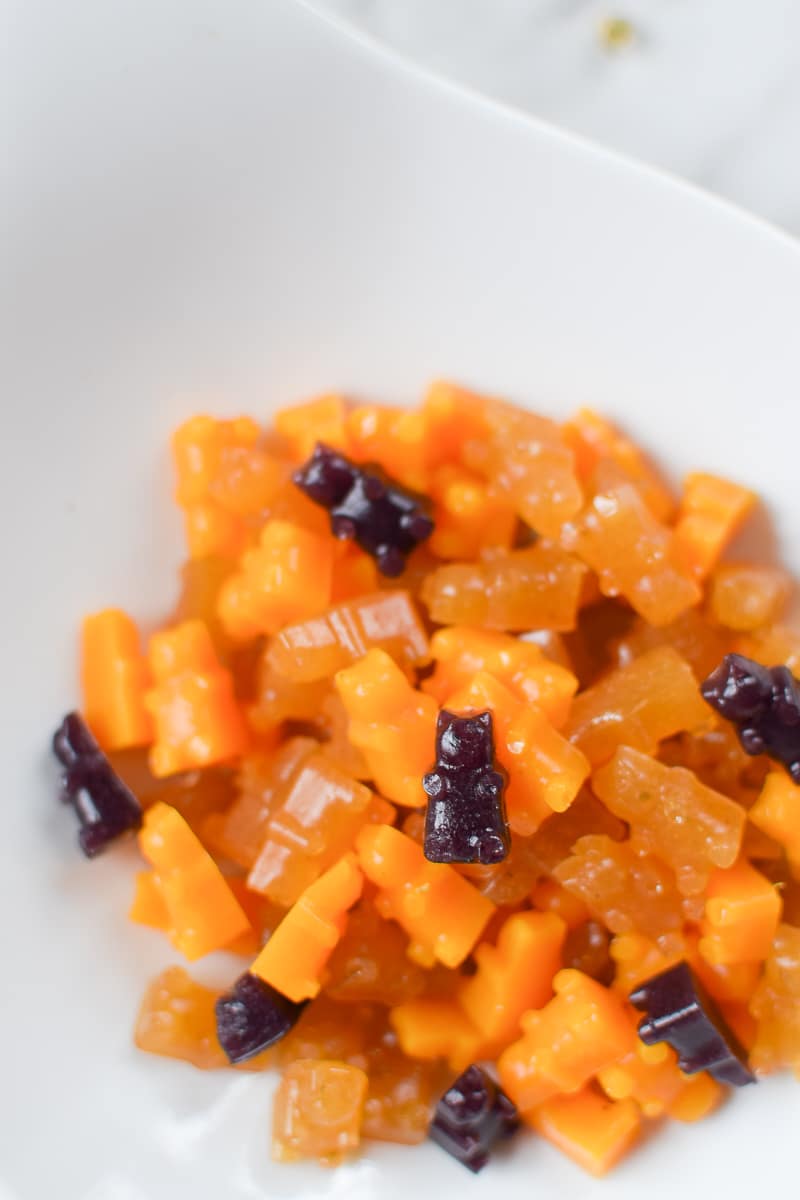 Frequently Asked Cannabis Gummy Questions
Below are answers to some of the most important frequently asked cannabis gummy questions that were not addressed above.
How To Store These Cannabis Gummies?
Once removed from the gummy molds, you can choose to either air-dry these gummies or simply store them in an airtight container in the refrigerator for up to two weeks.
How To Air Dry Cannabis Gummies
If you want to enjoy the gummies right away, they do not need to dry out on the counter or in a dehydrator, but many people prefer to air dry them for enhanced texture and less moisture.
To successfully air dry, or cure the cannabis gummies, you first need to remove them from the molds.
Once free from the molds, you can place them on a wire baking rack, parchment paper, or a paper towel.
Allow these gummies to dry at room temperature for at least 24 hours.
Many people will drape a piece of cheesecloth over the gummies to prevent any contaminants from falling on them.
If you do this, ensure you are using a breathable fabric.
If you have a food dehydrator available, you can place the gummies to speed up the process.
However, this should only be done on with a dehydrator that has a fan-only setting.
You do not want to dry with a dehydrator that introduces heat, as this may cause them to melt.
Finally, some people prefer to lightly dust their air-dried gummies with a small amount of cornstarch to remove any last bits of moisture.
Can You Freeze These Cannabis Gummies?
If you don't plan on consuming your gummies within two weeks, you can easily freeze them.
Freezing gummies does not alter the potency of the gummies, and in fact, may even help preserve potency over time.
How to Determine The Dosing
Want to get a more accurate guesstimate of the potency of your cannabis infusions and extractions? Try our popular edibles calculator!
Not sure what your perfect dose is? Learn more here.

What is the Right Gummies Dosage?
Properly dosing cannabis is the #1 question I continue to receive in my Well With Cannabis Community.
The answer to the dosing question is not cut and dry and is not the same for everyone.
A starting cannabis dosage should be made on a case-by-case basis for each individual, but no matter how you start, it is always recommended to start low and go slow.
There are different concentrations of CBD or THC oil and different situations for which various concentrations would be appropriate.
Thus, different dosages are required for different individuals.
That is why I offer my in-depth Cannabis Compass Online Course to help individuals like you determine their own perfect dose.
Estimating Your Final Dose
Because there is some variability with this recipe, it will take a bit of math to determine how many THC or CBD milligrams are in your final product.
This is because THC or CBD oil can come in many different concentrations, and the mold wells are all different sizes.
To estimate your final CBD gummies dose, you will need to know:
What concentration of cannabis oil or concentrate you are starting with?
How many final gummies did you end up with?
This recipe calls for 1mL of CBD or THC concentrate. Your concentration will determine how strong your final product is.
For example:
You will divide your concentration by the total number of gummies you make.
For example, if your mold yielded 50 gummies, you will get:
16.6mg of CBD oil divided by 50 gummies = 0.33mg per gummy
500mg of CBD concentrate divided by 50 gummies = 10mg per gummy
See the difference? Concentration matters.
This is the formula for determining your final dose:
Total milligrams of CBD or THC used divided by the final number of gummies = amount of CBD or THC per gummy
My Edibles Made Easy Online Cooking Course will teach you how to make cannabis edibles and topical recipes at home with ease. This step-by-step video course will teach you how to infuse, extract, and create edibles with many different product types - all from the comfort of your own home.

Learn more and enroll today →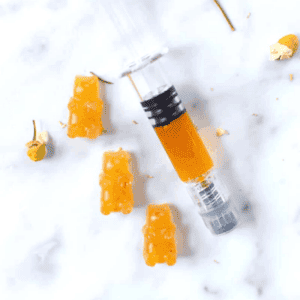 Healthy CBD or THC Gummies Made With Concentrate
These delicious fruit gummies are made with just 3 whole food ingredients: fruit, water, and gelatin contain no dyes or artificial flavors​ and can be easily infused with CBD or THC concentrate for a relaxing, healthy edible experience.
Instructions
If you haven't already, puree your fruit of choice in a small food processor or blender until smooth. Set aside.

In a small saucepan over no heat, add the water or juice.

Evenly sprinkle the gelatin over the liquid. Set aside, do not stir, and allow it to stand, or "bloom" for 2 minutes.

After standing for 2 minutes, place the saucepan over medium-low heat. The mixture will be very thick at this point.

Allow the mixture to become liquified. Once liquid, gently stir the mixture until it reaches a temperature of 165°F. Turn off the heat.

Pour the reserved fruit purée into the liquid gelatin, whisking well.

Add the lemon juice, concentrate you are using, and flavoring oils (if using), and stir the mixture well until all ingredients are well combined.

Working quickly using a small pipette, fill your mold with the mixture.

Refrigerate for 30 minutes.

Remove the molds from the refrigerator and count how many total gummies you have made. This will help you determine how many milligrams of CBD or THC are in each gummy.

Carefully pop the gummies out of the mold.

Leave the gummies to air dry for 24 hours or store the gummies immediately in the refrigerator or freezer.
Notes
Run a Test Batch First: As always, I recommend you make one *non-infused* test batch of gummies before trying with your actual product to ensure you like the taste, consistency, and process.
Using Other Concentrates: If you are using other cannabis concentrates instead of distillate, check this guide first to see if the concentrate needs to be decarbed.
Mold Inhibitors: In this recipe, I've used lemon juice as a natural preservative and mold inhibitor. It does not lend a strong or noticeable flavor to the gummies. You can also use LorAnn Mold Inhibitor or potassium sorbate in place of the lemon juice. 
A Word of Caution When Air Drying:  Humidity will cause an issue of oil sweating if you are air-drying your gummies, especially if they are made with MCT oil. If it is humid where you live, you must air dry your gummies in the refrigerator where the temperature and humidity are better controlled. If you use a food dehydrator to dry your gummies, you must ensure it does not use heat. Any low-temperature dehydrators (~90°) will cause your gummies to melt. 
Nutrition
Serving:
1
gummy
Calories:
10
kcal
Did you make this recipe or have a question?
Join hundreds of members inside private Well With Cannabis Community for help, support, and to share your edible creations!