This guide will help you understand the difference between CBD oil and hemp seed oil, both of which originate from the cannabis plant but have many different uses and culinary applications.
CBD Hemp Oil vs. Hemp Seed Oil
One of the most difficult things about getting started in cannabis is understanding the many different words and terms used to describe the plant and products.
The cannabis plant is certainly complex, but the sooner you understand the differences in types of products available, the sooner you can get on your way to managing your health the natural way.
Join The Community
The Quick Answer
There is CBD in CBD hemp oil, but there is no CBD in hemp seed oil.
The difference lies in where the oil is extracted from the plant.
Hemp seeds do not contain CBD, so oil extracted from hemp seeds does not contain CBD.
Hemp cannabis buds, flowers, and leaves contain CBD, so oil extracted from hemp flowers and leaves contains CBD.
If you're still unsure, keep reading...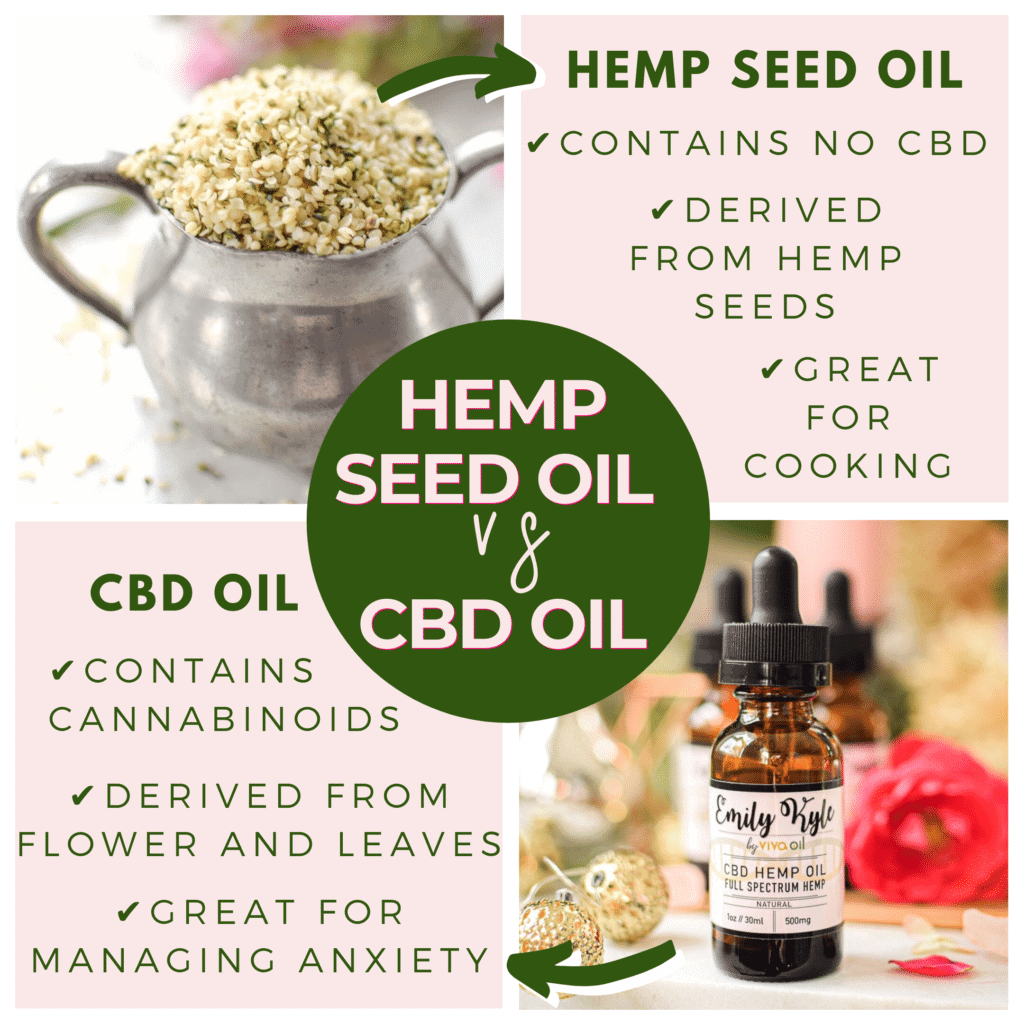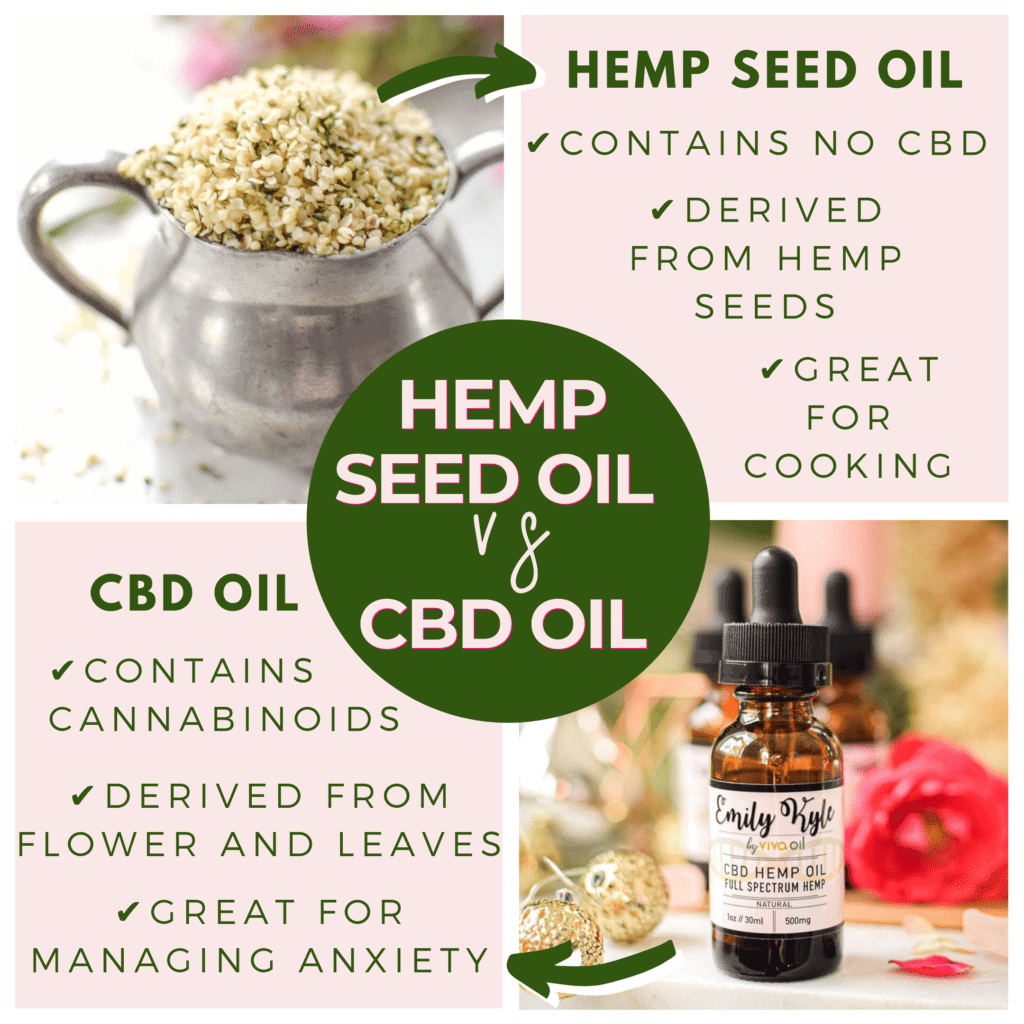 What is Hemp Seed Oil?
Hemp seed oil is just that, oil that comes from the seed of the hemp plant.
Hemp seeds naturally do NOT contain cannabinoids, meaning they do not have any CBD or THC present.
CBD is a phytocannabinoid produced by the cannabis Sativa plant.
Hemp seed oil is great for cooking and contains heart-healthy omega-3 fatty acids, which are great for helping to reduce inflammation.
While hemp seed oil has an impressive nutrient profile and is a great fatty-acid nutrient source, it does not naturally contain CBD.
You can purchase hemp seed oil in just about any grocery store or from online retailers.
What is CBD Hemp Oil?
CBD is short for cannabidiol and naturally occurs in the cannabis plant.
CBD hemp oil is extracted from the flower buds and leaves of the hemp plant and naturally contains a variety of cannabinoids like CBD.
CBD oil is the product you want to start with when using cannabis to manage unwanted health symptoms.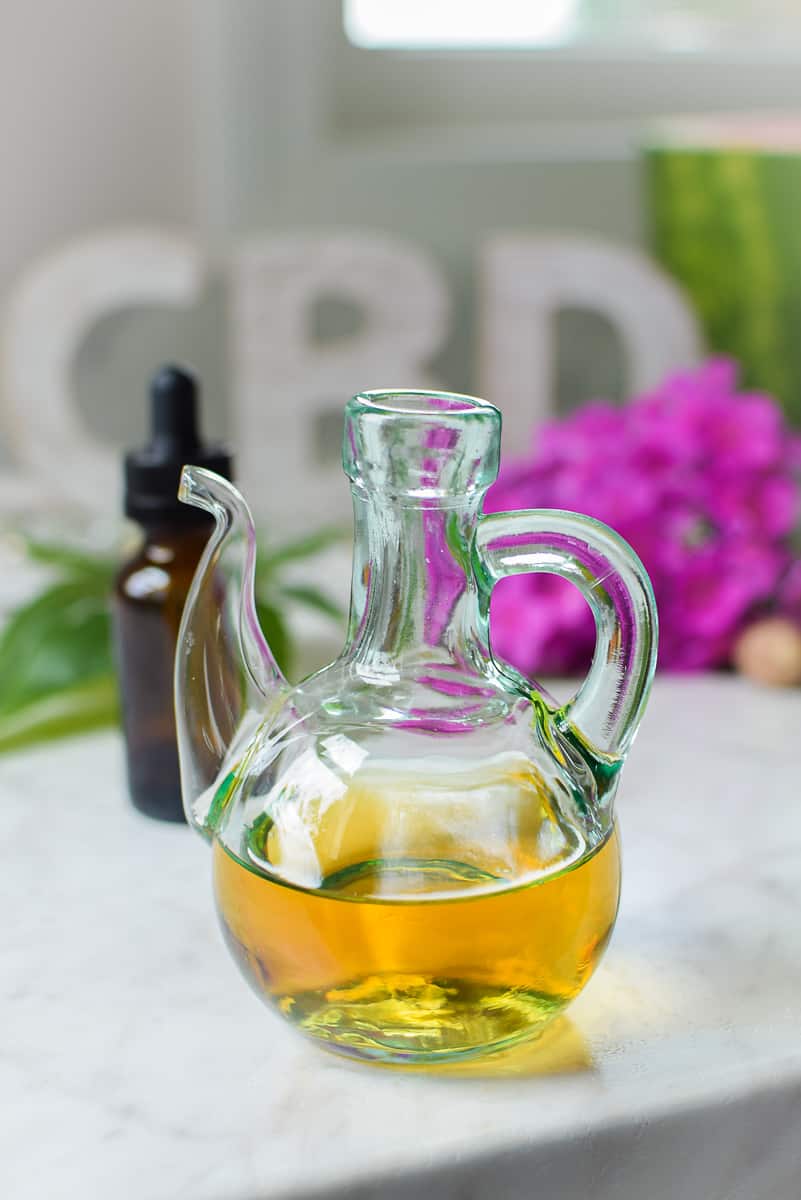 How to Use CBD Oil
The most common way to take CBD oil is to hold the oil under the tongue for 60-90 seconds for maximum absorption.
This is known as sublingual application.
You may do this once or multiple times throughout the day with either store-bought CBD oil or your own homemade CBD oil.
Another alternative is to consume CBD oil with food or beverages.
Although this may not allow for maximum absorption, it may be more palatable for certain individuals.
Choosing a High-Quality CBD Product
There are many different types of CBD oil products on the market today.
One important distinguishing factor is choosing between a full-spectrum or a broad-spectrum product.
Full-spectrum CBD oil contains a mixture of all cannabinoids, including CBD, THC, and more, while broad-spectrum CBD oil has had the THC removed.
Both CBD and THC have promising health-promoting properties.
In my guide to choosing a safe CBD product, I break down my 4-step R.E.A.L. Method for identifying a safe CBD product.
The most important thing to look for when shopping for a high-quality CBD oil is that the final product has been verified by 3rd party testing to ensure that what is on the label is actually in the bottle.
To support my Well With Cannabis CommunityWell With Cannabis Community, I developed my own brand of CBD oil products to help my students have easy access to safe, quality CBD oil products.
Every one of my CBD products has gone through the highest-quality extraction methods and have 3rd party lab testing available.
For anyone new to starting CBD oil for the first time, I recommend starting with my 500mg full-spectrum CBD oil once or twice daily for at least two weeks.
A daily dosage recommendation should be made on a case-by-case basis for each individual.
There are different concentrations of CBD oil and different situations for which it would be used; thus different dosages would be required.
Enhance Your Cannabis Education
My beginner-friendly Cannabis Compass Online Course will show you how to dose, use, and apply cannabis safely and effectively so that you can begin to manage your most unwanted symptoms the natural way from the comfort of your own home.

Learn more and enroll today →