Are you questioning what full-spectrum hemp oil vs. CBD oil is? The answer may surprise you – both originate from the cannabis plant, but they're not the same! Use this guide to learn more about their many different uses and applications.
Why You Will Love This Guide
One of the most challenging steps when getting started with cannabis is understanding the different words and terms used to describe the plant and products (but that's why I'm here – to help!)
Understanding the whole plant is complex at first. Still, the sooner you learn the differences in the types of products available, the sooner you can get on your way to reaping the health benefits of marijuana plants.
One marketing term constantly tripping up my Well With Cannabis Community members is "full-spectrum." It is causing much confusion about what is hemp oil and CBD oil.
This guide will explore the VERY important differences between full-spectrum hemp oil and full-spectrum CBD oil and what you need to look for when purchasing a product to ensure you're getting what you need.
The Quick Answer
The difference between hemp oil and CBD oil is where the oil is extracted from the plant.
Oil extracted from hemp seeds is called hemp oil. Seeds do not contain trichomes, so they can not contain CBD or THC.
Oil extracted from cannabis buds, flowers, and leaves does contain trichomes, so CBD oil will contain CBD. These compounds will interact with the body's endocannabinoid system.
Remember that full-spectrum is not a regulated term under the Food and Drug Administration and can be used freely on any product. You will want test results to verify the best CBD products.
If you're still unsure, keep reading…
What is Hemp Seed Oil?
Hemp oil, or hempseed oil, is just that, oil that comes from the seeds of the cannabis Sativa plant.
Hemp seeds naturally do NOT contain trichomes or cannabinoids, meaning they do not have any CBD or THC present.
Hemp seed oil is great for cooking and contains essential vitamins, amino acids, and heart-healthy omega-3 fatty acids which are great for helping to reduce inflammation.
Hemp oil products are often used in beauty products, and consuming hemp oil will not cause you to fail a drug test.
While hemp products have an impressive nutrient profile and are a great source of essential fatty acids, they do not naturally contain CBD.
You can purchase hemp seed oil in any grocery store or online retailer.
While marketers can slap on the label 'full-spectrum hemp oil,' it does not change the fact that it does not contain CBD or any other cannabinoid.
Full-spectrum hemp extract sounds fancy, but unless it specifically states that it contains CBD extract, it is just oil best used for its nutritional value.
Hemp seed oil can, however, be used as a carrier oil to make your cannabis-infused oil, along with other options like olive oil, coconut oil, or MCT oil.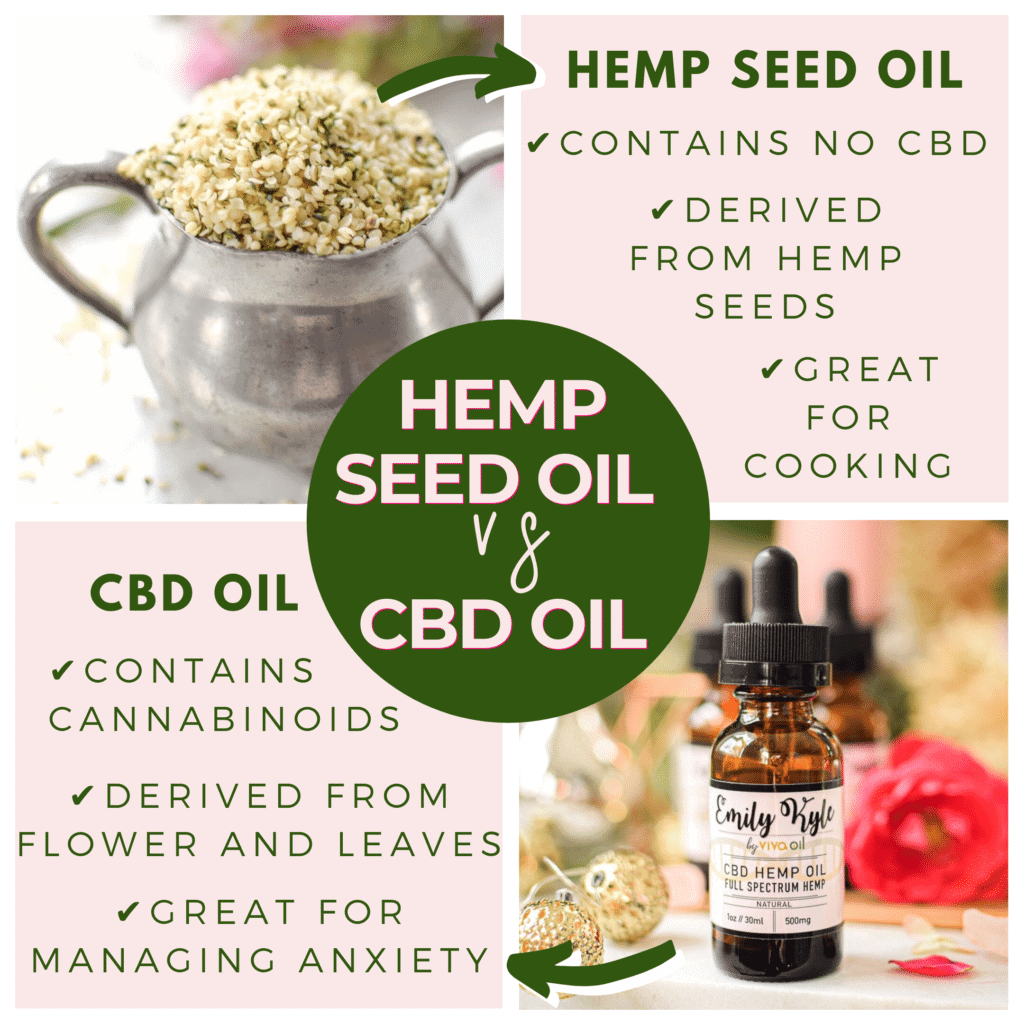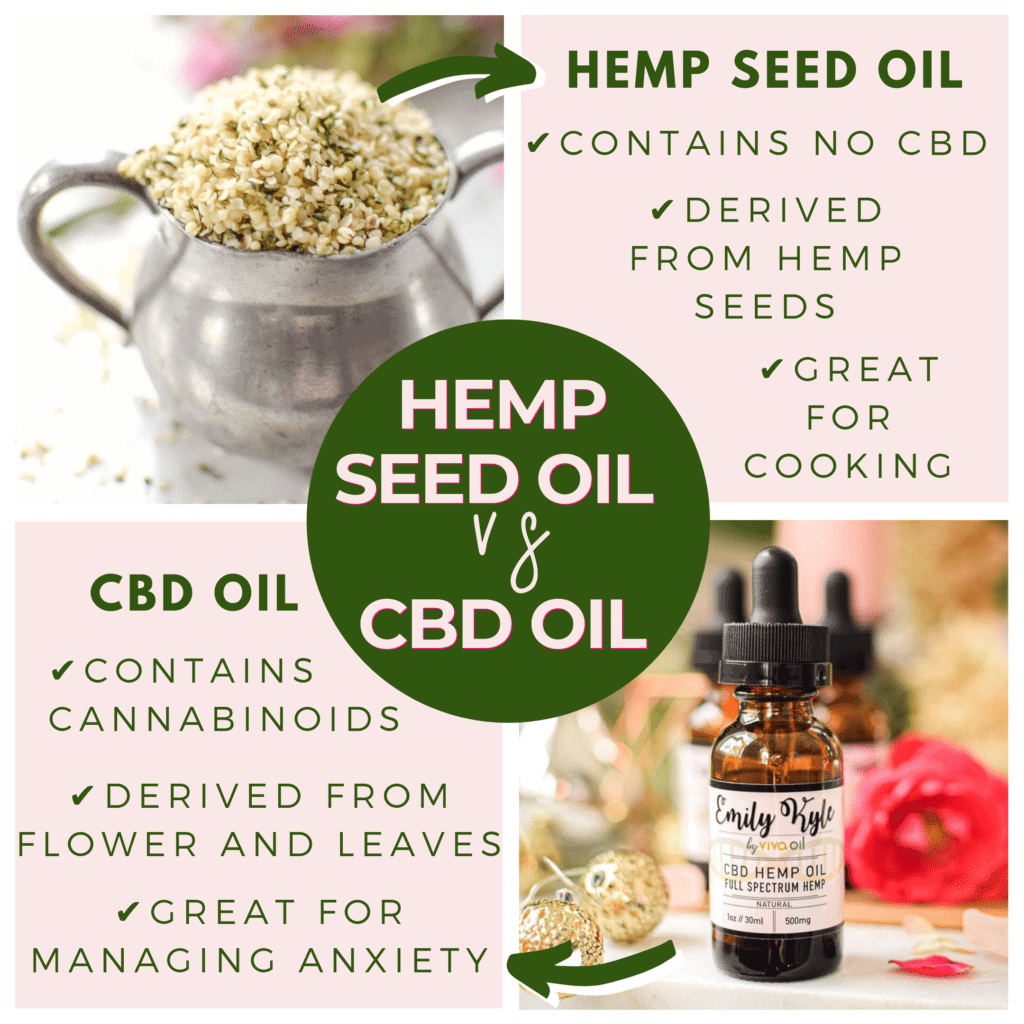 What is CBD Oil?
CBD, short for cannabidiol, naturally occurs in the cannabis plant. Industrial hemp recently became legal in the United States, thanks to the passage of the Farm Bill as Federal law.
If a product contains more than 0.3% THC, the psychoactive cannabinoid that causes a high, it remains illegal at a Federal level, despite its beneficial effects.
CBD oil can be extracted from the flower buds of the hemp plant or leaves. Different leaves of the hemp plant contain different concentrations of cannabinoids.
It naturally contains different cannabinoids like CBD and THC, along with terpenes, which can exert different effects on each person. These are the beneficial compounds that make up a full spectrum extract.
There are many different types of CBD oil, but most CBD oils on the market contain less than 0.3% THC. They can all vary in how much CBD they contain, and many have different ingredient lists.
A full-spectrum CBD oil contains all of the benefits of CBD, traces of THC, and other organic compounds that contribute to the entourage effect.
If all of the THC has been removed from the product and 0% remains, the oil is considered a broad-spectrum oil, or broad-spectrum CBD.
If all of the other cannabinoids have been removed and the product contains nothing but CBD, it is a CBD isolate.
Trace amounts of THC do not typically induce psychoactive effects, but full-spectrum oil does have many scientific and anecdotally reported therapeutic benefits for the human body.
You can make a whole plant extract CBD through the oil infusion process or an extraction process to make a full-spectrum oil that may help you to manage chronic conditions and exert other therapeutic effects.
Choosing a High-Quality CBD Product
There are many different types of CBD oil products on the market today.
In my guide to choosing a safe CBD product, I break down my 4-step R.E.A.L. Method for identifying a safe CBD product.
The most important thing to look for when shopping for high-quality full-spectrum CBD products is that the final product has been verified by 3rd party testing to ensure that what is on the label is actually in the bottle.
To support my Well With Cannabis Community, I developed my brand of CBD oil products to help my students easily access safe, quality CBD oil products.
Every one of my CBD products has gone through the highest-quality extraction methods, has a clean ingredients list, and have 3rd party lab testing available.
For anyone new to starting CBD oil for the first time, I recommend starting with my 500mg full-spectrum CBD oil, which contains low levels of THC.
It is best to take small doses, 10-20mg, once or twice daily for at least two weeks before moving on to higher doses if needed, based on your preference.
Don't forget to store your CBD oil properly so it will last months to come.
---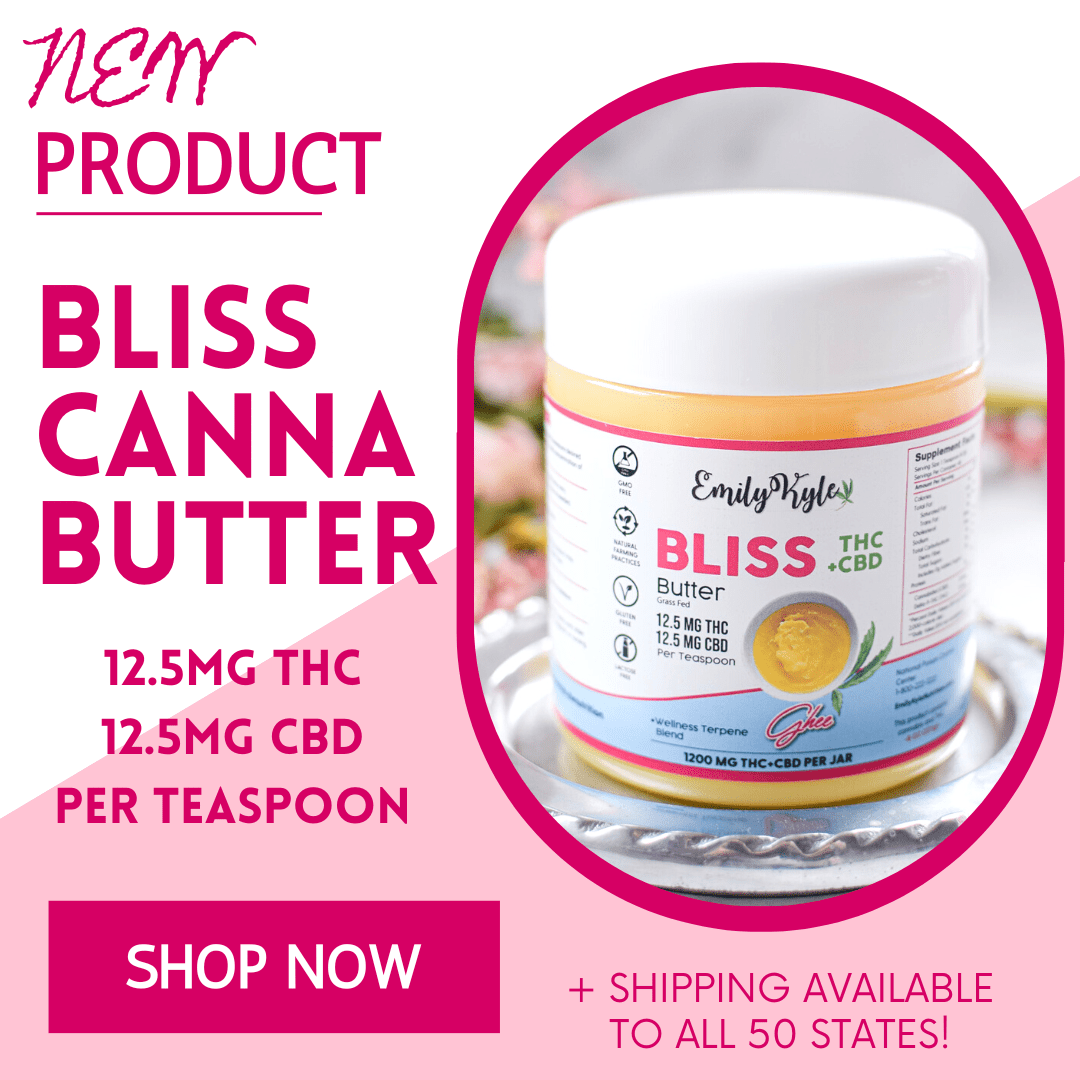 Skip the hard work and have perfectly dosed, delicious, pure Bliss Cannabutter delivered directly to your door! Shop Now →
---
More CBD Resources You Will Love